18 Restaurants in Halifax You Have to Try
To say that we were excited to FINALLY move to Atlantic Canada's culinary mecca would be an understatement.  As much as we love rural Nova Scotia, the food scene in Halifax just can't be beaten.  There are so many restaurants here, you could visit a new spot every day for a year and still never eat at the same place twice.  Since moving to the city in November, we've visited a lot of restaurants in Halifax but we've still got plenty to check out!  
Since moving here, we get asked every single day where the best places to eat are.  We want to be able to give great food advice so we took full advantage of Dine Around this year and visited 20 restaurants in downtown Halifax to "beef up" our repertoire. 
Dine Around Details
Dine Around happens annually in Halifax during the month of February.  Many restaurants (more than 70 this year) offer fixed menus at an attractive price point so diners can try some new things.  It's also great timing because February is notorious, here in Nova Scotia, for being kind of a crappy month.  It's often grey & rainy so Dine Around gives people an excuse to go out!
I should mention that these restaurants are appearing in order of our visits!  They're not ranked "best to worst".  Although we do have our favorites, we'll save that for another post so stay tuned!
Black Sheep
Location: 1569 Dresden Row, Halifax NS
Food Style: Contemporary Casual
On The Menu: Lobster on toast, fried chicken, brisket nachos & halibut
Vibe & Tastes: The Black Sheep restaurant has the cozy feel of a pub with it's rich, warm colors and tucked away booths.  But, the food is anything but "pub food"!  Without knowing anything about the Chefs before visiting, I knew right away they had a fine-dining background.  The menu is an eclectic mix of what you'd expect to find in a pub (like burgers and fried chicken) combined with plates like duck, ravioli and Foie Gras.
Standouts: Brent loved his mushroom gnocchi but for me, the standouts were the halibut over black lentils and the lobster on toast.  Which is an interesting choice for me because we eat a LOT of lobster and can grow tired of it quickly.  However, the lemon forward flavor and the freshness of the seafood really won me over.
Antojo's Tacos + Tequila
Location: 1667 Argyle Street
Food Style: Mexican
On The Menu:  Tacos, Enchiladas, Shareables & an impressive Tequila list
Vibe & Tastes:  This was our third visit to Antojo's in the last year and we're impressed every time.  The vibe is very "on brand" and you really do feel like you're stepping into an authentic Mexican restaurant but the standout for me is the service.  We've only ever had incredibly attentive service at Antojo's (something we don't say often).  The staff are well versed in their menu offerings and always take the time to provide us with whatever knowledge we need.  The food is great too!  I'm not a huge fan of hand-held anything, but we really enjoyed the tacos.  
Standouts: The margarita's…and the tequila tasting!  Antojo's offers tequila flights and has an impressive and extensive list of premium tequilas on hand.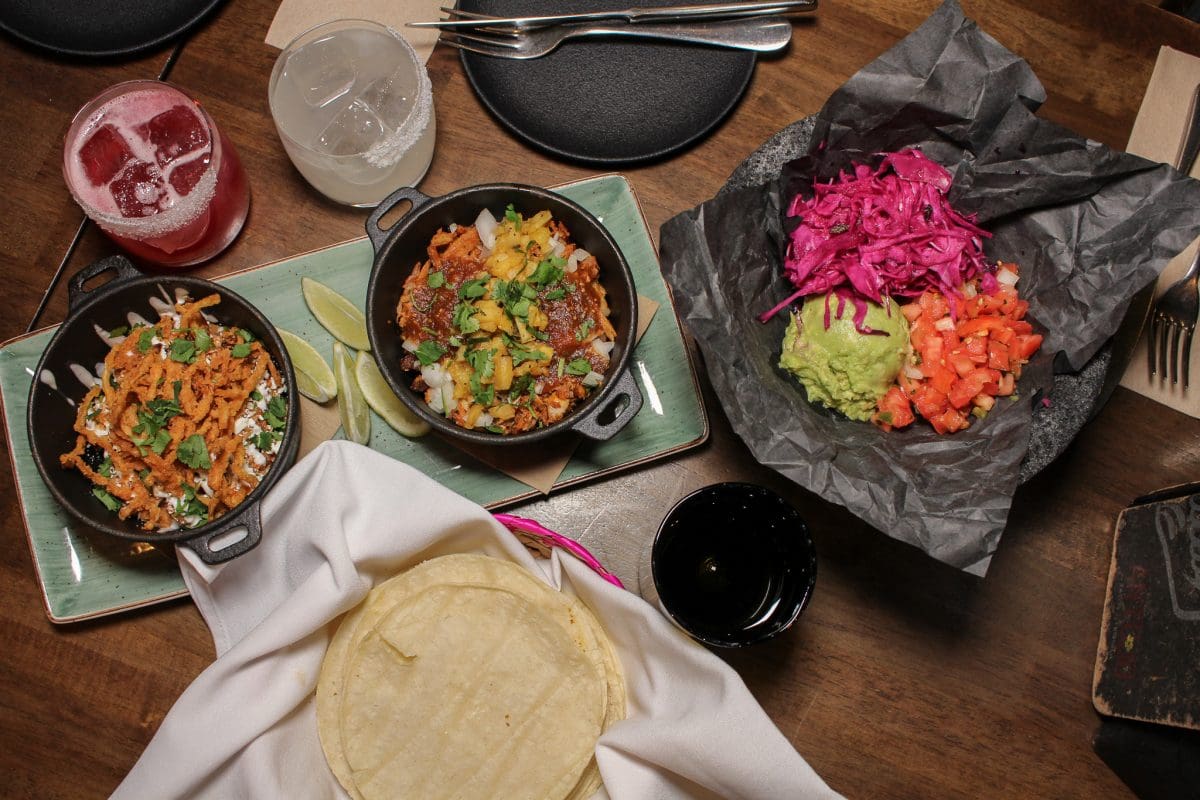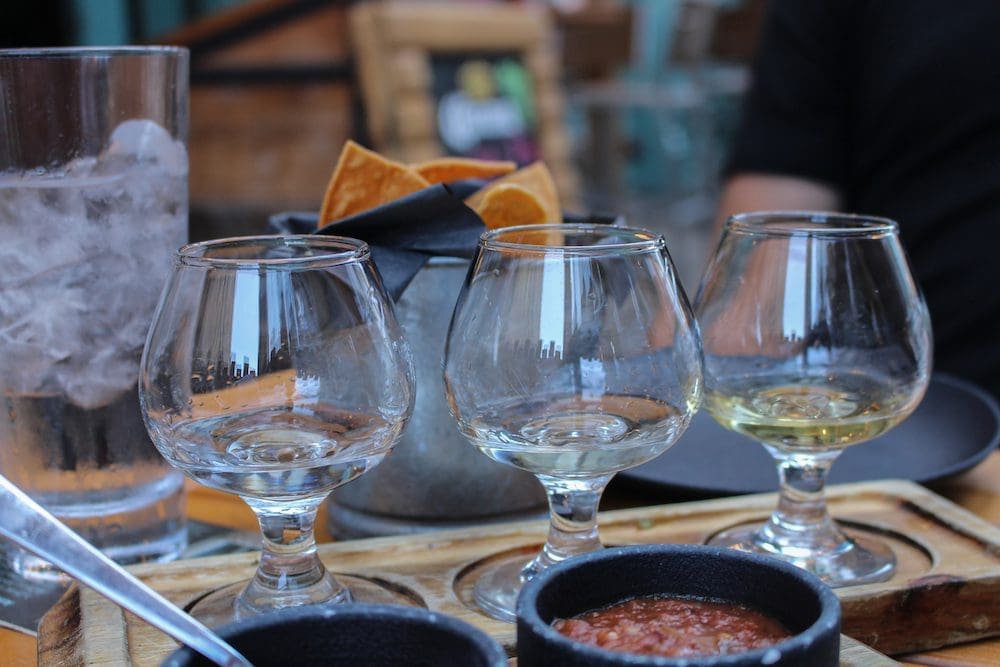 Stories 
Location: 5184 Morris Street
Food Style: Casual Fine Dining
On The Menu: house-cured charcuterie boards, Faroe Island Salmon, and duck marget.
Vibe & Tastes:  Quiet and romantic while still being comfortable.  I've always loved casual fine dining.  I enjoy the cuisine of fine dining but don't always love the buttoned-up atmosphere so, for me, casual fine dining is perfect.  I also tend to use these experiences as an opportunity to try new things (because they're likely really good at a fine dining restaurant).
Standouts: The duck 3-ways was phenomenal.  I've had duck several times before and haven't really enjoyed it until now.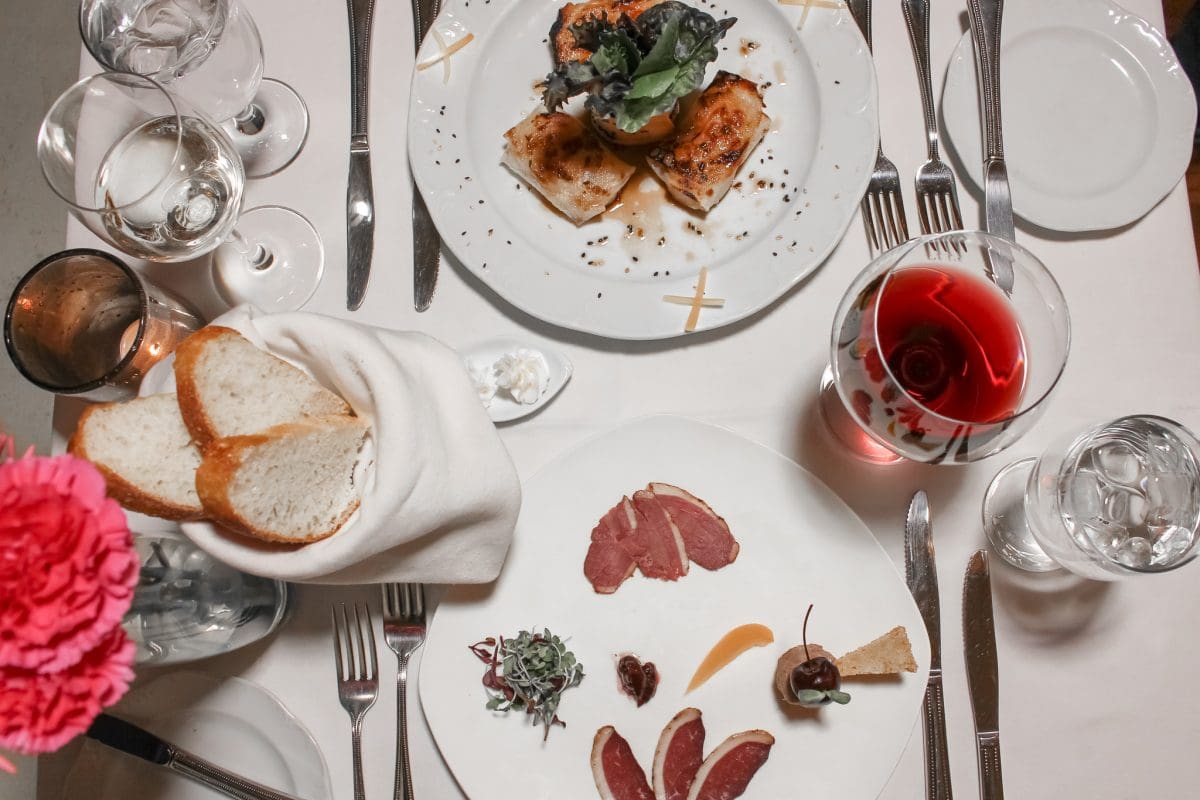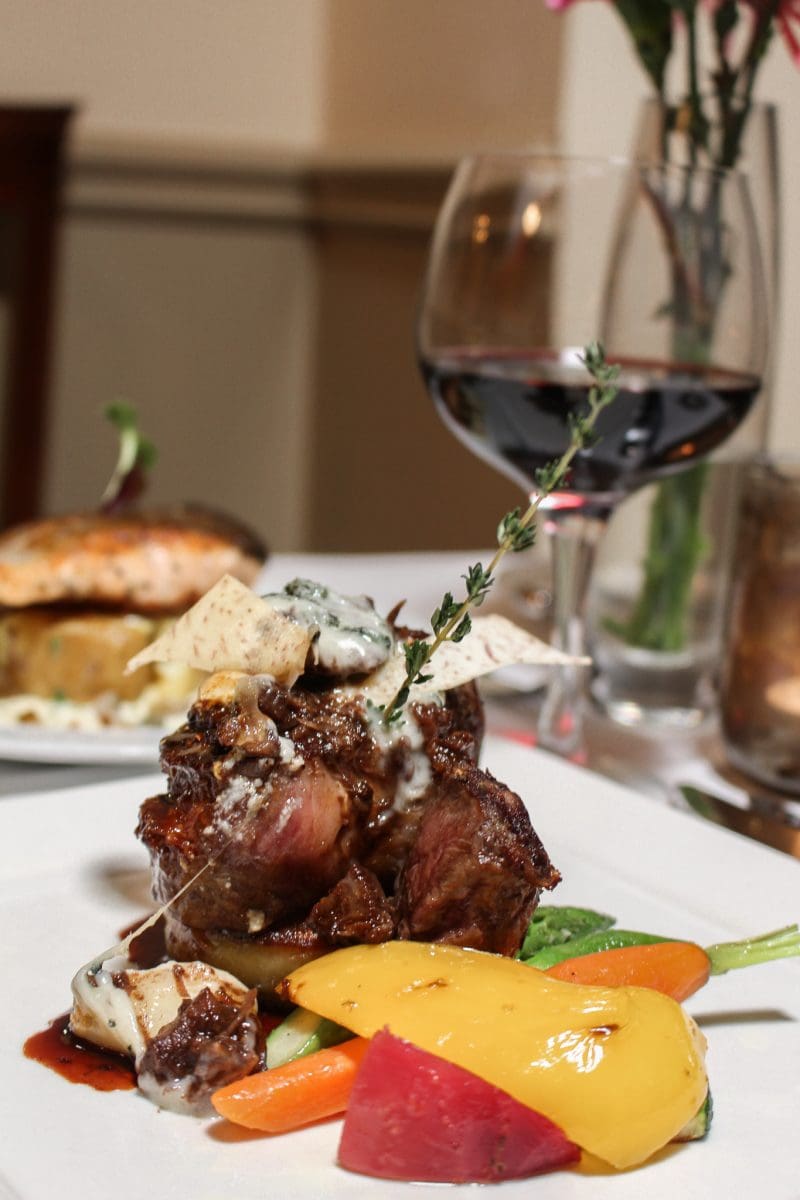 Auction House
Location: 1726 Argyle Street
Food Style: Pub
On The Menu: Burgers, Sandwiches, and shareables like dips & wings
Vibe & Tastes: Casual and laid back is the best way to describe The Auction House.  The menu has changed quite a bit since the first time we visited but it's still full of burgers, sandwiches, and shareables.  They also offer $3 mimosas and caesars during brunch (check their hours online).
Standouts: We enjoyed our appetizers most – we shared the beer & gouda dip as well as the wings.
Lot Six
Location: 1685 Argyle Street
Food Style: Oyster Bar + Contemporary Casual
On The Menu: Whiskey seared scallops, blackened beef, tandoori chicken and mac & cheese.
Vibe & Tastes:  Lot Six has a super trendy vibe and it's in a lovely location.  You know we love Argyle street, right?  They've got an oyster bar, atrium (which is so beautiful) and an upper level of the restaurant that's a happening place most days of the week.  I have to say, although we didn't have it on this visit, they're charcuterie boards is one of my favorites in the city.
I should add, we haven't tried all the charcuterie offerings in Halifax but we're working on it.  We'll keep you posted as we discover our favorites!
Standouts: The cocktails.  Each time we've been to Lot Six, I'm impressed by the cocktails.  I also really enjoyed my chicken dish during this particular visit.
Stubborn Goat
Location: 1579 Grafton Street
Food Style: Pub
On The Menu: Small & large plates, oven-fired pizzas & elevated pub fare like artisanal burgers and shareable platters
Vibe & Tastes: We LOVE the Stubborn Goat (always have, always will) for a lot of reasons.  First, their social dining philosophy is awesome.  We love ordering a table of bites and sharing a meal with friends.  Second, the food is consistently good (as is the service).  The Goat is exactly what you'd expect from a cozy pub with two floors and an open kitchen.
Standouts: We really enjoyed the entire beer & bites platter but the standout for both of us what the crispy buffalo cauliflower.  I know – it doesn't sound that impressive but it was delicious.  We've been applying a little gentle pressure to get them to put this bad boy back on the menu.
Five Fisherman
Location: 1740 Argyle Street
Food Style: Fine Dining
On The Menu: Coquille St Jaques, blackened halibut and lobster carbonara + premium sides like lobster risotto & truffle shoestring fries.
Vibe & Tastes: We've been to Five Fisherman 3 times and this was our favorite visit.  We enjoyed a meal and appreciated the attention to detail that clearly went into our courses.  Aside from great food, I'm always most impressed by amazing service and that's what we got here.  
Standouts: The Halibut, for me, was the star of the show.  I also really loved the scallop canapes that was sent out by the Chef (can you see a theme – I love the little bites!).
Bistro Le Coq
Location: 1584 Argyle Street
Food Style: Contemporary Bistro
On The Menu:  Classic fresh cuisine including tartare, lamb shank & duck confit + handcrafted cocktails
Vibe & Tastes: Classy & comfortable.  That's how I'd describe Bistro.  The Parisian vibe is everywhere.  It's a really lovely place that immediately puts you at ease.  The service (you see the theme here, right?) is fabulous and the food is just as good.  If you love tartare, this is the place for you.  
Standouts: The cassoulet!  This wasn't something either of us would have ordered if not on the Dine Around menu, but it was our favorite part of this meal.  Delicious!  And then, of course, the bread pudding!
Cut Steakhouse
Location: 5120 Salter Street
Food Style: Fine Dining
On The Menu:  Premium steaks, cheeses, tableside Caesar salad as well as an extensive wine list
Vibe & Tastes: Quintessential fine dining.  We've been to Cut several times now and each time we love the experience.  It's fine dining at it's best with candelabras on the table, white linens, and romantic music playing in the background.  The service and the food are immaculate at Cut and while I don't recommend many fine-dining restaurants (for the reasons I've mentioned), Cut is the exception for me.  They've bridged the gap with friendly, attentive service alongside a fine dining experience and I'd highly recommend this restaurant to anyone.
Standouts: The tableside Caesar salad (which we didn't have this time but have had in the past).  During this particular meal, we both really enjoyed the cheeseboard as well as the chocolate hazelnut mousse.  That's not to say everything wasn't great, but those were our favorites!
Durty Nelly's
Location: 1645 Argyle Street
Food Style: Pub
On The Menu: Irish pub fare like banger's and mash, shepherd's pie and burgers, soups and salads.
Vibe & Tastes: Relaxed, laid back, and cozy – as you'd expect from any proper pub.  Funny enough, I think this was my first IN Durty Nelly's (although I've frequented the patio many times).  My hometown isn't known for its dining options so pubs always feel like "home" to me as much as I love other dining experiences!  It's a "come as you are" kind of place.
Standouts: We both had the steak sandwich and, if you're a blue cheese fan, you'd love it. I upgraded mine to include a side of chowder and Brent stuck with fries.  Once again, a steak sandwich isn't something I would ever order but I have to say, I thoroughly enjoyed it.
East of Grafton
Location: 1580 Argyle
Food Style: Contemporary Tavern
On The Menu:  Shareables & bar snacks + hearty choices like pasta & traditional pub fare (think corned beef sandwich)
Vibe & Tastes: Tavern doesn't seem quite the right word to describe East of Grafton.  Yes, it has a definite tavern vibe when you walk in but the food is much more elevated than you'd expect.  They've got the things you'd expect like sliders and wings, but you'll also find things like fried brussels sprouts and Asian dumplings on the menu.  For me, those added elements really take things up a notch for a standard tavern.
Standouts: The brussels sprouts and the sliders.  We're in agreement on this one.  Both were superb and while we enjoyed the other items on the table, it was an easy choice.  Truth be told, Brent probably had two bites of sprouts and I devoured the rest.  I'm hoping these land on the regular menu!
Morris East
Location: 1984 Vernon Street
Food Style: Pizzaria
On The Menu: Artisinal pizzas, salads & shareables like dips & stuffed mushrooms.  They also offer an Italian reserve wine list.
Vibe & Tastes: Another first for us.  It looks unassuming from the street but the atmosphere is very trendy for a pizzeria.  It's got a diner-meets-pub kind of vibe that I'm totally digging.  Our server was also fantastic (shoot – I can't remember his name)!  I also loved that they took some traditional menu items (like caesar salad) and gave them their own twist (with sourdough croutons and an extra lemony dressing).
Standouts: The Delicatessen pizza with garlic oil, bocconcini, prosciutto, spicy soppressata, arugula, chili honey, pickled red onions, fresh pecorino (yes, I just copy & pasted that) was seriously to die for.  I'd order that again in a heartbeat.  I loved the artisanal crust and all the fresh flavors that balanced perfectly with each other.
Press Gang
Location: 5218 Prince Street
Food Style: Casual Fine Dining + Oyster Bar
On The Menu: Seafood, rack of lamb & small plates.  They also offer a chef's tasting for 2 on the regular menu.
Vibe & Tastes: The Press Gang is really unique because it's most certainly a formal dining experience, but the building has the kind of character that makes everything feel at ease.  They're also known for their cocktails and I appreciated the servers' ability to choose a cocktail based on my tastes – he hit the nail on the head, I might add, with the 'Henry's Treasure'.
Standouts: That cocktail!  I also really enjoyed the mac n' cheese.  I know, not what you'd expect from a formal dining experience but it was good.  I would have liked to try the oysters – perhaps on our next visit.
Harbourstone Sea Grill
Location: 1919 Upper Water Street
Food Style: Seafood + Pourhouse
On The Menu: Sharables, salads & sandwiches + salmon, pasta & steak
Vibe & Tastes: Open dining in the middle of the Marriot but arranged in a way that feels warm and welcoming.  This restaurant was a surprise for us!  When it comes to exceptional dining experiences, hotel restaurants aren't usually top of mind but we were very impressed with the Harbourstone.  
Standouts: Can I say "all of it"?  If I have to choose, I'm going with the duck – again!  I know, I know… you're shocked, right?  If you haven't tried duck yet, you really must.  This was braised and served on white beans and it was really, REALLY good.  I also loved the gnocchi (not usual for me) and I'd be remiss if I didn't mention the cheesecake!
Canvas Resto Lounge
Location: 1583 Brunswick Street
Food Style: Casual Dining
On The Menu: A bit of everything from soups & salads to gnocchi and salmon
Vibe & Tastes: Canvas was a really nice departure for us from fine dining.  It's got a fresh, clean vibe and laid back atmosphere.  I really love that many of these restaurants are offering some different menu items than you would expect and Canvas was no exception.  We did find the portions HUGE (which may be a good thing – depending on your appetite).
Standouts: I really loved (and appreciated) the salad & soup we had as starters.  It was nice to get a plate full of greens after a month of eating!  I also have to mention that the Tiramisu (recommended by the server) was quite good as well.
Pickford & Black
Location: 1869 Upper Water Street
Food Style: Oyster Bar + Trendy Seafood
On The Menu: Seafood forward in addition to handhelds like burgers & tacos as well as bowls and salads.
Vibe & Tastes: Pickford & Black is worth going in, just for the view.  The atmosphere is stunning with super high ceilings, a big beautiful back bar and full front of windows overlooking the harbor.  They're serving up oysters, pub/casual fare and some really fun shareables as well. 
I should also mention that Pickford & Black have a $6 happy hour menu available that includes drinks, shareables and oysters.  We can't wait to check that out soon!
Standouts:  We weren't thrilled at the idea of a grilled-cheese (that was the Dine Around special) but we ate our words (literally) because it was amazing.  It was buttery and had all of my favorites – including halloumi & arugula.  And, don't even get me started on the tomato soup dip!  Chef, if you're reading this, PUH-LEASE put this on the everyday menu!
Little Fish
Location: 1740 Argyle Street
Food Style: Oyster Bar + Contemporary Casual
On The Menu: A wide variety of seafood dishes including sesame-crusted tuna & scallops + pork belly.  They also offer non-seafood alternatives like a chuck burger and crispy tofu.
Vibe & Tastes: Little Fish is on the bottom level of The Five Fisherman and has a more casual vibe happening.  Still upscale, certainly, but not quite as buttoned-up as their upstairs counterparts.  You walk into an impressive Oyster bar first that, if you're an oyster fan, it's hard to resist!  I really loved that there was some separation between the tables.  We were able to enjoy our meal (and take a gagillion pictures) without disturbing anyone else.
Standouts: Personally, I was super impressed by this entire meal.  I know I'm supposed to pick a favorite course (and I have one) but I can't go another word without talking about the crusted tuna canapes that the Chef sent out.  It was probably my single favorite bite during the whole month.  Aside from that, the Halibut was also a standout – that Frangelico cream was everything.
Chives
Location: 1537 Barrington Street
Food Style: Contemporary Casual Dining
On The Menu: Seasonal elevated fare including pasta & seafood as well as small plates like tartare & brussels sprouts.  
Vibe & Tastes: This was our first visit to Chives and we left very impressed!  The atmosphere is laid back but elegant and we were treated to a meal in "the vault" which is an actual bank vault turned wine cellar.  The meal was outstanding and we will definitely be back again very soon.
Standouts: My wild rice crusted turbot with creamy black kale was incredible – truly.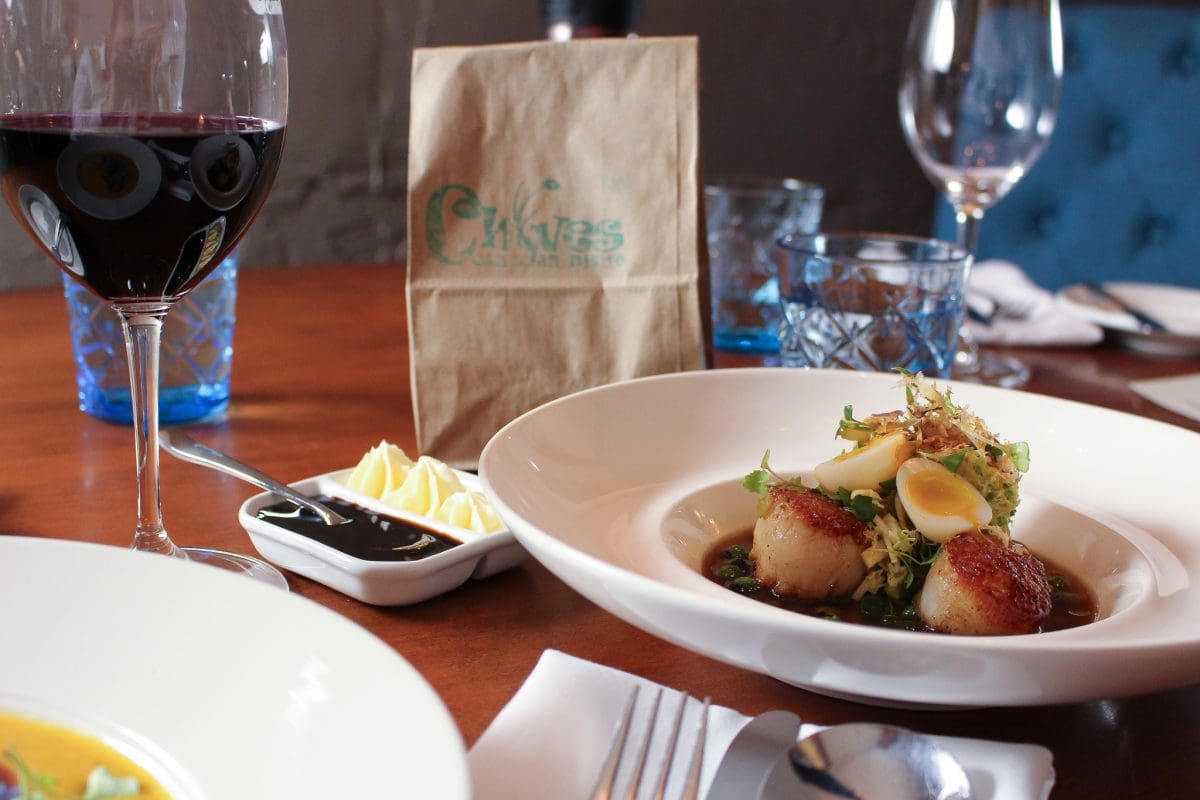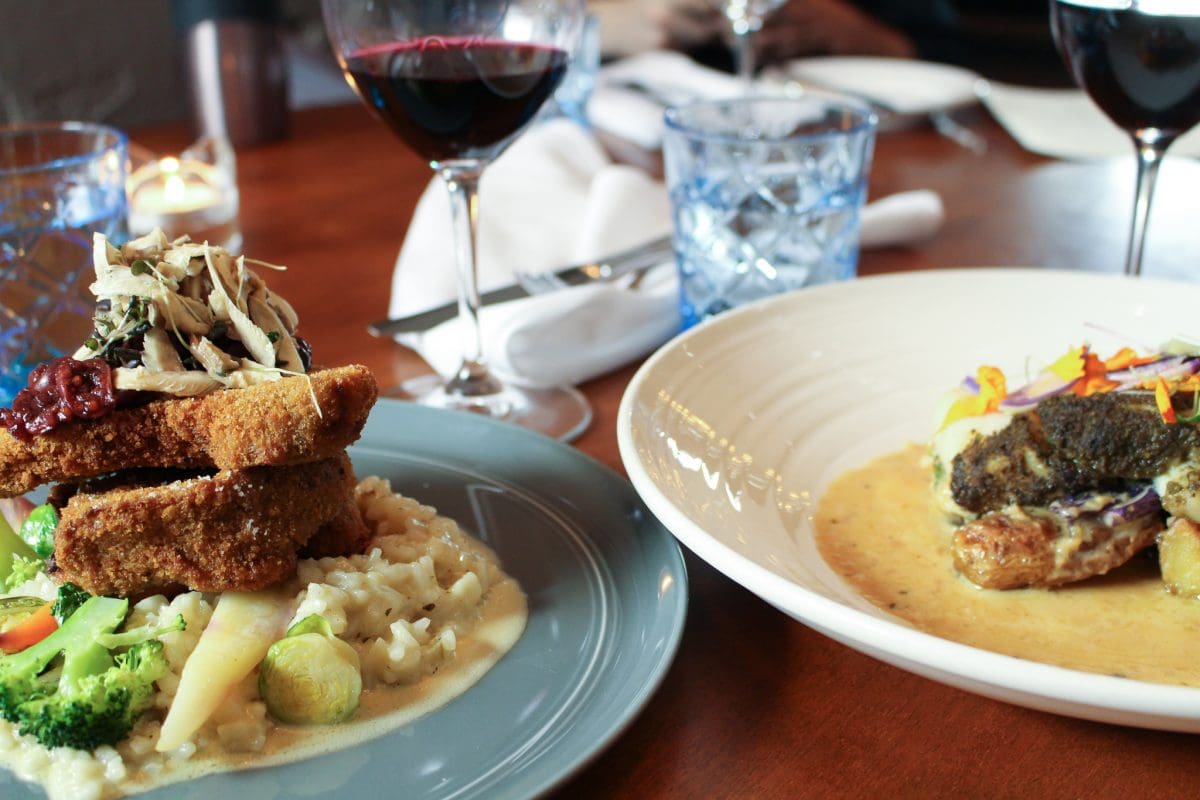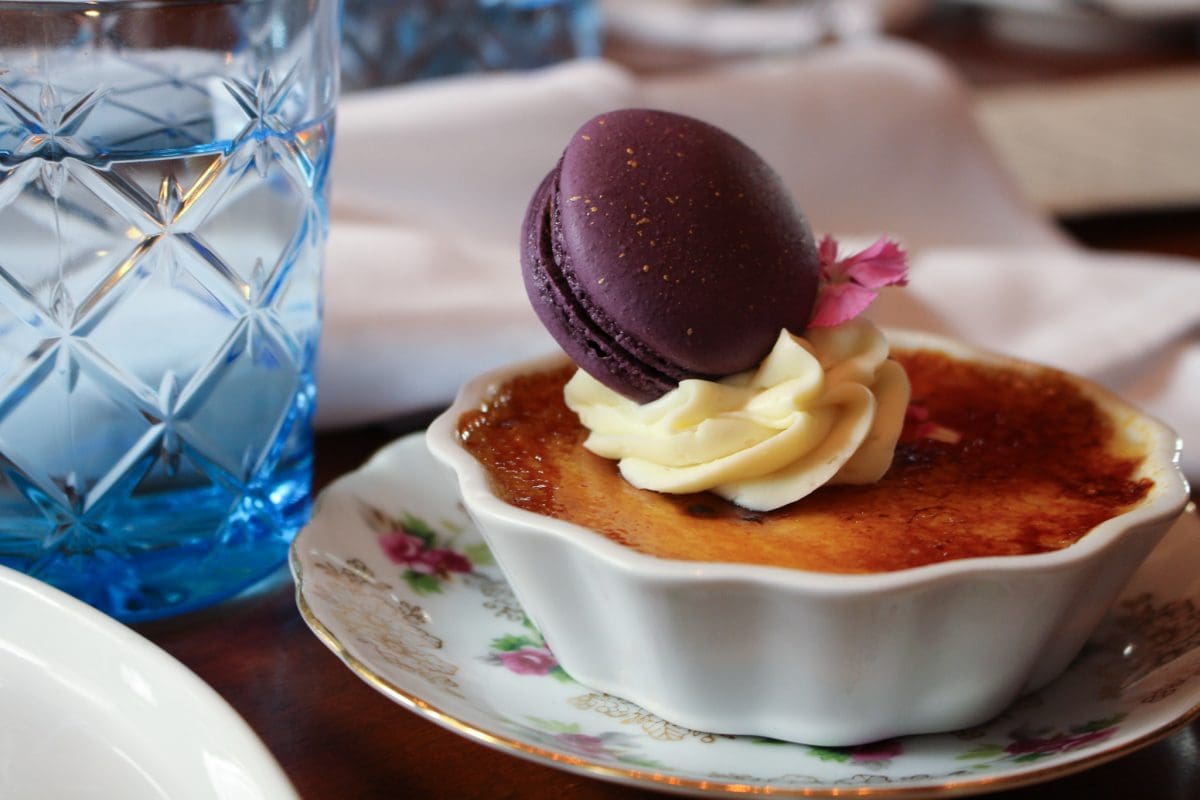 After dining at hundreds of restaurants over the last few years we're, admittedly, a little picky at times.  You may have noticed that I value service above all else (even food).  I have to go on record here and say that we had some really wonderful experiences during this series.  We had the opportunity to meet some amazing Chefs, try their food and even make some new friends along the way.
Doing what we do (food writing), we're not always greeted with open arms but the vast majority of the above restaurants were just lovely!  We have to thank the staff, the managers, the Chefs, and the marketing teams for making this giant downtown restaurant experience so seamless.
We certainly found some new favorites and we can't wait to continue exploring the culinary scene in Halifax!
Our aim in publishing these posts is to give you an inside look at what's available.  We (obviously) can't publish every single picture of every single dish we tried (you'd be here for days if we did) at the restaurants in Halifax but we're more than happy to answer any questions you have.  If you're wondering about our experience at any of the restaurants we write about, reach out!  We'll always give our 100% honest experience.
*This post was sponsored by Downtown Halifax, however, all opinions and photos are our own!