The Ultimate Outdoorsy Gift Guide
This guide has been a long time coming!  We are outdoorsy people – we love hiking, adventuring, and exploring.  And, if you're here, there's a good chance you do too.  We put together this list of outdoorsy gift ideas to give you some inspiration when it comes to finding the best gifts for outdoorsy people in your life.  You'll find gifts for hikers, gifts for outdoorsy people and so much more.
I've compiled a big list here that will make you the hero this season when it comes to the best gifts for outdoorsy people.  You will notice that this gift guide is weighted heavily towards hiking gift ideas and gifts for adventurous people (because that's what we do).
Note: Our readers are largely Canadian but we do have international readers too.  When curating these gift guides we do our best to make them accessible for everyone!  You'll find clickable links for easy shopping throughout the guide.  That said, if you're local to Nova Scotia (and in many cases, Canada), we've also included links to local retailers.  If you're able to shop and support local, please do that!
If you're an outdoorsy person, adventurer or hiker – feel free to share this list with the people in your life who might be looking for gift ideas for you.  That's what I plan on doing!
---
Gifts for Hikers (that they'll actually want)
As a lifelong hiker, I know a thing or two about necessary gear.  You won't find things like hiking shoes, backpacks and hiking poles on this list because most avid hikers already have those things.  If you know they're in the market for big-ticket items, I recommend finding out exactly what they want/need before you invest in packs, shoes & other major hiking gear.
I've compiled a list of helpful hiking gear here that doesn't require a consultation before you purchase!  These are things we'd all (as hikers) love to have but likely haven't prioritized over higher-ticket gear.  These are little luxuries that are "nice to have" but not essential.
Quick Links Here:
SHOP LOCAL: Check The Trail Shop online in Canada where you'll find headlamps, pack towels, lifestraws and hammocks!
---
Gift Ideas for Hikers with Dogs
You didn't think we'd skip the dogs, did you?  Of course not!  There are all kinds of gadgets for hiking dogs but two essentials are a good front-range pack (there are also multi-day dog packs) and a collapsable, lightweight bowl.
SHOP LOCAL: Both the bowl & daypacks are available locally at The Trail Shop online or in Nova Scotia.
---
Park Passes

In Canada, the Parks Canada discovery pass is the gold standard. You can purchase single passes or family/car passes (good for a carload of 7 people) and that will get you into every national park in the country.
If the United States, there are more options that range from National Park Passes to regional passes, depending on your needs.
---
Gifts for Outdoorsy People
Finding the perfect gifts for outdoorsy people is pretty simple but it depends on what type of outdoorsy person they are.  That's why I've separated hikers, water lovers and general outdoorsy gifts for you.  Many of these gift ideas for outdoorsy people will also work for hikers, but here they are (in order of appearance in the shoppable links below):
Scrubba Wash Bag | Campers, hikers, car campers and travellers alike will love this.  No more dealing with dirty laundry during adventures.  Bringing a washbag also means you have to pack less, which is always welcome.
Pocket Blanks & Travel Blanks | If you're shopping for a hiker or adventurer I recommend the matador pocket blanket (it's much smaller) but if the size isn't an issue, you can opt for something a little cozier like the EverSnug travel blank & pillow (great for flying).
Collapsable mugs | These are such great additions to any adventurer's gear.  They collapse down to take up almost no space and are sustainable and reusable which means less waste.
Reusable travel cutlery | Compact, lightweight, and no waste.  Most outdoorsy people care about sustainability and love opportunities to reduce their carbon footprint.
Nylon waistbelt | Hiking, walking, running, paddling – whatever we're doing, we generally want our phones handy.
Otterbox phone case | Outdoorsy people are hard on their phones.  If they don't already have a shock-proof case, this is a great gift.
Waterproof mini speaker | Full-size speakers don't work as well for outdoorsy people but this Bose mini waterproof Bluetooth speaker is on point.
Mini-spikes | We've all taken a tumble trying to navigate tricky terrain.  Mini spikes are a great addition to any backpack for those icy days we still want to get out and explore.
Travel Bidet | Don't knock it until you try it.  When you spend a lot of time on the trails, it's hard to feel fresh and travel bidet is an amazing thing – it's also super sustainable because it means less waste (no more wipes).
JetBoil Camp Stove | A Jetboil is an amazing gift for any hiker, camper, traveller, car camper, day tripper, road tripper… should I continue?  Being able to boil water for coffee or meals in seconds is very convenient on the road or on the trails.
Quick links for your convenience here:
---
Outdoorsy Gifts for Water Lovers
Most outdoorsy people, also love the water so I've included a few clever gifts for the water lovers in your life.  I also included a few essentials for any cold-dippers you might know (since it's really catching on now).
Beach sails | These are WAY better than trying to lug around umbrellas!  They're super lightweight, packable and easy to set up and take down.  Plus, they provide more sun coverage than traditional umbrellas.
Floating sunglasses | Hands up if you've lost your glasses in the waves.  Yeah, me too.
Supbuddy Drink Holder | These drink holders work on paddleboards, kayaks, boats, campervans and more.
Dry Bags | These are great if you love water sports (kayaking, boating, etc) but they also come in very handy when you're travelling (think catamaran boat tours, fishing excursions, rainy days adventuring, cycling, etc).
Now, a few just for my cold-dippers.  These are items that any cold-dipper would love to have:
Waterproof change coat | These are waterproof, windproof oversized jackets that are designed for you to change under without getting whipped by the elements.
Sandproof blanket or change mat | Having somewhere to stand without getting your feet covered in rocks or sand makes like much easier when you're trying to change quickly and get out of the cold.
---
Hiking Gifts for Her
There aren't many gender-specific gifts on our list, but there are a few so here we go.
Nixit Menstrual Cups
Let's be honest: periods suck. They suck a lot less with a menstrual cup though.  I've tried many and have landed on Nixit – this is the best gift your outdoorsy friend never knew she needed.  Give the gift of never having to pack (or deal with) tampons again).  Nixit is suction free (if you know, you know), stem/string free, one size and made of medical grade BPR-free silicone.  She can be worn up to 12 hours and holds 4 super plus tampons worth of blood (twice the amount traditional cups will hold).  The best part, she's reusable up to 5 years (so this gift will save your hiking bestie around $700).
Where to buy: Nixit Menstrual Cup (Canada) or Nixit US (International) 
** Get 15% off when you use these links **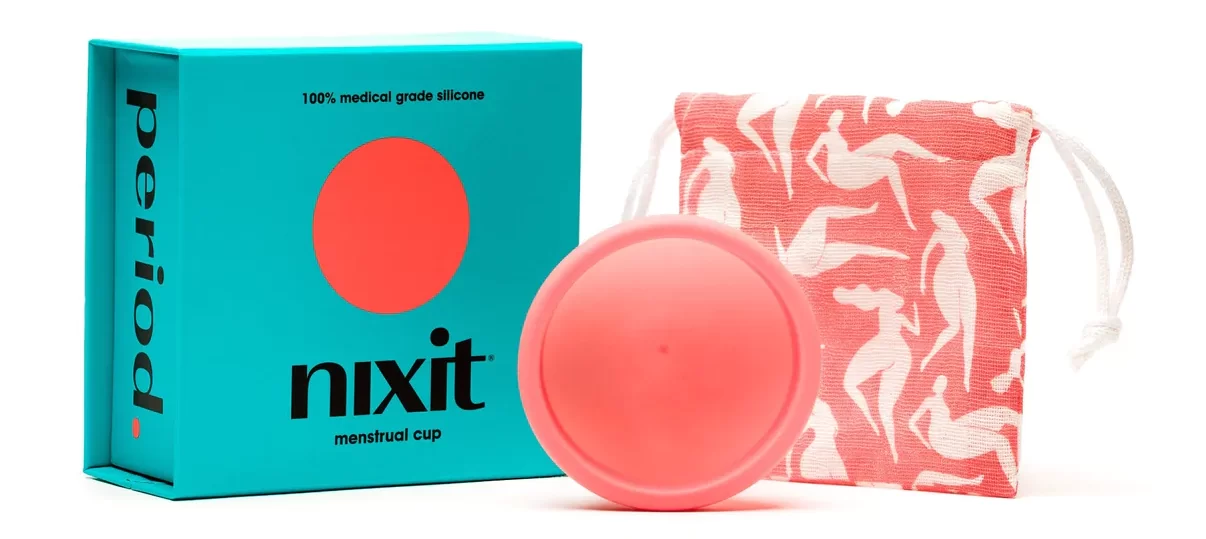 Other hiking gifts for her include pee cloths (these are actually really cool for hikers).  They're made from gentle materials that don't promote bacteria growth.  If you've ever peed in the woods as a woman, you know the "shake" method isn't great.  This eliminates the need for creating trash (that you have to carry out) and keeps things feeling much fresher.  They also fold over and clip right onto your pack.
You also can't go wrong with darn tough hiking socks.  They're merino wool so they never smell and they come with a lifetime guarantee.
Finally, Teva sandals are trending (and have been for a while) because they're so hiker friendly.
SHOP LOCAL: Find Teva sandals (men's & women's) and a huge selection of darn tough socks at The Trail Shop in Canada.
---
Hiking Gifts for Him and Them
This list looks similar.  I also popped these Bose audio frames (which are unisex) and the Patagonia ultralight belt bag (also unisex).
---
Gifts for Outdoorsy Couples
For outdoorsy couples, here are some fun gift ideas for couples who adventure together.  Car camping has become popular (for good reason) which makes this SUV air mattress brilliant.  Pair that with a DoubleNest hammock from Eno plus a Jetboil and Brewbuddy and you've got an amazing car camping experience.
We also love a good cocktail but when we're on the road it has to be simple – this camp cocktail book makes that simple.  And, you can't take a great photo without a great tripod!
---
Book Ideas for Outdoorsy People
Nothing beats a good read to spark an adventure.  There are all kinds of books out there to inspire your next adventure but here are a few we're really loving.
---
Stocking Stuffers for Outdoorsy People
For those of you on a budget, these outdoorsy gift ideas all come in under 25 dollars CAD!  These are also little things that we, as hikers, always need!
We hope this outdoorsy gift guide makes shopping for the hikers and outdoorsy people in your life easy peasy.  What are your favourite outdoorsy gift ideas?  Let us know in the comment.
Need more gift inspiration?  Check out our other guides:
Disclosure: Please note that some of the links above are affiliate links, and at no additional cost to you, we earn a commission if you make a purchase. We would never recommend anything we don't personally love, and the income goes to keeping this site updated and free for everyone!