Mezza Lebanese Kitchen
If you're looking for a culinary experience that combines delicious Middle Eastern flavours, fresh ingredients, and a cozy ambiance, put Mezza Lebanese Kitchen on your list.  With a brand new location opened in Fall River, this Lebanese restaurant offers an extensive menu of authentic, healthy dishes like shawarma wraps and bowls, alongside some unique indulgences like donair poutine that will tantalize your taste buds.
Whether you're a meat lover, vegetarian, or gluten-free, Mezza Lebanese Kitchen has prioritized its menu to suit a wide range of dietary preferences.  From savoury appetizers to mouth-watering entrees and tempting desserts, this eatery offers a diverse array of options that highlight the rich and colourful flavours of Lebanese cuisine.
So, join us as we explore the world of Mezza Lebanese Kitchen and let's eat!

Fast, Healthy Food
Mezza is set up on a line (like Subway) where you place your order and then customize it to suit your preferences.  It's food that's fast, but not fast food!  We love that you can stop in, order at the top of the line and be out the door with a healthy meal in under 5 minutes.
The Atmosphere
Mezza Lebanese Kitchen offers casual dining with a communal atmosphere.  Most Mezza locations we've visited have large dining areas with lots of cafeteria-style seating.  The new Fall River location is small, making it perfect for take-out but does offer a limited number of indoor seats as well.  The staff was friendly and knowledgeable and the open kitchen allows diners to witness the food preparations process which is always something I appreciate. 
OK, let's talk about the food!

The Food
Mezza is known for plates, wraps, bowls, poutines and salads but they also offer extras like grape leaves and baklava.  My usual order is the chicken Shawarma plate (hello…it's delicious) but we wanted to try a few different things on this visit.

Sriracha Chicken Protein Bowl
The first thing you'll notice at Mezza is the portions.  Their slogan, "Eat like you're family" is spot on.  You certainly won't leave hungry!  The protein bowl was full of all the best things from Chicken Shawarma and pickled turnips to crispy chickpeas and kale plus their famous Sriracha garlic sauce.  This bowl was delicious and I actually ate it for two days!  

Chicken Shawarma Wrap
The chicken shawarma wrap was tasty as well with the signature chicken shawarma which always has tons of flavour and pickled turnip for a little bite.  I'm a sauce girl though, and if I ordered this again I'd ask for a side of tzatziki or garlic sauce because I find pitas quite dry in general.

Donair Poutine
The donair poutine is definitely a departure from the healthy selection section but OH-EM-GEE this was an indulgence and a half.  Can I tell you a secret?  I've never actually had a donair and I'm FROM Nova Scotia!  I know, it's wild.  Poutines, on the other hand – I'm an old pro.  
I'm typically a poutine purist and prefer crispy fries, cheese curds and sauce.  Full stop.  However, the addition of donair meat and donair sauce was deadly good!  I'd definitely order this again.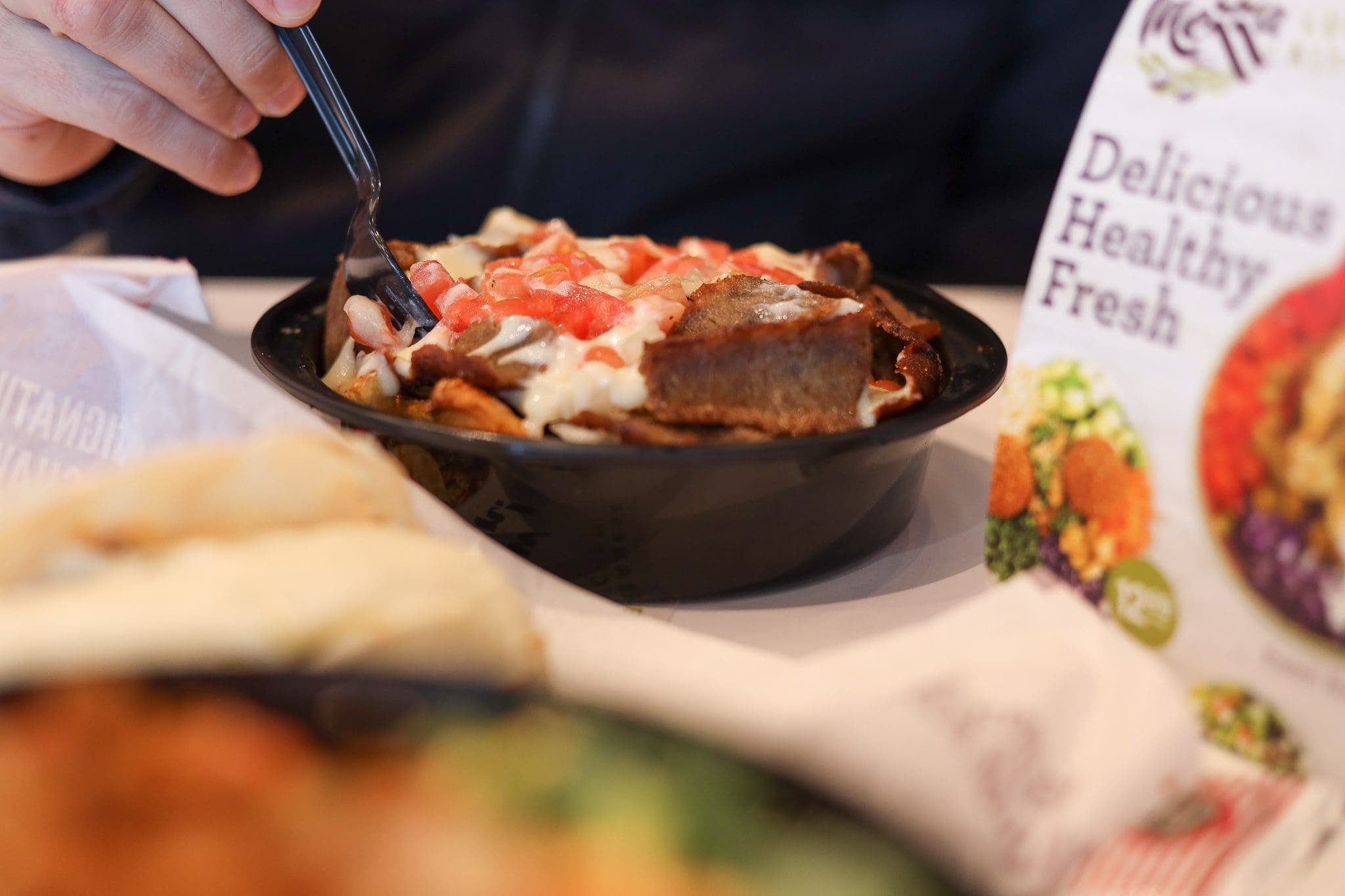 Garlic Sauce
If you've been to Mezza, you know what I'm talking about.  The garlic sauce is famous for a reason and it's getting its own shout-out here.  I don't know how the heck they made it (I've been trying to recreate it at home for years) but it's to die for.  When you visit, do NOT skip the garlic sauce.  Trust me on this one.  Put it on everything.
Must-Try Menu Items
For me, the standout was the Sriracha Chicken Protein Bowl.  The combination of flavours and textures (those crispy chickpeas were everything) along with the freshness of the kale made this a winner for me.  I'm excited to go again and try some of the other bowls to see if they all stack up.
Brent would say the donair poutine was his fav but, in defence of the bowl, he didn't even get a bite.  I took the whole thing for myself!
Final Thoughts
I love Mezza as a quick but still healthy and delicious option.  Fast food isn't our thing but we love being able to eat on the go (especially on the road) and Mezza provides a really great choice.  We also love that they have locations all across Nova Scotia.  Here's a list, for your convenience:
Antigonish

Halifax

Dartmouth

Bedford

Fall River (new)

Fredericton

Lower Sackville

Moncton

Truro

Tantallon
And new locations coming to New Minas and PEI!
Mezza Lebanese Kitchen
3290 Highway 2,
Fall River, NS