7 Nova Scotia Restaurants Featuring Eggs
An Egg Lovers Restaurant Guide
Eggs.  Are they really the perfect food?  I think so!  I'm here to dispel the myth that eggs are meant for breakfast.  When it comes to eggs, why limit ourselves to the first meal of day?  We went on the hunt for Nova Scotia restaurants featuring eggs beyond their breakfast menus and, dearest blog readers, we found some.  Without further ado, here are some eggscellent (see what I did there) Nova Scotia restaurants for egg lovers to try.
Note: This is a living blog post which means as we find new restaurants featuring eggs, we'll be adding them.  As you know, restaurant menus change all the time so please check before you visit to see what kind of delicious egg creations exist!  And remember, you can eat #eggsanytime 
Nova Scotia Eggs
Before we get to the egg dishes featured at some of our favourite Nova Scotia restaurants, I wanted to take a minute to talk specifically about Nova Scotia eggs. When we think about "local eggs", the thought that pops into most folks heads is going to a farm and collecting eggs directly from the coop, right?  But here's the thing.  The eggs you buy off the shelf at your local grocery store are LOCAL eggs, produced by local farmers!  In fact, there 25 registered egg farmers in Nova Scotia, who are dedicated to providing us with a stable supply of fresh, high-quality, locally produced eggs.  So the next time you're shopping for eggs, keep in mind that the eggs your buying off the shelves are, in fact, locally produced!
OK, let's get to the Nova Scotia restaurants featuring eggs in unique ways.
---
Gahan House
5239 SACKVILLE ST. HALIFAX
Gahan is, no surprise, one of our favourite Halifax restaurants.  It's our "Cheers" and we feel right at home there.  Over the last year, we've been able to sample the ENTIRE menu at Gahan and have some clear winners.  Today, one of those winners is the sourdough toast.  It's got Prosciutto di Parma, poached egg, roasted red pepper, salsa verde, garlic aioli, Parmesan, side arugula salad and its divine.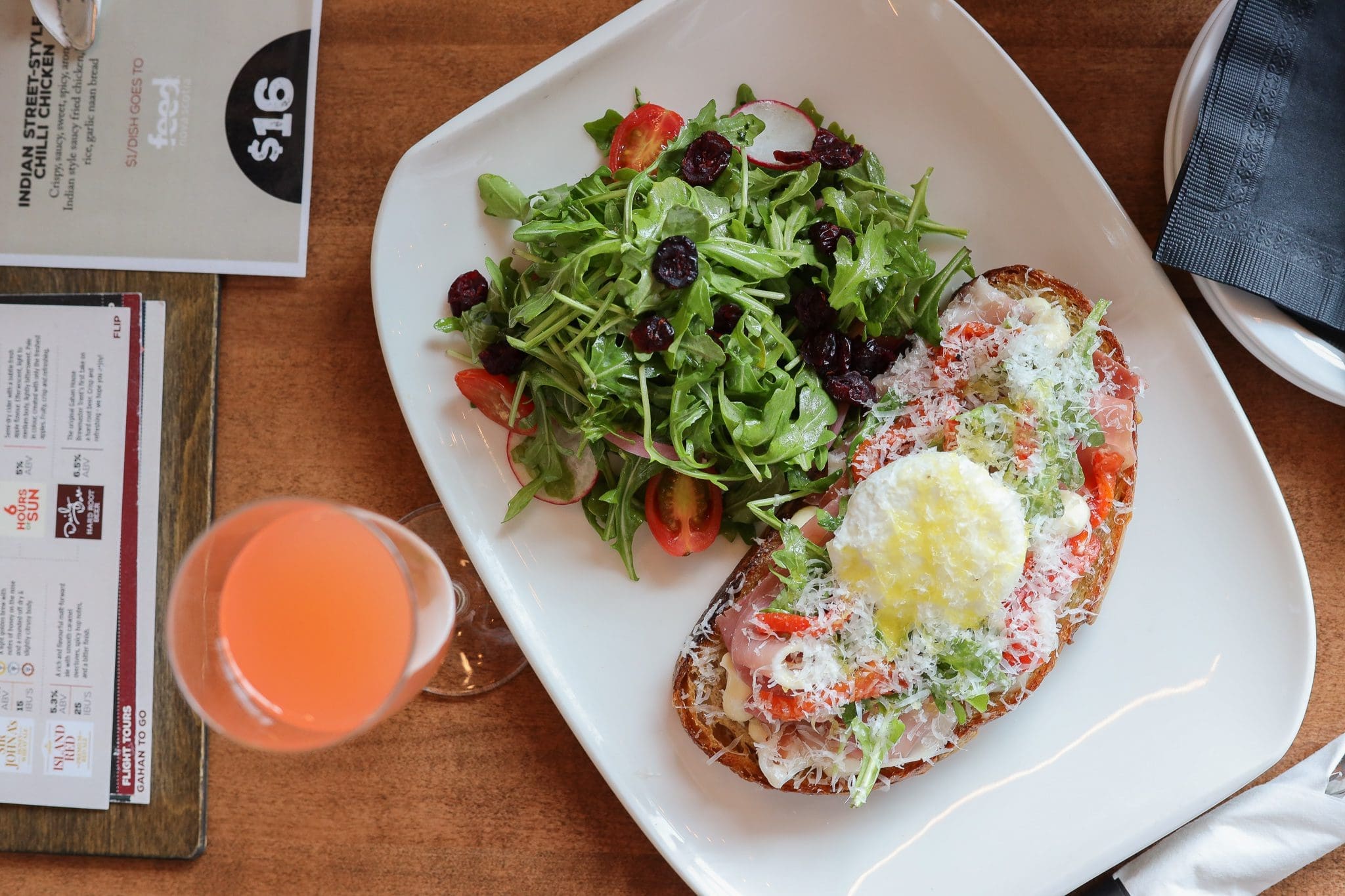 Wild Roots Restaurant
4200 HIGHWAY 308. TUSKET
You've got to travel for this one but it's worth it.  Wild Roots restaurant is in the tiny community of Tusket, in Yarmouth county and their menu is impressive.  With a focus on local ingredients, the pan seared salmon with dill potato salad, poached egg, and beet hollandaise blew us away.  They currently (at the time of this publication) serve their dinner menu on Friday & Saturday nights so plan accordingly.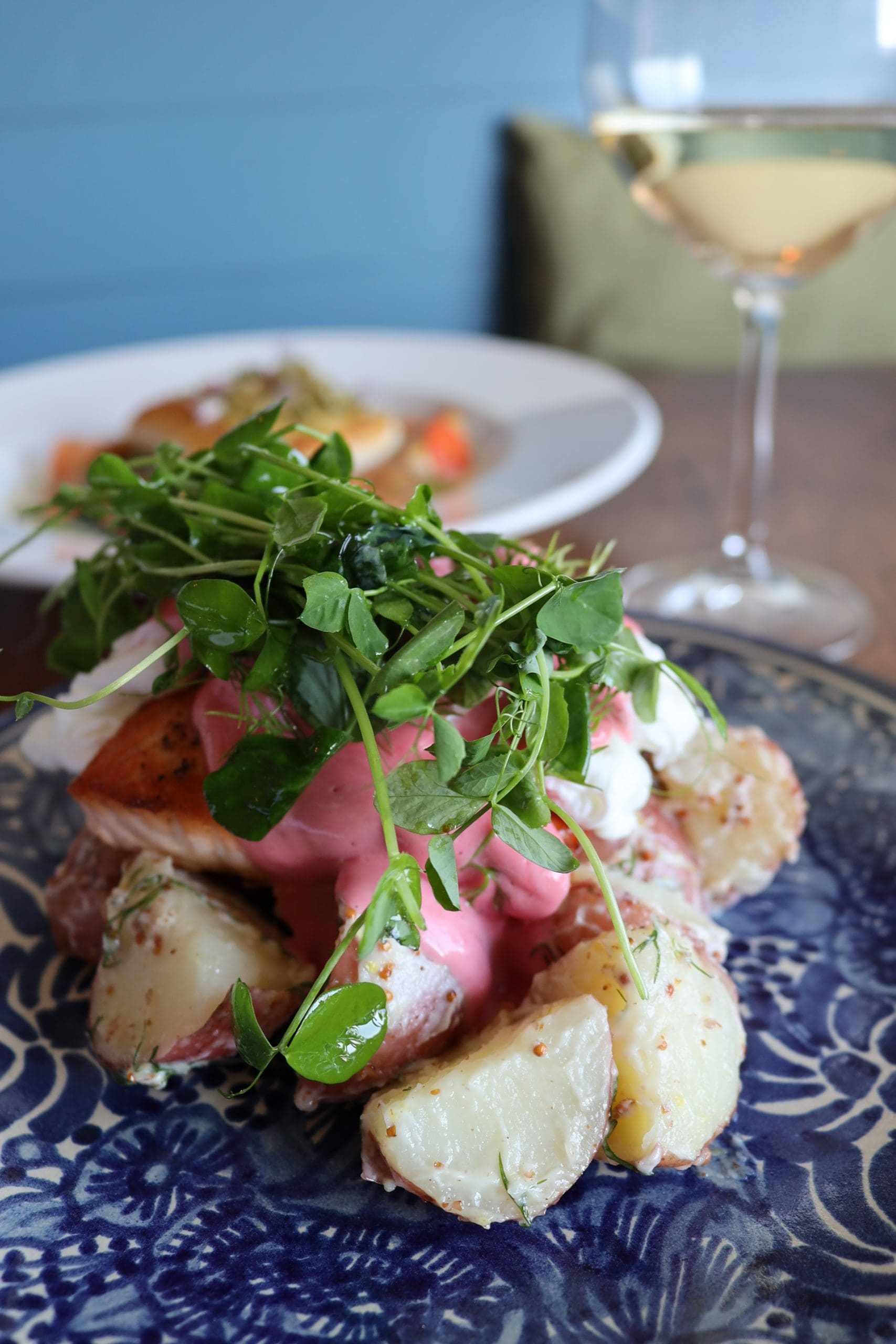 Obladee Wine Bar
1600 BARRINGTON ST. HALIFAX
Right here in Halifax again, Obladee is our leading wine bar in the city for good reason.  First, their extensive wine list and second, their flare for interactive food!  What is interactive food.  I'm glad you asked.  It's food that "takes a little work" to eat.  In the case of this pavlova, you smash it open and pour on the sauce.  It was amazing.    I highly recommend letting the team construct your wine pairings at Obladee as well, you won't be disappointed.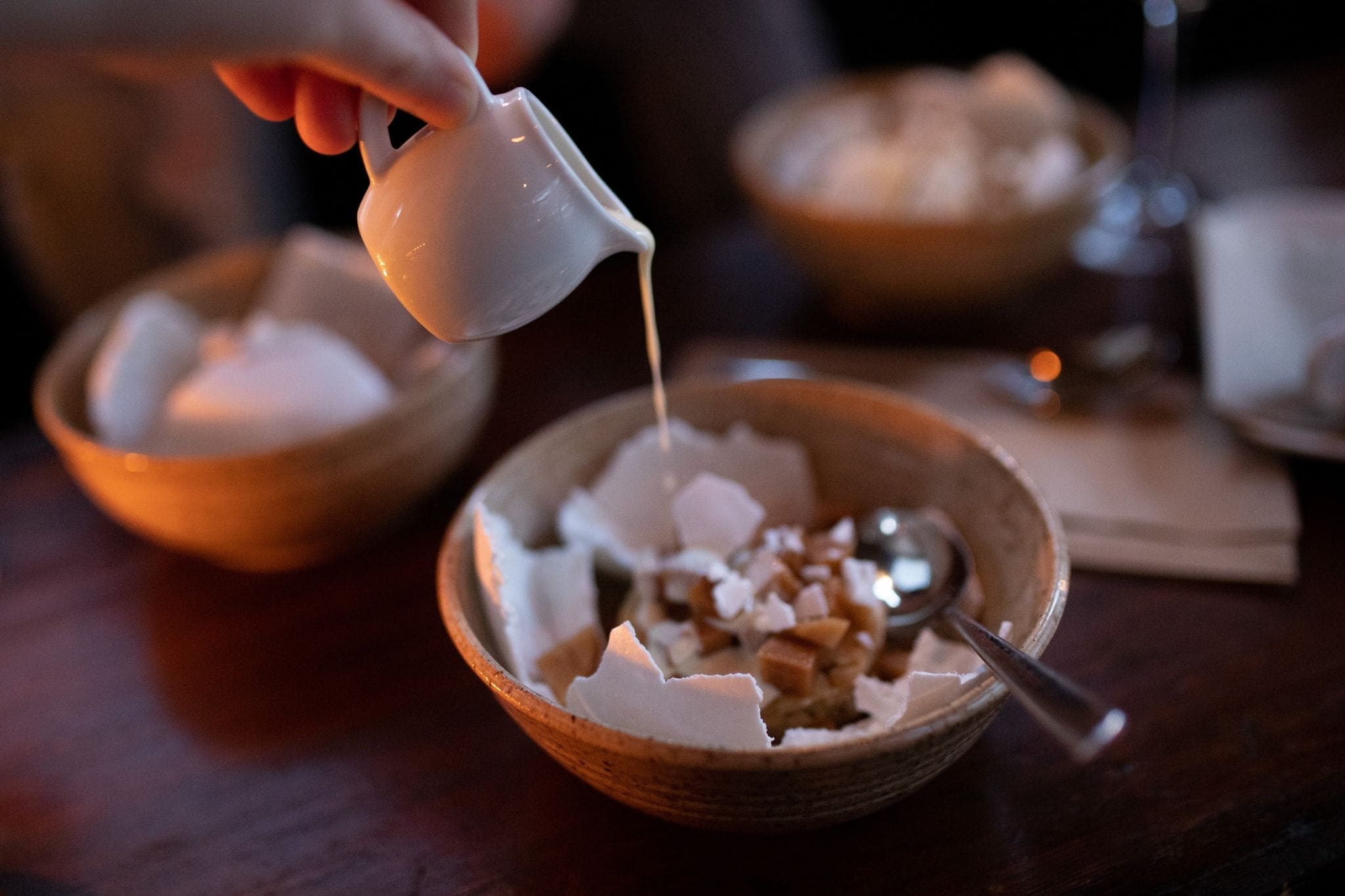 Pickford & Black Poutine
1869 UPPER WATER ST. HALIFAX
P&B, as we lovingly call is, always have something interesting on their specials menu.  Full disclosure, this was a special and doesn't live on their regular menu (yet) but I couldn't leave it out.  This Japanese poutine featured curbs, fried spuds, nori, sriracha mayo and…you guessed it…and sunny side up egg!  I died – it was delicious.  The point is, check the daily specials and if you see this beauty, get it.
Founders House Dining & Drinks
3816 HWY 1. ANNAPOLIS ROYAL
Annapolis Royal will forever hold a special place in our hearts.  So special, in fact, we visited 3 times this year!  It's a small, historic community in the Western part of Nova Scotia and it's got really good FOOD!  We dined at Founders House (reservations recommended) and enjoyed the stunning patio overlooking the golf course.  The star of the show was the Mushroom Croque Madame and featured mushroom truffle duxelle, gruyere, béchamel, and a fried egg.  Delicious and enough to share!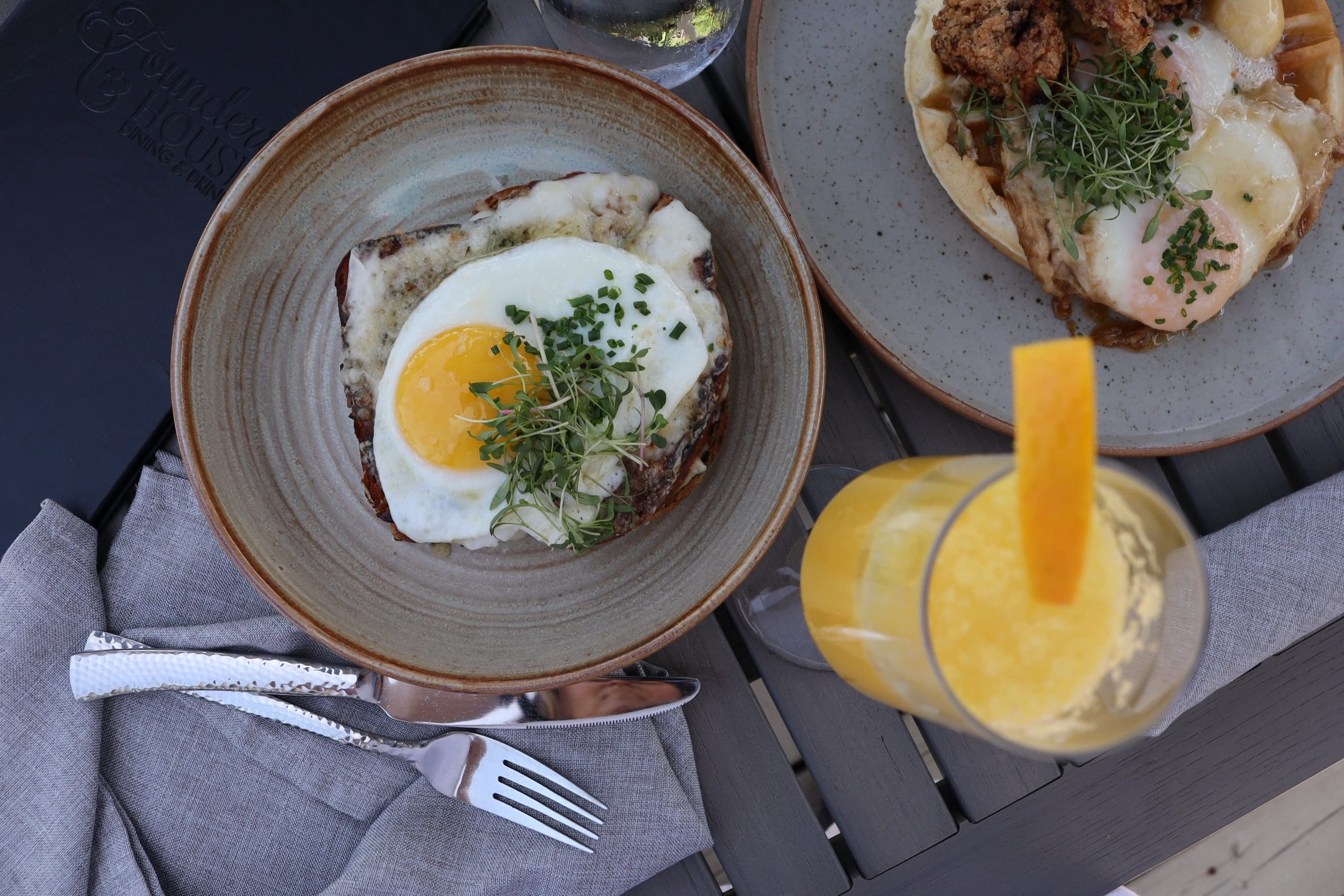 D'Theatre Korean BARbq and grill
236 COMMERCIAL ST. NORTH SYDNEY
You didn't expect North Sydney on this list, did you?  Well, surprise!  We accidentally found D'Theatre on our way to Newfoundland this year and discovered a dish called Bibimbap.  It's a Korean rice bowl topped with assorted vegetables, fried egg and a marinated beef.  Pro tip: you stir in the egg!  When we visited, the restaurant had just opened (like days before) and we're looking forward to returning again to try more of the menu.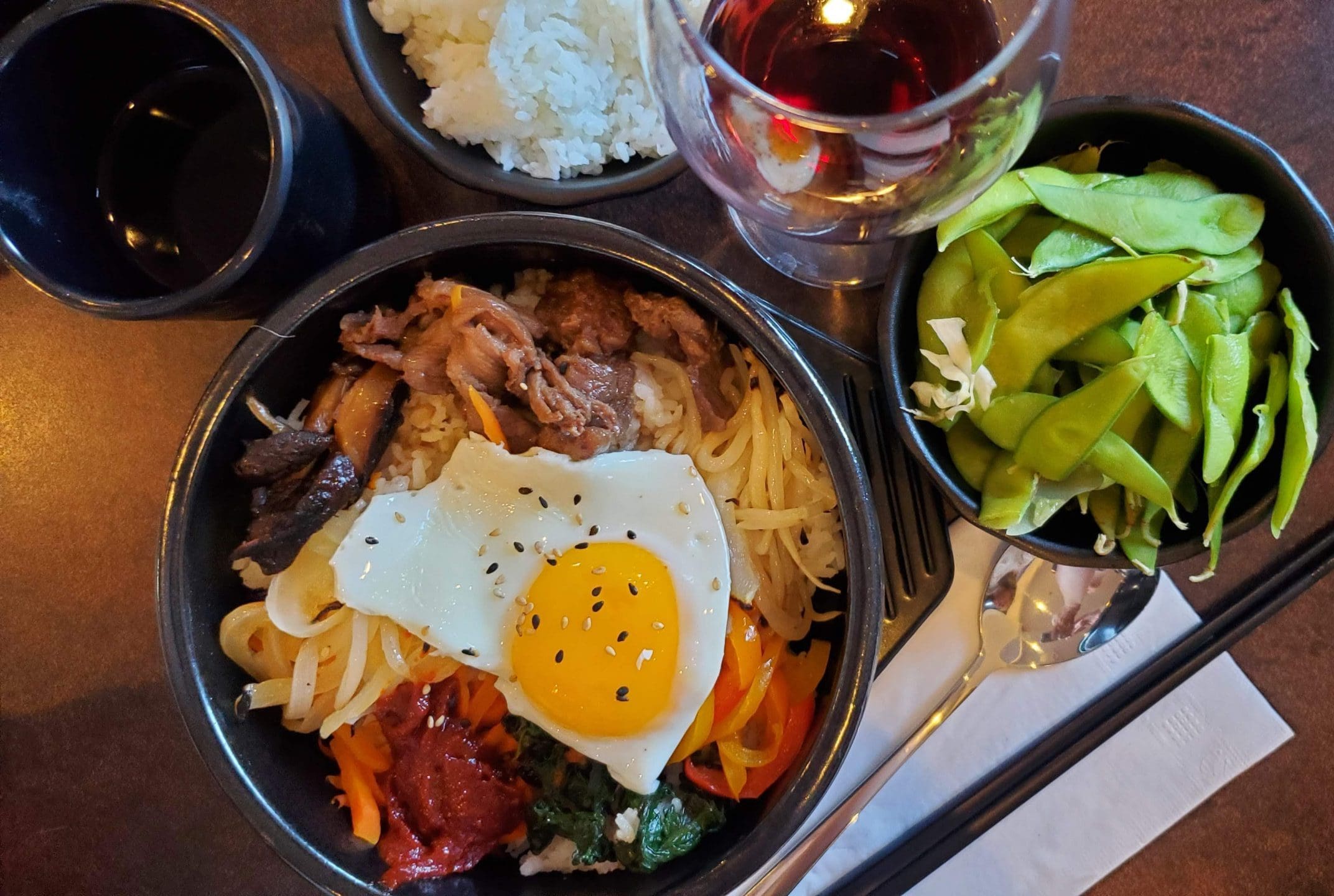 Kyo Halifax
1715 BARRINGTON ST. HALIFAX
Kyo is a fusion bar that combines traditional Japanese cuisine with new-age Izakaya inspiration.  If you love Ramen, this is your place.  We ordered the Black Tonkotsu and the Karaage Shio and they were delish.  Personally, I find ramen bowls way too big (always) so bring your appetite.  Of course, they're all topped with beautifully poached Nova Scotia eggs.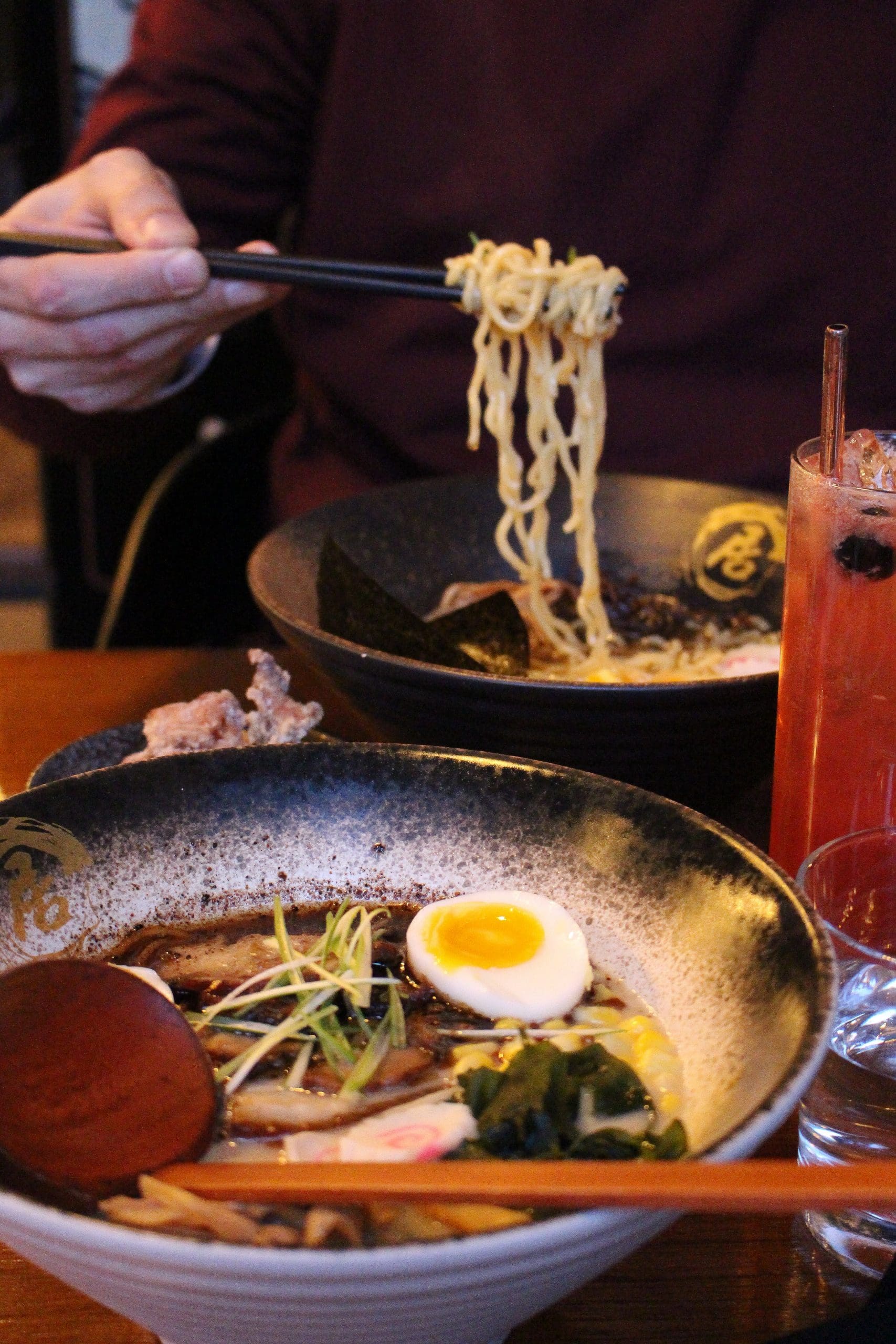 I'm not joking when I say eggs are my favourite food.  I eat them nearly everyday and I love seeing eggs featured on non-brunch menus.  Don't get me wrong, brunch is my favourite meal of the day BUT eggs deserve a place on the main menu as well.  
Now it's your turn, which Nova Scotia restaurants featuring eggs have you tried?  I want to know!  Let's add to this list so share below!
---
Other posts for our foodies:
18 Restaurants in Halifax You Have to Try
9 Reasons to Attend the Nova Scotia Lobster Crawl
---
* Huge thanks to the Egg Farmers of Nova Scotia for sponsoring this series and sending us on a mission to find the best egg dishes in Nova Scotia!  As always, all opinions are our own.  We've visited, tasted and photographed each of these meals and love sharing our first hand experiences with you.