Nova Scotia Food Tours
When it comes to Nova Scotia food tours, there are lot's of options available!  A few years ago, the food tours in Nova Scotia were limited but these days you can find exactly what you're looking for with a variety of curated food tours.  I've known Alicia Simms (owner of Secret Nova Scotia) for years and it's been an absolute honour to watch her businesses (all based in Truro) evolve over the past few years.  She has dedicated an incredible amount of time to supporting small local businesses and advocating for Colchester county…and we love that.
Disclaimer: This post is in partnership with Secret Nova Scotia.  As always, all opinions (and oodles of photos) are our own.  We feel so grateful to partner with local businesses like these and share them with you and we are never required to provide a positive review.  If we love it, you'll know about it.  If not, we'll tell you that too!  Always.
Which brings us to this particular Nova Scotia food tour…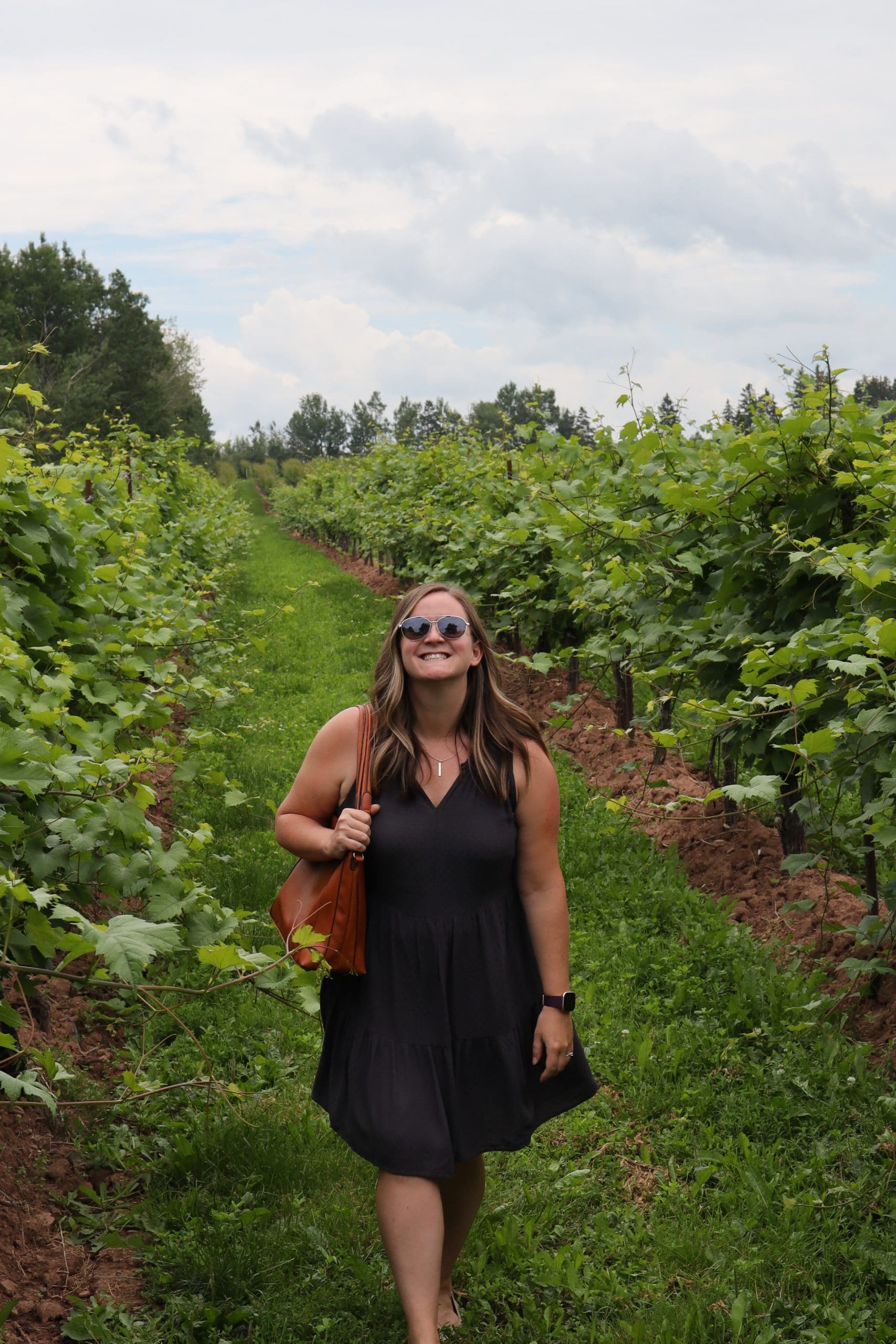 Revealing the Tastes of Tatamagouche
First off, if you haven't been to Tatamagouche yet… it's high time!  Tatamagouche is small rural village about 50 km north of Truro.  It's situated on the beautiful Northumberland shore and is a truly special place.  It has an energy that you can feel from the moment you arrive and the people are absolutely lovely.
True, I'm biased but stick with me and I'll prove to you why this Nova Scotia food tour is worth every minute. I have spent the majority of my summers on the Northumberland shore and Tatamagouche has always held a special place for us.
Revealing the tastes of Tatamagouche is a perfectly curated food tour in Northern Nova Scotia and we loved sharing this experience with the Secret Nova Scotia team and some fellow influencers.
Food Tour Details
The tour begins just outside of Truro, about an hour from Halifax.  There are 6 stops along this Nova Scotia food tour that include a mix of food and drink, exclusive behind-the-scene tours and special treats reserved only for tour guests.  As you're sipping and tasting the flavours of Tatamagouche, you also have the opportunity to speak directly to some of the producers and learn all about how each product is made and what makes it so special.  Trust me, it won't take long for you to realize how special Tatamagouche is.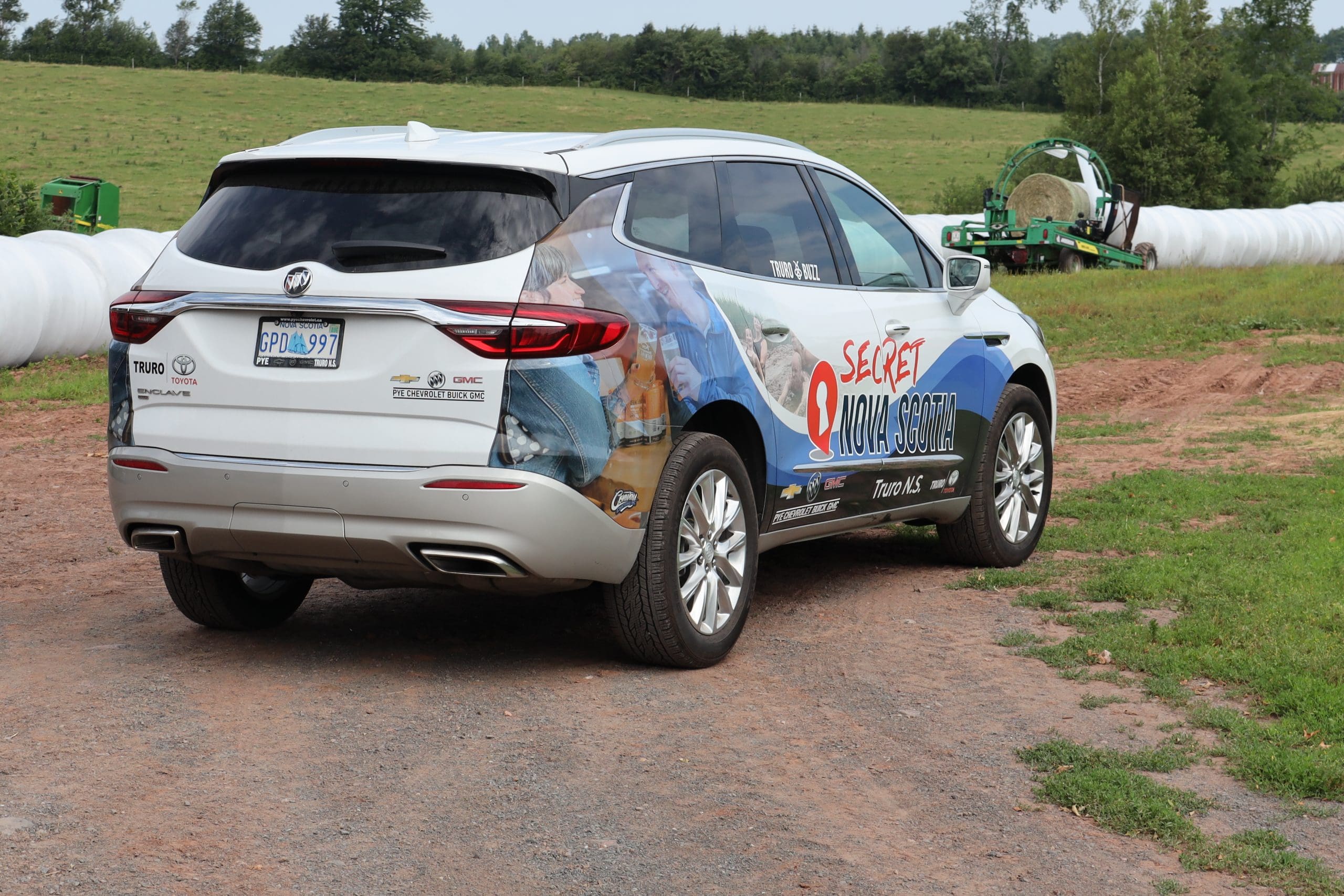 Where Does it Start?
The tour pick-up is at the Hampton Inn & Suites, just before you get to Truro (if you're coming from Halifax).  We highly recommend spending the night!  They offer a special rate for tour guests and it means you can enjoy your day without worrying about driving home afterwards (wink, wink).
What is Included?
Our tour with Secret Nova Scotia included 6 stops.  In the world of Nova Scotia food tours this is a huge value!  Many tours we've participated in have just 3-4 stops.  The stops included:
Ebbetts Meadow Brook Farm
Tatamagouche Brewery
The Chowder House
Jost Vineyard
Tatamagouche Ice Creamery 
Raging Crow Distillery
Appleton Chocolates
Ebbetts farms was a perfect first stop (because it's not quite to Tatamagouche which meant it made the drive nice a short).  We sampled some of their local products and got a tour of the farm.  We even met their new young bull, Habenero!  The donair dip, antipasto and jalapeño jelly were my favs!  Next, we continued on to Main Street Tatamagouche to visit Tatamagouche Brewing.  Tata brew is a certified organic brewery and is family owned and operated by the best humans ever. It's a must-visit every time we're in the area.  We got a full tour of the brewery, enjoyed a brew and learned all about how they produce what many consider the best craft beer in Nova Scotia 😉
During the tour, guests get to choose 3 craft beers to take home!  Good luck, because Tata brew always has a huge line-up of seasonal alongside their flagship products.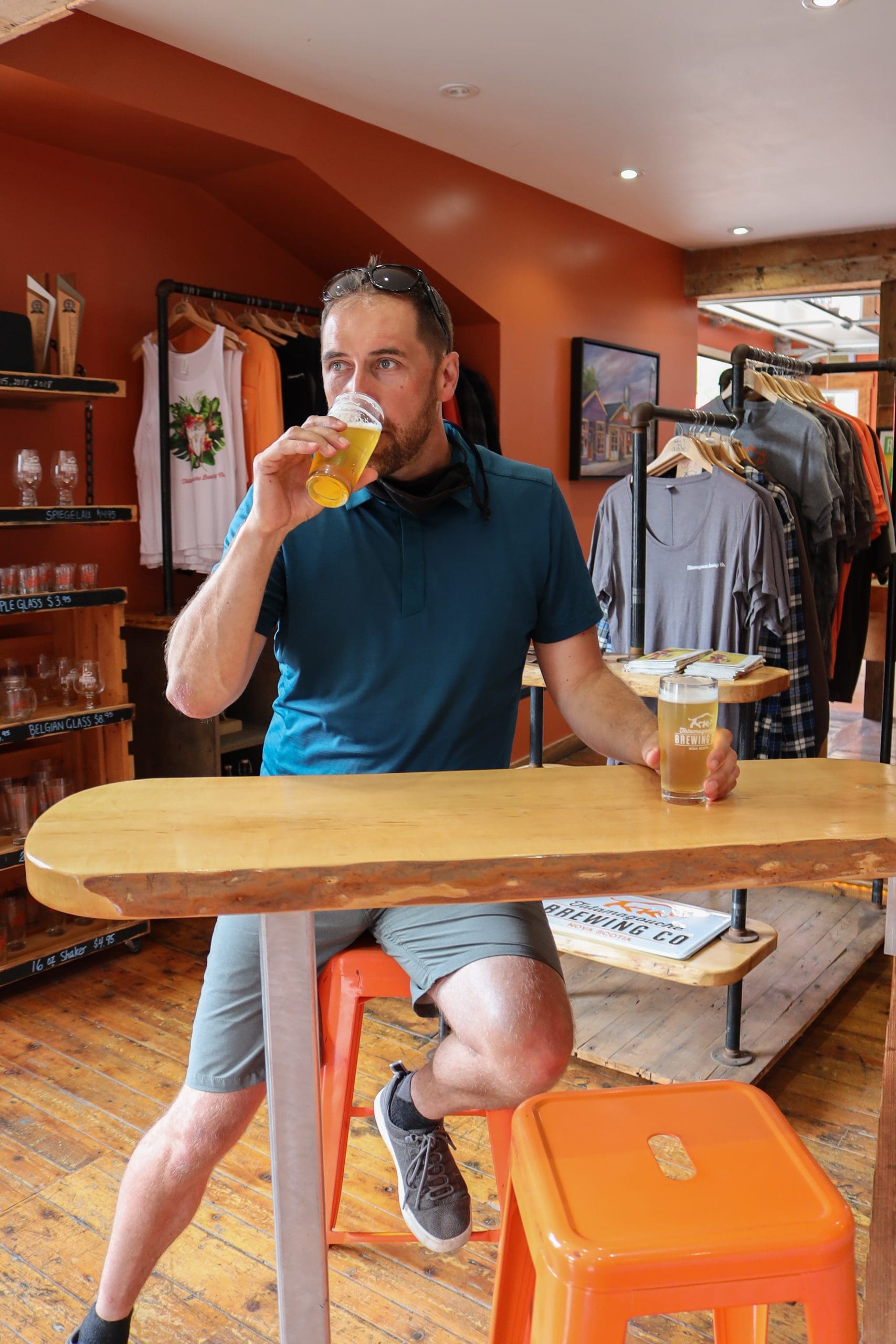 Lunch was at the Chowder House (walking distance from the brewery) where we enjoyed a chowder sampler.  This trio is exclusive to the Secret Nova Scotia food tour and included clam, seafood & corn chowder.  After lunch, we continued on to Malagash (just a few minutes away by car) to visit Jost winery.  Jost is the longest operating and largest winery in Nova Scotia!  The vineyards are beautiful and the wine is even better.  I highly recommend trying Selkie (what they're famous for) and their Luvo line of canned wines.
After our wine tasting, we returned to Tatamagouche to visit the brand new Tatamagouche Ice Creamery.  Heaven.  This little shop is brand new but making a splash with their ultra-premium ice cream and unique flavour combinations.  Take-out, sit on the patio or take a pint home but whatever you do, don't miss this stop!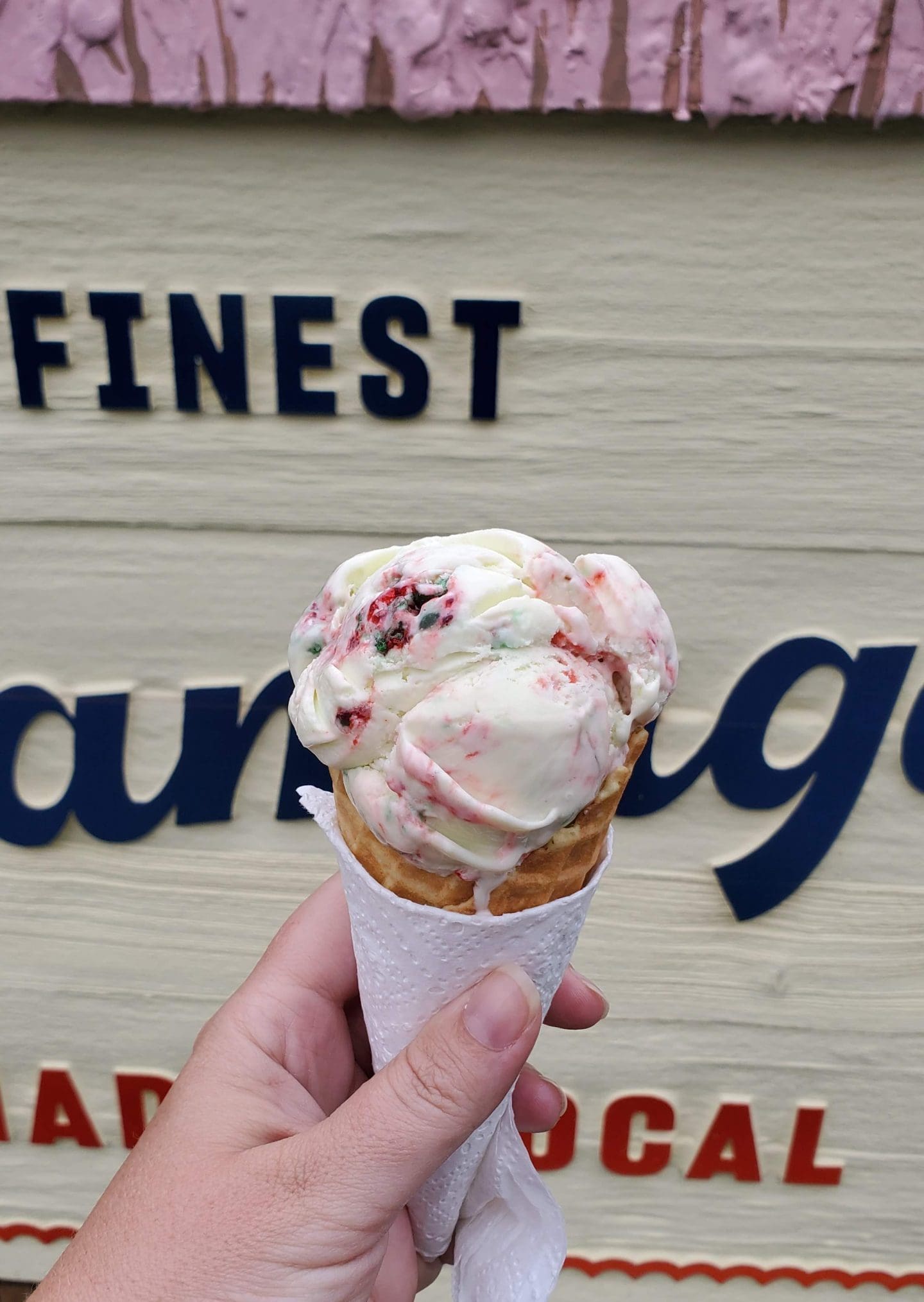 The last stop during this Nova Scotia food tour was to Raging Crow Distillery in North River (on the way home from Tata).  They make small-batch, hand-crafted, award winning spirits and have got an impressive line up!  We enjoyed a tour, tasting and took home a bottle of their dill pickle vodka which is PERFECT for Caesars!
Guests of the tour also enjoy discounts at most stops so when we arrived home, we had a haul of local products to enjoy.  We were also left with a parting gift of hand-rolled artisanal chocolates from Appleton Chocolates as a take-home.
Tour Dates & Times
The revealing the tastes of Tatamagouche food tour is seasonal and runs from late May through the end of November.  As mentioned, the tour leaves from the Hampton Inn & Suites in Truro and lasts approx. 7 hours.
Food Tour Cost
$107.00/per person based on 4 people or $84.00/per person based on 6 people.
Tastes of Tatamagouche Food Tour Review
Where do I begin?  We love this tour starting with the small, intimate experience.  We loved the group size (which is what Secret Nova Scotia caters to) and although they have the capacity to accommodate larger groups, I would highly recommend what we did; a tour of 4 – 6 people.
We found the mix of stops perfectly balanced from a design and flow standpoint.  The tour alternated between food and drink stops which offered enough "rest" between eating so that we could fully enjoy the next destination without feeling too full.  I also LOVED that layout!  Stopping at Ebbetts farm first (which is less than 40 mins from the departure location) was the perfect start to the trip.  Each stop kept us engaged and entertained, especially the final stop in North River which is only 12 minutes from the departure site.  That is brilliant!
One of my least favourite parts of any tour is the drive time to and from the destination!  After a full day of indulging, a long drive home makes everyone tired.  Alicia and the team solved this problem brilliantly with the final stop at Raging Crow – so smart!
Another note worthy detail: the portions were perfect!  Just a taste at each place is what you need during a food tour.  I often find food tours leave us uncomfortably full and unable to enjoy what's going on but this food tour was perfectly portioned for maximum enjoyment (wow, that was a mouth-full).  
Final Thoughts
And finally, the guides were lovely.  They were friendly, helpful and kept the group on track throughout the day.  They even provided a cooler in the vehicle so that we could shop and keep our goodies cold during the drive.  
Honestly, nothing was missed.  I wouldn't change a single thing about this tour and would recommend it to anyone who considers themselves a foodie.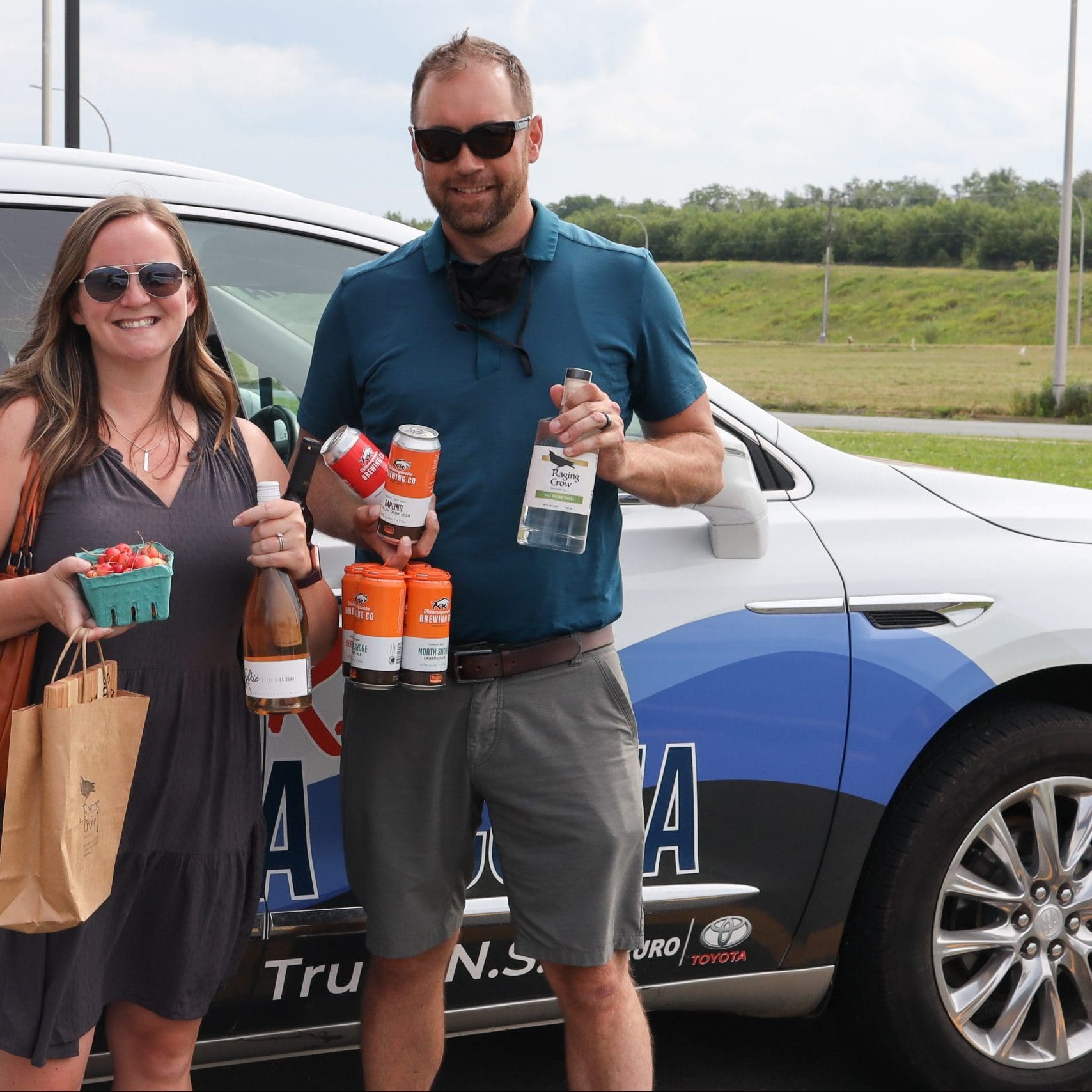 How do I Book a Tour?
To book a tour, visit the Secret Nova Scotia website or call 902-893-8604.  You can also email them at [email protected]  As mentioned, you can book larger tour groups than 4-6 by calling or emailing direct!
We love hearing from you!  Did you book this tour?  Are you planning to?  Have you visited Tatamagouche?  Let us know in the comments!
*this post was sponsored by Secret Nova Scotia, however, all opinions remain our own