The Best Craft Beverages in Atlantic Canada
When you think of "craft drinks",  you think of beer first right?  That's fair.  I did too.  But as I sat down to write about our favourite craft beverages, I decided that limiting ourselves to just beer was a little too vanilla for my taste.
Why?
Because some of our favourite craft producers and doing some extraordinary things and we like options.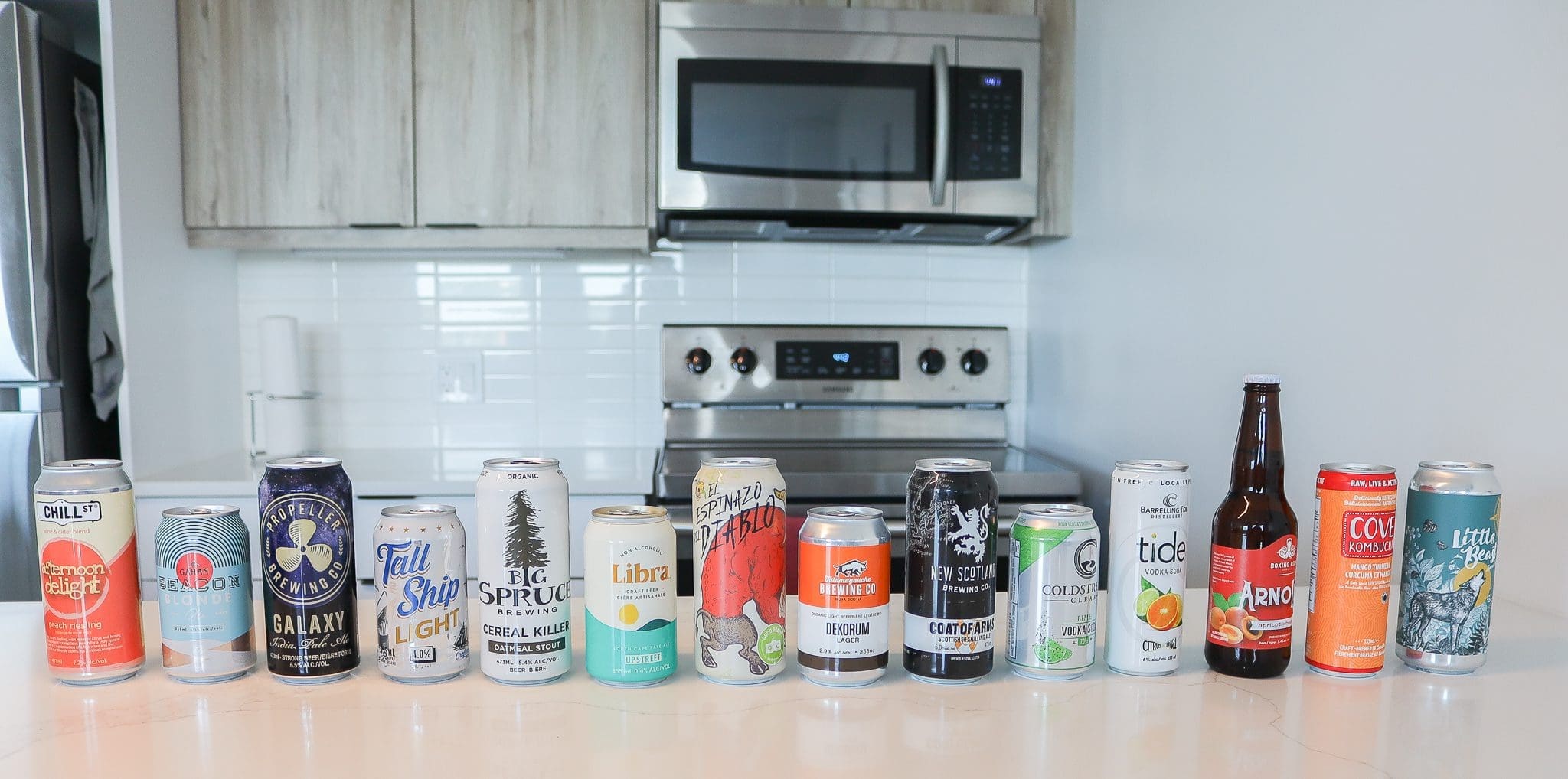 Disclaimer: This post is in partnership with Libra, but as always, all opinions (and oodles of photos) are our own.  We feel so grateful to work with these extraordinary local businesses and we love sharing them with you.  Note: we are never required to share only positive experiences – if we love it, you'll hear about it.  If not, you'll hear about that too!
What is "Craft" Anyway?
By definition, craft beverages are small-batch drinks and owned independently.  But there is a LOT of discrepancy and confusion when it comes to calling something "craft".  It depends who you ask, where you are, and what type of alcohol you're talking about.   For us, we define "craft alcohol" as made by a maker using some level of skill or art, independently owned, and using real ingredients.
Let me elaborate.
Made by the Maker and Requires a Level of Skill
Simply put.  For something to be considered "craft", it has to be made with a hands-on approach.  If a system is entirely automated and only requires the maker to push a button and monitor a computer screen, that's not craft.  Craft requires human interaction.  Without it, you're just another mass production facility.  Hey, no problem there – I enjoy a Corona just as much as the next girl, but it's not craft.
Traditionally speaking, a craft is "an art or trade that requires a special, usually manual skill".
Pretty straightforward to me!  Craft requires someone to touch, smell and taste the product in order to get it right.  Craft beverages require a level of art form and that's what makes them so special.  They require the maker to touch, smell, and taste the product then make adjustments along the way to get it just right.
Uses Real Ingredients
In order to achieve "craft" status, the product should use real ingredients that you'd expect to be there.  In our experience, makers of craft beer, craft cider, craft spirits and craft wine are proud of their ingredients.  They aim to celebrate (not hide) what's in their product.  Simple ingredients, with nothing to hide.
Independently Owned
Does this one need an explanation?  Probably not, but I'll give one anyway.  If a "craft company" isn't independently owned or if there's a big corporation with a stake in the operation, it's moving away from craft.  Obviously, there's a big difference between 5% and 45% stake but generally speaking (again, this is our opinion) we're looking for independently owned brands.  Part of what makes "craft" so special (to us) is that they're connected to communities they serve.  By supporting them, we're supporting our communities.
CRAFT definition / beverages that are made by a maker using some level of art or skill, independently owned and using real ingredients
Our Favourite Craft Beverages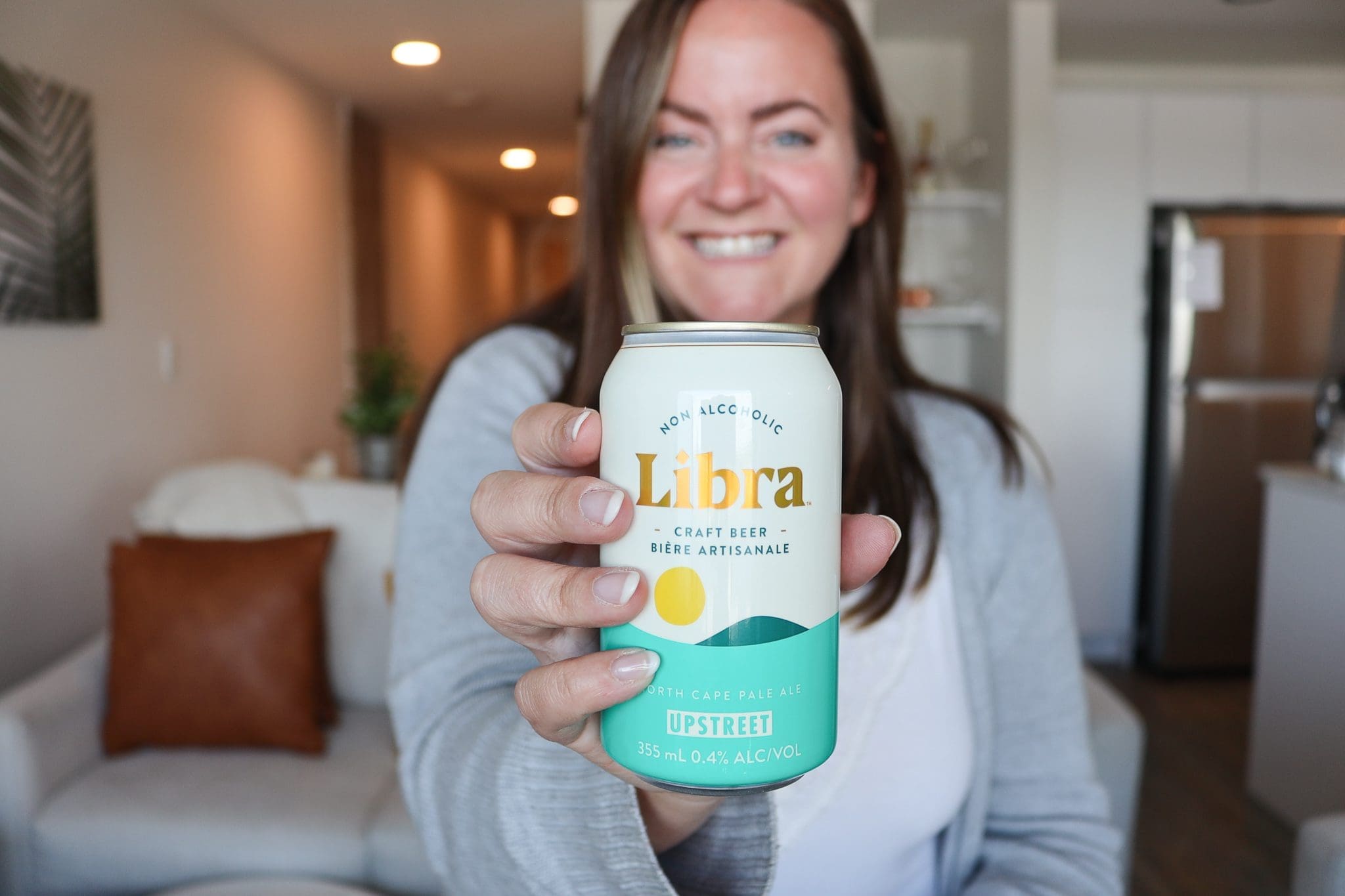 To be clear, we didn't include wine or cocktails in this list for one simple reason.  It would be WAY too long.  We're proud Nova Scotia wine ambassadors and we're obsessed (in a healthy way) with craft cocktails but in the interest of keeping this readable, we'll save those for another day.  Here we focused on canned craft beverages that include beer, ciders, sodas, seltzers and some fun non-alcoholic options!
We've organized this list with our favourite craft beverages as the stars of the show.  But we've also included a "must try" in each category.  These are products we haven't tried yet but are excited to dive into or we also really like them and think you should give them a shot too!
Libra
0.4% ALC/VOL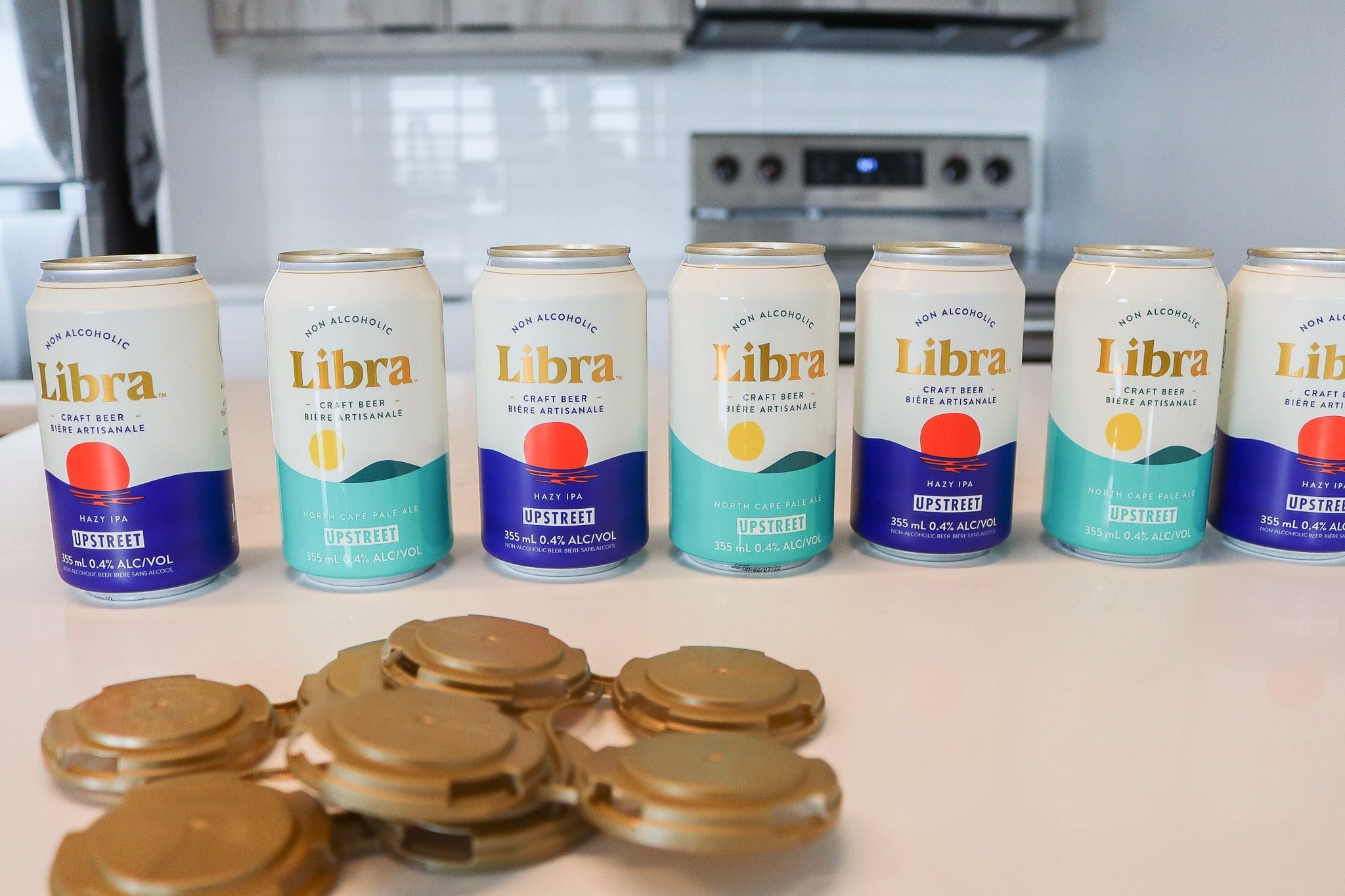 Gasp!  Wait, you're starting this "best craft beverages" list with a non-alcoholic beer?  Yes sir, I am!  Don't get me wrong.  I love craft beer and boozy drinks (as well documented here) but as someone who works directly in the hospitality industry, there is always an opportunity to drink.  We've been feeling a shift in ourselves and in the community to wanting to drink a little less.  The problem is, we LOVE craft beer.
Enter, Libra.  With a pale ale and hazy IPA coming in at just 30 and 50 calories respectively, Libra has been a PERFECT addition to our library of craft beverages.  We've been drinking these since their launch and always keep our fridge stocked.  They're impressively delicious and completely guilt-free.
Must Try: The newest member of the Libra family, the Hazy IPA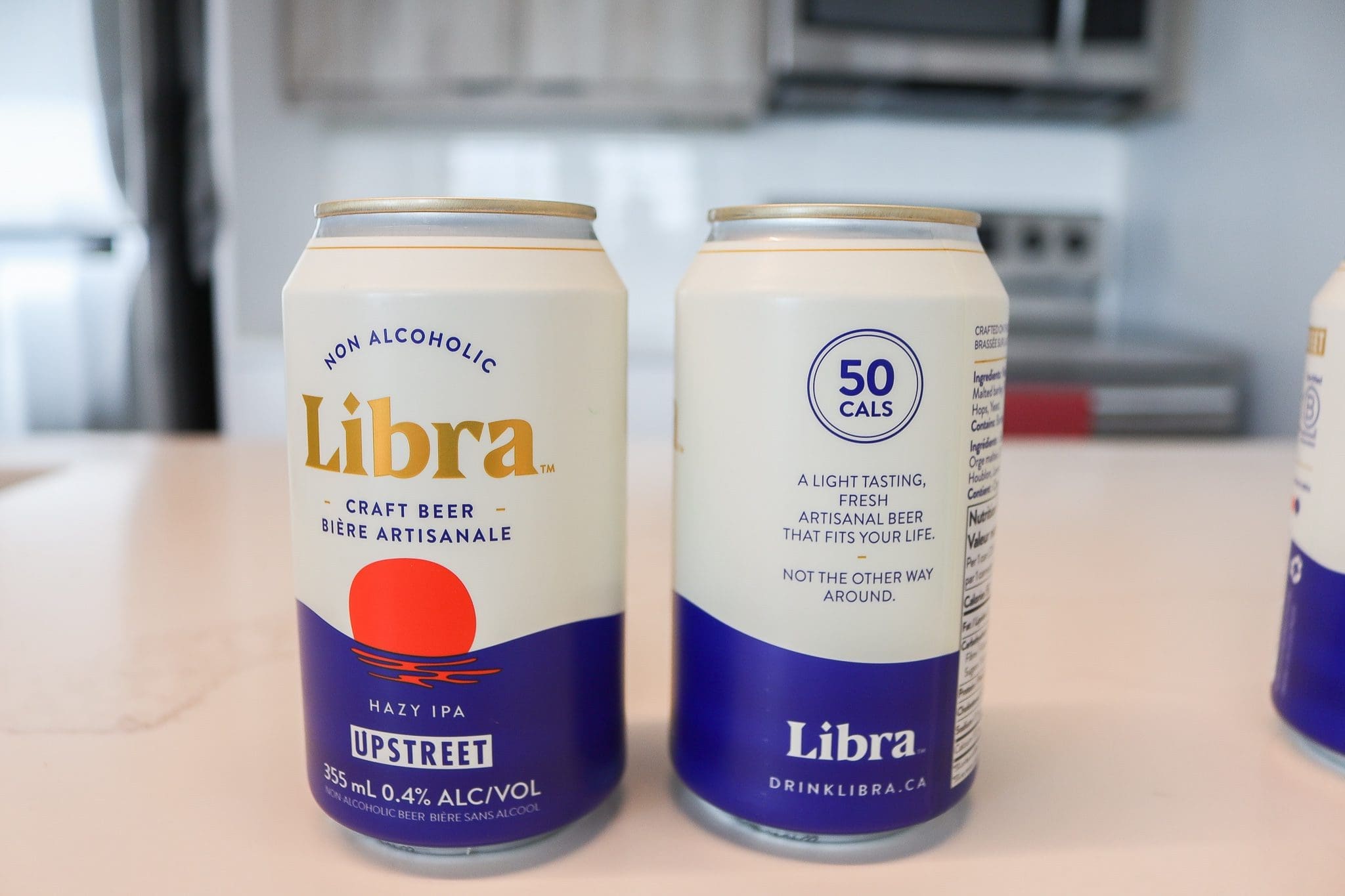 Dekorum
2.9% ALC/VOL
Don't quit on me yet!  This list includes a variety of craft products that range in ALC/VOL but I'm loving the light craft trend right now so Tata Brew's Dekorum found a place at the top of this list as well.  Dekorum is an organic, light beer that's now available in a bunch of flavours beyond the original lager (my favourite) like lime, mandarin and blood orange.
Must Try: Their seasonal line-up is always impressive and you can always find something unique to try!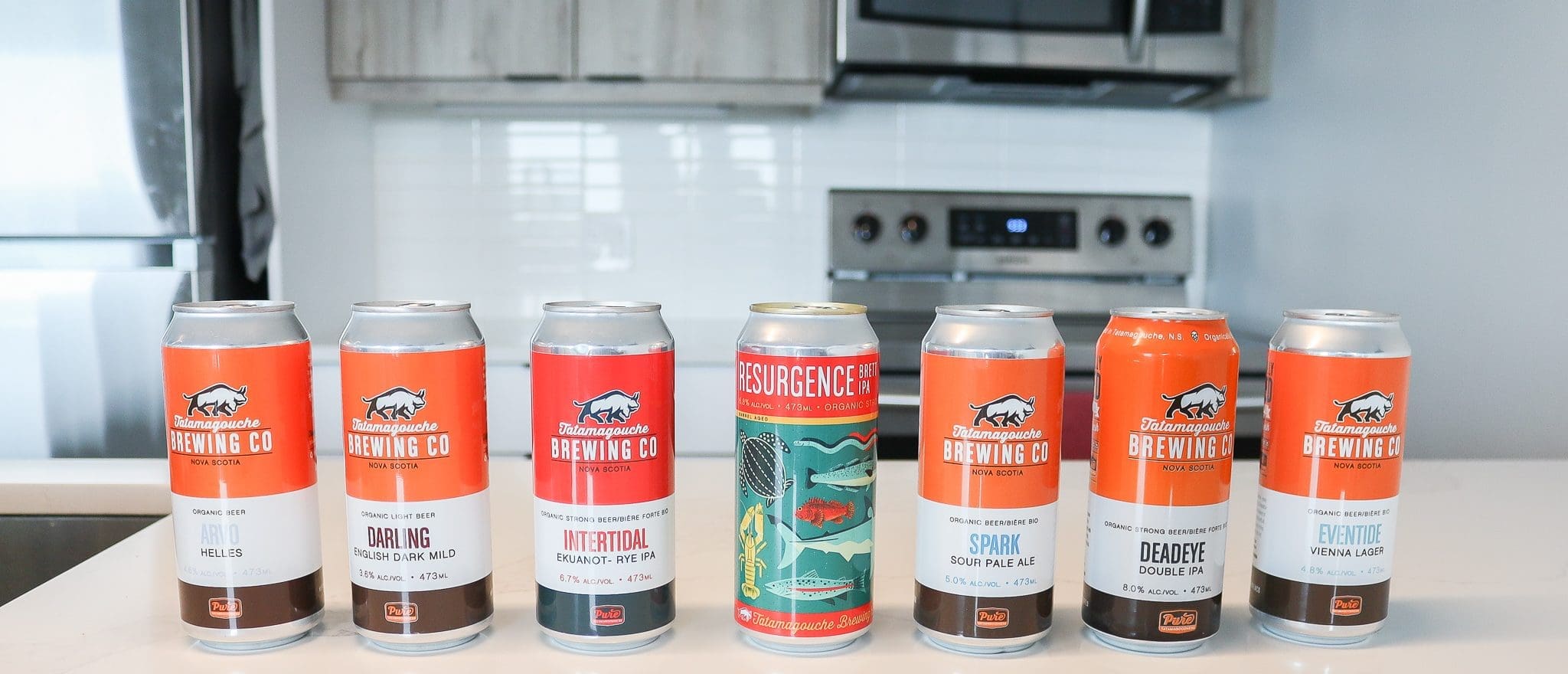 Afternoon Delight
Chillstreet Craft Beverage Co, NS
7.2% ALC/VOL
Actually, I'm quite obsessed with all of the wine-cider blends and wine-cider spritzers from Chillstreet.  They've got a wide-range of flavours including pineapple pinot Grigio (which was a close runner up to the top pick), blueberry sangria, sparkling rose, mimosa and more.  They're all fabulous and maintain a presence in our home-bar. 
Must Try: They've just launched (summer 2021) a new line of craft cocktails!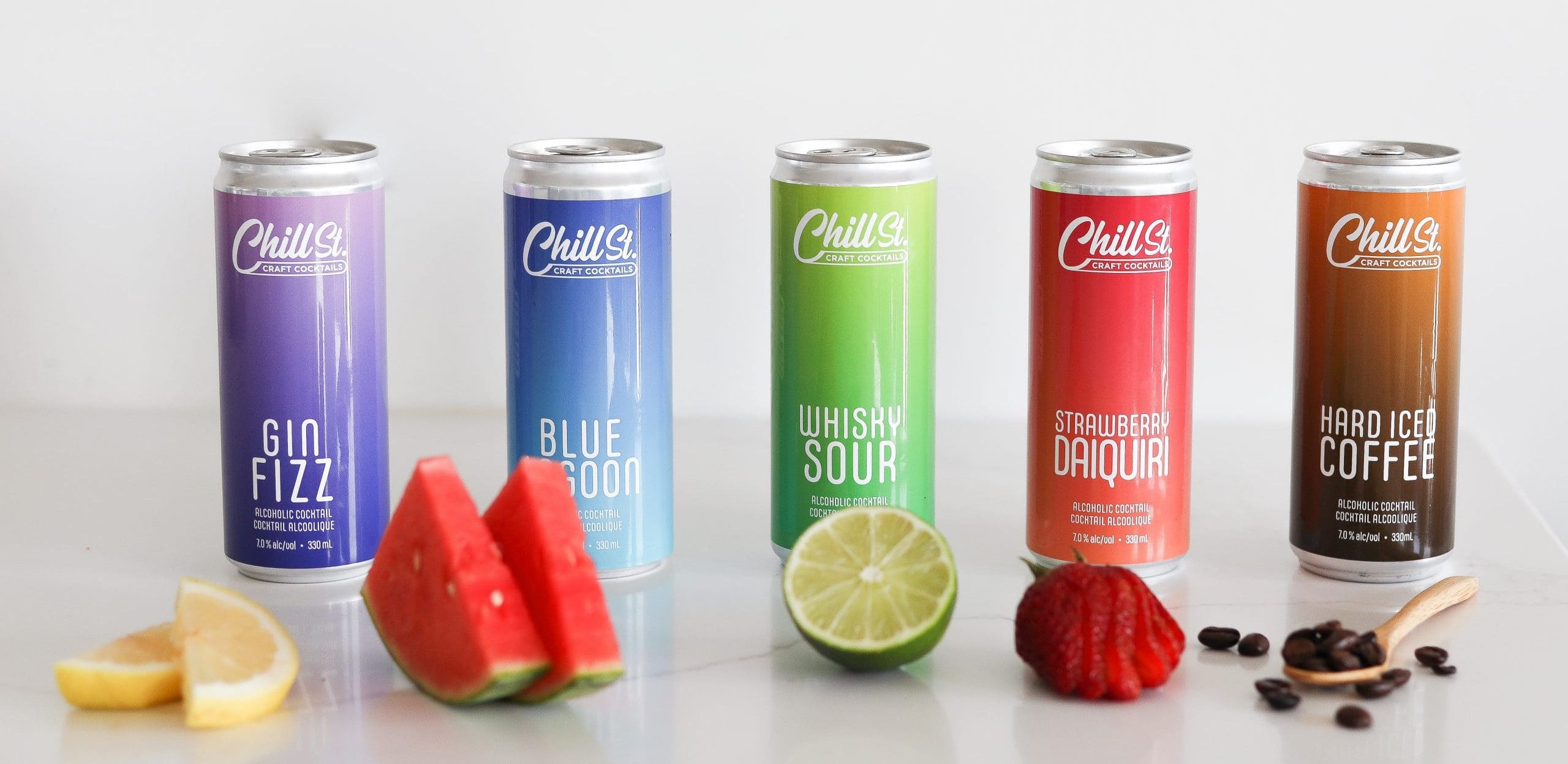 Cereal Killer
5.4% ALC/VOL
Cereal Killer has been (and continues to be) my absolute favourite stout.  To date, nothing I've tried can steal that top spot for me.  It's got notes of espresso and dark chocolate and is beautifully rich.  I love it.  I'm always up for trying new things but so far, I always come back to Cereal Killer from Big Spruce.  What can I say, I'm a loyal stout girl.
Must Try: Bliss Summer Peach Hard Seltzer!  No carbs, no sugar, gluten free and delicious.  
Galaxy IPA
6.5% ALC/VOL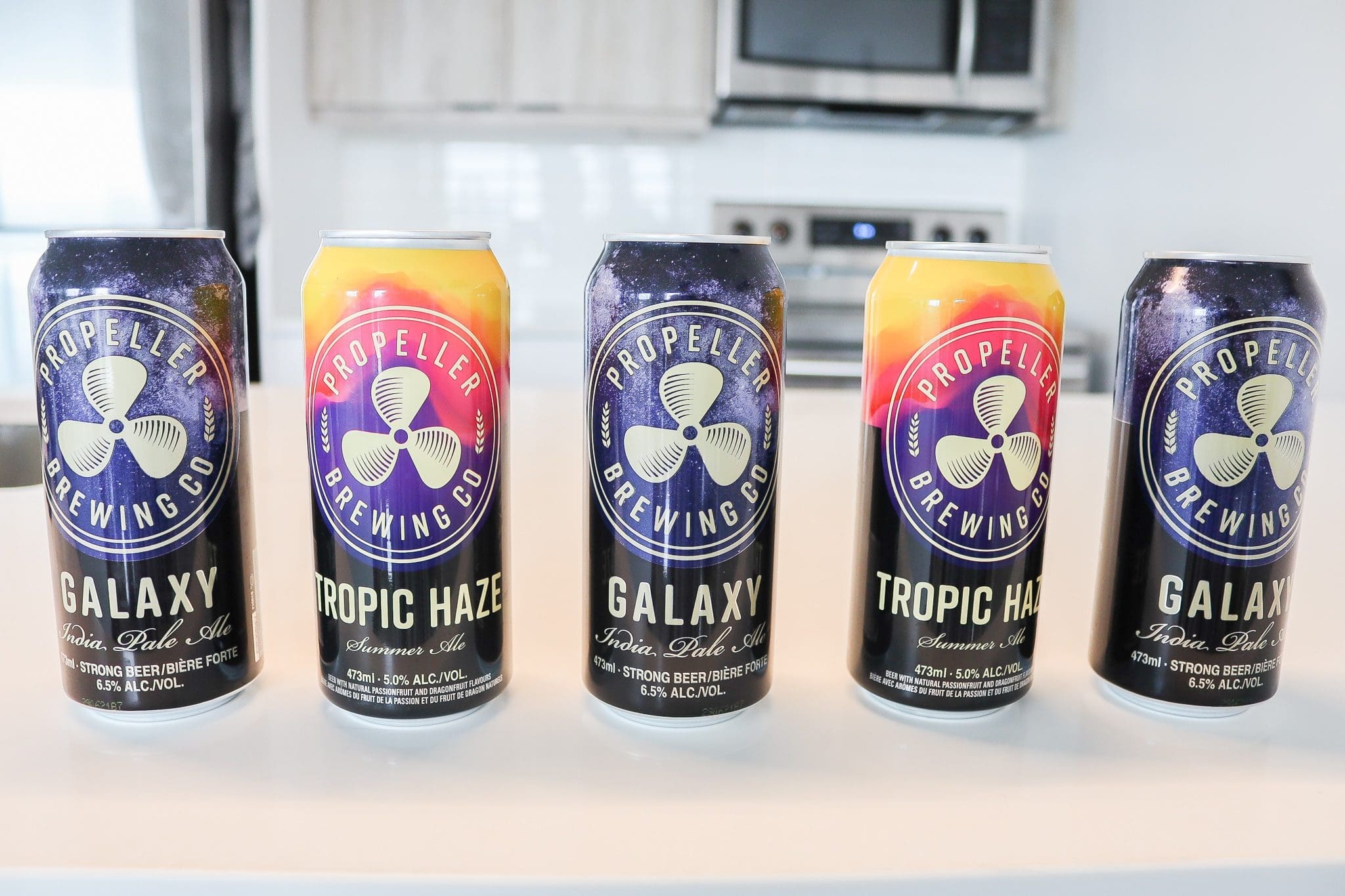 Galaxy is a Vermont Inda Pale ale and it's got notes of pineapple, peach and citrus with undertones of tangerine and mango.  Sounds yummy right?  It is!  That's why it's our Propeller fav!  
Must Try: Watermelon Vodka Seltzer (can you tell I've got a serious thing for seltzers?)!  This is cheating but I also want to note their seasonal beers (like Tropic Haze) because they're really good! 
Rather than sound like a broken record, I'll just say this once.  Most of the craft breweries we're featuring here offer seasonal products.  I would HIGHLY recommend trying them each year.  These brewers and creating some really unique flavour profiles that change each year. We love visiting these breweries and sampling their seasonal whenever we can.
Coat of Arms
5.7% ALC/VOL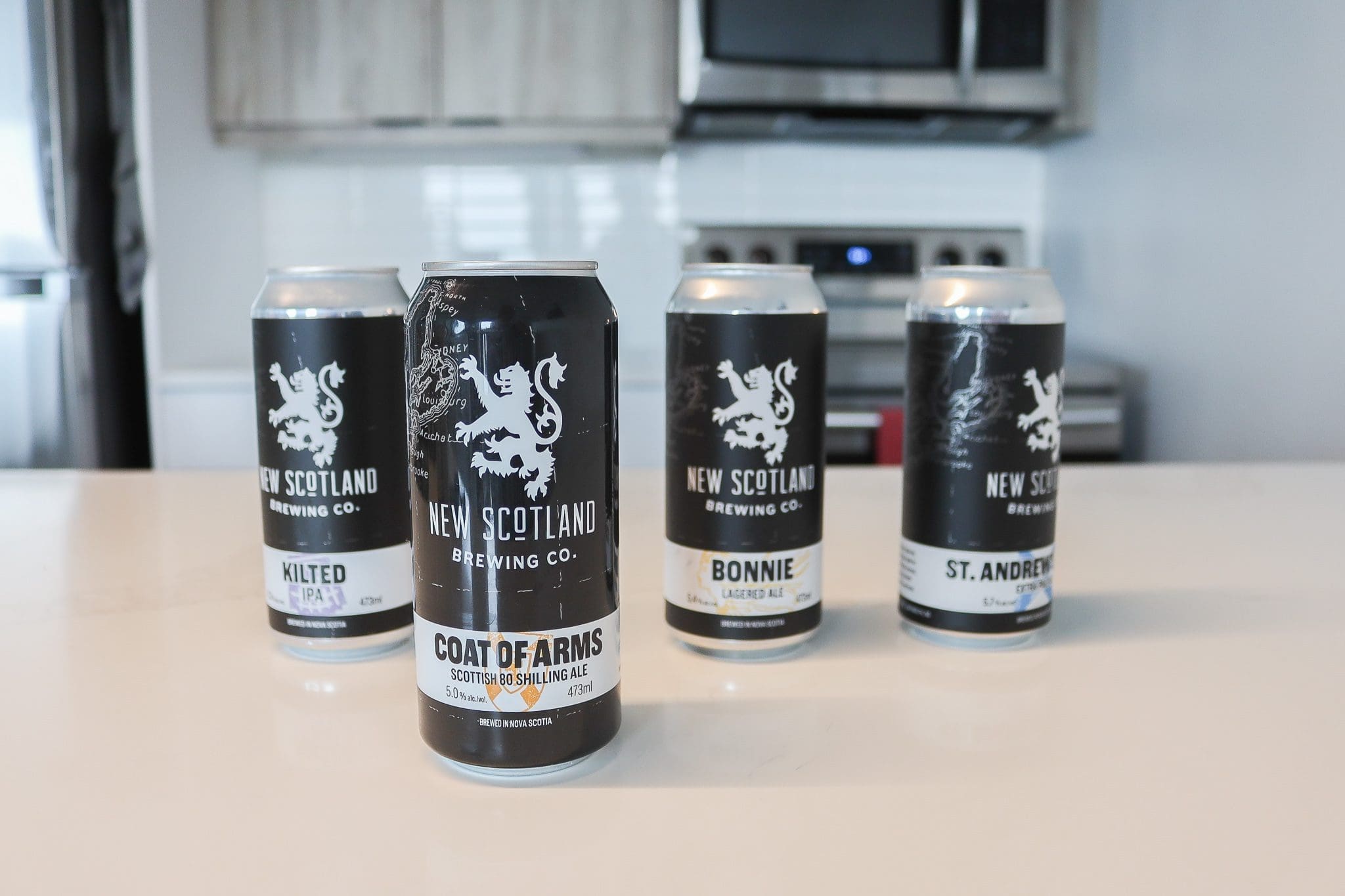 New Scotland (over in Dartmouth if you're keeping track) has some great brews but our favourite is their extra pale ale, Coat of Arms.  In fact, we got my Dad a Keg fridge last year for Christmas and it's always full of either Coat of Arms or Tata's North Shore. New Scotland, like many of our local breweries, is a small family run brewery which we love and they just opened a brand new rooftop patio!
Must Try: Bonnie!  It's a close second for us, so you should definitely try it!
Little Beast
4% ALC/VOL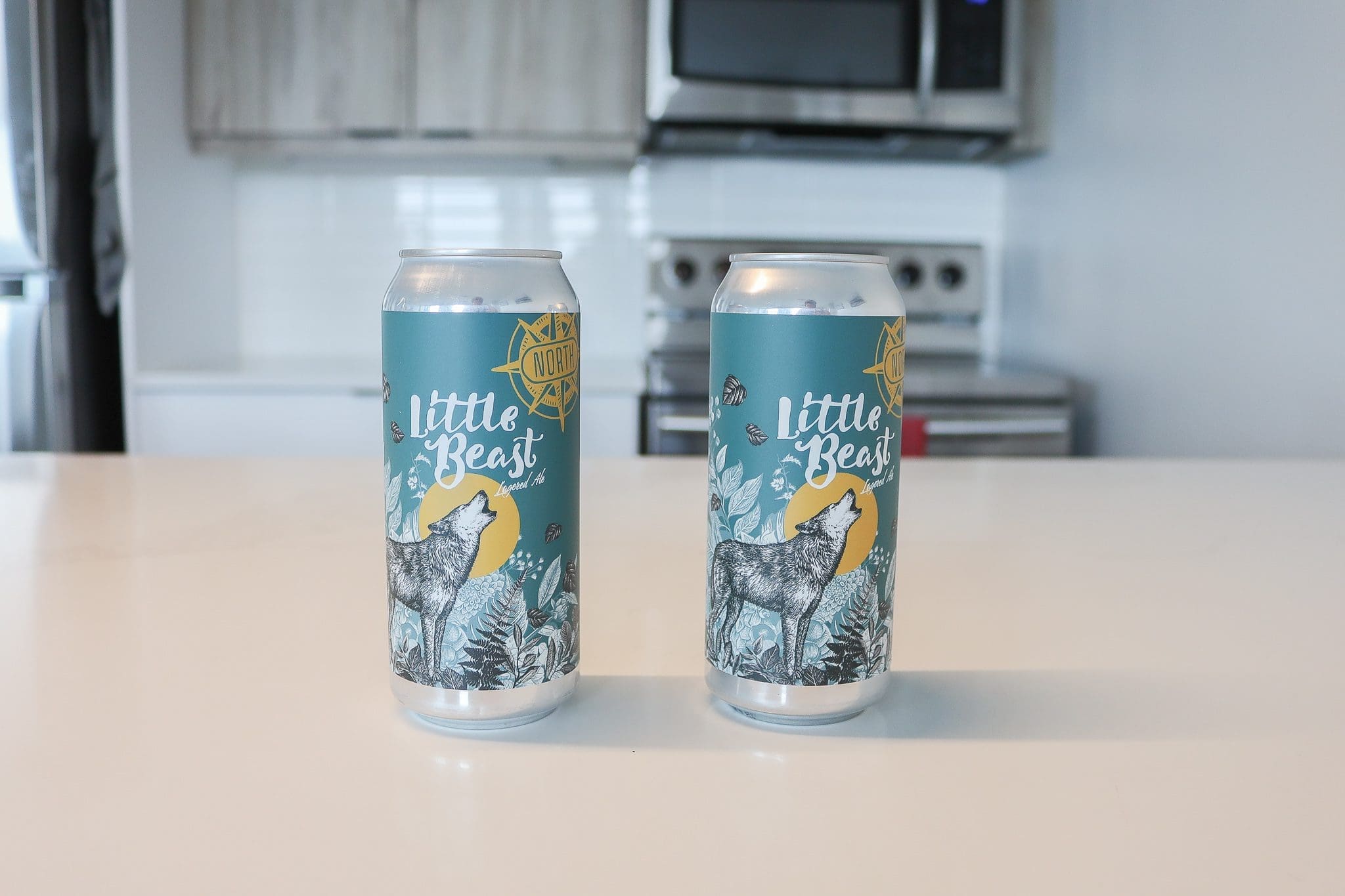 Another Dartmouth brewery and we actually had a really hard time choosing a favourite of theirs but in the end, it's Little Beast lagered ale. It's a nice, light ale coming in at 15 IBU which makes it a perfectly "crushable" beer.  I can't move on without noting that I'm living for their labels!  Weird, I know…but truly, they do a killer job at their own branding (which makes me want to try all the beer).
Must Try: Pina Colada (or any flavour) hard seltzers!  You're not surprised right?  At this point, you can pretty much bank on me including a seltzer here (if it's available).
Tall Ship Light
4% ALC/VOL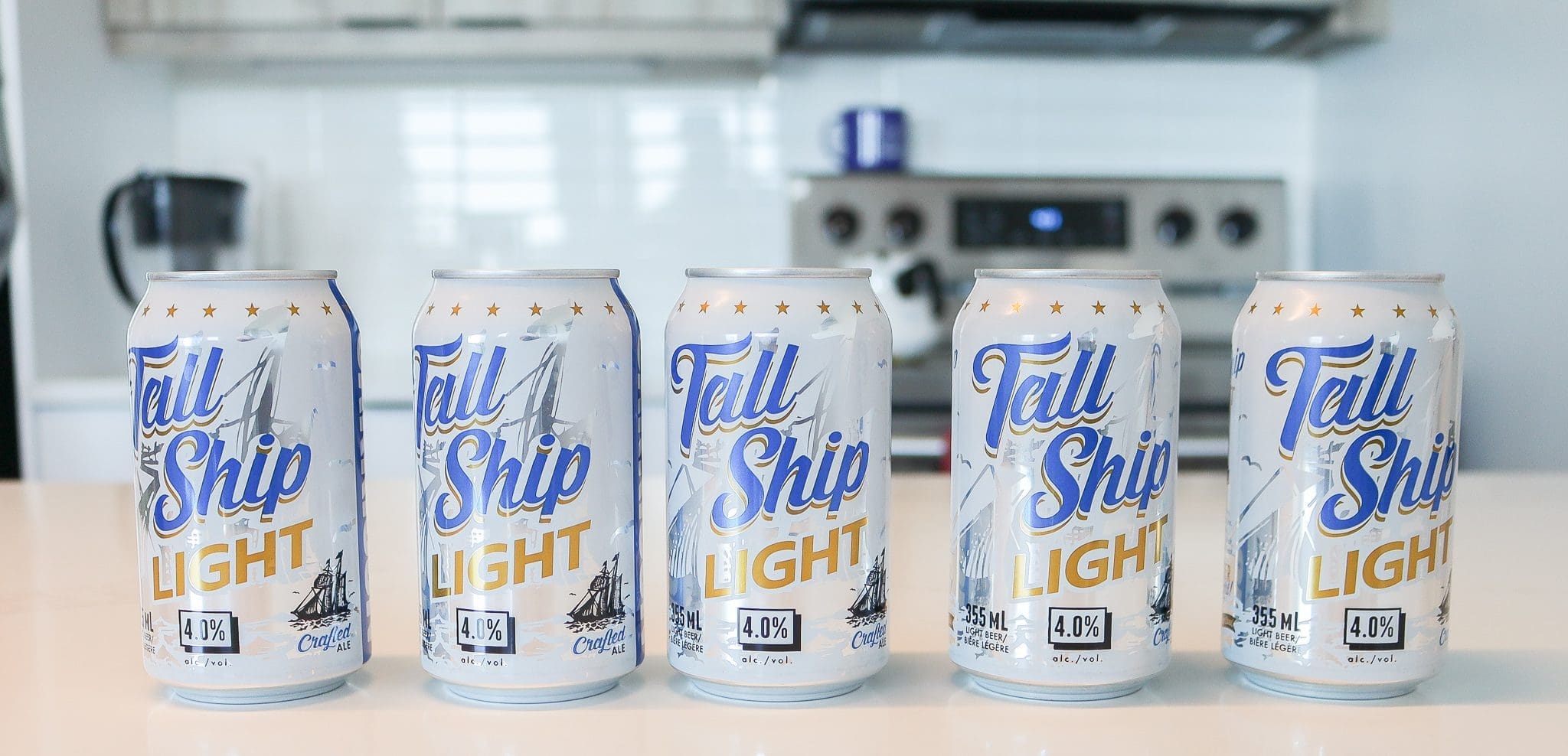 I'll just say it.  Brent LOVES Garrison's Tall Ship!  Like, LOVES it.  But it's the kind of beer you can drink a lot of so when they released tall ship light this year, we were so excited.  And, we both love it.  It's very on trend right now (as you can see from this list) but light beers are hot, hot, hot right now.  Why?  Because it makes them more drinkable!  We're buying tall ship light by the case these days and bringing it with us everywhere we go.
Must Try:  Puker Up (or any of their sours)!  The truth is, sour beers aren't my jam but almost everyone else I know loves them so I would highly recommend trying them out!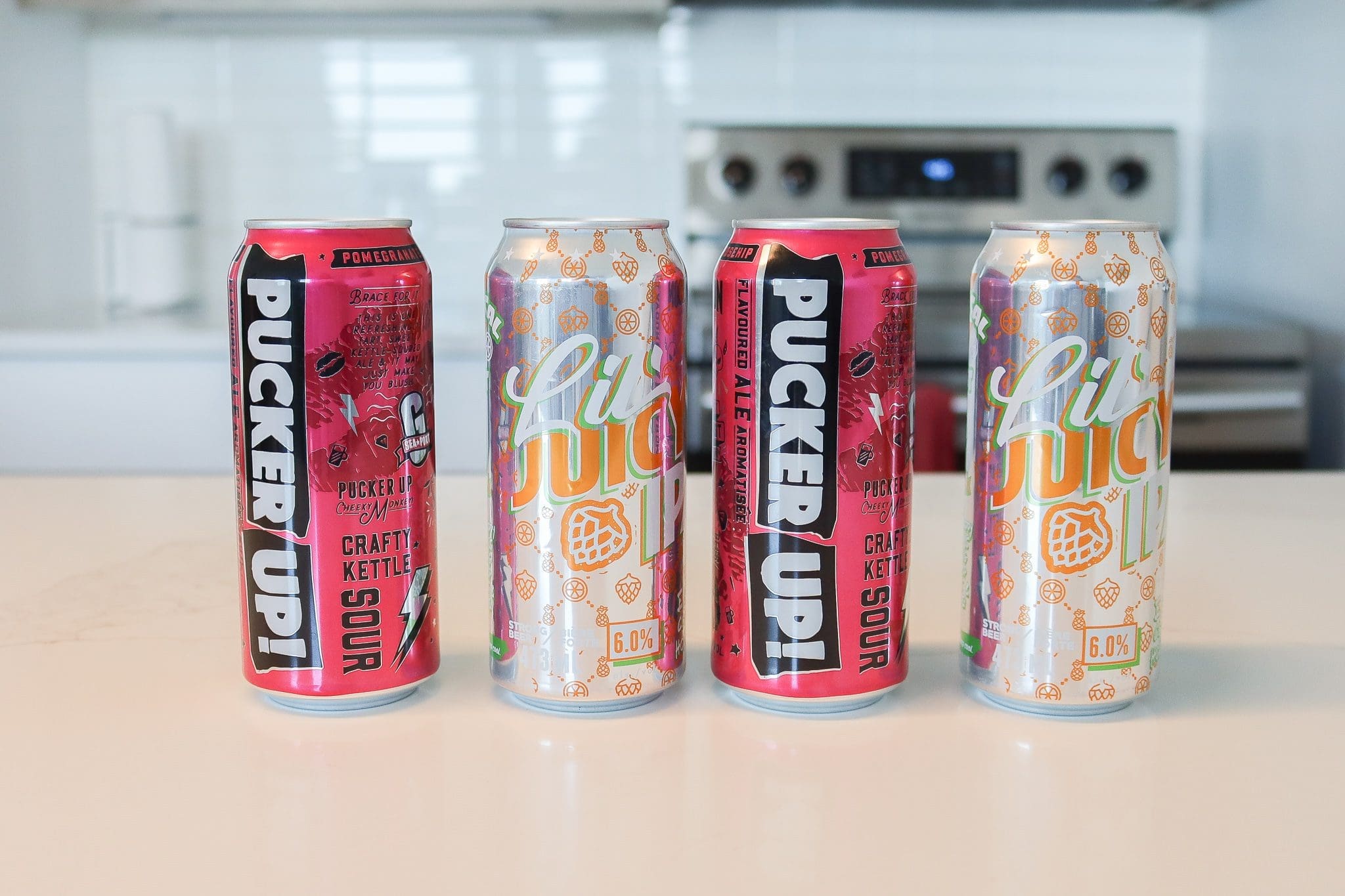 Diablo
5.7% ALC/VOL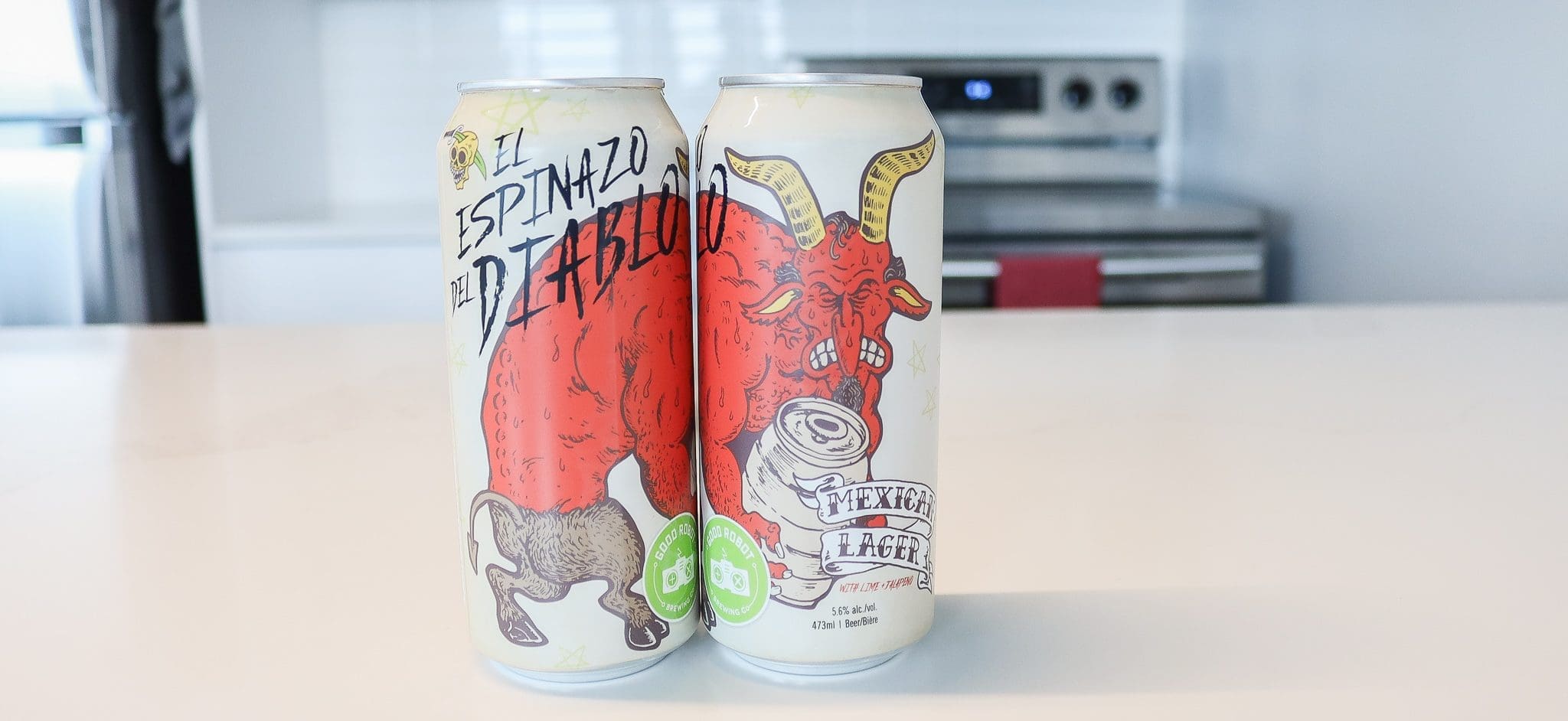 This Mexican lager is spectacular!  I love it!  It's light and crisp but also has a zing of lime & jalapeño.  Also, the label…am I right?  Studies show that people buy alcohol based on the labels often – and I do too.  Truth, I tried this beer first because of the label and I instantly fell in love with it.
Must Try: The Fizz!  I know this will shock you, but it's their seltzer line!  There are all kinds of flavours to try and they're all delicious!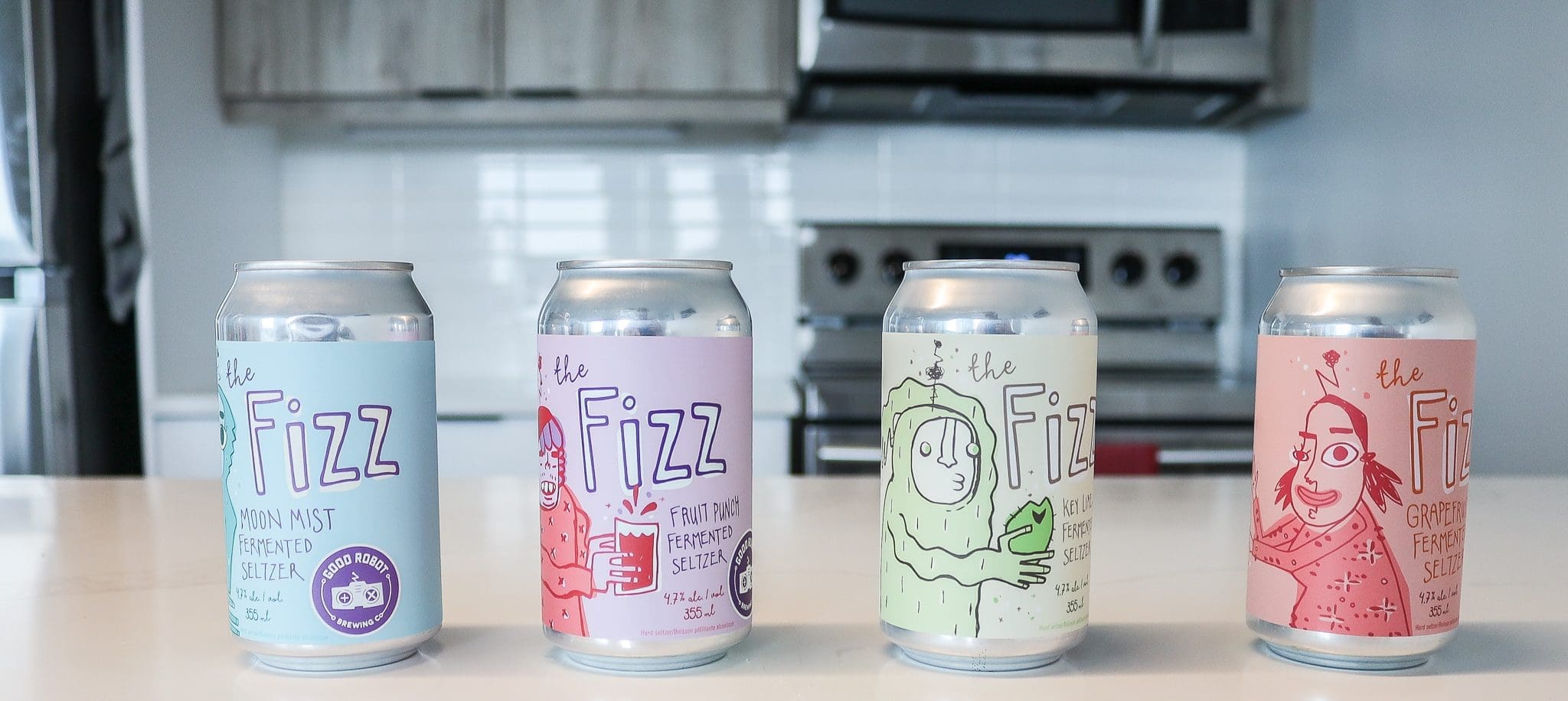 Beacon Blonde Ale
4.5 ALC/VOL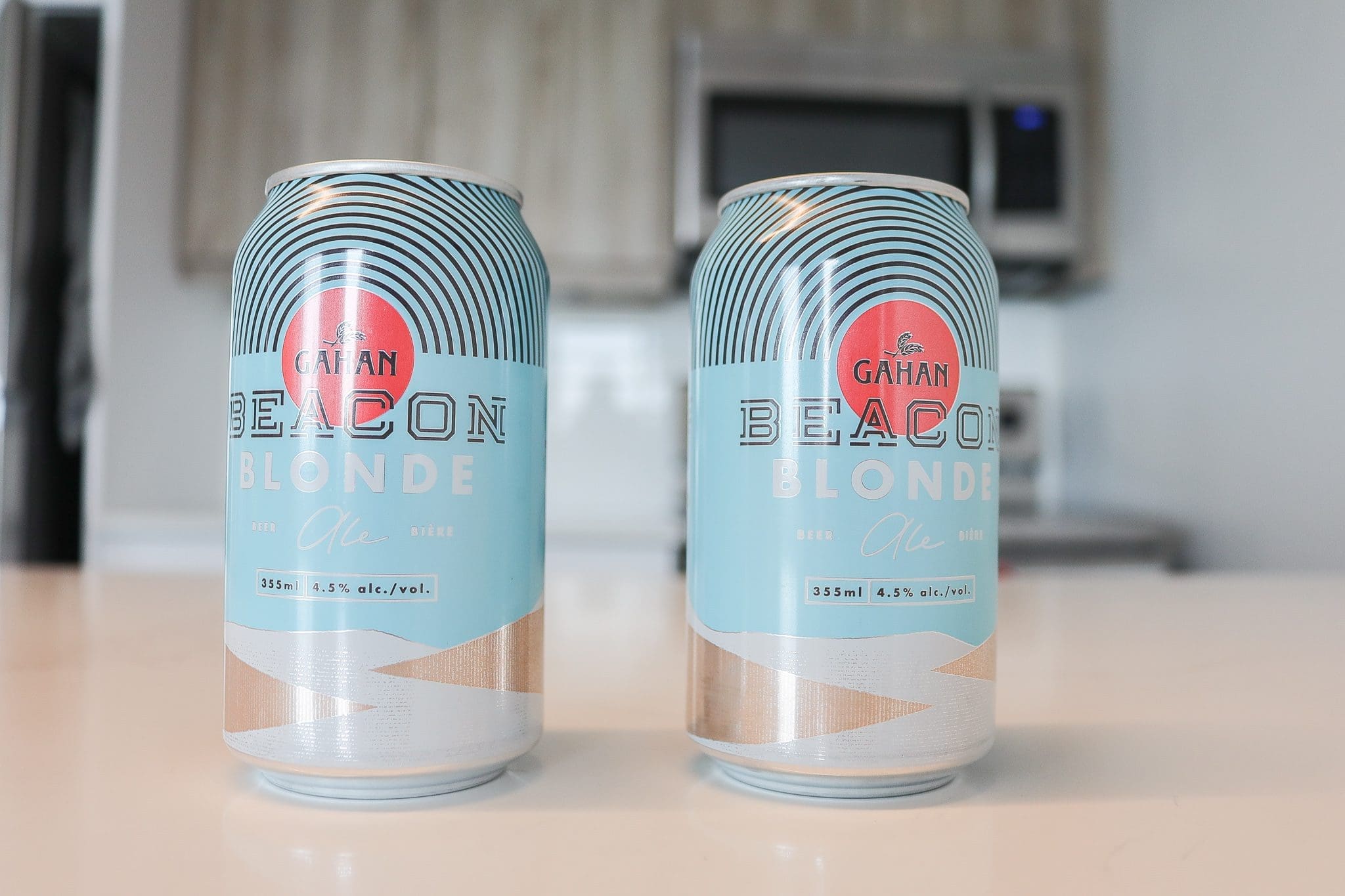 Big carbonation, light and crisp and low bitterness is what makes Beacon Blonde a new favourite of ours.  We adore sitting on the Gahan patio's and sipping a pitcher of Beacon Blonde with our pals.  We actually really love all of Gahan's beers.  They've been at it a long time so they're certainly perfected their brews but this blonde took the top spot in the Gahan line-up for us this year.
Must Try: Ahem… Colliding Tides hard seltzers.  #sorrynotsorry No sugar, no carbs, no preservatives and lots of flavour. They've also got a new frosted grape twist that we haven't tried yet but we're excited about it.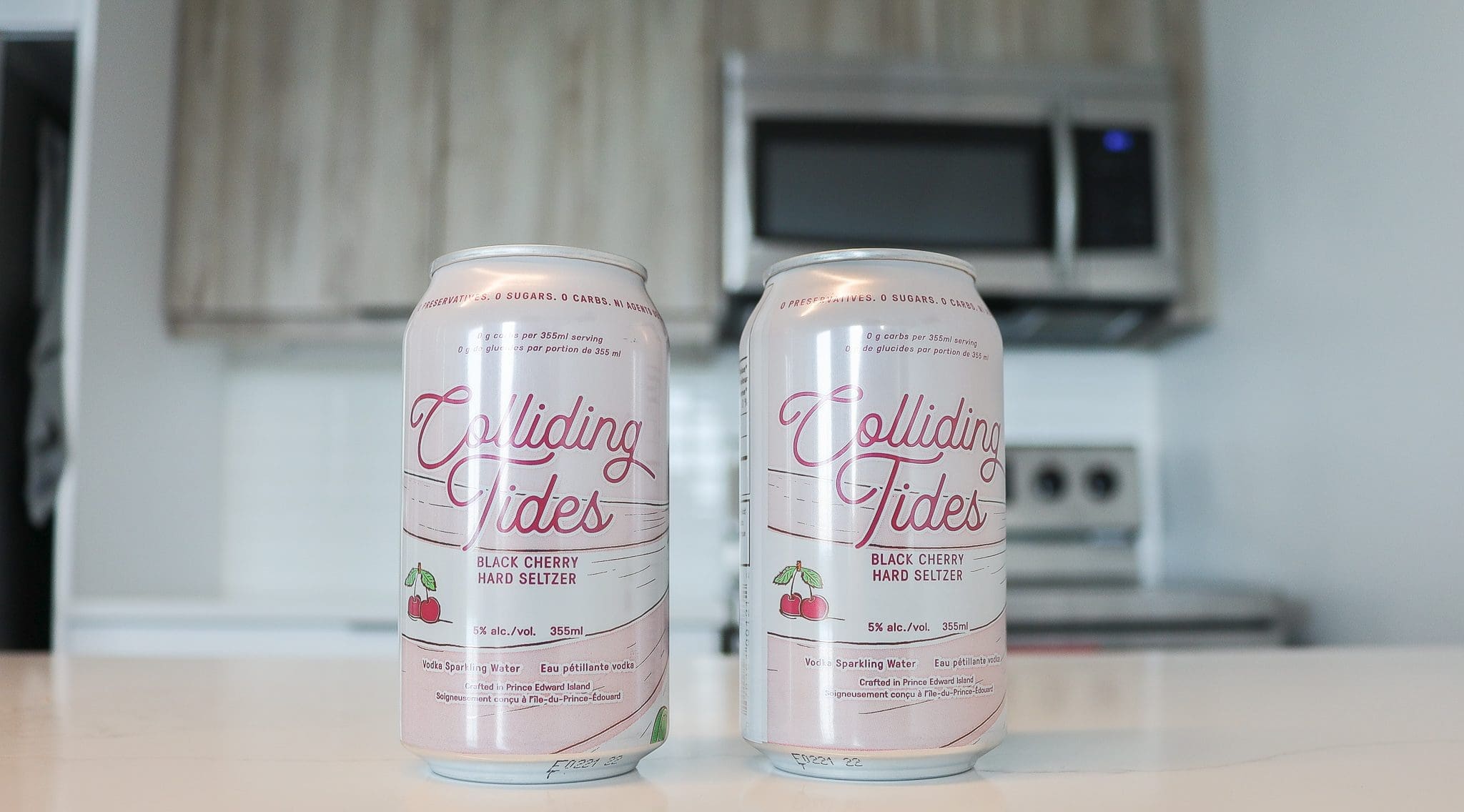 Tide Vodka Soda
6% ALC/VOL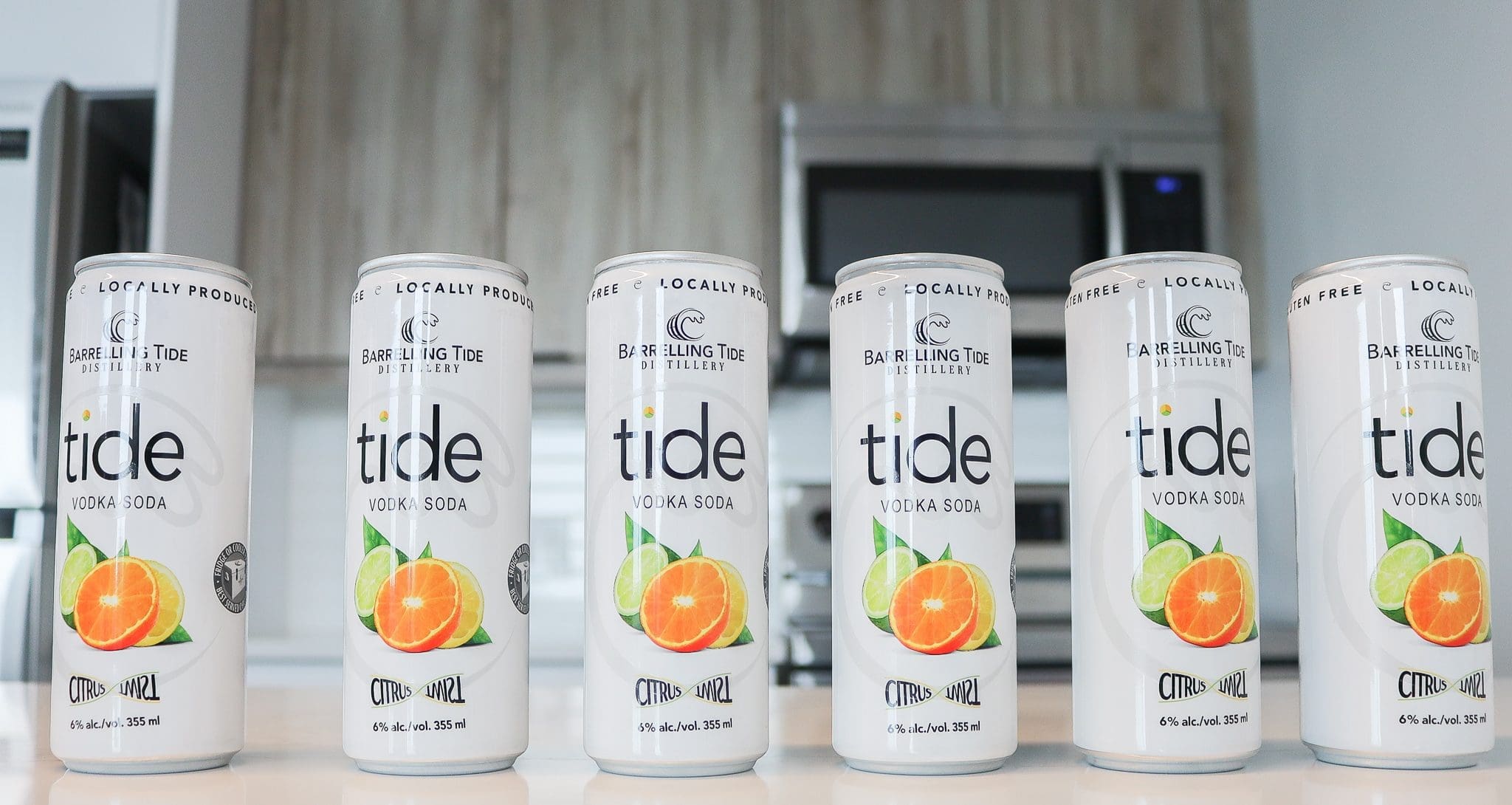 One of the things I love about Vodka soda's is that they're gluten free.  While I'm not gluten-free, I do like to consume *mostly (aside from beer) gluten free.  So, the vodka soda's coming out of our favourite distilleries are a hit.  We tried these citrus twist soda's when they first launched and instantly LOVED them.  They're super refreshing, portable (bonus) and offer just a hint of citrus.  
Apricot Wheat
5.4% ALC/VOL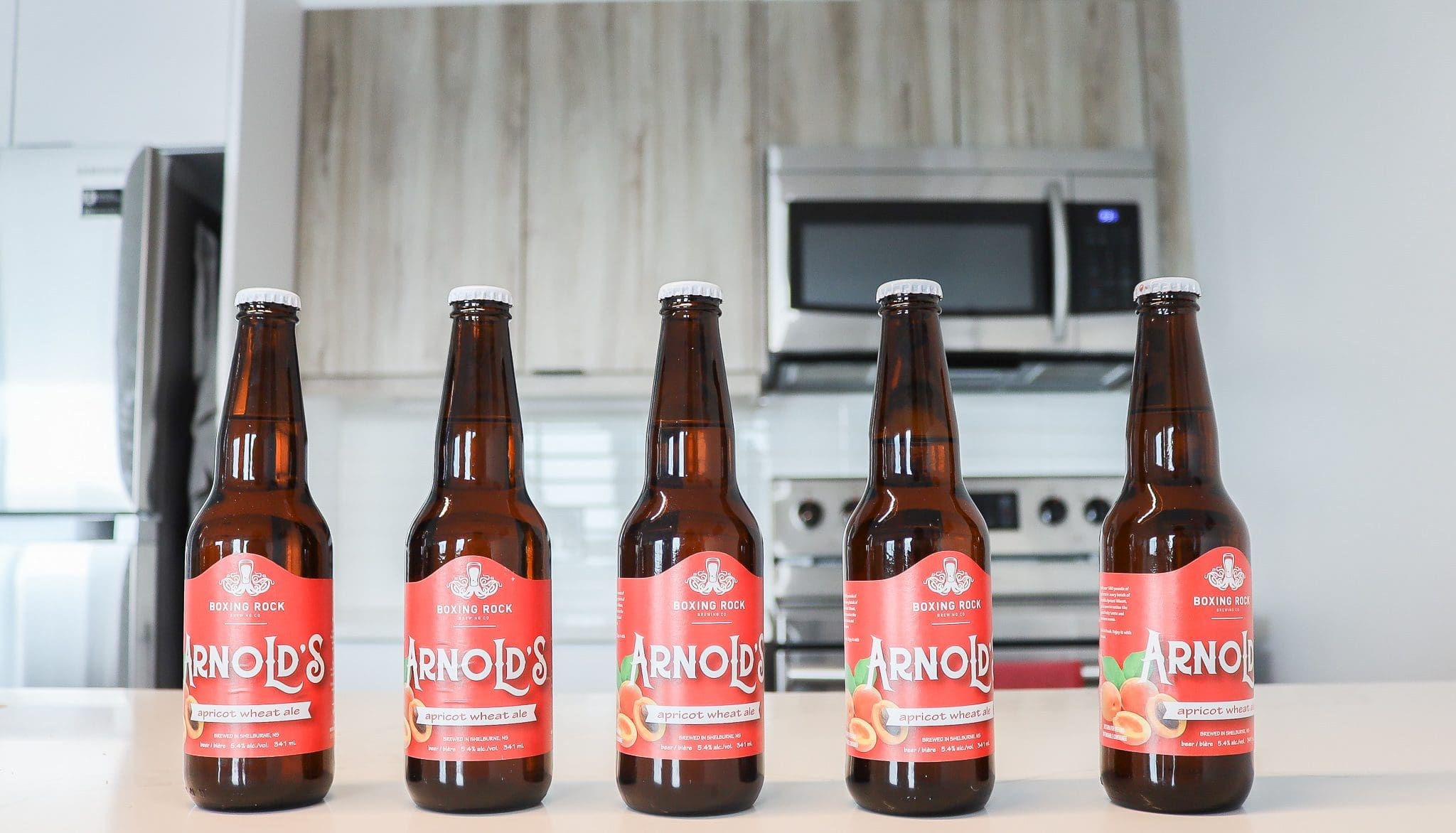 This is Boxing Rock's most popular patio beer in the summer so I guess we're just like everybody else because it's also our favourite.  It's got all kinds of stone fruit notes that make it subtly fruity and super refreshing (but not too sweet).  We also love their Puck Off lagered ale for it's light, crisp flavour.
Must Try: The sours!  They've got a bunch and they're super popular.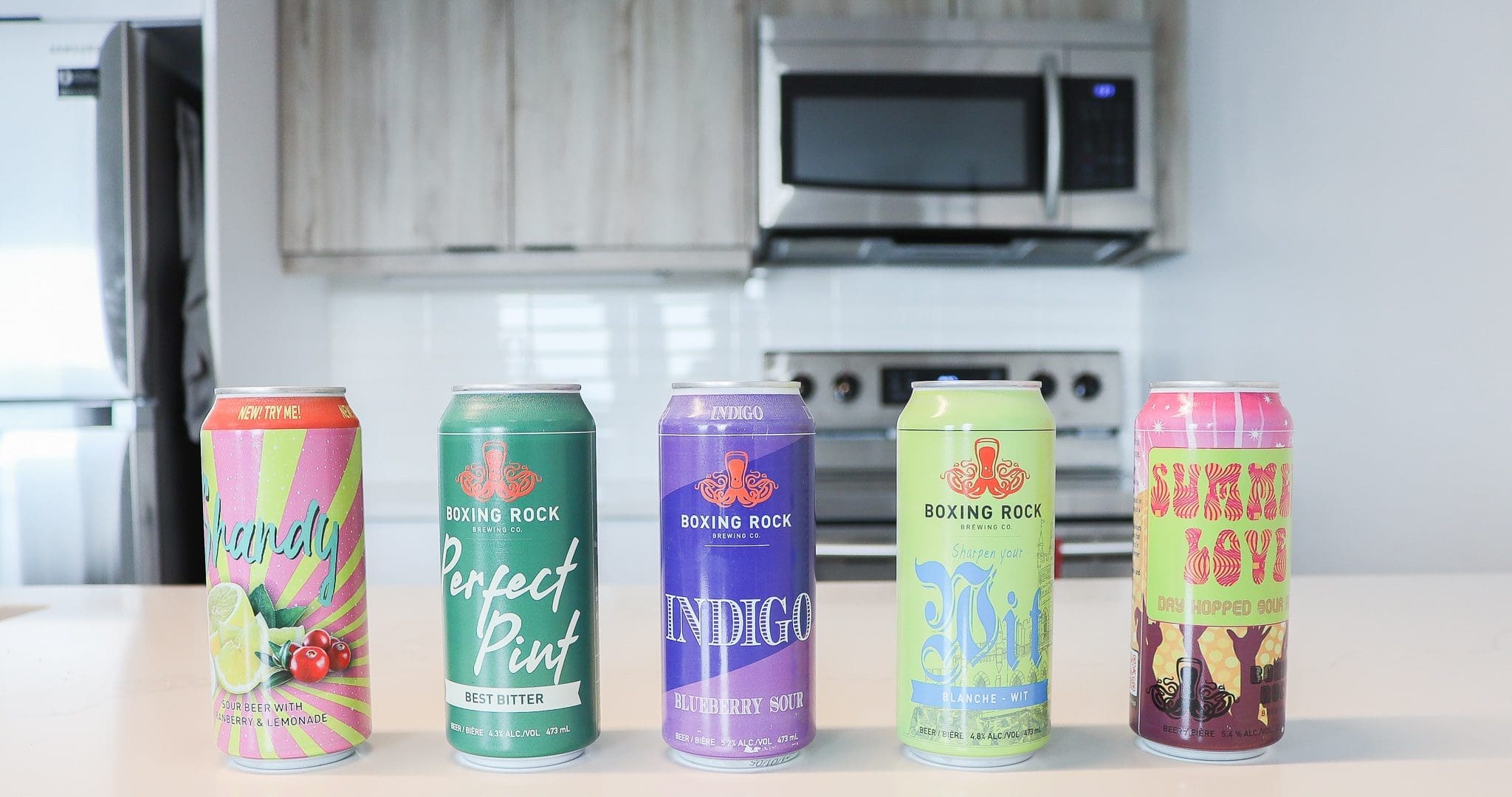 Vodka & Gin Sodas
Coldstream Clear Distillery, NS
6-7% ALC/VOL

I cheated, yes I did.  I'm putting both Vodka AND Gin soda on this list because they're both SO GOOD.  These were Nova Scotia's first vodka soda's and they're still going strong because they're awesome.  I love that there is nothing artificial tasting and they're super light (no sugar, no carbs, gluten free).  They have just the right amount of natural flavour and they're really easy to drink.
Must Try: Lemonade!  They've got a full line of non-carbonated (very trendy right now) lemonade's that are lightly sweetened and come in 3 flavours.  Pink lemonade, original and sour cherry.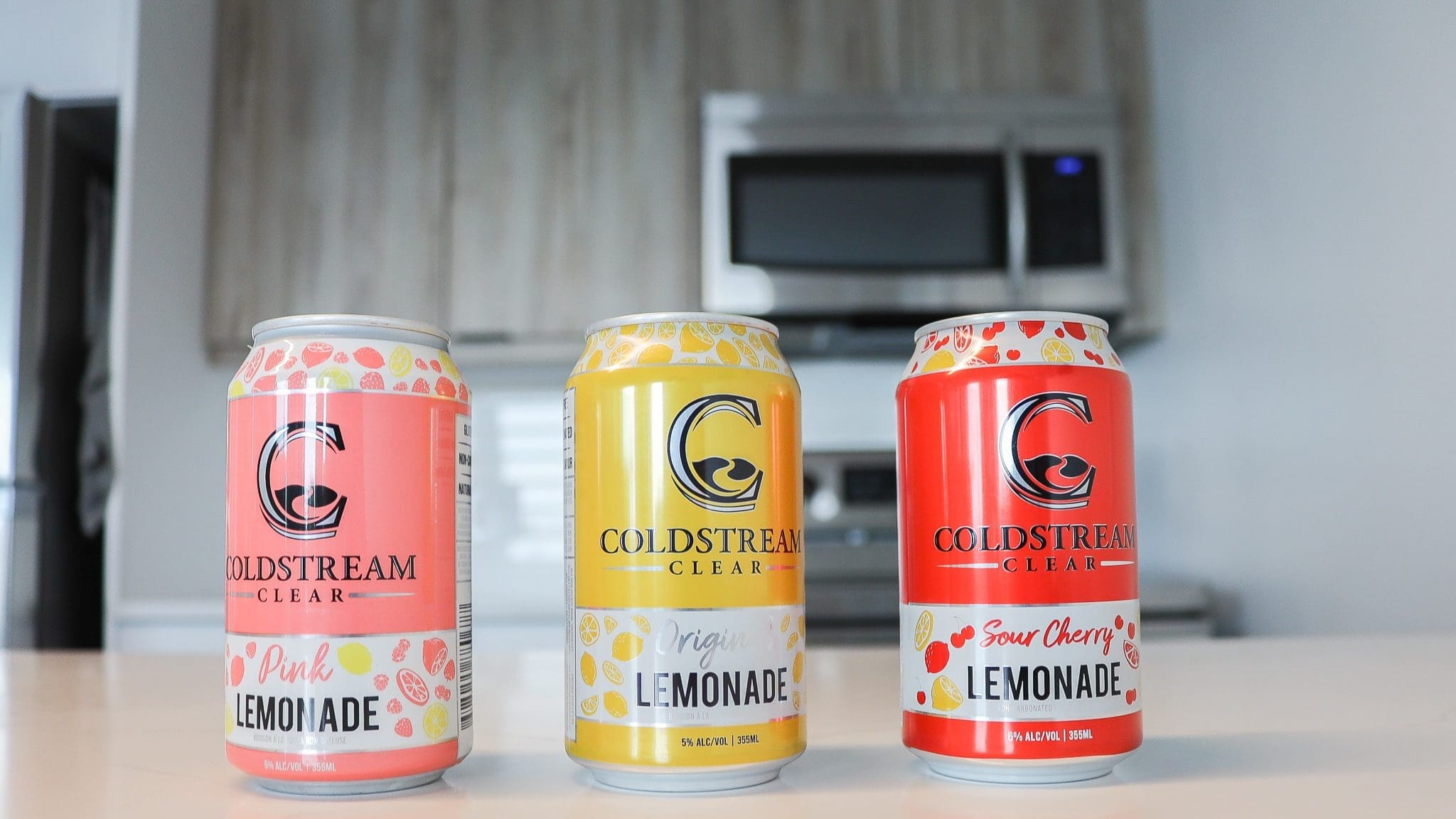 Mango Tumeric Kombucha
0% ALC/VOL
This list wouldn't be complete without a shout-out to Cove Kombucha!  What I love about Kombucha is that it's a non-alcoholic alternative that's still bubbly, refreshing, low-sugar and super healthy.  Cove is also a really great company run by really great people and we love supporting them.  In fact, as I'm writing this blog post, I'm sipping a mango turmeric kombucha (it's my afternoon pick-me-up).  They've got all kinds of great flavours so definitely give them a try.
There you have it!  It's our first official list of the best craft beverages in Atlantic Canada.  The craft beverage scene in Atlantic Canada is robust and there is so much to try (plus, we've all got different preferences) so tell us, what are your favs?