Best Beach Towns in Atlantic Canada to Visit This Year
If someone asked you to list the best beach towns, would Canada even register on your list?  No?  Well, it should.  The maritimes (Atlantic Canada) are known for  friendly hospitality, amazing culinary experiences (cue: seafood) and beaches.  Really beautiful beaches. We love combing all three of these things when we're looking for a getaway. And when it comes to the best beach towns in Atlantic Canada, you gotta have it all!  We scoured the seaside towns of Atlantic Canada to find the best of the best and bring them to you.  
So if beach towns are your idea of a vacation, add these your beach destination bucket list! 
What Makes a Great Beach Town?
When it comes to the criteria we used to nail down the best beach towns in Atlantic Canada, the obvious one is a jaw-dropping beach.  But those are easy to come by on Canada's East Coast.  To be honest, around here, most roads lead to the beach and that's why we love it so much!  In order to hand out the title "best beach town" we had to go further, so here's the criteria:
Beautiful beaches that are swimmable

Restaurants serving up local seafood: We also looked for towns that offer options that appeal to different tastes

Unique accommodations that range from budget friendly to luxury

Hospitality.  Heck yes, we evaluated these places on the PEOPLE just as much as the place because, as a traveller, that's a deal breaker.
So the list you'll find here includes restaurants that serve the best seafood, beautiful beaches and small town hospitality that is truly unique to Canada's East Coast. We hope you enjoy!
Cavendish, Prince Edward Island
We've listed this as number one, because it really is one of the best places to check out! Not only does it have a fantastic beach, it's also known for its large boardwalk, unique shops, the Green Gables Heritage site (hello, Anne of Green Gables readers!), stunning golf courses, and so much more.  You'll find great restaurants, unique accommodations and must-visit campgrounds.   Cavendish is one of PEI's major tourist destinations, and there's a reason for that. It really has EVERYTHING! 
We've spent so much time in Cavendish over the years that it's hard to believe there is still more to explore.  But there is!  Each time we visit, we discover something new and exciting.  You get access to amazing food, endless activities, any type of accommodation you're looking for breathtaking beaches.  That's why she made the top spot for best beach towns in Atlantic Canada.
The beach:
Miles of white sand, sandstone cliffs, and barrier islands. There is supervised swimming at the entrance to the beach, along with picnic areas. There are also hiking & cycling trails with information about the area, and the beach is fully accessible. No dogs are allowed here, however, because of the endangered piping plover that nests in this area. 
Dining options:
Cow's Ice Cream (you HAVE to check this out!), Chez Yvonne's Restaurant, The Lost Anchor, BoomBurger, and Ship's Company Pub and Galley. There's also Avonlea Village that offers several different dining options like Dave's Lobster, MOO MOO Grilled Cheese, Samuel's Coffee House, and more. 
Other Amenities:
Whether you're looking for something for the whole family or a girlfriends weekend away, you'll find something to do in Cavendish. Play around at one of the world class golf courses, or get an old-timey photo taken at Grandpa's Antique Photos Studio. Satisfy the thrill seekers in your group with a trip to the amusement park, or the Ripley's Believe It or Not centre! The famous Cavendish Beach Music Festival is hosted here annually as well, so be sure to check that out (and book your accommodations well in advance – the spots fill quickly!). And, we can't forget the close proximity to PEI National Park with their hiking & biking trails.
Souris, Prince Edward Island
If you're like us and like to check out the unique and fascinating on your vacations, you'll want to check out the singing sands at Souris, PEI. There are actually several beaches right around Souris, so we definitely recommend taking a trip to the other side of the Island!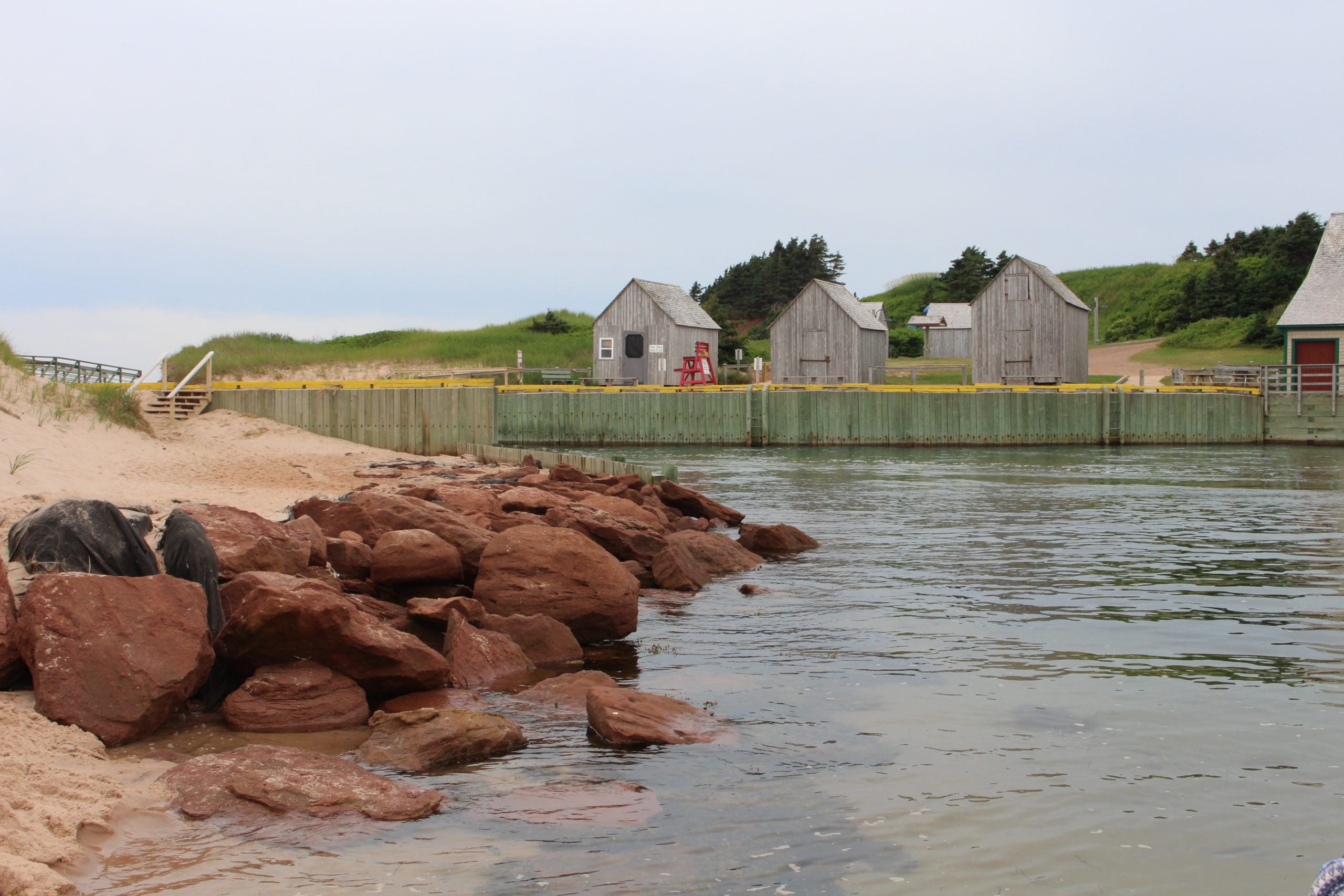 The Beaches:
There are several in the area but Basin Head is the most famous (for it's singing sands).
Souris Gateway beach: It features a boardwalk, an accessible beach, playground, bathroom facilities, showers, and more! It's a local favourite for finding sea glass and other trinkets.  

Basin Head Provincial Park: This sandy beach is known for its singing sands! No really, run your feet through the sand and you'll hear it sing! It's the coolest thing! This beach is supervised during the peak summer months, though caution should be used when swimming here as the current is strong. There is a mobimat running from the wharf to the water making it accessible. There are bathroom facilities and a canteen at this beach as well! 

Red Point Provincial Park: There is a fully supervised beach here, as well as a playground, camping facilities, and more! It's located right next to Basin Head Provincial Park! 
Dining

:
The Lobster Shack, Eastern Express Take-Out, Evergreen Cafe, Bonsai Restaurant, 21 Breakwater Restaurant, and Shirley's Place are just a handful of the eateries in Souris. 
Other Amenities

:
If you're interested in fishing, be sure to check out some of the different fishing tours that are available in Souris for people of all ages (and skill level). Fishing is a huge industry here, and the locals love to share it! There is also a lighthouse you can check out (one is from the 1800's), gift shops, birdwatching, and a fishery museum! 
Lawrencetown, Nova Scotia
Located only 35 minutes from Halifax, Lawrencetown Beach is a sprawling area that is known for its surfing. There are several surf shops that offer gear, lessons, and rentals along the main road. While the Lawrencetown area is not so much a town as a rambling community, there are several accommodation options, a handful of restaurants and take-out places, and places to shop. 
The Beach:
The most famous beach in this area is certainly at Lawrencetown Beach Provincial Park. It's a mixture of cobble, rocks, and sand, has great waves, and a strong current. There is supervised swimming here in July and August. A boardwalk runs along the parking lot with several staircases that go over the dunes to the beach. There are changing facilities, and public toilets as well. 
Another notable beach in the Lawrencetown area is Conrad's Beach. It's lesser known, and has fewer amenities, but the beach is absolutely stunning. White sand stretches as far as the eye can see. The parking lot is big enough for 2 or 3 cars, so most people who visit park along the side of the dead-end road. There is a boardwalk with information about the area for easy access across the marsh and to the beach. Dogs are allowed here, but please pick up after yourself and your pets! 
Dining:
El Centro Pizza is located a little ways out from Lawrencetown Beach, but if you are travelling to the beach from the city, you will pass it on your way! There are also a couple of grocery stores, including the Atlantic Dutch Shop (just past Lawrencetown Beach Provincial Park) which offers primarily international food and giftware, and Lawrencetown Grocery and Pizza. This establishment offers grocery items, freshly baked pizza and soft serve ice cream – great for after a day on the beach!
Another option is certainly Lawrencetown Beach Cafe, located at the Macdonald House but we'd be remiss if we didn't mention the Rose & Rooster cafe.  It's a short drive from the beach (10 mins) and has one of the best seafood chowders I've ever had!  
Other Amenities:
Lawrencetown Beach is also known for its many hiking and walking trails (including Salt Marsh Trail and Atlantic View trail), surfing and kitesurfing schools, and the Macdonald house. There are also a couple of different equestrian riding schools, and many other hidden beaches and parks in the area! 
Ingonish, Cape Breton Island, Nova Scotia
Ingonish village is located at one of the entrances to the Cape Breton Highlands National Park, and offers the small town vibes that we know and love. They have beaches, whale watching, gas stations (if you've been to Cape Breton, you'll know that these are important to note on your trip!) and places to eat. It's also known for the fantastic golf course in the area as well! 
The Beach:
First of all, there is Ingonish beach, a pebbly beach that borders the salt water of the Atlantic ocean. There are decent tides here, and the current can be strong. The beach is shared by the salt water from the ocean, and freshwater from Freshwater Lake. Ocean swimming is supervised during the peak summer months. Note: dogs are not permitted on the supervised part of the beach. Construction is being done here to build permanent bathrooms and changing facilities, but there are temporary ones at the beach this summer (2021). 
Dining:
There are a few options here, including The Bean Barn Cafe, Coastal Waters Restaurant & Pub, and the Purple Thistle Dining Room at the Keltic Lodge Resort & Spa. 
Other Amenities:
We love visiting Ingonish for a variety of reasons, and it's not just because of the beaches! There are whale watching tours that leave from here, lobster fishing excursions that visitors can join, and many, MANY, hiking trails. Of course, there is also the Keltic Lodge Resort and Spa where you can get pampered, take a zodiac tour, and rest up in top-notch accommodations. 
Barrington, Nova Scotia
Never heard of it?  Well… you're welcome!  That's because it's still a lesser known area of Nova Scotia but when it comes to naming the best beach towns in Atlantic Canada, Barrington had to be on the list. There are more than 12 spectacular beaches in Barrington but here are our favourites.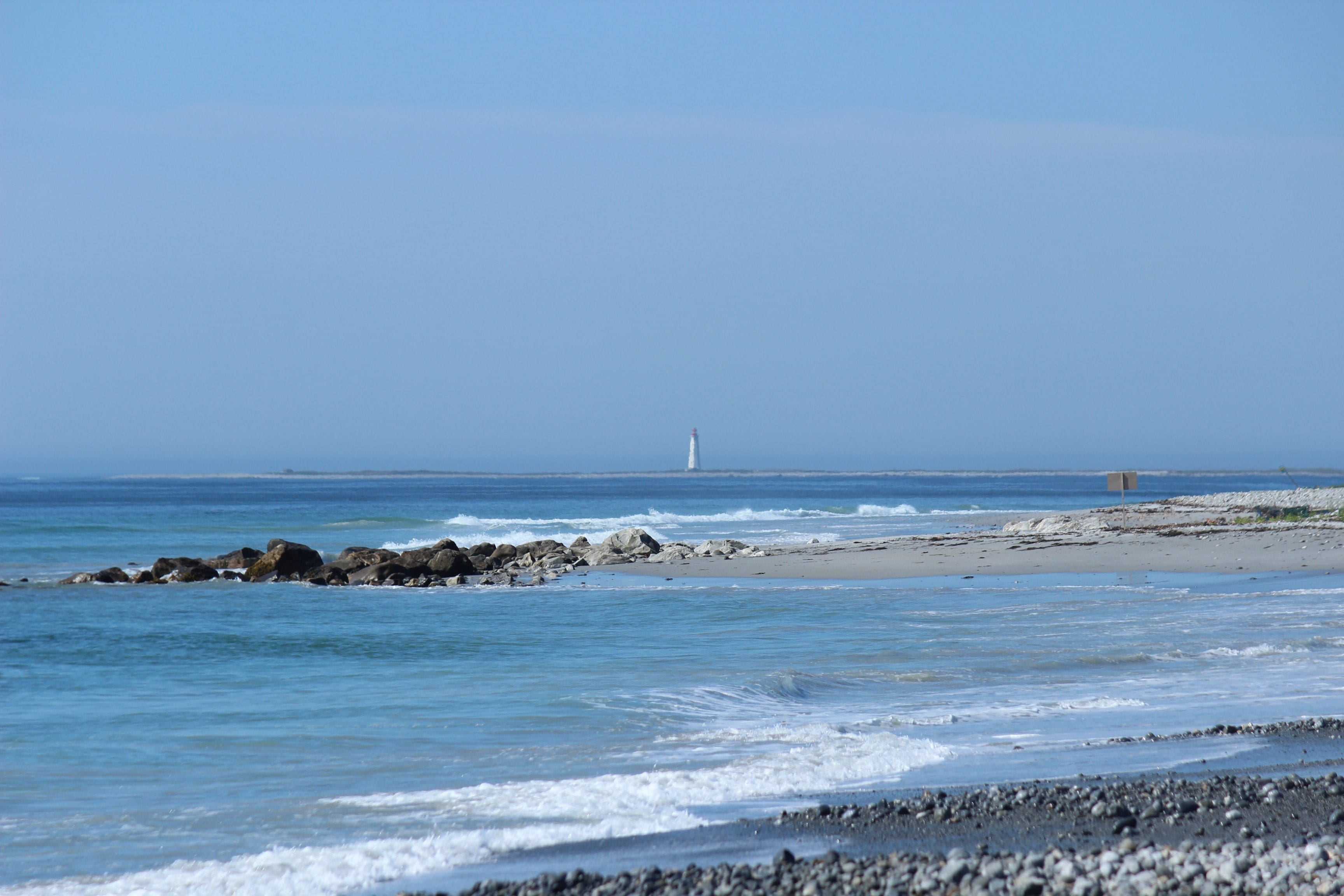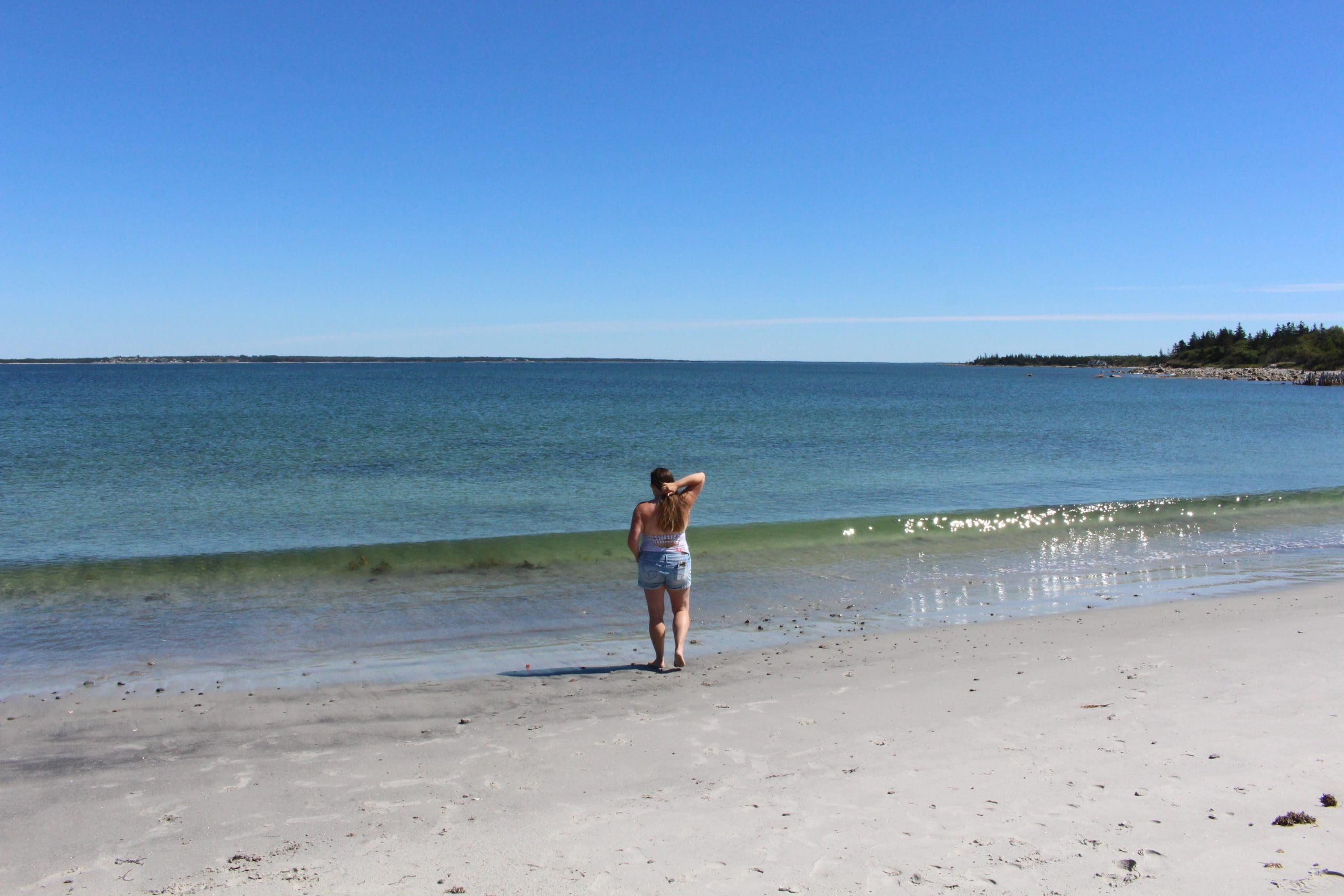 The Beaches:
If you want all the details, we've got you covered.  We wrote an entire blog post on how to explore Barrington that you can check out here.  But, when it comes to beaches, we have our favourites:
Sand Hills Provincial Park – Nova Scotia's south shore isn't known for warm waters like PEI is, but at Sandhills beach you can find warm (er) waters because the tide rises and falls so significantly over the warm sand!
Stony Island – one word.  SPECTACULAR.
The Hawk – freezing cold, but worth it for the drowned forest!
Dining:
There are lots of options in Barrington but the most popular choice is Capt. Kat's Lobster Shack.  They're known for…you guessed it…lobster!  We love the lobster fondue and their chowder is famous.  Also check out the Haddock Shack, Route 333 Diner & Dan's Ice cream shoppe while you're there.  
Other Amenities:
From sea kayaking to spinning wool at the local museum to becoming a lumberjack for the day with a wold champion log-roller, you'll easily fill your days (if you want to).  There are more and more unique accommodations popping up in Barrington from motels to cottages to quaint B&B's.
Shediac, New Brunswick
Shediac, New Brunswick is known for its lobster festival every summer, as well as the World's Largest Lobster (yep, it's huge!). But they are also conveniently located right next to Parlee Beach Provincial Park, a beach with the warmest saltwater in all of Canada!
The Beaches:
Yes, plural.  Shediac is a top choice as a "best beach town" because you've got options.  Parlee Beach is the most obvious choice.  As mentioned above, this beach is known for the warmest saltwater in all of Canada! There is supervised swimming, a campground (located a mere 10 minute walk from the beach), and lots of sand for building sandcastles. The Provincial Park has also been awarded the Blue Flag of eco-certification – a high honour! 
Other beaches in Shediac include:
Aboiteau Beach
Pointe du Chene Wharf (not really a beach, but a great water destination)
Belliveau Beach
Dining

:
There are plenty of cafes and coffee shops in the area – just name your pick! There is also a microbrewery with beverages on tap, lobster shacks, and more. A few local favourites include the Sandbar Restaurant, Lobster Deck, La Coast Restaurant and Bar, Pink Sushi and Grill Bar, Le Petit Paris, Euston Park Social, and Menu Acadian. There are many more that we haven't listed, so be sure to check out the area when you're visiting! 
Other Amenities:
As we previously mentioned, when in Shediac, you have to see the World's Largest Lobster (and snap a selfie!). There are also cruises from Shediac Bay, Adorable Chocolat, Shediac Lobster Festival (in July), Homarus Eco-Centre, and much more! There's plenty to do in Shediac, whether you're travelling with small children, venturing out with a group of friends or looking for a romantic beach vacation! 
Alma, New Brunswick
While Alma may not be what you would first think of when considering beach towns, it's a great location for those wanting to lay in the sun! It's a small village that thrives on tourism, lobster and scallop fishing. There are a couple of beaches within a short driving distance, as well as the famous Hopewell Rocks and my personal favourite, Fundy National Park!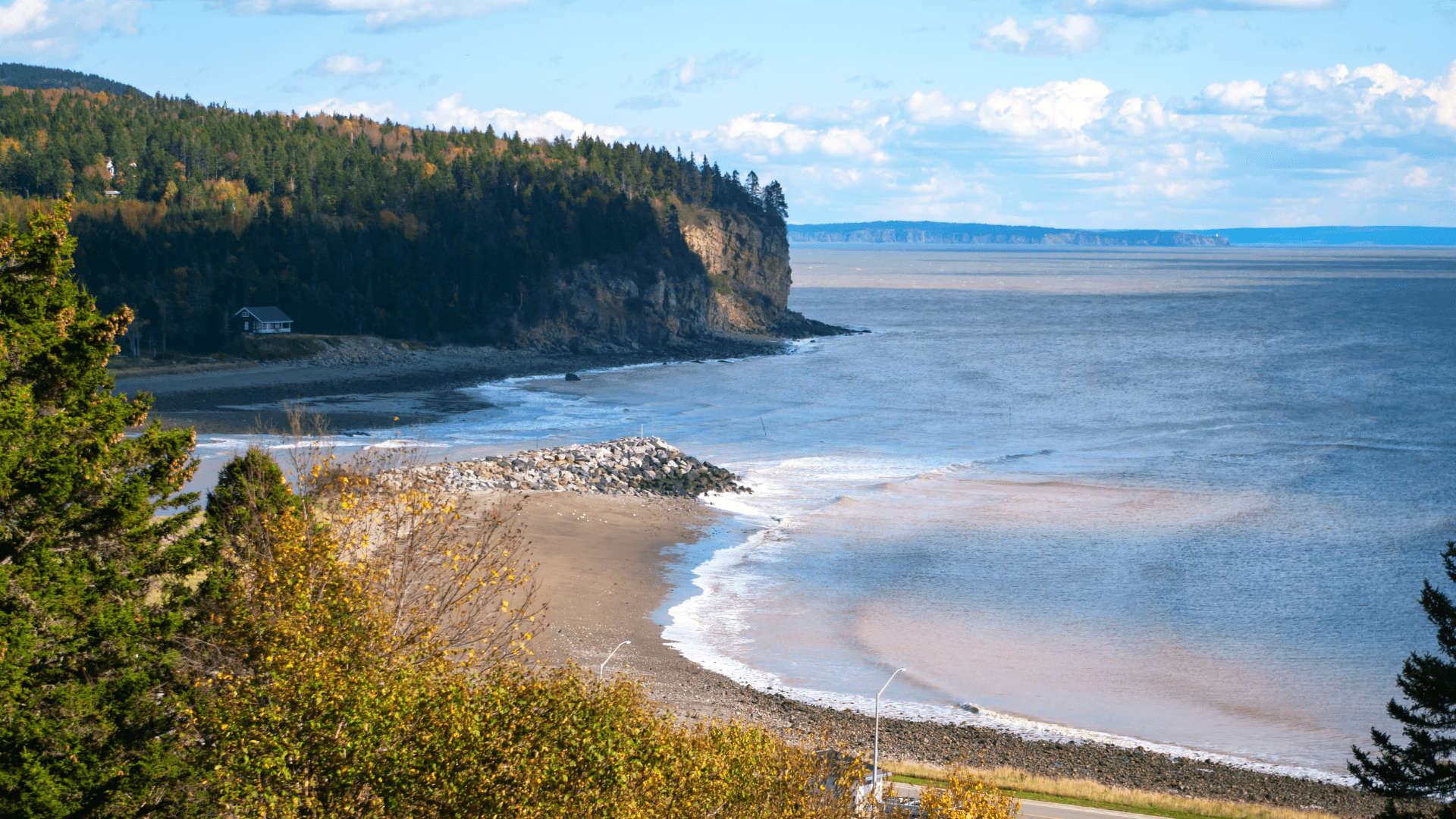 The Beach:
Waterside Beach is considered one of the best hidden gems of New Brunswick. The beach itself is not widely known (or visited) so it's clean and relatively unpopulated. With the lower tide, you'll find lots of beach to explore, including both rocky and sandy parts. There are no amenities here, except for a parking lot. The scenery is beautiful, especially during low tide. You'll find huge stretches of red, rippled sand begging you to walk barefooted across! 
Dining:
There are several different options to choose from when it comes to your dining plans. Because the area is well known for its seafood, you'll be sure to find great seafood options here! Some of these establishments include Tipsy Tails Restaurant, Alma Lobster Shop, Alma Boathouse Restaurant, The Octopus's Garden Cafe, and Tides. There are plenty more to choose from, so take some time to explore this sweet village! 
Other Amenities

:
While in Alma, take advantage of the nearby attractions like Hopewell Rocks, Fundy National Park, Cape Enrage, Westside Farms Cottage Winery, and the Molly Kool Centre!  We've been visiting Alma for decades (yes, decades) and love our time there.  This is definitely an underrated best town in Atlantic Canada worth checking out.
Musgrave Harbour, Newfoundland
Newfoundland is known for its incredible hospitality, and Musgrave Harbour embodies it completely. This small town of only 1400 people is on the shores of the Kittiwake Coast, and has miles of sandy beaches. Located in the North Eastern part of Newfoundland, it can be accessed from two different points on the Trans Canada Trail, including from Gambo, and from Gander.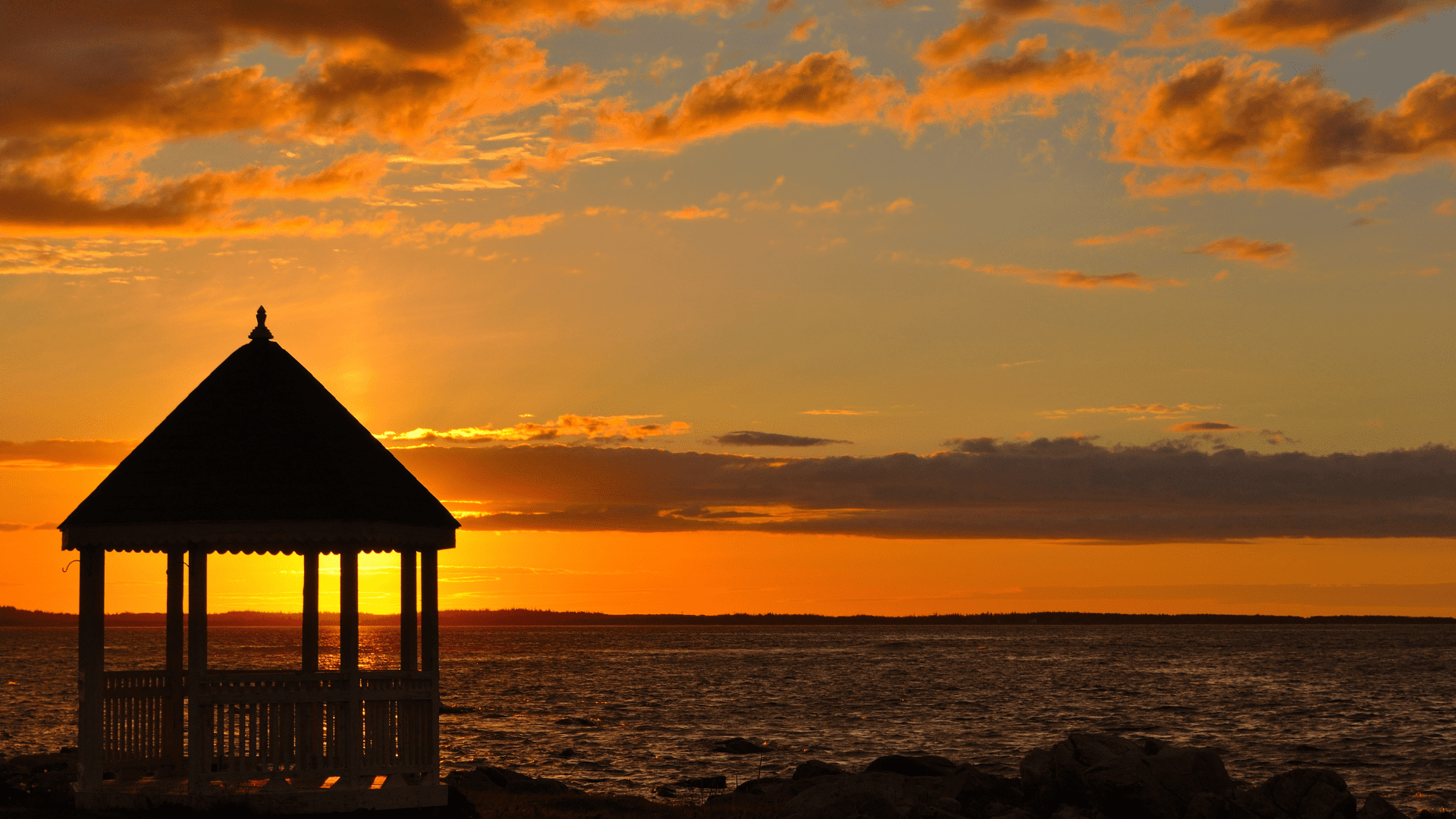 The Beach

:
Musgrave Harbour Beach is a large sandy beach that borders the Kittiwake Coast. Here, you can take a dip, build a sand castle (or two) and go iceberg watching! Be sure to check out the best time to go to see the icebergs! They are truly magnificent! Nearby is also Lumsden Beach, which is known as one of Newfoundlands best beaches. Again, it features miles of white sand, and is also located along the Kittiwake Coast! 
Dining:
Because Musgrave Harbour isn't huge, there is a small selection of eateries to choose from. But don't think that the options aren't great! Check out Oceanview Take Out Bakery for amazing baking. If you're looking for some good beer and great music, we hear the Muddy Shag Lounge is where you should be. For great dining options, why not visit Rocky Ridge Diner? No matter what you choose, you'll end up with a full belly and great food! 
Other Amenities:
Not only are there surprisingly amazing beaches, Musgrave Harbour also offers several other great tourist attractions, like The Orange Hall, the Fisherman's Museum, or the annual Muddy Hole Scuff and Scoff festival. There are also walking trails (especially at the nearby Banting Municipal Park) to traverse. A working fishing wharf is always a great spot to check out, and maybe even get your hands on some fresh catch! 
Eastport, Newfoundland
After travelling through Terra Nova National Park (a great spot to check out, by the way!), you'll come to Eastport, NL and we had to include this in the best beach towns in Atlantic Canada list. Small in size, and big in hospitality, this town is full of amenities, including restaurants, accommodations, and an Art and Heritage centre. But the real gem of this spot is the Eastport beaches!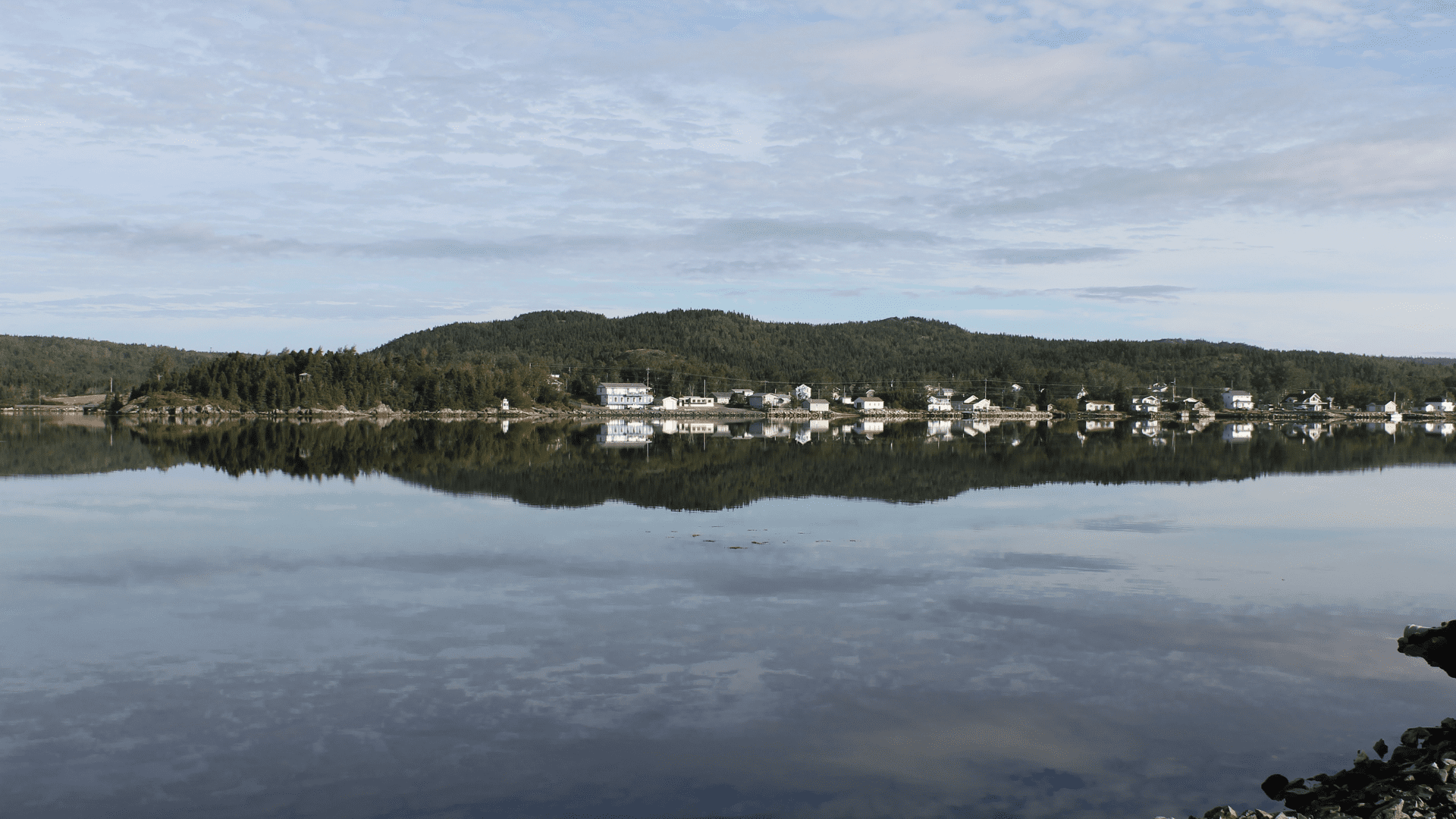 The Beach

:
There are actually two beaches here, connected with a boardwalk and nature trail. Both beaches are white sand, and is certainly a must-see beach in Newfoundland! There are plenty of amenities here including picnic areas, parking, change rooms, bathrooms, cooking shelters, and park benches. If you're headed for the High Tides Trail, Northside Beach is your trail head. This trail is part of the Damnable Trail Network. There is also another beach area nearby called Sandy Cove Beach. Again, plenty of gorgeous sand beaches (as the name would imply), a waterfall, a look-out area, picnic facilities, and even a freshwater swimming area! 
Dining:
There are several different dining options here and in the surrounding areas. They include Downhome Delights, Little Denier Restaurant, Chico's Drive B'y and Takeaway, and White Sails Inn and Cabin. 
Other Amenities:
As mentioned, Terra Nova National Park is right nearby, and certainly worth checking out! There's also the Salvage Fisherman's Museum, Sandy Cove (a nearby town with an abandoned historic settlement), plenty of walking trails, and of course, amazing views! 
So now we want to know, is there a beach town that you think should be on this list? We know there are so many towns and communities throughout the maritimes that feature great hospitality, amazing beaches, and great swimming. And we're always on the lookout for more great hidden gems! Let us know what you think in the comments below!
I know that there are some obvious choices in this list of best beach towns in Atlantic Canada.  They're here for good reason!  But I also hope that you've discovered some lesser known options for planning your next Canadian beach vacation as well.  We've visited each of these destinations and have based this list on more than great beaches.  These towns were hand-picked because they make the perfect beach vacation destination from accommodations to food to other amenities.  
Did we miss your favourite beach town in Atlantic Canada?  Let us know!