Happy Hour with Dashboard Living
Vegetarian Restaurants, Craft Beer Delivered + The Best Views in Nova Scotia
Welcome back to Happy Hour!  Each week we share adventure & travel inspiration, our favorite finds of the week and anything else that we think you might like.  I hope this is a bright spot in your week, every week.
Well hello there, I'm really glad you stopped by again (or for the first time).  Either way, it really means the world to me to know you're here so pop down and leave a comment, would you?  
This week I'm in full "planning mode".  It's been a year of learning and, for me, one of the biggest takeaways from living through Covid is that time isn't promised.  And neither is our ability to travel freely.  If someone had told me 3 years ago that we'd be forced to stop travelling for 2 years, I would have done more.  I wouldn't have put off the trip to Europe we've been talking about.  We would have taken that cross-Canada road trip we've been loosely planning for 5 years.  We wouldn't have waited.
So this week, I'm planning to have an amazing summer right here in Nova Scotia.  I'm not putting anything off until "later" because we all know how that can go.  And that, my friend, is the inspiration for this week's happy hour.
"Maybe it's not about doing the most with our time, but instead making the most of that time.
The Best Views in Nova Scotia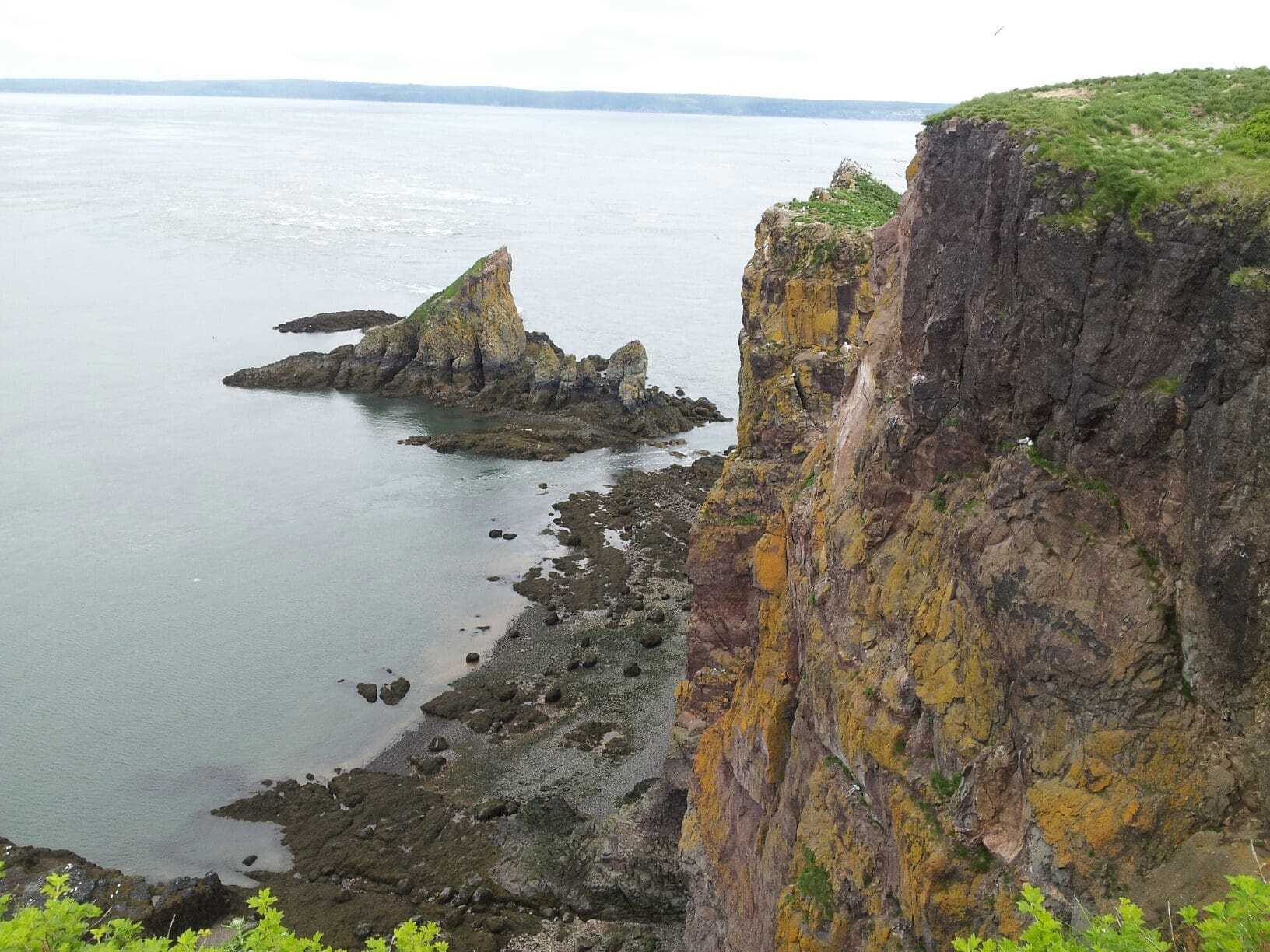 OK, let's dive in to this week's favorites:
Happy Hour Cocktail
Dark n' Stormy
This week on Happy Hour we a variation of a Dark n' Stormy.  Fun fact: Dark n' Stormy is the ONLY trademarked cocktail and technically to use the word "Dark n' Stormy" you have to use Gosling's Black Seal rum.  We didn't.  But I'm putting that disclaimer here just in case they stumble on to this post 😉
RECIPE:
2 oz Dark Rum (we used Barrelling Tide)

3 1/2 oz Ginger Beer (we used Chillstreet)

1 dash bitters

Lime to garnish
In a highball glass filled with ice, add dark rum and top with ginger beer. Garnish with lime wedge.

Adventures to Inspire Your Weekend
This week's featured hikes are all about the views.  And Nova Scotia has those in spades!  I hate that I have to keep saying this but please remember to follow the current restrictions when venturing out to explore.  
Hiking Trails
Cape Split Hiking Trail (pictured above), in Scotts Bay is one of the best hiking trails in Nova Scotia for two simple reasons.  It's easy hiking with only very mild inclines (but still long enough to present a challenge) and offers a spectacular view at the end.  In 2013, it also got some much needed infrastructure and now offers parking and amenities to support the many visitors each year.
Road Trips
Marine Drive, stretches up the Eastern Shore of Nova Scotia beginning in Dartmouth and hugging the coast line all the way to Canso.  Nova Scotia has several designated scenic routes and we think it's a perfect way to explore the province.  Pick one, and hit the road.
If you make it all the way to Guysborough county on the Marine Drive, check out this video where we dive deep into everything there is to do and see.
Food & Booze We're Loving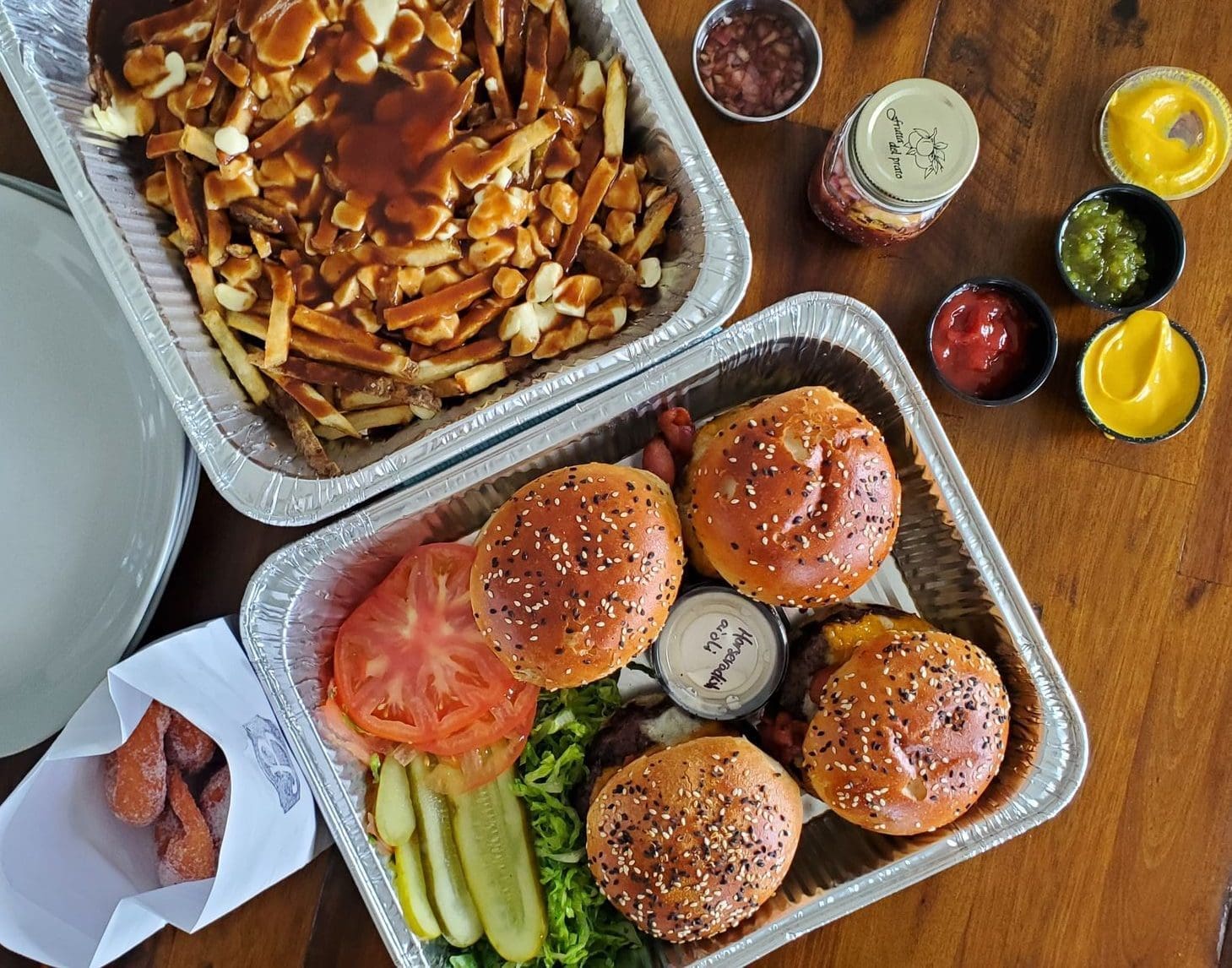 We're making a point to order take-out at least once a week right now to support our local restaurants as much as we can right now.
This week, we tried Barrington Steakhouse's new "Burgers & Poutine" family meal.  It was awesome AND the burgers stayed nice a fresh (sometimes we find takeout burgers get soggy).  This meal came with 4 burgers, a giant poutine and bag of donuts!
I'm also drinking Blomidon's Baco Noir this week.
We've started rounding up Vegan & Vegetarian restaurants in Nova Scotia this week and plan to release a full blog post on that soon.
Our favourite craft breweries are delivering Canada wide, so definitely check them out.
What We're Watching & Listening To This Week
I watched "Things Heard & Seen" with Amanda Seyfried this week on Netflix.  I love a good scary movie, don't you?
We're listening to this Ella Henderson playlist on Spotify.  I love singing along and this playlist is great if you love ballads (which I do) that you can belt to.
Fabulous Amazon Finds
This is a quick list of things I'm loving this week that you can get your hands on too (with handy dandy shop links).  We shop local as much as we can but we also order from Amazon and believe that there's a healthy balance to be found!
I couldn't survive without my Rocket Books (I have two).  These things are amazing!  They're reusable notebooks that allow you to digitize your hand written notes and then erase them.  No more stacks of notebooks and papers!
I just ordered this baby mason jars for cocktails & shooters!  My brother did a cocktail sampling last week and we loved that they were served as small tasters rather than full size drinks.  I'm also including my favourite Moscow Mule mugs here for you along with reusable straws (because plastic straws are for chumps).  These are silicone because I hate the feeling of metal in my mouth!
This is the charging dock I use to keep our electronics organized when they're charging (because I hate clutter).
I just got this VX Hobo bag in the mail (woohoo).  Does anyone else LOVE getting packages in the mail like I do?  I needed a larger day purse and this one is super soft.
I also just got Chef Michael Smith's new cookbook in the mail and I'm so excited to start cooking!  See, you can shop on Amazon and still support local at the same time.  Winning!
Love Notes to Leave You With
As you know, I've been thinking a lot about how I want to "show up" this year.  Self-care is more important than ever so I just launched THRIVE, a 5 week challenge to help engineer a simply, more intentional life with more time and energy for the people and things you love.  This program also includes the now-famous, 21 Day Detox to help you kick-start your health in a fun, supporting environment.  
Many of our blog readers don't know the health and wellness side of me!  In another life, I was a fitness pro who owned a gym and made a living helping folks like you turn their health around.  While it's not my "main gig" anymore, I still love coaching people and I'm still getting results for my clients.
Check out the program here (but hurry, because it's not staying open long).
Much love,
Sara
If you're enjoying these happy hour blog posts and finding value here, please let me know in the comments.