If you've ever visited the Annapolis Valley in Nova Scotia you know it's recognized for it's many wineries.  In fact, people flock to the valley by the bus load to hop from vineyard to vineyard and while we LOVE wine and have visited nearly every winery in Nova Scotia we wanted to showcase something a little different this weekend.
So, we decided to go exploring and we're sharing our itinerary with you so you can follow along and recreate the same experience for yourself!  This is something new we're trying (handing out our step by step road trips) so if you love it, let us know in the comments.
[video_player type="youtube" width="560″ height="315″ align="center" margin_top="0″ margin_bottom="20″]aHR0cHM6Ly95b3V0dS5iZS93WnZDS3k4UTRxSQ==[/video_player]
WHERE TO STAY
Old Orchard Inn & Spa
We arrived Friday night at the Old Orchard Inn which has been operational for over 40 years in Wolfville, Nova Scotia.  Wolfville is one of our very favourite Nova Scotia towns and it's charms are too many to mention!  It's just lovely and if you've never visited, you should put it on you list.  Checking in to our room was a breeze and we were greeted with welcome gifts alongside a folder stuffed with local attractions, events, and suggestions on how to spend out time in the area.  What a nice touch!
WHERE TO EAT
Old Orchard Inn, Wolfville
Our first meal of the road trip was on site at our hotel (how convenient is that?).  I recall visiting the Old Orchard more years ago than I care to mention and what I remembered most was the food.  It was amazing.  Naturally, I assumed that talented chef likely wasn't there any longer (OK fine, I'll admit – it was nearly 15 years ago).  After an amazing 5 course meal we insisted on meeting the Chef behind it and imagine my delight when he informed us he'd been at the Old Orchard for 25 years!  It was him!
The Noodle Guy, Port Williams
This funky pasta house has been on our radar for a while now after loads of recommendations from YOU, our readers!  If you love pasta, this is for you.  What's better than fresh pasta made in-house using local ingredients in a cool, eclectic and super chill atmosphere alongside your favourite craft beer?  We all tried something different to get a sampling of what they had to offer and it was all delish!
The Port Pub, Port Williams
We couldn't resist the patio overlooking the minas basin so this was an easy breakfast choice. The port pub, like many restos in the Valley, support the slow food movement and offer locally inspired dishes made with fresh ingredients in a relaxed but polished atmosphere.  It's the little things that stand out to us and we LOVED that had a supply bucket on the patio containing hats, sunscreen, and insect repellant for guests who preferred to enjoy the outdoors but perhaps forgot these items.  Nice touch guys!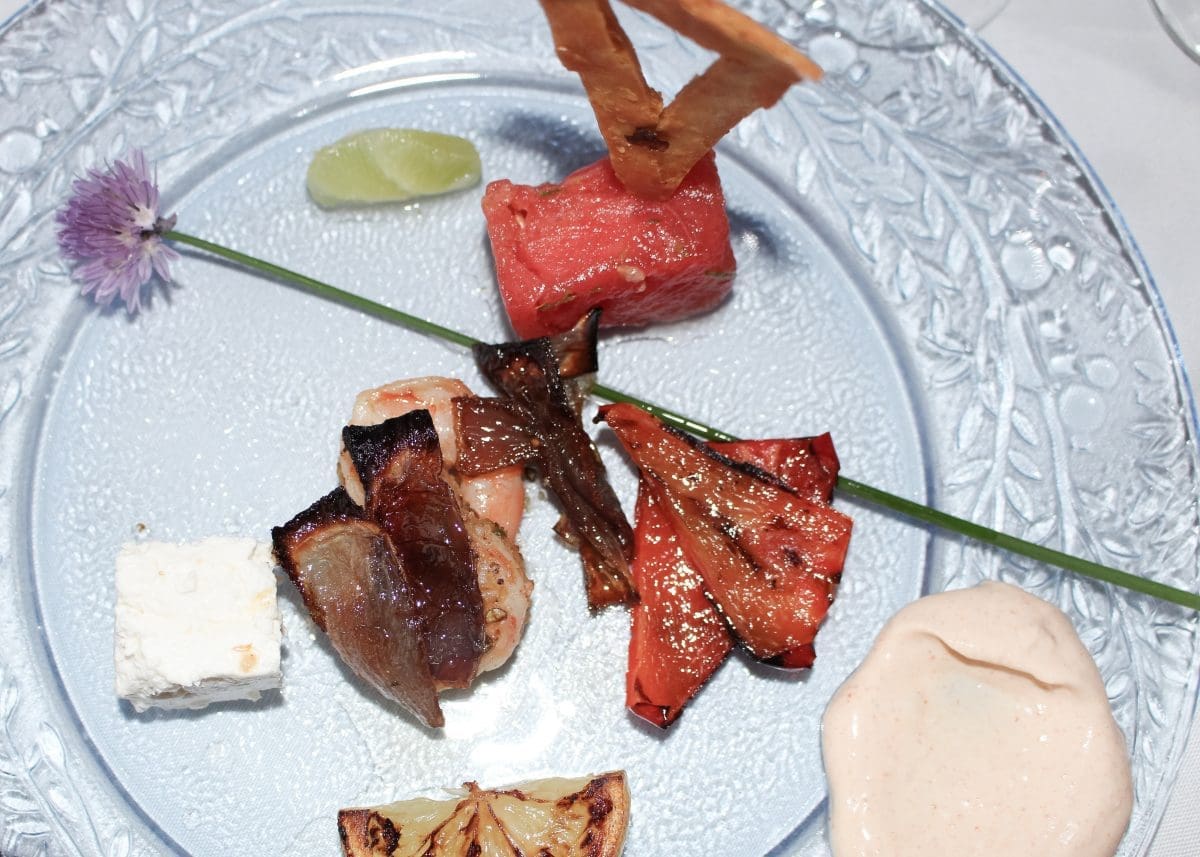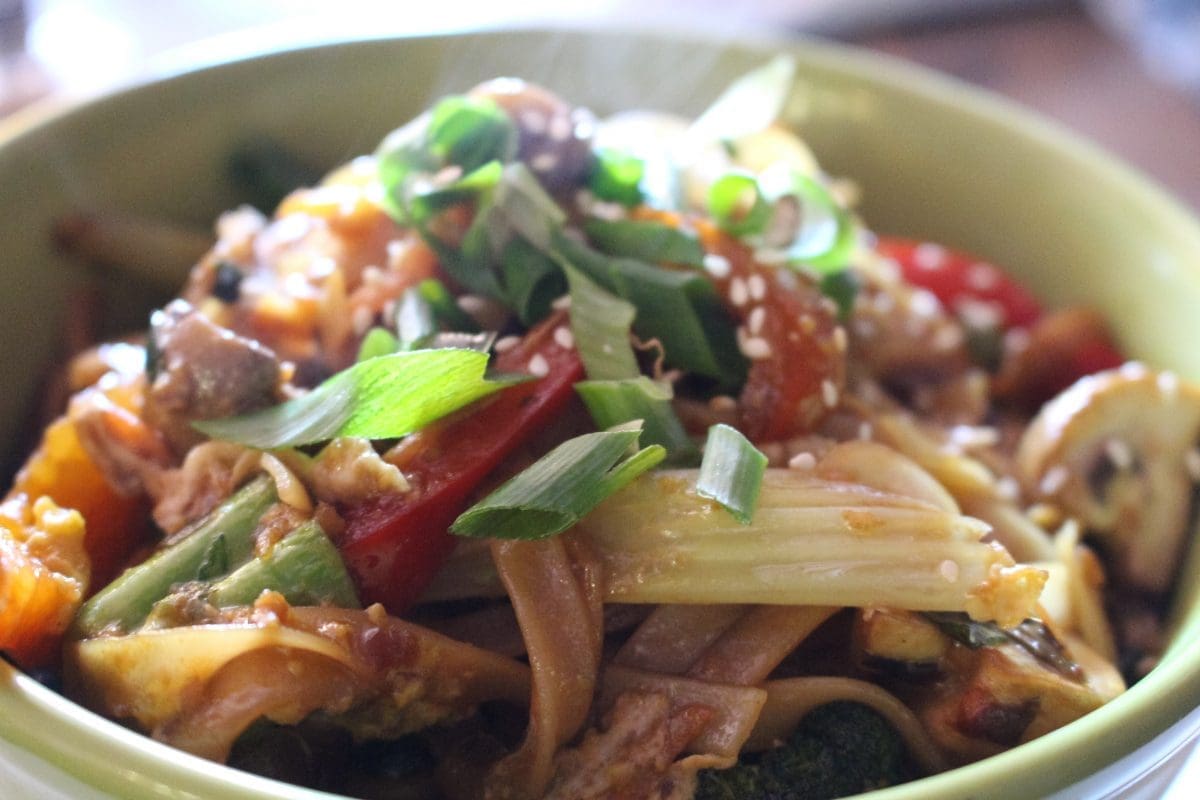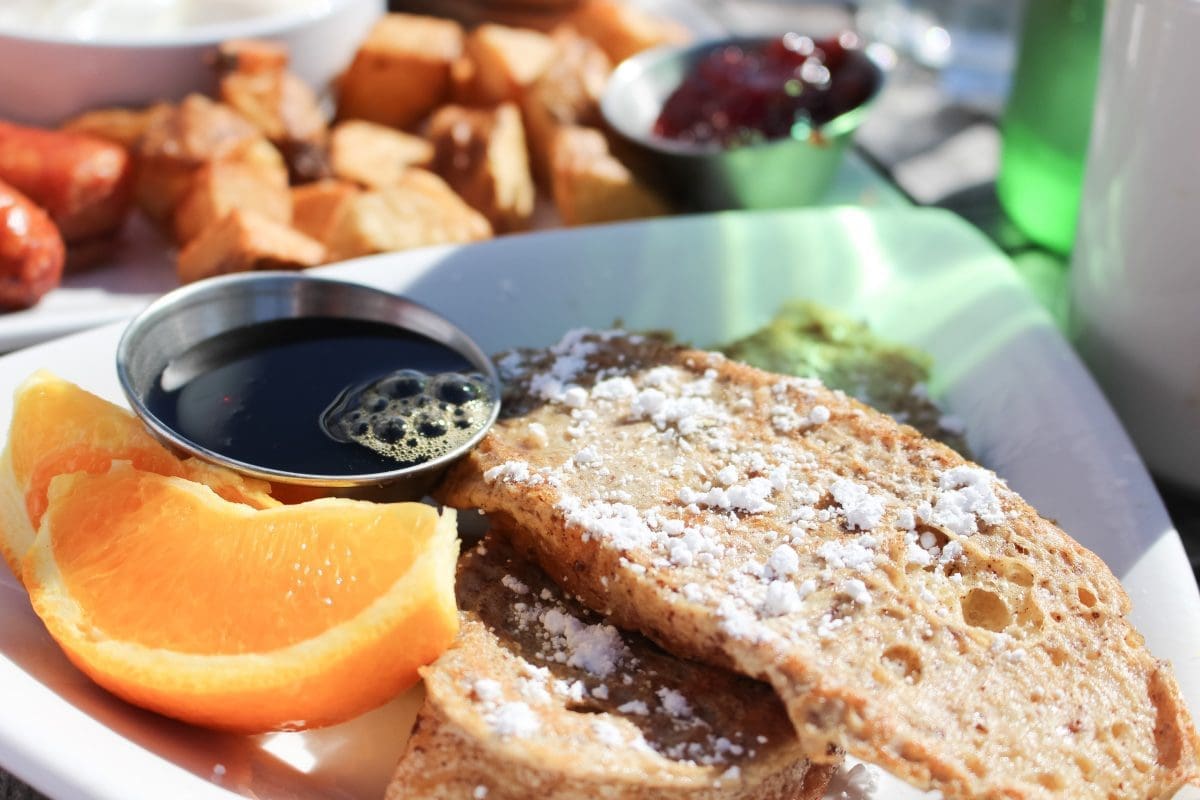 WHAT TO SEE & DO
The sights in the Annapolis Valley are magical (and many) but we took this opportunity to explore a couple of new and possibly lesser known places in hopes of broadening our Valley repertoire.  Side note, of course we stopped in at a couple of old favourites as well!  Here's what we did:
Wolfville Farmers' Market
If you're in town on a Saturday, you've got to head down to the Farmers' Market in Wolfville.  There's just something about markets!  The hustle and bustle of people collecting their produce and other goodies for the week, the live music that is inevitably happening in each corner, the smell of baked goods wafting through the air and the countless samples of local beer, wine, & spirits being handed out to locals and visitors alike.  Markets are awesome because every is happy to be there and it's an opportunity to really connect and get to know the members of a community.  Anytime we visit a Farmers' Market (which we do nearly everywhere we go) we make sure to allow lots of time because we adore speaking with and listening to the local business owners talk about what they do.  They're also so passionate and engaged in the community – it's just the best!

Hall's Harbour
Hall's Harbour is one of Nova Scotia's many picturesque fishing communities but it's got an extra special feature.  You can actually watch the lobster boats come in on high tide, unload and then settle on the ocean floor as the tide recedes.  We didn't have time to stay and watch but you can check out their time-lapse here.  We took a little stroll on the boardwalk and then enjoyed a beer at the local market.

Baxter's Harbour
Baxter's Harbour is just a few kilometres away and another place we haven't had the opportunity to visit until now.  Another wonder that the Bay of Fundy offers us, these falls are one of the most popular in the Nova Scotia and during low tide you can actually walk right up to them!  While we visited in the summer, they are a must-do winter destination as well because when they're covered in ice they'll knock you're socks off.

The Look-Off
A classic.  Of course we couldn't make a trip to the valley without stopping at the look-off for spectacular views of the Annapolis Valley and the usual photo ops.  It's especially awesome when you're sharing your visit with friends.  It's not often we buddy up on our road trips (because let's face it – it's annoying for non-bloggers to spend a weekend with bloggers because we spend so much time taking videos and photos) so this was a wonderful treat!

WHAT TO DRINK
It wouldn't be a dashboard road trip if we didn't include our weekend picks of adult bevy's.  The Annapolis Valley is known for it's wine scene so we decided to do something a little different and include a mix of wine, beer, & spirits.
Blomidon Estates Winery
This boutique winery is located near canning on the shore of the minas basin and we are very familiar!  In fact, Blomidon Estates is the maker of our favourite Nova Scotia red – Baco Noir.  If the weather is nice during your visit, be sure to find a seat on the patio overlooking the vineyard and order their cheese plate and the patio flight.

Barrelling Tides Distillery
Located in Port Williams, Barrelling Tides Distillery is worth a visit and they specialize in locally crafted vodka, gin, fruit liqueurs and tidal run which is unaged rum (and quite good).  They can't call it rum because it hasn't been aged in wood casts for a year which it must be in order to earn the title "rum".  We indulged in a full tasting (naturally) and sampled everything they've got on site after our tour of the distillery with owners Russell and Colleen Murphy (who were awesome).  We even tried the chilli pepper vodka and liked it so much we went home with a bottle!

Annapolis Cider Company
Our last stop of the day was at the Annapolis Cider Company on the main drag in Wolfville where we found a window seat and enjoyed a flight of their apple ciders – all made with local ingredients from the Stirling Apple Orchard.  We've had the tour before so we skipped it this time but when you visit, you should!

FINAL THOUGHTS
You know, sometimes when your plans get foiled it's the best possible thing!  This weekend we were in the valley because we were booked for an adventure that ended up getting rescheduled due to weather.  That was a bummer, yes, but it actually turned out to be a really wonderful time spent with some great friends.  We got to experience new things, meet some new people (like Katherine and Seth from East Coast Balloon Adventures), and even an unexpected fire works show for the sundeck at the Old Orchard!

Our Valley Tour Itinerary
Friday
6PM: Arrive at the old Old Orchard Inn, Wolfville
7:30PM: Chef's Tasting/Dinner at Old Orchard Dinning Room
Saturday
8AM: Breakfast at Port Pub, Port Williams
9AM: Wolfville Farmers' Market
11PM: Look-Off, Canning
11:30PM: Hall's Harbour Tour
1PM: Baster's Harbour
2PM: Blomidon Estates Winery
3PM: Annapolis Cider Company
4PM: Barrelling Tides Distillery
6PM: Supper at The Noodle Guy
10PM: Fireworks on the Sundeck at the Old Orchard Inn
Sunday
9AM: Breakfast at Old Orchard
10AM: Check-Out
Do you like these itinerary style posts?  If so, let us know and we'll do more of that!  Huge thanks to Karrie & Doug for coming on this road trip with us and for putting up with our camera's!
xox
Sara & Brent
Big shout out to our adventure series sponsors Blaikies Dodge Chrysler Truro, Take It Outside, and Salty Dog Brewing Company. 
[video_player type="youtube" width="853″ height="480″ align="center" margin_top="0″ margin_bottom="20″]aHR0cHM6Ly95b3V0dS5iZS93WnZDS3k4UTRxSQ==[/video_player]