We've spent the vast majority of the last year travelling around Nova Scotia and showing off everything our home province has to offer from food to adventure, accommodations to hiking trails and everything in between.  In that time we've been invited further and further away from NS to visit other parts of our Country and the world but before we go, we wanted to be sure we cover as much as we can right here.
[video_player type="youtube" width="853″ height="480″ align="center" margin_top="0″ margin_bottom="20″]aHR0cHM6Ly95b3V0dS5iZS85UGt3aW9oTVlwUQ==[/video_player]
"You know Fox Harb'r for it's luxury golf but did you know they offer a wide variety of activities for the non-golfer too?"
We're not in our 20's anymore and while we love adventure (so much), we're past the days of sleeping on the ground and "roughing it" it in the wilderness.  Don't get us wrong, we're up for nearly any adventure (and have some wilderness events coming up) but we've built this blog around luxury adventure travel. So, when we were invited to Fox Harb'r Resort to experience their brand new adventure package we jumped at the opportunity!  It's the best of both worlds – luxury accommodations & fine dining mixed with the adventure we're constantly seeking.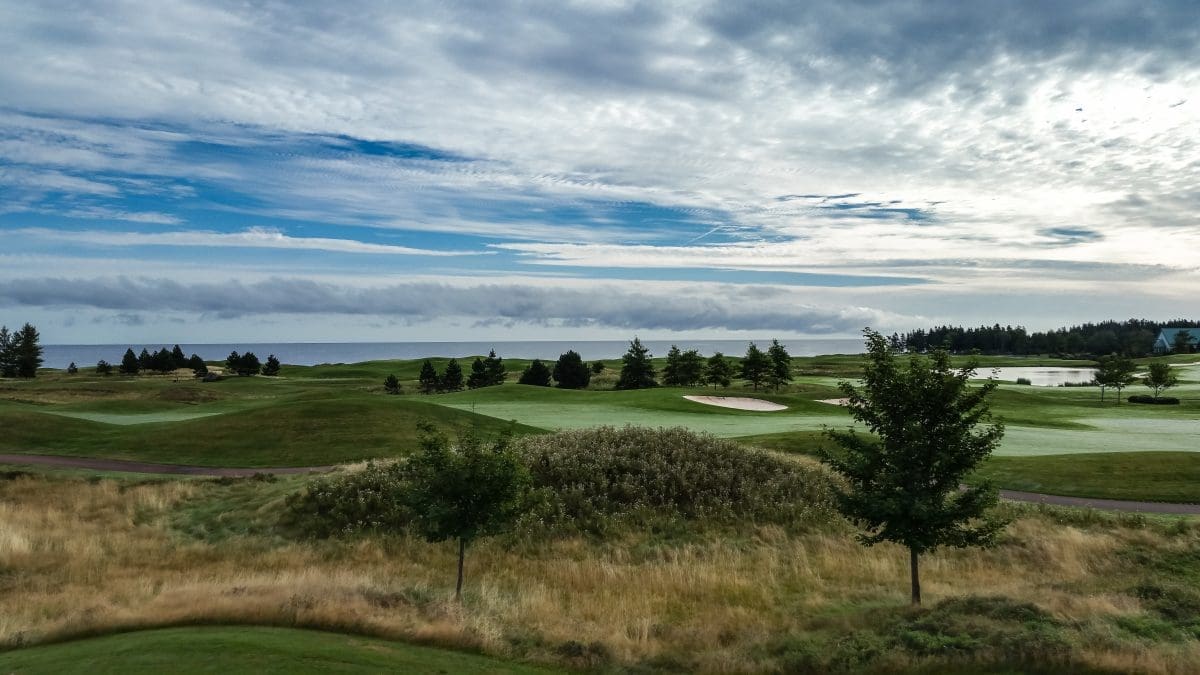 LUXURY ACCOMMODATIONS & BREATHTAKING VIEWS
True to form, everything about the resort is grand from the large iron gates you pass through to enter the property to the perfectly manicured greenery throughout.  While check-in isn't until mid-afternoon, we arrived very early to kick-off our adventure and they were more than happy to accommodate us.  We stayed in on oceanview executive suite that had all the little touches you would expect including breathtaking views of the property.
THE FOOD: ATLANTIC CANADA'S FIRST OCEANWISE  RESTAURANT
Willard Room & Cape Cliff Dining Room
As you would expect, the culinary experience at Fox Harb'r is second to none and at the helm is Executive Chef, Shane Robillard.  With sustainably harvested seafoods, ethically raised meats, and organic vegetables, the menu at Fox Harb'r is as impressive as the rest of the property.  We enjoyed lunch in the Willard room and dinner in the main restaurant.  If there's ever a time to try something different, the Cape Cliff dining room is the place.

WHAT TO DO: BEYOND GOLF
Adventure Awaits at Fox Harb'r
If you google luxury golf in Nova Scotia, Fox Harb'r is right at the top of that list but that's not why we were here (although Brent spent the better part of the weekends dreaming of that course).  The resort offers all sorts of alternatives for the non-golfer and we were invited to experience their brand new adventure package.

DAY ONE
Our adventure began with kayaking on the Fox Harbour which was spectacular.  With views of the harbour, the new on-site vineyard and even a baby black bear sighting it was a perfect start to our weekend.  Next, we visited the Trout pond to try our hand at fly fishing (success) which would be a fabulous spot to just sit and relax by the water even if fishing isn't your thing.  Our final event of the day was a pontoon boat cruise on the ocean where we enjoyed a spectacular sunset and views of the golf course.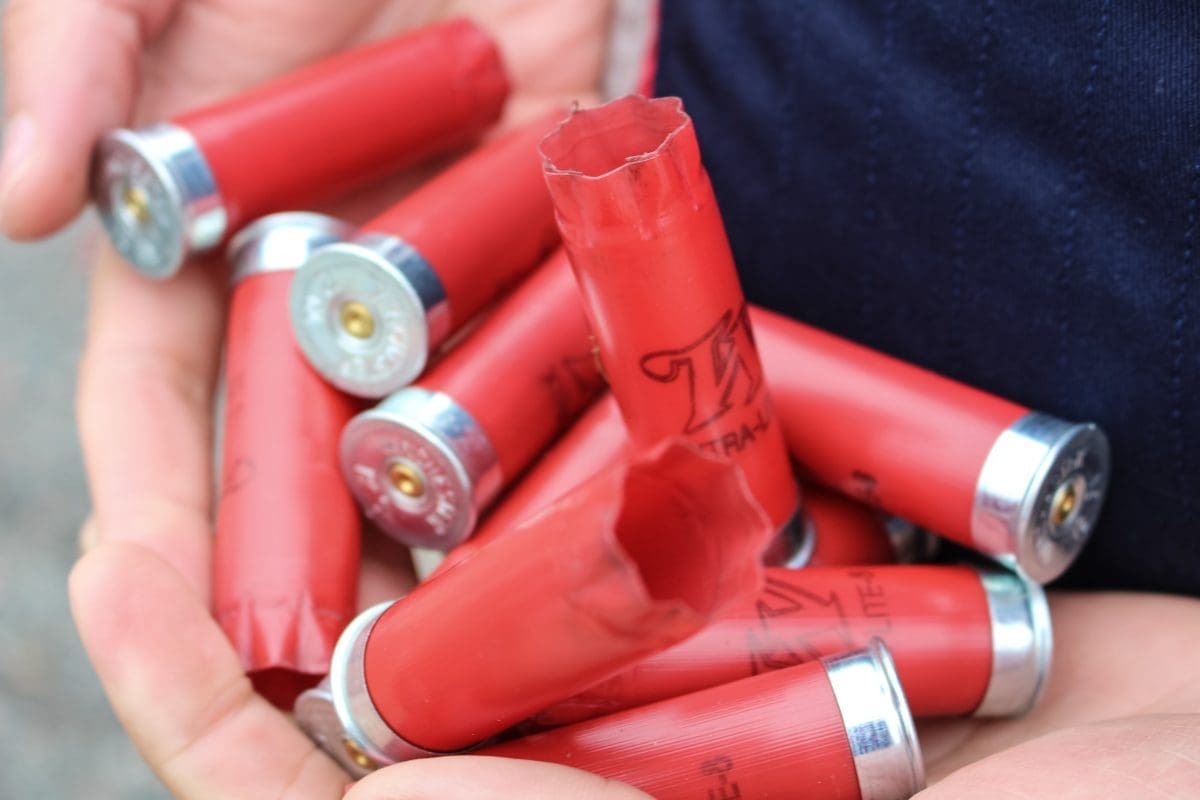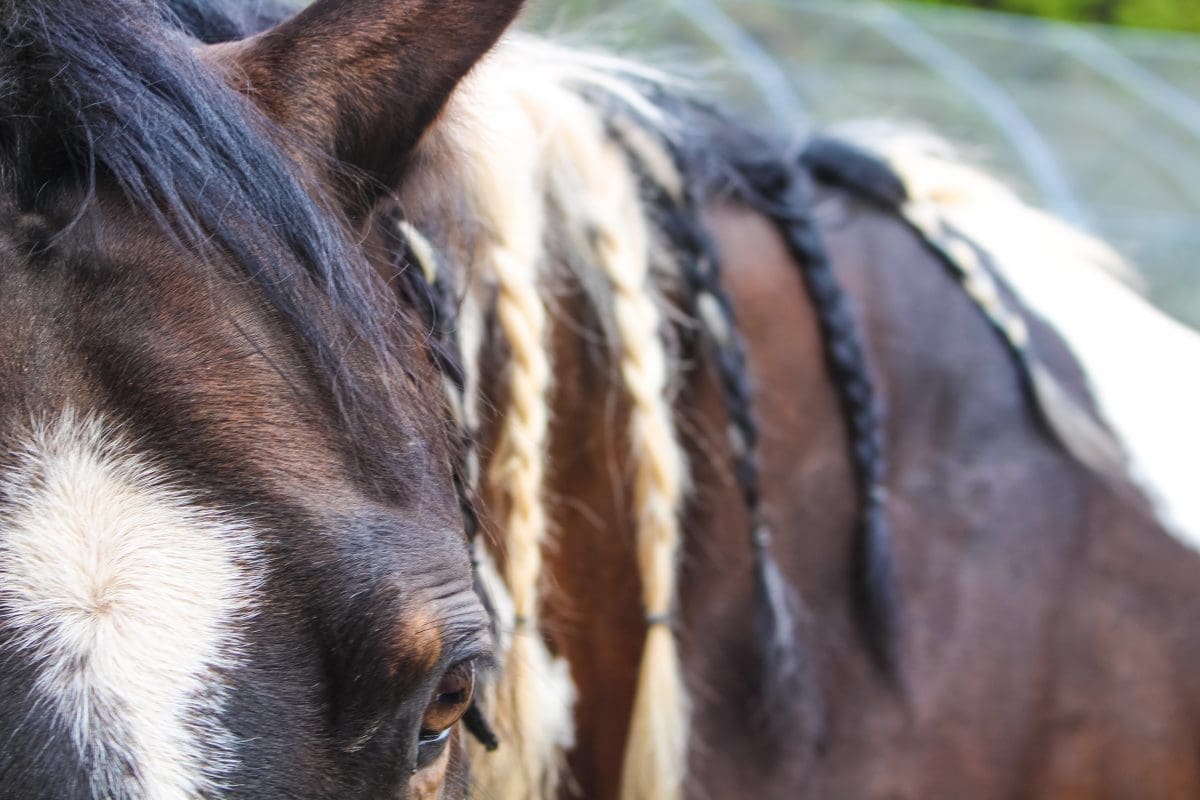 DAY TWO
Day two began at the sporting lodge, a rustic contrast to the rest of the resort but equally impressive, where we had a lesson in sport shooting.  I wasn't entirely sure how that event would go, having never even held a shotgun before but it was actually quite fun and I can see how one might develop a deep love of the sport.  We spent the rest of our afternoon exploring the grounds by bicycle (you can borrow them from the pro shop) and on horseback.  The trail ride took us oceanside again on the Fox Trot trail and proved a wonderful way to explore.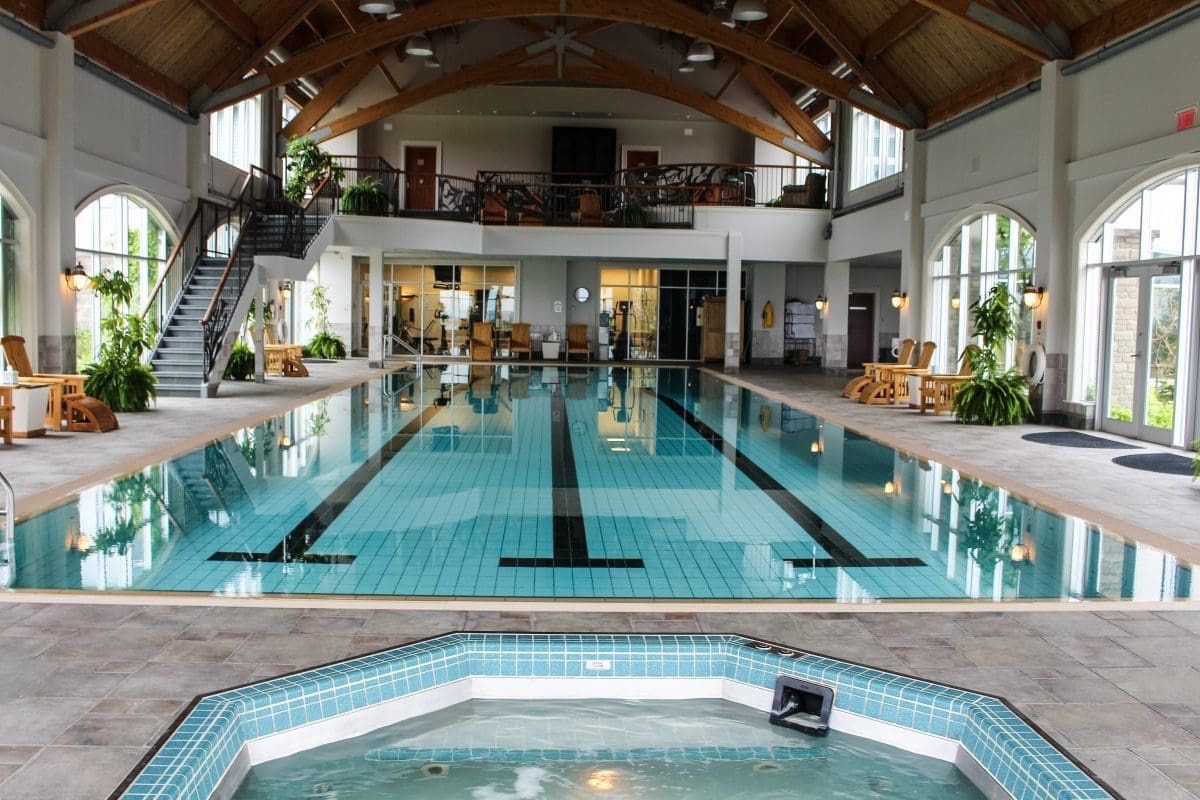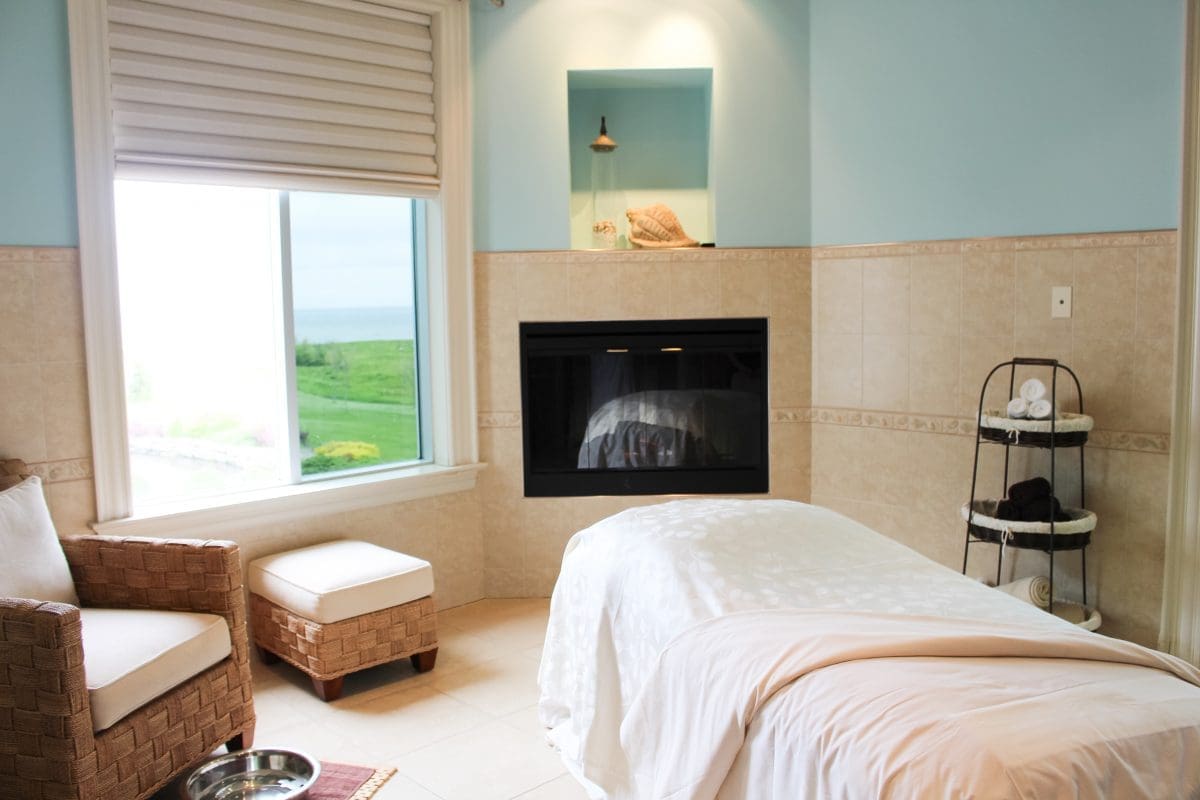 DAY THREE
Dol-as Spa
After a weekend full of activity, to say I was looking forward to a morning at the spa would be the understatement of the year.  I don't think the Dol-as Spa is one that typically comes to mind when Nova Scotian's are searching for a wellness experience but it should be!  The spa itself is second to none and offers a wide range of east-coast inspired treatments.
I enjoyed a signature facial (amazing) and a 30 minute massage while onsite.  I could have easily spent my entire day at the spa but we also wanted to check out the rest of the wellness facility which includes mineral bath, hot tub, beautiful indoor pool and fitness facility.
FINAL THOUGHTS: WHAT MAKES FOX HARB'R DIFFERENT
What really sets Fox Harb'r apart for us, is the thoughtfulness and care that clearly goes in to how each guest is made to feel.  A luxury resort, yes, but with an underlying tone of comfort, ease, and relaxation.  Luxury is easy is fake – furnish a resort with top of the line linens & fixtures, serve top-notch food, and offer spa services and amenities and voila, you have a luxury resort on paper.  We've experienced this before and it's fine, but not quite right.
Fox Harb'r is different and it's the people that set it apart.  From the moment you arrive at the gate you're treated like family.  Every member of the Fox Harb'r team treats you like royalty and goes out of their way to make your stay as enjoyable as possible.  It's those little touches that really make the difference.  It's the genuine care for each guest by every person you encounter, not just the people you're in direct contact with.  The gardeners stop to ask how your stay is going.  The dining staff remember your conversation from a day prior and make recommendations based on your preferences.  The pro shop staff beat you to the door every single time to open it for you.  The chef comes to the table to see how your meal was.  The bar staff offer to turn up the lights when they see you taking photos (OK, that one probably doesn't apply to most but it didn't go unnoticed).  Even the president of the resort is constantly present, mingling with guests, making sure everyone feels comfortable and that guests are getting exactly what they need.
It's those little things that truly mean "luxury" to us and Fox Harb'r has them in spades.  I'm gushing, I know, but I just can't emphasize enough how amazing our time on resort was and it wasn't the "stuff" (although those things were world-class and fabulous), it was the people!
A hugely gracious thank you to Kevin & Peter who made my stay so smooth and enjoyable and a warm thank you to Fox Harb'r Resort for welcoming us to experience the resort.  As always, all opinions and oodles of photos remain our own.
xoxo
Sara & Brent