Grilled Breakfast Pizza
Lately we've been spoiled to death with pizza because our little hometown of Truro FINALLY has a wood-fired pizza place.  We've been in more times than we care to mention and they're making some killer pies and pairing them with hand crafted cocktails.
SIDE NOTE: If you haven't checked our Sauced Wood-Fired Pizza in Truro yet, you should.  We recommend to get there while the weather is nice and enjoy their patio.  Our current favourite pizza on the menu (it changes daily) is the pesto chicken pizza with arugula, goat cheese and chicken (Mmmmm)
On a recent camping trip we took to Pictou Island we couldn't bear to be without our gourmet pizza fix so we made it happen.  It should be noted that we don't mess around when it comes to camp food.  We eat gourmet…like queens and kings…and it's amazing.  In this case, we actually packed too many suppers so we thought, Why not a grilled breakfast pizza?
Grilled Breakfast Pizza (Gluten Free)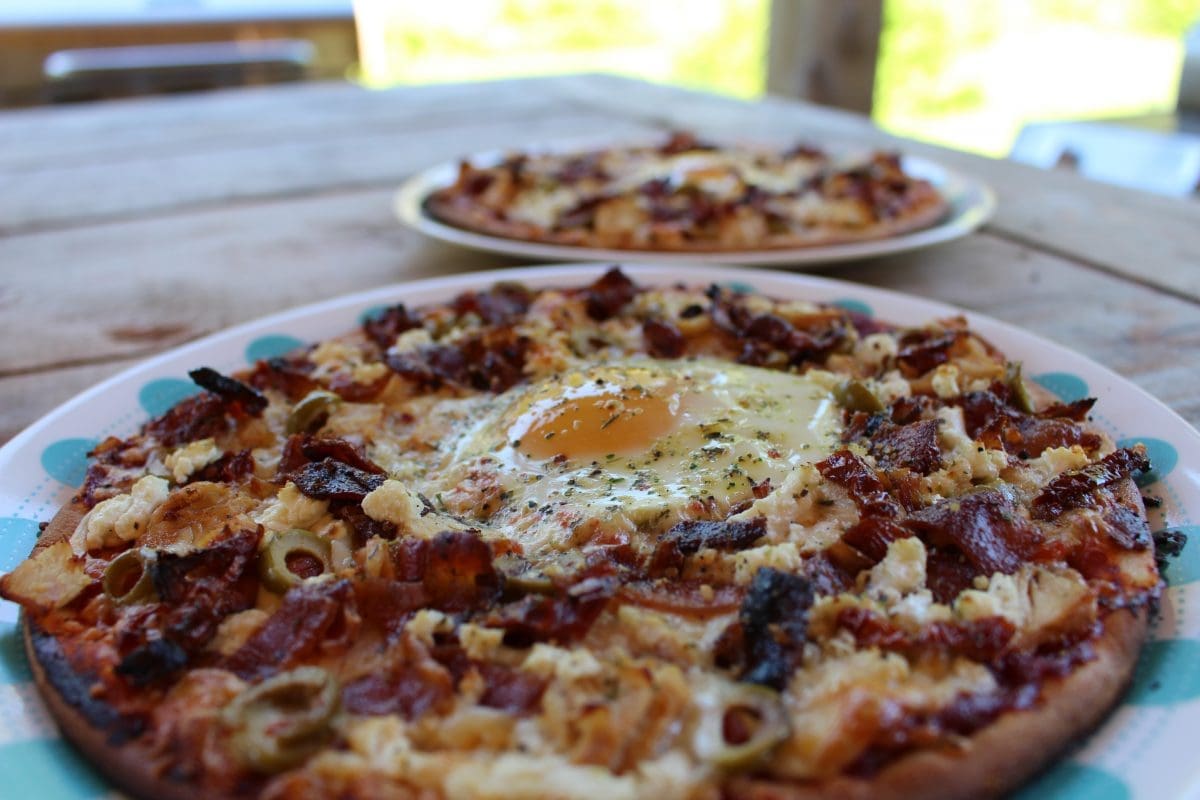 [feature_box style="17″ title="Gluten%20Free%20Breakfast%20Pizza%20(BBQ'd)" alignment="center"]
Serves: 2 (with leftovers for lunch)
INGREDIENTS
2 Gluten Free Pizza Crusts
2 Tbsp Tomato Paste
2 tsp Pesto
1/2 cup grated mozzarella cheese
2 oz goat cheese, crumbled
6 olives, sliced
6 sundried tomatoes, sliced
1/4 red onion, sliced
1/4 red pepper, sliced
Cooked bacon (the more the merrier we think)
1/4 cup cooked chicken, chopped
2 large eggs (free range if possible)
1/2 tsp red pepper flakes
1 tsp Italian seasoning
DIRECTIONS
Turn on the BBQ and allow to heat fully while you prep the ingredients.
Make 2 foil trays for your pizzas and assemble your pies as you normally would.  Of course everyone has their preference but this is how we like ours assembled:
Spread the paste and pesto on the crust.  Add mozzarella cheese then veggies, chicken, bacon and goat cheese.
Push the ingredients aside in the middle of your pizza to make a well and crack the egg into the empty space.
Sprinkle Italian seasoning and a dash of red pepper flakes on top.
Place on the BBQ and cook until the crust is browned and the egg is set to your liking.
NOTE: Ours cooked in under 5 minutes!
[/feature_box]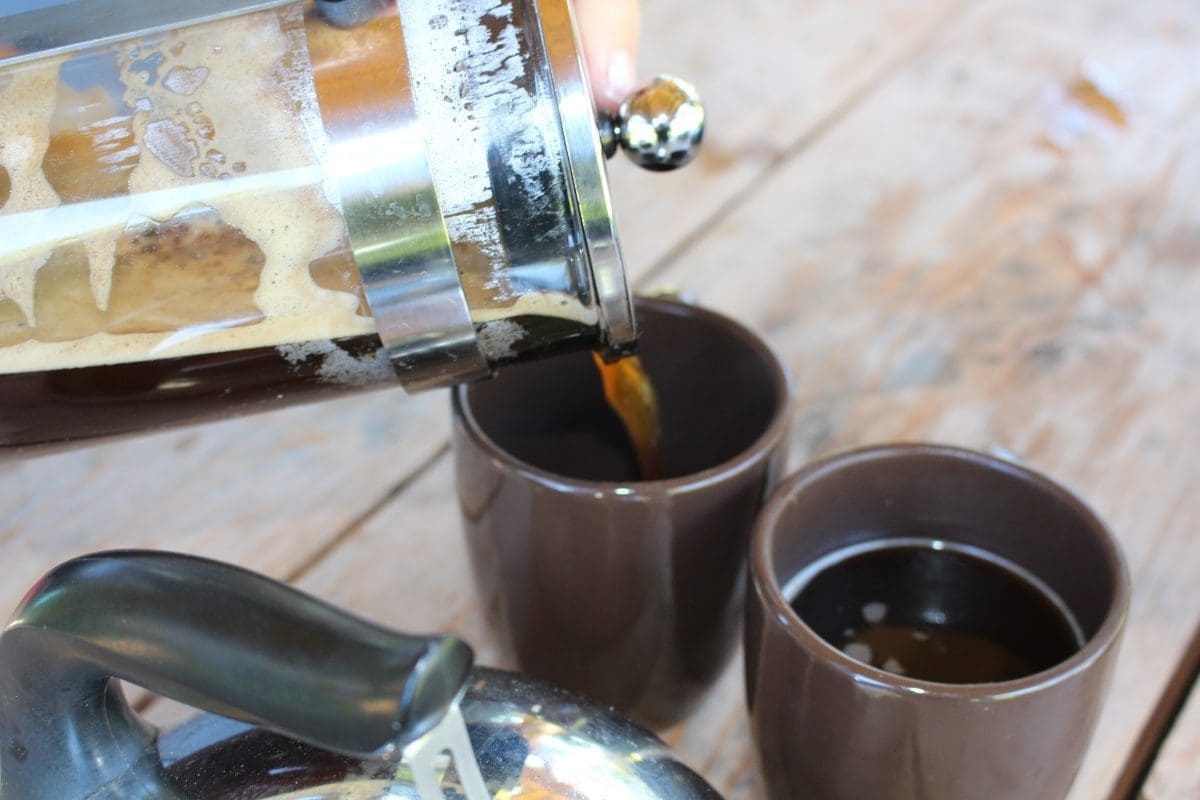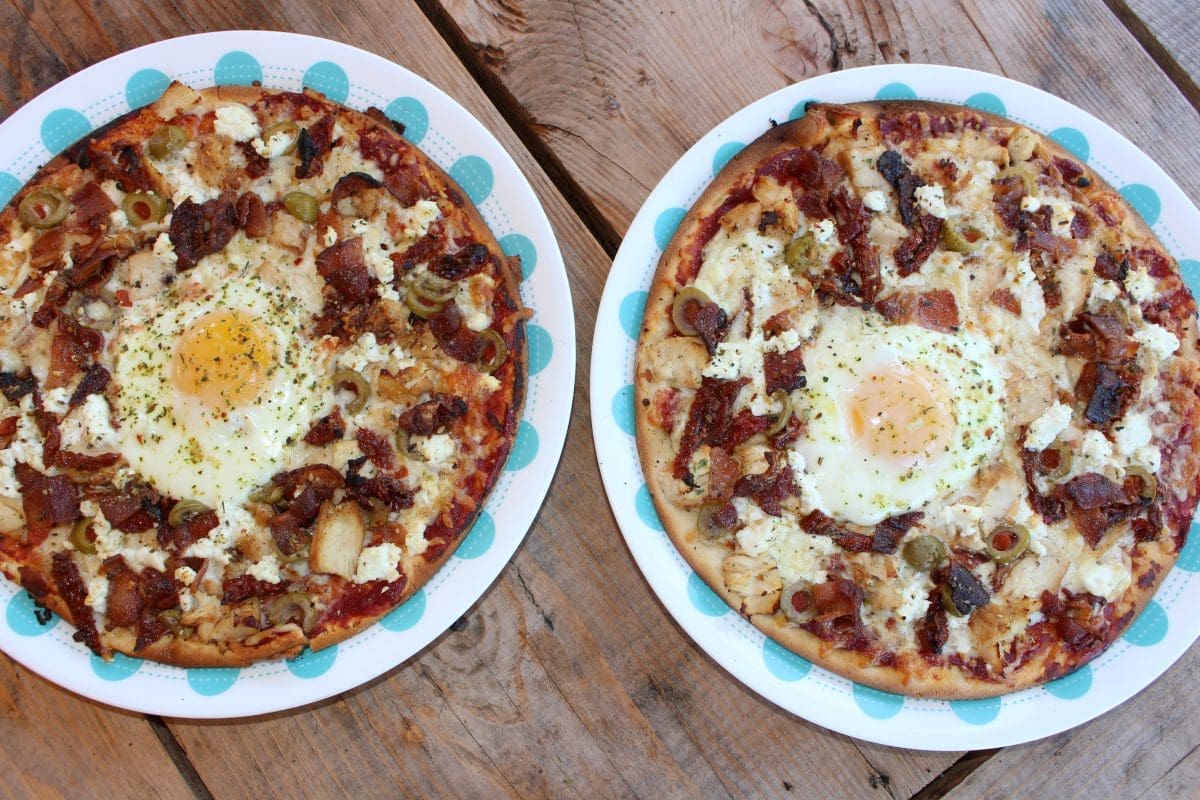 We enjoyed half our grilled breakfast pizza, coupled with fresh coffee from our Bodem coffee maker, and packed up the rest for lunch.  The trick is to watch it closely because the crust can burn very quickly on the grill but when you get it right it's delish.  In the future, I would probably opt for 2 eggs on each pizza because, IMO, it was the very best part!
FUN FACT: In another life, we use to run a food and fitness blog with tons of recipes on it.  If you like the idea of seeing some recipes on this blog, let us know!
What is your #1 favourite camp food of all time?
Share your camping food stories with in the comment below!  Do you cook basic or gourmet when you're camping?
Sharing is sexy!
[arrows style="arrow-3-2.png" align="center"]