7 Nova Scotia Road Trips to Take
[Complete Itineraries]
I grew up in Nova Scotia, so I've seen a lot of it and I still feel I've barely scratched the surface.  Last year, Brent & I completed a project we called 100 Days of Nova Scotia (you can read about that here).  We created 100 videos in 100 days with a goal of showing off many of the cool things you can do here in our little eastern province. Since then, we've been asked hundreds of times by our readers and viewers if we would make a list of everything we did during that project.  Well, we did!  But, rather than just list everything (boring), we wanted to take it a step further so we've created some unique itineraries for you to use this year to celebrate Canada's 150.
Don't worry, you can still download that entire list here for free.  We've organized it by region to keep things simple!
There are SO MANY more itineraries coming and these certainly don't cover every part of Nova Scotia that we want to show but but it's a good start.  We've tried to create itineraries that encompass some of the "must do" attractions of Nova Scotia but also some lesser known stops that might surprise you along the way!  These are designed for the weekend adventurer but, of course, you can break them up into day trips if you wish!
Did we miss something awesome?  Let us know in the comments so we can add it to the list!
1.  Ride the Tides & Explore the Hub of Nova Scotia
Truro isn't just our current home base (I grew up here actually), it also happens to be in the centre of Nova Scotia which makes it an awesome place to start any NS road trip. Grab a coffee at Jimolly's Bakery Cafe and spend your morning exploring beautiful Victoria Park which, if you haven't seen it, will blow your mind.  It's right in the middle of Truro and it's over 1,000 acres of walking trails, waterfalls and the famous Jacob's Ladder. While you're here, take a stroll around our rapidly growing downtown.  The new civic square and library and amazing, our Farmers' market is home to loads of amazing treats and new shops are popping up all the time alongside our old favourites.  Stop by Sauced Wood Fired pizza and enjoy one of their gourmet pizzas with a hand crafted cocktail or craft beer on the patio (we recommend the Carbonara pizza and an Old Fashioned) before heading to Urbania.
Take the 236 through Old Barns to get to the Tidal Bore Rafting Resort.  The winding roads are full of country scenery that you won't want to miss by taking the highway.  We highly recommend you stay at one of the river side cottages overnight and experience the rafting & mud sliding excursion while you're there.  We think EVERYONE should experience riding the worlds highest tides on the mighty Shubie river – it's a blast! After a good night's sleep hit the road again and head for the Brookfield Bakery and Hurricane Heidi's Cafe for breakfast.
Continue on to Mastodon Ridge  where you can stroll the grounds or play a round of mini golf and then stop in at Cold Stream Clear Distillery for a tasting.  Now you're off to the Shubenacadie Provincial Wildlife Park to take a stroll through the trails, feed the ducks and then head for Elmsdale and eat at Rob Bitar's Resonate.  Our favourite thing on the menu is the flatbread! It's a full two days but that's how we roll!

2.  North Shore Food Tour
Nova Scotia is a foodie's dream and there are amazing eats to be found in each region but we wanted to dedicate at least one of these itineraries to your bellies…so this is it! You're food adventure starts in Wallace where you'll check in to the Fox Harb'r Resort & Spa.  Full disclosure, you could easily spend an entire weekend (or more) at Fox Harb'r enjoying world class golf, the spa, the adventure package they offer (sport shooting, kayaking, fishing, horseback riding, etc) but we wanted to cover a larger geographical area so we're calling this your home base while we travel around the North Shore.
First stop, Tatamagouche!  Make a visit to the Tipperary bakery & cafe for your morning Java.  Head around the corner (in the same building) and introduce yourself to Michael & Heather.  They own Appleton Chocolates and we recommend you call this breakfast!  Next you'll want to walk the cute little downtown centre.  We recommend you visit Creamery Square & Purdy's Wharf (to get a little exercise) and then head to the Tatamagouche Brewing Company for a sample of their awesome craft beers.  Our favourite is Deception Bay but the North Shore Lagered Ale and Hippy Dippy Pale are are super popular as well.  If you think you can handle it, swing by the Chowder House (still on Main St)  for a cup of their seafood chowder (but don't eat too much).
Next, head to Jost Winery for a tour of the property and a flight of Nova Scotia wine.  Sip your vino on their patio and enjoy a light lunch then grab one of their red bicycles and tour the grounds before heading back to Fox Harb'r.  We recommend you make reservations in the Cape Cliff dining room and let your taste buds do the rest.  Chef Shayne is amazing!  Feeling adventurous?  Let the staff pick your meal – that's what we did and it was deliscious. In the morning, enjoy the resort as much as you can and then on your way home make a stop at the Whirligigs cafe for brunch.  We recommend their Eggs Benedict but they also offer seasonal specials that are always great.
3.  Bay of Fundy
The Bay of Fundy has so much to offer but if you're looking for an active adventure that will take you to breath-taking views, we've got your ticket.  Start your day at the Masstown Market and grab something fresh from bakery and a coffee to go.  You'll also want to pick up something for a picnic lunch (trust us).
Head for Economy on the Glooscap Trail where your first stop will be That Dutchman's Farm.  Sample the cheese (and buy some to add to your picnic) and walk the grounds, taking time to visit with all the animals. Next stop, Five Islands Provincial Park.  You can stroll the beach or hike the park trails depending on what you're in the mood for but this will be your first look at the red cliff's of the Bay of Fundy – they are spectacular.  Find a picnic table or quite spot on the beach and enjoy your lunch here, soaking in the views before continuing on to Cape Chignecto Provincial Park.
Cape Chignecto has over 50km of hiking trails available.  You can choose to hike some (or all) of them OR you can drive past the park entrance to Eatonville where you can drive in to a well-groomed, easy trail that takes you directly to the three sisters look-out. You can camp nearby or stay at the Driftwood Park Retreat.  Disclosure:  We've never actually stayed at the Driftwood but wanted to include accommodations for you and we've heard good things.  
During your stay, be sure to visit the Wild Caraway Restaurant and get a bowl of their seafood chowder.  After having tried hundreds of bowls of chowder around the province, this one is still my favourite ever!

4.  Not Just Wine Country – Annapolis Valley
We all know you can do wine tours in the valley – and they're great!  But, we wanted to give you something a little different so this is the exact itinerary we followed on a recent trip to the valley.  We loved every second, and know you will too! Check in at the Old Orchard Inn & Spa in Wolfville and make your dinner reservation at the dining room.  We enjoyed a chef's tasting of 5 courses and they were all divine so again we recommend letting the wait staff choose your meal for you.  Enjoy some local wine, visit the pool or dry sauna and feel yourself relax into what's going to be an awesome weekend adventure.
In the morning, head to the Port Pub for breakfast.  Weather permitting, we recommend grabbing a seat on the patio and enjoying the view.  Next head back in to Wolfville and make a trip to the market where you can sample a huge variety of local wine & spirits, craft beer, snacks & treats as well as peruse the hand crafted soaps, wood working, and other goodies all to the tune of live music.  After you've had your fill, head to the look-off for a quick stop before you continue on to Hall's Harbour.  If you've timed it right, you'll be able to watch the tide lift the boats up off the harbour floor while you enjoy a craft beer on the patio. Next, head to Baxter's harbour for a quick trip to the beach and marvel at the massive falls!
If you're feeling more adventurous you could also take the time to tackle the cape split hiking trail (this will take at least a couple of hours).  On your way back towards Canning, stop at the Blomidon Estates Winery and enjoy a patio flight of reds & whites along with their Fox Hill cheese platter. Continue to Port Williams and visit the Barrelling Tides Distillery for a tour and sample their spirits and liqueurs.  We recommend trying them all – we were surprised to find that we enjoyed a few things we wouldn't have typically tried!
Next it's back to Wolfville to visit the Annapolis Cider Company for another sample and then it's back o Port Williams again for supper with the Noodle Guy. Don't forget to visit the rooftop terrace at the Old Orchard and watch the sun set over the valley before turning in for the night.  Before you check out, be sure to visit the dining room one more time for breakfast which was also fantastic.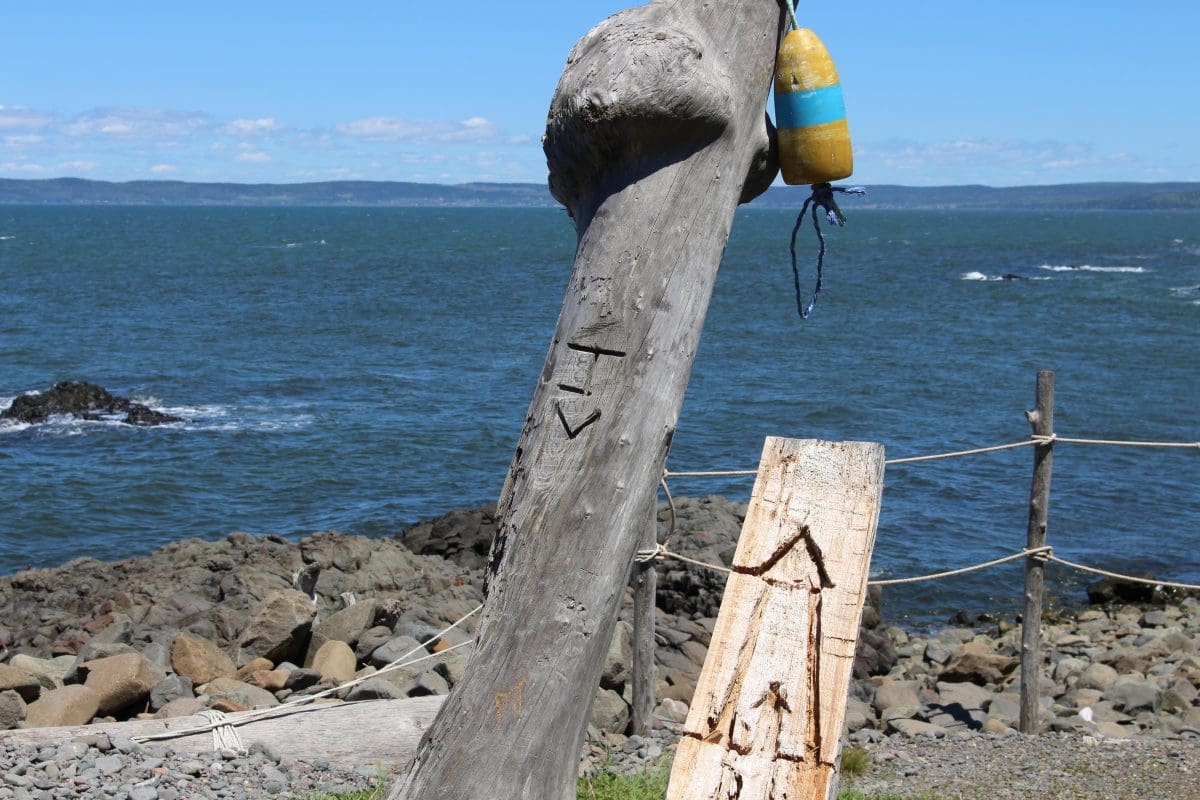 5.  South Shore Tour
Taking the fastest route isn't always the best idea.  To visit the South Shore of Nova Scotia we recommend sticking to the lighthouse route and enjoying the picturesque villages along the way.  Begin your tour by travelling through the tiny village of Blue Rocks on your way to Lunenburg.  Spend some time on the waterfront, visit the Bluenose II and have lunch at the Old Fish Factory on the waterfront before continuing on to the Ovens Natural Park.  Here you can walk the short trail and enter natural sea caves that have been extended by mining during the gold rush.
Visit the LaHave bakery before you continue to White Point Beach Resort (our recommended hub for this adventure).  Sign yourself up for a surf lesson and enjoy the on-site bunnies and walking trails.  During your stay, carve out some time to continue further down the South Shore to visit the Thomas Raddall Provincial Park.  It's a white sand, crescent beach that is just incredible but be mindful of the Piping Plover population.
You'll also want to visit Barrington, the Lobster capital of Canada, and stop at Capt. Kat's Lobster Shack for lunch before you head home.

6.  Halifax Slow Tour
Halifax is Nova Scotia's mecca for tourists and we could write hundreds of itineraries just for this region but today we opting for a slower paced itinerary.  You can't write a Halifax itinerary without including the waterfront so let's start there.  We love mornings on the Halifax waterfront, before the busiest part of the day when things are just waking up it's magical.  You can walk the boardwalk, rent a bike or even take a segway or kayak tour. From there we recommend you visit Fisherman's cove and enjoy lunch on one of the outdoor patios and then head to the Salt Marsh trail for a stroll along the water.
Next head towards Indian Harbour (just minutes from Peggy's Cove) and check in at the Oceanstone Seaside Resort.  We adore these cottages!  There are only a few so it's nice an quiet and you've got the beach just out your front door. Make reservations at the Rhubarb restaurant (you can walk from your cottage) and enjoy an amazing meal followed by their in house salted caramels and chocolates.
If you're looking for something unique to do in the evening, head in to the Timber Lounge and try your hand at axe throwing with Darren or just enjoy a quiet evening on the beach. This is one occasion that we insist you wake up at dawn and head to Peggy's Cove.  There's nothing like a sunrise on those rocks and there will be far fewer people there if you arrive at dawn.  Don't forget to have your camera charged and ready!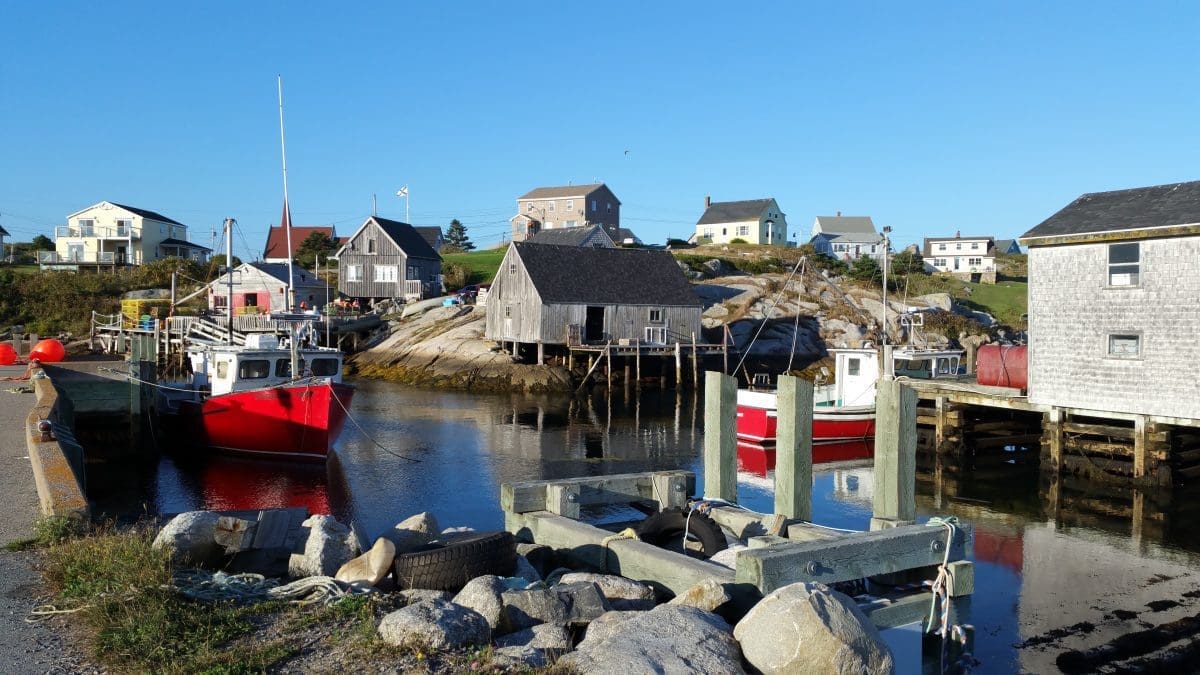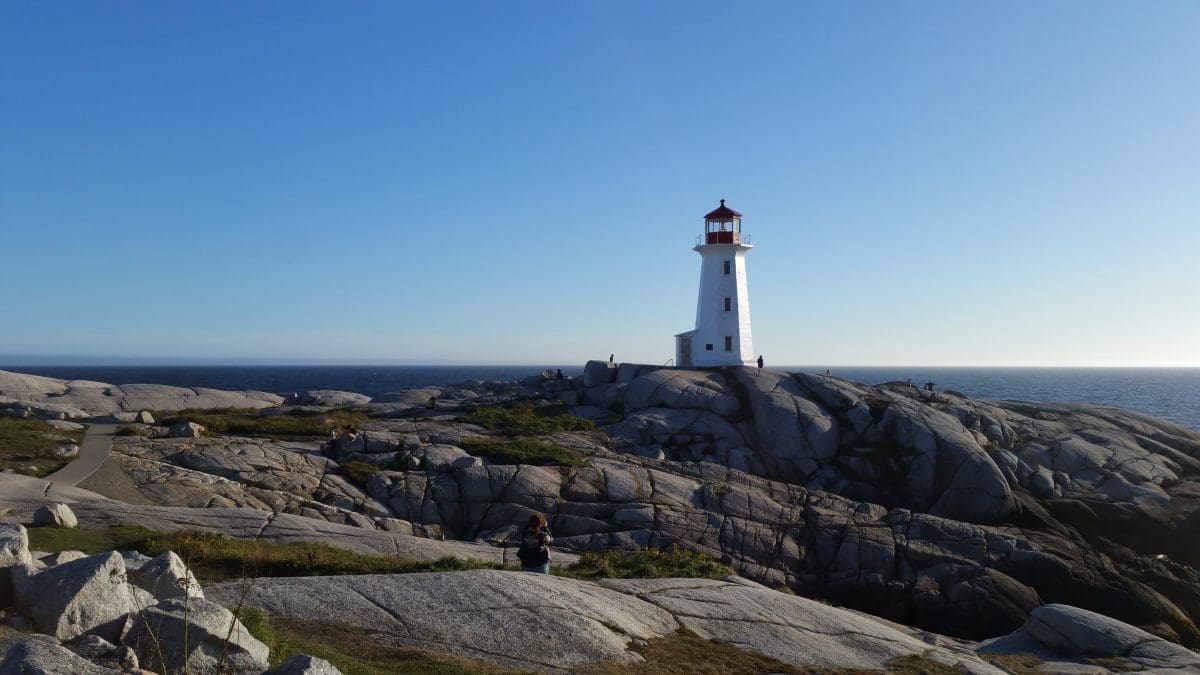 7.  Beyond the Cabot Trail
When you think of
Cape Breton
, the first thing that comes to mind is the Cabot Trail.  It's absolutely stunning and certainly worth a visit but we wanted to offer another kind of itinerary for this part of our province so we're starting on the Ceilidh Trail in Mabou at the
Glenora Inn & Distillery
.  Experience the tasting tour and then head to the pub for a bite to eat.  We love the cheese platter here and, of course, their signature single malt whiskey!
Next it's off to
Inverness Beach Village Campground
to check in to your oceanside cottage.  We loved it here because you are just steps from inverness beach, one of the most beautiful beaches in Nova Scotia we think, and the
Cabot Links
Golf Course.   While you're there, be sure to visit our friends at the
Downstreet Coffee Company
for something sweet before you continue on to Baddeck.
If you're feeling like a little hike,
Uisge Ban Provincial Park
is a quick 1 hour round trip on foot to a magnificent set of waterfalls and totally worth the pit stop on your way to Sydney.   Here you should be sure to check out the worlds largest fiddle and make the 30 minute trip to Glace Bay to visit the
Glace Bay Miners' Museum
for a tour of the mine.  This is a big part of our history here in Nova Scotia and gives some really stunning perspective into what life was like when the mines were operational.  While you're in Glace Bay, be sure to visit the
Talo Cafe Bar
.  It's a cafe & bakeshop by day and a wine, beer & martini bar by night!  If you're like us and love B&B's, we recommend the
Chambers Guest House
in Sydney.  It's wondferully unique and offers all the special little touches that we look for in accommodations…like wine & chocolates upon arrival.
These are just a few to spark your imagination!  There are many more that we've covered and will be sharing with you here on the blog soon.  Our goal is always to inspire you to get out there and explore.  If you take any of our suggestions we'd love to hear about it, just leave us a comment below!
 CLICK HERE to download our entire list of 150 Things to do in Nova Scotia