How to Stop Peeing Your Pants
Vagina.  Say it with me…vagina.  There, now that we've gotten that out of the way and none of us burst into flames for naming our parts can we all agree that open, candid conversations about female anatomy are important?
Now brace yourself for another one.  I use to pee my pants.  Not enough that anyone else could see it but enough to feel really uncomfortable.  And if there's a solution on how to stop peeing your pants, I'm here for it.  Here's a list of the things that caused me to pee…
… laughing hard without bracing myself (and I laugh a lot)
… hiking
… jumping, running, climbing stairs (anything that pushes my heart rate high)
… sneezing (especially the surprise sneezes) 
… the elevator and the front door (any "trigger" to my brain that I'm home)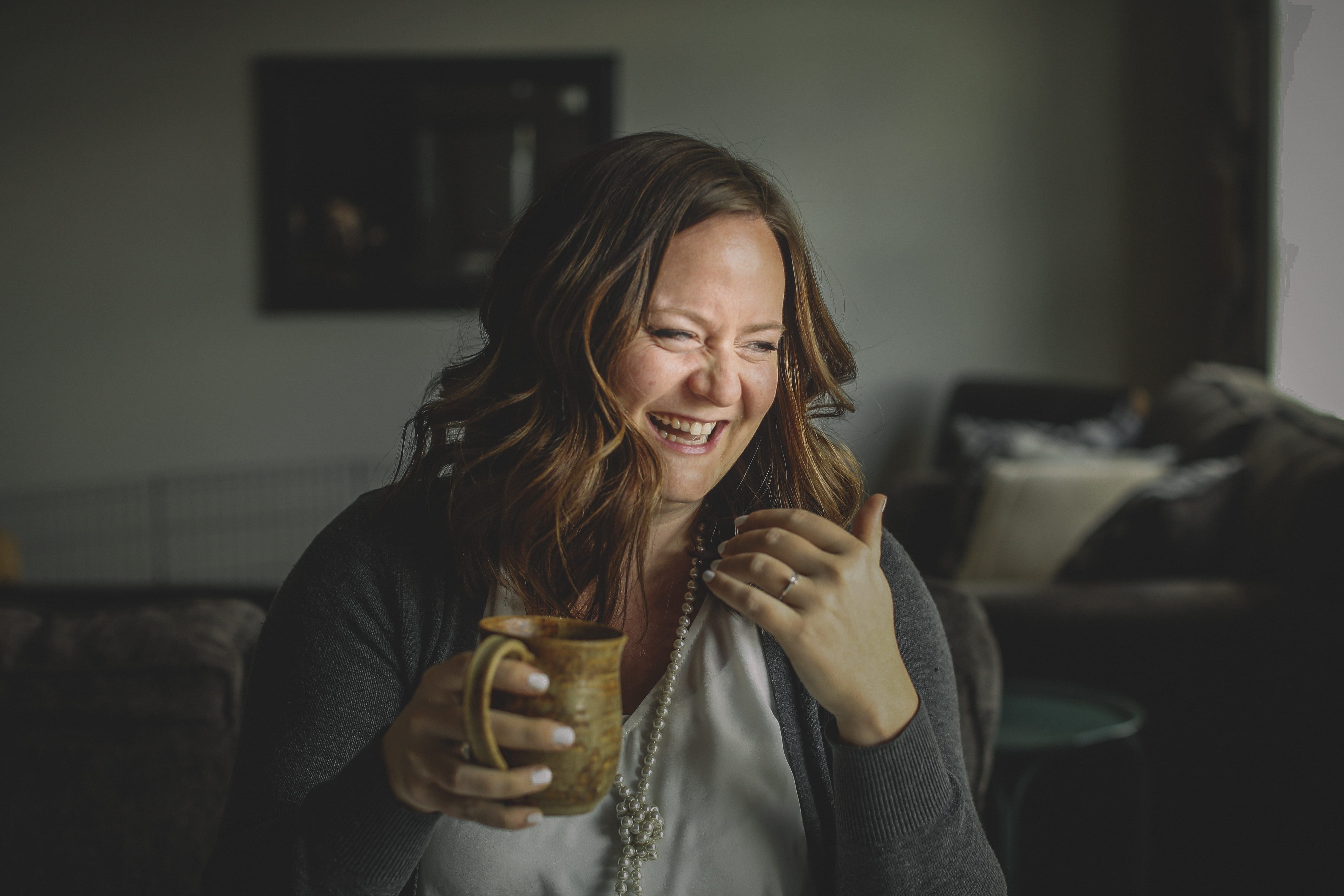 And here's the real kicker.  I'm only 36 years old.  I have never given birth.  So what the hell gives?
Disclaimer: This post was a collaboration with SheSpot and I was gifted the full Emsella treatment in exchange for this post.  However, we agreed from the beginning that if it didn't work for me, I wouldn't talk about it.  Here's the thing though…it did work for me and THIS is what happened!
I've been around enough women to know that, amongst themselves, mothers will discuss their pee problems.  I've heard the conversation many times around having delivered a human and then living with the fact that things have changed and you pee your pants sometimes.  OK, fair.  That makes sense.  A big thing comes through a small opening and that entire region of the female anatomy now functions a bit differently.
But I have NEVER…not once…heard young women who've never given birth discussing their pee problems.  So, as such, I thought there was something wrong with me.  Until I started discussing it with my friends.
Side Note: If you don't know me, you should know that I'll discuss just about anything with just about anyone.  Poop.  Pee.  Diva Cups (a topic for another day).  Periods.  The list is endless…if there's a "taboo" topic you want to discuss, I'm your girl.
Once I started talking about my own pee issues with other non-mom's I made a shocking discovering.  A LOT of women pee their pants.  A lot of young women pee their pants.  And NO ONE is talking about it so we all think we're broken freaks.
What I didn't know is that there's a solution!
---
The Universe Intervened
Do you believe in the law of attraction?  I do!  I've gone down the rabbit hole and believe with every fibre of my being that "the universe has my back".  I believe that because things like this happen to me all the time.
Picture this…
I arrive home from grocery shopping with bags in both hands.  The instant the elevator door closes and I hear the ding of the 5th floor button I feel like I'm going to pee my pants (every single time).  I cross my legs, brace myself on the mirrored wall and do my little "I'm going to pee my pants" dance until the elevator door opens.
I race down the hall, bark at Brent to get the door open quickly, and repeat my pee dance once more before dropping all the bags at the door and scrambling to get my pants down and make it to the toilet in time.  It's never a full bladder – it's usually only a bit and I always think to myself "what the hell?  I had to pee THAT badly and that's all there was?"
Minutes later I'm scrolling through Facebook and come across a post in a blogger group I belong to.  Now, the post said "Hey Guys!  Any mom's out there interested in this?" and then she referenced a post  in another group by a lady named Shelagh that I've never met before.  She had posted this in a women's networking group I belong to: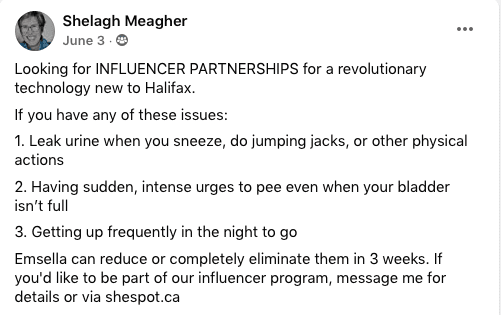 I mentally ticked off every box except for the one about being a Mom and though… "Fuck it.  I'm emailing her.  And WHY is this only directed at mom's.  Don't they know that other people struggle with these issues too?"
I sent Shelagh a message and, long story long, she introduced me to a treatment that can "revitalize your pelvic floor".
---
Enter Emsella
After some initial conversations, health history and discussion about my own issues.  We decided that I was a candidate for the treatment and I moved forward.  None of us knew if it would work for me because my set of symptoms is relatively uncommon but we all agreed, it couldn't hurt!
How Emsella Works
Emsella delivers high-frequency electromagnetic pulses to your pelvic floor that results in supramaximal pelvic floor contractions.  That means, stronger contractions than you're able to do yourself using Kegal exercises.  Actually, a single 28-minute session on the chair is the equivalent of doing more than 11,000 proper kegals.
Are you still with me?  
If you're thinking "Yikes!  Sounds painful and scary"…stick with me, I've got news for you.
The Treatment Protocol
The Emsella protocol itself is pretty simple.  
First, you go through a little health history and do a standard intake to make sure you're a candidate for the treatment.  One of the things I really loved about SheSpot is that you actually go in for a test drive (for free) before you decide whether or not you're moving forward with the protocol.  They're all about making sure you're comfortable, which is awesome.
Then, if you feel good about it, you finish the first 30 minute treatment and schedule 5 additional sessions over the next couple of weeks.  
Once you've completed all 6 sessions, you have a one on one Pilates lesson with a certified professional to help you get the full benefits of your treatment.  It's super simple!
If you want more details on how the Emsella treatment works, visit shespot.ca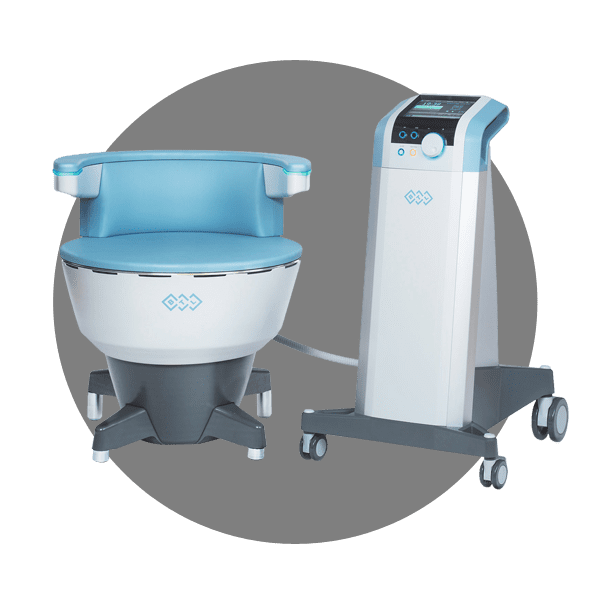 ---
My Personal Experience
As I've mentioned, none of us were sure the Emsella treatment would do anything for my pee issues.  We all believe I have some kind of pelvic floor damage that has caused these issues over the last few years.  I also believe, young women (like, under 40) actually do struggle with these things a lot more than anyone thinks – we just don't talk about it because we feel like there's something wrong with us.
The way the treatment was described to me was "like a tens machine"…but for your hoo-ha.  It was also described as "intense".  Neither of those are how I would describe it.
The first thing you need to know (and the most important) is that the Emsella treatment itself is completely NON-INVASIVE.  You sit, fully clothed on a chair and that chair emits an impulse.  That's it!  
My First Emsella Session
I wasn't sure what to expect.  Shelagh had me sit on the chair and position myself so that my pelvis was as flat as possible.  For me, that meant wiggling around a bit and tipping my pelvis forward (kind of like sticking my butt out while sitting).
Then she turned on the machine that gave a little "ping" and I was instructed to centre myself so that "ping" was landing on my perineum.  If you don't know what that is, it's the space between your vagina and your anus.  There, I said it.
Once I was in position, we started the treatment.  I was expecting a really intense contraction but, to my surprise, all I felt was what I can only describe as a strong vibration.  For me, the word "intense" never came into the picture and I had the machine turned up to 100.
NOTE: Everyone is different and while the goal is to reach 100, you don't have to.  They'll adjust and only deliver an impulse that's comfortable for you.
The impulses come in waves and you sit there for 28 minutes.  Easy peasy.  I felt totally normal after my first session, no soreness, no weird sensations, nothing.
Sessions 1 – 4
I attended my first 4 sessions and really felt no change during that time.  The only thing I noticed was a minor decrease in the feeling of urgency I had to go to the bathroom (remember the elevator story).  But, I was also thinking it might be in my head.
Session 5 & 6
This was the turning point for me.  After my 5th session there was a distinct result!  And, I got to put it to the test with a hiking trip to Cape Breton.  Normally, on an intense hike like Pollett's Cove, I would pee a little (or a lot) during some of the more strenuous sections.  And I didn't.  Not a drop.
I also noticed a major difference in my ability to "hold it" – something I couldn't do before.  In that 5th week, I found myself coming home from the grocery store and leisurely unpacking my bags rather than running for the washroom.  All of this was pretty exciting.
My Results
Now, as I write this article, it's several weeks since my last treatment and I'm still enjoying the results.  I feel great!  I no longer have to cross my fingers and hope I make it to the washroom in time.  I can burst out laughing (one of my greatest joys) and remain dry.  I can hike, climb, paddle, jump, jog and do any other activity I want without having to make sure I pee first.  Even a surprise sneeze can't get me.
So, am I happy?  HELL YES I'm happy.  
---
Final Thoughts on Peeing Your Pants
Ladies!  We need to talk about these things!  It's not gross or shameful to discuss our bodies…it's important.  So, that's what I'm doing.  How does this relate to Dashboard Living?  Oh friend, let me count the ways…
..road trips (without having to scramble to find a washroom).  For the record, my "pee urgency" use to go from 0 to 100 without warming.  One minute I was fine and the next I was going to pee my pants!
…hiking.  Y'all know how much I love to hike, right?  Not having to wear a panty liner is amazing!
…adventures.  We recently tried log rolling (yes, you heard that right) and that's something that would have caused major issues before.  Not now, the only reason I got wet was falling off that damn log!
You get it right?  Having a healthy body that functions the way it should makes everything in life (including travel) so much more enjoyable.  And figuring out how to stop peeing your pants is life changing for so many of us.  So from here on out, you'll still see a boat load of travel content from us but you'll also see some self-care sprinkled into the mix.
I hope you're OK with that!
Please let me know if this was helpful for you!

 

Truly, feel free to leave a comment or send me an email directly at [email protected]  For more information on the Emsella treatment, visit the SheSpot website here.