Fresh on the Fly
We eat most of our meals in restaurants – really!  It's a perk of the job and we're really grateful to be doing what we do.  Over the past 5 years, we've visited hundreds of restaurants and, as such, it's always a treat for us to eat at home…usually in our PJs.
I can hear you rolling your eyes!  Just bear with me…there's a point to this.
I'm not saying we don't love restaurant visits but when it's your job it becomes a luxury to stay in.  And although we do love cooking, our schedule is generally quite full.  We often find ourselves scrambling to throw something together or, because we're never home, we have nothing in the cupboards.  
This year, when the pandemic hit, many local restaurants acted quickly and started offering new take-out options for their customers.  It was really amazing to see the shift!  One of the most unique things we saw was the Fresh on the Fly program from RCR and we've been enjoying these meals ever since.
Family Style Take Home Meals
Fresh on the Fly is a completely unique program that we are OBSESSED with.  It's a clever hybrid that falls somewhere between take-out and home-cooked with restaurant quality.  The meals are "globally inspired" which means that each week there's a culinary theme.  Our favorites so far have been Indian and Mexican!  Each family-style meal is portioned to feed 4 people but, between you and I, we always find ourselves with lots of leftovers (even when we've shared these meals with another couple).  Trust me, you won't leave the table hungry!
Here's How it Works
There's a new menu announced each week.  The meal details are listed on their website and they always update their Instagram stories with everything you need to know.
You can place your order by calling 902-932-8585 or emailing [email protected]

You can either pick up your meal (Wednesday through Sunday) or you can opt for delivery on Friday's

Your meal comes fully prepped, cooked and ready to be reheated!

Preheat your oven, follow the re-heating instructions included in your box and VOILA – an amazing meal at home.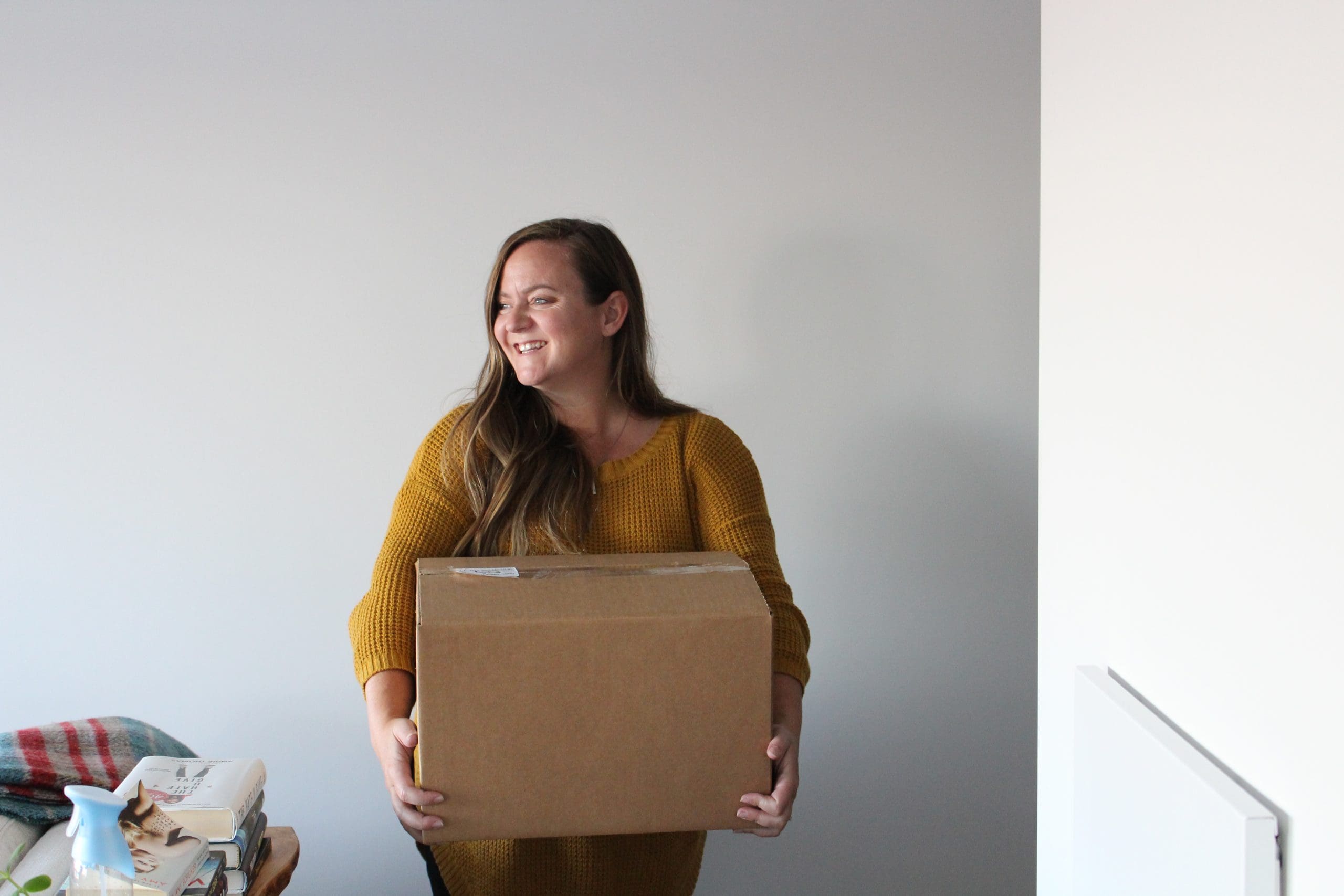 What We Love About Fresh on the Fly Meals
As I've told you, we've been enjoying these meals for months now and have converted many of our friends and family into FoF fans!  I love that the hard work is done for you – you just call, order, pick-up (or get it delivered) and then reheat.  I also love that we can still enjoy a restaurant-quality meal at home on those days you just "can't even".
Value
The meals range in price but most land somewhere around the $65 – $75 range which insane when you see how much food you get.  Everyone that we've referred have come back and told us that they were shocked at how great the price point is.  And, although they say the meals are made for 4 you can easily feed 6 in our experience.  For us that means 2-3 meals each.  So one Fresh on the Fly meal feeds us all week!
Quality
Here's the thing with take-out.  Unless you're ordering something fried and heavily preserved, it's never the same as it is in the restaurant.  That's not the fault of the provider – it's just the reality of carrying food in a steam-filled bag or box.  Things get soggy and wind up not being as good.  
Probably my favorite thing about these family-style meals is that they have the re-heating process down to a science.  The meals come out just as good as they would in the restaurant.  Never soggy, never dried out.  Always amazing.
Variety
Every week there's a new menu and we're not talking run-of-the-mill meals.  We're talking very impressive spreads like Indian food and Mexican cuisine.  We've also enjoyed Beef Wellington from Fresh on the Fly (yes, you read that right), Seafood chowder and the most amazing Paneer cheese dish ever!
Final Thoughts
I'd be remiss if I didn't suggest that these meals are also amazing for those days when you're entertaining company and you're short on time and/or inspiration.  More than once, we've ordered a Fresh on the Fly box for the sole purpose of serving dinner guests.  It's a perfect way to serve an elaborate meal without having to spend hours shopping, prepping, cooking and cleaning.
In case you haven't figured it out yet, I'm a fan.  As I'm writing this blog post I'm thinking I'll order this weeks' FoF take-home meal to enjoy.
Visit Fresh on the Fly to see what's on the menu this week and to place your order.  Don't forget to let us know what you think!