Food & Drink Delivery Options in Halifax
We're over a month in and the Covid-19 situation continues to evolve in Nova Scotia.  Sure, some businesses and thriving (and that's amazing) but there are also many who are struggling to stay afloat.  Restaurants are certainly among those but even in the face of trying times, many have pivoted their businesses to accommodate the new "stay the blazes home" mandate.  There is an incredible amount of food and drink delivery options in Halifax right now!
And that, dearest blog readers, is what this entire blog post is all about.  Consider this a living document.  We'll be highlighting some of the restaurants,  Nova Scotia craft breweries, Nova Scotia wineries, distillers, and local producers that are delivering to Halifax.  I'll be popping back each week to update this list and keep you well informed of your options.
SIDE NOTE: We live in Halifax, so we're focusing on businesses who deliver TO Halifax, however, many of the amazing places we'll be sharing deliver province wide and beyond.
Last week, we started participating in #nationaltakeoutday to support our precious food and beverage industry.  Did you?  Aside from ordering take-out on Wednesdays, we're re-allocating other parts of our budget to order from these businesses even more.  We hope this article inspires you to do the same.
*Please note things are changing very quickly, and these offers were available at time of publication. We will be updating the list regularly.
---
RESTAURANTS
Economy Shoe Shop
Economy Shoe Shop if offering safe pick-up and delivery of their entire menu!  A delivery fee of $5 is applied within the downtown core and $10 to the outer city areas.  Besides their regular menu, they've got the following specialty options:
Nacho Kits: 1/2 Size Nachos $13.99 // Full-Size Nachos $22.99 (no. tax). Full availability for added protein (beef, chicken, donair).
Donair Kits: 1/2 Size $16.99 // Family Size $32.99 (no tax) *Limited time only
Wine & Dessert Promo: $20 bottles of wine, limit it to Ruffino Prosecco & Chianti with any dessert purchase (Chocolate or Berry Cheesecake, Tiramisu, Double Chocolate Brownie, Red Velvet Cake, Chocolate Torte) *Limited time only
Beer Promo: $4 Beer (6 for $20) with any food purchase
Hours of operation are Wednesday – Sunday, 4pm – 11pm.
Darrell's Restaurant
Darrell's is Halifax's most loved burger joint and is offering delivery take-out options 6 days a week (closed Tuesdays).  Hours of operation: Wednesday through Sunday from 12 – 8:30pm and they're working hard to get orders out as quickly as possible!
Kitchen Door Catering
Kitchen Door Catering has (once again) gone above and beyond.  They're offering a whole suite of delivery & no-contact pick-up options.  Everything from snack boxes, soups & salads to full multi-course family-sized prepared fresh or frozen meals and wine & ciders.  They're also offering free delivery on orders over $100.  You can also join their fresh meals door to door program that delivers new menu items each week, delivered to your door.  They've got a TON of online offerings!
Julep
Julep Kitchen is offering delivery & take-out Monday through Saturday of their entire menu (including drinks)!  Online ordering begins at 4pm, six days a week.  Julep has an extensive menu consisting of everything from chuck burgers to elevated fare like tartare's.
Piatto Pizzeria & Enoteca
Pattio Pizzeria is offering their full menu for take-out or delivery using skip the dishes as well as make your own pizza kits!  Each kit makes two pizzas and they've got some fan favorites, like "the Stefanie" available.  
Antojo's Taco & Tequila
Antojo's is offering curbside pick-up Wednesday through Sunday of a new limited menu as well as delivery through uber eats. NOTE: They're also offering extended hours and an extended menu along with their famous margarita mix for Cinco de Mayo (May 5th).
The Arms
The Arms Public House is open daily from 12 – 8pm for take-out.  They're also offering a take-out family menu that changes weekly and feeds 3-4 people for $65.
Pizzatown Halifax
Pizzatown is offering pizza kits for curbside pick-up or delivery.  The kits come with everything you need to make fresh pizza at home including dusting flour, dough, toppings, cheese, and sauce.  They also offer gluten-free options and PDF instructions on stretching pizza dough.
Durty Nelly's
Durty Nelly's is offering a selection from a limited menu for curbside pick-up or delivery through uber eats.  You can enjoy items like their famous seafood chowder, smoke burger and Guinness brown bread Wednesday through Sunday from 4-9pm.
Stubborn Goat
Stubborn Goat also has a limited menu that includes several of their pizzas, burgers, mac 'n cheese and truffle fries available for pick-up Wednesday through Sunday.  They're also offering delivery through uber eats.
Gahan House
Gahan House is offering no-contact curbside pick-up of their menu.  You can simply order online, park beside the patio, give them a call and they'll put your order in your car for you.  Hours of operation: 4 – 9pm daily
---
CRAFT BEER & CIDER
New Scotland Brewery
I know it sucks that we can't sit out on our favorite patios right now but there are plenty of local craft breweries offering FREE delivery and no-contact pick-up.  New Scotland brewery is offering same-day delivery 7 days a week!
Big Spruce Brewing Co
Big spruce, home to my all-time favorite beer – Cereal Killer, is offering free shipping across Nova Scotia.  And, it gets better.  Big Spruce is also offering free shipping to all other provinces on orders over $125.
Good Robot
Good Robot is delivering to Halifax twice a day, six days a week, and offering free shipping on orders over $40.  I love this brewery because they offer gluten-reduced options!
Chill Street Craft Beverage Co
Chill Street has a huge selection of ciders and craft sodas with new releases happening all the time.  They're offing doorstep delivery.  Check their map for delivery areas!
Propeller Brewery
Propeller is offering same-day home delivery in most of HRM for orders placed by 3pm, Monday-Saturday. You simply order online and they'll give you a call when they're ready to deliver (must present a government-issued ID).  
Gahan House
Gahan is offering curb-side pick-up of their rotating selection of craft beer.  You order online (there's an awesome growler deal on at the time of this publication), then park beside the patio.  Then you just give them a call and they'll bring the beer to your car.
Trider's Craft Brewery
Trider's
is offering local delivery and pick-up through online ordering or by phone.  They've got a wide selection of available brews available on their website.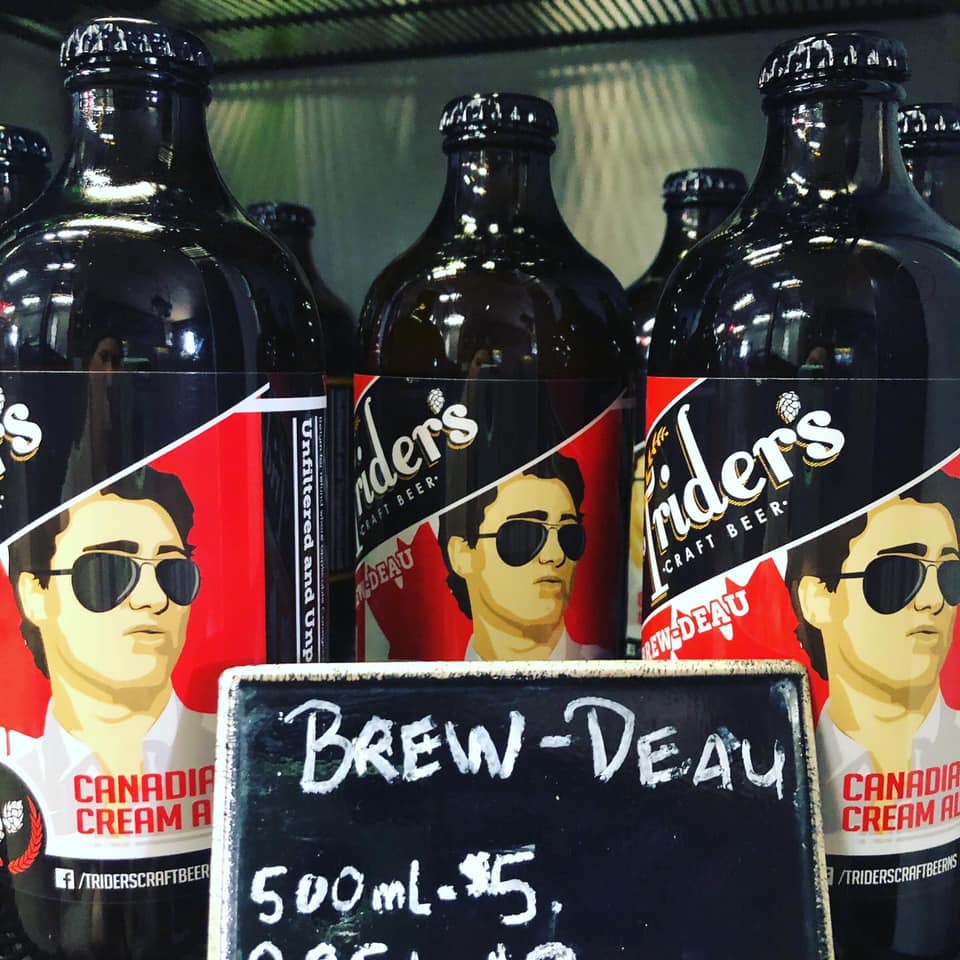 ---
NOVA SCOTIA WINERIES
Many of Nova Scotia's wineries are offering alternatives to visiting their vineyards.  You can see a full list of Nova Scotia wineries that deliver to Halifax here.  Many of them also offer Canada wide shipping and no-contact pick up on site.
Benjamin Bridge
Benjamin Bridge is among the Nova Scotia wineries that deliver to Halifax.  They're offering free shipping across Canada until at least May 1st as well as contactless drive through pick up options to their local visitors.
Wednesdays are #nationaltakeoutday and taking advantage of the food and drink delivery options in Halifax are a great way to support local.  I also want to mention, most of these Nova Scotia small businesses are delivering across the province (not just to Halifax).  And, most of the craft beverage companies are delivering Canada wide! 
---
Nova Scotia Distilleries
Like so many other Nova Scotia restaurants, Nova Scotia craft breweries, and other producers our distilleries are going above and beyond.  Aside from quickly pivoting to offer enhanced online ordering and delivery, many are also producing new products like hand-sanitizer to support the needs of their communities.
Coldstream Clear Distillery
Coldstream Clear is offering local delivery to most of Nova Scotia as well as Canada wide shipping (free on orders over $100 using the code 'LOCAL15').  They are also one of the distilleries producing hand sanitizer!
Authentic Seacoast
Authentic Seacoast has an extensive online shop including spirits, beer, coffee, soap, gift baskets, and more.  They're all offering free shipping in Canada on orders over $60.

Raging Crow Distillery
Raging crow is offering online ordering from their website. Once the order form is completed they get back to you with the least expensive shipping rate they can find and once that's approved, they send along the invoice and ship!
Remember, many of these producers are delivering outside of Halifax so be sure to check them out!  The best thing we can all do right now is to support our small businesses and support local.  Now that you know about these options, we hope you'll consider joining the fight to keep our small businesses alive post-covid.