16 Christmas Traditions for Couples
The traditional family structure in Canada is considered a family support system involving two married individuals, 1 male 1 female, providing care and stability for their biological offspring.  Pretty limited view of "family", right?  We all know that families come in all shapes and sizes but somehow, even as we enter 2021, most of the content you find online still revolves around traditional families… A mom, a dad, and kids.  But we non-traditional folk love Christmas traditions too so we decided to write this post of 16 Christmas traditions for couples and non-traditional families.
Disclaimer: that definition was pulled directly from Wikipedia and does NOT reflect my view of "family".  Just wanted to throw that out there, my loves!
To be clear, I love kids…but we don't have any.  And if you google "Christmas traditions" you'll find a plethora of articles that focus on the littles.  That's great!  But we wanted to add some non-traditional family content to the mix.
Why Bother with Christmas Traditions?
I think it's really easy for folks without kids to "skip" some of this stuff.  And, Christmas is a notoriously stressful time for many.  By being deliberate with traditions and creating space for making the holidays FUN we can really change the narrative.
I love Christmas, I always have.  But if I'm honest, since we have no kids and don't spend a ton of time at home during the holidays we've actually skipped decorating & trees on more than one occasion.  And that, my friends, is totally unacceptable to me.  So this year, things looked a lot different.
We brought in some new traditions and are reviving some old ones and we're so excited to share some of them with you today.
Christmas Traditions for Couples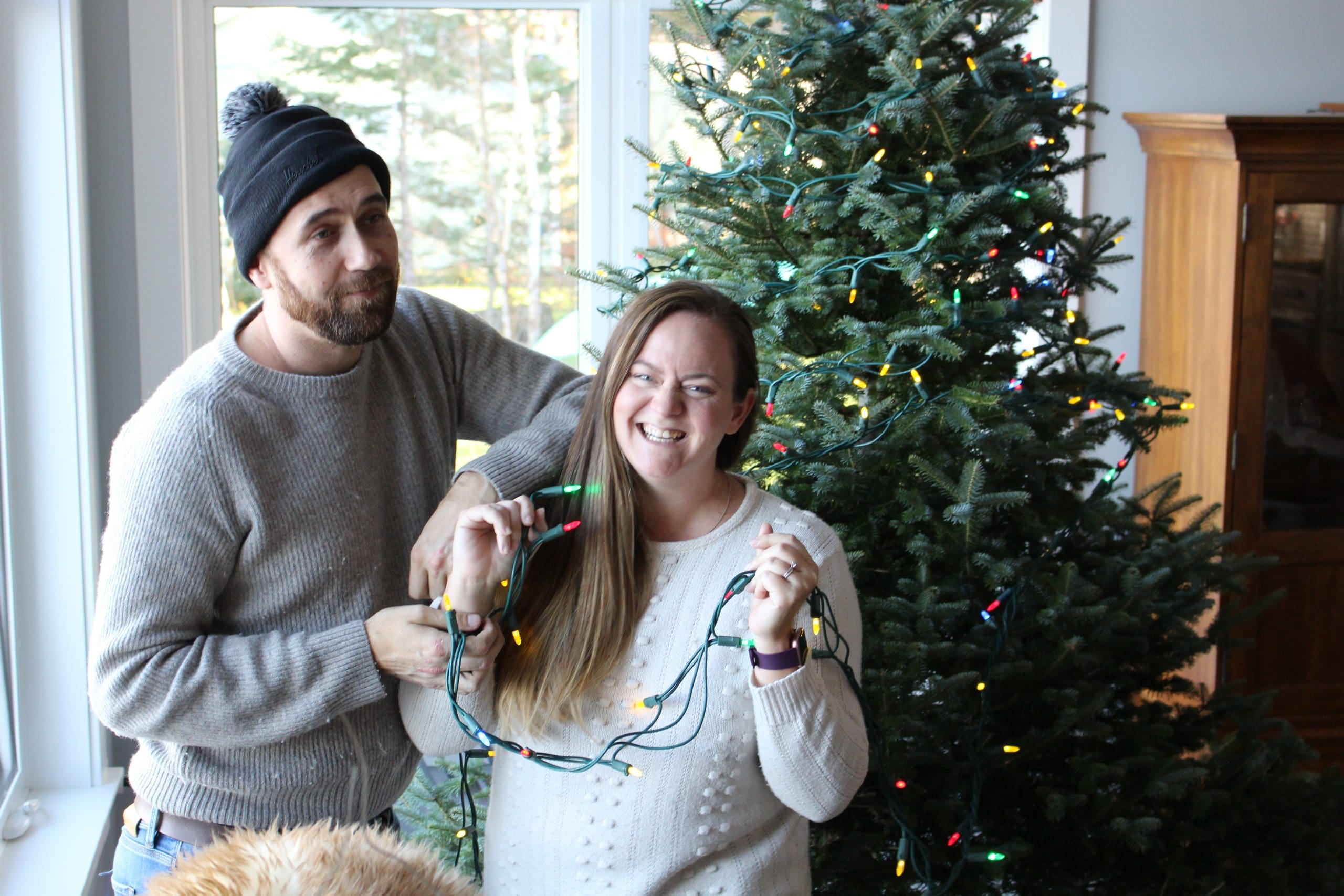 1. Real Tree Experiences & U-Cuts
We live in an apartment in the city that doesn't allow real trees (note to self: when we move, we'll be sure to check the fine print because a real tree is REALLY important to us).  It's a bummer but I get it (imagine the garbage room on Jan 1 with 100+ trees in there).  This year, we really wanted to make real tree memories so we recruited my family.  My Mom & step-Dad have a real tree each year so we met at a tree lot and made a day of it!
I actually can't remember the last time we picked out and cut down our Christmas tree.  It brought back so many memories from my childhood and was all very nostalgic.
It's been a weird year (hello, Covid) so it was really nice to get outdoors and feel "normal" for a moment.  Tree lots are lovely because they're wide open spaces which means it's perfectly simple to physically distance from others.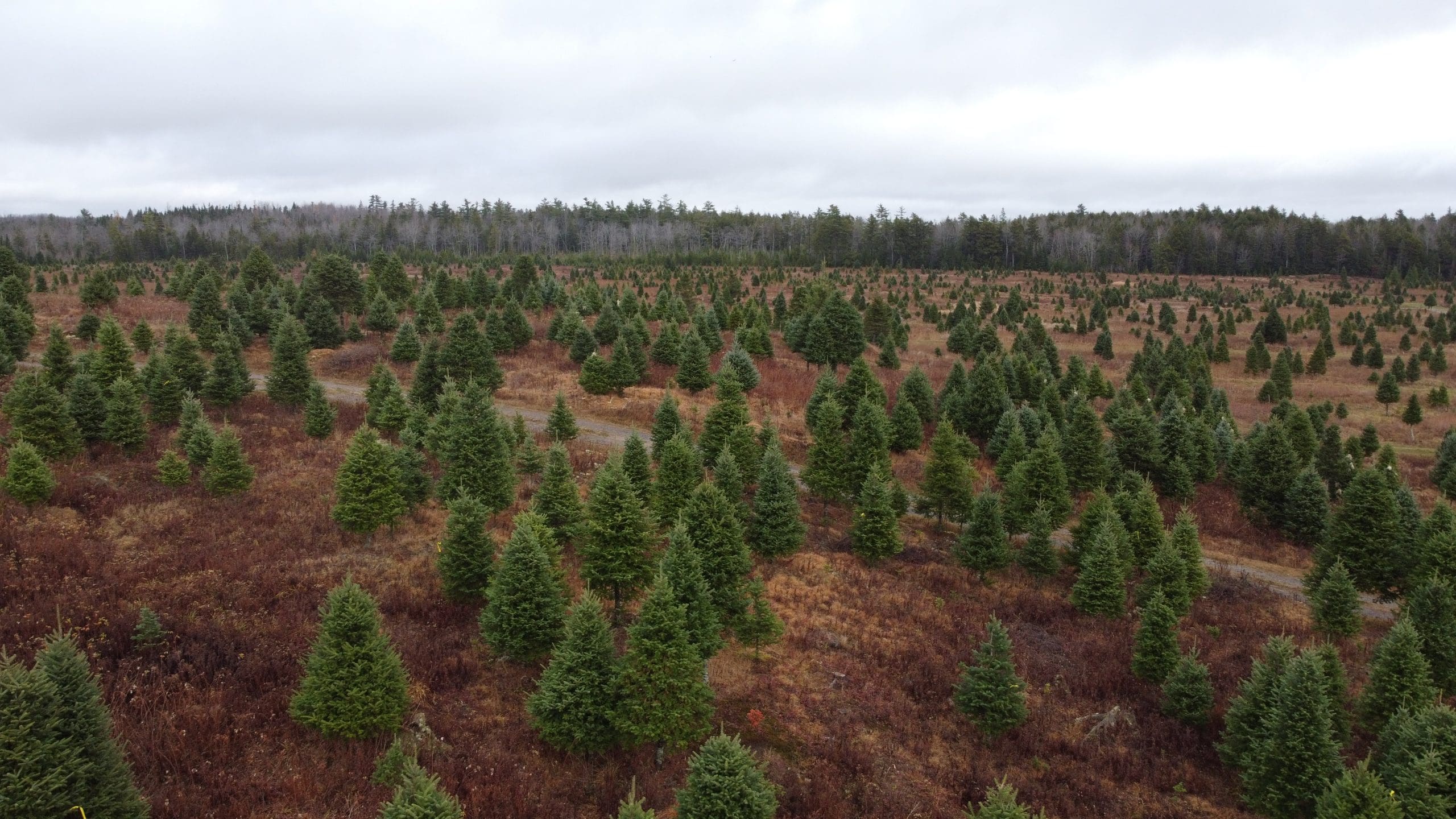 Once we picked our perfect tree (actually, my step-Dad picked it out…#controlfreak) we put it in the truck.  The folks at the farm measured it to determine the cost (in this case, $5/foot) and we made the trip back to the lake house.
Note: Prices vary from farm to farm.  Some are priced by the foot (like ours) and others have a flat rate set like $25 up to 8 feet.  You can see all the local U-cuts & tree lots here!  Definitely save this post for next year if you're local to Nova Scotia.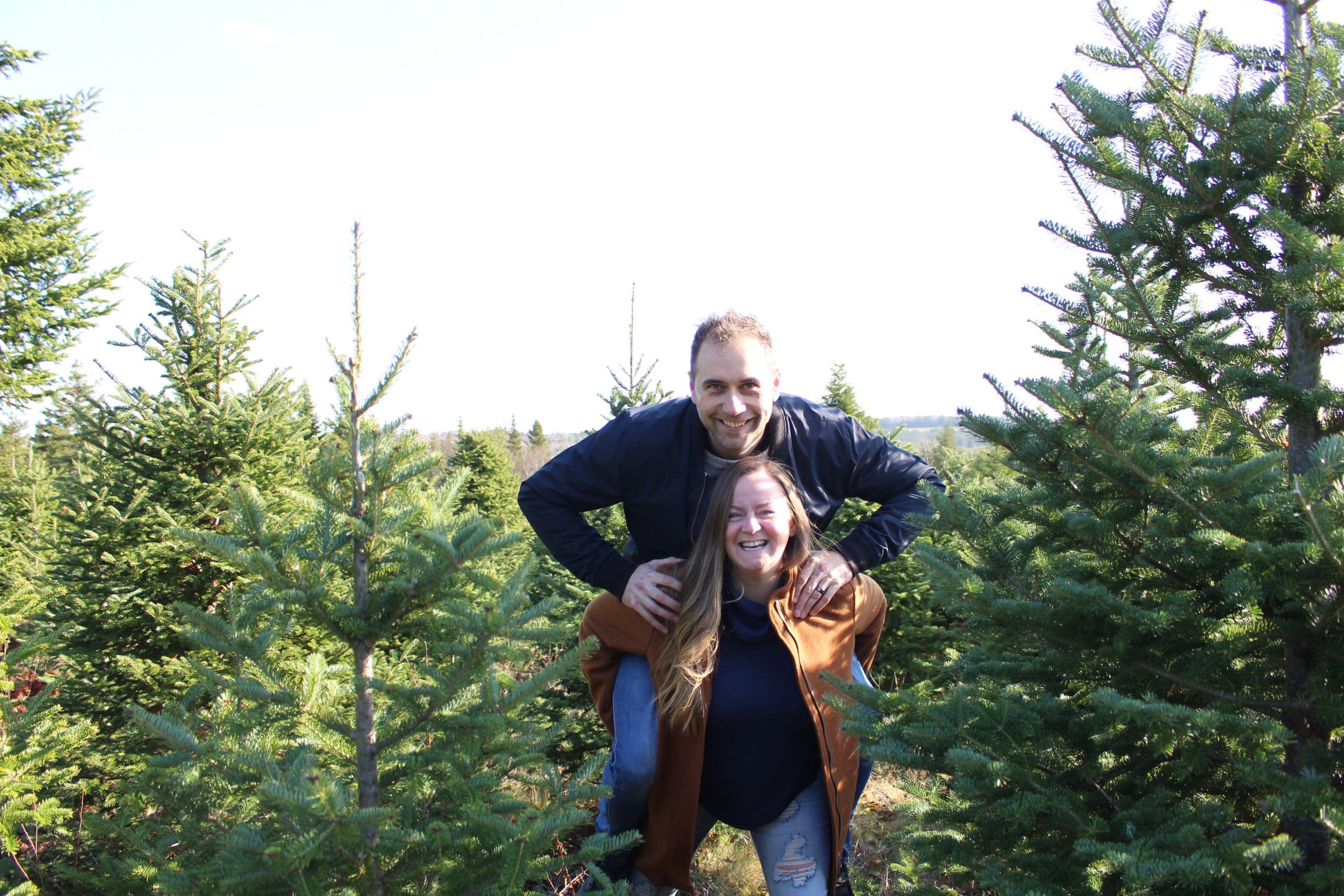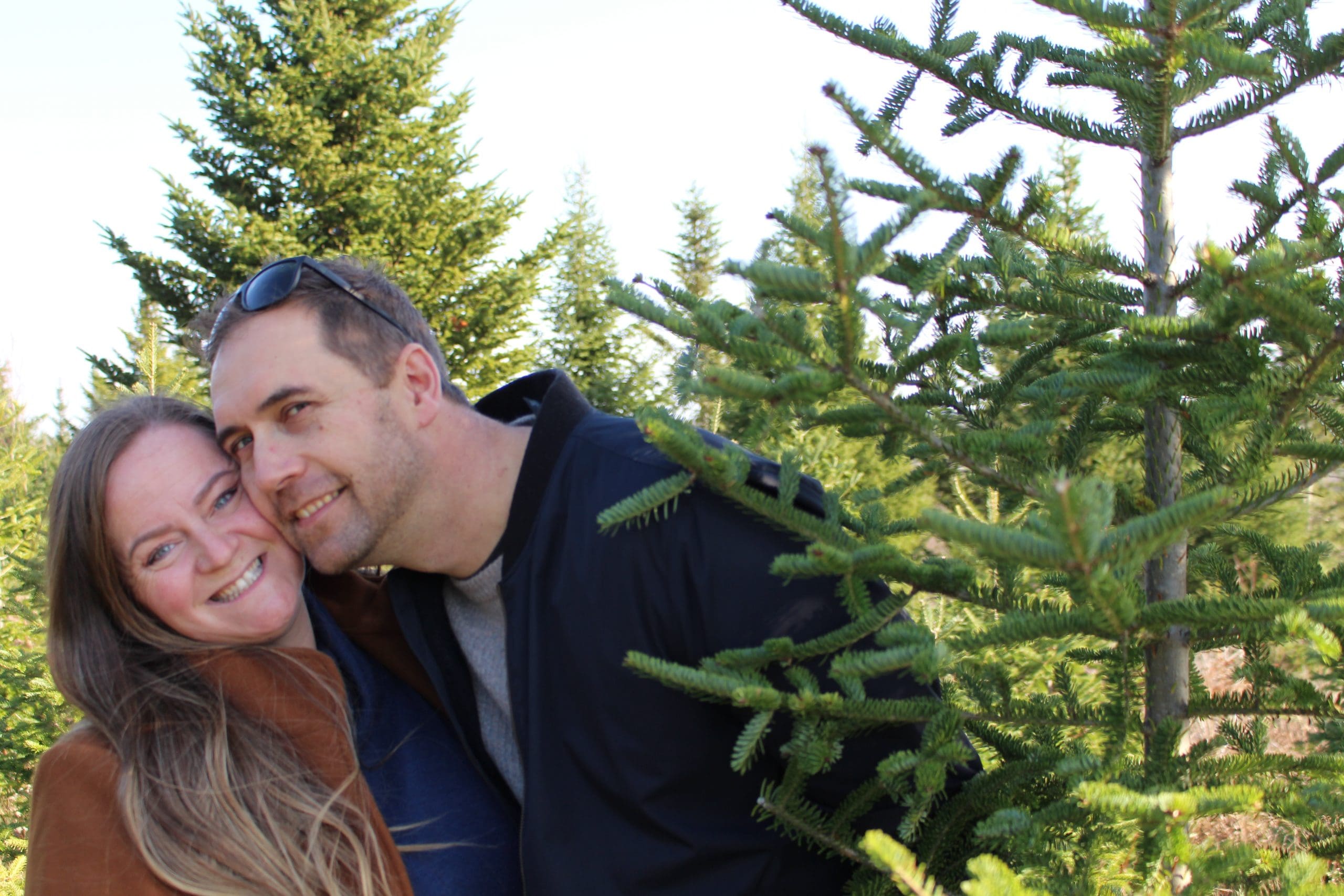 We spent the remainder of the afternoon listening to holiday music and decorating the tree as an adult group (my brother and sister-in-law joined us as well).  We even made and decorated gingerbread cookies.  So you see, even if you don't have young children around, family tree decorating can still be an "event" rather than just another task to check off your to-do list.
Even if *someone* rearranges every single ornament placed by anyone other than himself (ahem…Steve).  Seriously though, we all really enjoyed trimming our real tree together!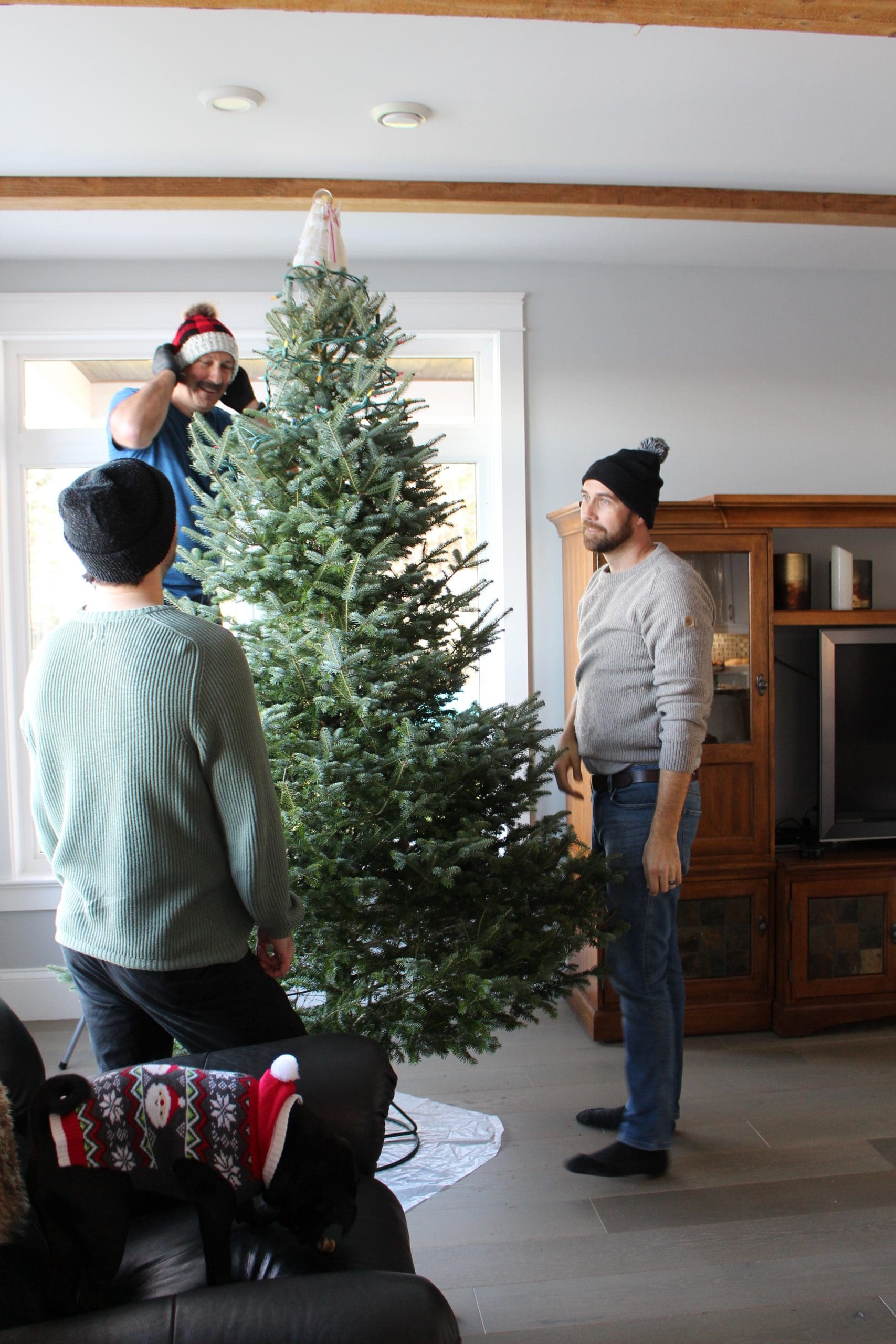 2. Collective Christmas Stockings
Full transparency, our family goes nuts for stockings.  It's our favorite part of the gift-giving side of the holidays.  And it's not about the actual gifts (as one might think) but it's just a super special, long-standing tradition in our family.
For most of our lives, my Mother has had full control over the stockings for all of us.  There are usually 8 if you include the spouses.  That meant HUGE amounts of work, stress and money-honey for Mom.  So, a few years back we all agreed how crazy that was and decided that we would each contribute to everyone else' stocking.
Here's how it works:
1 – Make a list of the people who get stockings
2 – Buy or make 3 stocking stuffers for each person
3 – Add your contribution to the stockings
Voila, you wind up with a full stocking and no "one" person was responsible for it!
Pro-Tip: In our house, we don't label the gifts and force people to guess who they came from.
Stockings are the first thang we do on Christmas morning in both households (at my Moms and at my Dads).  And, we use this method of filling stockings at my Dad's as well!
3.  Stocking Stuffer Guessing Game
Remember I said stockings are my favorite part?  Well, here's another one. This one is a nod-to my step-Mom, Margo, who's actually responsible for a couple of the traditions on this list.  
I think, when it comes to presents, it's easy to get wrapped up in the unwrapping (no pun intended) and forget to slow down and enjoy the process.  Forcing us to "guess" our stocking stuffers, SLOWS US DOWN.  And that's a good thing.  Margo has never said that's why she insists on this particular tradition but I'm going to guess it's a big part of the reason.
And, now that I'm older, I really appreciate that!  
Here's how it works:
1 – work oldest to youngest (again, I think this is deliberate)
2 – take turns pulling something from your stockings
3 – shake it, feel it, twist it around in your hands, listen to it, smell it
4 – guess what it is!
We've been known to take this game to the extreme by adding bricks or marbles to packages to throw the guesser off the trail!
4.  Christmas Eve Games Night
This year's a little different (because we're only allowed to gather in groups of 10) but we're still making it work.  Each year, after dinner & our visit to my Grandma's house, we all head over to our uncle's for games night.
Games night = many cocktails, snacks and usually a heated game (or 10) of Catch Phrase.  We spend this time telling stories, having friendly debates and enjoying each others' company before we all settle into our respective households.
5.  Wife Saver Casserole
This is another one from Margo.  It's also my favorite meal of the entire year (and that's saying something).  We've been having this on Christmas morning for as long as I can remember.  We only have it once a year which makes it extra special!
Here's how it works:
1 – Prep it the night before (this is the magic of wife saver casserole)
2 – Bake it in the morning (while you're opening stockings)
You're welcome.
6.  Christmas Day Movies
I don't know about you but for us, all the excitement happens from about 4pm on Christmas eve to late morning Christmas day.  And then, nothing.  There's always this weird "come down" after the big hoorah.  We've likely had too many snacks, a few (or too many) cocktails, and skipped our workouts.
That means we're often left feeling sluggish & sleepy.  And since nothing is open, it's a perfect time to settle in and have a lazy day watching movies.
7.  Give Back
There are a million reasons to be grateful during the holidays in our family.  We are fortunate and privileged.  We've had "lean" years, yes…but we've never had to wonder where our next meal is coming from.  We don't know what it's like to not have enough…and we get that that's not the case for many others.  
So, each year, we give back.  We choose a couple of organizations and dive in.  Helping families who are less fortunate is something that we put a high value on, especially during the holidays.
8.  Order Takeout & Support a Local Restaurant
This is a classic Christmas eve tradition but I couldn't skip it.  Chinese food or lobster seems to be the go-to for most people but I'm here for something different!  How fun would it be to choose a different theme each year?
Thai food?
Sushi?
Korean Cuisine?
Italian?
This year, takeout has transformed.  Since entering into a global pandemic, many restaurants have transitioned and are offering some truly amazing takeout options.  We will be taking full advantage this year!
9.  Boozy Christmas Morning Coffee
Reserved almost exclusively for Christmas and vacations!  There's just something about a little eggnog rum cream in our morning cup of Joe that screams "CHRISTMAS MORNING"!  
10. The Fireplace Channel & Christmas Music
Does this one really need explaining?  Do you do this?  Here's the thing… my parents (where we still have Christmas) have a real wood-burning fireplace but it's not the same!  The cheesy fireplace channel is still one of our must-have Christmas traditions with holiday tunes playing in the background.
Christmas Traditions We Plan to Start
New PJ's on Christmas Eve
I've seen this done by others for years and love the idea.  So, we're starting it!  My plan is to do a "family box" (which, at the time of this blog post is just Brent & I) that contains:
Matching PJ's

A new game

A cozy treat (like hot chocolate, liqueur, or tea)
I'm secretly hoping Brent doesn't reach this because I want it to be a surprise!
Christmas Playlists
Create a playlist that's tailored to everyone's listening preferences.  I start playing holiday tunes early (like obnoxiously early) but I'll admit, I always choose.  So next year, we'll build a list that represents both/all of us equally.
Boxing Day Appetizer Dinner
We definitely do leftovers but I love the idea of a dedicated appetizer dinner.  Why?  People tend to do a lot of cooking leading up to the holidays.  Family dinners, baking, holiday gatherings…it seems there is always a list of reasons to cook (and clean).
Here's how it works:
1 – Each person contributes store-bought (or catered) finger foods
2 – NO ONE COOKS
That's it!  No prep, no fuss, easy clean-up.
Boozy Advent Calendars
We've done this plenty but it's not a formal tradition (although I want it to be).  There are all kinds of fun advent calendars out there now from tea to treats to wine & beer!  We prefer the boozy kind, but you do you!
Christmas Lights Drive
We did this as kids, always!  I remember packing up a thermos of hot chocolate and piling into the car to troll the neighborhoods and look at the lights.  Now that I'm thinking about it, we haven't done that in years and it was a favorite memory so I'm vowing to bring it back!
Christmas Morning Family Photos
Everyone in their PJ's, no-makeup and surrounded with good vibes!  Sure, we take photos but we don't actually do a dedicated family photo.  This year, I'm insisting! 
Creating Christmas Traditions for a Purposeful Holiday
Christmas traditions serve a greater purpose than just being fun (which they are).  This time of year is stressful – on that we all agree.  Between gifting, coordinating schedules, handling any conflicts, taking time off work (or not), worrying about bills and trying to "do it all" many people find this time of year hard.
Creating Christmas traditions is a great way to walk through the holidays with purpose.  It also helps keep the focus on what really matters – making memories with your people!  Whether it's the family you have or the family you choose (or a bit of both), when we look back it's not the gifts we'll remember…It's the moments!
Tell us your favorite Christmas tradition in the comments.  We always love to hear from you.