100 Night Sleep Review with Endy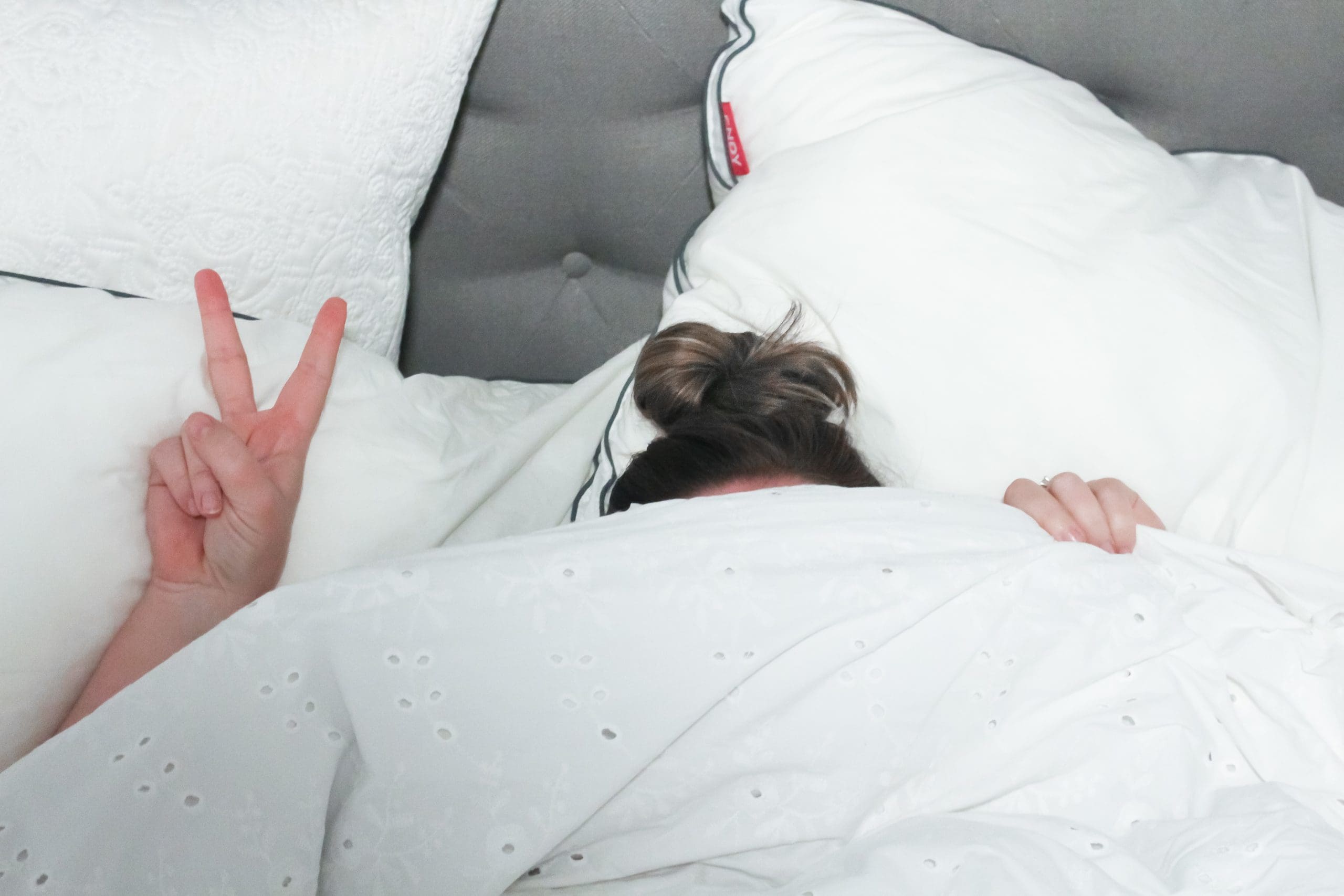 There was a time when tackling a 100 night sleep review would have sent me into a panic.  Let me start by saying that sleep has always been an important part of my life.  I never pulled all-nighters in University.  Frankly, I couldn't, and to this day I don't understand how anyone can do that.  I can count on one hand the number of times I've stayed out beyond midnight.  And, I can distinctly remember the pure torture of trying to stay awake and walk all night for a fundraiser one year.  I actually recall falling asleep on my feet!
So imagine my horror when I started suffering from severe insomnia several years ago.  I've always been a light sleeper, but at some point in my late-20's it turned into full blown insomnia.  If you're someone who's struggled with sleep, you know what I'm talking about.  It can make you feel like you're losing your damn mind.  And friends, it took me years to sort out.  Years of being chronically tired.  Years of feeling like I was walking around in a fog all day, everyday.
Thankfully, I did work out my sleep issues.  It took some serious diligence along with a lot of trial and error but I did it.  *cue angels singing*. You can read all about the strategies I use here but a BIG part of fixing my sleep, was fixing my mattress!
Surprising Sleep Facts
Everyone knows that sleep is important. In fact, on average, a person spends 26 years of their life sleeping (that's with an average 80 year lifespan)!  What's even more shocking? That same person will spend an additional 7 years trying to get to sleep. That's CRAZY!  And, if that's the average, imagine what that looks like for someone "below average" in the sleep department.
We also agree that better sleep improves memory, immune function, mood, digestion, energy and much more. And of course, poor sleeping habits mean the opposite: lower immune systems, poorer mental health, weight gain/retention of weight, increased risk of heart disease and type 2 diabetes. And, while we know the benefits of good sleep, it seems that many of us do not prioritize getting one.
Scientists have a term called "sleep deficit". Much like a bank account where you put money in, your body needs a certain amount of rest to function properly. So if you end up missing out on a couple of hours of sleep, or your sleep is broken, you will end up having a sleep deficit. While that doesn't seem like a big deal ("I'll just sleep in on the weekend" – we've all said that), the amount of time it takes to recover from a sleep deficit is incredibly high! Your body typically needs 8 hours of sleep a night.  So, if you only slept 6 hours last night, you have 2 hours of sleep debt. Studies show that it takes 4 days to make up for 1 hour of lost sleep, and up to 9 days to eliminate the sleep deficit entirely! 
Tips For Better Sleep
1.  Maintain consistent wake and sleep times. Weekends too!  Get up at the same time as you do during the weekdays. Set an alarm, and try to stick to it. The same goes for going to bed. By making sure you give yourself a "bedtime" each night, you can start setting yourself up for success. 
2.  Increase your time slowly. If you've realized that you have a cycle of sleep deficit, take your time increasing your "sleep time". Add 15 minutes to you sleep schedule each night until you reach 7+ hours. 
3.  Practice proper sleep hygiene. This includes: 
Getting your heart rate up regularly. Make sure you get at least 150 minutes of physical activity a week. Obviously, the more energy you spend during the day, the easier it'll be to fall asleep! 
Get rid of the electronics in your room. They gotta go! We all have cell phones, laptops, tablets, tvs, and alarm clocks, and they all have their functions! But get them out of your bedroom. Need an alarm set on your phone? Turn on the volume and leave it in the bathroom, or the hallway outside of your door. Sleeping screen-free is going to help you sleep deeper.
Reduce your fluid intake before bed. Some of us find ourselves drinking a heap of water/tea/coffee/pop before bed. This is not going to help you get that uninterrupted sleep that you need (can anyone say bathroom break??). 
Don't go to bed stuffed or hungry. Enjoy your last meal about 4 hours before bedtime, and if you're finding yourself hungry before bed, allow yourself a light snack. Eat some yogurt or other protein to tie you over until breakfast. 
Atmosphere counts. Ensure your room is dark, clean, cool and quiet to ensure a well-rested night.
Get comfy. Does your mattress support your body in the right areas? Is your head too elevated to sleep comfortably? Do you feel your partner shift around all night long? Make sure your bed and pillows are well suited for you!

What is an Endy Mattress?
If you're on social media, I'm sure you've seen mattress-in-boxes floating around. In the last few years, there have been several different companies offering this product. Essentially, it's a mattress rolled up super tightly and stuffed into a cardboard box. Delivered right to your door, it takes only 5 minutes to set up. It eliminates the need to go shopping with your partner to find the right mattress (and figure out how to get it home). So while it sounds convenient, the question begs to be asked: is it too good to be true? Can you feel good about making a big purchase without having touched it? Well, we're here to help with that by sharing our  mattress-in-a-box experience. 
Endy is a completely Canadian made/designed/and delivered company that offers mattresses, pillows, bed frames, and bedding accessories. Once ordered, it only took a couple of days to have the box delivered to our door. The box stands about 4 feet tall, and is HEAVY, which makes total sense when you realize that an entire mattress has been rolled up and is very compact in there.
With the mattress being packaged this way, it would have been super easy to bring it up to the elevator and up to our apartment on the 5th floor, through the narrow halls and around the corners and into our apartment, which we found very convenient! But, we didn't have to.  The delivery driver brought it right to our door for us (not sure if this is standard, but we sure appreciated it).  Once inside, all we had to do was cut open the box and unrolled the mattress. 
Obviously Endy offers a mattress (and a totally awesome way of delivering it), but they offer much more than that. They have memory foam pillows (look below for more information on those – it's not what you may expect!), bed frames, duvets, weighted blankets and more. It's a pretty great spot to completely outfit your bed with a few taps on your phone or clicks on your keyboard, especially when it all gets dropped off at your doorstep! 
Endy also offers a 100 Night Sleep Review Risk-Free trial with the mattress (so you get to try it out for a few months to ensure you love it), and a 60 Day Risk-Free trial with the pillows! If you find you're just not in love with it, you can give them a shout (their customer service team is top-notch), and they will come right to your door and pick it up, free of charge! On top of that, if you do decide to keep your Endy mattress and Endy pillows, there's a warranty on both, 10 years and 3 years, respectively. There's honestly so little risk that it makes sense to give it a try if you're in the market for either! 
Endy Mattress Features & Benefits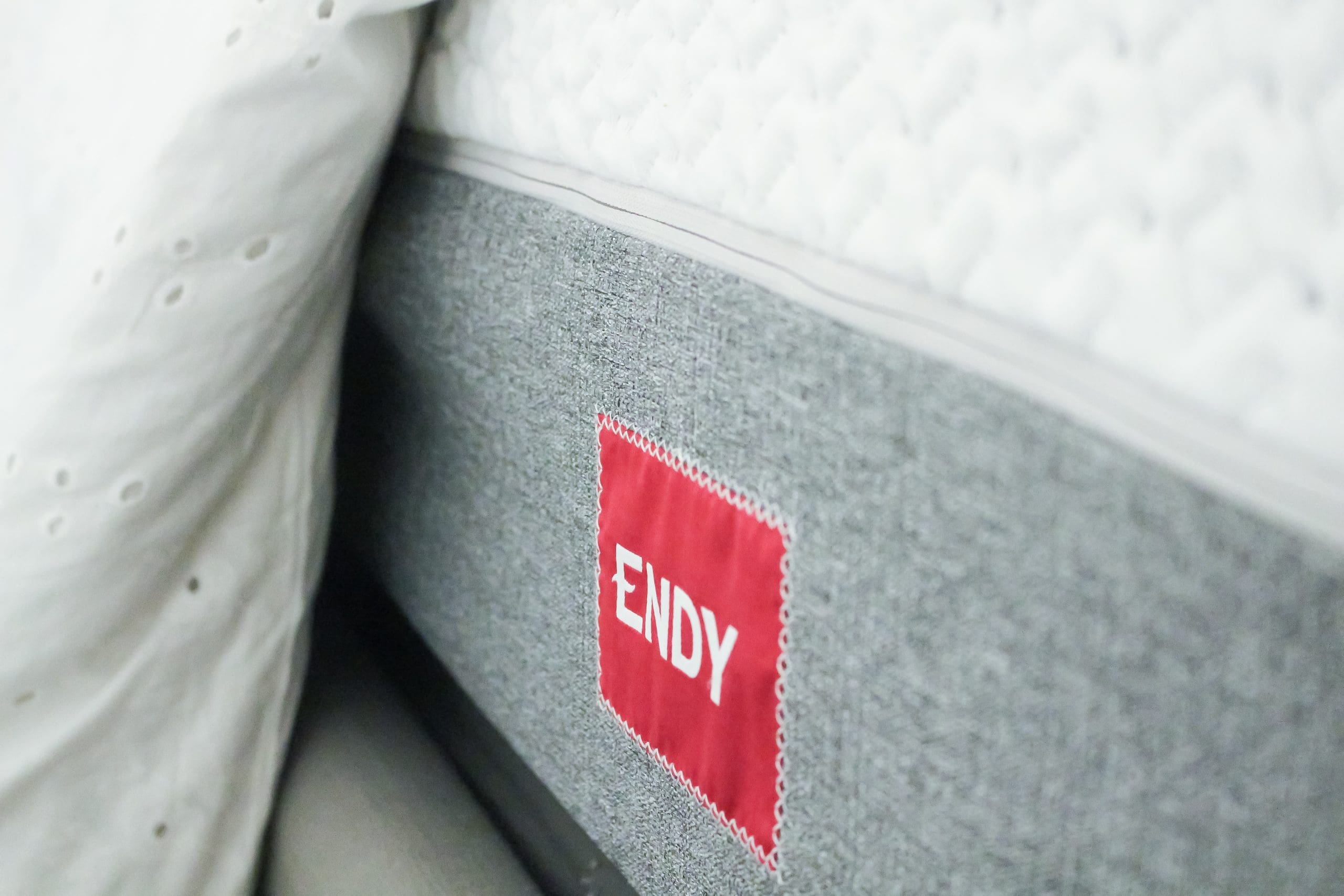 The Endy mattress is a new kind of foam that's both breathable and cool (unlike most foam mattresses that we've tried), ideal for the Canadian climate. Because of the open air cell foam layer, the mattress is considered temperature neutral. That, combined with the microfibre quilted cover that boosts breathability, ensures the perfect sleeping temperature for the sleeper that runs hot (Brent), and the one that runs cool (me).
Another fantastic feature of the Endy Mattress is that it is also "zero motion transfer" meaning that you can't feel your bed-buddy moving around all night long. Endy's mattress has a special layer of foam called "transition foam". It gradually absorbs motion and relieves body pressure, ensuring you can't feel your partner rolling around. 
The Endy mattress also has by a 10 year warranty. We were impressed with this feature because, well, a 10 year warranty is decent! Our regular pillow top mattress was showing signs of age by year 5 and we paid a LOT more for it.  And, that fancy pillow top didn't offer a 100 night sleep review option!
Did I do the wine glass bounce test?  You bet your ass I did, of course!  And friend, it totally works.  This feature was really important to Brent because I'm what you'd call a "sleep thrasher".  You feel me?
Endy Pillows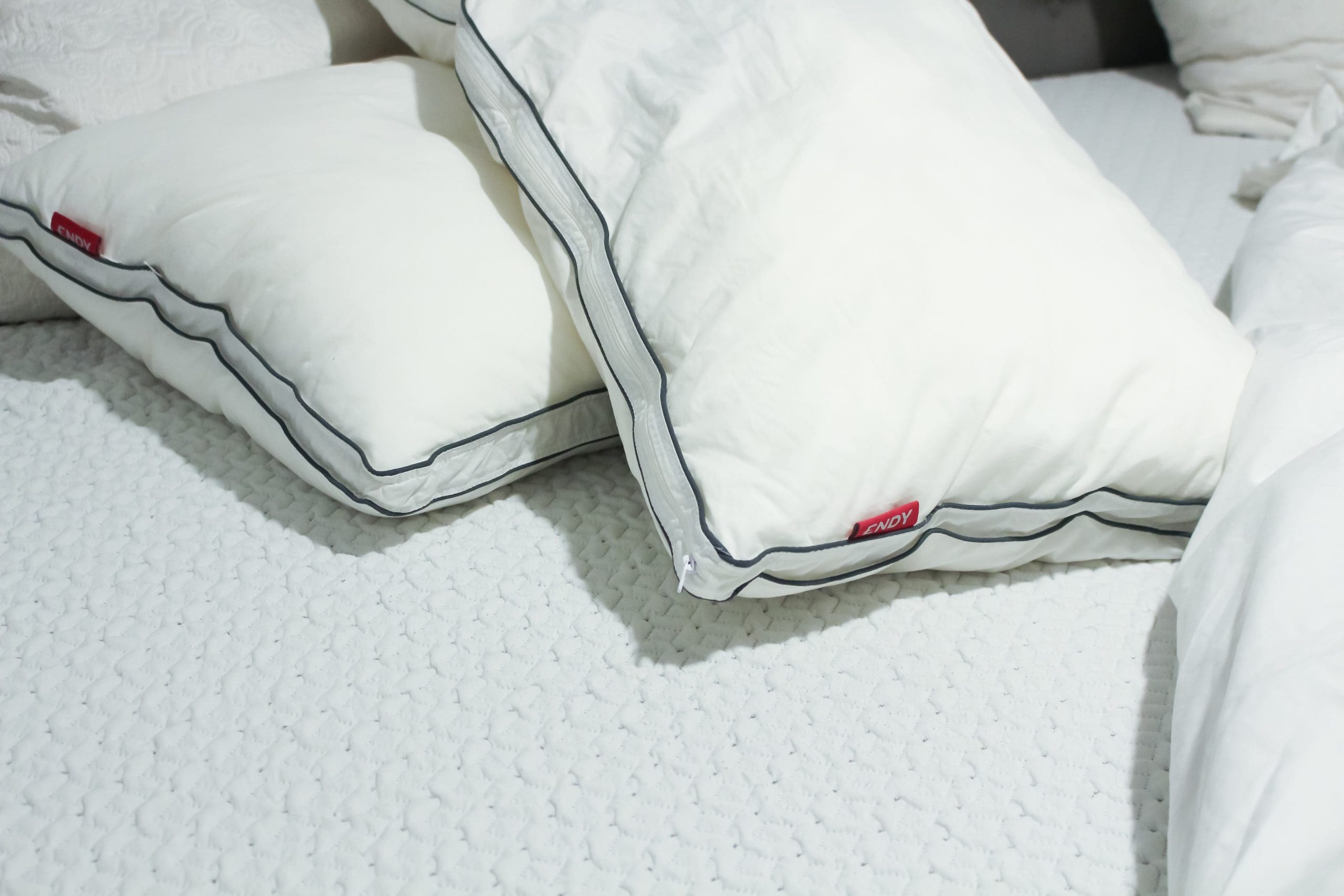 So a pillow is a pillow is a pillow, right? Not right! Hands up if you're a side sleeper! Did you know that the vast majority of the population in North America are side sleepers? It's difficult to find the right pillow that matches your body, that can provide both comfort and support during your rest. Endy's customizable pillows were a GAME CHANGER for us because it provided each of us the support we needed, despite different sleeping positions.
Truthfully, we LOVE our Endy mattress but the pillows might be my favourite part.  And I've invested HEAVILY over the years into all kinds of fancy pillows to try and find the right fit.  From wool to barley to bamboo…and nothing has come close to the Endy pillows.
The Endy Pillow is filled with chopped up pieces of memory foam, and is able to be accessed with a zipper on the end. The pillow also comes with a smaller, zipped baggy. This is to store the memory foam pieces that you may choose to remove from your pillow to create the perfect level of comfort for your sleeping style! Added bonus: you now have a great little travel pillow!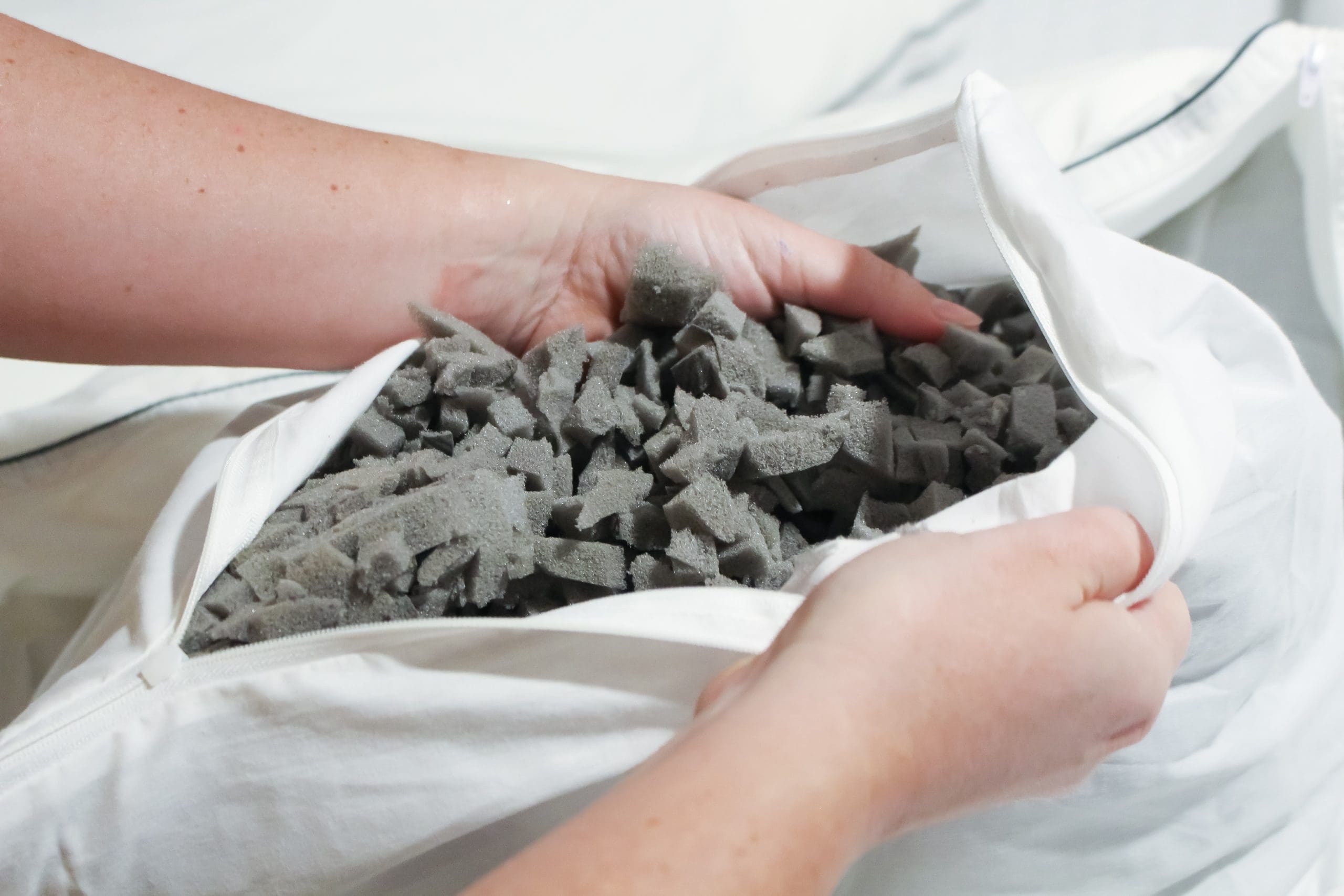 With the pillow, there is a 60 night risk-free trial. Which is great, because nothing is worse than spending money on a pillow, and using it for a month and realizing it's not the one for you! We also loved that there was a 3-year warranty on these as well!
It took a while to hit "100 nights" with our Endy because we travel for a living and spend most of our time in hotels.  A few years ago, I would have told you that I slept better in hotel rooms than I did at home.  That's not true anymore.  So, do we love our Endy?  Heck yeah we do.
Top 5 Reasons You'll Love Endy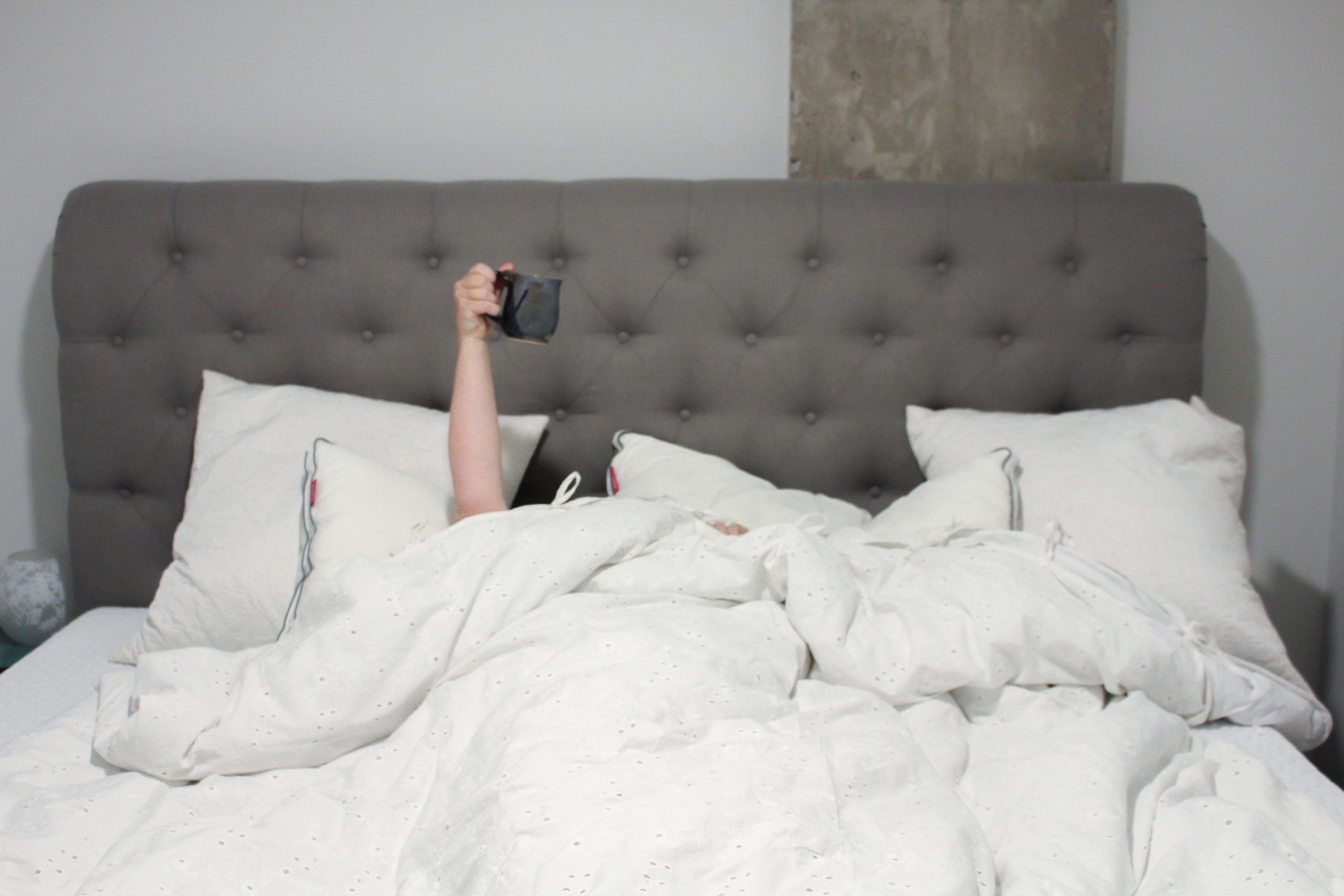 1. You don't have to leave your house to get it!   If you're anything like us, we are ALWAYS on the go, so really, taking the time out to go and visit several stores, lay on many mattresses and try to decide which is the best value for us is not in the cards. Not easily, anyways. Being able to shop online and have it delivered within 3 days of purchase is awesome! 
2. An amazing return policy.  When you go to the box stores, and you try the beds, you only lay on them for 20 seconds (at the most). Endy offers a 100 Day Free Return policy. That means you can lay on that mattress for 8 hours a day, for 100 days before deciding if you want to keep it or not. We felt like that was a much better judge of the mattress than the 20 second "sleep sample".  Being able to put the mattress to the test with a 100 night sleep review speaks VOLUMES about this brand, I think.
3.  Totally Canadian!   Who doesn't want to support their country's industry? Endy products are designed, engineered, manufactured and delivered in Canada! We found that incredibly valuable when looking at this company compared to other mattress-in-box brands out there. 
4.  Competitively priced.   Because it's all produced and shipped within Canada, the costs can be kept lower than if it was manufactured elsewhere. There are no cross-border shipping costs, wait times (which ends up costing companies money), or currency exchange. With all of this, Endy has been able to keep it's costs down, which means a more affordable mattress for Canadians. 
5.  It's the #1 Most Trusted Mattress-in-a-Box Brand in Canada!   Whenever you're purchasing something over the internet, you want to know that you're getting something legit. We found Endy products to be as advertised and easy to work with. Their staff are knowledgeable and friendly, and we trust the process!
Final Thoughts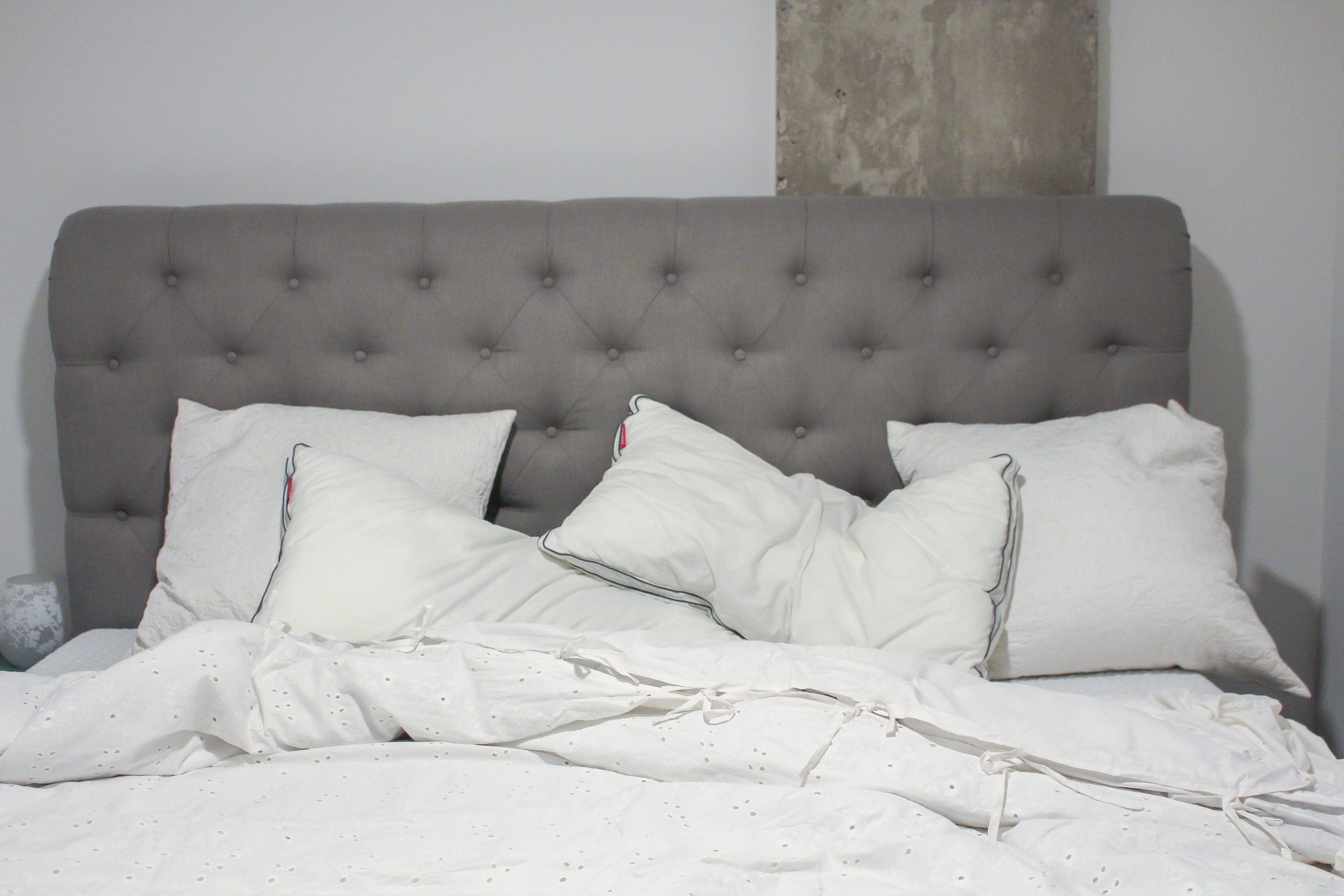 You want our true and honest opinion, right?  Well here it is.  I'm the skeptic in this house.  I'm a marketer for a living so I spend my days dissecting other people's marketing plans and strategies.  Endy is killin' in the marketing world, no question.   After our own 100 night sleep review we asked the question:  "is it really all it's cracked up to be?"
That's a yes.  We'll never go back to a regular mattress again.  Ever.  Remember when pillow tops were all the rage?  Yeah, me too.  I spent $2000 on a fancy pillow top when I got my first apartment.  After a couple of years, there were big dips in the bed where my partner and I slept.  Also, it was hot.  And, it was too squishy.  Endy solves all of that.  It's the perfect amount of support, it doesn't lose it's share and it thermoregulates.
So we're all in.
So let us know! Have you tried Endy before? With a 100 night sleep review trail, would you try one now?  Click here to order your Endy (and don't forget the pillows)
* Disclaimer: Endy provided us with a mattress and pillows in exchange for an honest review.  We only work with brand partners that we feel will add value to YOU, our reader, and we're never required to give positive reviews.  So, what you see is what you get.  These opinions are always our own!