Ultimate Magdalen Islands Travel Guide
The Magdalen Islands, Iles de la Madeleine, Les Iles, "The Maggies"; whatever you call it, just get there!  The Magdalen Islands are one of Canada's best-kept travel secrets but they're growing in popularity with over 77,000 visitors last year and that number is expected to rise.  With a population of only 12,000, that's a big influx of traffic!  
I first traveled to Iles de la Madeleine in 2017 and realized very quickly that this was a place that we needed to return to.  We also noticed that, as a primarily French-speaking community, there were very few resources online in English. And so, the idea for the Ultimate Magdalen Islands travel guide was born.
This travel guide has been a labor of love and is designed to give you, our English speaking blog readers, all the information you need to plan your visit to the beautiful Magdalen Islands and to make the most of your trip.  We're loading this ultimate Magdalen Islands travel guide with insider tips, local secrets and, of course, the basics like where to stay, where to eat and what to do in the Magdalen Islands.
This archipelago of islands may be small, covering only slightly more than 200km squared but there's no shortage of adventure to be had.  What it lacks in size, it more than makes up for in adventure, culture, beauty and an incredible gastronomy scene.
We're certain that with a little planning and some insider tips on some of the quirks you'll find along the way you'll fall head over heels for this part of Canada, just like we did.  That's why we put together this (MAMMOTH) Magdalen Islands travel guide packed with everything you need to know to plan the perfect trip.
Article Contents
We're going to cover everything from how much money to budget to your trip the Magdalen Islands, what type of clothes to pack, and how to get around the region.  We're sharing the best food to try, where to stay and the best things to do during your trip.
Know what you're looking for?  Jump to that section here!
Getting There  | The Islands  |  Where To Stay  |  Things To Do  |  Where To Eat  |  Packing Guide  |  Madilenot Food to Try  |  Responsible Travel  |  Getting Around the Islands  |  Practical Tips
Disclaimer: Just so we're all on the same page… our first trip to the Les Iles in 2017 was an independent trip.  Our second visit (June/July 2019) was hosted by the Magdalen Islands Tourism Board. Although we were hosted on this trip, all views, opinions and way too many photos (aside from those clearly marked)  in this article are our own!
Affiliates: Also, there are some affiliate links in this Magdalen Islands travel guide, which means when you click we get a small percentage of the purchase at no extra cost to you.  This allows us to keep sharing great travel tips with you, so feel free to click away! 
About The Magdalen Islands
The Magdalen Islands are an archipelago of 8 islands in the middle of the Gulf of Saint Lawrence linked by sand dunes and covering a land area of only 202km squared.  The islands were formed by rising salt domes that still support the islands as they are today.
What strikes you first are the 3 distinct landscapes you'll find in Iles de la Madeleine.  Upon entry to the islands, you'll see the red and grey sandstone cliff's first. They're mesmerizing!  The red cliffs are under constant erosion and form spectacular shapes, caves, and caverns perfect for exploring but also very fragile (as is much of the landscape in the Les Iles).  Next, you'll notice the rolling hills and farmland that supports the vibrant food culture and, of course, the beaches… more specifically, the dunes!
During my first visit I remember thinking it looks like you're driving through Newfoundland but instead of rock on either side of you, it's sand dunes.
[We know you're eager to get to the Magdalen Island travel guide but we would be remiss if we didn't interrupt your reading with a quick note on responsible travel.  The dunes and cliffs that make up the islands are under constant erosion from wind and waves making them extremely delicate. Please stick to the marked paths during your travels and do your part to protect the fragile dune grass.]
OK, now let's get on with it shall we?
Top Places to Visit in The Magdalen Islands
Of the 8 islands, you're able to visit 7 during your trip.  Here are some of the most popular things to do on each island and also some "best-kept secrets" you might not have heard of.
ENTRY ISLAND
Entry Island, one of only two English speaking islands, was settled by the Scottish and is still home to just a few families.  The tiny island is treeless and a short ferry ride from Cap aux Meules will get you there ($$ & ferry schedule). It's also the only inhabited island not connected to the rest of the island chain and is home to the highest point of the archipelago.  We were not able to visit Entry island during either trip due to high winds that canceled our tour so our recommendation is to book your trip to Entry Island early in your week (just in case you need to reschedule) because it's one you won't want to miss.
Top things to do on Entry Islands
Hike the big hill for the highest vantage point of the islands

Visit the museum and lighthouse
HAVRE AUBERT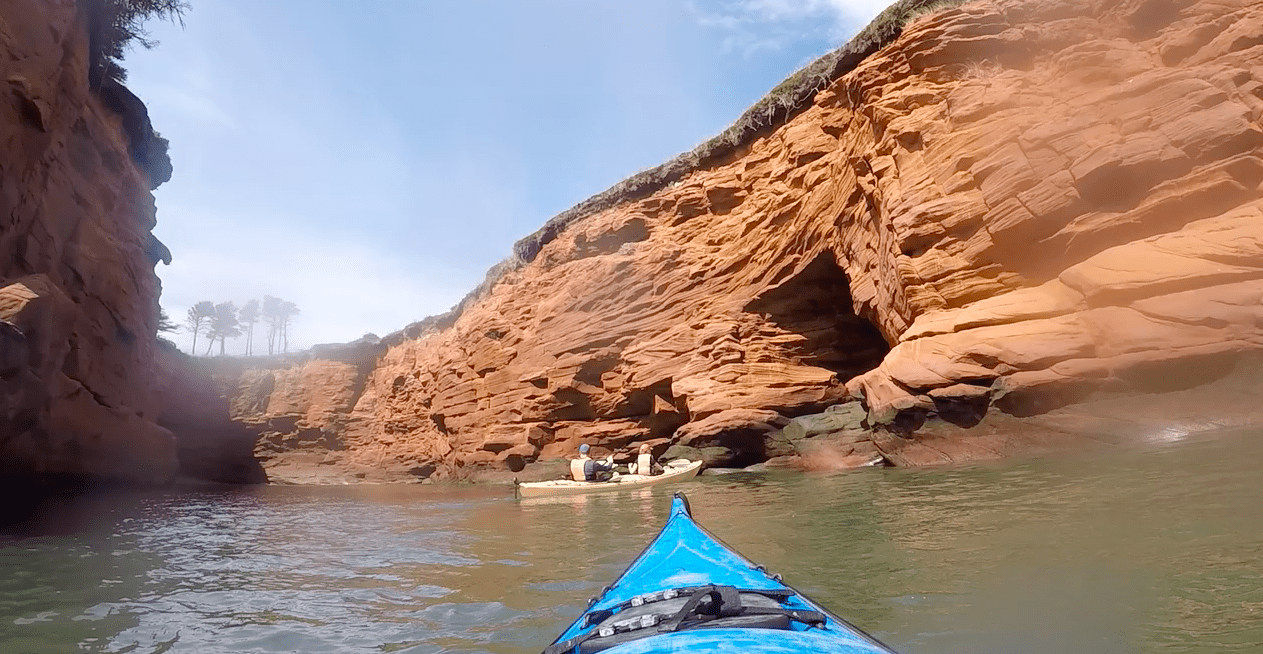 Havre Aubert Island is the most forested of the island which allows for some beautiful hiking and is also home to the historic site of La Grave and some stunning beaches.  In our opinion, it's the most underrated island but worth spending some time in because it's got a lot to offer.
Top things to do in Havre Aubert Island
Walk the orchard at Le Verger Pomeloi

Take a farm tour at Les Biquette a l'air

Visit Le Domaine des Salanges

Walk La Grave Historical site, explore the shops and relax in the clifftop hammocks

Enjoy a special coffee and lunch at Cafe de la Grave

Take a tour with Balade du bout du banc (our tour was canceled twice due to weather so we didn't get to do this, but you should).

Get dressed up for dinner at Auberge Chez Denis a Francois

Go cave kayaking with L'Istorlet tours
CAP AUX MEULES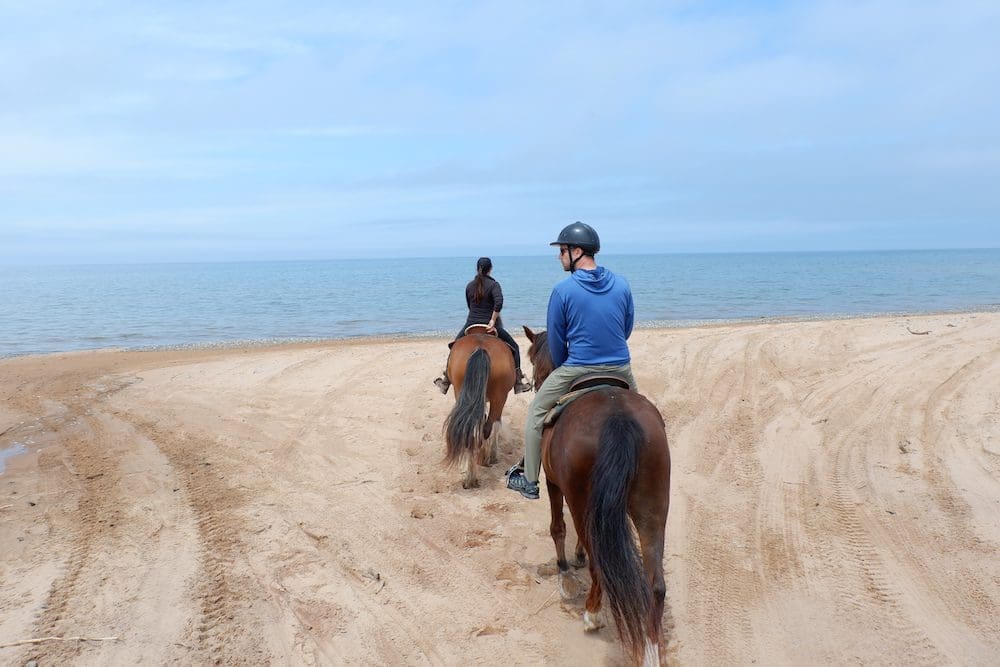 Cap aux Meules is the gateway to the islands and also home to the majority of the population on in the islands.  It's also the second large island (after Havre Aubert) and it's where you'll find most of the government services in the archipelago like schools, the hospital, and government buildings.  
Top things to do in Cap Aux Meules
Try The Boss Poutine at Le Pas Perdu restaurant along with some local craft beer

Walk the coastal trail (Sentier du Littoral) and climb the 185 steps for panoramic views from the top of the cape.

Enjoy an ice cream on the beach at La Cote and take in magnificent views of Gull Island (Île aux Goélands)

Visit one of the largest wooden churches still standing in North America

Try head cheese at Aucoin des Sangliers

Go horseback riding along the ocean and through the bay with La Criniere au vent
Enjoy the local craft beer on the upper-level patio at A l'Abri de la Tempete at sunset
HAVRE AUX MAISONS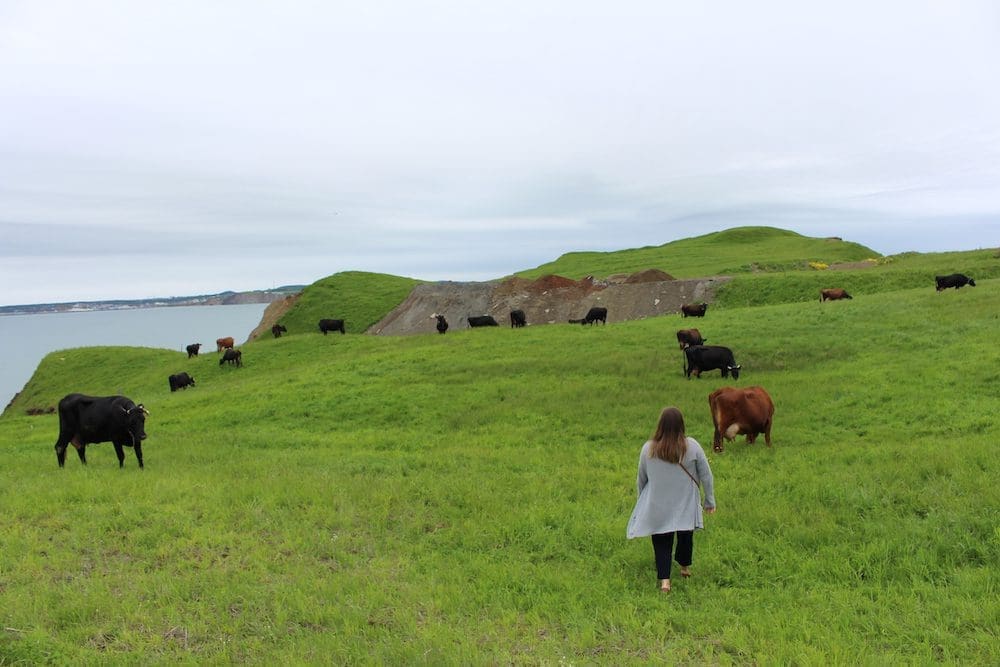 Havre aux Maisons is full of charm with its slope towards the sea, treeless landscape and brightly colored homes spotted along the hillside.  It's also where you'll find a good many of the local producers that make up the vibrant food & procured culture on les lies.
Top things to do in Havre aux Maisons
Take a farm tour of the Pied-de-Vent cheese factory and meet the cows
Visit the only remaining smokehouse, Fumoir d'antan and try traditional smoked herring
Go on an Oyster excursion with Les Cultures du large

Enjoy the local Bagosse (the beer of the islands) as Barbocheux artisanal winery

Sleep in a converted convent 
POINTE AUX LOUPS
Pointe aux Loups is the smallest of the islands (aside from Brion) and is my personal favorite.  I hate to show a biased but this community is like a magical little island of only about 50 house amid the vast sand dunes on either side.
Top things to do in Point Aux Loups
GROSSE ILE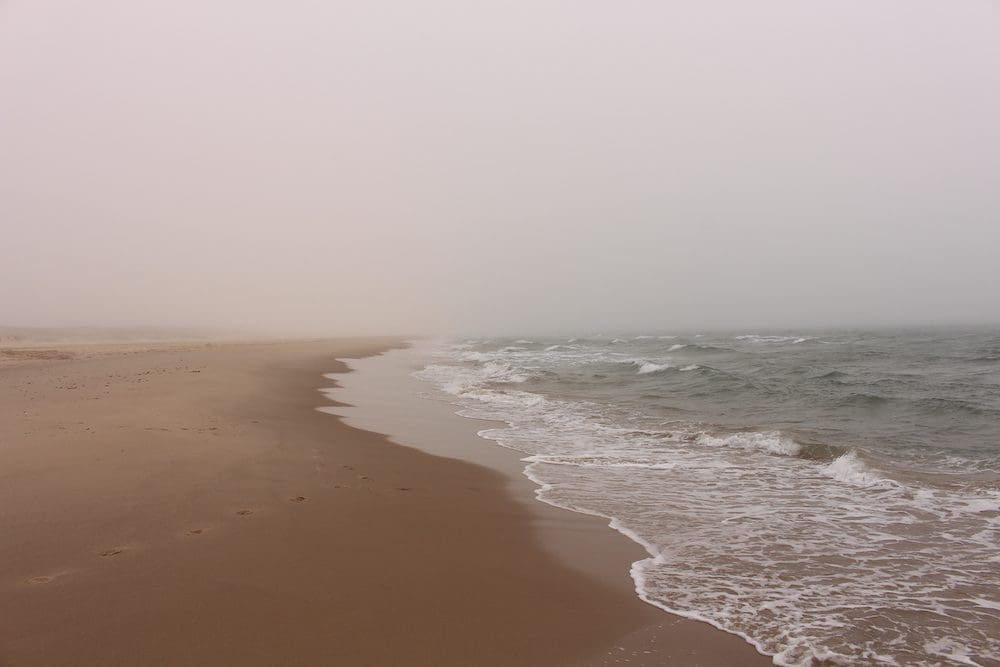 Grosse Ile is also, like Entry Island, inhabited by English speaking Madelinots that are mainly of Scottish descent.  Here you'll find the impressive salt mine where mining happens at a depth of 300 meters! You'll also find Old Harry beach here which is, arguably, the most famous beach in the Magdalen Islands.
Top things to do in Grosse Ile
Take a guided tour of the East point wildlife reserve and snap loads of photos

Visit the salt mine museum and learn about how the Magdalen Islands were formed

Walk on the singing sands of Old Harry beach
GRAND ENTREE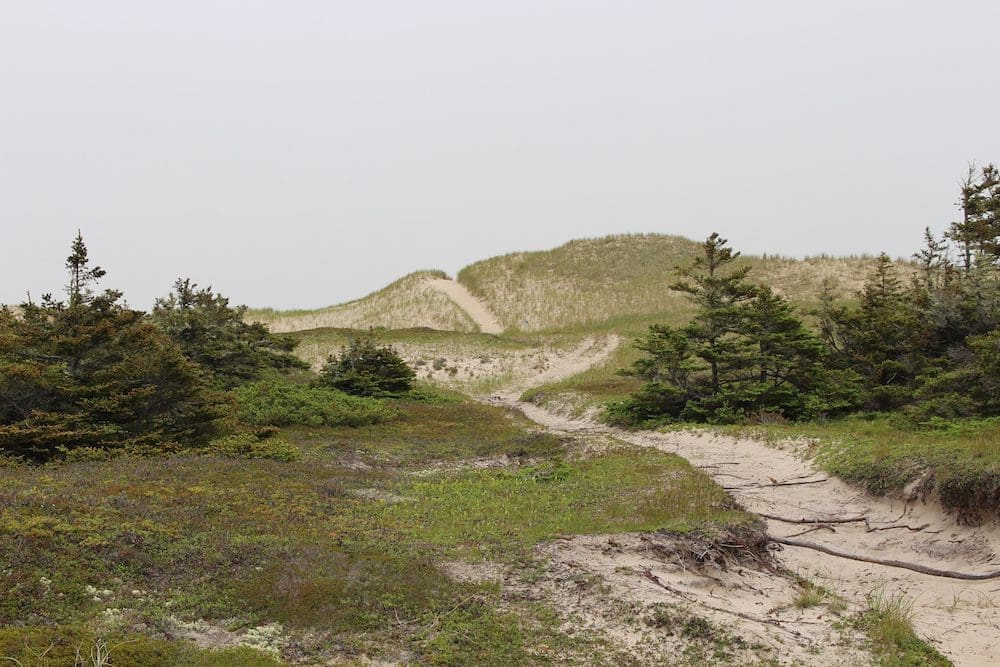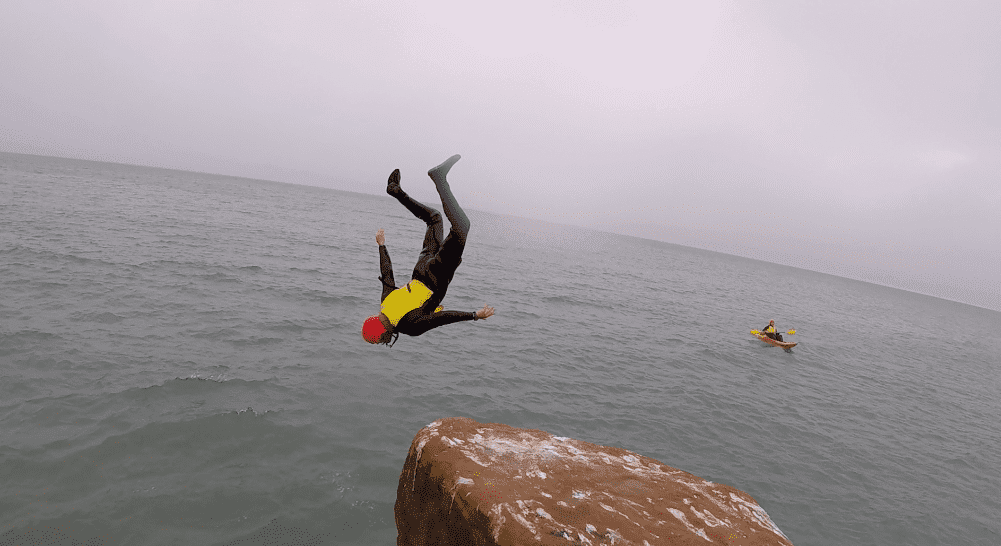 Grand Entree is Quebec's lobster capital and you'll know it as soon as you arrive.  They celebrate lobster the same way we do in Nova Scotia with a bustling pier that houses more than 100 fishing boats.  
Top things to do in Grand Entree Island
Stay in a Cozy Bubble at La Salicorne – which we've affectionately dubbed "summer camp for adults)

Go on a sea cave swimming adventure

Visit the Grand-Entree pier

Walk the secret beaches of Bassin aux Huîtres
BRION ISLAND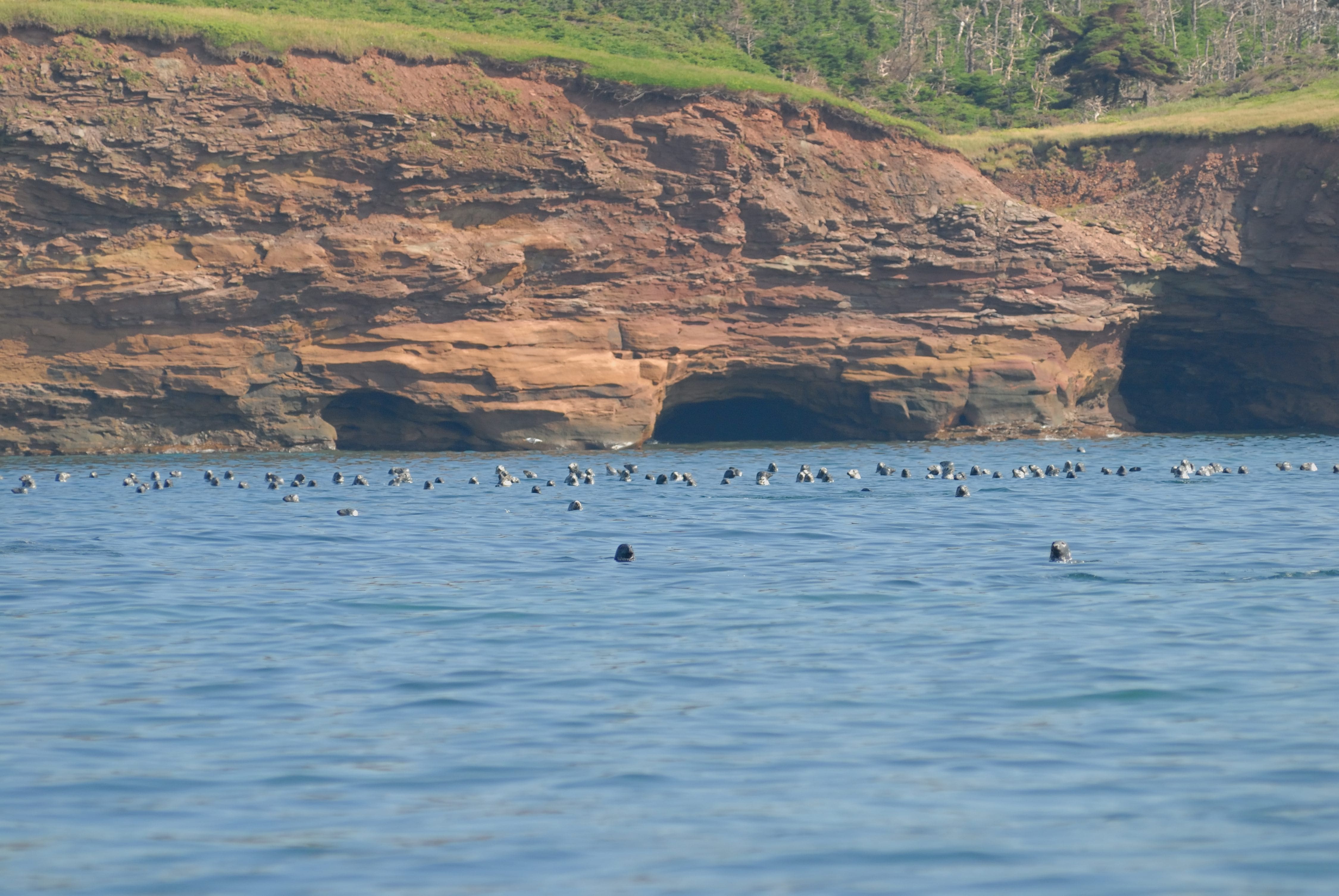 Brion Island is an ecological reserve and it is currently uninhabited.  Difficult to access, this tiny island is 16 km off the coast of Grosse Iles and is now home diverse fauna and flora, including the Atlantic Puffin.  
Getting to the Magdalen Islands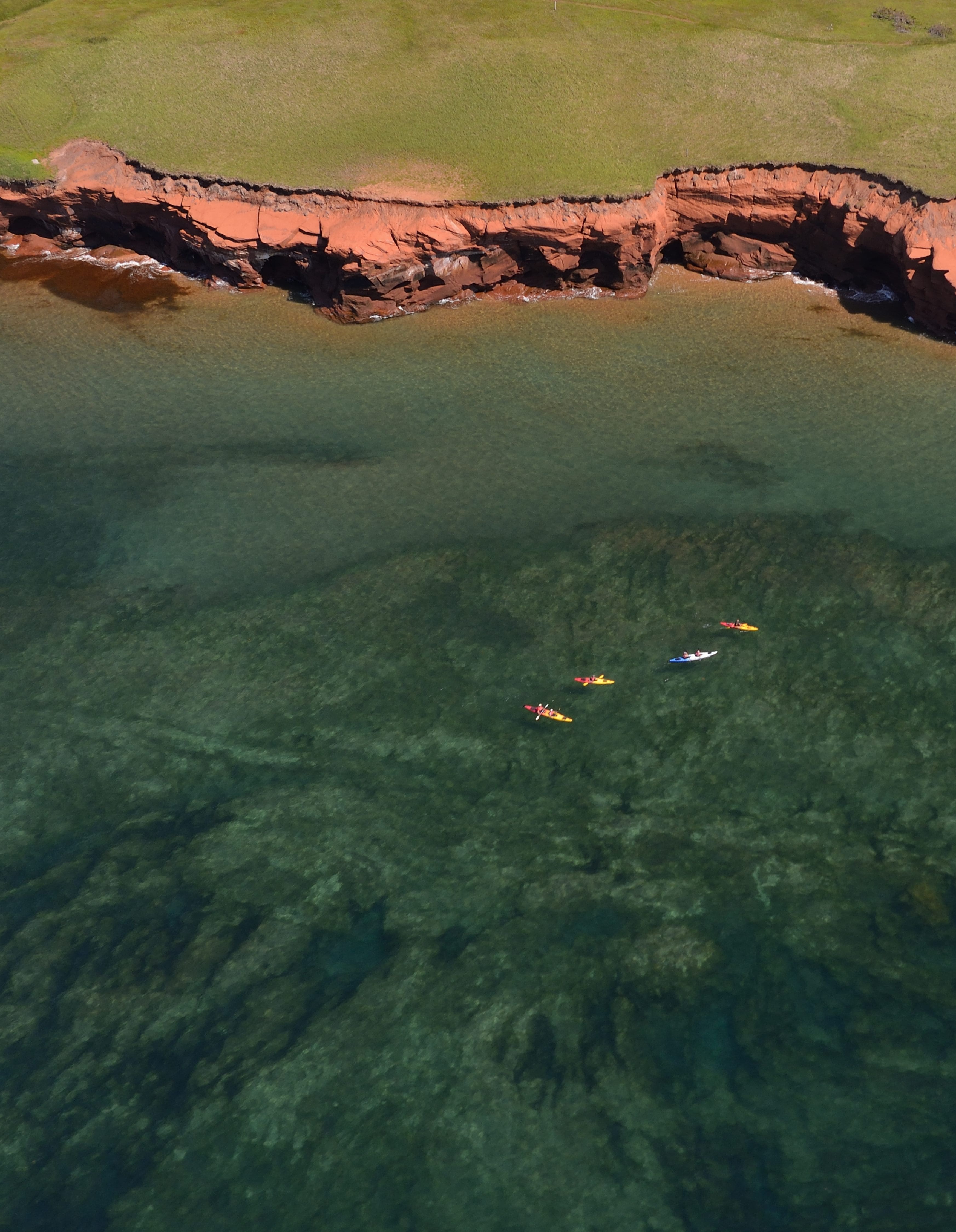 When we started building this Magdalen Islands travel guide, this is one of the top questions we got.  Everyone wants to know "how do you get there" and what's the process. So, here you go!
Traveling to the Magdalen Islands is a bit of a process but, if you know what to expect, it's seamless and even enjoyable.  We believe that the commute is part of the charm of the islands. You've got two options for getting to Les Iles de la Madeleine.  You can either travel by plane or by boat (which is what most do).
There are a couple of airlines that travel to Les Iles but the price varies greatly (and changes frequently) so we recommend sticking with the more popular route and taking a boat.  There is a cruise ship out of Montreal that will take you 2-days with one-stop or you can take the ferry from Souris, Prince Edward Island which is only a quick 5 hours trip.
Souris, PEI to the Magdalen Islands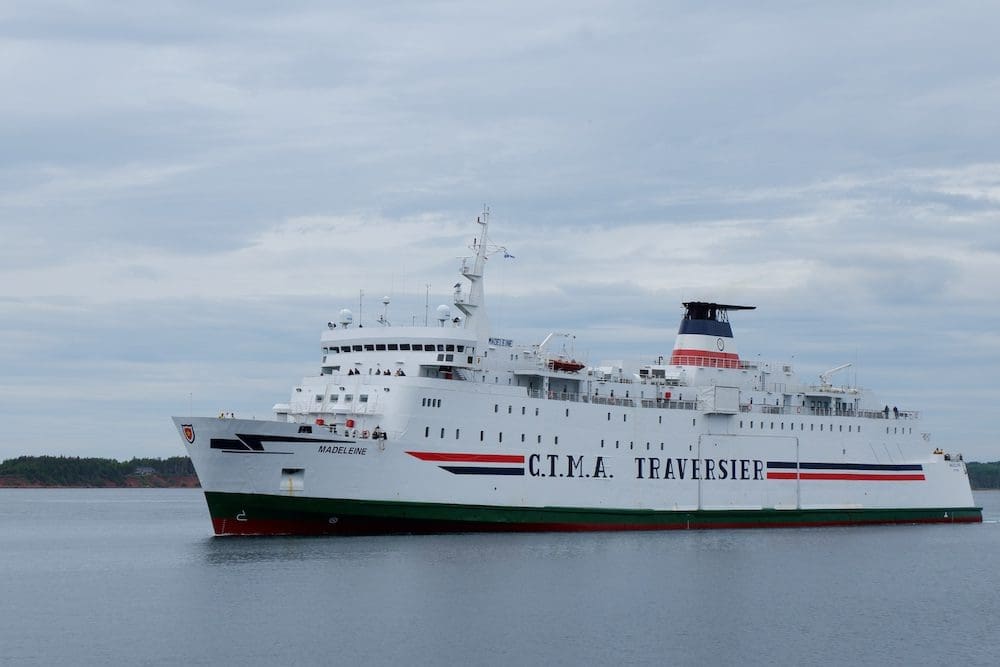 The best way to get to the Magdalen Islands is by Ferry from Souris, Prince Edward Island.  Here's everything you need to know about the process. It's worth noting that, there are a few quirks about the trip that will be extremely helpful for you to know before you arrive so keep reading!  Also, we had several people on the Ferry stop us and insist that we include these in our guide.
Booking Your Trip
As I mentioned, the Magdalen Islands are becoming a popular destination for travelers which means booking in advance is your best (and only) option.  Plan your trip in advance and book your ferry and accommodations as soon as possible.
It's always wise to print your tickets, as you'd expect, but they don't ask for them.  At the time of this blog post, they're still working off a printed list of names.
Arrival at the Ferry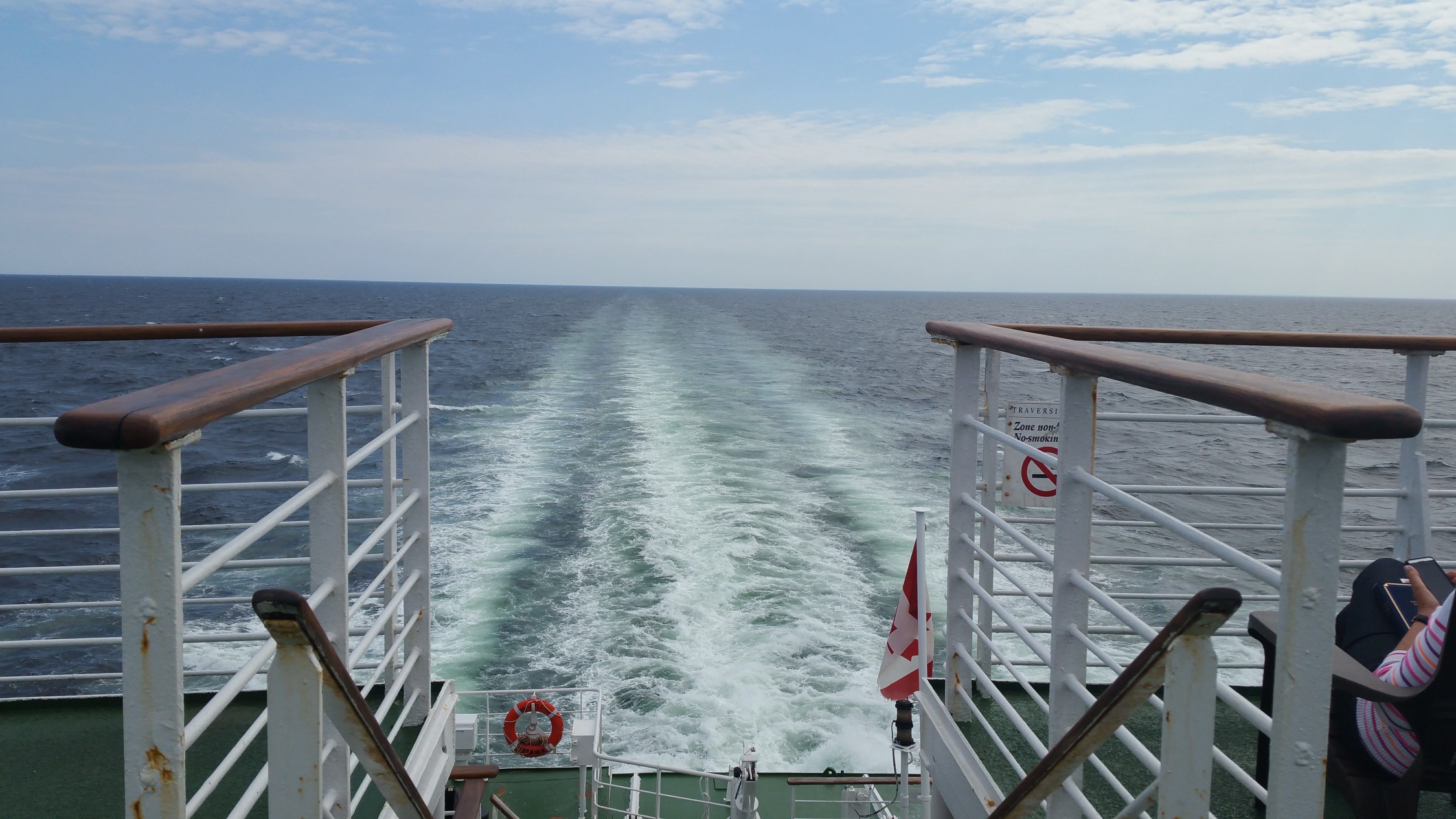 When you arrive at the ferry terminal, there's very little signage.  Stay right as you enter the terminal and you'll be directed by friendly workers who will tell you where to go.
If you're a seasoned traveler you might be in the habit of pushing the limits of your timing when you arrive for flights but trust me when I tell you, you can't do that here.  You MUST arrive 1-hour prior to departure of you forfeit your seat and go on a waitlist. This time around, we didn't notice any issues but during my first visit to the Islands we saw several cars be turned away at the gate because they were late (not an hour early) and their spots were given to those on standby (who were an hour early).  Just don't do it.
Boarding the Ferry
As soon as you board the ferry, head to the main deck and get in line at the ticket office.  This creates confusion among first-time visitors but everyone must get in this line. You'll pay for your trip (one way only) and will be given a boarding pass that you'll need to disembark.
COST
The cost of the ferry varies depending on the size and type of vehicle (if any) you're driving as well as the number and age of passengers traveling with you.  Price also varies by season. That said, here's what you can expect to pay for the crossing (one way) in high season:
$101.25 for your vehicle (standard size car, truck or SUV)
$54.30 per person (adult)
$43.90 per person (seniors over 60)
$27.35 per person (children under 5-12; children under 5 are free)
these prices are based on the 2019 CTMA brochure and website.  For further details and up to date information please visit the CTMA website.
You will also pay the Prince Edward Island bridge toll on your way home which is approximately $50
Total Travel Cost (for 2 adults – return)
$419.70CAD + bridge (~$50)
So, by the time you factor in gas, the ferry and the bridge toll you're looking at $500 CAD in transportation cost for 2 adults.  If you're towing a trailer, expect to pay by the foot.
Crossing Times & Ferry Amenities
Another common query was how long it takes to get from Souris to The Magdalen Islands.  The ferry crossing is 5 hours which goes by in a blink because the CTMA ferry has all kinds of onboard amenities including:
Cafe Bistro (our favorite spot to sit and enjoy a cheese plate or cappuccino)

Cafeteria

Pub (with live music)

Quiet Rooms with cozy chairs for sleeping

Kids zone (including video game room)

Cinema (with a movie during each crossing)

Gift Shop (full of local products)

Cabins (for those who want a bed to lie down in)
WIFI
None available onboard
Insider Tips
In addition to the information above, we always aim to give you those extra bits that make your travels easier and more enjoyable. So, here's a list of some other useful information and travel tips regarding the trip from Souris to Cap-aux-Meules.
Pack Snacks
Once you arrive in the terminal, there is nowhere to eat aside from a vending machine.  There are, of course, meal and snack options on board but if you're expecting to eat in the terminal you'll need to arrive prepared.
Download Your Entertainment
There's NO WIFI on the Ferry (I know, I was surprised too) so if you're planning to listen to podcasts, watch Netflix, or listen to playlists you'll need to either use up your data or download those things before you get there.
Magdalen Islands Weather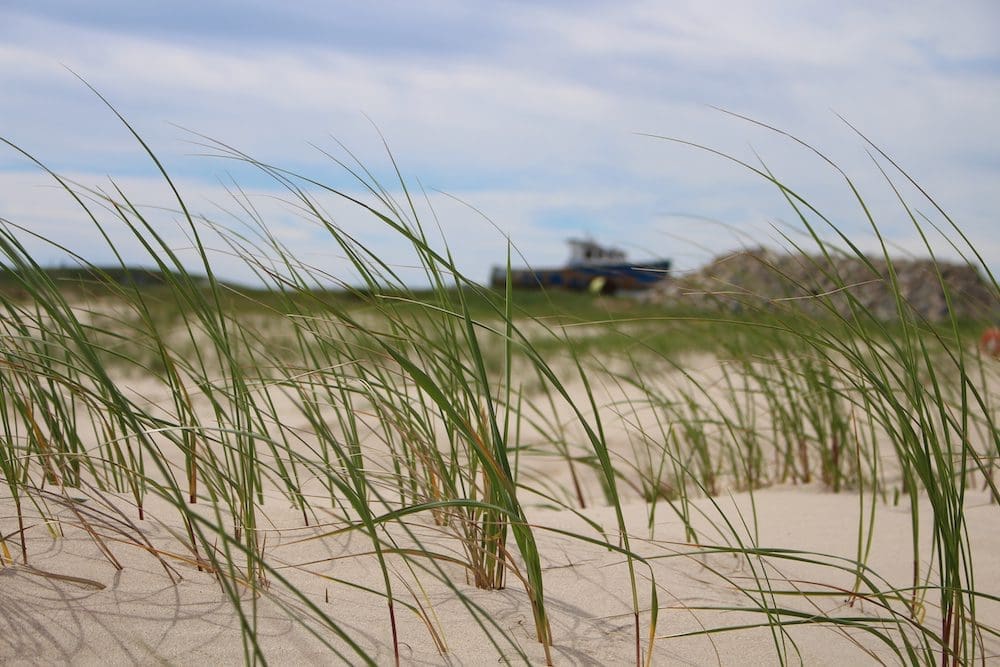 The Magdalen Islands sit in the heart of the Gulf of Saint Lawrence and, as such, are subject to wind and tempered weather conditions.  Expect mild winters, cool springs, summers with no heat waves and warmer than usual falls. During our time in the Maggies, we experienced a full week of sun and a full week of rain (the same week in July during two separate years) so pack accordingly.
Magdalen Islands Packing Guide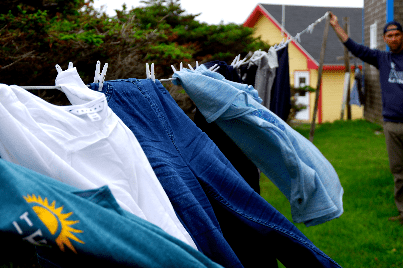 What would a Magdalen Islands travel guide be without a packing guide?
This is going to differ based on what types of actives you're doing.  We're breaking down the basics of what you should be bringing but you'll need to adjust based on your travel style.  If you're not bringing a car, for example, and moving around a lot while you're there you'll want to pack light. If, on the other hand, you're driving over (via ferry of course) and staying in a hotel or B&B you don't have to worry as much about the weight and quantity of your luggage.
Since you've landed on our blog, we're going to guess that you've got some wanderlust in you and an adventurous spirit as we do.  So, this packing lists reflects the things that WE needed while we were visiting and we hope this helps you too.
Magdalen Islands Packing List
Rain/Wind Jacket: We're huge advocates of investing in high-quality essentials and a rain/wind jacket that folds into a tiny pack is one of them.
Nuun Brand Electrolytes: stay hydrated during your outdoor excursions like kayaking and hiking, we think Nuun brand tastes the best
Chacos: The hiking is moderate so no need for hiking boots but you'll love these Chacos for transitioning from road to sand to water.  They're actually perfect!
Portable Battery Pack: If you're planning on doing any camping, bring your own battery to charge your camera and phone.
Motion Sickness Solutions: Relief for any seasickness on boat tours.  See our full "drug bag" list here. We've learned our lesson and now bring this with us on every trip we take.
Kindle Paperwhite: much lighter than carrying books
Deck of cards & Dice
Camera & Extra Batteries
Fitbit: We love tracking our steps on trips like this!
Daypack: We love Osprey because it's got an incredible warranty, they're light, packable and have all kinds of pouches and pockets.
Hat: A quick-dry hat for keeping the sun off your face (while on water excursions) is something we never leave home without anymore (lesson learned)
Sunglasses: Maybe a no brainer, but worth mentioning because if you forget them your eyes will pay the price!
What to Wear in the Magdalen Islands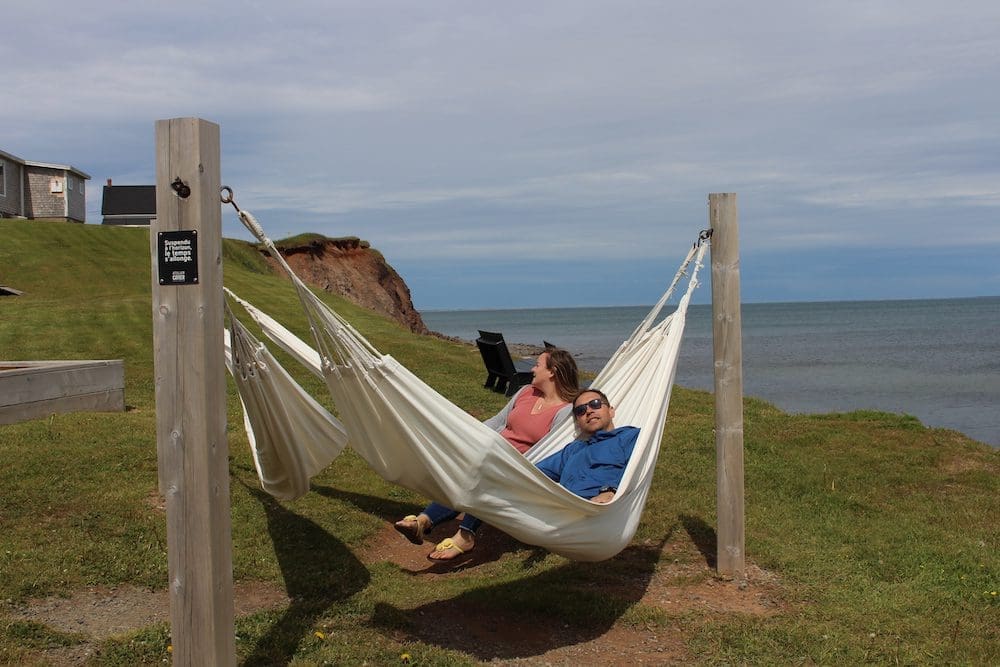 Personally, we always try and pack light.  Our wardrobes consist of few, high-quality articles that are extremely versatile for our travels.  We'll typically bring a couple of hiking/adventure outfits that we wear over again during the days (we wear Smartwool which never stinks and has antibacterial properties).
We also pack 1 or 2 slightly dressier outfits to wear out in the evenings to restaurants or pubs.  The Magdalen Islands are very casual, so there's no need to bring cocktail attire (unless you want to).  Even in the fine dining restaurants, guests were wearing jeans and sweaters.
Quick-dry layers (mix of t-shirts, tanks, long sleeves & zip-ups)
A warm sweater and/or poncho (I love a poncho because it can be casual or dressy)
Lightweight hiking shoes or chacos and a versatile pair of casual shoes
Waterproof wind jacket
Pro-Tip: Almost all of our athletic wear is Smartwool.  These pieces are an investment, yes, but the quality and features of Marino wool are game-changers.  First, they're super lightweight, they stay "like new" forever and they've got cooling, warming and anti-bacterial properties (which means you can wear them for a week and they never smell).  Replacing our old fitness wardrobe with Smartwool has taken some time, but we love it.
Where To Stay
There are a wide variety of accommodation options on Les Iles from traditional motels to boutique hotels & inns, bed & breakfasts and some really unique camping options.  We've now had the pleasure of experiencing six different options that the islands offer but there are many more than that.
HOTELS/MOTELS
Hotels in the Magdalen Islands range from basic to high-end luxury.  You'll find standard motels that offer the baseline amenities to boutique hotels with all the bells and whistles.
Budget Hotels: as little as $60 CAD per night
Middle range: $115 – $170 CAD per night
Luxury: $190 – $250 CAD per night will get you a super high-end stay at the top hotels
Pro Tip: There are lots of accommodations to choose from in the Magdalen Islands but they book up fast in high season.  We recommend booking as early as possible for your upcoming trip.
BED & BREAKFASTS
Staying at a local bed and breakfast is a special way to support the local community when you travel.  We make a point to spend at least a couple of nights at B&B most places we go and it never disappoints.
You'll typically find wonderfully unique accommodations, lovely hosts and delicious breakfasts included in your stay.
Prices range from $95 CAD per night to $250 CAD per night.  This typically includes breakfast and additional amenities. 
HOSTELS
While we didn't experience the hostel in the Magdalens Islands, we love that it's an option for budget travelers!
Prices start at $78 CAD per night and include shared living space, breakfast and private room.
AIRBNB
The Maggies also have some pretty serious Airbnb options.
First time staying in an Airbnb?  Make your booking through this link and you'll save up to $63 off your first stay.  Money-Money!
CAMPING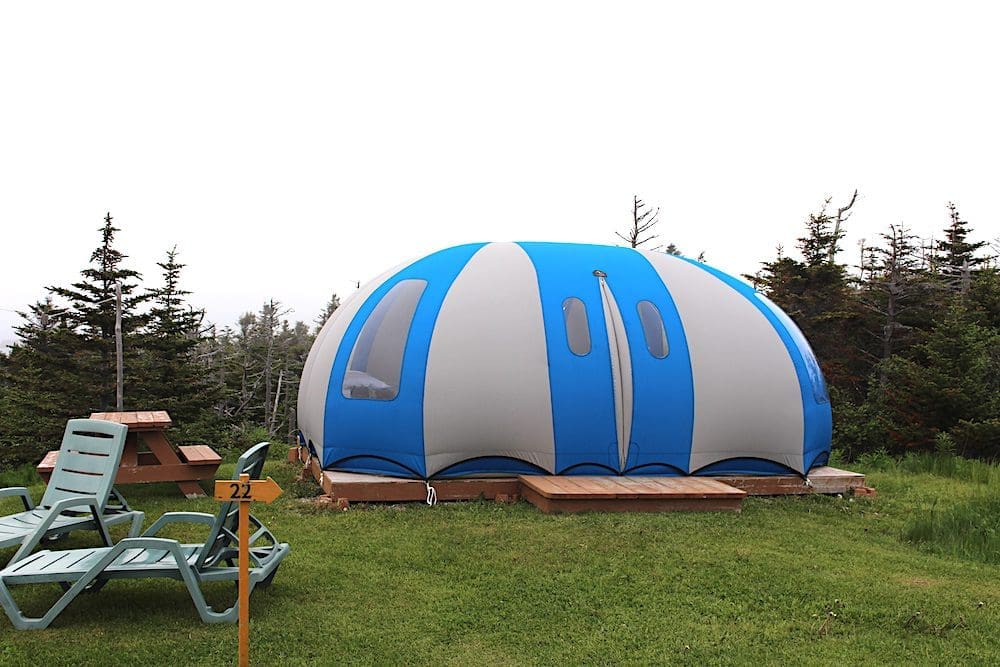 Camping is serious business in the Magdalen Islands and there are a variety of options ranging from traditional tent camping to cottage rentals onsite and even unique accommodations like the Cozy Bubble we stayed in!
Prices range from $21 CAD per night for a non-serviced campsite to $120 CAD per night for some of the cottages or bubbles.
Pro Tip: We stayed at both La Salicorne and Parc Gros Cap and while both offered great amenities, our preference was La Salicorne.  We found the staff outstanding, super friendly and loved that they had an onsite restaurant and bar. We also appreciated that everything was included (we had to pay for a cold shower at Parc Gros Cap).
BOOK YOUR STAY
The Maggie's are a beautiful and increasingly popular destination.  So, if we have you convinced, we'd highly recommend you book ASAP to get the dates you want.  Search your dates here:
Where We Stayed in the Magdalen Islands
If we know anything about you, dearest blog readers, it's that you want to know the nitty-gritty details.  We pride ourselves on giving you every bit of information we can.  So, here's a detailed account of where we stayed during our visit to the Magdalen Islands along with our opinions on each.
Of course, everyone is entitled to their own opinions.  Just because we loved something and weren't overly impressed with another doesn't mean you'll feel the same way.  Even so, we hope these details will help you make the most informed decision possible when booking your stay.
La Butte Ronde, Couette et Cafe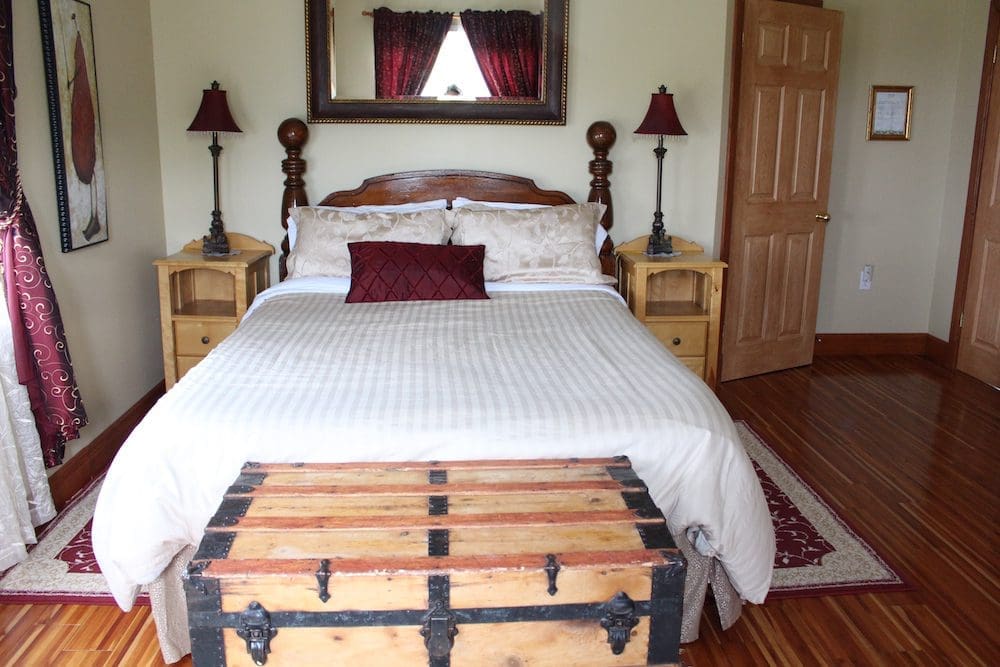 La Butte Ronde is a lovely and charming Bed & Breakfast in Havre-aux-Maison where we spent 2 nights in room 5.  This is the kind of place you'll want to stay in for a while. Nadine, our host, was wonderful and so welcoming and made us feel right at home.  There are 5 rooms on site, each with a private bathroom and breakfast is served each morning at your leisure. There's also a sitting room, kitchen for guests to use, and all the details that really make a place stand out for us.
COST: from $108/night
WHAT TO EXPECT: Exceptional customer service, warm welcomes, and great food.  Each morning, we were greeted with a 2-course breakfast made up of local ingredients, fresh orange juice, and coffee.  Also, everything is provided including large bath towels, extra pillows and blankets, and organic shampoo and bath products.
RECOMMENDATION:  YES! We loved it here and would definitely stay again.  We didn't see the other rooms but loved room 5 and even enjoyed a soak in the bathtub after a long day of exploring.
Vieux-Couvent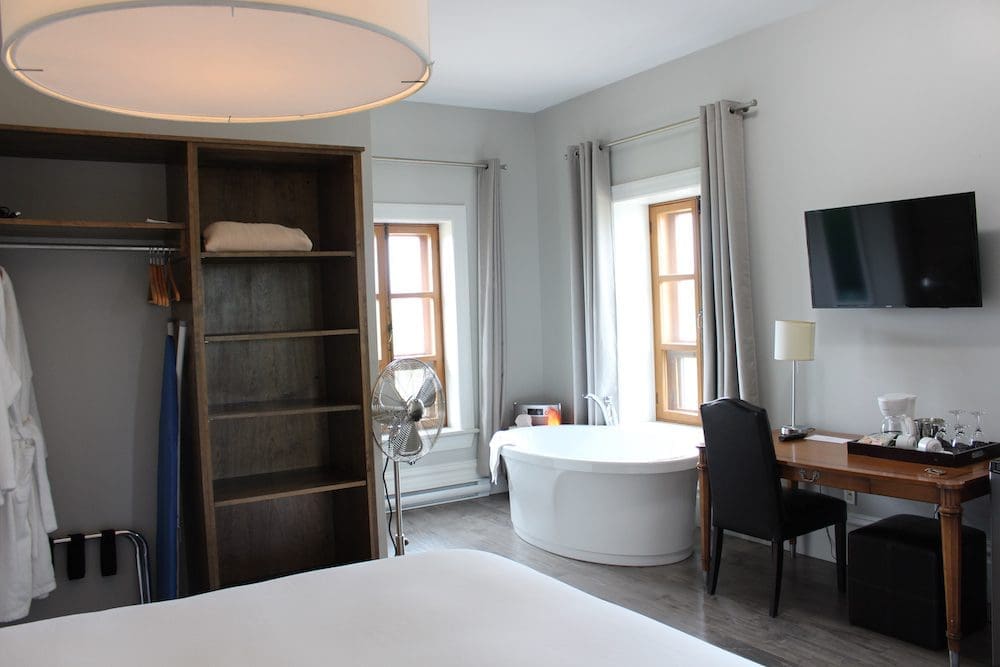 Vieux-Couvent is a converted convent and also found in Havre-aux-Maison, overlooking the ocean.  If you're looking for high-end accommodations, this is for you. King-sized beds, in-room Jacuzzi tubs, modern finishes and casual fine dining on-site make Vieux-Couvent high-end travelers dream.  
COST: from $155/night
WHAT TO EXPECT: 
Very friendly staff, luxury rooms and great food.  The restaurant can be quite busy so it's recommended to make reservations for dinner.  Breakfast is included.
RECOMMENDATION: Yes.  We enjoyed our stay and appreciated the high-end finishes of this hotel.  Our dinner, which included live music, provided a casual but high-end vibe that we loved.  We'd definitely visit again.
La Salicorne, Cozy Bubble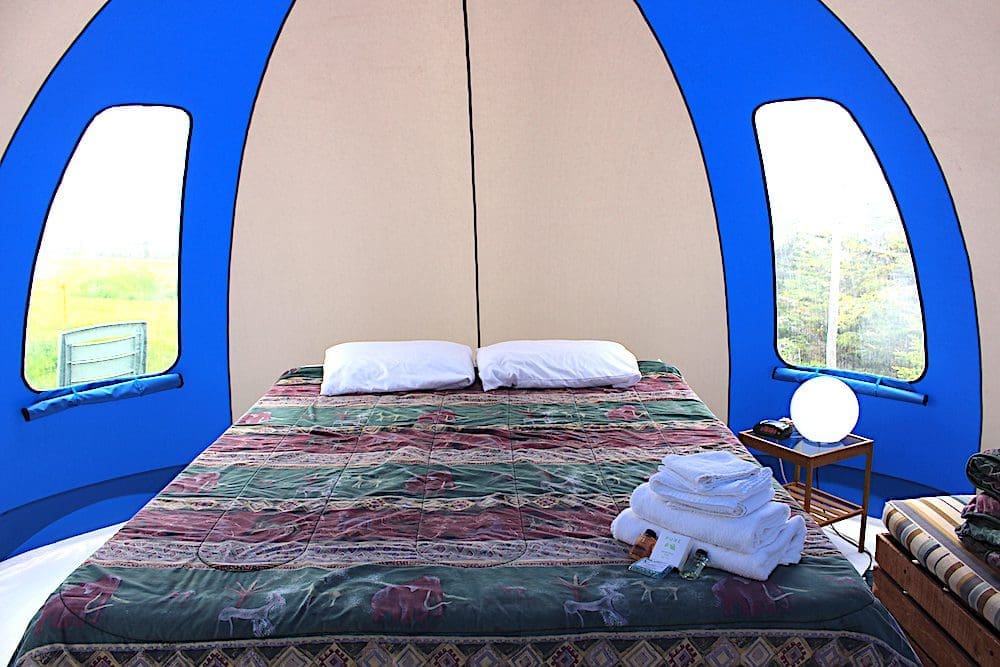 La Salicorne is like summer camp for adults (and families).  This was the biggest surprise of our trip. La Salicorne is located in Grand-Entree and offers a variety of accommodation options including:
Main lodge rooms

Campsites (serviced and not)

Cozy Bubbles
We stayed in a cozy bubble (a first for us) which is a cross between a Yurt and a tent.  These bubbles use forced air to maintain pressure and keep the bubble inflated. It's entirely waterproof and contains a double bed with linens provided, table, chairs and a small space heater.  The bubbles also come equipped with lawn chairs, clothesline and picnic table but no running water so you'll use the on-site facilities with the rest of the campers.
La Salicorne also offers a wide array of activities (see "things to do") and an onsite restaurant and bar serving daily breakfast, lunch and themes dinners.
COST: from $110/night
WHAT TO EXPECT: Exceptional staff who are fully committed to making sure each guest enjoys their stay.  What we noticed was that the staff not only encourage guests to participate in the many activities and events happening on-site, but they're also constantly interacting to make sure you have everything you need.
Our only suggestion would be bigger pillows in the cozy bubbles (maybe we're spoiled).  We think that would really take the bubbles to the next level of comfort. So if you, like us, need a bit more "fluff", you might consider bringing your own pillow or requesting extras.  I'm quite sure they would accommodate you!
RECOMMENDATION: Yes.  Staying in the bubble was a fun experience that we would recommend to anyone who enjoys "Glamping".  The bubble was warm, dry and a great home-base for some of the on-site adventures.
Parc de Gros-Cap Cabin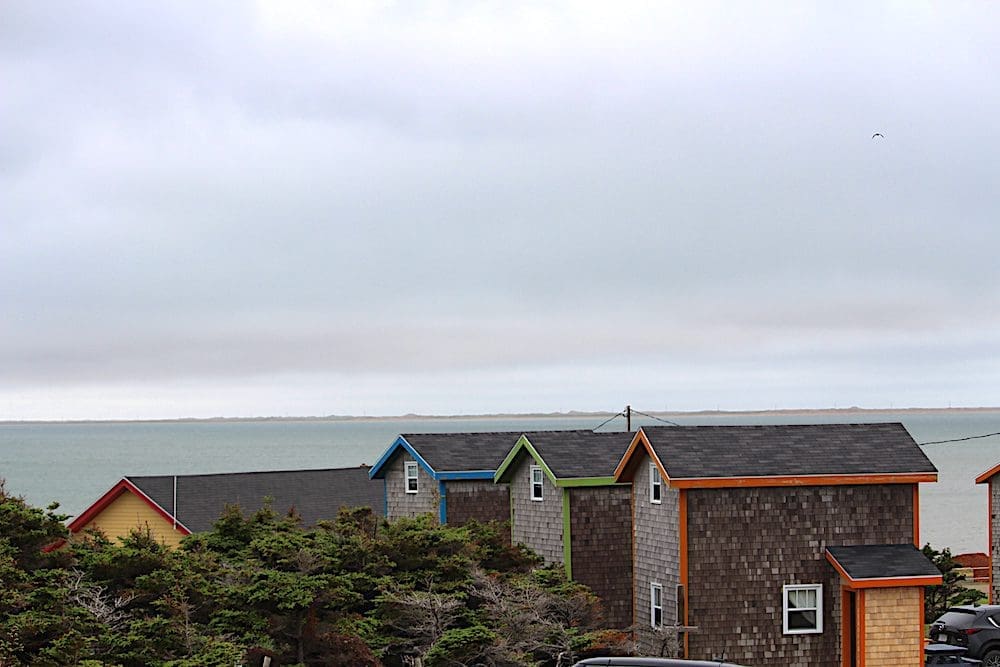 Parc de Gros-Cap is in Cap-aux-Meules and, like La Salicorne, offers camping and Glamping options as well as activities.  We stayed in one of the cabins on site that contains bunk beds, a table with chairs, a small fridge, sink (with cold water only), and a loft with a double bed.  Linens are also provided here and the cabins are heated but, like many campgrounds, no indoor plumbing so you'll be using the campground facilities which were quite nice.  
COST: from $80/night
WHAT TO EXPECT: Check-in isn't until 4 pm and they're not keen on trying to accommodate early arrivals.  Plan to spend your day exploring before checking in. You'll also pay for the showers which are quite nice and very clean but don't always produce hot water so be prepared for a cold shower that costs $1.  Towels are also not included so bring your own.
RECOMMENDATION:  This wasn't our favorite accommodation of the trip, but would be great for campground (and cabin) lovers.  The facilities were nice and included a coffee machine (bonus), coin-operated washers and dryers and very clean showers.
RESPONSIBLE Tourism in The Magdalen Islands
As you travel through the Magdalen Islands you'll have the opportunity to see some spectacular landscapes, meet amazing people and have some truly unique experiences.  No matter where in the world you travel, we feel strongly that it's important to respect the place you're in and do your part to contribute to tourism in a responsible and sustainable way.
Support Local
As travelers, we "vote" with every dollar we spend and the types of things we spend money on tell the communities what we value.
If you love visiting artisan shops and boutique makers, support them by buying your goods there.  Make sure you money goes to locals by shopping, eating and staying at locally owned and operated places.
In a place like the Magdalen Islands, this is fairly easy because most things are locally owned but consider this, even when you have "big box" options.
Respect the Culture
We're big believers that if you're in a place where English isn't the first language (and you're English speaking), then it's YOUR responsibility to learn a few phrases and brush up on your language skills.  It's not their job to learn every other language that might be visiting!  
That said, we've also found (essentially everywhere we've traveled) that if you make an effort, most people will do their best to help you.
Even learning the basic greetings like hello, goodbye & thank-you in the native language can go a long way.
Leave No Trace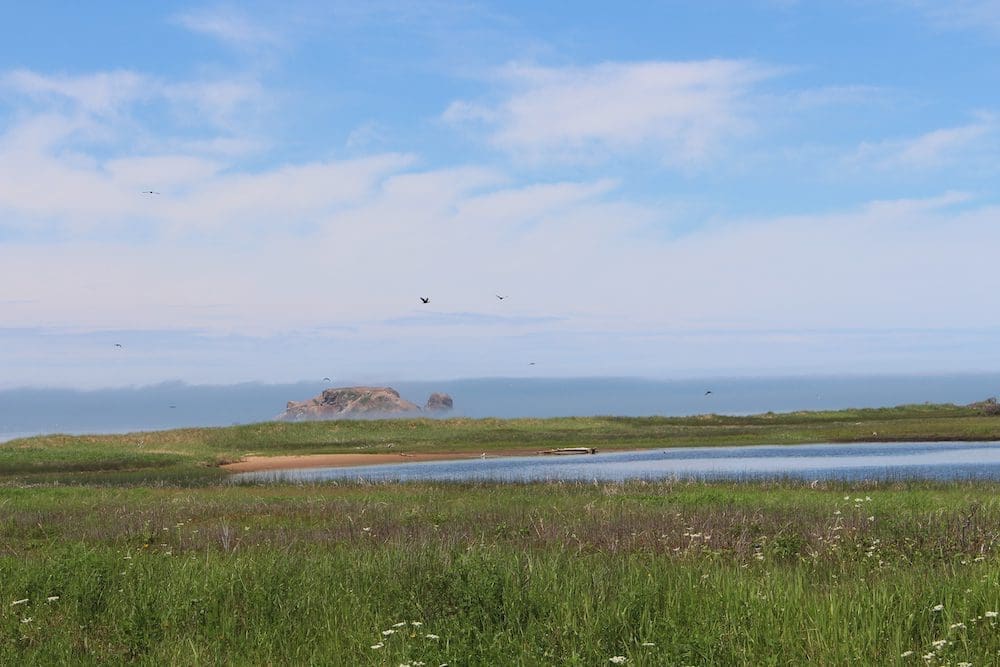 The Magdalen Islands have beautiful but delicate landscapes and it's important to be aware of that.  We want others to be able to enjoy it too, so stay on designated paths, don't leave (or produce) plastic waste, and avoid walking through fragile flora.
Bonus Tip: if you see trash (a lot of trash washes up on any beach in the world), pick it up and dispose of it.  You get the double bonus of doing something to contribute positively to the place you're visiting AND you get karma points!
Madilenot Food to Try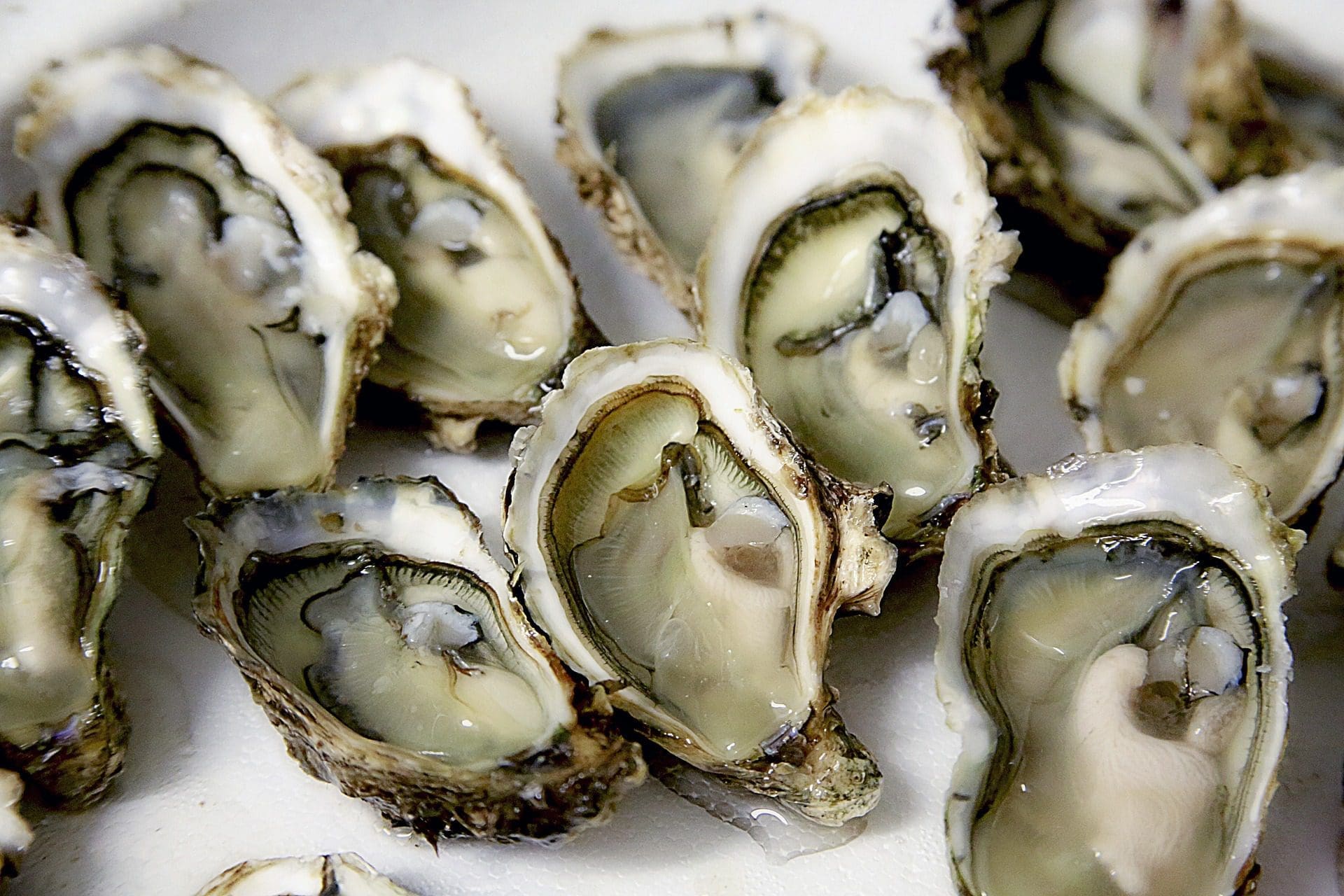 With influence from Quebec and a strong fishing industry, the food in the Magdalen Islands is spectacular and offers some truly distinct flavors.
We're fairly adventurous eaters and are willing to try just about anything, so we were both ready to explore the gastronomy scene of the islands… and we did.  There are many unique things to try but I'll warn you that if you're not used to some of these things it might be a case of mind over matter.
That said, some of the things I was certain I wouldn't like actually pleasantly surprised me.
Pied-de-Vent Cheese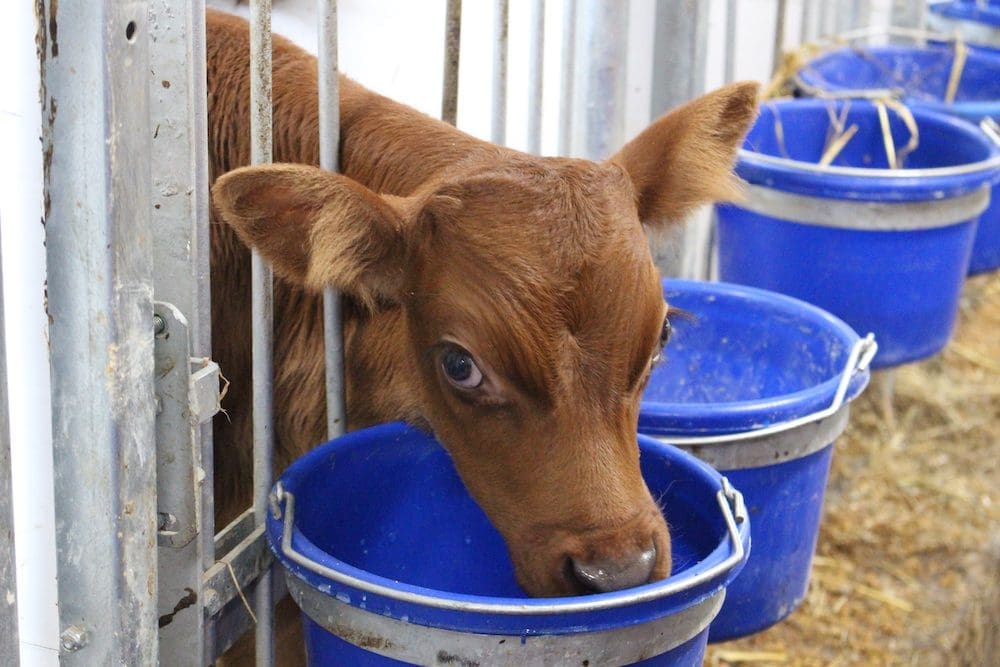 You'll find this cheese on every table of every restaurant on the islands, in every store, shop, and served nearly everywhere that prepares meals.  Why? Because it's amazing. These special Canadian cattle produce a lower yield of higher fat milk which means an incredibly rich and cheese (and other products like Gelato).
We took the farm tour, sampled the cheeses and stoked up for more than one picnic while we were on the islands.  We also enjoyed Pied-du-Vent cheese with nearly every meal we were served which speaks to the strong relationships the producers have formed over the years.
Smoked Herring
Order a caesar salad in the Magdalen Islands and you're likely to find smoked herring rather than bacon (and you're not likely to tell the difference).  The traditional smoking methods have been passed down through the generations at Fumoir D'Antan and we, the visitors, get to reap the rewards of this delicious snack.
If you love jerky, you'll love this.  
Take a tour of the only remaining smokehouse on the islands and see the gold fish lining the rafters – it's like magic!
Seal
We actually didn't try seal on our trip and I'm so disappointed in myself.  I wanted to, but was waiting for a small appetizer to present itself rather than an entire entree.  Seal is a mainstay in the Magdalen Islands and you'll find it on every menu.
We saw everything from seal burgers to ribs and while it all looked tasty, I will confess that I let someone else's past experience deter me from ordering it as a meal.  If I had a do-over, I'd totally try it.
Head Cheese
Another very common food served with many dishes in the Magdalen Islands and Quebec, in general, is head cheese.  If you can get beyond the thought of how it's made, it's actually quite tasty!
Practical Tips for Visitors to the Magdalen Islands
While the islands are remote, they're also well established and have most of what you'd expect to find anywhere else.  There are tons of restaurants, accommodations, things to do, gas stations, etc but there are also a few things you'll need to know before you arrive.
Let's get into the nitty-gritty and get you all set to pack your bags and head for the Maggies.
Transportation & Getting Around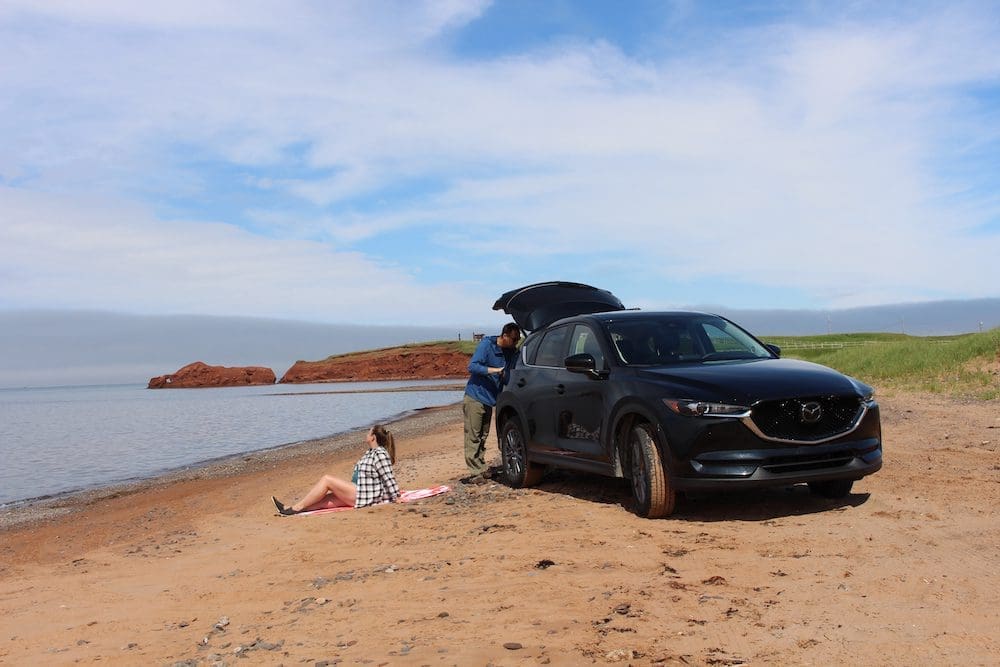 Getting around the islands is extremely easy.  It's small, after-all, and even if you do take a wrong turn, all roads lead back to where you came from!  
If you're arriving by ferry, you can bring your vehicle with you.  Otherwise, there are a number of transportation options available to you.  As with accommodations, it's busy in high season so remember to book your transportation well in advance.
Car Rentals with several different car rental agencies on the islands

Guided tours are available in a variety of lengths and travel types

Bike rentals are also a great option if you're a cyclist.  6 of the 8 islands are linked together with a network of roads and trails making the area very bike-friendly!

Motorcycle and Scooter rentals are available for those looking for a different way to see the islands.  They also have Spider rentals if that suits your fancy!

Public Transportation is also available for $4 per trip or one ticket.  Books of tickets are available and a full schedule of the picks up times and locations can be found

here

.
Cell Service & Internet
In many areas, service is great but you'll definitely encounter some dead zones so be prepared for that.
During our trip, losing cell service was no big deal because we didn't actually need to be connected.   But, where it can become and issue is when you're trying to use debit or credit in some of the more remote shops and the towers won't connect.
So it's always a good idea to have some cash on hand, just in case!
Language Barriers
As we mentioned, for the most part, it's a non-issue.  Unlike us, most of the Madelinots can speak English but there are certainly some who don't.
It's a great idea to spend a little time learning a few basic phrases and, when all else fails, there's an app for that!  Everyone we encountered was lovely and more than willing to help us find a way to describe what we were looking for.
Side Note: We were actually blown away with how many languages many of the local speak.  It makes me feel totally inadequate and wanting to pull up my socks and learn a second one myself!
Gas Prices
Gas was significantly higher (about 16 cents) than it is on the mainland so we recommend filling up in Prince Edward Island before you board the ferry.
You'll be hard-pressed to use an entire tank of gas.  We did, but we literally drove to every corner multiple times and still only had to put a little gas in our SUV during our trip.  Then, we filled up again in PEI on the way home. Voila – track gas hack!
Confirm Tour Times & Reservations
Ferry times, tour times & weather updates.  The weather can be unpredictable so be sure to check and confirm tours before you arrive just in case there have been any changes.  We ran into quite a bit of this during our trip this time around!
Pro Tip: If you're really set on doing certain activities, we'd recommend front-loading the most important things so that you've got some wiggle room to reschedule should they be canceled. 
Slow Down
We, as North Americans, tend to eat incredibly fast and expect everything to be at warp speed.  French culture is known for its attention to detail and mindfulness when it comes to meals. Expect longer than usual wait times between courses and just enjoy the process.  We actually LOVED the laid back nature of meal-time and plan to adopt this "slow down" method permanently ourselves. 
Where to Eat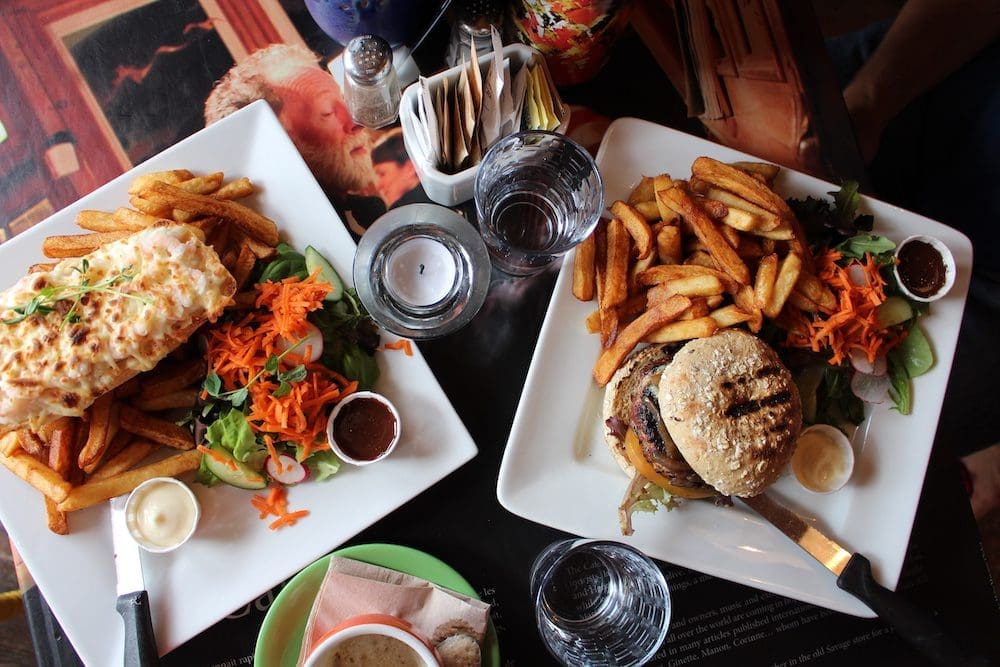 The food culture in the Magdalen Islands, and Quebec, in general, is vibrant.  If you're a foodie and you love exploring a region through the culinary arts, you've come to the right place.  During our two trips to the Maggies so far, we've made a point of eating at as many different restaurants as possible.
Les Pas Perdu
Funny enough, this was our first stop on both of our trips to the Magdalen Islands and we also ate there a 3rd time.  So, it's safe to say we really enjoy this restaurant. They've got everything you would expect from pub-like burgers & craft beer but also some really interesting options like "The Boss" poutine which features local scallops and is amazing!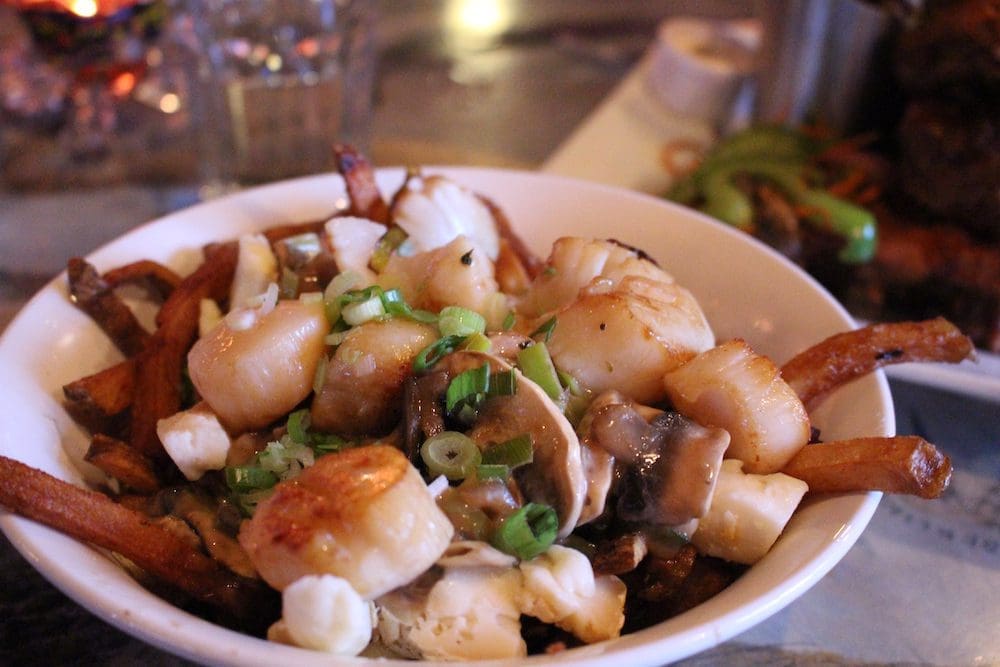 Type: Bistro-Pub
Location: Cap-Aux-Meules
Price: $$
Would we visit again? Yep, definitely.  It's a busy spot, very "pub-y" which we loved and they've got a great menu, cool vibe atmosphere and great service.
La Butte Ronde Cafe
We spent 2 night at this B&B and enjoyed two wonderful breakfasts here.  We loved that the focus was fresh, local ingredients and particularly enjoyed the peid du vent cheese served with breakfast our first morning.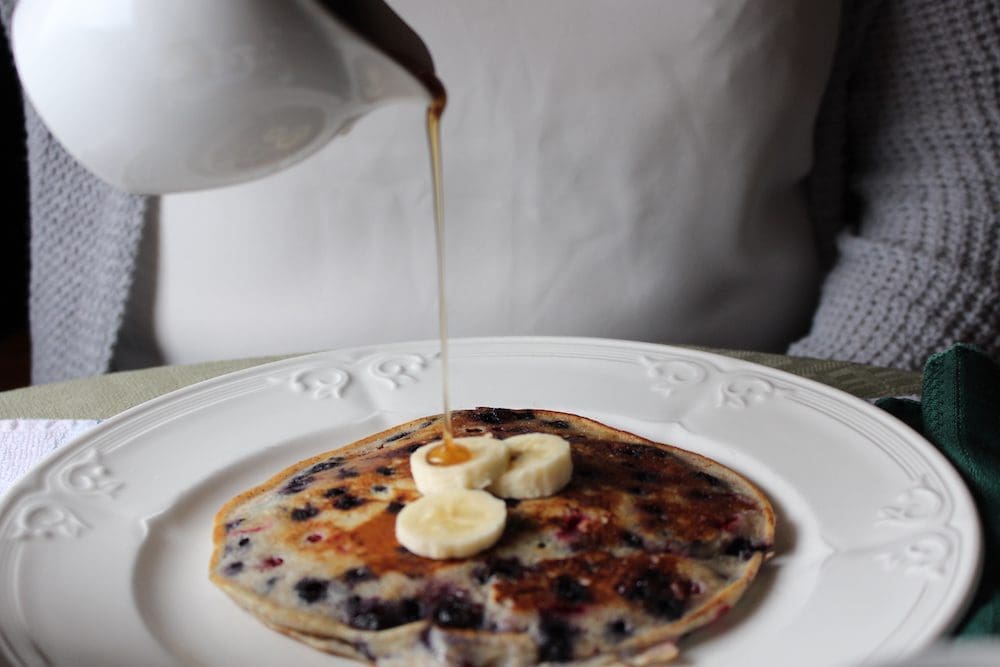 Type: Bed & Breakfast Cafe
Location: Havre Aux Maisons
Price: $$
Would we visit again? Absolutely!  We loved La Butte Ronde and felt warmly welcomed by our host Natalie (owner).  We were served a beautiful breakfast each morning and found this to be our most comfortable stay while on the islands.
Bistro Plongee Alpha
Bistro Plongee sits right on the Grand-Entree harbor and serves up beautifully healthy and locally inspired meals.  We really enjoyed the atmosphere (a cross between a bistro and a pub) as well as the meal.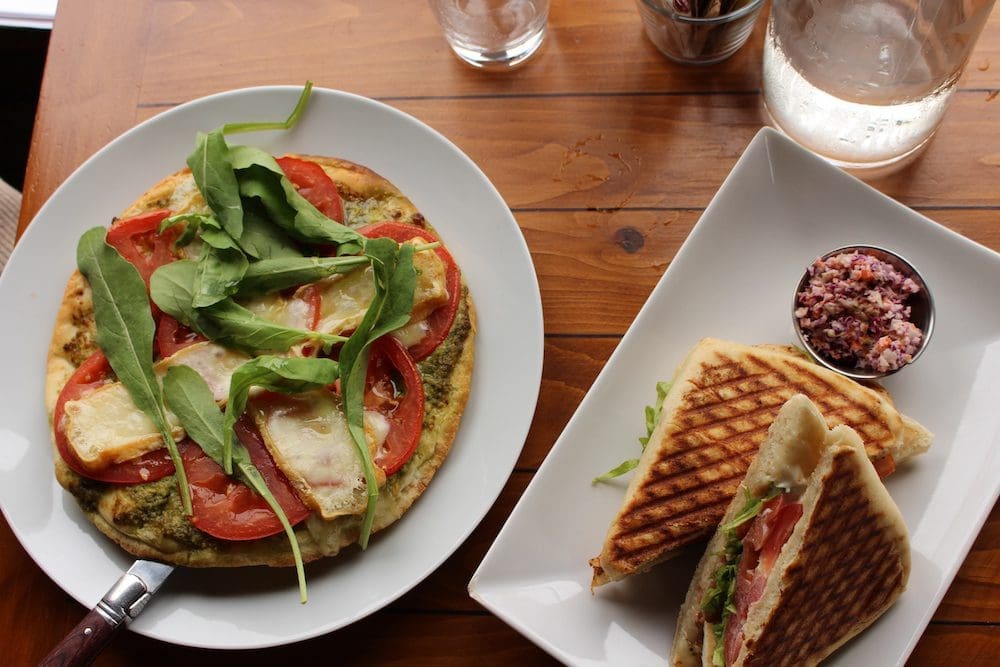 Type: Bistro
Location: Grand-Entree
Price: $$
Would we visit again?  Yes, and if I'm honest, I'd probably order the same thing!  The pied-du-vent pizza was delicious and Brent had an amazing soup.
Le Domaine Du Vieux Couvent
This hotel restaurant features live music, stunning views with wrap-around windows and (as most restaurant on the Islands) a seafood-inspired menu.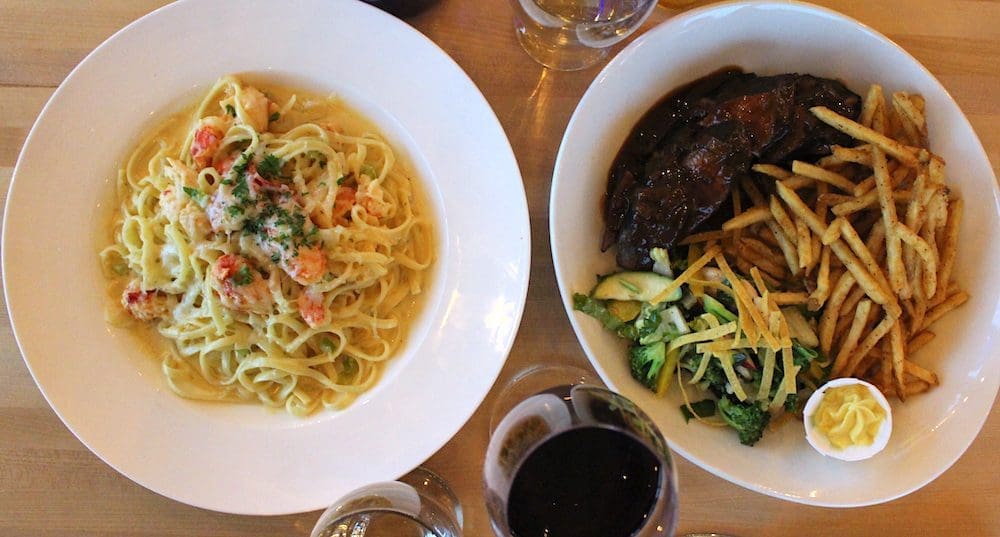 Type:  Casual Fine Dining
Location: Havre-Aux-Maison
Price: $$$
Would we visit again?  For dinner, yes. For breakfast, no.  We really enjoyed our dinner! The atmosphere was lovely and we appreciated the high-end food coupled with a more casual dining experience than you might expect with live music and impromptu sing-alongs (it was awesome).  We didn't love our breakfast in the morning but would definitely return for another evening meal and cocktails.
La Poissoniere 
If you're a sushi lover, like I am, don't let the nondescript appearance of this place fool you.  They serve up lobster rolls, take-away meals and fresh sushi.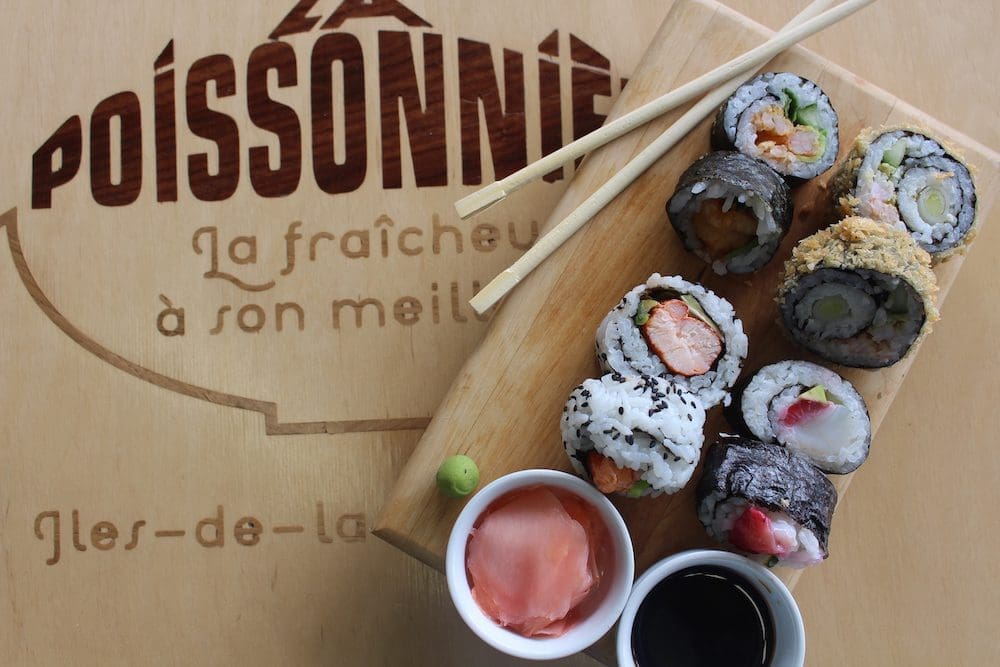 Type: Sushi & Seafood
Location: Cap-Aux-Meules
Price: $
Would we visit again? Yes!  This was, quite easily, the best sushi I've ever had (not kidding).  I actually wish we'd visited again during our trip but Brent's not much of a sushi guy.
Auberge Chez Denis a Francois
This small, fine-dining restaurant offers quiet ambiance and a small menu as well as table d'hote.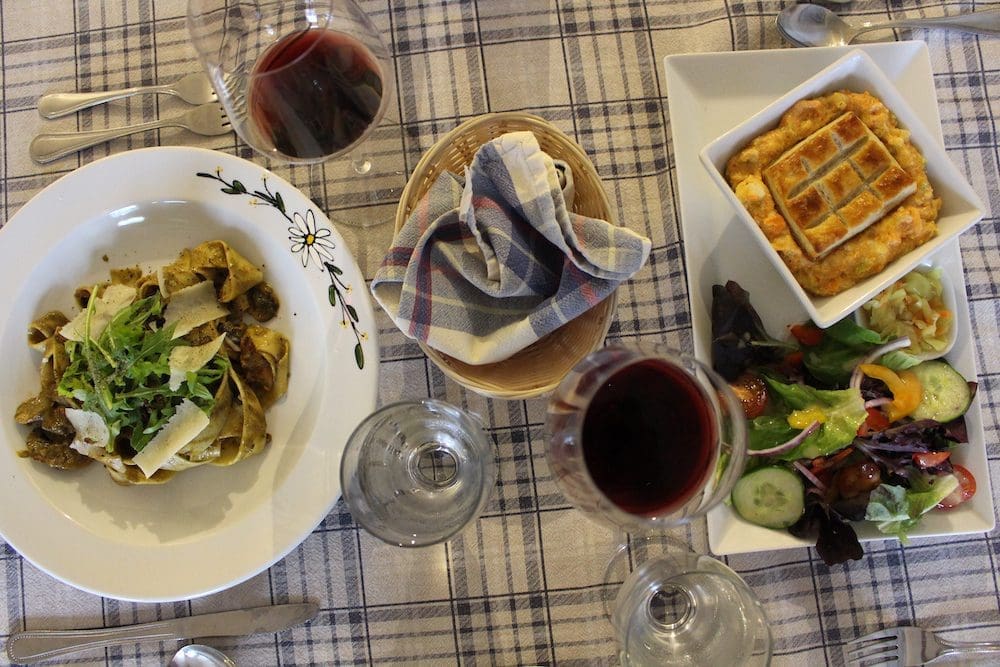 Type: Fine Dining
Location: Havre Aubert
Price: $$$
Would we visit again?  Probably not. While the food was good, it wasn't what we were expecting from a fine-dining (and priced as such) restaurant and we found the environment a little buttoned-up for our taste. 
Cafe de la Grave
This eclectic cafe in La Grave came highly recommended from almost everyone we met.  It was a busy little cafe, offering what I'd classify as an elevated bistro menu.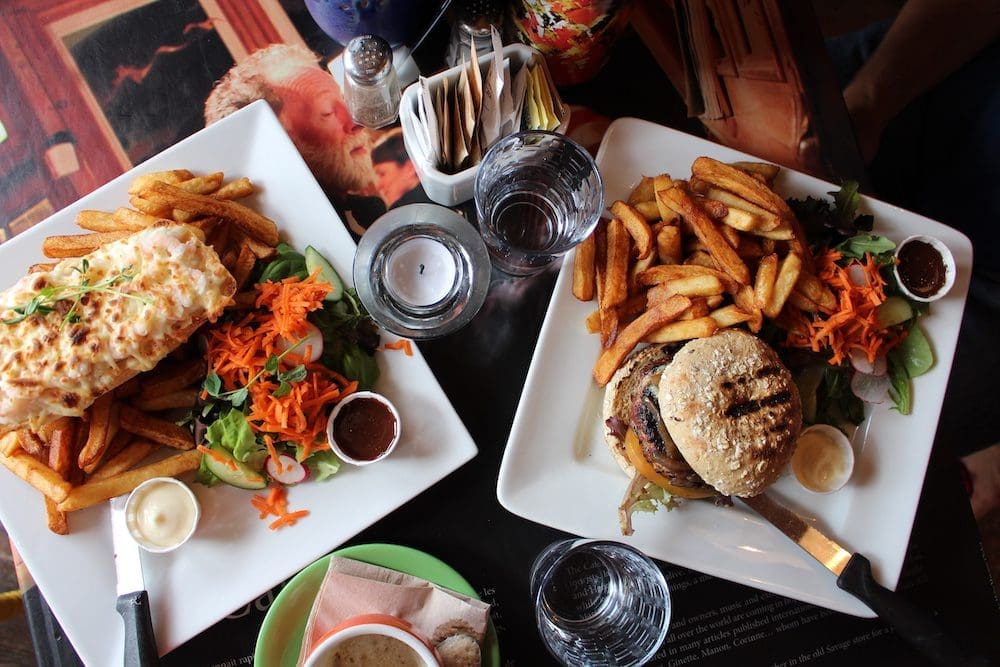 Type: Cafe Bistro
Location: Havre Aubert
Price: $$
Would we visit again?  Probably. The food was good and the atmosphere was lively and quaint (which we loved).  Expect to pay slightly higher prices than you'd expect at a cafe because it's located in a prime tourist area.
Resto Bistro Accents
Elevated casual dining with an impressive menu, hand-crafted cocktails and great service.  This hotel restaurant pleasantly surprised us (so much so that we ate there twice).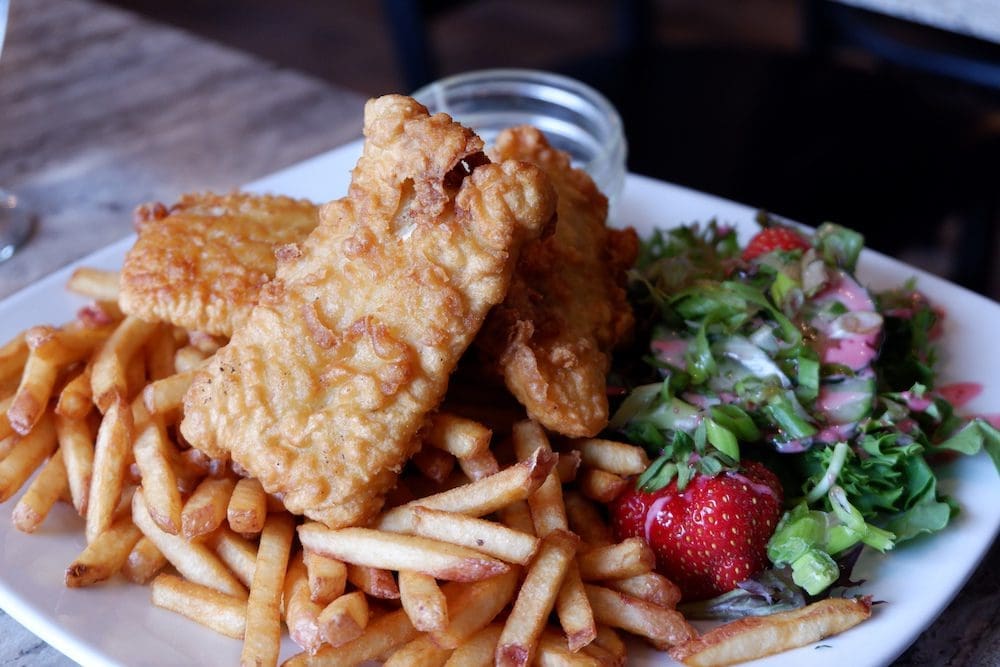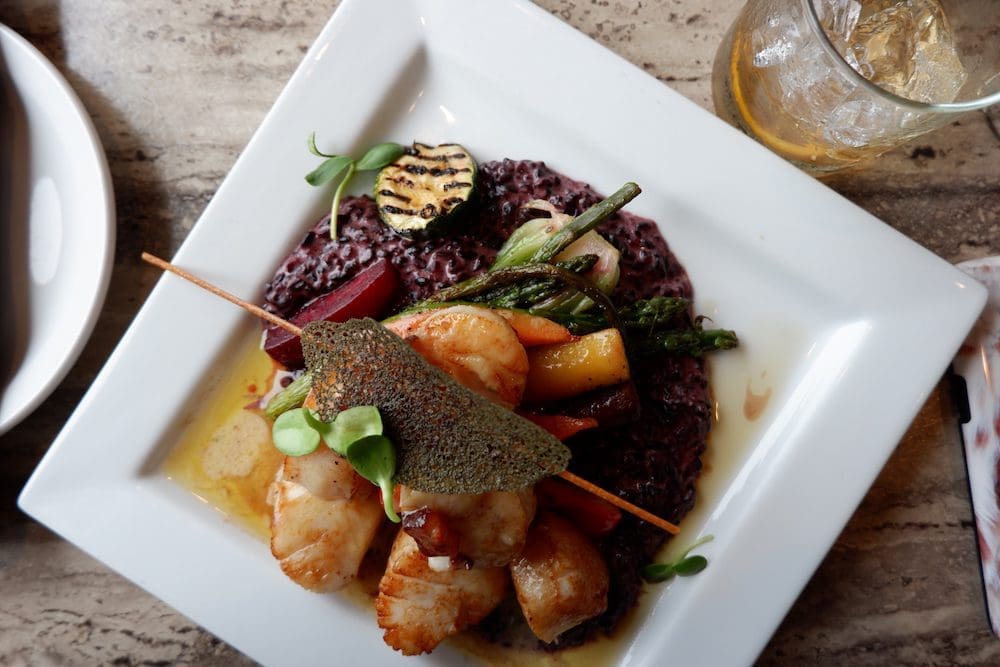 Type: Casual Dining
Location: Cap-Aux-Meules
Price: $$$
Would we visit again?  YES! This was the best meal we had during our entire trip, easily.  The food was outstanding, the service was fabulous and the atmosphere was casual but slightly elevated (just how we like it).  
Boulangerie Madelon
This cafeteria-style bakery offers ready-made meals like pot-en-pot, sandwiches, pasta dishes and baked goods in a very casual environment.
Type: Bakery
Location: Cap-Aux-Meules
Price: $
Would we visit again:  Yes, we really enjoyed the food as well as the super laid back nature of a bakery.  It was also my first time having pot-en-pot (seafood pot pie) which is a signature Madilenot dish and it was delish. 
Les Araynes
This gourmet bistro offers healthy lunch options and gourmet breakfast fare like Belgium waffles and smoked salmon eggs benny.
Type: Bistro 
Location: Havre Aubert
Price: $$
Would we visit again?  Yes, most certainly. I visited Les Araynes on my first trip and still remember the impressive cappuccino and eggs benny (because I'm predictable like that).
Auberge La Salicorne
Family-style dining with elevated fare.  This restaurant felt like a really interesting cross between a camp cafeteria and a proper family-style restaurant with a twist.  The twist? The food was fantastic, as was the service.
Type: Family Dining
Location: Grand Entree
Price: $$
Would we visit again?  Totally! The vibe at La Salicorne was really neat.  It felt like summer camp for adults but instead of serving sandwiches and picnic lunches they're bringing lobster dinners and seal burgers!  A must-visit for sure.
La Patio
This fast-casual restaurant is a step up from fast food and reminds me of a swiss chalet type restaurant with a large menu that covers the gamete of options.
Type: Fast Casual
Location: Cap-Aux-Meules
Price: $$
Would we visit again?  No. This was the only restaurant we visited (on our first trip in 2017) where we were treated poorly and I wouldn't return.  I'd recommend trying out one of the many other options on your trip!
Top things to do in the Magdalen Islands
1.  Visit the Tourism Board
Do we always recommend this?  Heck no, but they're fantastic and will tell you everything you need to know.  Even during our first trip the Maggies (when we weren't being hosted) they were more than helpful and really contributed to making our trip great.  Pick up a map, make some plans and then proceed to your hotel.
2.  Beach Hopping
Les Iles has 300km of beaches.  Yes, you read that right! 300km of incredible beaches to explore so, naturally, beach hopping should be on your list.  After many days and two trips spent exploring, we still haven't seen them all but here are our top 10 Magdalen Islands beaches.
3.  Tackle the Food Trail
We've talked a lot about the food culture of the islands but there's actually a proper food trail!  Similar to how we have the chowder trail or the good cheer trail here in Nova Scotia, Magdalen Islands have a Food Trail.
Of course, we took on that challenge and visited every single stop on that list.  Here's our full review of the Saveurs Food Trail.
4.  Go Cave Swimming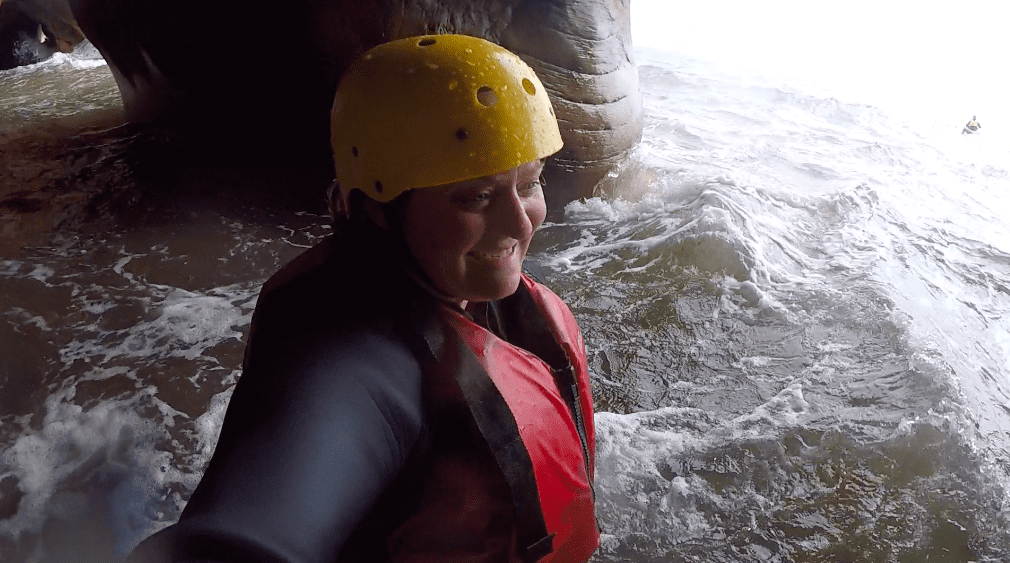 One of the things I've been dying to do ever since our first trip to the Maggies is cave swimming.  This is such a unique experience where they suit you up in a wetsuit and helmet, then take you into the caves that line the coast.
You get tossed and sloshed among the waves, do a little cliff jumping and have an absolute blast!  I wouldn't recommend this if you're not comfortable in the water, but if you are it's a must-do adventure!
5.  Visit Entry Island
We've already disclosed that we didn't make it to Entry Island because, rather than booking the regular Ferry over, we were booked with a tour that got canceled at the last minute.  Even though we didn't go, we're still putting it on the list because we think it's an important part of the Magdalen Islands culture and history!
We would recommend booking yourself on the regular Ferry that crossed daily to avoid any cancellations and disappointments.
6.  Book a Kayak Excursion
There are no shortage of kayak tour operators available but we can only recommend what we've experienced.  During our first trip to the islands we did a sea cave kayaking excursion with L'Isorlette and it was phenomenal.  
Much like the cave swimming, they take you along the red cliff coast and let you explore some of the larger caves by boat while learning all about the landscape and marine life.
7.  Go Horseback Riding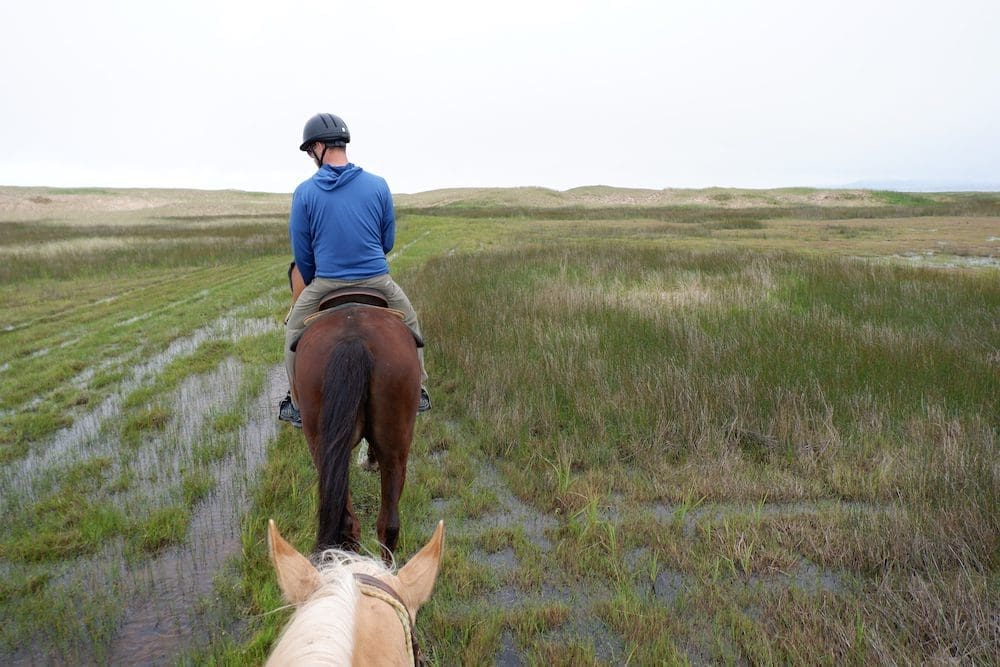 Horseback riding isn't something you'll see us recommend in many places, but here in Canada, we're totally comfortable with it.  Whenever we're taking an animal-based tour, we always make sure that we're practicing responsible tourism and that the operators we're using adhere to high standards when it comes to animal care.
This trip, while a bit long if you're not used to the saddle, was fantastic!  We made our way to the beach, followed the dunes and then got to pass directly through a bay on horseback.  Very cool!
Are you planning a trip to the Magdalen Islands soon?
We have other articles on the Magdalen Islands we think you'll like:
Save this article to Pinterest!
 
We want to hear from you!
Have you traveled to the Magdalen Islands? What were your thoughts? Is there any important info we're missing in this Magdalen Islands Travel Guide?
Do you have any more questions about planning your own trip to the Maggies that we haven't already answered? Comment below and we'll do our best to get back to you!
*This guide was sponsored by Tourisme Iles de la Madeleine but, as always, all opinions are our own.