27 Reasons to Visit Prince Edward Island
There are plenty of reasons to visit Prince Edward Island but, if I'm honest, I've missed a lot of them up to this point.  As kids, we went camping at Cavendish beach (as everyone does, I think) but beyond that, I knew very little about Canada's Food Island.  Last fall, we got a taste of the culinary scene on Prince Edward Island when we attended the PEI Shellfish Festival which is part of the larger Fall Flavours Festival and boy-oh-boy…we were hooked.
Disclaimer: this post was partially sponsored by Canada's Food Island and The Fall Flavours Festival.  Many of these stops were done on our own and we maintain full creative control of content like this which means all our opinions are always our own and totally honest.  We share these things with you because we think you'll love them!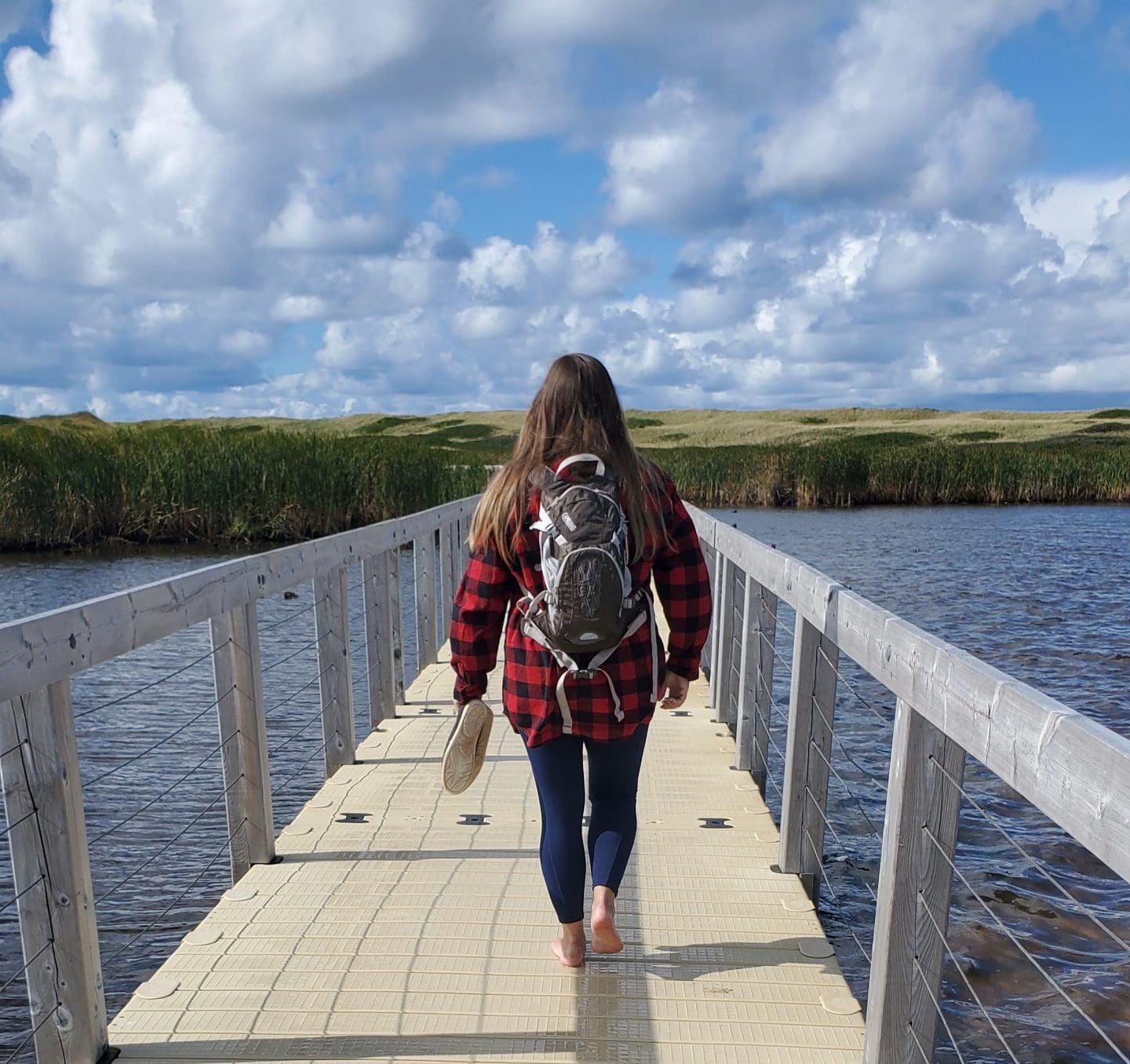 First of all, if you fancy yourself a foodie (like we do), that's one BIG reason to visit Prince Edward Island.  We have never…I repeat…NEVER been to a better food festival than the PEI Shellfish Festival.  Now we know, that kind of amazing seafood is available year-round on PEI and it's not exclusive to the festival at all!
So, without further ado, here are 27 reasons to visit Prince Edward Island in the fall.
The Food Scene
Truth.  We've had the pleasure of visiting so many restaurants on Prince Edward Island this year and we've yet to have a bad experience.  Another truth.  PEI knows their seafood!  The restaurant scene in PEI is top-notch when it comes to beef and seafood so if you're visiting, I would strongly recommend prioritizing those two things!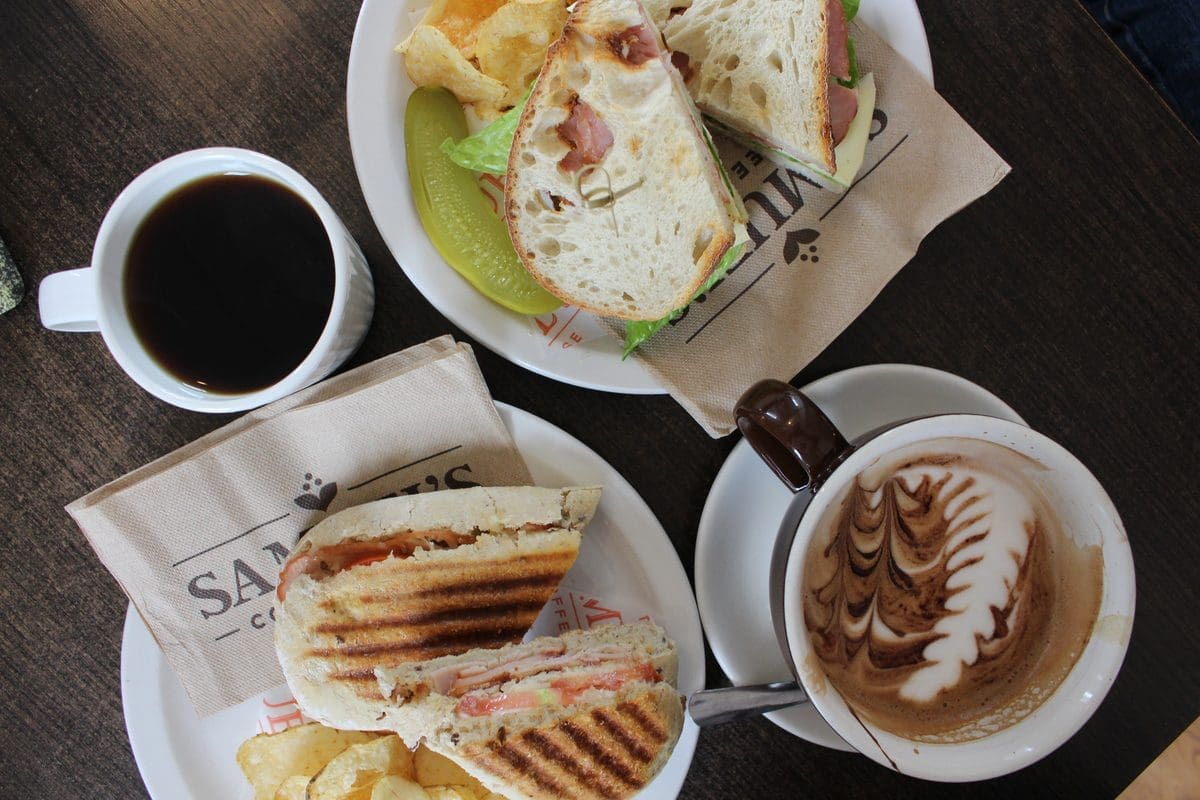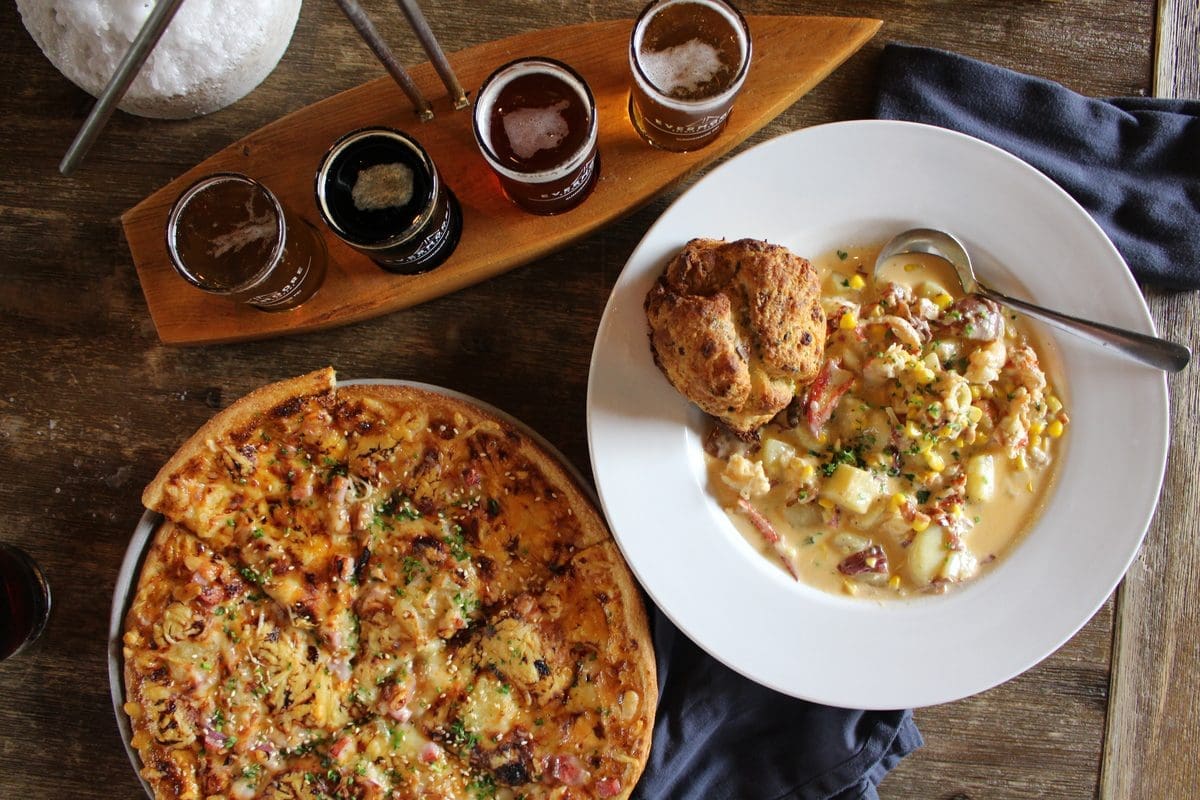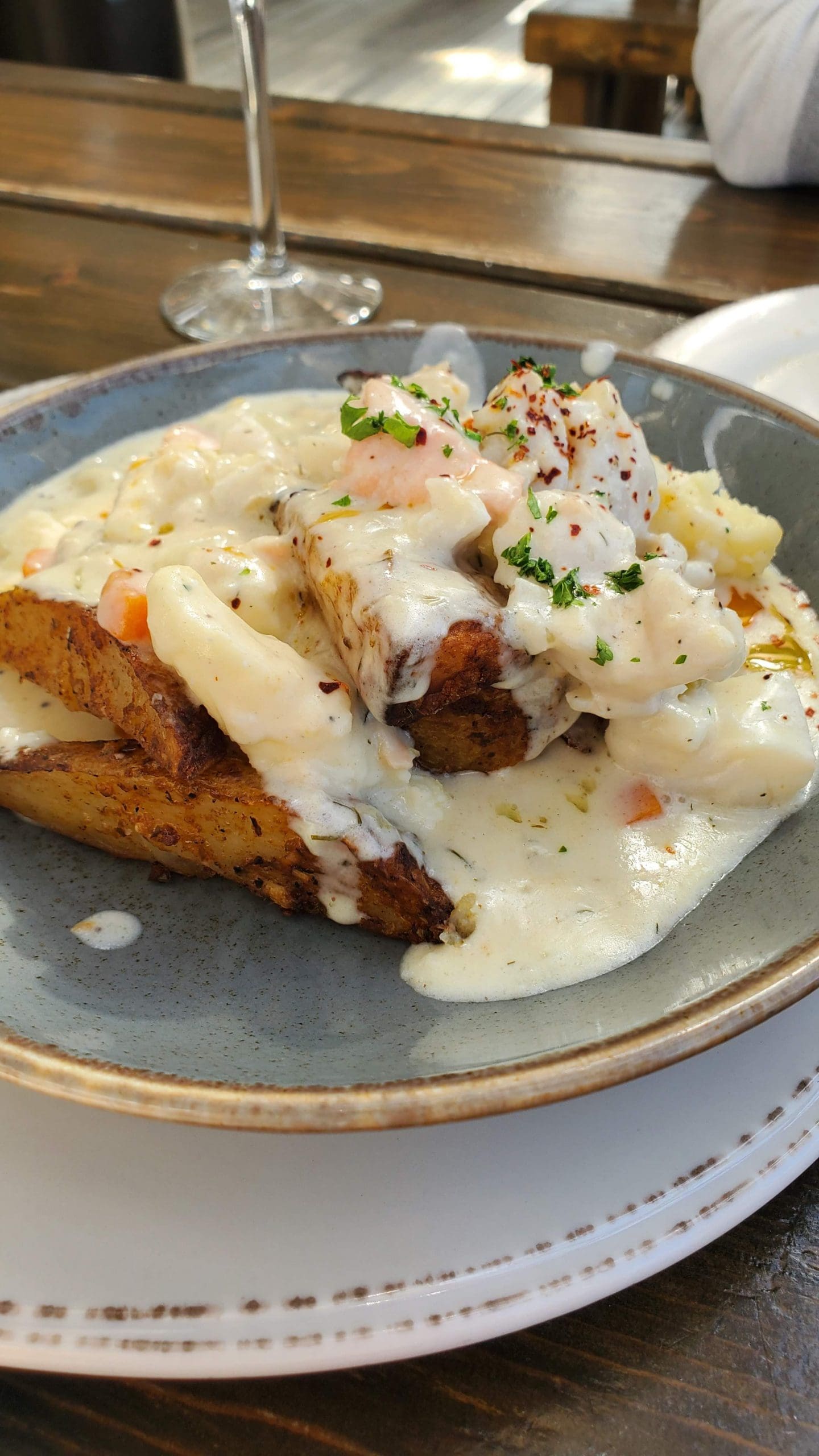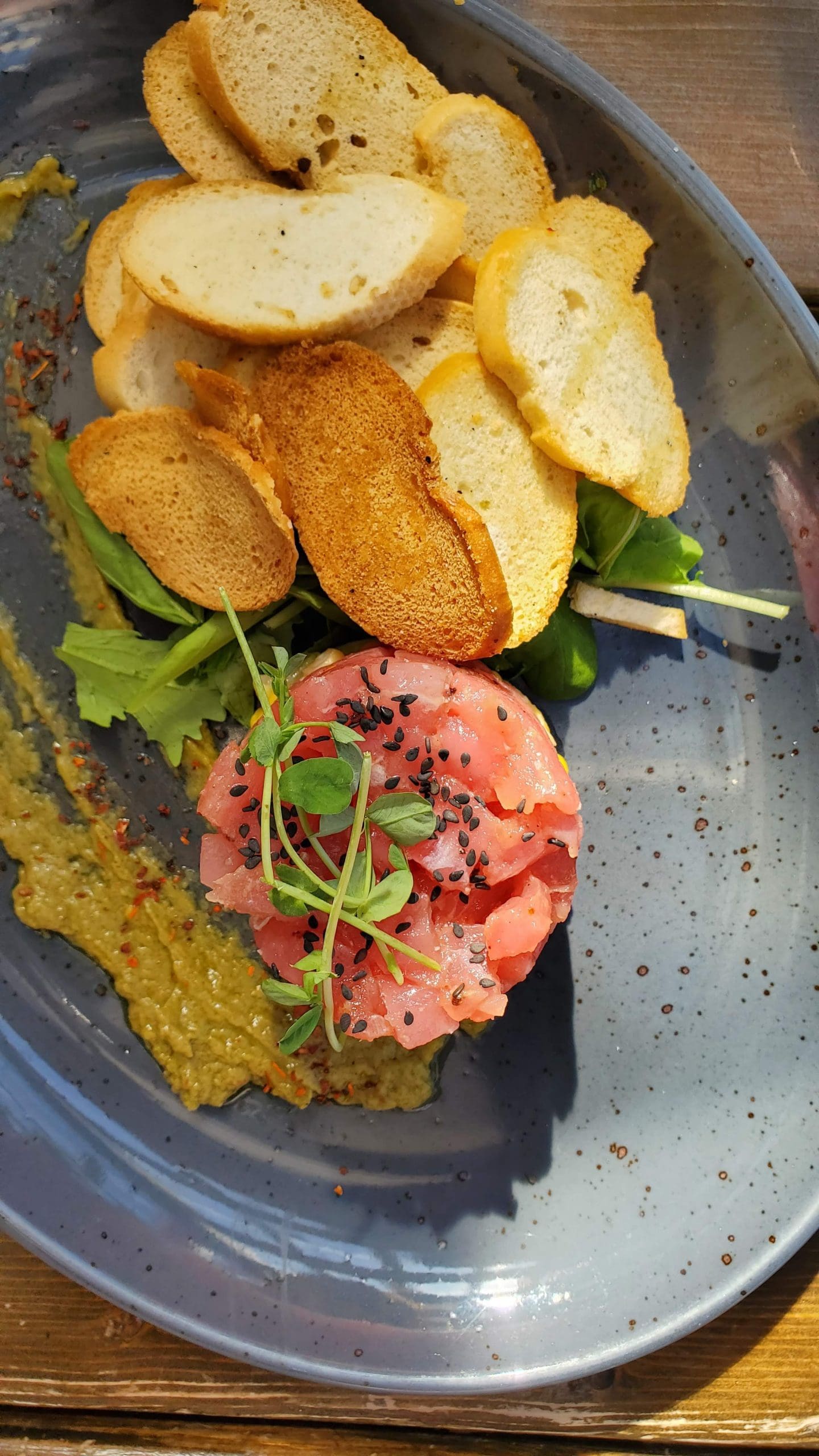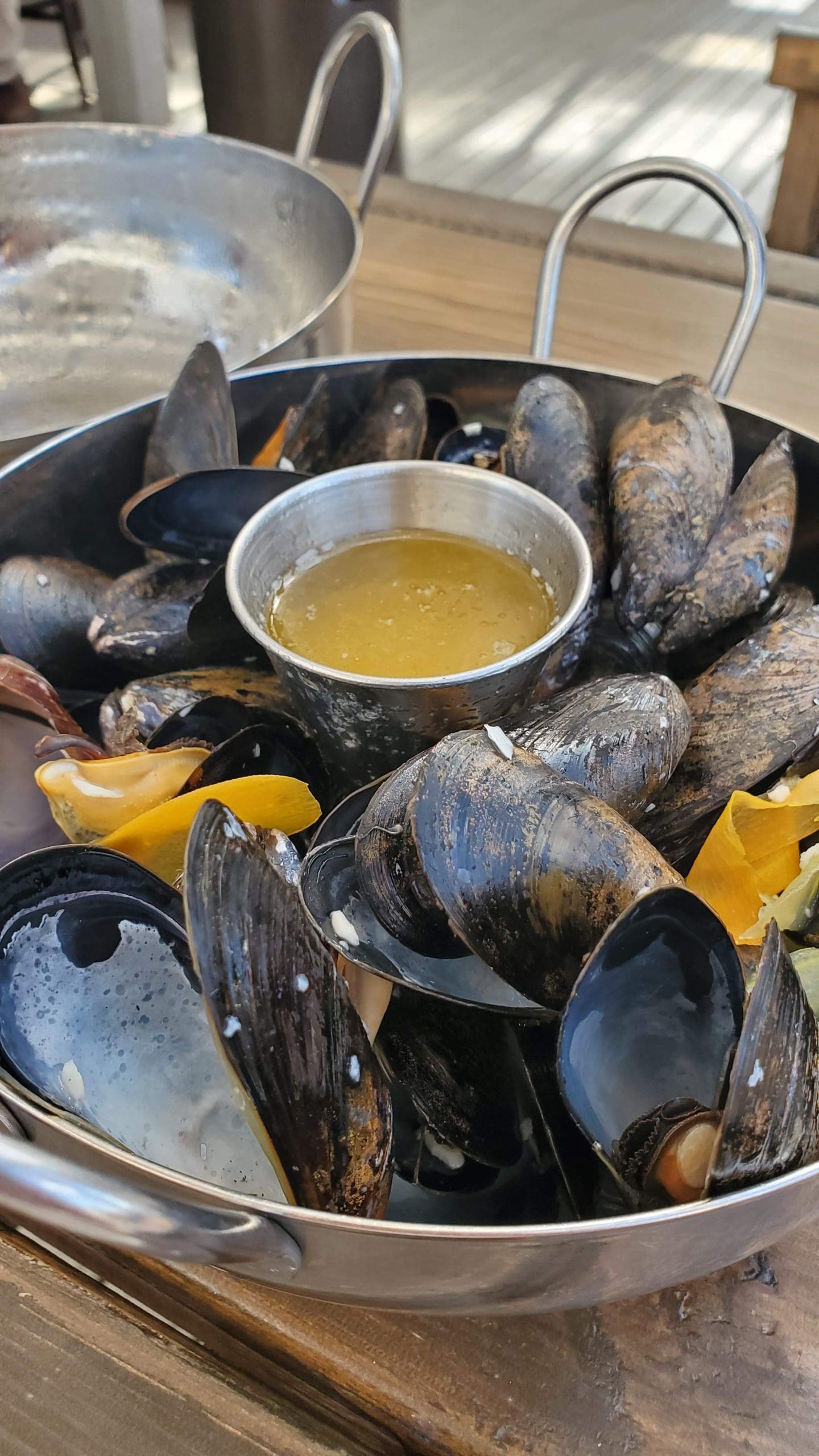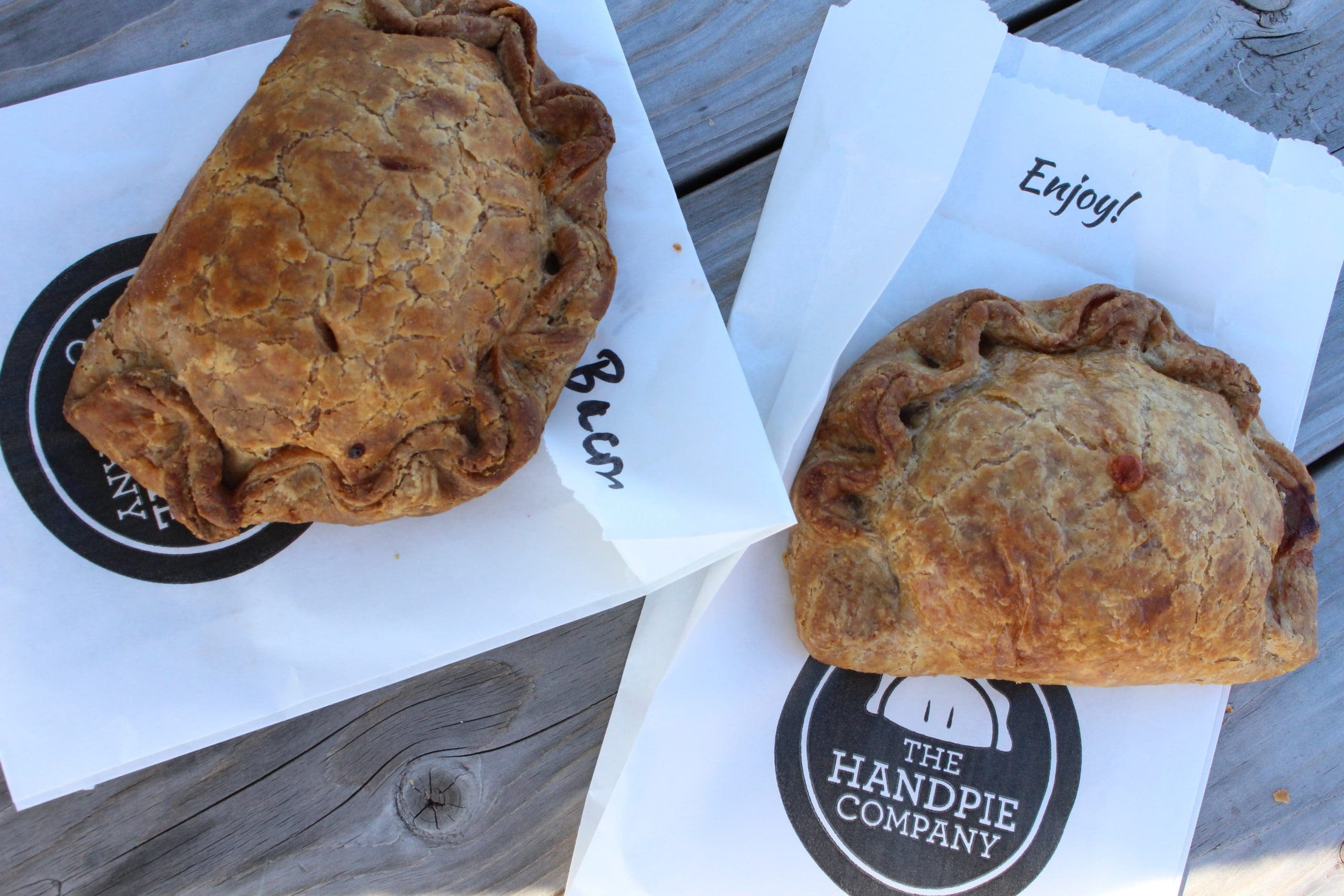 Sims Steakhouse 

[86 Queen St, Charlottetown] – considered Atlantic Canada's premier steakhouse, it didn't disappoint!  We enjoyed the pepper steak and the gouda crusted filet mignon which were both outstanding.  As you know, I'm a big fan of a fantastic steak and Sims didn't disappoint.

Slaymaker & Nichols

[82 Fitzroy St, Charlottetown] – Easily the coolest vibe going and they're killing it with their craft cocktail game!  I enjoyed it so much, I returned twice during my travels to PEI this year.  I've enjoyed the kale caesar salad (I know…but trust me, it's so good), mushroom avocado tower, mock & cheese, patatas bravas, and several of their burgers including this year's burger love.

Fishbones Oyster Bar & Grill

[136 Richmond St, Charlottetown] – Fishbones is a great casual stop to enjoy a bite and a cocktail.  Bonus if you're able to enjoy the patio, which is right in the center of bustling Richmond street.  My favorite part of our meal at Fishbones was the Oyster caesar!  So good!

Bar 1911

[113 Longworth Ave, Charlottetown] – Totally unique, Bar 1911 used to be the county jail and serves as a coffee house by day and wine bar by night.  A winning combination if you ask me!  I enjoyed the vegan breakfast sandwich (even though I'm not vegan) and a cappuccino.

Blue Mussel Cafe

[312 Harbourview Dr, North Rustico] – Blue Mussel's reputation precedes it.  To the point that locals know, if you want to visit you'd better make a reservation because walk-ins are almost never possible.  The space is spectacular!  It's cozy and casual and offers a unique blend of indoor/outdoor experience that's hard to describe.  We enjoyed mussels, tuna tartare and the chowder poutine (it's exactly what it sounds like).  One thing that really stood out was the menu, which offers full disclosure of possible allergens.  This was really valuable to us because my Mom (who was with me) has a crustacean (but not a mollusk) allergy!

Samuels Coffee House
[8779 PE-6, New Glasgow, PE] – This is a clear local favorite because it's always busy!  We've been a couple of times and love the cozy, rustic feel.  We enjoyed sandwiches and coffee this time around and it was a perfect way to start the day.
[1327 Port Hill Station Rd, Tyne Valley] – Think of this as an elevated burger joint!  Burgers, for sure, are on the menu but they take the experience up a notch by offering some unique alternatives to your average pub fare like Thai chicken bites, fancy fries with aioli and vegetarian options alongside everything you'd expect (like big-ass burgers).
Holman's Ice Cream Parlour
[286 Fitzroy St, Summerside] – Prince Edward Island is known for Cow's ice cream but I'm about to make a BOLD claim…are you ready?  Holmon's ice cream was THE BEST ice cream I've ever had, in my entire life.  Period.  End of Subject. If you don't believe me, just go try it.
[1788, Route 115, Albany] – maybe the coolest little/big business on the Island and run by an even cooler human named Sarah (no, I'm not biased).  PEI handpies have become famous over the years and in case you're new here, a handpie is exactly what it sounds like.  It's like a turnover, filled with all kinds of goodness.  My favorites are the savory pies though!  Breakfast pies, cheeseburger pies, beet & goat cheese pies… you name it, they've got it.  This was our first visit and we enjoyed them so much, we took some frozen handpies home for later.
PEI Beaches
Everyone's heard of Cavendish beach.  People flock to it in the summer months but friends, I've got a list of beaches for you that you've probably never heard of that will blow your mind.  These beaches offer the same (of way better) swimming, walking, and beachcombing with a fraction of the people.
I'm not going to give you a big song and dance about each one, I'm just going to drop the details you need and let you take it from there.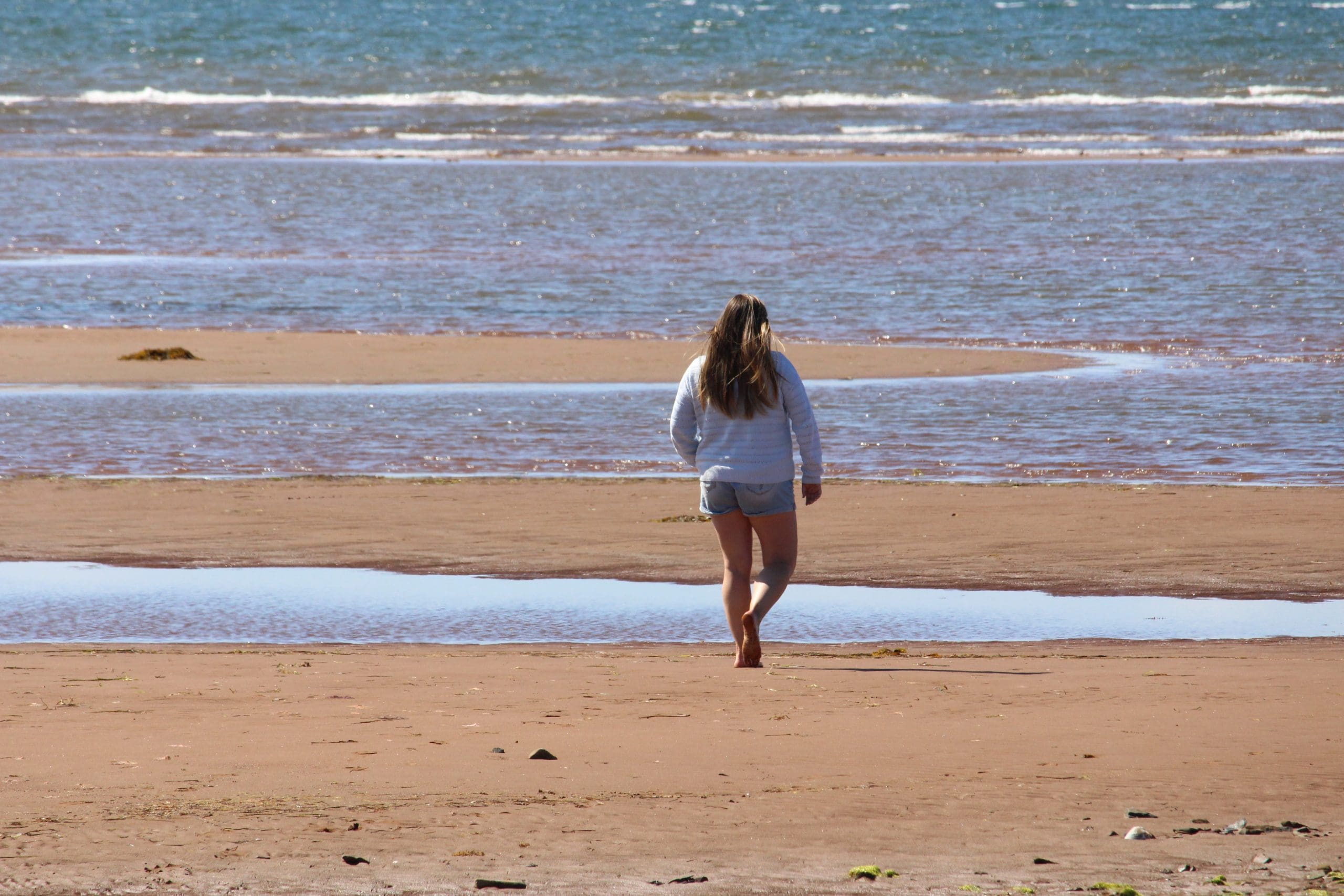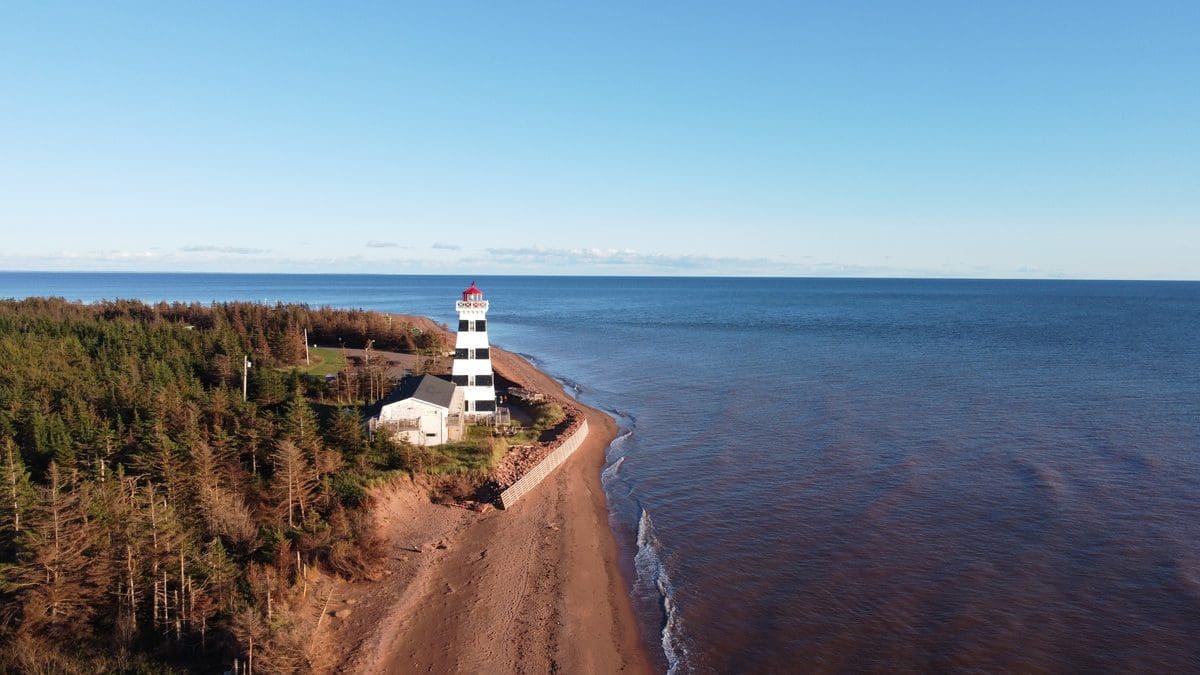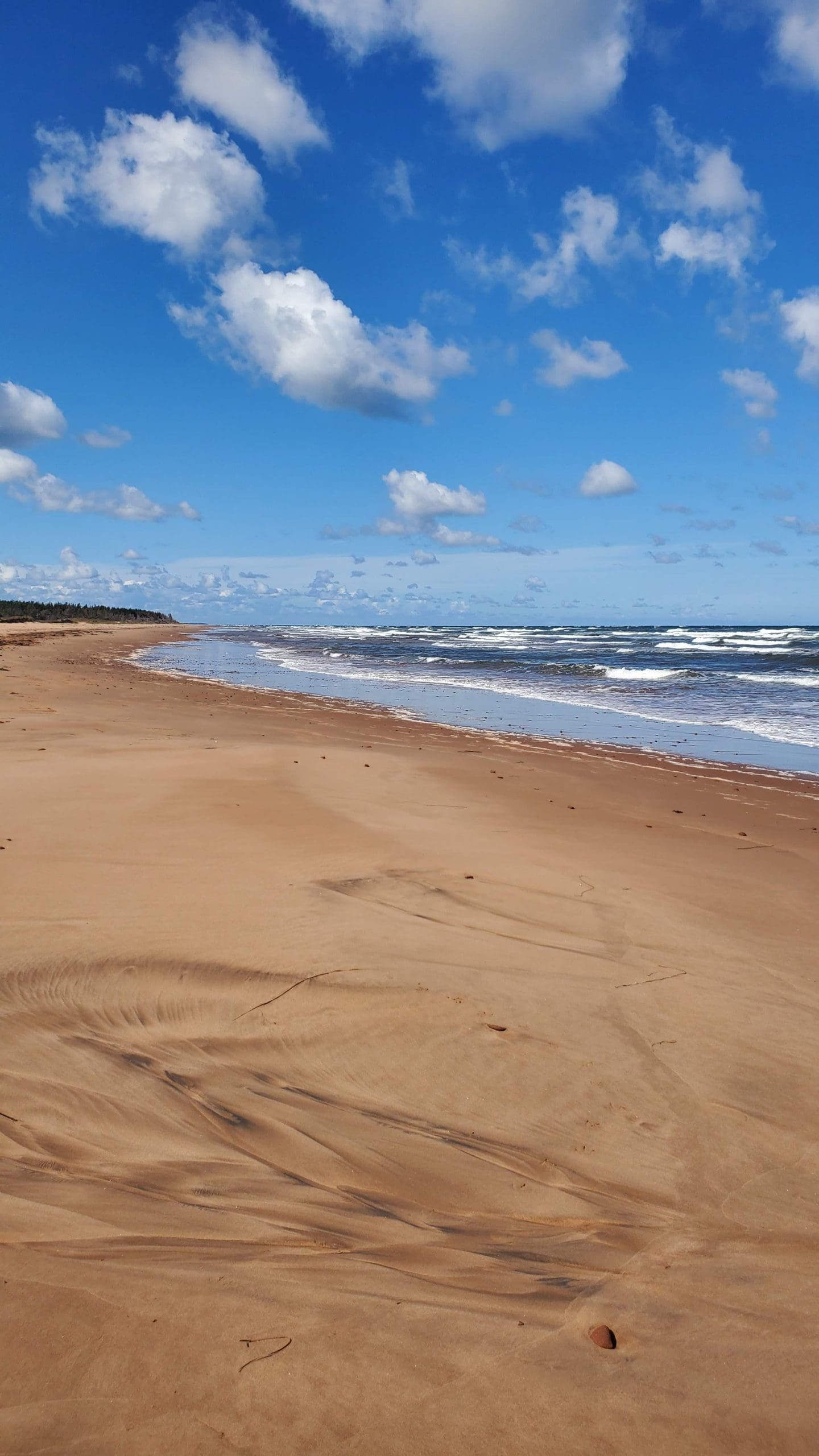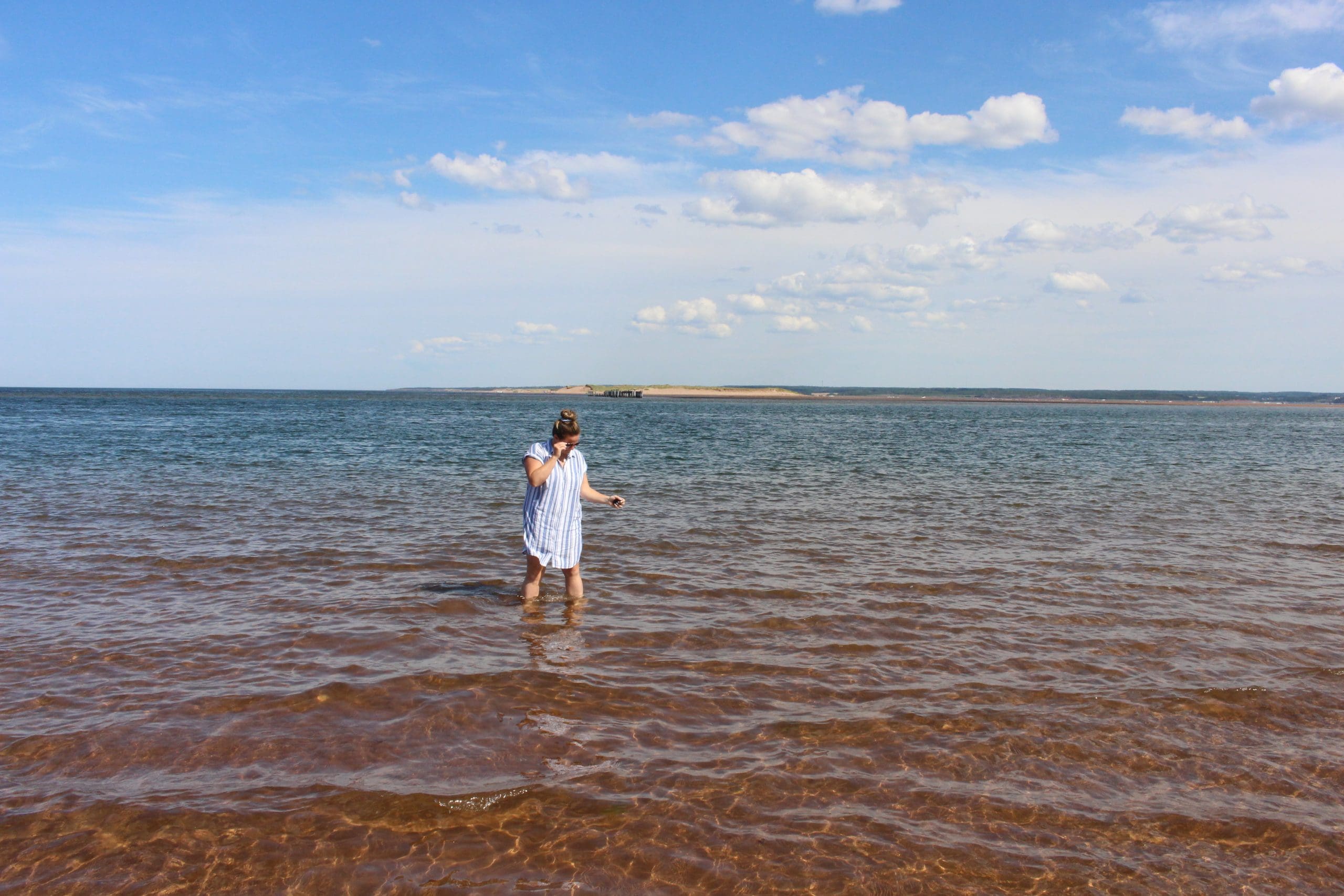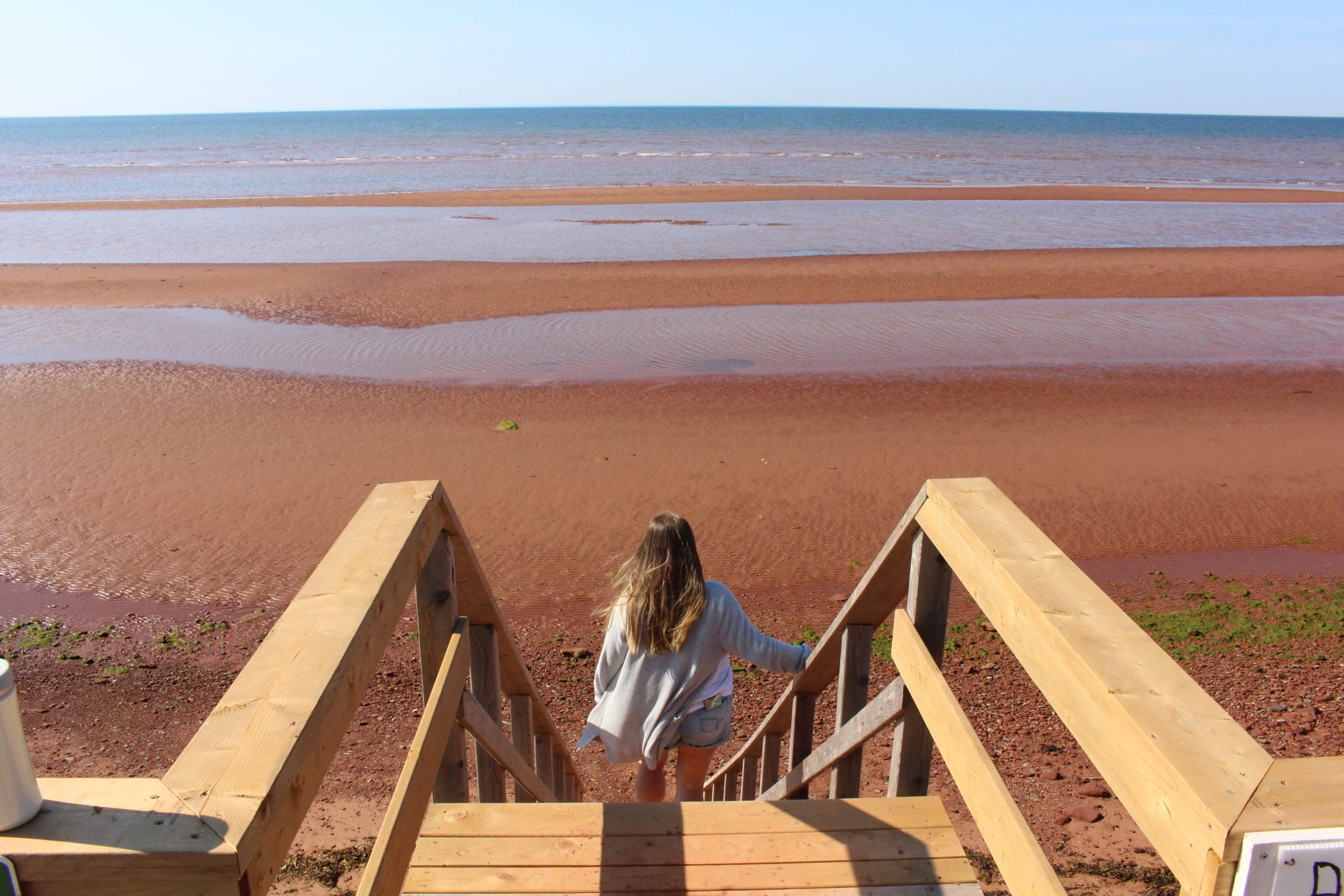 Argyle Shore Provincial Park

[35 Lucys Rd, Bonshaw, PE C0A 1C0]

– we were there at low tide, mid-day and only saw one other family.
Ross Lane Beach

[Gulf Shore Pkwy E, York, PE C0A 1P0]

– I'm guessing this beach gets very busy, because it's easily accessible and part of the national park but we were there in September and we were solo on this spectacular beach.  We walked for 60 minutes in one direction and didn't see another person.
New London Range Rear Lighthouse

[821 Cape Rd, Kensington, PE C0B 1M0]

– a local secret (sorry guys, I had to share this one) that's easy to find if you use this address.  Drive all the way to the end of the road and there is a small parking lot and a path to this amazing beach.
Harmony Beach

[93 Rocky Point Rd, Richmond, PE C0B 1Y0]

– This was my favorite!  It's unmarked but easy enough to find and at low tide, you can walk for miles across the exposed sand bars.
Greenwhich National Park

[ 59 Wild Rose Rd, Saint Peters Bay, PE C0A 2A0]

– It's a national park so it gets busy but, again, we were there in September and there were very few others.  Note, this beach takes some walking to get to but it's well worth the effort.
White's Cove Beach

[Whites Cove Rd, Bloomfield, PE]

– Totally unmarked and not an "official beach" but it was beautiful.  Just drive to the end of the road, park and head for the water! 
Golf on Prince Edward Island
Honestly, Brent is the golfer and I know very little about the game.  What I do know is that Prince Edward Island is known for it's golf with more than 400 fairways to explore on the island and some spectacular scenery along the way.  I'll just drop some addresses and photos here for you but if you have questions, reach out to Brent and he'd happily answer and PEI golf questions you may have.
Countryview Golf Club

[2462 Prince Edward Island, Route 19, Fairview, PE C0A 1H2]

Mill River Golf Resort

[180 Mill River Resort Rd, O'Leary, PE C0B 1V0]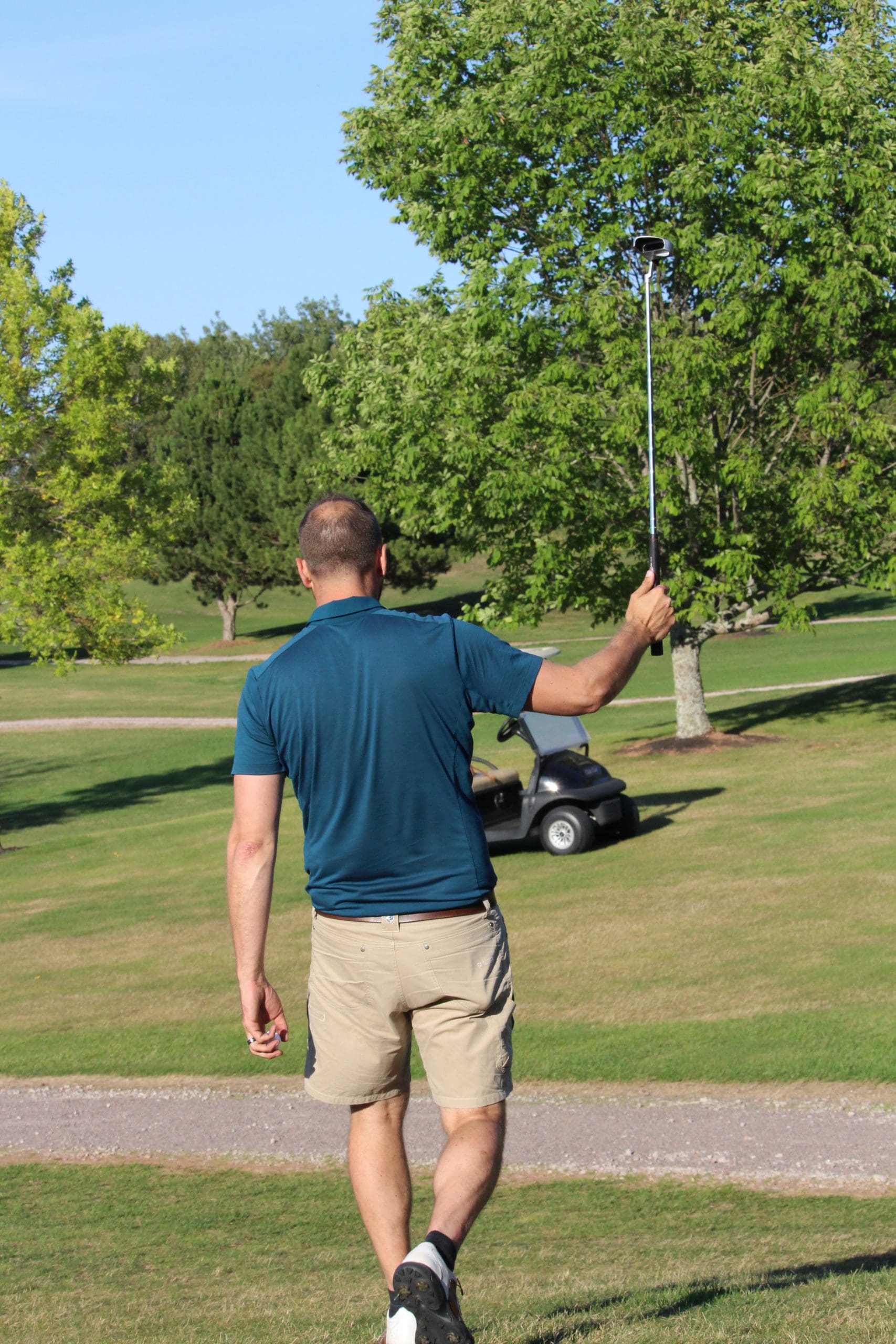 PEI Tours
There is an incredible amount of tours available on Prince Edward Island.  Regardless of where your interests lie, there's a tour for that and we had the pleasure of experiencing two of them this year.
Fair Isle Food Tour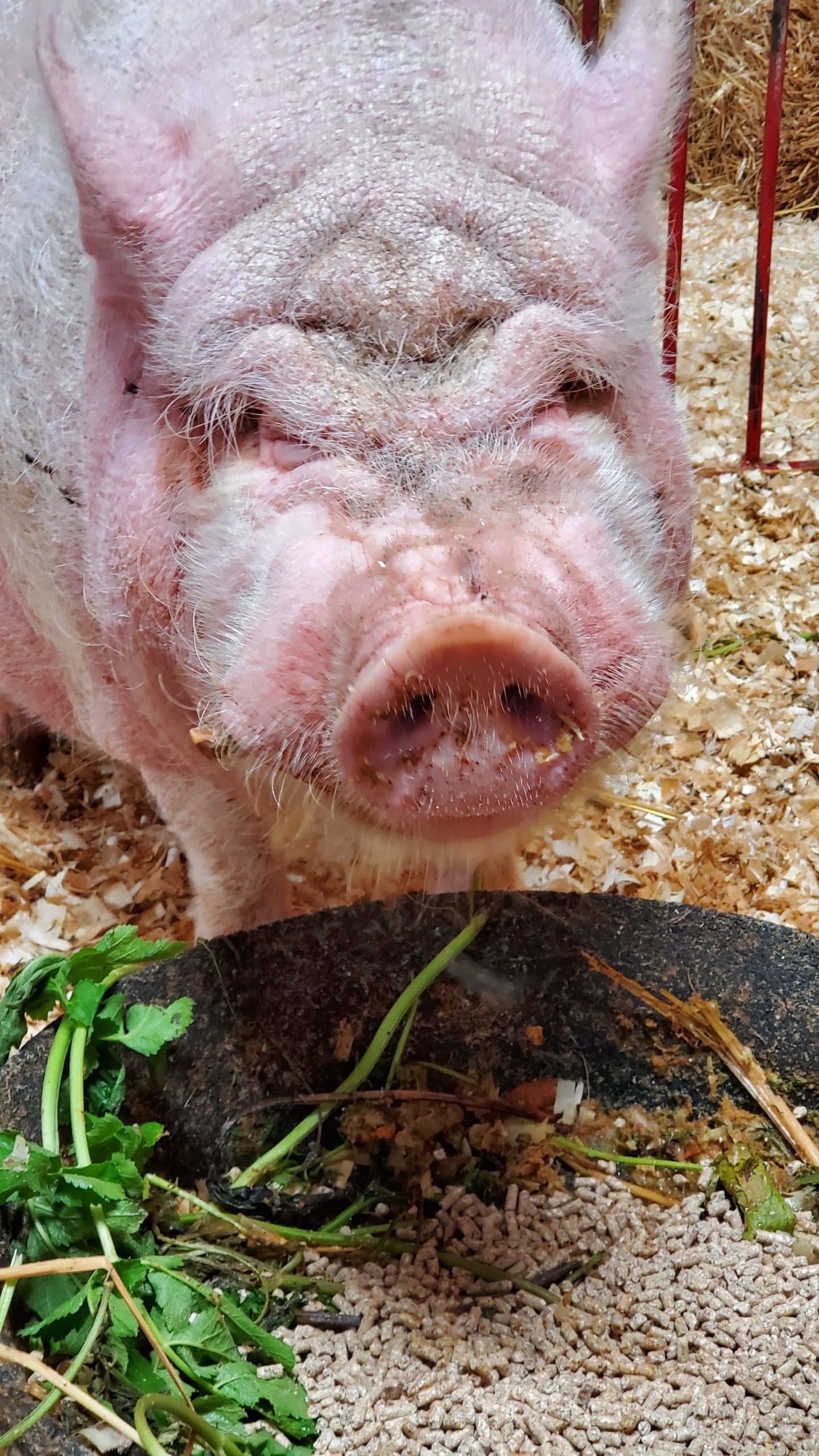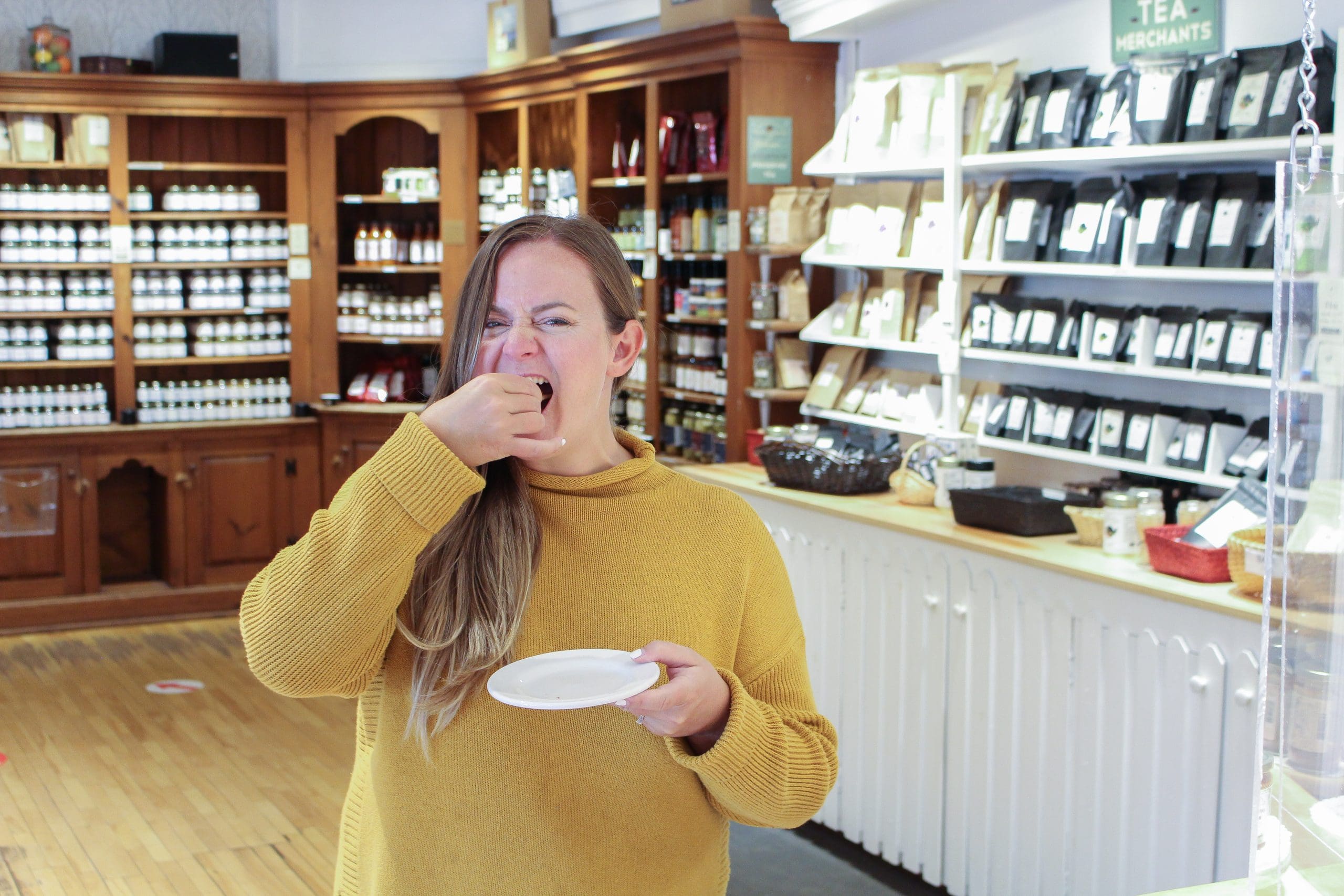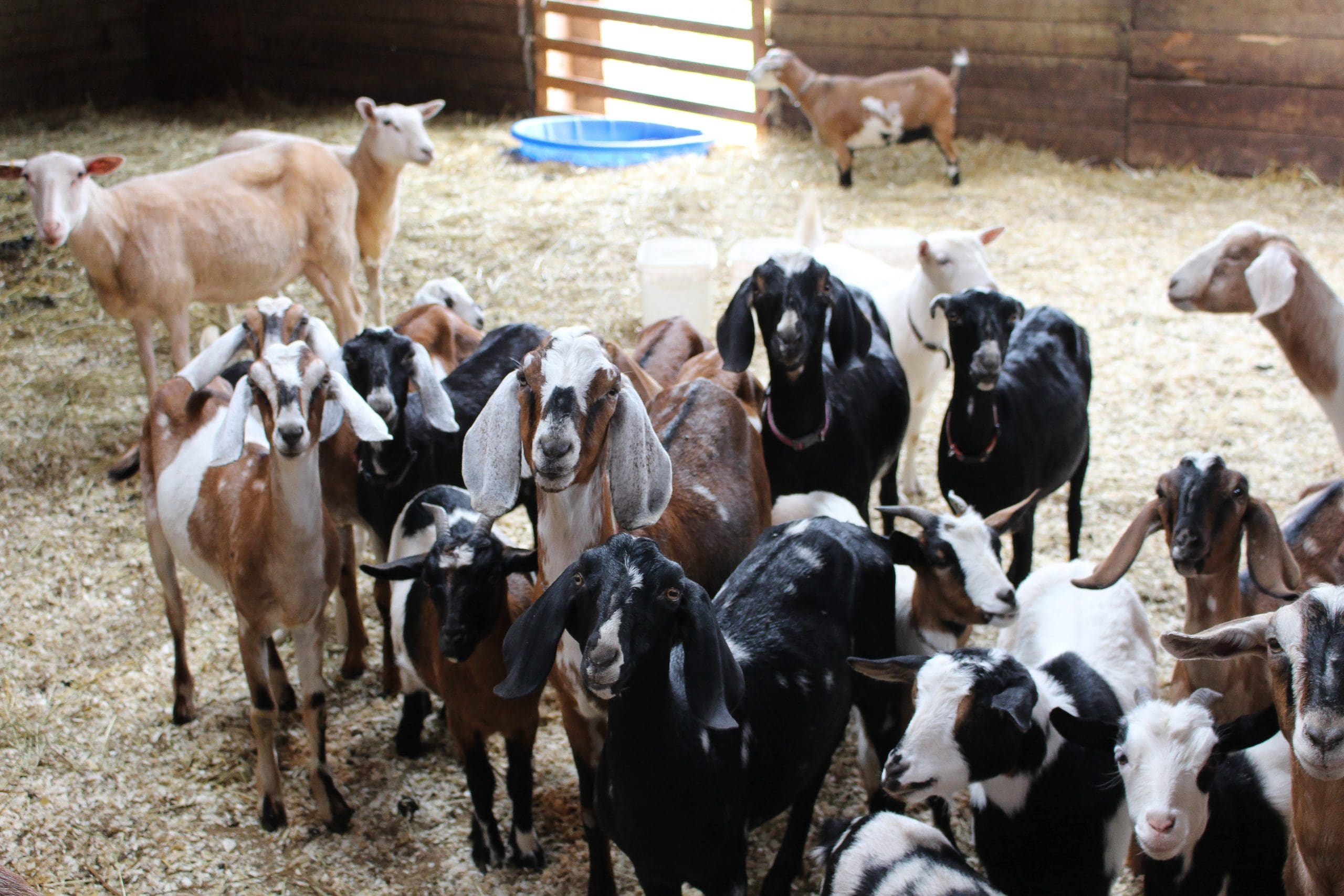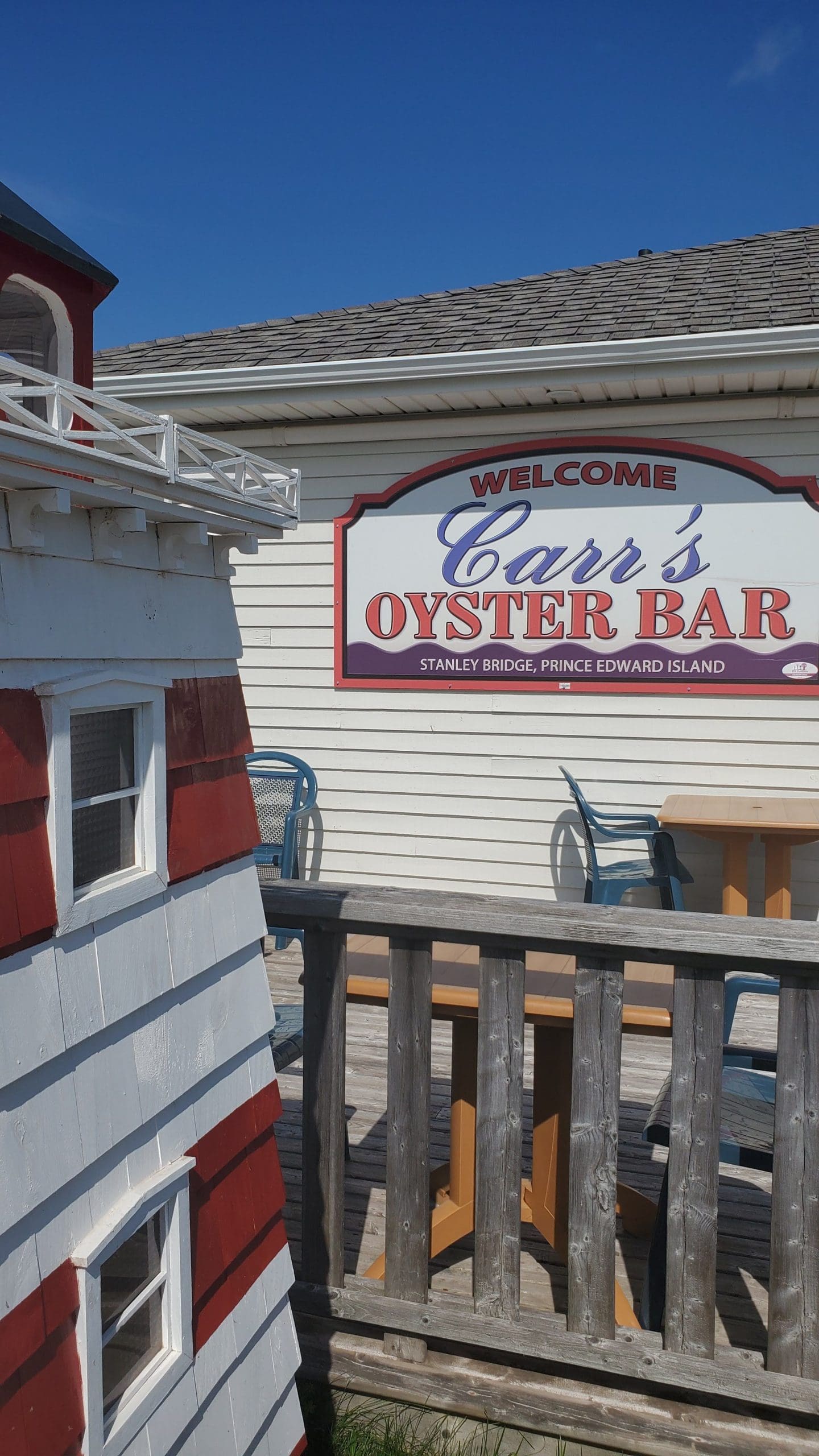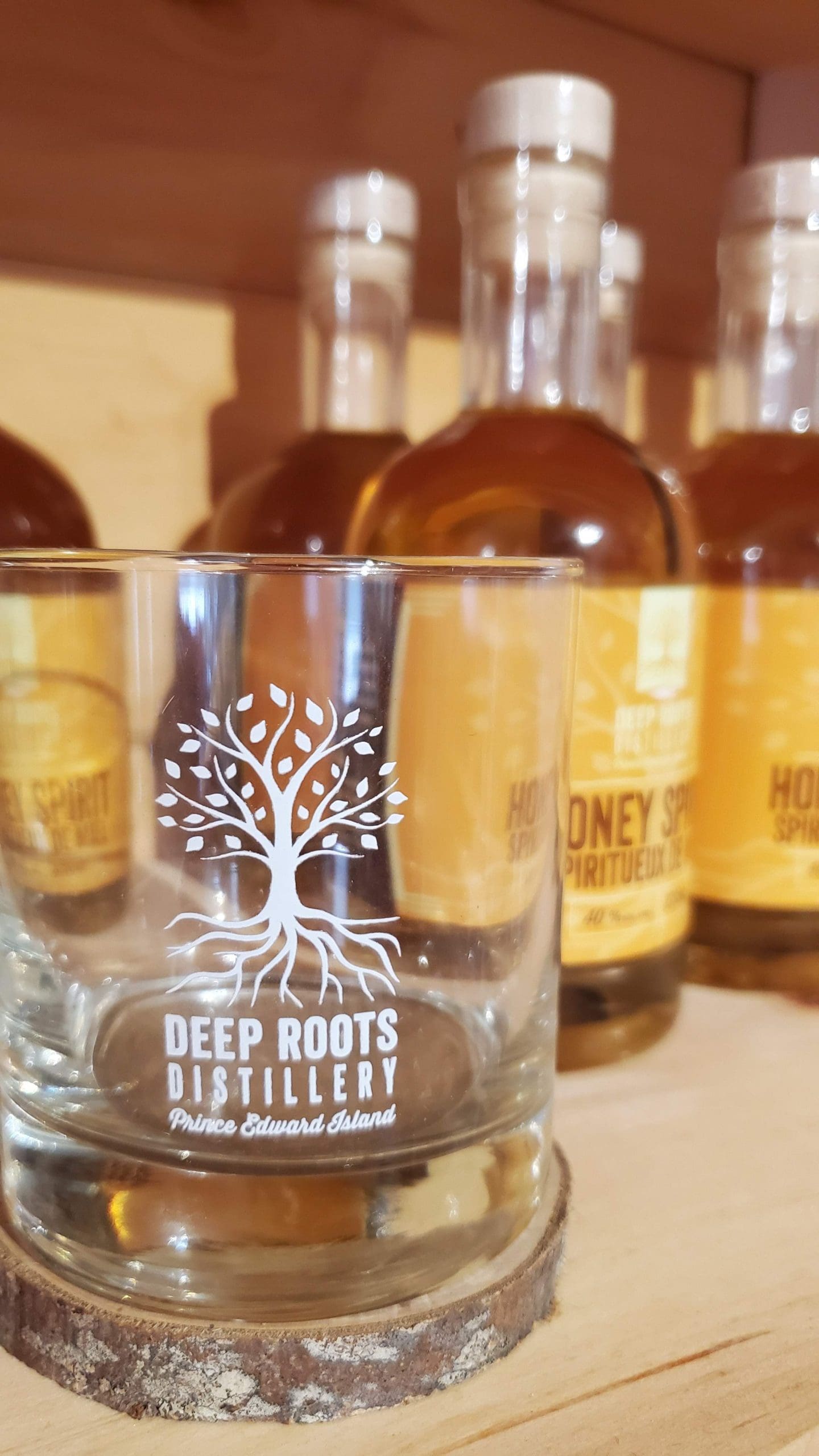 We cannot complete this blog post without a massive shout-out to Experience PEI and specifically, to our amazing tour guide Duncan who was a jewel to spend the day with.  The Fair Isle Food Tour took us to 5 different culinary stops around Charlottetown and included:
Island Hill Farm – We visited Flory (owner) and her amazing farm as our first stop!  I collected eggs, made friends with all kinds of farm animals, and then we enjoyed a breakfast sandwich from her lovely cafe.  This place really is the #cutestplaceonearth 
Island Honey Wine – Another farm, although we didn't have to visit the animals, that makes honey wine (or Mead) and are producing some really fantastic products.
PEI Preserve Company – An island staple, PEI preserve co is well known for their unique preserve flavors and they also have an on-site restaurant and beautiful garden you can enjoy.
Carr's Oyster Bar – We learned how to shuck an oyster and also enjoyed a lobster slider and steamed mussels.
Deep Roots Distillery – We were really excited to check out the distillery and try the famous Bourbon along with Absynthe, a 72% alcohol!
I would highly recommend this tour.  Duncan picked us up at the hotel and shared so much more than just the stops on the tour.  We learned all about the history of the Island and enjoyed some unique experiences that would otherwise have not been possible.  Even if you call PEI home, it's worth checking out these tours!
Fiddling Fisherman Lobster Boat Experience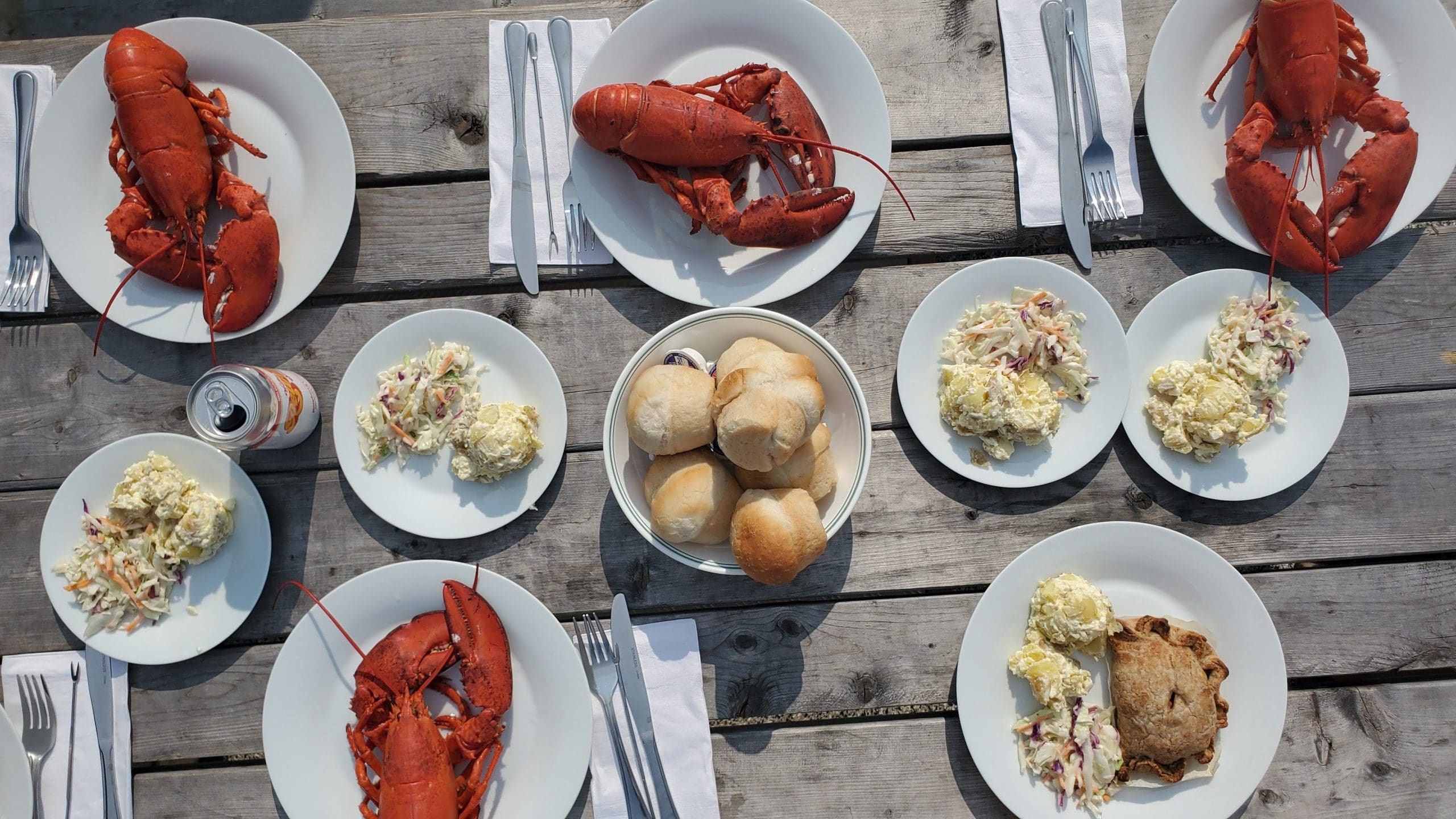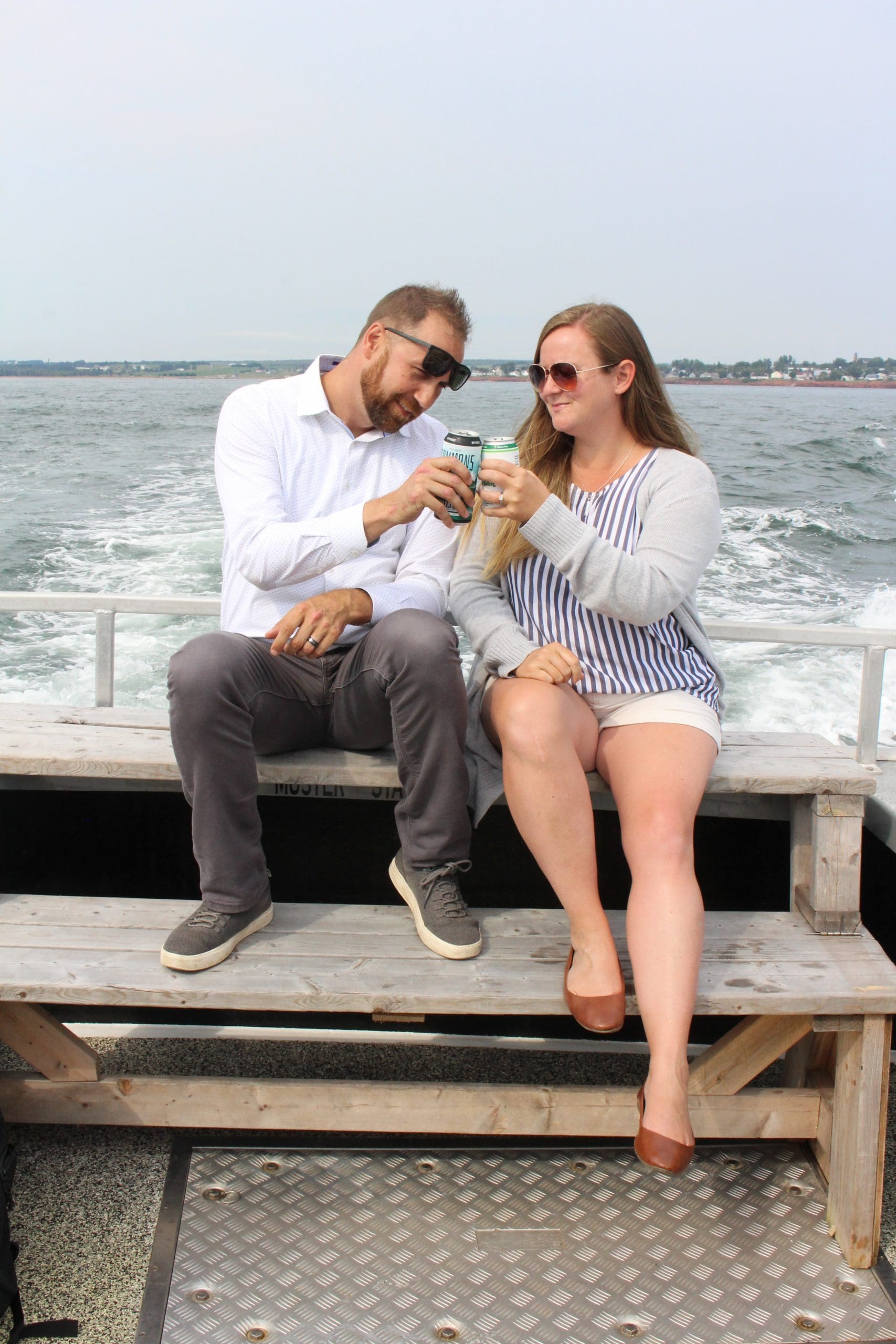 It's exactly what it sounds like.  J.J. and Julie (husband and wife) offer a fun, interactive way to experience a true PEI lobster dinner and we loved it.  The tour left from Souris (also where you get the ferry to the Magdalen Islands) and we headed out on the water in their family's fishing boat.  We pulled the traps and watched J.J. & Julie prepare a full lobster dinner on board that we ate, with the most amazing backdrop of fiddle music and PEI beaches.
Prince Edward Island Accommodations
If you're a lover of boutique accommodations and unique hotels like we are, keep reading.  Over the past few months, we've been able to experience some truly unique accommodations in Prince Edward Island and we can happily recommend any one of these for your stay.
The Great George Hotel
[58 Great George Street, Charlottetown]
This was our first time staying at the Great George and we absolutely loved it.  The marriage between historic charm and modern upgrades was perfect.  Our room had a private balcony that overlooked the gardens and I can't wait to stay again.
A unique cluster of lovingly restored, 4.5-star heritage buildings situated within Charlottetown's National Historic District, The Great George is an award-winning, historic, boutique property unlike any other in downtown Charlottetown. With an eclectic mix of classic and deluxe rooms, one-bedroom suites, multi-room townhouses, luxury condos, and romantic hideaway suites The Great George exceeds the needs and expectations of even the most discerning traveller.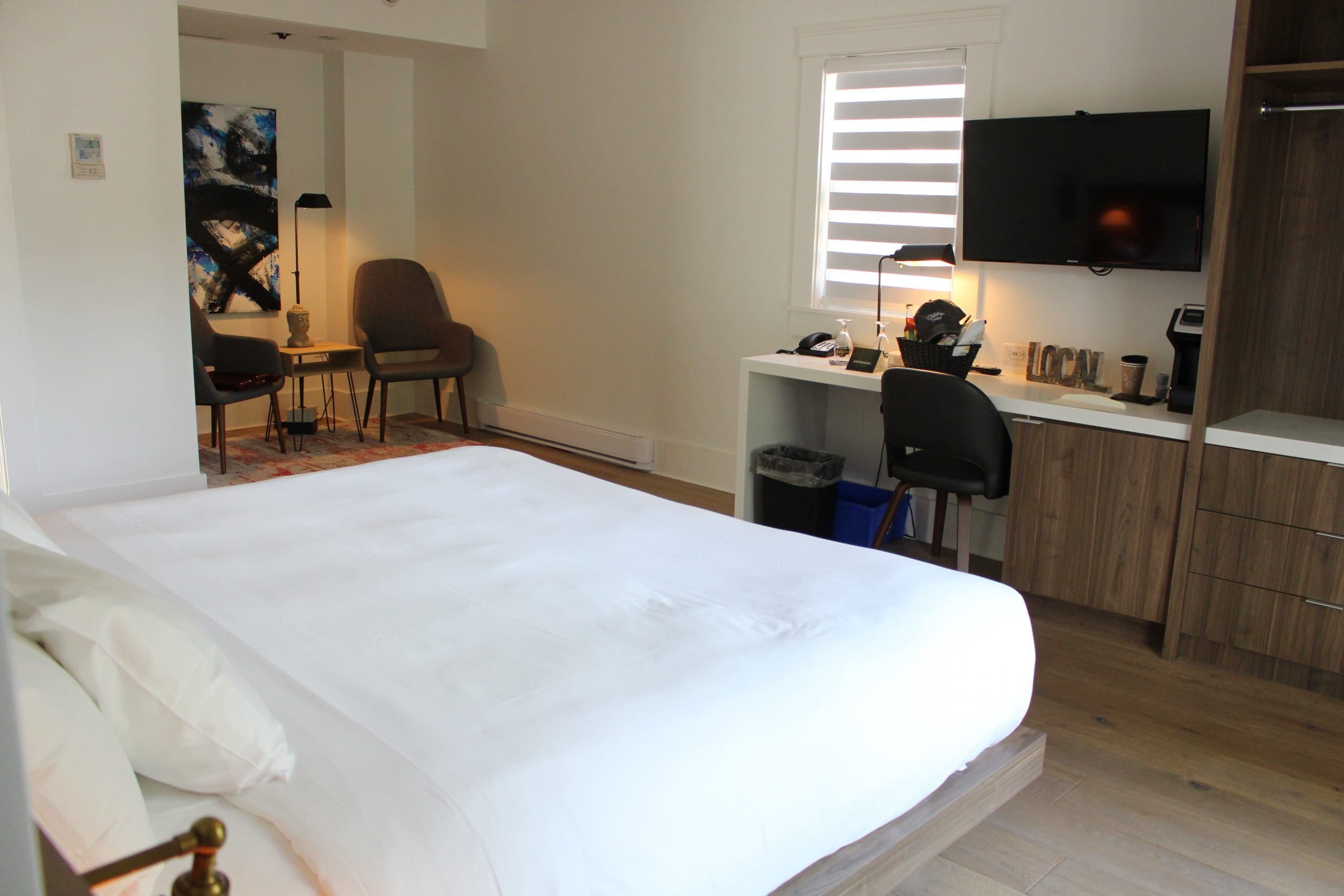 The Holman Grand
[123 Grafton St, Charlottetown]
We've stayed at the Holmon Grand a few times now and it's always a great experience.  It's an upscale hotel in the perfect downtown location that offers a ton of amenities.  Aside from being attached to the confederation mall, there's an onsite fitness center, spa, pool, restaurant, and loads more.  During our most recent visit, we stayed in one of the king suites which was perfect for a multi-night visit.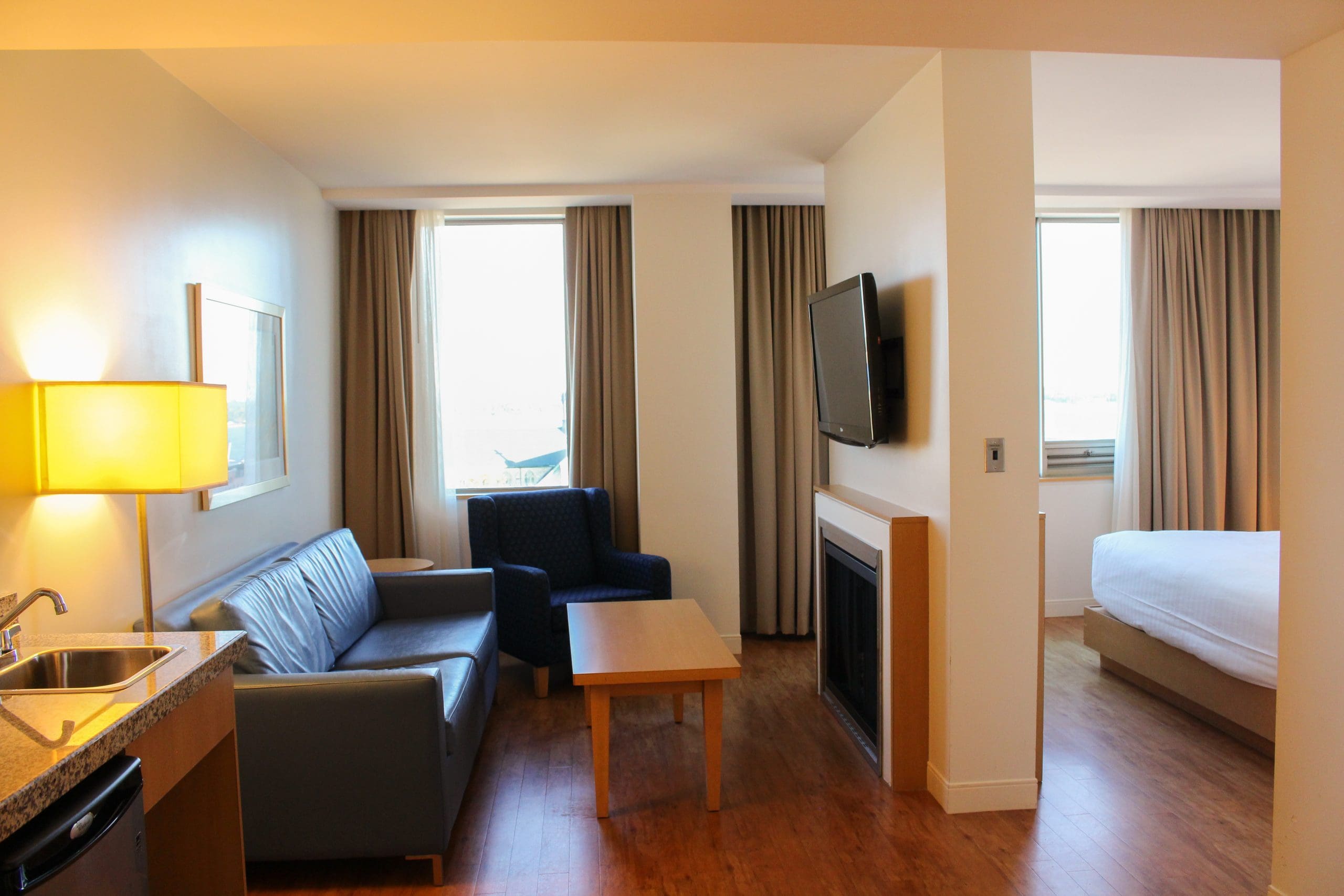 PEI Floating Cottages
[1 Great George Street, Charlottetown]
PEI's only floating cottage rentals are a truly unique experience that offers some pros and cons (but more pros).  First, they're floating!  A fact that makes them super cool but also a challenge if you're someone who has any issues with motion sickness.  You can certainly feel the movement but during our stay, the marina was fairly quiet so it was a non-issue.
Second, it's in a marina!  That means that you get spectacular views of the water and the coming and goings of boats.  It also means that boat traffic is right outside your bedroom.
Depending on the type of trip you're looking for, this could be a great option but there were a few drawbacks for us like the light from the marina when you're trying to sleep (and no blackout blinds) and a few things inside the cottages that were in need of repair.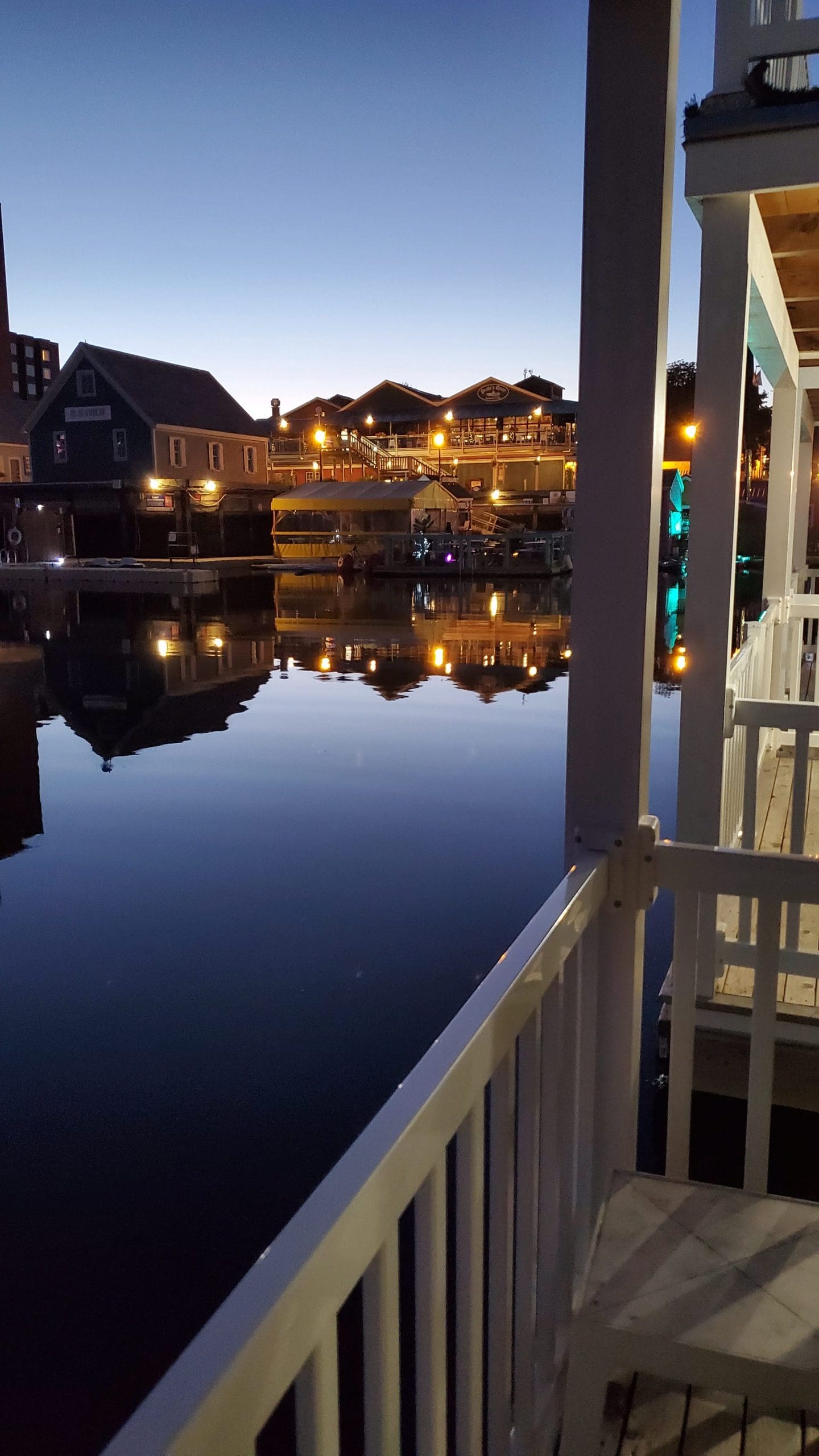 Westpoint Lighthouse
[364 Cedar Dunes Park Rd, O'Leary, PE]
This was truly an unforgettable experience.  I absolutely adored staying in the lighthouse (which, FYI, they say is haunted), and having the ocean just steps outside our room.  I also loved that this was off the beaten path and offered a slower pace than Charlottetown does for anyone looking for something a little quieter.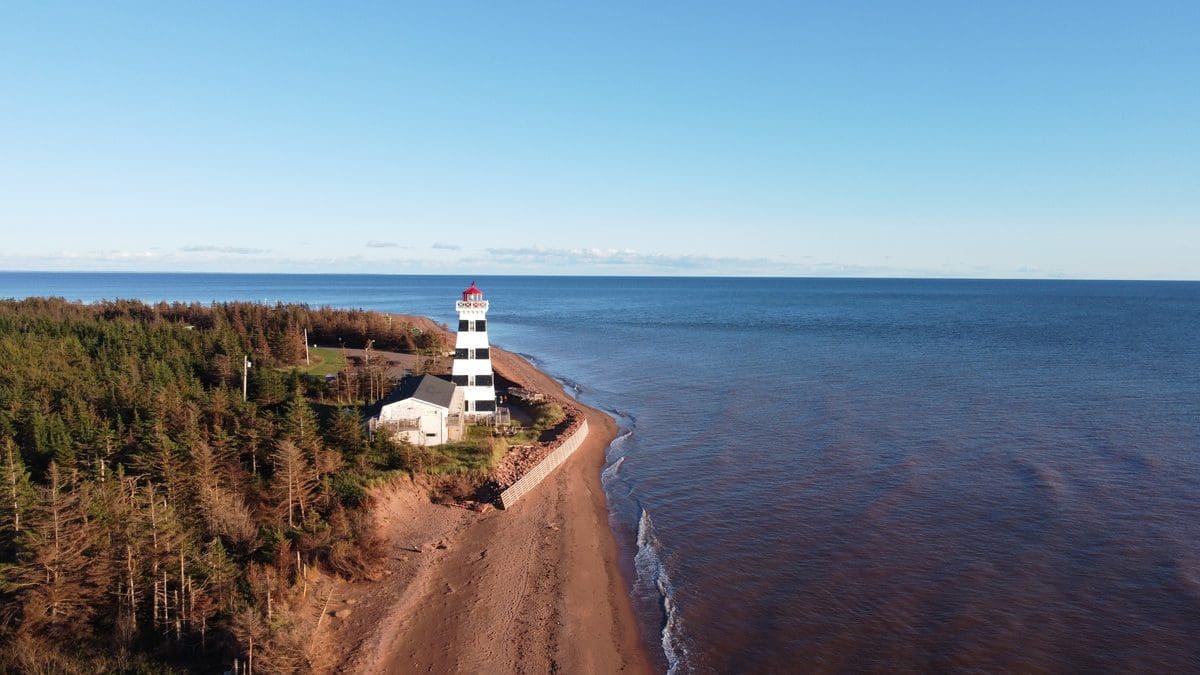 Island Breweries & Eateries
Y'all know we love breweries.  In fact, we travel for breweries!  And, while these are falling at the end of this mammoth blog post they were a critical component of our time on Prince Edward Island this year.  We also didn't cover them all, but we got a good start.  They ALL have great beer, offer flights and many of them also offer food.  I won't detail exactly what we tried at each but you should definitely check them all out.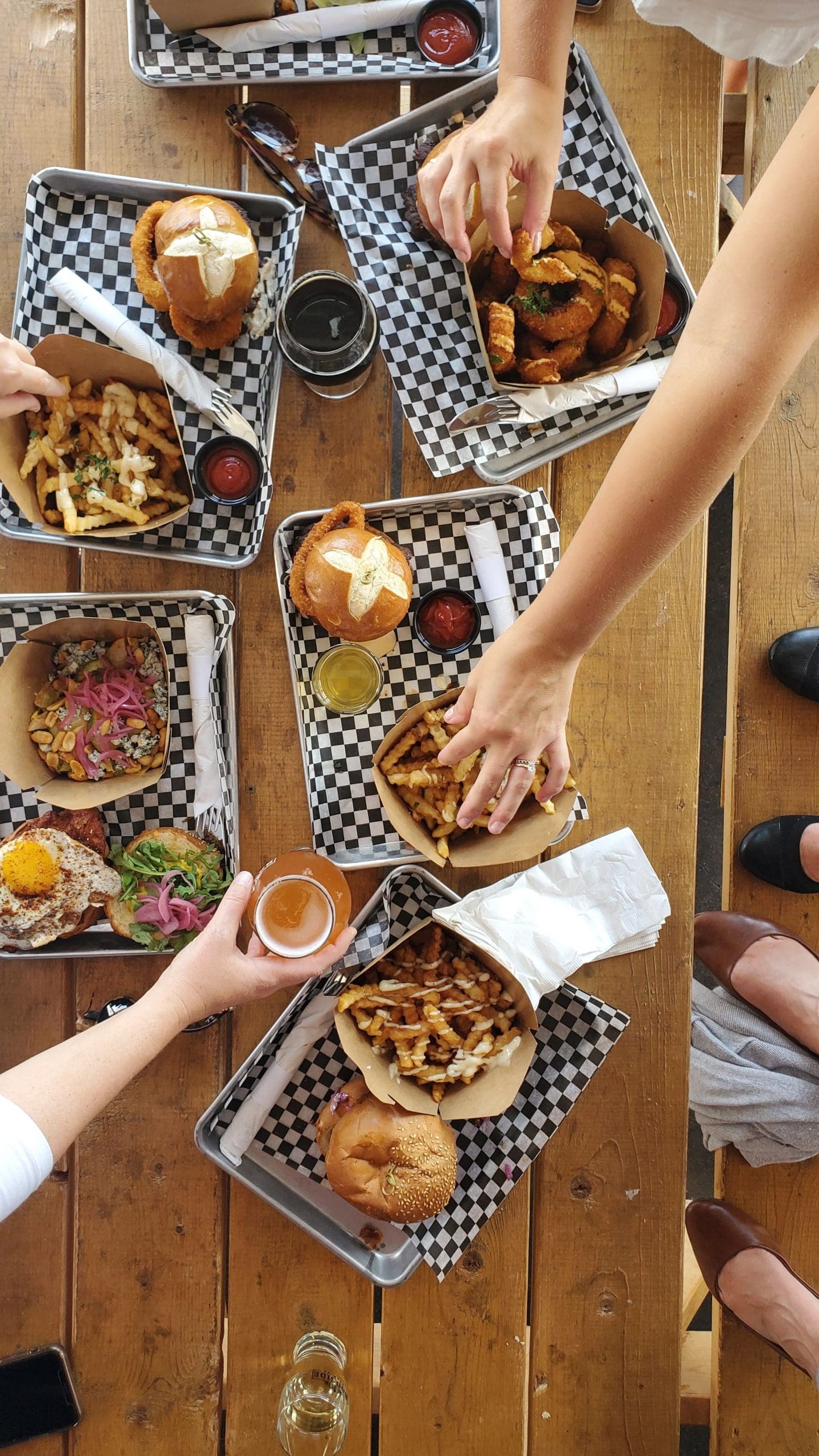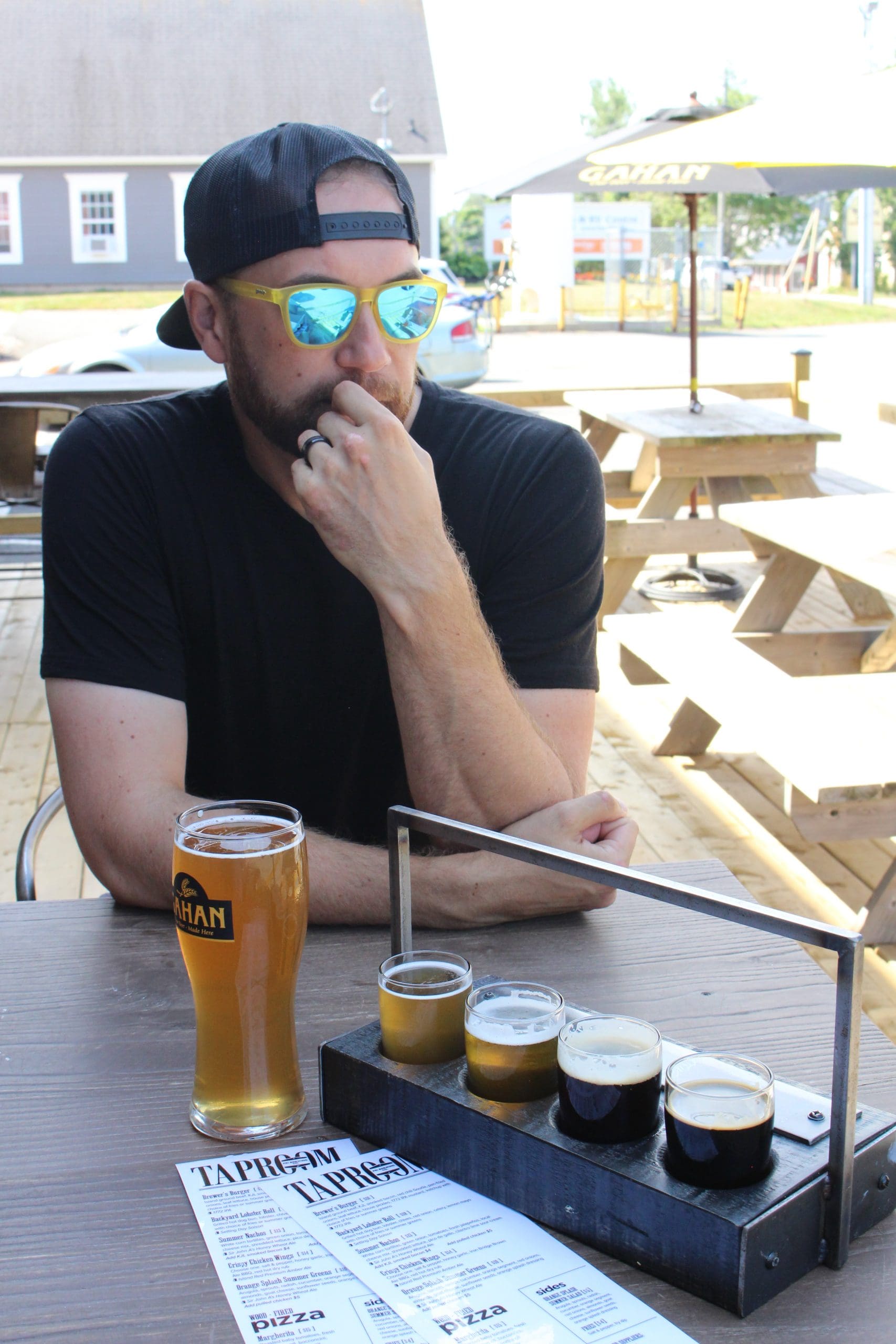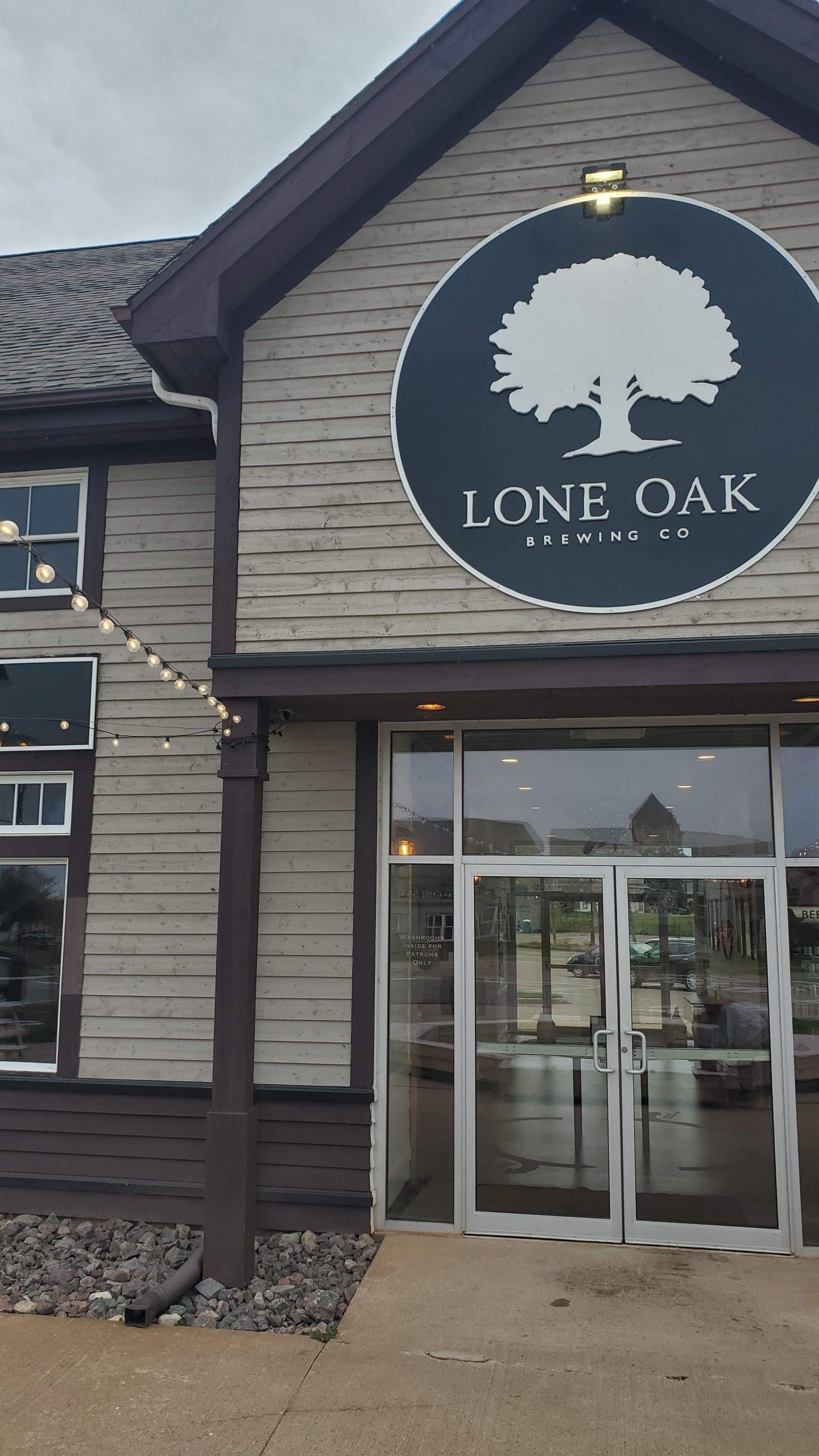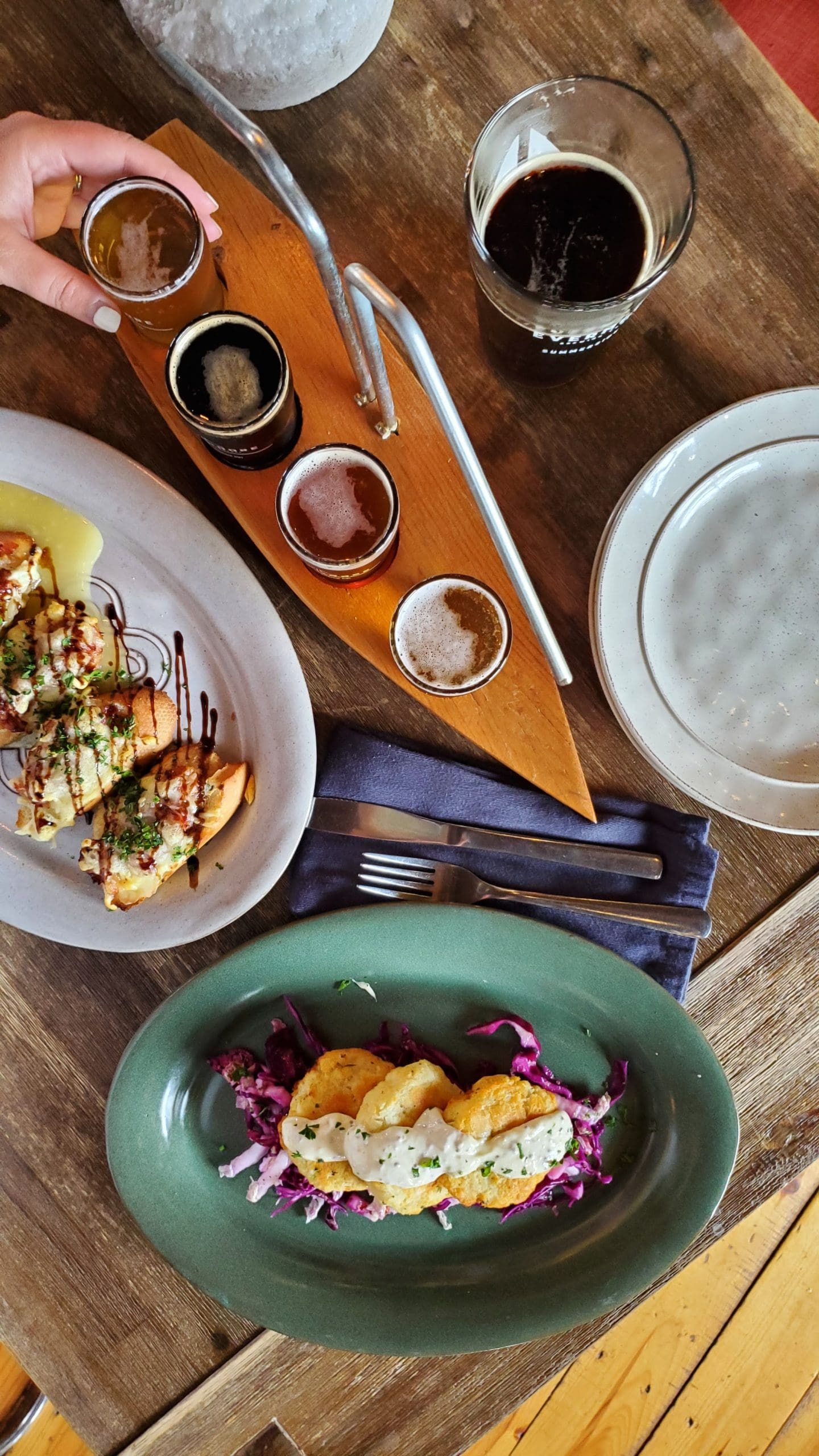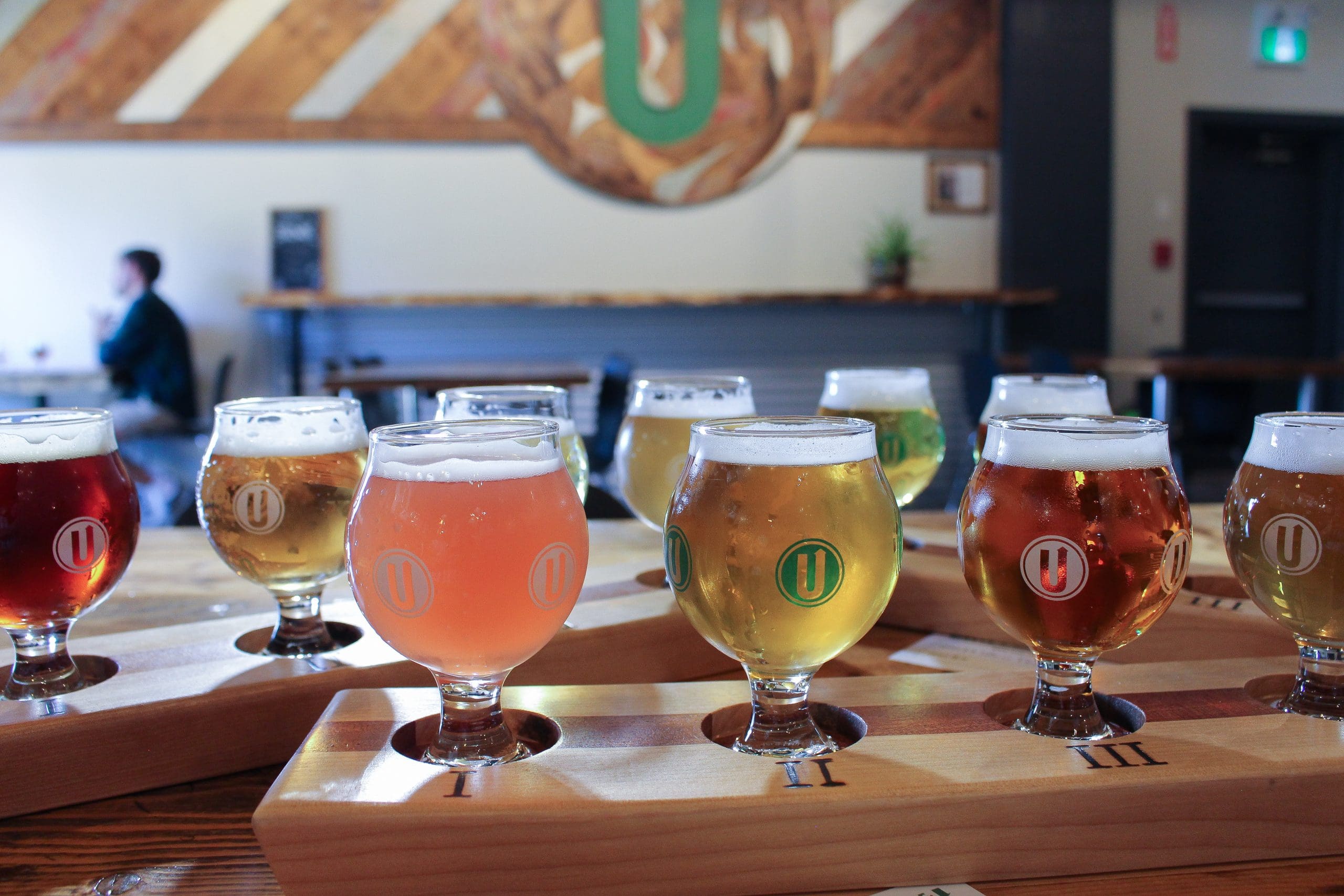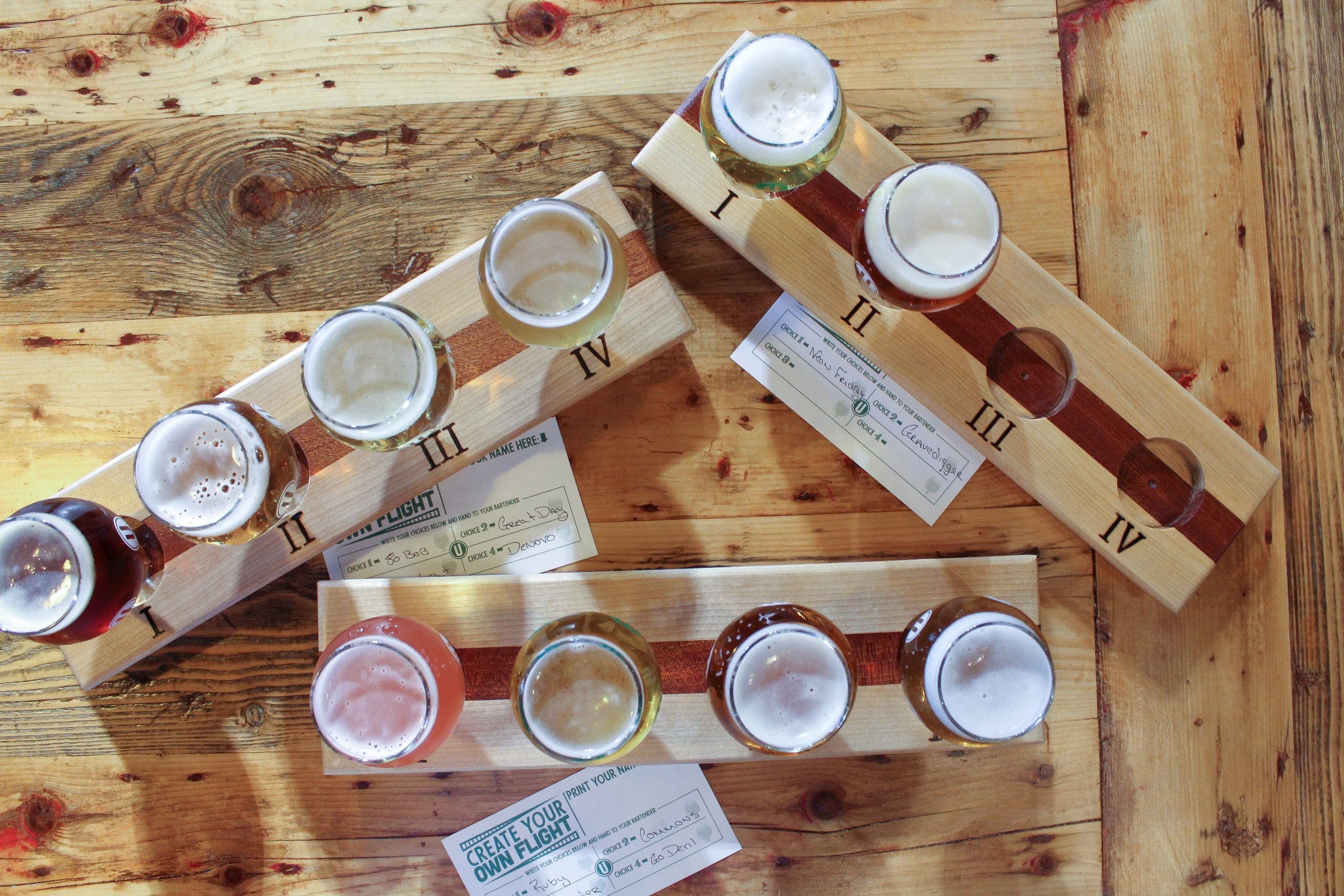 PEI Brewing Company

[96 Kensington Rd, Charlottetown]

– has an onsite restaurant and retail shop
Bogside Brewery 

[11 Brook St, Montague, PE]

– great patio space, an onsite restaurant called Thatcher's, and REALLY good fries!
Upstreet Brewery 

[41 Allen St, Charlottetown]

– home of "Key Lime & Sea Salt" vodka sparkling water which I'm a big fan of and they also have locations in Halifax!
Evermoore Brewing Company 

[192 Water St, Summerside]

– doing some really interesting things with their beer and they also have fantastic food!
Lone Oak Brewery 

[103 Abegweit Blvd, Borden-Carleton]

– conveniently located directly off the bridge in Gateway village and is a perfect place to start your foray into the PEI craft beer scene.
Canada's Food Island Gift Card Program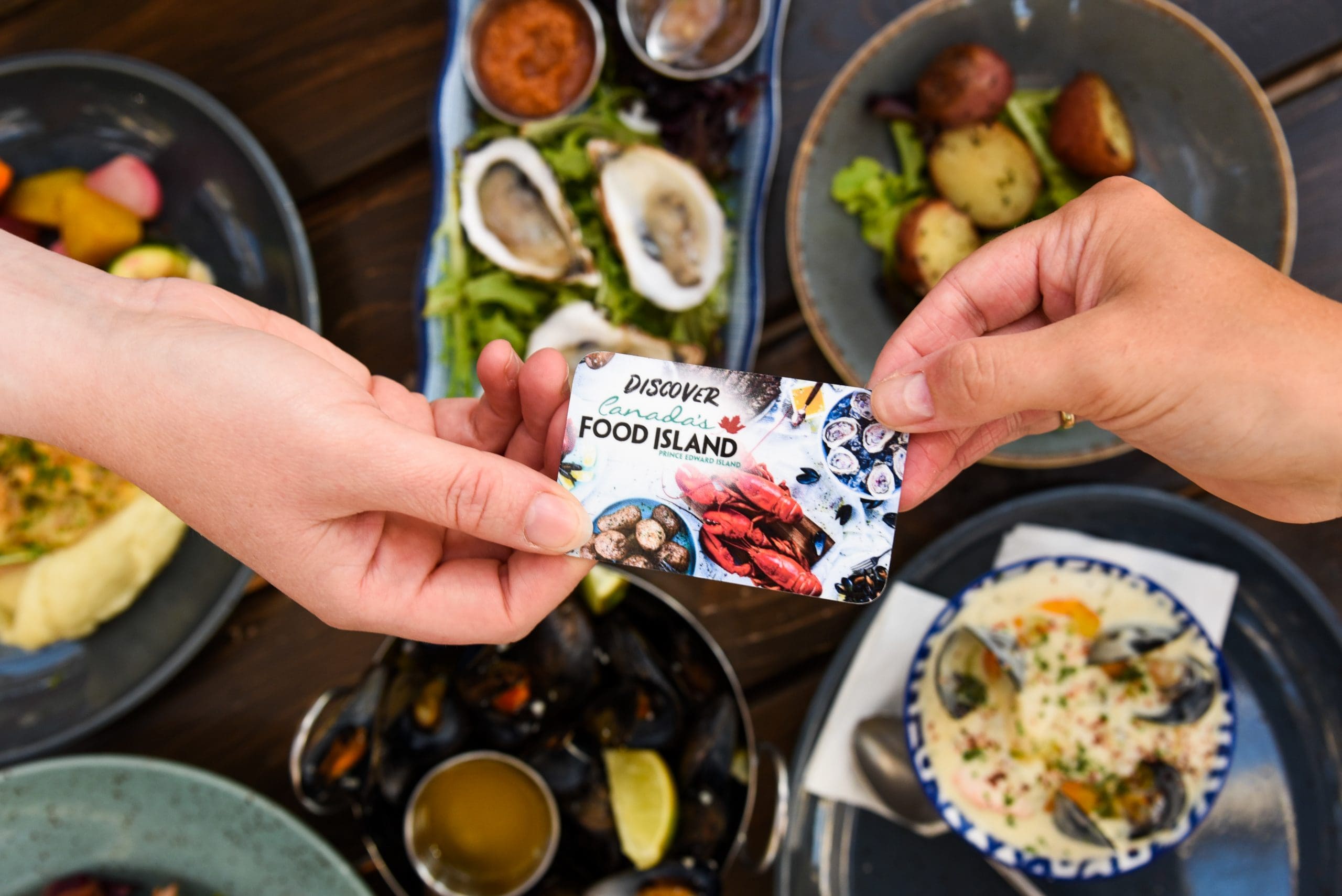 This year, Canada's food island has adapted in a really amazing way to continue to support PEI's tourism industry.  Since we can't attend Fall Flavours this year, we had the opportunity to explore the food island on our own and now you can too!  Self-guided tours are a great reason to visit Prince Edward Island this year but they've also launched a new gift card program that makes it even easier.
Here's what you need to know:
Gift cards are on sale as of Monday, September 28th 

Canada's Food Island gift cards can be purchased at 20% off, while supplies last (note: they're selling really fast so act quickly, friends)

You can buy gift cards at Mel's Convenience locations Island-wide, Murphy's Pharmacy locations Island-wide and Co-op Locations in Souris, O'Leary and Tignish

More than 150 merchants are currently accepting Canada's Food Island gift cards! From golf courses, restaurants, and retail shops you can use your gift card in many different ways
Note: While you can't buy the gift cards online at this time, you CAN book stay and savour packages!  And, when you do you get FREE Canada's Food Island gift cards to use at your leisure.  You can check out the details about the stay and savour packages here.
Did we miss anything?  What's your favorite reason to visit Prince Edward Island?