Magdalen Islands Food Trail
We're quite familiar with food trails.  Here in Nova Scotia, we've got the Lobster Trail, Chowder Trail, the Good Cheer Trail, and others all revolving around the same thing.  Exploring a region based on the products they produce.  So, when we learned about the Magdalen Islands food trail, we were keen!  We already knew the Maggies had a serious cheese culture but they've also got so much more than that.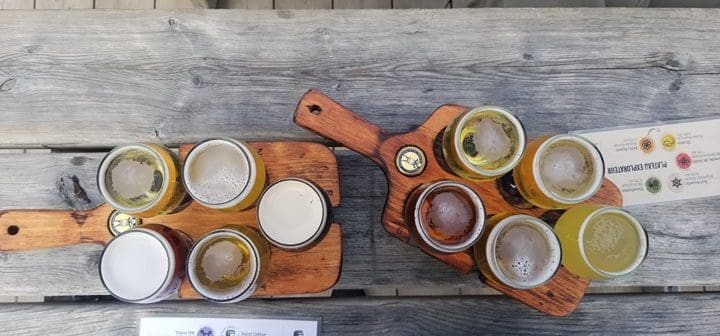 We spent a solid 2 days exploring the food, producers, and products on the islands but you could do it in a single day if you had to.  Most of the stops on the food tour are fairly well clustered which keeps drive time to a minimum.  In fact, the entire drive which has 11 stops would take you less than an hour.  Of course, that doesn't include your time at each place!  The point is, it's possible to complete the Magdalen Island food trail in a single day.
If that sounds appealing to you, we've organized this list as linear as possible to minimize your drive time.
Magdalen Islands Food Trail Map

11 Magdalen Island Food Trail Stops
Le Barbocheaux
Address: 475 Chemin du Cap Rouge, Havre-aux-Maisons, QC G4T 5C7
Bagosse is known as "the beer of the Island" but it basically home-brewed wine.  This little place is bustling and we'd recommend stopping in for a sample.  If you're familiar with wine, you'll find these drinks to be quite sweet (they're all fruit-based) but we enjoyed them.  The owners speak very little English but were more than happy to accommodate us with a tasting which we enjoyed.
English: No
We actually made friends with some other visitors from New Brunswick who translated for us, so shout out to them!

Miel en Mer
Address: 294 Chemin des Échoueries, Havre-aux-Maisons, QC G4T 5J8
Miel en Mer is probably the least talked about stop on the food trail but it's not to be missed.  With over 150 bee colonies across the islands, they produce delicious honey (which you can sample at the stop) as well as honey wine.  They also offer tours and workshops.
English: No


Le Fumoir d'Antan
Address: 27 Chemin du Quai, Havre-aux-Maisons, QC G4T 5M1
At one time, the Magdalen Islands had a thriving smokehouse industry but today, only one remains standing.  Fumoir d'Antan was our biggest surprise of the food tour.  They've created something that is so much more than a smokehouse.  It's a family-run, generational business that's not only passionate about maintaining traditional smoking methods but also about sharing the history and legacy with their guests.  We loved learning all about the smoked herring business.  We also love the smoked herring (another surprise).  
It's so popular (and yummy) that on the islands, we're told, if you order a caesar salad you'll often see smoked herring instead of bacon.  The flavor is similar, smoky and rich.  Of course, we brought a jar home for our own salads and have been enjoying it ever since.
English: Yes


Les Cultures du Large
Address:  Chemin du Quai, Les Îles-de-la-Madeleine, QC G4T 7A1
Les Cultures du large is a mussel and oyster farm that specializes in high-seas aquaculture.T his technique produces unique taste that balances ocean freshness with subtle saltiness.  We stopped in for a tour and oyster tasting during our visit and learned that they're soon be offering excursions to the public.  So, if you visit, be sure to book a tour and let us know how it was!
English: Yes

Fromagerie du Pied-De-Vent
Address: 149 Chemin de la Pointe Basse, Havre-aux-Maisons, QC G4T 5H7
This fromagerie was established more than 20 years ago and is credited with stimulating and diversifying the food culture on the islands.  They raise Canadian cattle (a special breed of cow) and produce rich, creamy, and truly unique cheese.  The pasture-raised Canadian cows, we learned, yield lower milk production than other dairy cows.  Obviously, from a producers point of view, that's not ideal for your bottom line.
But, that also means that the milk they produce is higher fat content and therefore, richer.  And that means?  You guessed it! A rich cheese that's completely unique and oh-so-delicious!
We stopped by for a farm tour and cheese tasting during our Magdalen Island food tour and it was a highlight for me.  I loved learning about these Canadian cattle as well as actually getting to interact with them.  Yes, folks, they take you right into the pasture where you won't be surprised to learn that I snuggled the cows.  Best. Day. Ever.
English: Yes

Aucoin des sangliers
Address: 548 Chemin des Caps, Fatima, QC G4T 2S9
Our visit to this shop was brief, they were just opening for the day when we arrived.  We did sample fromage du tete (yes, head cheese) but didn't get to tour the farm.  Aucoin des Sanglier raise boars and produce products as such.  If you're visiting, I'd recommend calling ahead and making sure you arrive at a time you can tour the farm. 
English: No

Gourmande De Nature
Address:  1912 Chemin de l'Étang du N, L'Étang-du-Nord, QC G4T 3C7
Gourmande de Nature was another stop where we wished we'd organized our visit in advance.  They offer really interesting cooking classes and workshops that teach you how to prepare foods the island way.  During our visit, there was a Lobster 101 class happening!  Obviously, being from Nova Scotia, we're well versed in lobster but I would have loved to participate in another one of their workshops.  Next time!
You can also grab to-go lunches from the shop or stock up on all kinds of local products for a picnic lunch or to take home with you.
English: Yes

À l'abri de la Tempête
Address: 286 Chemin Coulombe, L'Étang-du-Nord, QC G4T 3V5
The islands only brewery!  So, naturally, we had to check it out.  This double-decker brewery boasts magnificent views of Dune de l'Ouest beach and is known for pulling in local products to inspire their unique brews.  Case and point, the Corps Mort dark ale (my favorite) which uses grain smoked at Fumoir d'Antan.  We enjoyed a double flight that was full of variety – something we really like in a brewery!
English: Yes

Verger Poméloi
Address:  33 Chemin du Petit Bois Nord, Bassin, QC G4T 0G9
Verger Pomeloi is the only orchard on the island and while we missed their open hours and didn't get to try the cider, we LOVED strolling through the orchard.  It was absolutely beautiful, with poems and stories nailed to the trees that wind up to the orchard where you can enjoy an incredible view at the top.
English: N/A (we didn't speak to anyone)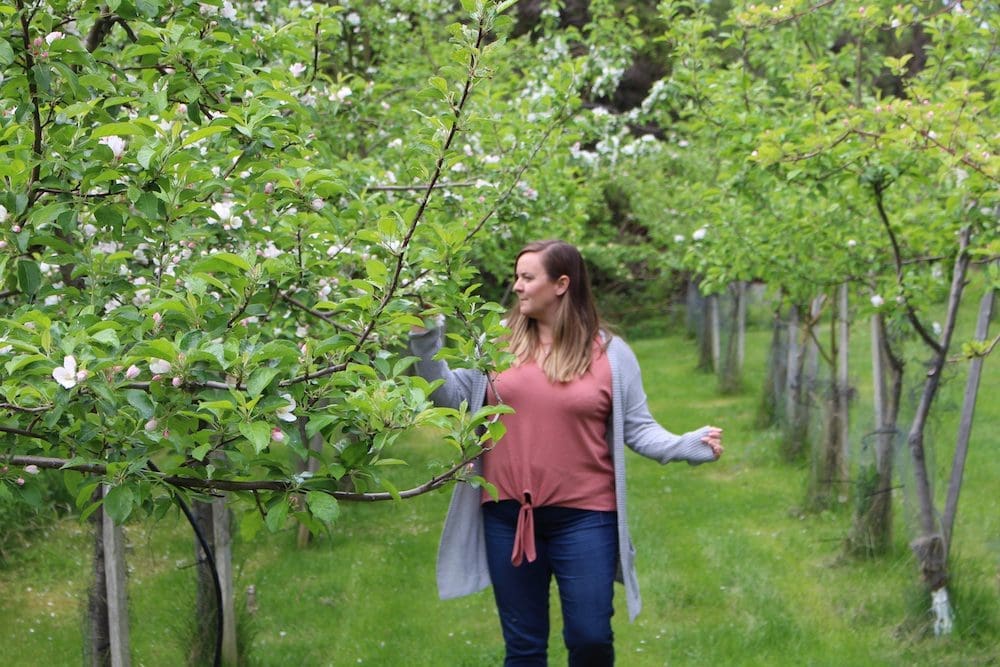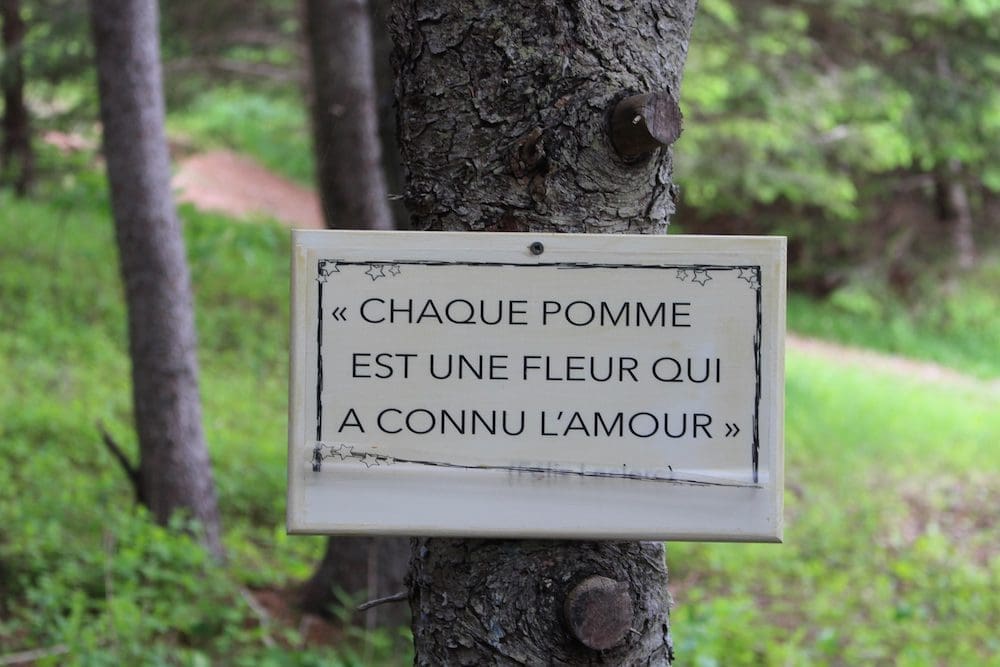 Fromagerie Les Biquettes à l'Air
Address:  833 Chemin du Bassin, Les Îles-de-la-Madeleine, QC G4T 0C9
This adorable goat farm is the other cheese producer on the island (goat cheese, of course).  They offer tastings, product shopping, and farm activities.  We visited the goats (they were the best) but didn't stay for a farm tour although, we'd recommend it.  
The beauty of us going first is that now YOU know what to do based on what we wished we'd done.  So, I recommend calling ahead and booking yourself in for the farm activity!
English: Yes

Domaine des Salanges
Address: Chemin Massé, Les Îles-de-la-Madeleine, QC
The one and only winery on the island and, during our visit, they weren't quite open to the public yet (but they are now).  What a beautiful place!  This one was a little hard to find.  If you input the address, google maps doesn't take you directly there but continue down the road until you see a big white sign that says "Salanges" and then head into the driveway.  
The vineyard is located behind their home so, at first glance, you feel like you're going the wrong way.  You'll drive past the house and arrive at the winery.  Be sure to check in advance and make sure they're open to visitors then take a guided stroll through the vineyard which is stunning.
English: Yes

Making the Most of the Magdalen Islands Food Trail
If you're planning to include the food trail in your visit to the islands, here are a few insights and tips to help make the most of your experience.
Call in advance to book your tours and check hours of operation.  Many of these stops include tours, tastings and activities but it's wise to book these in advance.

Bring cash.  We ran into a small issue at 2 stops where the internet signals weren't strong enough to support the POS system so having some cash on hand would be useful.

Brush up on some basic French phrases.  Most of the producers we visited spoke English very well (or at least had someone on staff who did) which was wonderful but not all of them do.  There were 2 stops where we had a tricky time communicating and we found ourselves wishing we'd brushed up a bit more on our French.  That said, everyone was lovely and very patient with our lack of language skills.

Keep an open mind and try everything!  You never know when you'll come

across

something new a

delicious

.  There are plenty of times I think "Oh no way… " and then I end up loving that thing.  If an area is known for something, give it a go!
[feature_box style="26″ only_advanced="There%20are%20no%20title%20options%20for%20the%20choosen%20style" alignment="center"]
Side Note: As I've said before, we believe strongly that when we're visiting a place that speaks a different language than we do it's OUR responsibility to communicate effectively.  It's not the rest of the world's job to learn English to accommodate us.  So, understanding that it's OUR limitation causing any communication issues makes the whole process much more enjoyable.  It's also incredibly easy to learn a few basic phrases and at least make an effort to speak the language where we can.
[/feature_box]
What struck us most about the Magdalen Islands food trail was that all of the producers work so closely with one another.  Because the islands are so secluded from the mainland, they've become experts at supporting one another in every way they can.  This kind of camaraderie made our experience, as visitors, even more special.
For more information about the Magdalen Islands food trail including contact information, hours of operation and more,  click here.
Are you a Foodie?  We'd love to hear about the food trails and tours you've done!  Leave us a comment and let us know below.