Canadian Beaches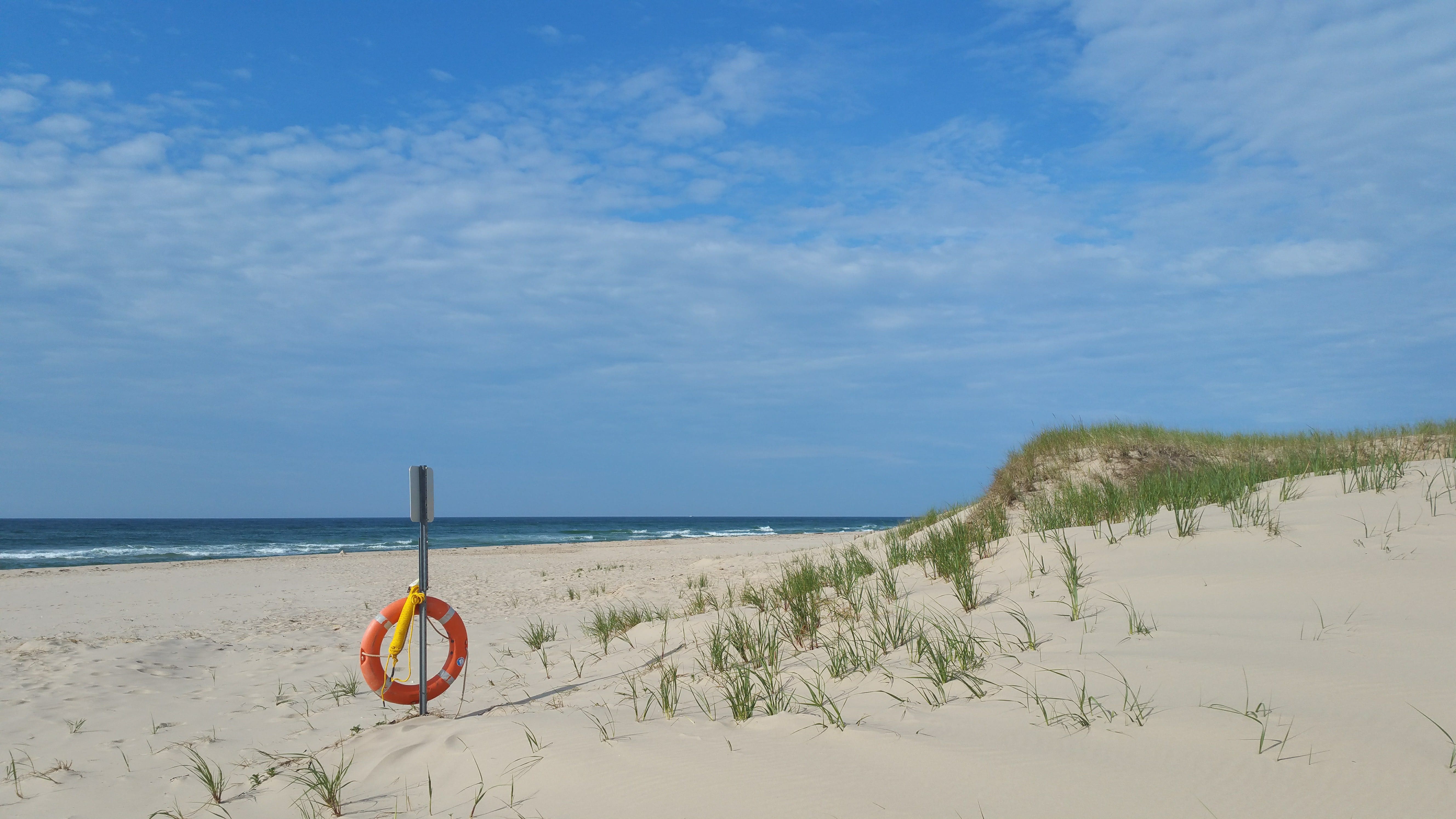 When you think of world-class beaches, what countries come to mind?  If you're like most people, you're probably rhyming off destinations like Australia, Spain, Bali, Thailand, Hawaii, and maybe even some North American places like California and Hawaii.
But was Canada on your list?
If not, you're in for a shock because Canada is home to some of the most breath-taking beaches you've probably never heard of.  Today, we're getting specific and handing over the 10 best beaches in the Magdalen Islands to wet your appetite for our Canuk sands.
Are you ready?
10 Best Beaches in the Magdalen Islands
Full disclosure, I actually wish I'd taken better notes on each of these beaches because some of them are tricky to find.  If you're planning a visit, and you want to do some beach hopping, I'd recommend contacting the Tourism Board and asking them for directions.
Dune Du Sud (Cormorandière) Beach
This gem is 22km of white sand beach and less frequented than many others in the Magdalen Islands.  In fact, of the times we've been there, we've only ever seen 2 other people at the same time.  It also happens to be my number one, favorite beach in the Magdalen Islands.
This beach blew us away because it was turquoise waters and white sands as far as you could see with these magnificent sand dunes all around.
As with many of these less frequented beaches, it's not well marked so you need to keep your eyes peeled for it!
Access:  Havre Aux Maisons.  Take route 199, heading towards Pointe-aux-Loups and turn in next to the old wind turbine at Chemin de la Cormorandiere.  Park and then follow the boardwalk over a massive sand dune to reach the most stunning beach!
East Cap Beach
Not an official beach, but it's listed here because… well, look at it!  Honestly, in the Magdalen Islands, all roads lead to a beach so basically you can drive in any direction and end up somewhere like this!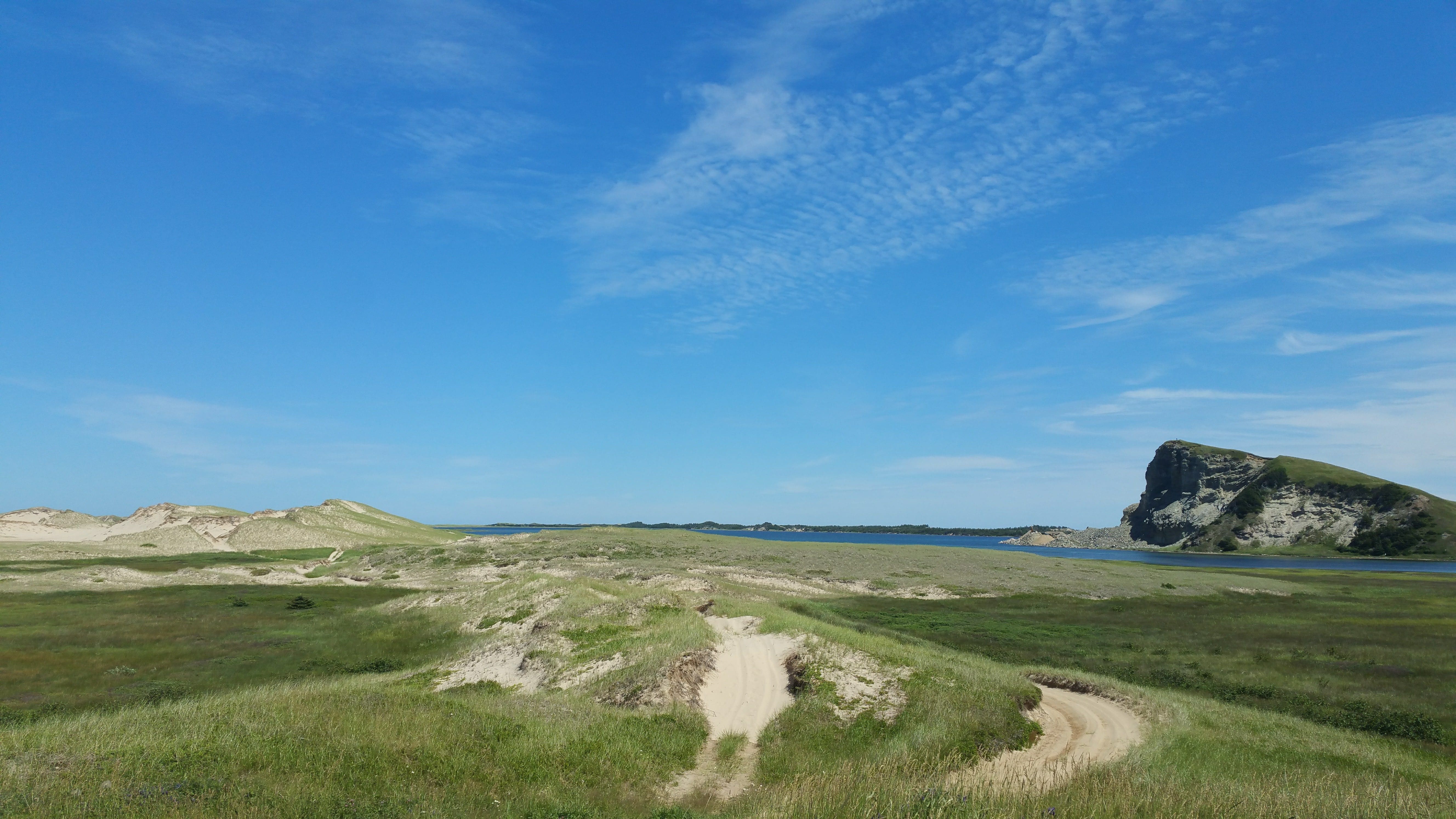 Sandy Hook Beach
This beach blew us away as well.  Actually, they all did but there was something about the remoteness of this one and Dune Du Sud that make those my two top pics.
Access: Havre Aubert – head for the Installation de Pêche Côtière.  You'll reach the cutest little harbor, the road ends, and you'll find yourself on a beautiful beach that's also conveniently accessible by foot.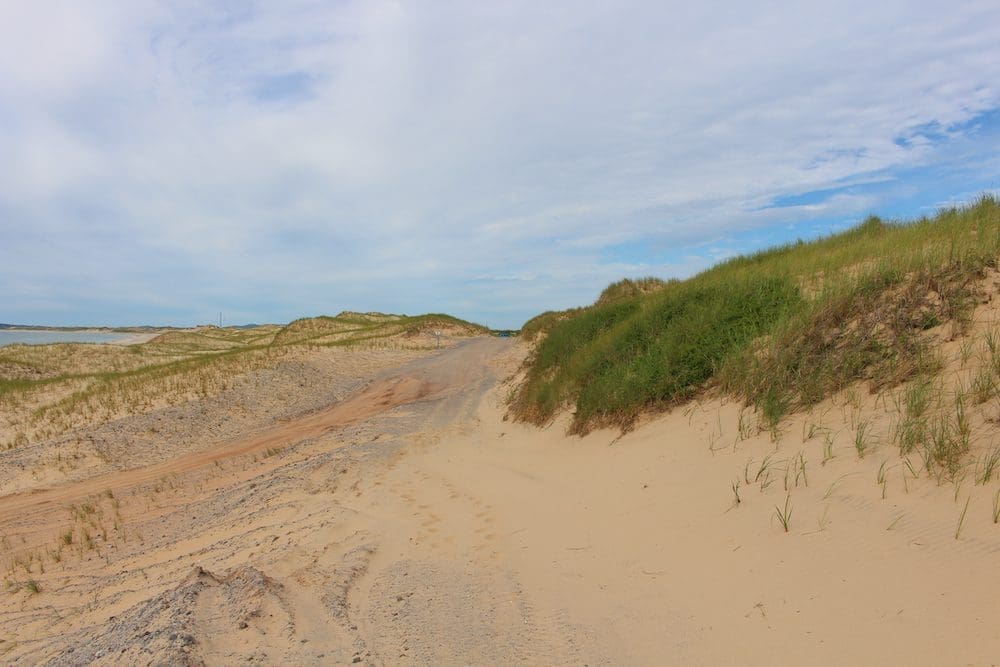 Dune De L'Ouest (Corfu) Beach
We were here in the daytime, but we're told that the west dune beach (Dune De L'Ouest) has the most spectacular sunsets you'll find on the islands.  Access this beach at the end of Chemin Coulombe and Chemin Delaney.  This is also the beach near the Islands only microbrewery, A l'Abri de la Tempête.  Super convenient!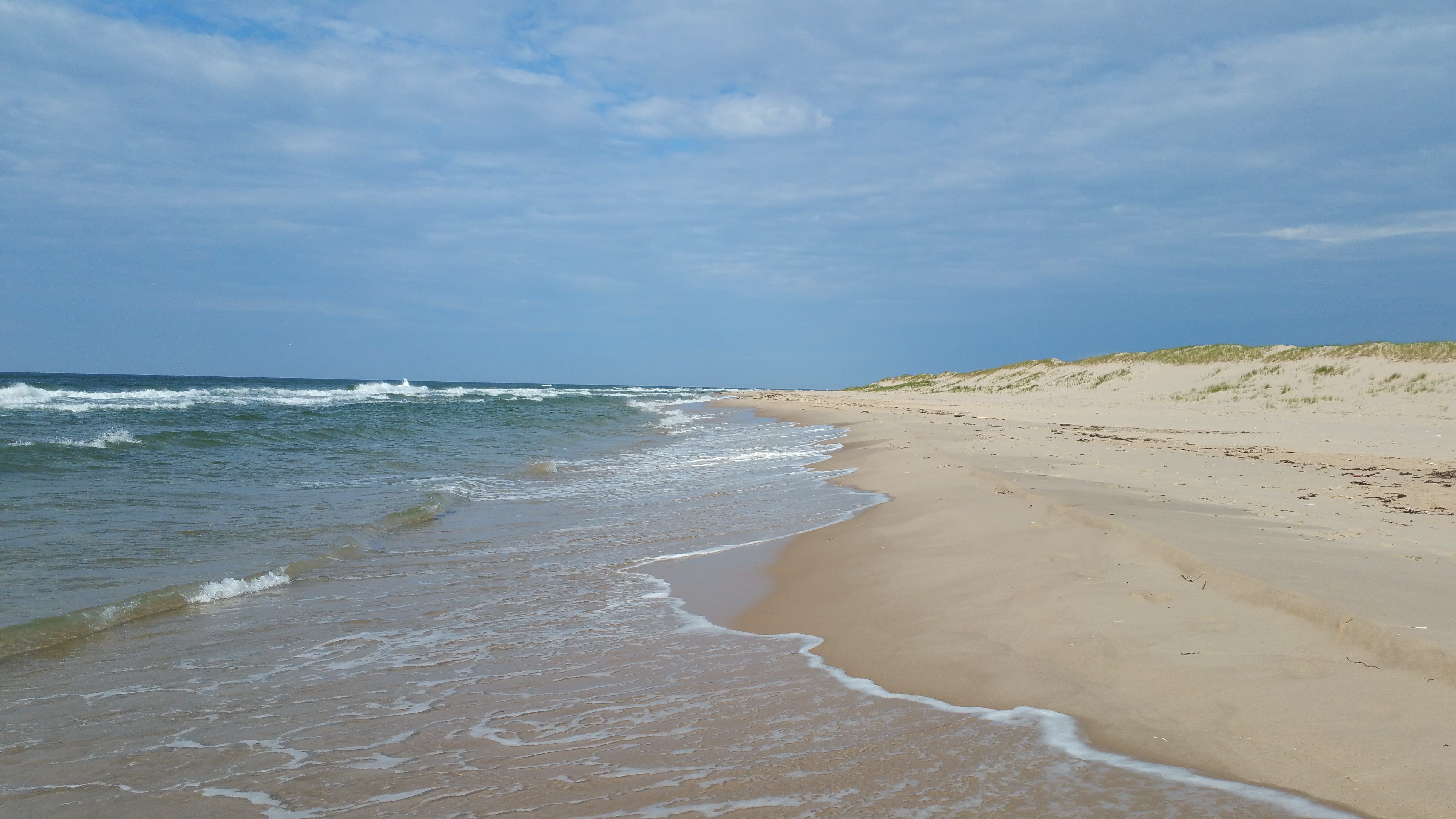 Dune du Nord (North Dune) Beach
This beach has serious currents and you've got to be careful but we recommend driving out just to observe the kitesurfers!  It's got a super shallow, slow grade which makes the lagoon side of this beach perfect for launching.  This beach connects Point-aux-loups to Fatima and can be accessed by either end.
Dune Du Sud Beach
Confused yet?  Yes, many of these beaches have the same name with only slight variations but pay attention because this one is important.  It's the only beach with red cliffs and caves to explore by foot!  It's 22km long and access by Chemin de la Dune-du-sud
Pointe-Aux-Loups Beach
Another stunningly beautiful white sand beach that can be accessed 1km from the village of Point-aux-Loups.  It's 16.5km long and is said to have some of the warmest of any of of the Magdalen Islands beaches.  It's also incredibly easy to find (yay).  
Access: Pointe-Aux-Loups, from highway 199 heading towards Grosse-ile you'll find yourself on a narrow highway surrounded by sand dunes.  That's Pointe-aux-Loups!  You'll see several roads on your left – they all lead to the beach!  Note: at the time of this article, the main beach was severely damaged by a storm and was closed to the public during our most recent trip for repairs.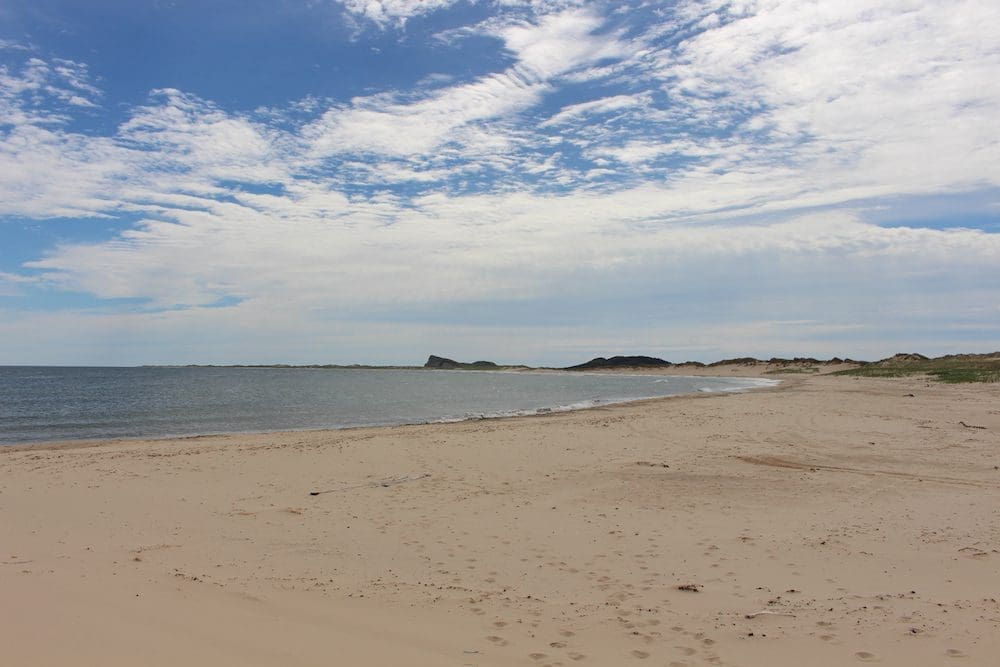 Old Harry Beach
Probably the most popular beach for it's singing sands and short boardwalk making it easy to access.  You can't miss this beach in the village of Old Harry with a pay-parking lot.
Access: This one is easy to find as well, just follow the maps to Old Harry and you'll see a large parking lot on the left-hand side of the road with a boardwalk.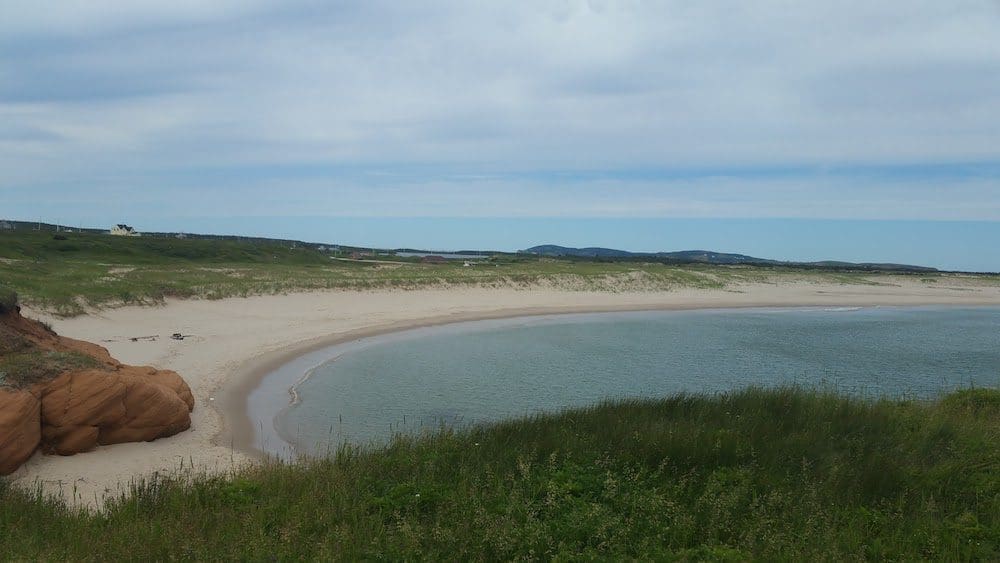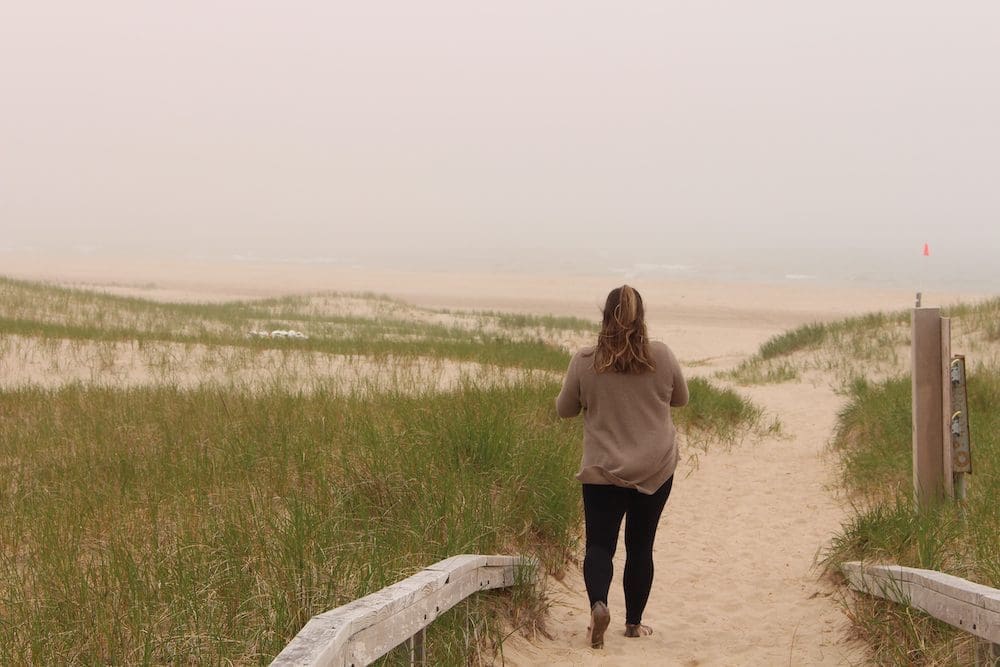 Bassin Est Beach
Incredible dunes, white sand, and lush flora and birdlife can be found on this short 1.5km beach in Grande-Entree Island.  Brent actually did a guided tour of this one on his own while I went Cave Swimming but once I saw these pics it was hard not to be a little jealous.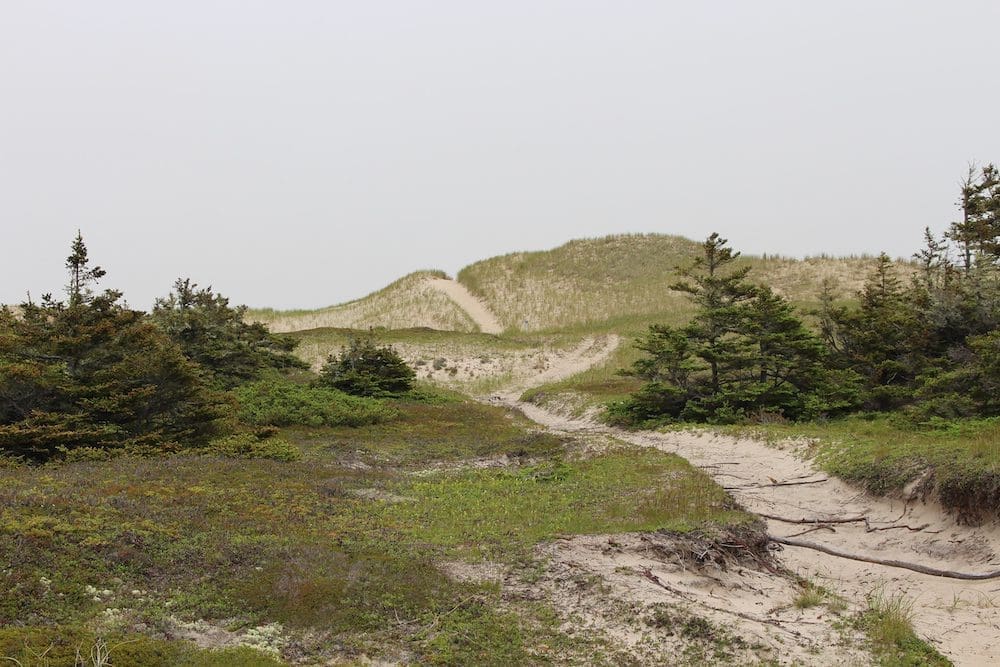 Plage de l'ouest (Dune de l'ouest)/ Du Bassin Beach
Another confusing name but on a completely different island than Bassin Est Beach (above).  This one doesn't have much infrastructure and you'll need to park your car at the end of the road, Chemin de la Cote.  Just drive until you can't drive anymore and park your car in the designated parking area.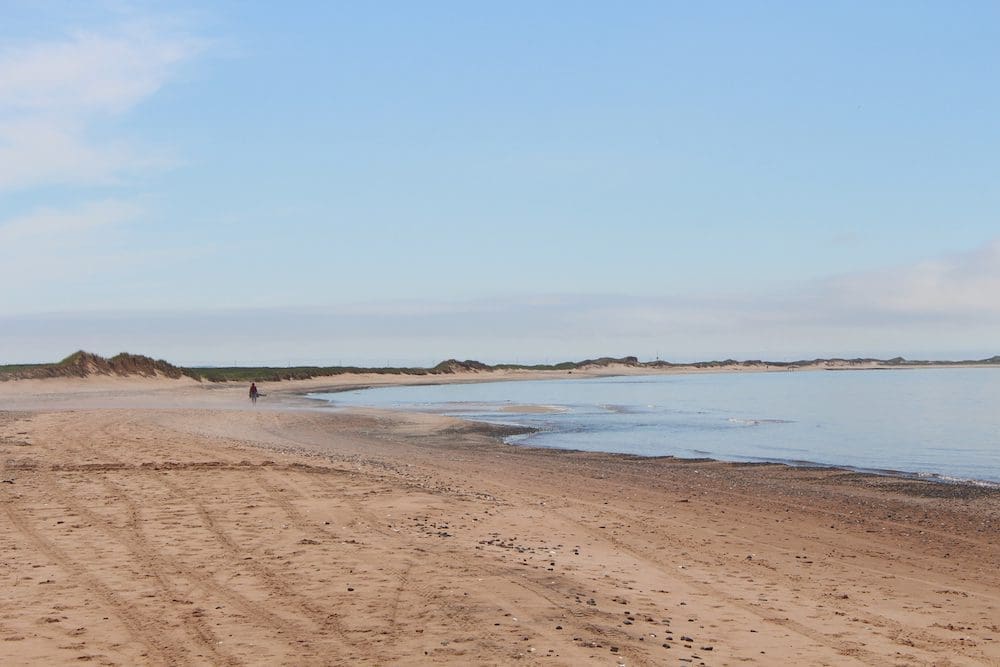 Do we have you convinced yet?  We chose these as the 10 best beaches in the Magdalen Islands because they each had something unique to offer.  There are certainly plenty of others, many of which are easier to access and more populated but we love the more remote!  
The other thing we really loved about the beaches in the Magdalen Islands is that they're all on a fairly gradual slope.  That means they stay shallow for quite a while making them perfect for wading.  Don't let that fool you though, many of these beaches have strong currents so be sure to check before you swim.
Have you been to the Maggies?  Are there any beaches you'd add to this list?  We'd love to hear about it!