Grilled Caesar Salad
I can still remember the first time I had a grilled caesar salad.  It was at least 15 years ago at a little restaurant in my hometown that has long since closed down.  Since then, it's become one of my all-time favorite salads and we're so excited to share this recipe with you today.  
Whether you're looking for a perfect side for literally ANY dish, or an impressive twist on a traditional salad we're sure you'll love this one.
Before you get started though, know this…
There are some key ingredients that make a grilled caesar salad amazing and, full disclosure, it's not the easy route.  Taking the time to make everything here from scratch is what will make all the difference.
Bacon
No guys, not all bacon is created equal.  Trust me!  Invest in some great, locally smoked bacon and watch what happens.  I also like to chop my bacon before I cook it (if I'll be crumbling it anyway).  I find it easier to cook having it already chopped also allows the fattier bits to cook more evenly, creating the perfect bacon bits!
Croutons
I know it's a bit of a commitment but you CANNOT use store bought croutons.  Honestly, they're just not good.  This recipe walks you through how to make the absolute best croutons you've ever tasted.  Once you try these, you'll never go back!  You can either tear or cut your break into cubes – our preference is to cut them because I like a smaller, more uniform crouton.  But, the choice is yours!
Dressing
The pièce de résistance is, always and forever, the dressing.  Nothing makes a salad like a kick-ass homemade dressing and a good caesar dressing can be hard to find.  This particular recipe is lemon-y and more of a vinegarette than a creamy dressing which makes it easy to drizzle.  Save this website, because your guests are all going to want this recipe.
Grilled Caesar Salad
Grilled Caesar Salad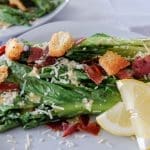 This upgraded caesar salad makes the perfect side to any summer dish or add grilled chicken or shrimp and serve as an entree.
Dressing
6 fillets anchovy (substitute 1Tbsp paste) (packed in oil)
1 small garlic clove
2 large egg yolks
2 Tbsp lemon juice (fresh)
3/4 tsp Dijon mustard
2 Tbsp olive oil
1/2 cub vegetable oil
3 Tbsp Parmesan Cheese (grated)
Sea Salt
Black Pepper
Croutons
1 loaf Country style bread (cubed)
1/2 cup butter (melted)
Salt & Pepper
Salad
2 heads Romain Lettuce (Halved & Stemmed)
1/2 lb Bacon (cooked & crumbled)
2 Tbsp Parmesan Cheese (grated)
Dressing
Chop together the anchovy, garlic and a pinch of salt. Use the side of a knife to mash into a paste, then scrape into a medium bowl.

Whisk in egg yolk, 2 Tbsp lemon juice, and mustard.

Adding drop by drop to start, gradually whisk in the oil.

Whisk until dressing is thick and glossy then add parmesan, salt & pepper to taste
Croutons
Preheat oven to 375°

Tear the bread into small pieces

Toss bread with melted butter or a baking sheet & season with salt and pepper

Bake, tossing occasionally, until golden. 10-15 minutes
Salad
Brush lettuce with olive oil and lightly grill on each side (less than 1 min per side)

Assemble your salads by adding dressing, croutons and bacon as desired.
Drink Pairing
Great Big Friggin' Red, Jost Vineyards
Since we paired this salad with London Broil's from Dexter's Butcher Block, we needed a bold red wine to compliment the flavors.  We chose Josts, Great Big Friggin' Red as the perfect pairing for this week's grill creation.  Jost is located in Malagash, just down the shore from us, and we're frequent visitors!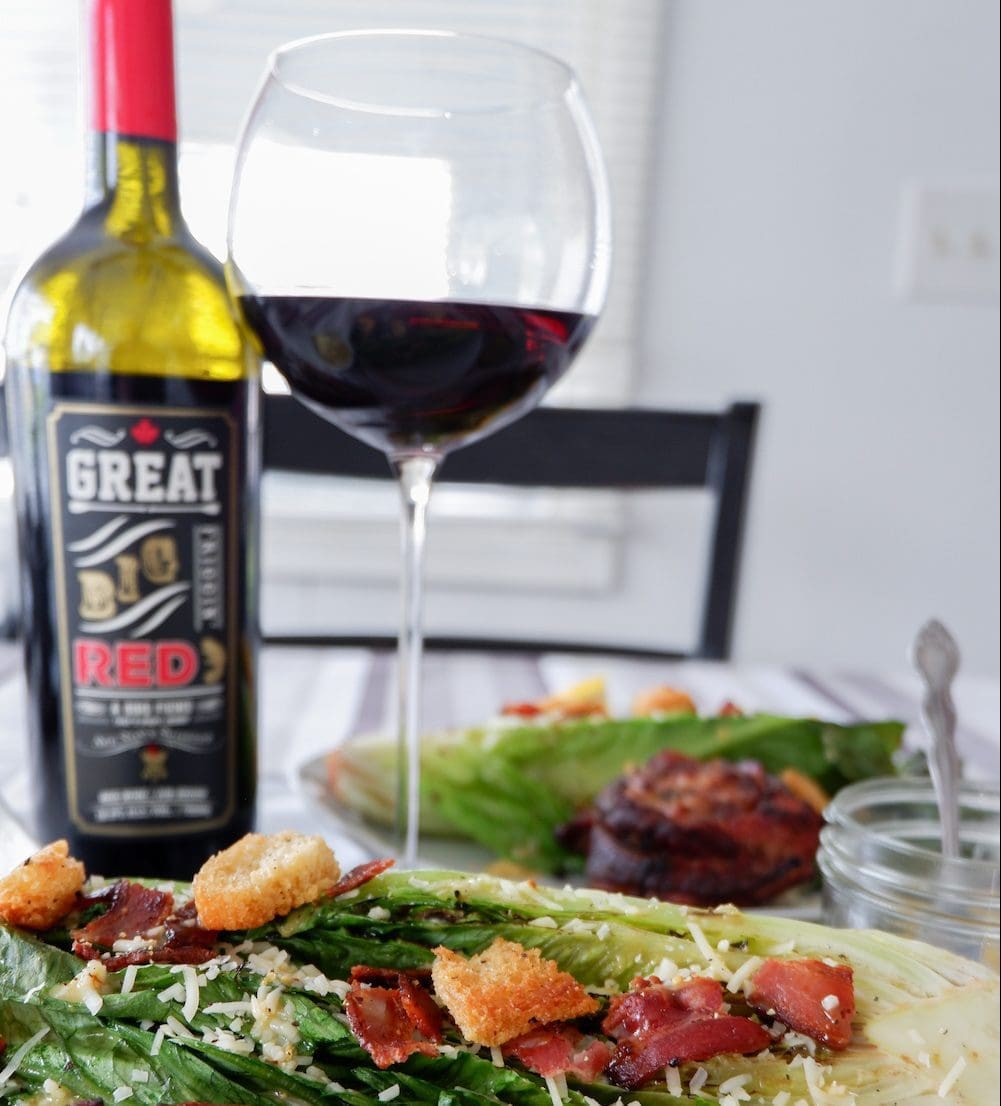 Featured Local Products
There's nothing better than using fresh, local ingredients.  We're lucky enough to live very handy some amazing producers and it's our pleasure to introduce them to you.
If you love summer grilling recipes, be sure to check out the entire Thrill of the Grill series.  Be sure to leave a comment and let us know what you think!
This post is sponsored by Warmth by Design and BBQ Heaven in collaboration with Kitchen Door Catering.  We love collaborating with awesome local businesses and sharing them with you but, as always, all opinions are always our own!