7 secret Downtown Halifax patios
Did you know that Downtown Halifax has more than 70… yes, 7-0, patios lining its streets and rooftops?  I mean, if one were inclined, you could eat (or drink) at a different patio every single day of our Nova Scotia summer and never revisit the same place twice.  While we'd absolutely love to check every single one of them out, we're starting with 7 secret downtown Halifax patios that you may not have heard about yet.  But first, a little story…
Truth.  My love affair with Downtown Halifax only began a few years ago.  My younger, country-girl self, was never drawn to cities and I always thought I preferred small towns where everyone knows everyone and there are only a couple of night-out options.  My oh my, how the tables have turned.  Exploring Downtown Halifax has become one of my favorite things to do, especially in the summer.  The diversity of the city, the fun and eclectic new spots popping up all over the place, and the endless options of new experiences to enjoy have totally changed my mind.
Not to mention the FOOD!  While small towns certainly have their charms (and some great food – sometimes), if you fancy yourself a foodie, like us, a city like Downtown Halifax has a lot more to offer when it comes to culinary treats.
So, without going too far down the rabbit hole, let's get to why we're here shall we?
Secret Downtown Halifax Patios You Have To Try This Summer
1. LevelBar at The Prince George Hotel
1725 Market Street, Halifax
Hours: 4pm – 11pm Mon – Fri & 11am – 11pm Sat & Sun
Levelbar is the located inside the Prince George hotel but it's far from your standard hotel bar.  With a double outdoor patio (one larger and one more intimate) and impressive shareable menu, it's worth taking a look for sure.  We loved this patio!  First, the newly opened outdoor space is super private, lush with landscaping and super versatile.  If we weren't already hitched, this would be a perfect wedding venue!  Maybe a vow renewal? 
We also loved the set up on the smaller, more intimate side with all kinds of cubbies perfectly situated for socializing.  Handcrafted cocktails and elevated share plates are the name of the game at Levelbar.  We enjoyed a beautiful spread of Calamari, a pickle board, and a feast of delicious oysters.
Side note: Levelbar offers "Buck a Shuck" Wednesday & Thursdays from 4pm – 6pm (that's $1 per oyster folks) as well as happy hour Tues – Thurs 5pm – 7pm.  

2. Stories at The Haliburton Inn
5184 Morris Street, Halifax
Hours: 5:00pm – 9:00pm Tues – Sat
The Haliburton Inn is a well-established boutique in the downtown core but have you seen their patio?  Me neither!  Who knew this little oasis existed!  We stopped in for happy hour and enjoyed a beer and…you guessed it…a cocktail.  What you're looking at here is Haliburton's own take on a traditional tequila fizz where they capitalized on our plentiful rhubarb instead of orange juice.  It was divine.  
If you stop in for a visit, order the Morris Street Fizz… you can thank me later!  In fact, it's so pretty that after ours came out, the other guests couldn't resist and there was a steady parade of this cocktail coming out of the bar. #trendsetter


3. Barrington Steakhouse
1662 Barrington Street, Halifax
Hours: 11am-11pm Mon-Wed, 11am – 12am Thurs & Sat, 4pm – 10pm Sun
This patio was probably the biggest surprise of all.  We took an Instagram poll while we were on-site and it turns out, we're not the only ones who had no idea that this existed.  They brilliantly took an unused space and turned it into the cutest little intimate patio, filled with planter boxes and charm.  This patio also offers tons of privacy so if you're looking for somewhere quiet to enjoy a meal or drink, this is a great choice.
If you're familiar with Dowtown Halifax you've likely been to (or at least heard of) the Barrington steakhouse.  Their food is outstanding.  But, what you may not know is that they've got a pretty kick-a$$ lunch menu as well!  Brent ordered the southern chicken sandwich and I went with a salad.   What can I say… I'm a sucker for a wedge!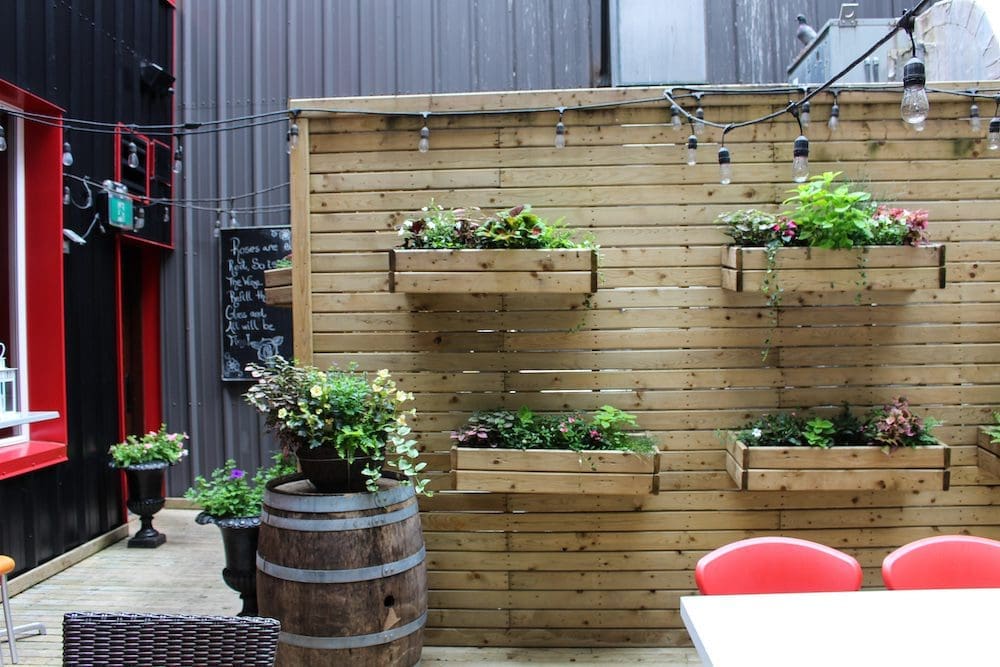 4. The Rooftop by Stubborn Goat
1567 Grafton Street, Halifax
Hours: 2pm – 11pm Mon-Fri & 12pm – 1am Sat & Sun
Another well-known restaurant with a patio you may not know about is The Rooftop by The Stubborn Goat.  Definitely more upbeat and geared towards a more lively crowd with the hockey table and fire pit.  If people-watching is your jam, this is your place!  It sits directly above what locals affectionately call "pizza corner" and focuses on quick bites (from Pizza Girls next door) and simple cocktails & craft beer.
We loved the whole vibe.  At first glance, the astroturf threw me but I have to say – it totally works with the seating options, fire table, and pergola draped in vines.  They also have a DJ booth in one corner with is a really unique idea!



5. Summit Cafe
1601 Lower Water Street, Halifax
Hours: 7 am – 3 pm Mon-Fri
Located directly above the Halifax boardwalk this simple cafe offers quick, friendly service and tons of outdoor seating.  We grabbed a coffee and a breakfast sandwich (which was excellent) and enjoyed the view from our table.  
Sometimes it's these understated places that are the best-kept secrets!  We also heard that make some pretty fantastic soups, so we're looking forward to a return visit during our next trip!
6.  Trident Booksellers & Cafe
1256 Hollis St, Halifax
Hours: 8am – 5pm Mon-Fri & 8:30am – 5pm Sat – Sun
With only seating for 4 out front, you might have to elbow your way to a table (just kidding – totally don't push other people!).  This cafe is exactly what you'd expect from a place that does books and coffee.  They've got a hipster, cozy vibe and serve up any kind of coffee you want along with an assortment of pastries and baked goods.
7. Castello Cafe
1223 Lower Water Street, Halifax
Hours: 7am-4pm Mon-Fri
Another on-the-go cafe with outdoor seating that you might now have known about is Castello cafe.  It's also located on the waterfront but can be tricky to find if you're not familiar with Halifax.  You can access it either through the Emera Energy building and down the stairs or from the boardwalk.  
While this wasn't our favorite meal, we did enjoy sitting out on the stone patio and watching the Discovery camp kiddos enjoy the sunny day!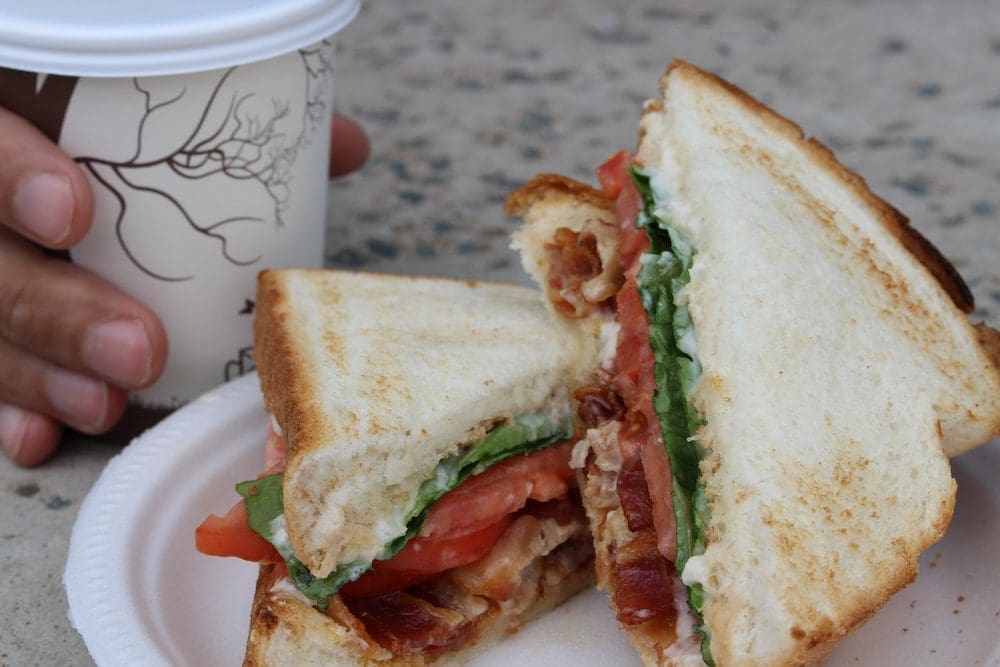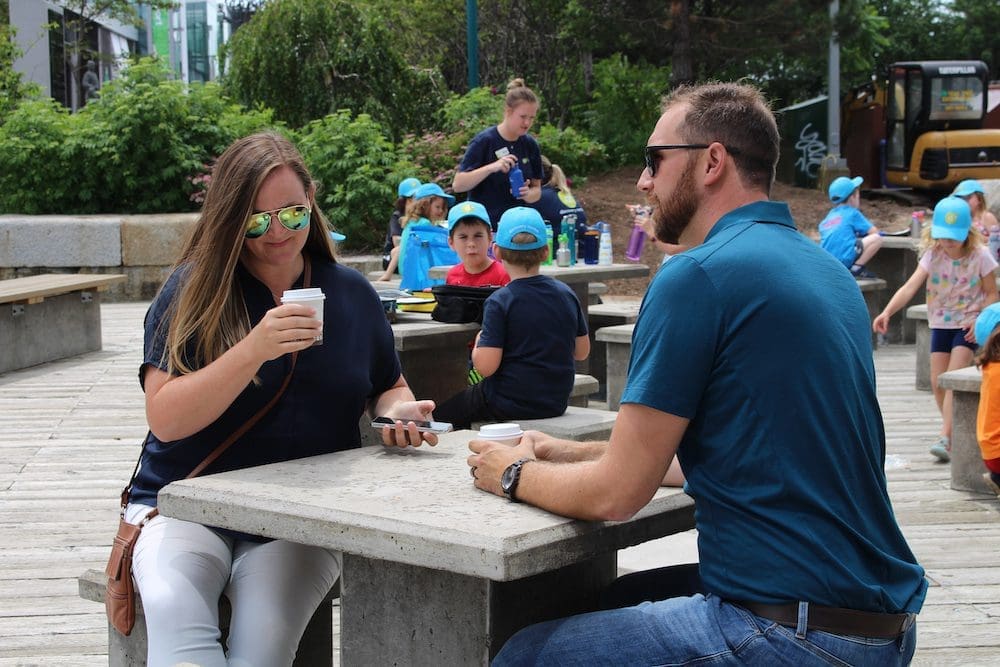 Guys, we've only scratched the surface here.  There are so many different kinds of patios to enjoy in Downtown Halifax and we can't wait to check even more out.  If you loved this post, don't forget to check out our 5 Perfect Patio Dates post from last year that also features 5 more patios in Downtown Halifax.
What did we miss?  What's your favorite (secret) patio in Halifax?
*This post was sponsored by Downtown Halifax but, as always, all opinions and far too many photos are our own.