Grilled Mexican Street Corn
Game Changer.  Since filming this recipe a couple of weeks ago, we've enjoyed it several more times with friends and family.  It's a hit every single time.  Grilled Mexician street corn, called Elote, is an elevated way to serve corn on the cob while still being super simple to create on a short timeline.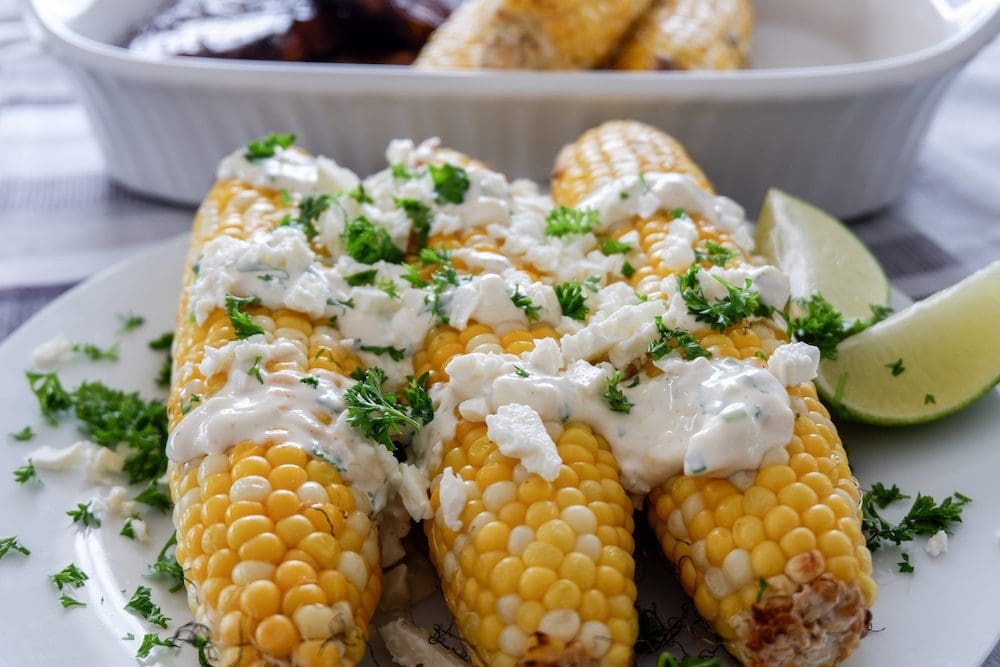 We've served this up with Mexican Grilled Pork (featured here), alongside crispy chicken wings and even enjoyed it as a meal on it's own.  Grilling the shucked corn on direct heat creates this beautifully nutty taste becasue some of the kernals will char while the corn stays only slightly done (el dante, if you will).  Topping it with this cheese mixure leaves you with a nutty, creamy, sweet, and tart burst of flavor.
And all of this, in about 10 minutes flat!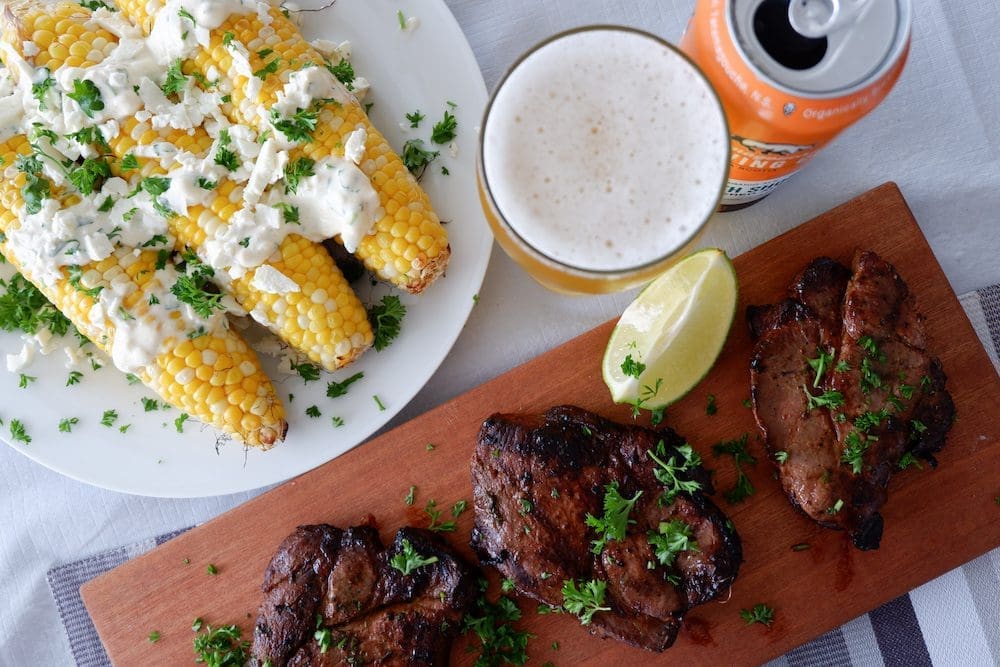 Officially, the corn was paired with a marinated Capicola steak from Dexter's Butcher Block in Tatamagouche.  A quick Mexican marinade of lime, garlic, cilantro and some spices added a flavor to the steak that perfectly complimented the creamy corn.
If you haven't tried Capicola steak yet, I'd highly recommend it.  It's a boneless pork shoulder steak, usually marinated and it's deliscious.  You could grill these steaks as is, since they come already marinated and they would be great.  In our case, we wanted to bring out the Mexican flavors featured in the corn so we did a double marinade.  The result: it was double deliscious!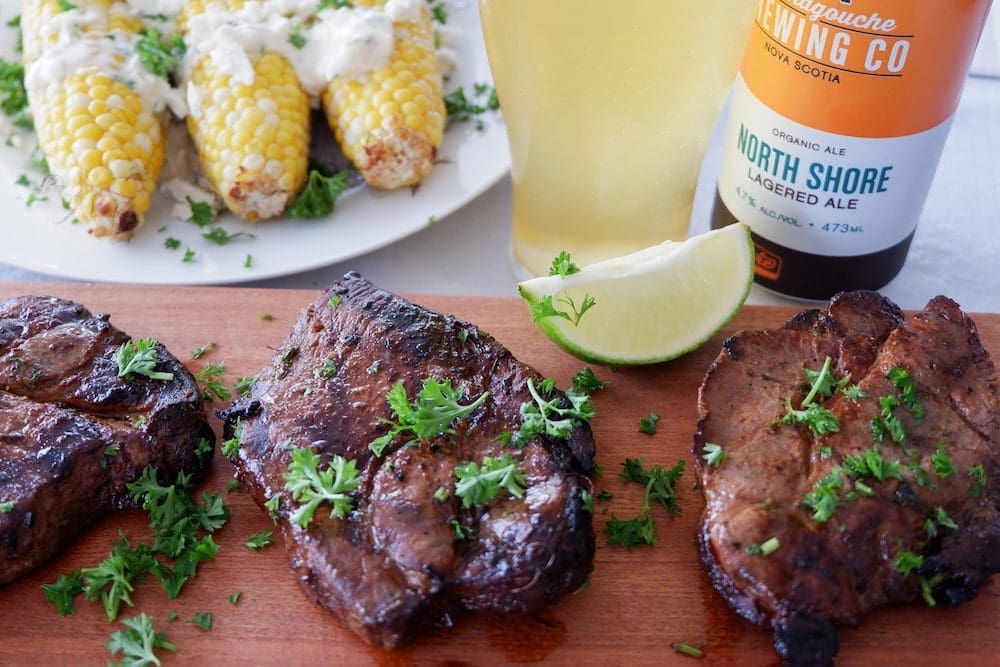 Grilling The Corn
The corn is grilled, on the hot side of the grill, without the husks.  I repeat, HUSKS OFF.  I know the "usual" way to grill corn is still in the husk but not in this case.  I'm also aware that I'm repeating myself on this one but it'll make or break your recipe so be sure to husk your corn first.  It's fine to leave some silk because it will burn off on the grill and it actually makes a lovely looking dish if there are some silk chars left.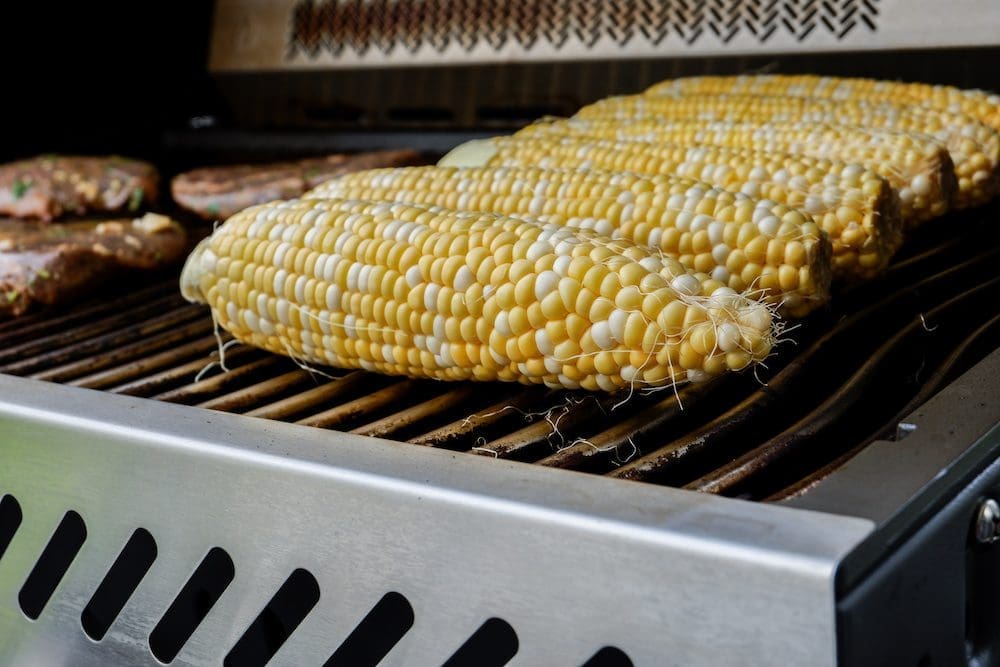 OK, are you drooling yet?  Let's do this!
Grilled Mexican Street Corn
Grilled Mexican Street Corn (Elote)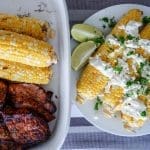 This elevated take on traditional corn on the cob creates a simple dish that's full of flavors. It's nutty, creamy, tangy and sweet all in one bite and it only takes minutes to create.
The Corn
1/4 cup Mayo
1/4 cup Sour Cream
3/4 cup Feta (crumbled)
1/2 tsp Chipotle Powder or Sauce
1/4 tsp Cayenne Pepper
1/4 tsp Salt
2 cloves Garlic (minced)
1/4 cup Cilantro (or Parsley) (minced)
8 ears Corn (Shucked)
2 Limes (cut into wedges)
The Steak & Marinade
4-6 Pork Chops
1/4 cup Olive Oil
1 Lime (juiced)
2 cloves Garlic (minced)
1/4 cup Cilantro (chopped)
1 tsp Chili Powder
1/2 tsp cumin
1/2 tsp Salt
1/4 tsp Pepper
The Corn
Start the grill

Mix together mayo, sour cream, spices, salt garlic and 1/2 cup of feta (save the rest) 

Place corn on grill for about 10 minutes or until the corn has some good colour

Once complete, put corn on serving dish squeeze lime juice then drizzle sauce and finish with a sprinkle of the remaining feta and cilantro (or parsley)
The Steak
Place pork into a large baggie

Mix all ingredients into bowl and then pour into bag with pork, Let sit for 2-4 hours. 

Turn on bbq using medium high heat, cook pork chops for about 5-10 min per side depending on size and thickness. We are looking for a internal temperature of 145F
Drink Pairing
North Shore Ale, Tatamaouche Brewing 
You could easily go several different ways for a pairing here, but we decided to play on the crisp fresh flavors of the marinade and the corn.  We chose Tata Brew's North Shore Ale.  
Featured Local Products
This recipe features a couple of different local products that we'd love to share with you.  First, we picked up the corn and fresh herbs at our local Farmer's Market.  Fresh herbs, if you aren't already using them, will completely transform your recipes!  If you're not already growing them yourself, we'd suggest picking them up fresh whenever you can.
Dexter's Butcher Block Capicola Steak
Tatamagouche Brewery's North Shore Ale
If you love summer grilling recipes, be sure to check out the entire Thrill of the Grill series.  Be sure to leave a comment and let us know what you think!
This post is sponsored by Warmth by Design and BBQ Heaven in collaboration with Kitchen Door Catering.  We love collaborating with awesome local businesses and sharing them with you but, as always, all opinions are always our own!