Imagine the sound of a raging river, the song of the birds, the dirt beneath your feet and your heart pounding in your ears as you tackle a 48 degree incline along the coast.  It's amazing.  It's a thrill.  It's exhilarating and you feel on top of the world…until you feel the throbbing inside your shoes and realize that the likelihood of your poor toenails surviving this hike is slim to none.  Cut to the the next 12 months it takes to actually grow those bad boys back after they fall off.  If you haven't experienced the joys of "hikers' feet", count yourself lucky but if you're like most of us, you know what I'm talking about.
Good news!  All this pain can be avoided if you just get your darn feet in the right kind of shoe!  So, today we're walking you through our ultimate gear guide – the basics.  This blog isn't about the fanciest and most tech savvy gadgets you can get; it's about the basics you need to enjoy a summer of adventure in the great outdoors!
[video_player type="youtube" width="560″ height="315″ align="center" margin_top="0″ margin_bottom="20″]aHR0cHM6Ly95b3V0dS5iZS90RTJuOEpMdHBMOA==[/video_player]
Shoes & Socks: Keeping Your Feet Comfortable & Pain Free
The single best way to ruin a good adventure is with a nasty blister or worse, toenails that have been damaged to the point of falling off.  Not only is it uncomfortable (to say the least) but it's not cute – at all!  If there's one thing on this list we recommend investing in above all else when it comes to gearing up for adventure it's proper footwear.
That means heading to a  store and getting fitted for the correct shoe size and picking up a pair (or two) of performance socks.  I've been hiking in Solomon shoes for as long as I can remember and they've never let me down on the trails!  Here's our list of what to look for when choosing shoes and socks for your next adventure:
Trail Shoes
Light weight – we hike in trail runners or trail sneakers (also known as hikers), not hiking boots, because we love the versatility and flexibility of this type of shoe.  We like to move quickly on the trails and a sneaker gives us much more freedom than a boot and can also be worn on more occasions than a boot.
No tie laces – this might not sound like a big deal but when you're on the trail and have other things to be thinking about it's a convenience you'll really appreciate.  Many great trail shoes now come sans traditional laces.  You just pull these tight, tuck them in and you're good to go.
Goretex – dry feet make all the difference in the world and a shoe that boasts a gortex lining will save you on the trails.  Less thinking about where you're stepping and more enjoying the ride!
Socks
Smart Wool – these aren't your granny's socks.  The smart wool technology keeps your feet dry, cool (I know, weird right?), and they're anti-bacterial which means they keep your feet from getting smelly.  Very handy if you're on a multi-day hike and don't have access to fresh socks everyday!
Fit – Yes, socks come in more than just small, medium & large…And great socks actually come made in panels that support your feet and keep the formation of blisters at bay.  There's literally nothing worse than getting a nasty blister on the trails so do yourself a favour and invest in a pair of socks that will keep your feet safe and healthy!
Day Packs & Hydration Systems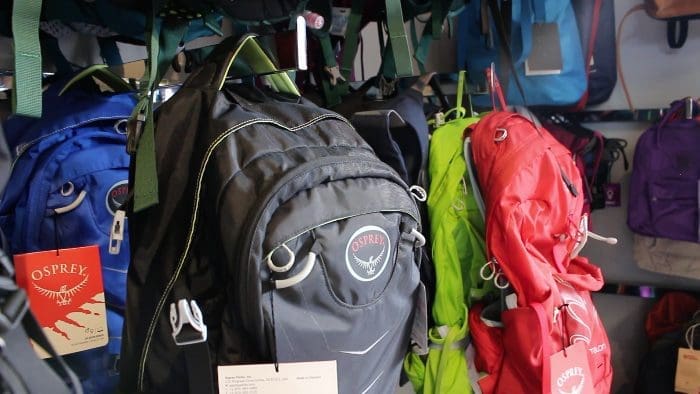 Backpacks & hydration systems have come a long way in the last few years and we've been through a ton of them!  Now we have a very specific set of criteria we use when choosing a pack & hydration system whether it's for a weekend adventure or a day hike.
Backpacks
WARRANTY – I repeat, WARRANTY!  When you're in the wilderness and on the road your gear takes a pounding so the very first thing we look for when choosing a pack is one with a warranty (lifetime please).  We spend our hard earned cash on these items so we want to be sure they're going to last!
Pockets, Pouches, & Compartments – First and foremost, does it have a compartment for a hydration system?  If yes, you're good to go.  If not, step away from the pack and move on.  There should be a padded section at the back of the pack (nearest your body) that can hold your water bladder with a tunnel for the drinking tube to come out the top.  Aside from that, you also want to make sure there is enough space left over for snacks, camera gear (if needed), first aid supplies, layers of clothing, and anything else you'll need on the trail.  We also look for external, easy access compartments to put things in that we reach for often like sunscreen, phone/camera, lip balm, trail mix, etc.  That way, we don't have to stop ever time we want to snap a picture or pop a few m&m's into our mouths!
Straps – Every pack has shoulder straps but there are two others that are essential for longer distance hiking.  A waist strap keeps the pack from moving around on your back (which can cause blisters, chaffing, and other unpleasantries).  It's also a spot that great packs typically have some pouches or pockets(above) which is awesome.  The last set of straps you'll want to look for are the chest straps!  The chest strap that is the real jewel of the pack.  Never…Ever…Ever buy a pack without a chest strap.  This strap takes some of the load off your lower back which will save you on longer hikes.  It also makes the whole fit of the pack more adjustable and comfortable.
Construction – this doesn't fall under the "essential" category but it will make things more comfortable for you and if you're ticking off all of the boxes above you'll likely be looking at packs that have these features anyway so it's worth mentioning.  Look for lightweight, quick dry materials and a mesh or breathable back panel (the part that rests on your back).  Trust us, you'll get sweaty and if you're pack helps to wick away moisture and dry's quickly that's an A+ in our books.
Hydration Systems/ Bladders
Hydration systems, also known as bladders, are pouches that you fill with water (or your drink of choice) that fit into your pack with a tube that runs to the outside of your pack for you to drink from while on the move.  While this may not be a necessity (likes shoes and a pack are) it is a convenience that we highly recommend.  The last thing you want is to have to stop every 30 minutes to dig your water bottle of out of your pack while everyone else marches on.
Anti-Bacterial – most hydration bladders come with this feature now but double check before you buy.  They should be made from anti-bacterial materials to decrease the risk of nasty bugs growing in your water.
Style – this is personal preference but having tried most varieties out there we have firmly settled on a top closure model.  Many bladders have a circular opening somewhere in the middle of the bad that you screw open and close – we haven't yet figured out why they've been designed this way because, in our view, it's a huge pain in the butt to clean!  The newer models (and the smarter ones) have a top closure that looks like a giant ziplock with a  safety mechanism that slips on over the zip to keep you water in.  This makes for MUCH easier filling, emptying and cleaning!
Beyond The Basics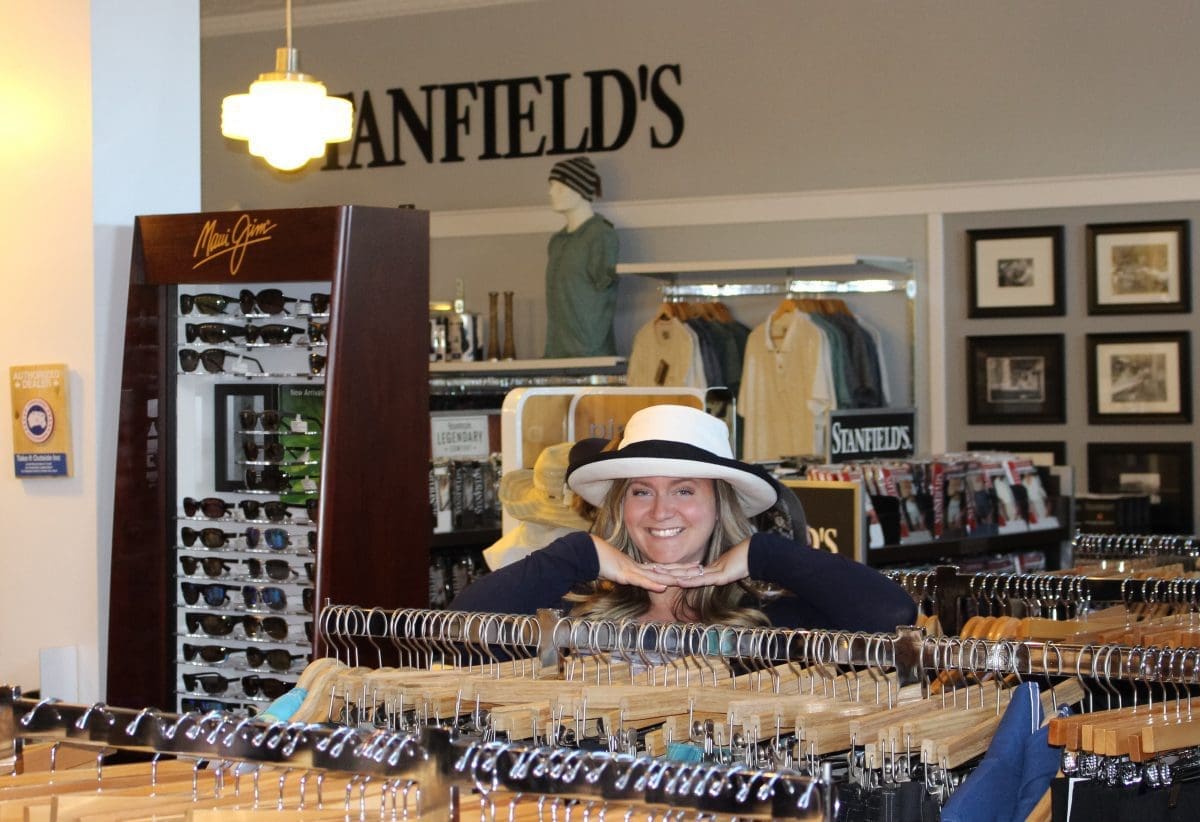 If you're just starting out and you're on a tight budget, the above items are all you need to get started on the trails however there are a few other items that will make your treks more comfortable.
Water Bottles
In addition to your hydration pack, if you'll be on the trail for long durations, we always bring an extra bottle of two.  We use S'well bottles and Hydraflask because they keep liquids cold for over 24 hours or hot for up to 12 hours.  If you're trekking in cold, wet, or damp conditions it's pretty awesome to be able to pull out a hot drink of soup, tea or hot chocolate!  In the reverse, the water in your pack won't stay cold all day on a hot day so if you're someone who likes icy cold water, pack your favourite s'well and keep that on hand for a cool treat every now and then.
Hiking Poles
We carry one each!  If you have any lower body injuries (knee, ankle, hip or back) a hiking pole can give you much longer on the trail because it takes up to 20% of the impact off your lower body.  Hiking poles also allow you to maintain an upright posture when climbing or descending steep inclines and can serve as extra balance points on unstable terrain.  We recommend only one because we always find that two just gets in the way.  Here's what we look for in a hiking pole:
Lightweight & Collapsable – You don't want to add much weight to your gear so invest in a higher quality pole (they are always the lightest) and make sure it collapses down so that you can store it in your pack when you don't need it.  Many poles come in sets of two so our best tip is to buddy up with a fellow hiker and split on a set!
Pole Tip – you want a tip that has a removable rubber end.  The rubber end is great for trails that are mossy because they don't get stuck in the ground when you're trekking.  When you remove that rubber tip it should reveal a sharp metal end, this is what we use on rough, rocky, or wet & slippery conditions or when we need a better grip.  It sounds counterintuitive, we know – but trust us.  Rubber on soft ground, spike on rocky terrain.
Hat or Sunglasses
It's the great debate.  Personally, we prefer hats to sunny's because we find that we can't see as well with sunglasses on.  Additionally, they fog up if you're sweating and can slide around on your face.  A great hat, that fits you properly is much more useful on the trails because it not only protects your eyes but also shades your shoulders, face & neck while giving you the ability to see everything clearly (and take loads of pictures).
Did we miss anything?  Leave us a comment and let us know what your top 3 MUST-HAVE items are for your summer adventures! If you want a more in depth look at our gear, we did a Facebook LIVE video on the topic that you can watch here.
We've had the pleasure of partnering up with Take It Outside for our summer adventure series and we can't thank them enough for helping us get geared up for summer.  As always, all opinions and photos are our own.  This is all gear we actually use (and have been using for years)!