Nova Scotia Brunch Spots
An Egg Lovers Restaurant Guide
The #EggsAnytime campaign was made for me!  Why?  Because eggs are, quite easily, one of my all time favourite foods.  And brunch, as you may know, is my absolute favourite meal of the day.  So going on the hunt for the best Nova Scotia brunch restaurants was an easy yes for me.  If you scour this blog, you'll find dozens of restaurant reviews and features.  When it comes to finding Nova Scotia brunch restaurants, there are so many to choose from.
So, my first disclaimer in this blog post is this.  This is not a complete list of all the amazing brunch spots in Nova Scotia.  Not by a long shot!  But we're still working on it so check back regularly because this, just like "Nova Scotia Restaurants Featuring Eggs" blog post, will continue to evolve.
Nova Scotia Brunch Restaurants
---
The Almonak
5659 Almon St, Halifax
We had to start this list with a restaurants right here in our backyard, obviously!  Willow, Chef at the Almonak, is a genius in the kitchen.  In fact, we've followed them around the city because we can't get enough of their food.  The Almonak does something we love.  The niched down!  They do brunch, and they do it well.  Truth be told, we've been travelling so much that we're actually not in Halifax that often BUT we have a secret goal of tasting every single menu item at the Almonak over the next year.  Wish us luck!
Pictured here is the breakfast sammie and the benny.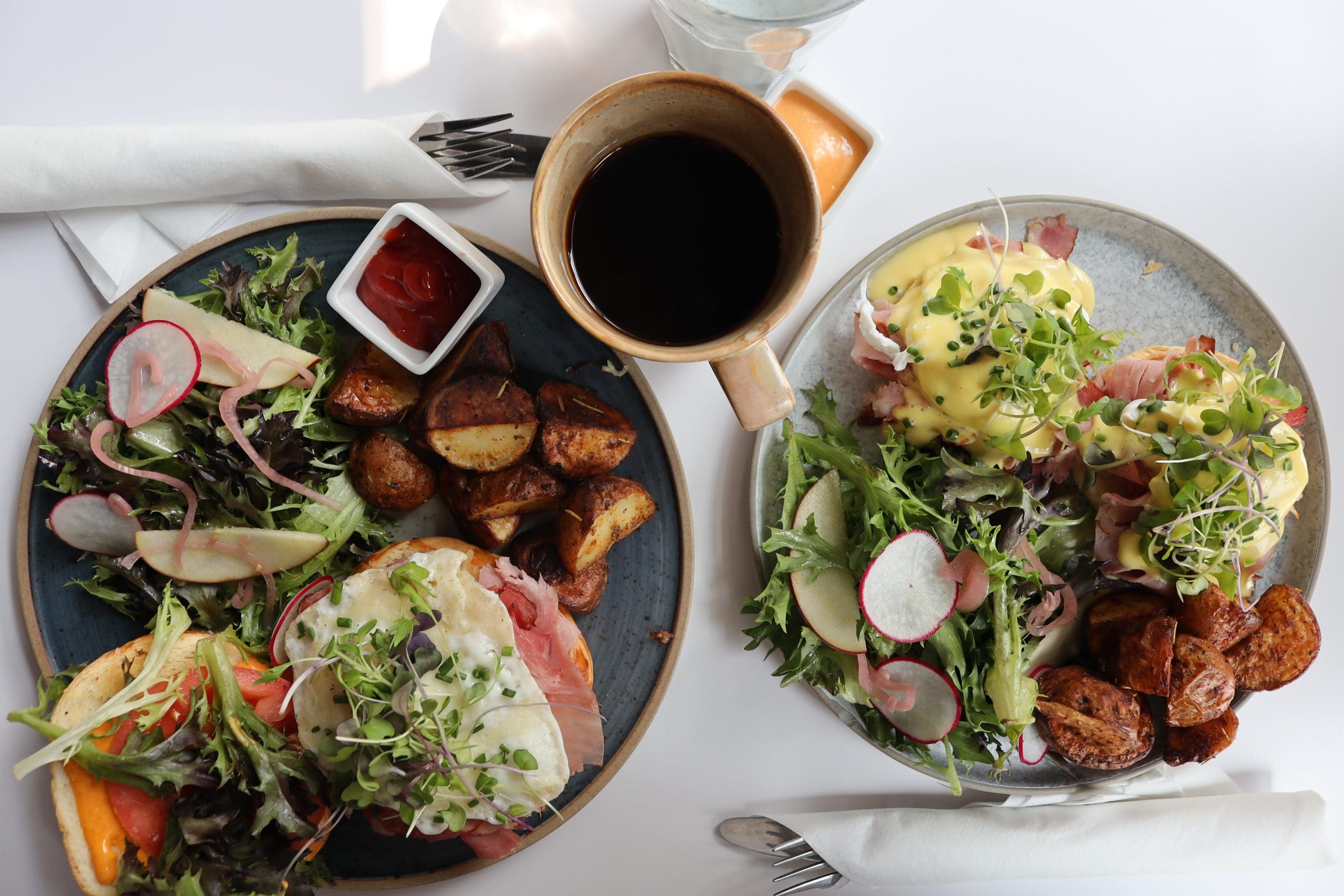 The Perky Owl
255 Main Street, Yarmouth
Yes, Yarmouth!  We made a point to travel all across Nova Scotia this year in search of great restaurants and the
Perky Owl
made that list.  They feature fair trade, organic coffee in a super cozy atmosphere in downtown Yarmouth.
Side note: Yarmouth is rural area in southwestern Nova Scotia but, for such a small place, actually has a pretty great food scene!  There are plenty of restaurants to visit that are doing some really great things.  Check out

our recent stay

and the full itinerary we followed here.
The perky owl serves breakfast sandwiches on flaky buttermilk biscuits as well as deli sandwiches.  We've actually been twice now and each time had a great experience!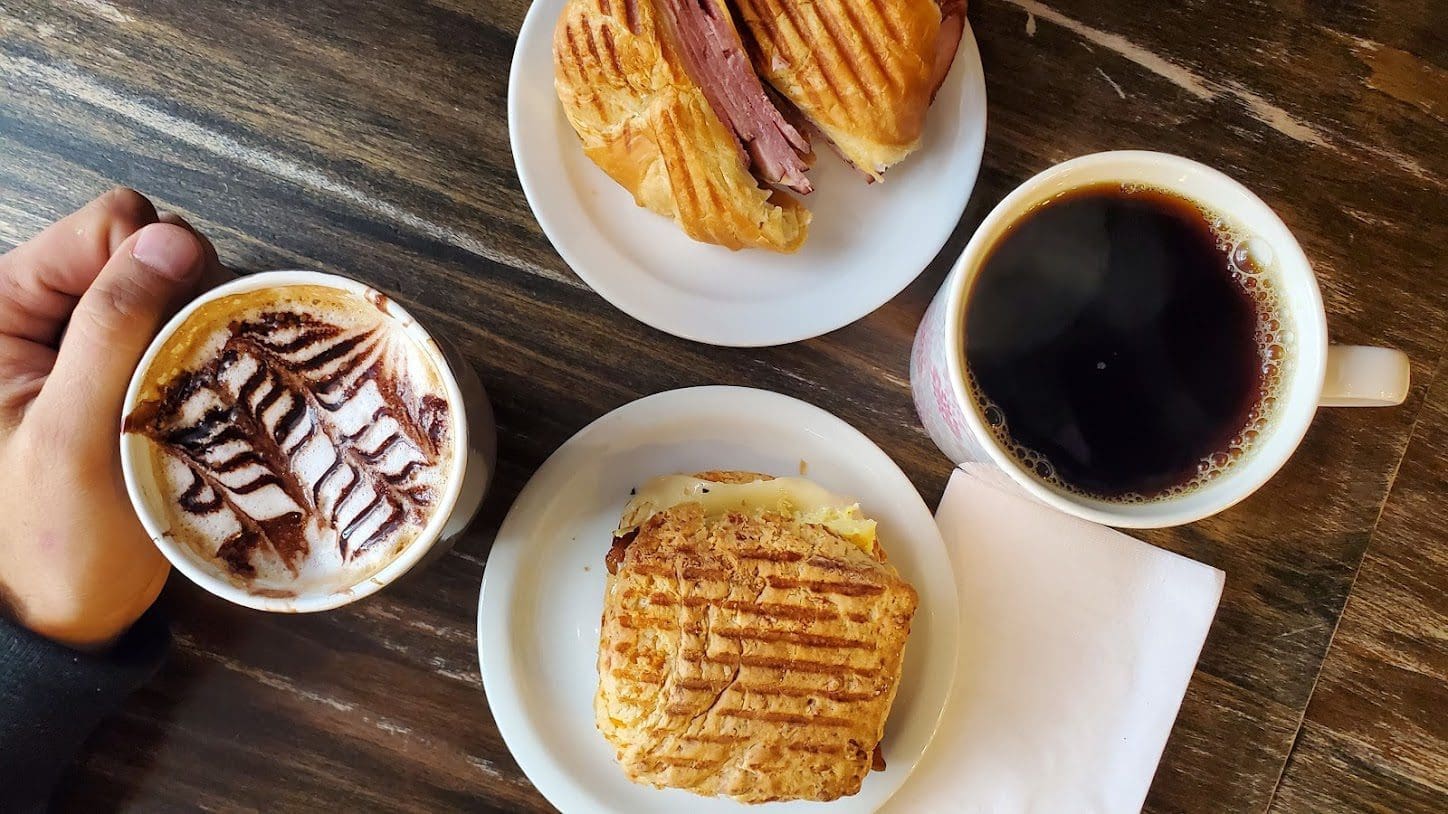 Sissiboo Coffee Roasters
1890 Clementsvale Rd, Bear River
Where's Bear River you ask?  It's another underrated area of Nova Scotia located between Annapolis Royal and Digby.  It's the CUTEST little village and home to Sissiboo Coffee Roasters.  The cafe is small but mighty and offers breakfast, lunch and delicious homemade treats.  Part of the charm of some of these small, rural restaurants is that you won't find a ton of details or menus online but that's what makes it fun!
After some digging, I wasn't able to find details about whether or not Sissiboo is open for dinner.  We stopped in for breakfast, however, and had a great meal and one heck of a piece of cheesecake!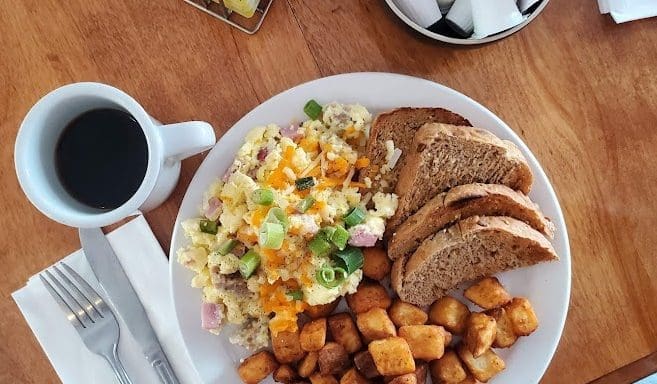 Nova Scotian Rollies
151 Water St, Shelburne
If you haven't put Shelburne on your list of places to visit in Nova Scotia yet, it's time!  This charming historic waterfront town has so much to offer, including some great eateries like Nova Scotian Rollies.  Rollies is actually a catering company with an onsite restaurant where we stopped for breakfast during our last visit.  We enjoyed the breakfast poutine that was piled high with fresh ingredients, Nova Scotia eggs, and topped with hollandaise sauce.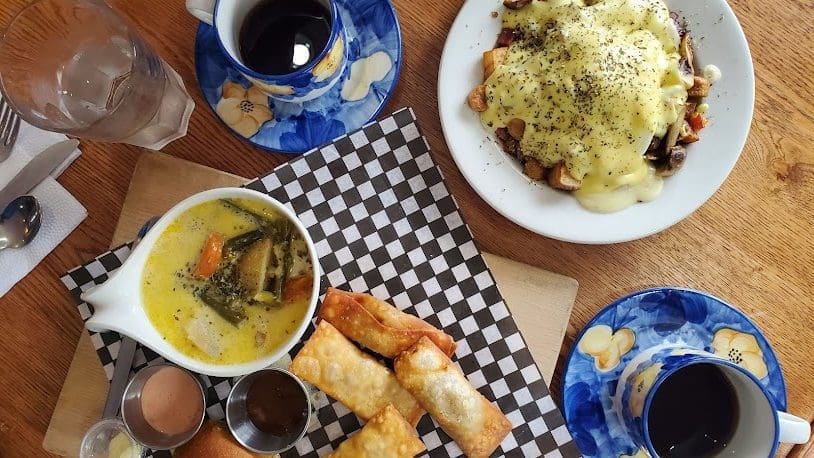 C2 Cafe, Yarmouth
120 Starrs Rd, Yarmouth
Again, this is a small shop (actually it's a breakfast food truck!) with no website but don't let that stop you.  They make some tasty breakfast goodies!  We stopped by during a visit to Yarmouth and grabbed one of the "Yarmouth Famous" scones and a breakfast buddy.  The breakfast buddy was our favourite.  It's basically just a biscuit dough baked around ingredients like egg, ham & cheese.  It was delicious!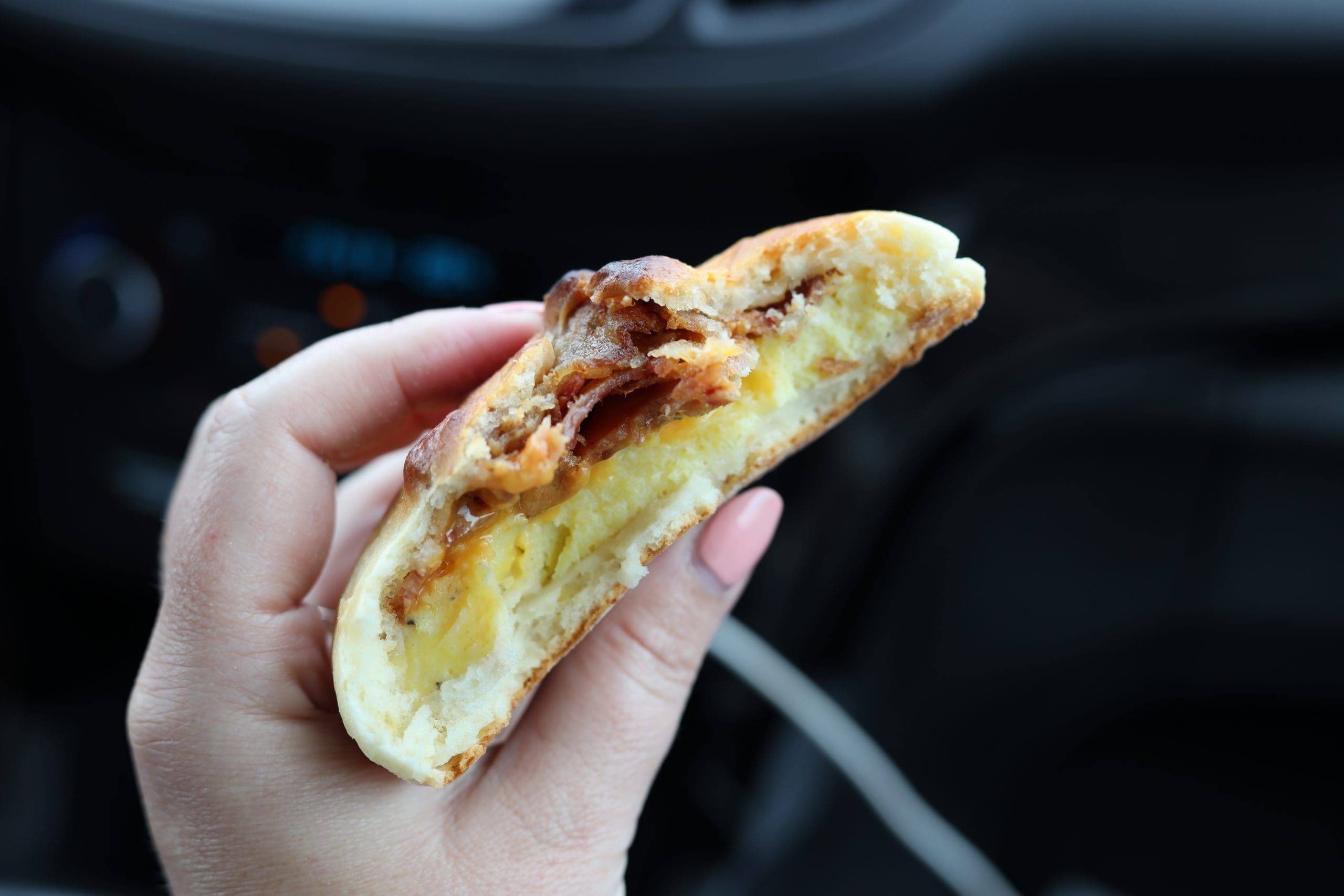 Gahan House
5239 SACKVILLE ST. HALIFAX
Whether you're sick of hearing us talk about Gahan  or not, you'll have to bear with us because their brunch menu is A+.  At this point, we've tried nearly all of it and there hasn't been a single thing we didn't love.  Also, the breakfast cocktails are awesome so that's another win for us.  Some standouts on the menu for us are The Deadly, the Chilaquiles Rojo (if you like a little heat) and the bennies.  Both are pictured here!
Gahan offers a variety of options for Eggs Benedict, when it comes to Benny's I'm a traditionalist.  To me, nothing beats the "Classic" benny with pea meal bacon, pouched eggs, and traditional hollandaise sauce.  Their classic isn't pictured here, but it's eggscellent!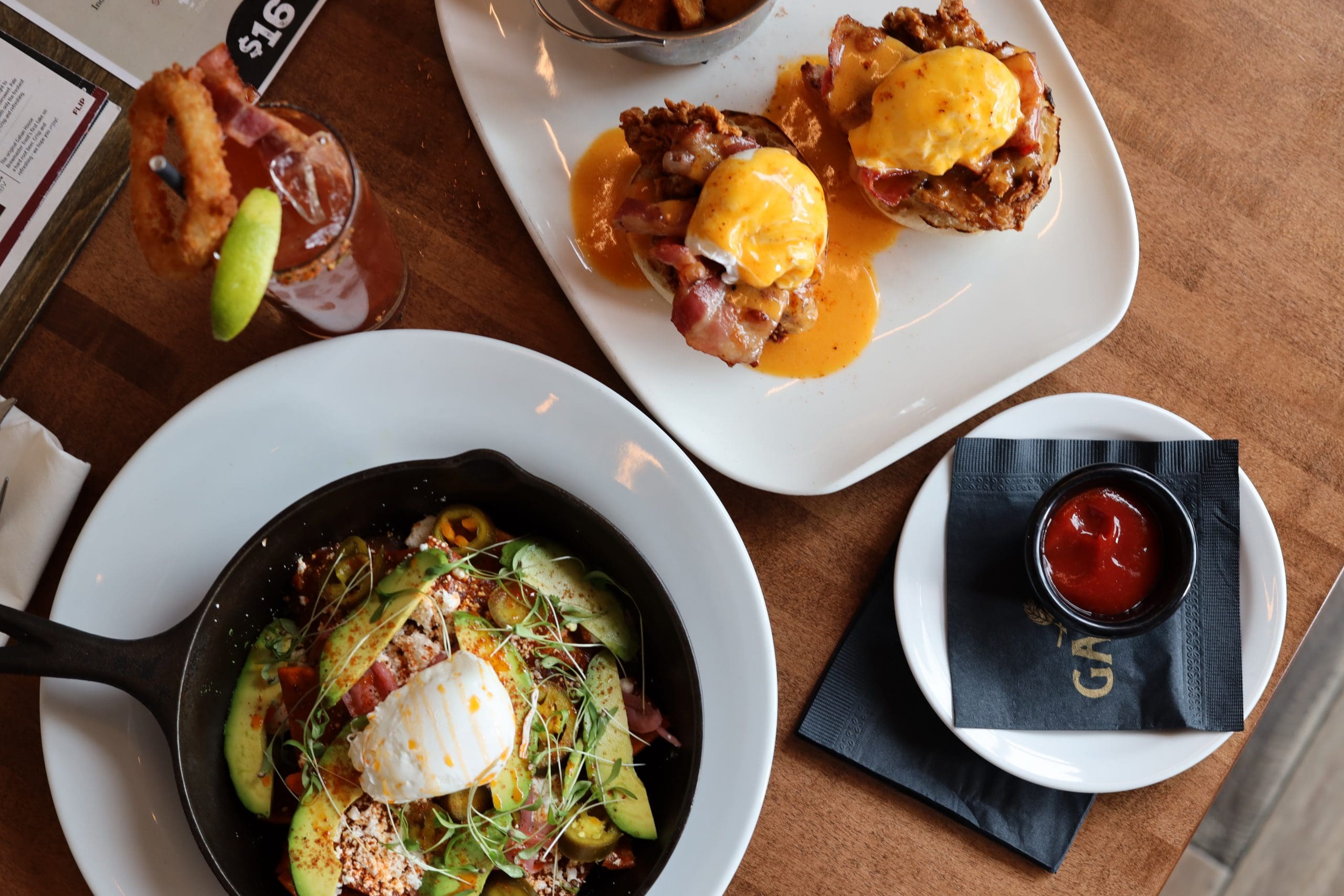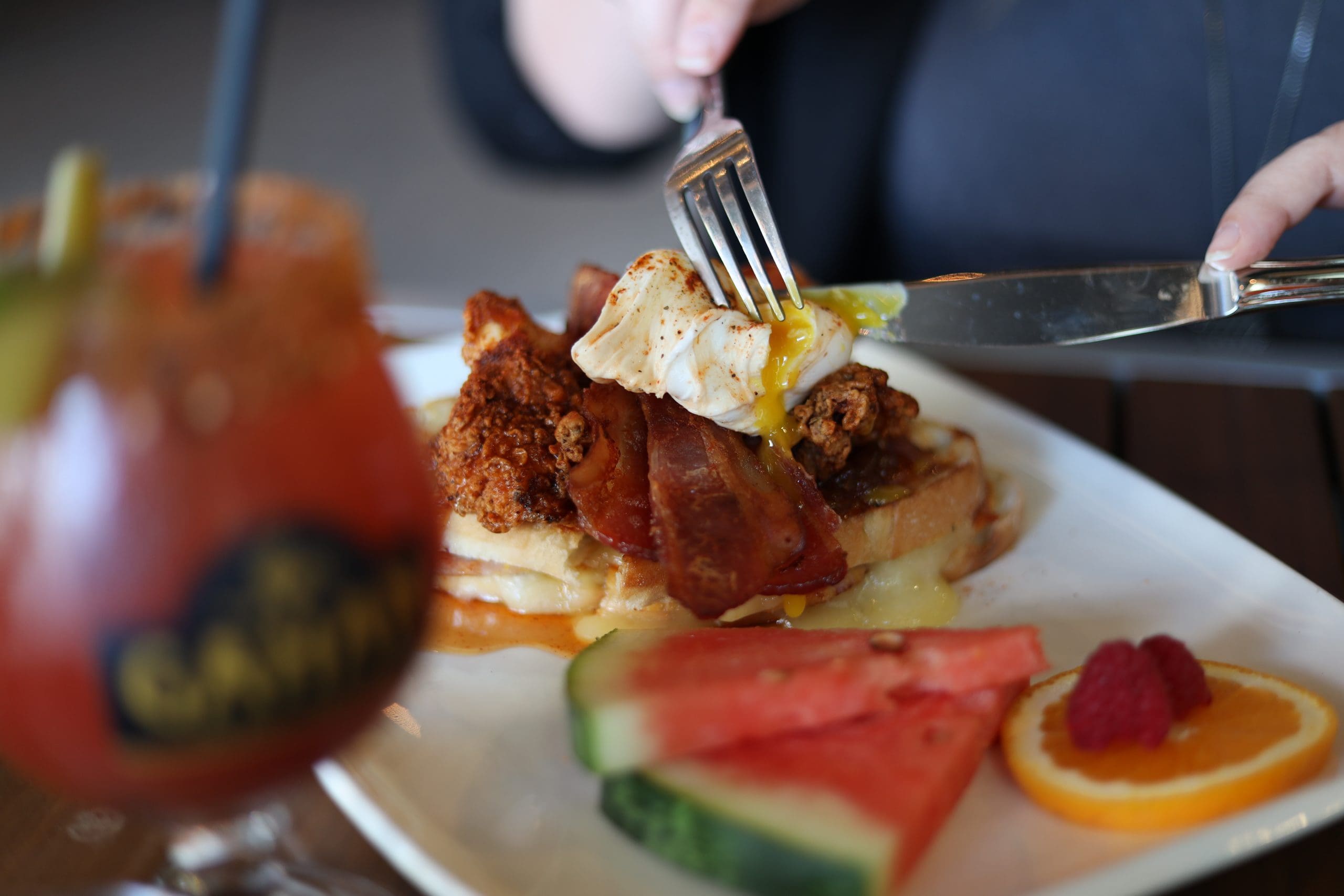 Pickford & Black Poutine
1869 UPPER WATER ST. HALIFAX
P&B also has a brunch menu we're big fans of.  Let's start with the caesar flights!  The trend has caught on in Halifax but I think (correct me if I'm wrong here) Pickford & Black was the first to offer a flight of caesars on their menu…and it's a great place to start.  Their brunch menu also features LOTS of eggs dishes like breakfast poutines, benny's, breakfast burgers and more.  We tried the smoked salmon potato cakes with poached egg and micro greens and the wake n' bacon burger.  Both were awesome and made even better by the seat right next to the Halifax waterfront.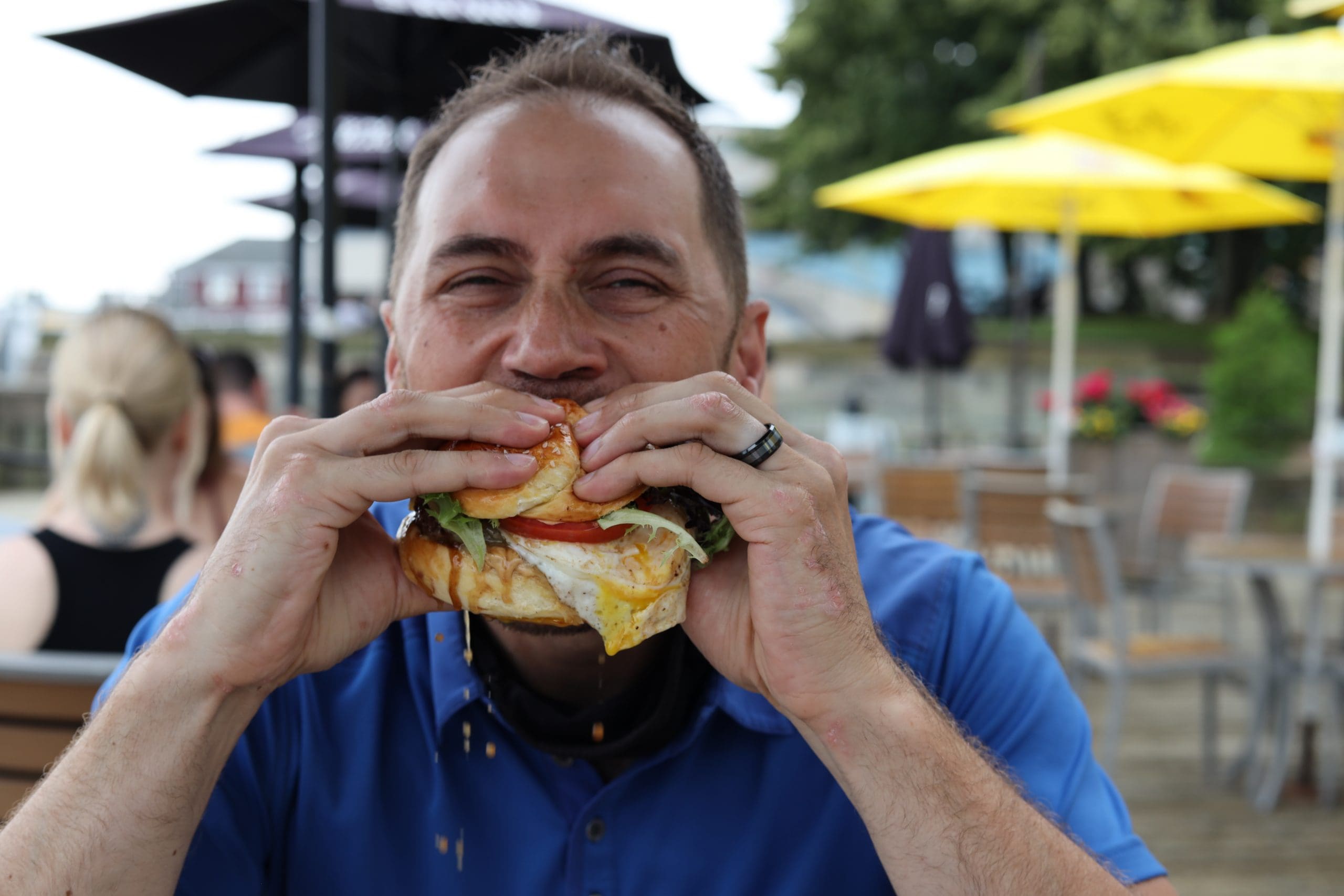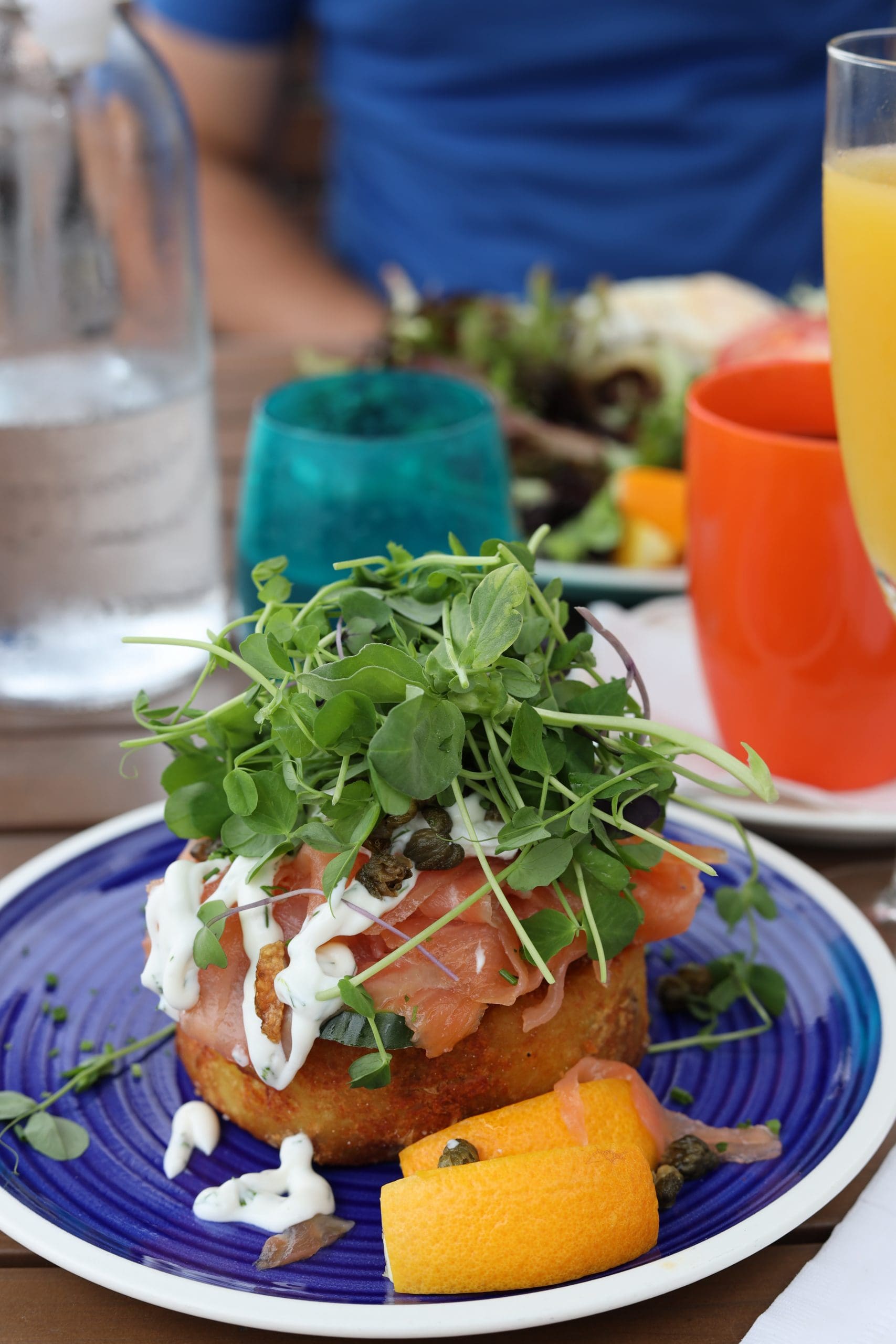 The Summit Cafe
1601 Lower Water St, Halifax
There are so many great cafes in Halifax to grab a breakfast Sammy.  The Summit cafe is one of them.  It's understated, in my opinion, but this breakfast sandwich was fabulous, quick and kept us going all morning as we explored the city.
Other Downtown Halifax Cafes with great breakfast sandwiches: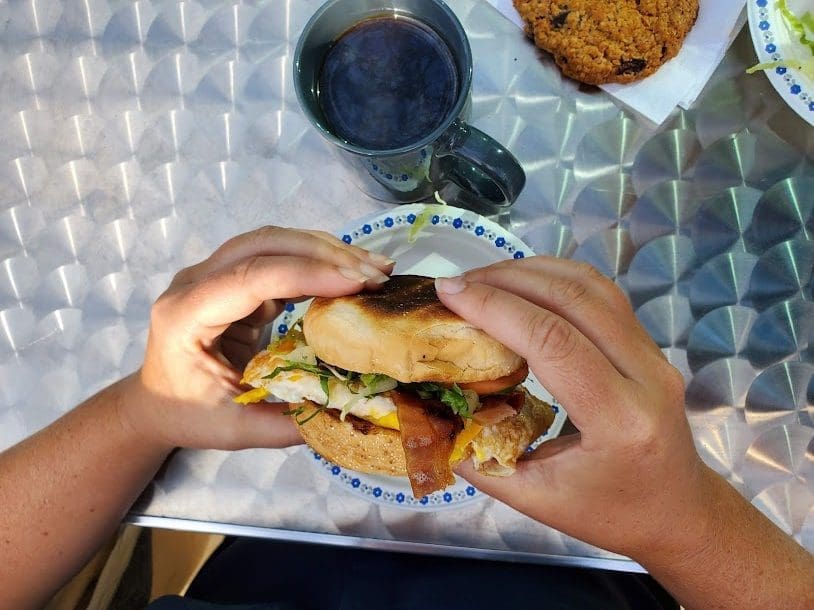 Fox Harb'r Golf Resort
1337 Fox Harbour Road, Fox Harbour
One of the few places I'll order an eggs benny that's not "classic".  The lobster benny at Fox Harb'r is spectacular (picture here is the classic).  It's made with fresh steamed lobster, poached egg and hollandaise sauce.  I think they KEY to doing a great benny is not trying to overdo it by adding extra ingredients and flavours.  Fox Harb'r does it right with simple, local ingredients that taste great.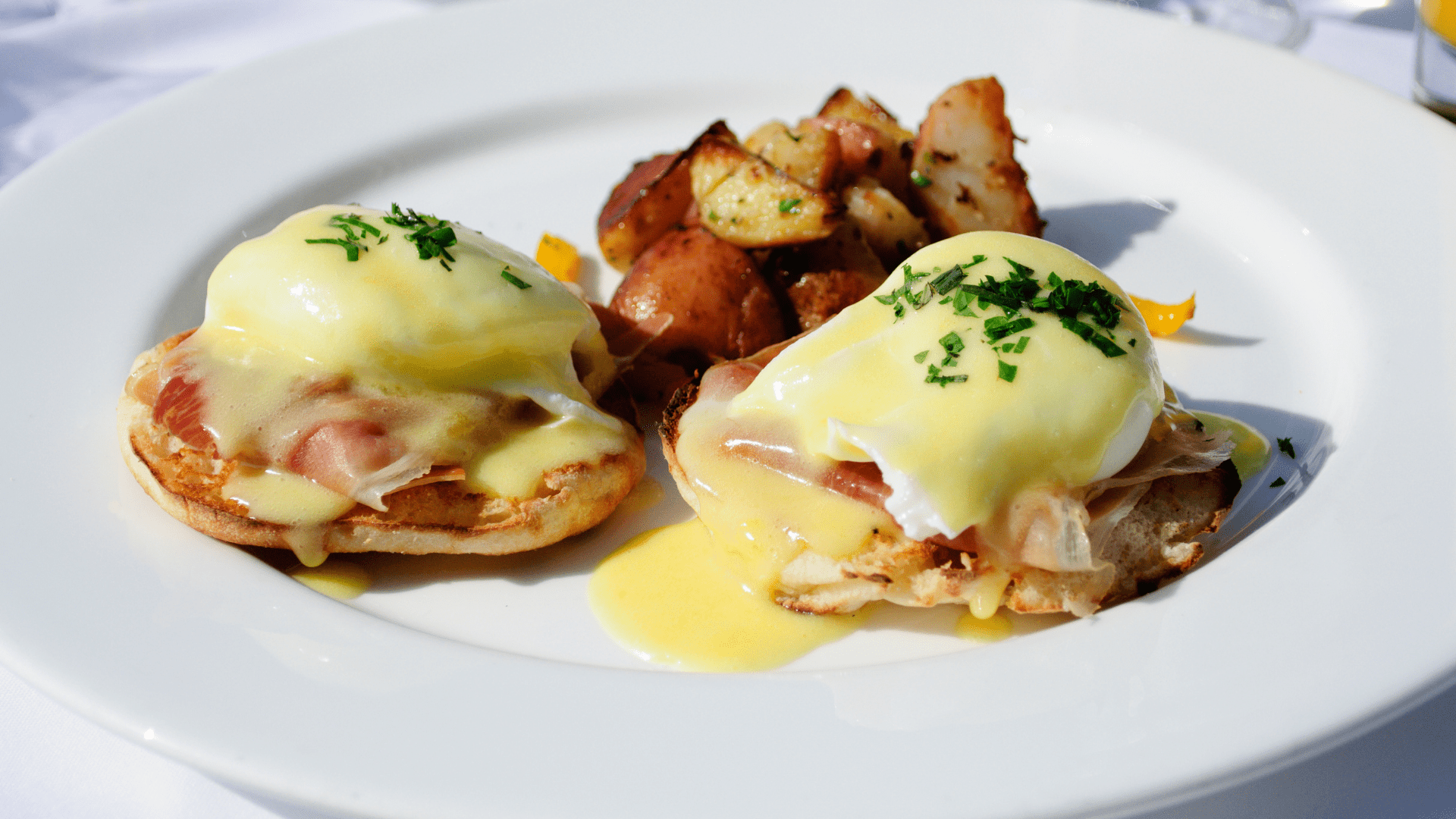 East Avenue 
200 Provost St, New Glasgow
East Avenue is THE best restaurant in Nova Scotia to order fried cauliflower.  Trust me (and everyone else).  I order it every. single. time.  But, imagine my delight when we discovered the brunch menu at East Avenue as well!  It's made up of favourites like breakfast poutines, benny's, fish cakes & eggs, and omelettes … all of which pair well with those cauliflower bites!  If you're visiting in the summer, they're also got a great patio on Viola's way in downtown New Glasgow.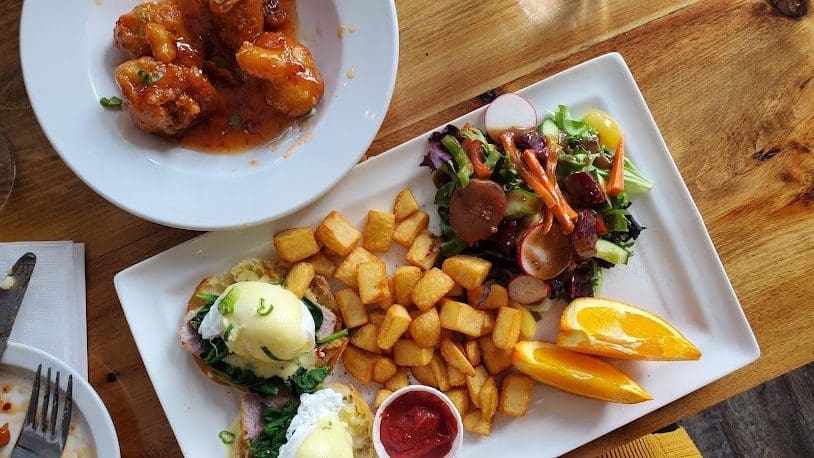 The Arms Public House
1515 South Park St, Halifax
The Arms Public House is located downtown in the Lord Nelson hotel.  Although it's a classic British pub, they also offer cuisine with International influence as well.  You'll find both traditional and surprising dishes on the menu.  Now, I'm about to make a bold statement.  The Arm's avocado toast is the BEST I've ever tried (and I order it a lot).  It's served on thick cut rye bread with goat cheese, tomato, micro greens and a boiled egg.  Delicious!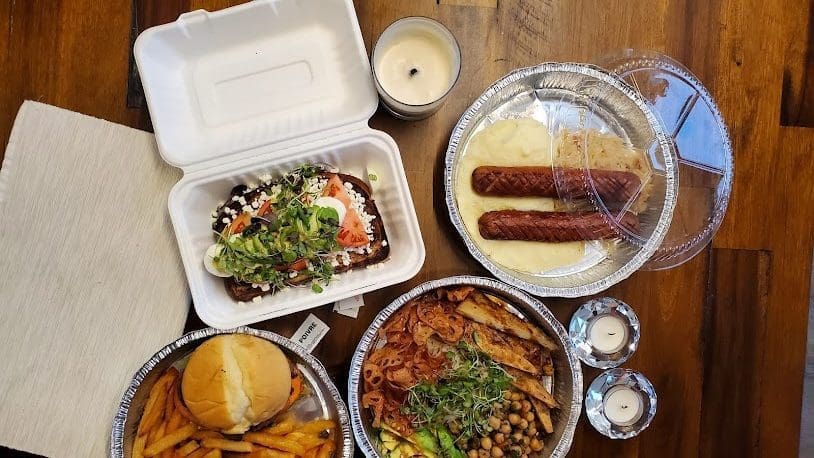 OK, I've said this already but I'll say it again.  This is not a complete list – not by a long shot!  As you can see, there are loads of Nova Scotia brunch restaurants to try and we certainly haven't tried them all.  So, we want to know from you!
What's the best Nova Scotia brunch spot you've tried?
---
Other posts for our foodies:
18 Restaurants in Halifax You Have to Try
9 Reasons to Attend the Nova Scotia Lobster Crawl
---
* Huge thanks to the Egg Farmers of Nova Scotia for sponsoring this series and sending us on a mission to find the best egg dishes in Nova Scotia!  As always, all opinions are our own.  We've visited, tasted and photographed each of these meals and love sharing our first hand experiences with you.