20 Reasons to Visit Saint John, New Brunswick
Saint John, New Brunswick is a seaport city located on the Bay of Fundy.  It's known for the reversing falls and historic buildings but traditionally, has been considered by many as a "pass through" town.  Truthfully, we used to believe that too.  Until this year, we've only ever driven through Saint John on our way somewhere else.  But, let the record show, we were wrong!  And we're here to show you the many wonderful sides of the city of Saint John.  From the food scene – complete with Celebrity Chefs, to the craft beer culture and rounded out by all kinds of adventures and activities, Saint John is a vibrant, lively and SUPER friendly city that we love.  
In fact, this year, we've returned twice because we just can't get enough!  Whether you're here for the food & beer (like we were) or you're looking for an outdoor adventure or prefer taking in the boutique shops and public art, Saint John really does have something for everyone.
Without further ado, here are 20 reasons to visit Saint John New Brunswick this year.
Disclaimer: This trip was sponsored by NB Brews & Envision Saint John.  We love being able to work with destinations and build travel guides like this for you!  As always, all opinions and oodles of photos are our own!  We're never required to share only positive reviews and we'll always tell 'ya the truth!
Things to Do in Saint John
1. Play at TimberTop Adventures
730 Dominion Park Rd, Saint John
TimberTop Adventures is one of Canada's largest aerial adventure parks. With 12 courses, more than 115 obstacles, including 29 zip line challenges, and various difficulty levels.  
Younger climbers from ages 5-7 can enjoy the starter courses or you can choose to take up to 3 hours with the Go Wild Adventure or the 90 minute Low & Go Adventure. Everyone begins the course with a 20 minute training session, and then take a test run before they send you out. Have a pet with you or prefer to just watch? You can stroll on numerous wood-chipped trails with benches located throughout the courses. Climb the courses or sit, relax and watch the climbers.
What we loved about TimberTop is that you can choose the courses that feel best for you.  Stick with blue or green courses (they rank much like ski trails) for less technical challenges or try your hand at black diamond or double black courses – whatever you want!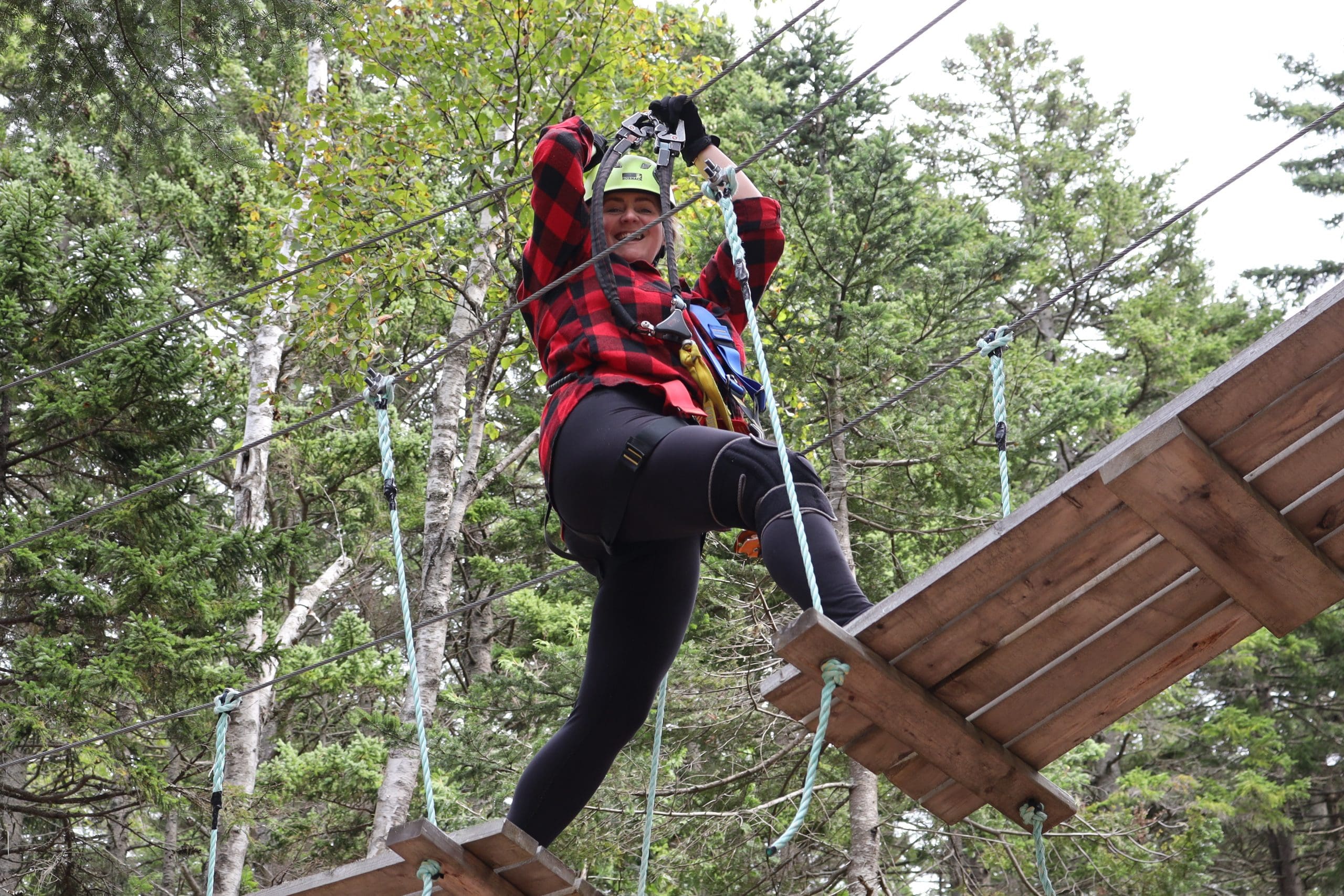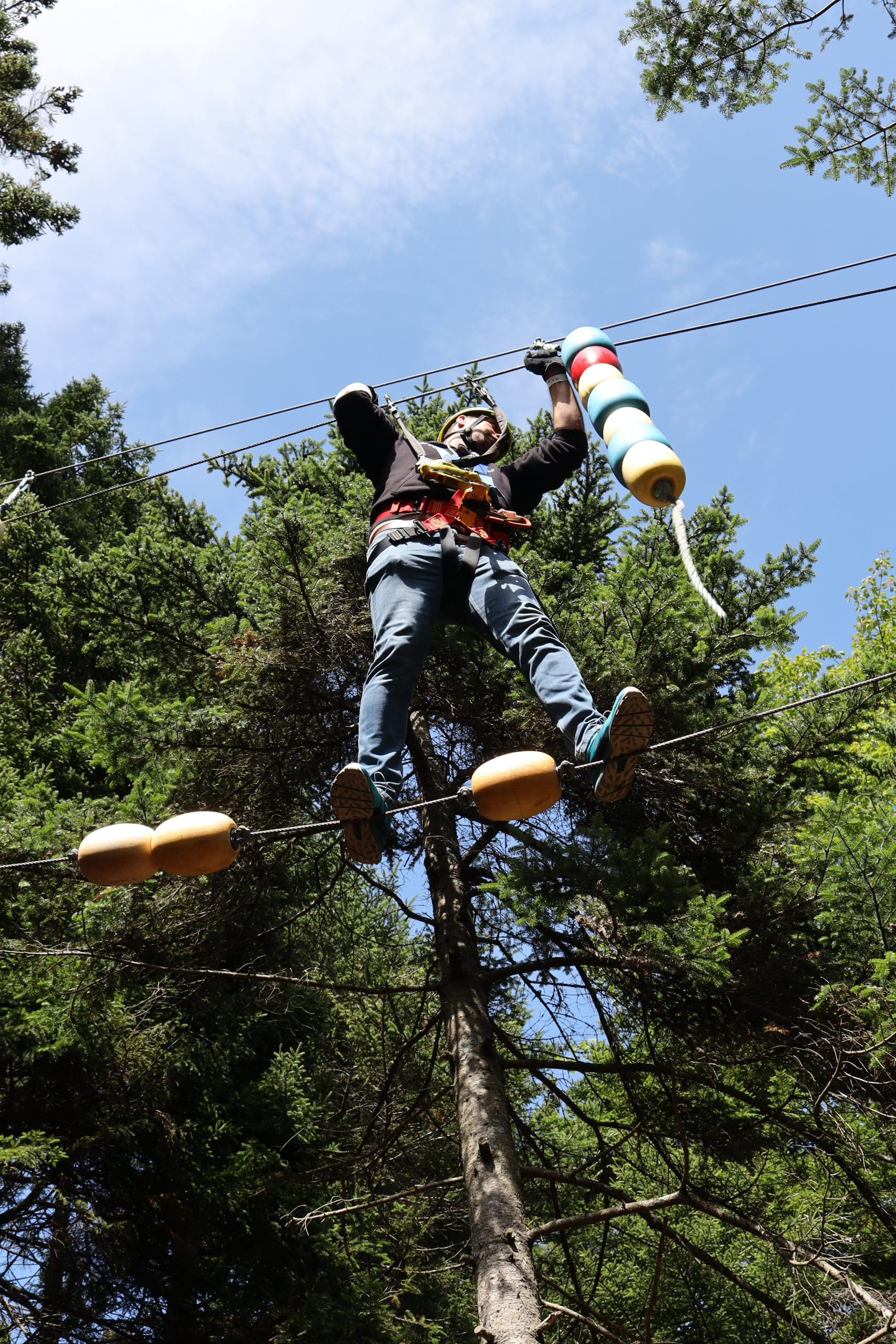 2. Relax at Dominion Park Beach
Dominion Park Road, Saint John
When you're done climbing then head over to Dominion Park beach which is located right beside TimberTop. Cool down and take a dip in the brackish water or lounge on the sandy beach. There's a lifeguard on duty as well as BBQ's for public use. 
Fun Fact: "Brackish" means that the water is a mixture of salt & fresh water.  It's also pretty neat that there's a sandy beach right in the city of Saint John!  Trust me, after an afternoon at Timbertop, you'll need a place to cool off!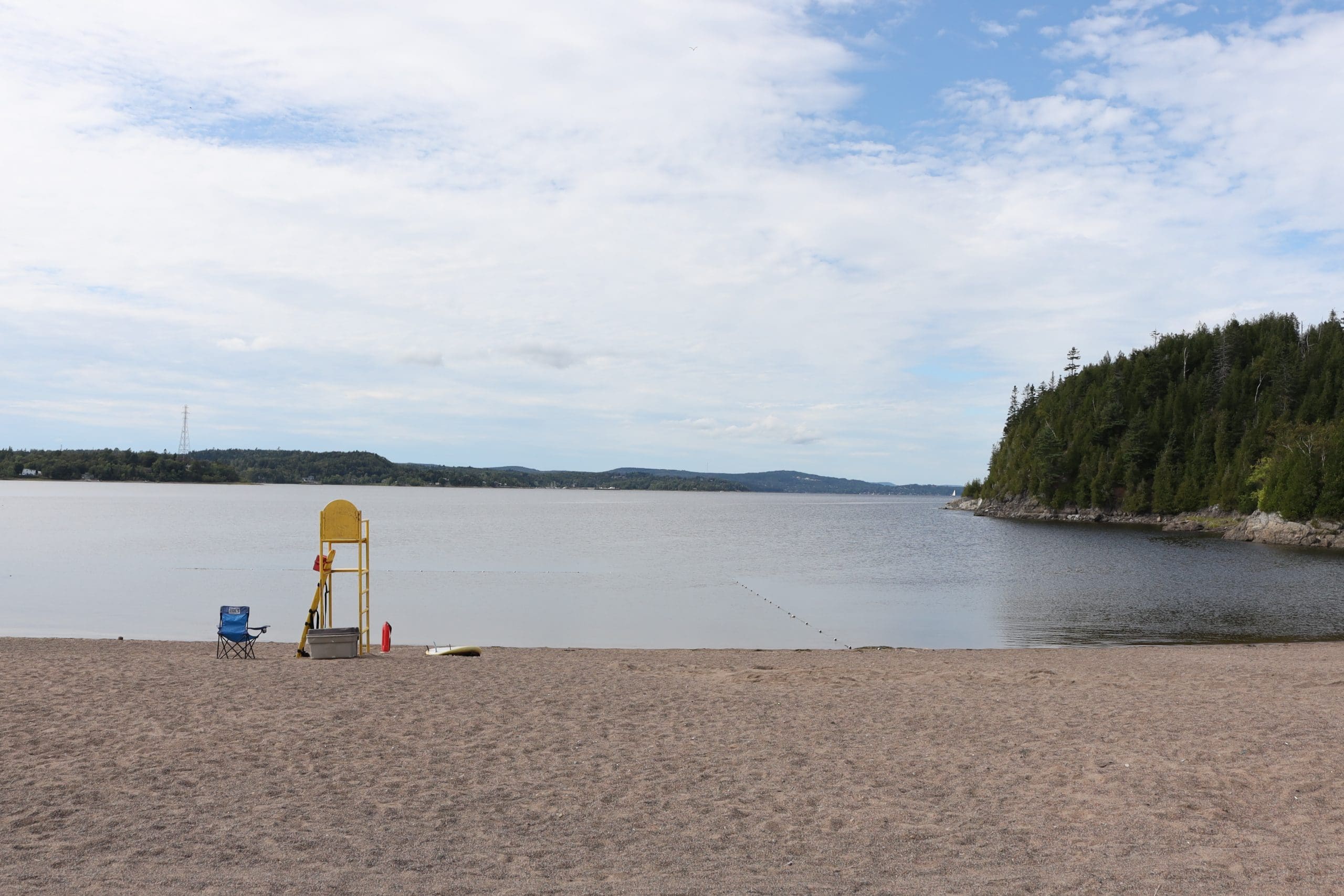 3. Mackay's Family Orchard
3155 NB-845, Long Reach
Iconic fall activities.  Pumpkin u-picks, corn mazes and… apple picking! Mackay's Family Orchard is a u-pick apple orchard and part of the Yip Cider family (more on that later).  You purchase a bag (no pesky weighing) and then head out in the stunning orchards to pick 'til your bag is full.
I'm a little embarrassed to say this was my FIRST time apple picking.  As a Nova Scotian, this is bad behaviour!  But, I'm happy to report it was a great time and we're still enjoying the apples we picked.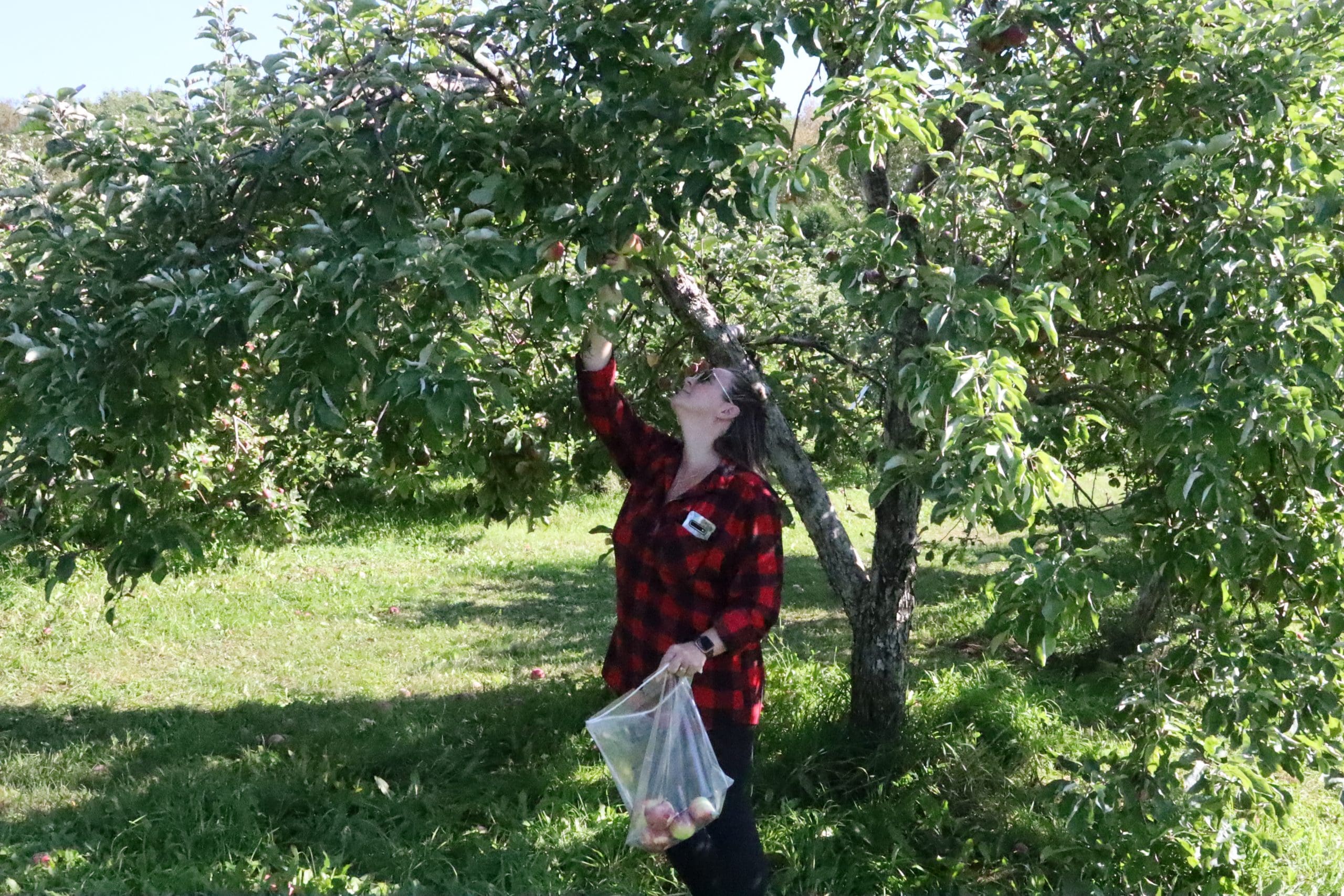 4. Visit St. Martins Sea Caves
St. Martins, NB
You are going to need time on your side, friends, for this activity. The tide rises and falls every 6 hours and 13 minutes, creating new times for high and low tides every day. So, if you'd like to explore the ocean floor you'll need to time it with the tides. Check out this tide tracker. You can also download the "tides app" to your phone.  We use this more often than you'd think!  Whether we're visiting a new sea side town or lounging at our own cottage on the Northumberland Straight here in Nova Scotia, it's always handy to know when low tide is.
OK, back to the sea caves.  This series of sandstone caves are shaped by the tides of the Bay of Fundy.  The tidal range on the shores of St. Martins can reach up to 38 feet, filling the sea caves with water at high tide.
I grew up on the Bay of Fundy, and I know the tides well.  But, if you're new, be cautious.  These are the highest tides in the WORLD and they come in channels (not in a linear path).  That means that exploring the ocean floor and sea caves is amazing, but be aware of your surroundings and don't take unnecessary risks with these tides!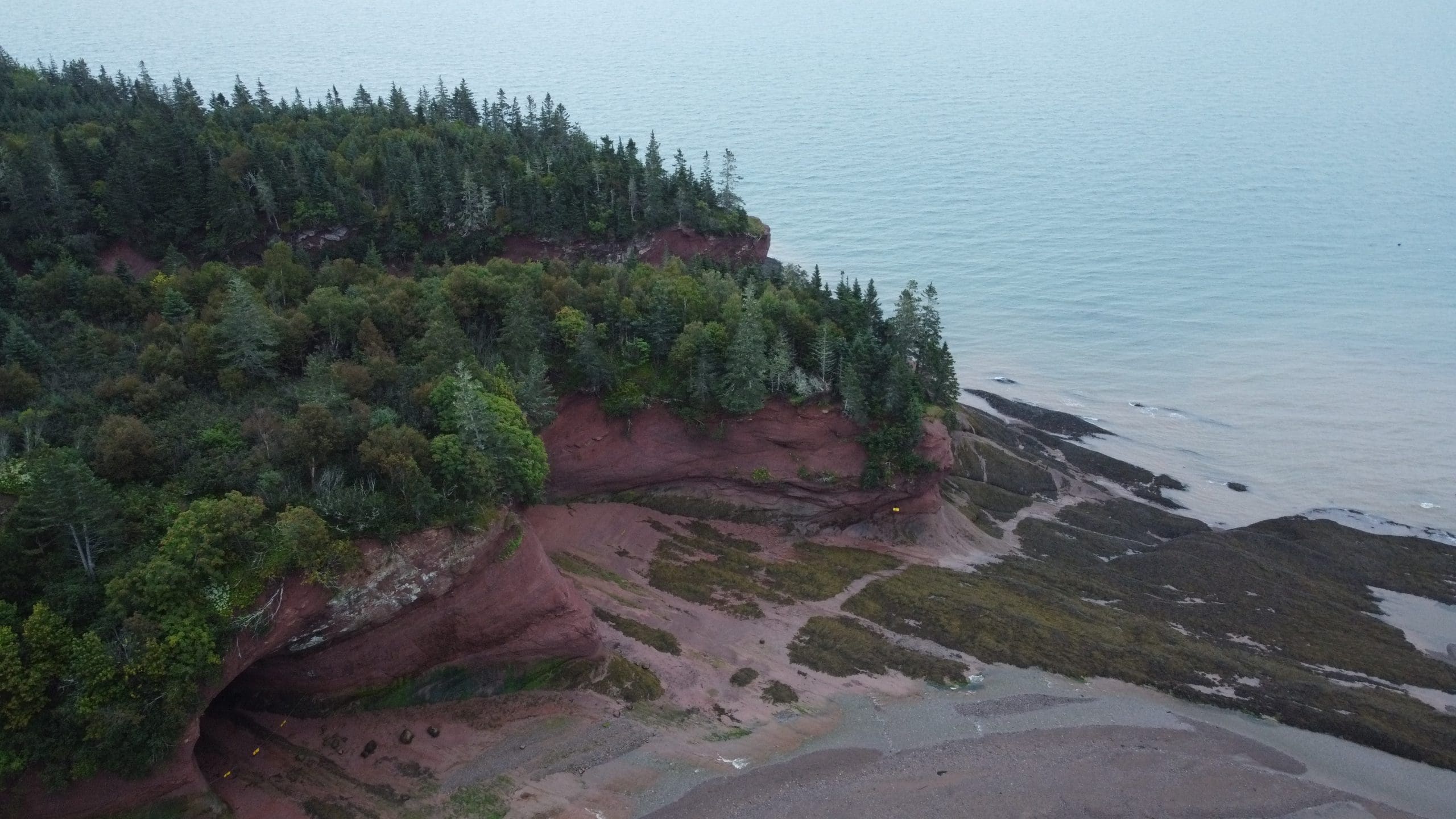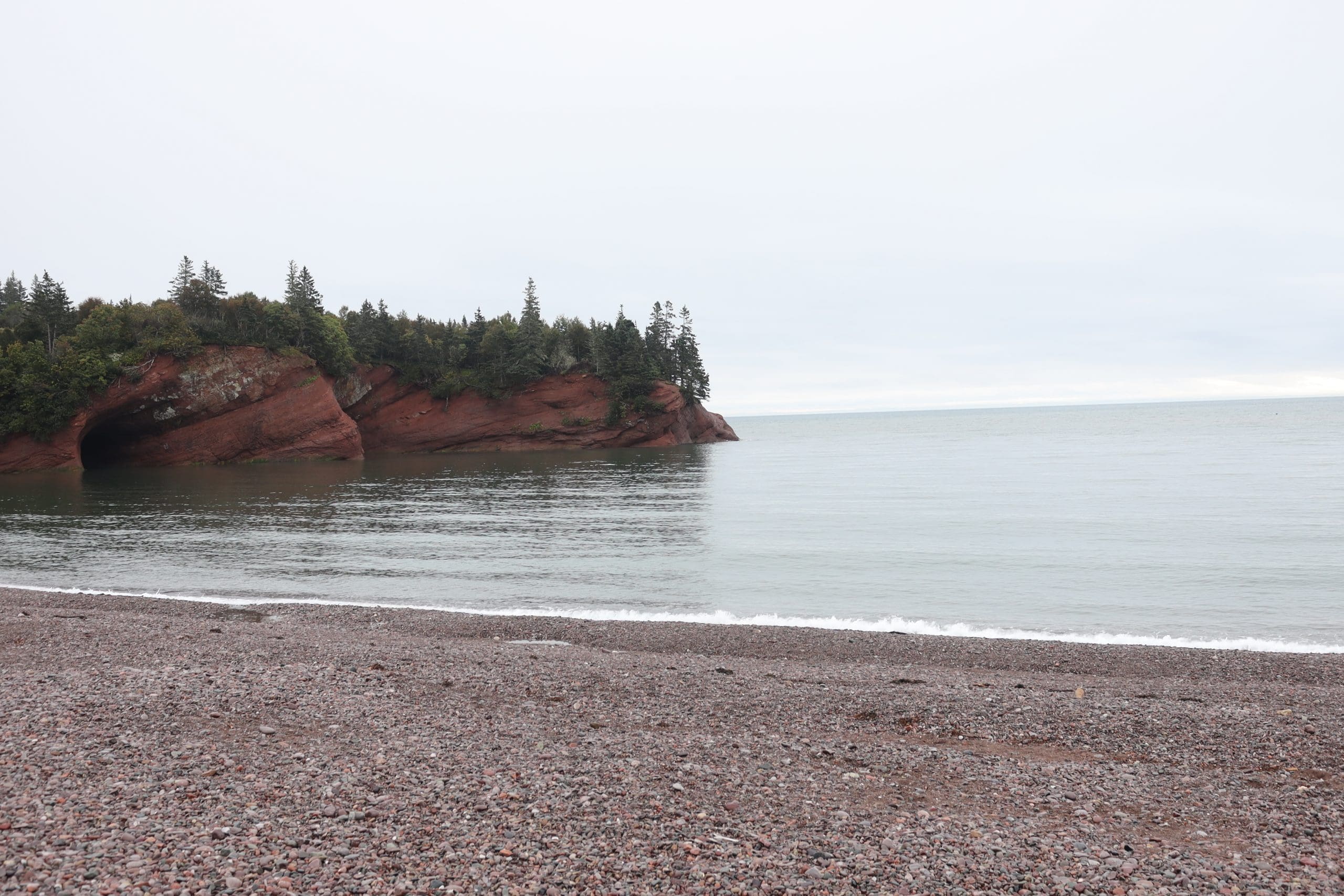 5. Take a Walking Beer Tour
47 Charlotte St, Saint John
Uncorked Tours offers walking craft beer tours that includes a great mix of beer, small bites & history. Our tour consisted of 4 different stops, although they vary based on season. Uncorked is located in the historic Saint John City Market and offers only New Brunswick product.  It's also the first stop on the tour and a great jumping off point. We enjoyed a unique beer tasting of the region on wooden map flight boards.
Other stops on our included:
Picaroons General Store

Big Tide Brewery, where we enjoyed a yummy snack of chips & dip.

Saint John Ale House that included the Moosehead story along with a flight and snacks of bacon wrapped Digby scallops and fried green tomatoes.
The other thing we loved about this tour was the history lessons during our walks.  Between breweries, our guide pointed out the unique features of Uptown Saint John, told stories and answered all of our questions!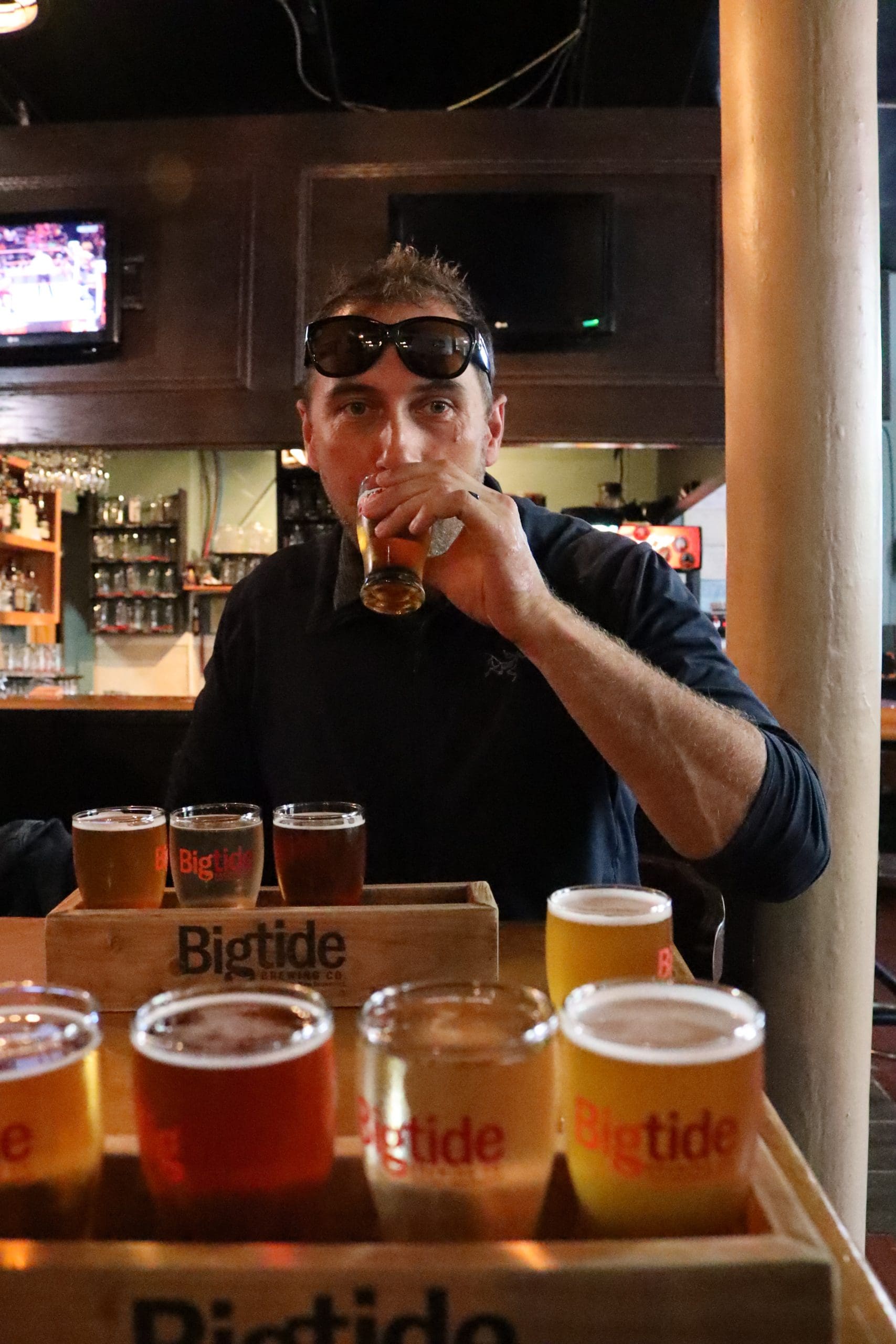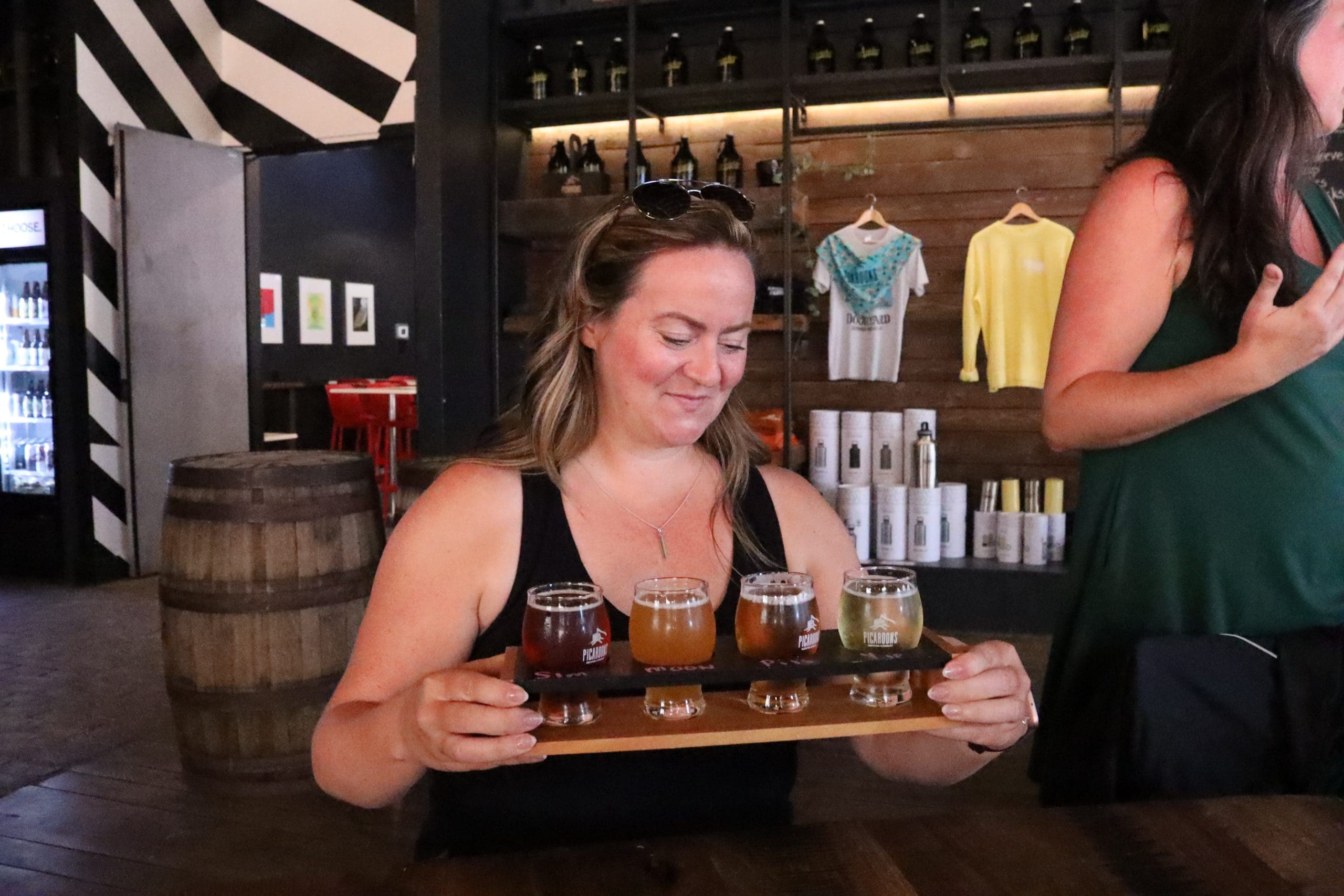 6. Drive the Fundy Parkway Trail
3 Fundy Trail Parkway, Salmon River, NB
The Fundy Trail Parkway is a gem, and I don't use that word lightly.  It's open from May until mid-October (check the website for hours and admissions).  Visitors can drive, hike, or bike the parkway or the various trails and enjoy waterfalls, beach access and stunning vistas from the Bay of Fundy cliffs.
The Fundy Trail is a 2,559 hectare/6,323 acre park featuring a 30 km/19 mile parkway hugging the southern coast of New Brunswick. With stunning views of the world-renowned Bay of Fundy, the park has been carved out of the Fundy escarpment, one of the last remaining coastal wilderness areas between Florida and Labrador.
It would be easy to spend an entire day exploring the park but the highlight for me was the suspension footbridge that crosses Big Salmon River.  It's a short 5 minute walk to reach the 275ft suspension bridge and also marks the beginning (or end, depending on where you start) of the Fundy Footpath.  The Fundy Footpath is a 41km hiking trail that starts at the suspension bridge on the Fundy Parkway trail and ends in Fundy National Park!  It's also something that has been on my own personal bucket list for years…
Check out there other trails. And if you're into chasing waterfalls, there are plenty to explore.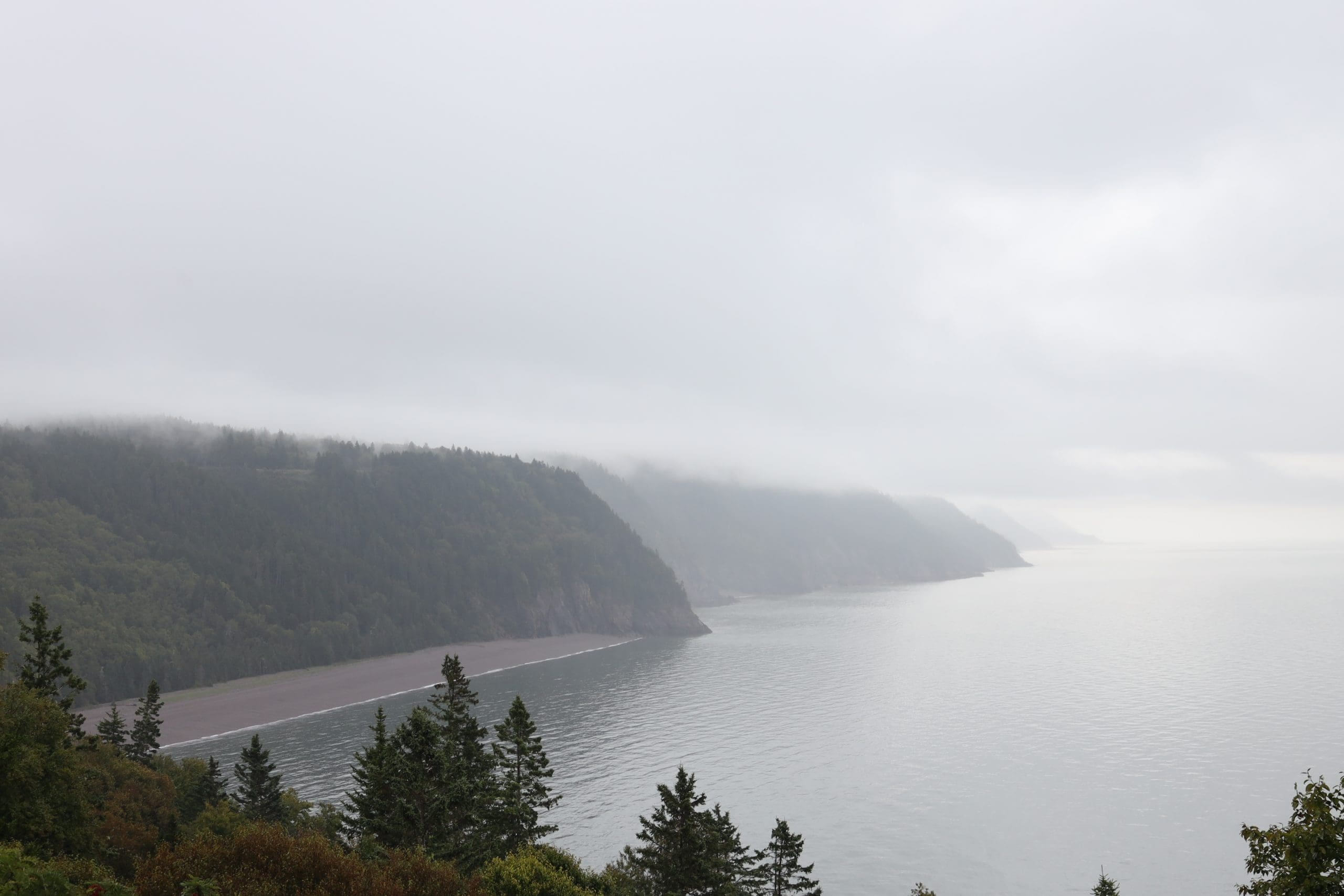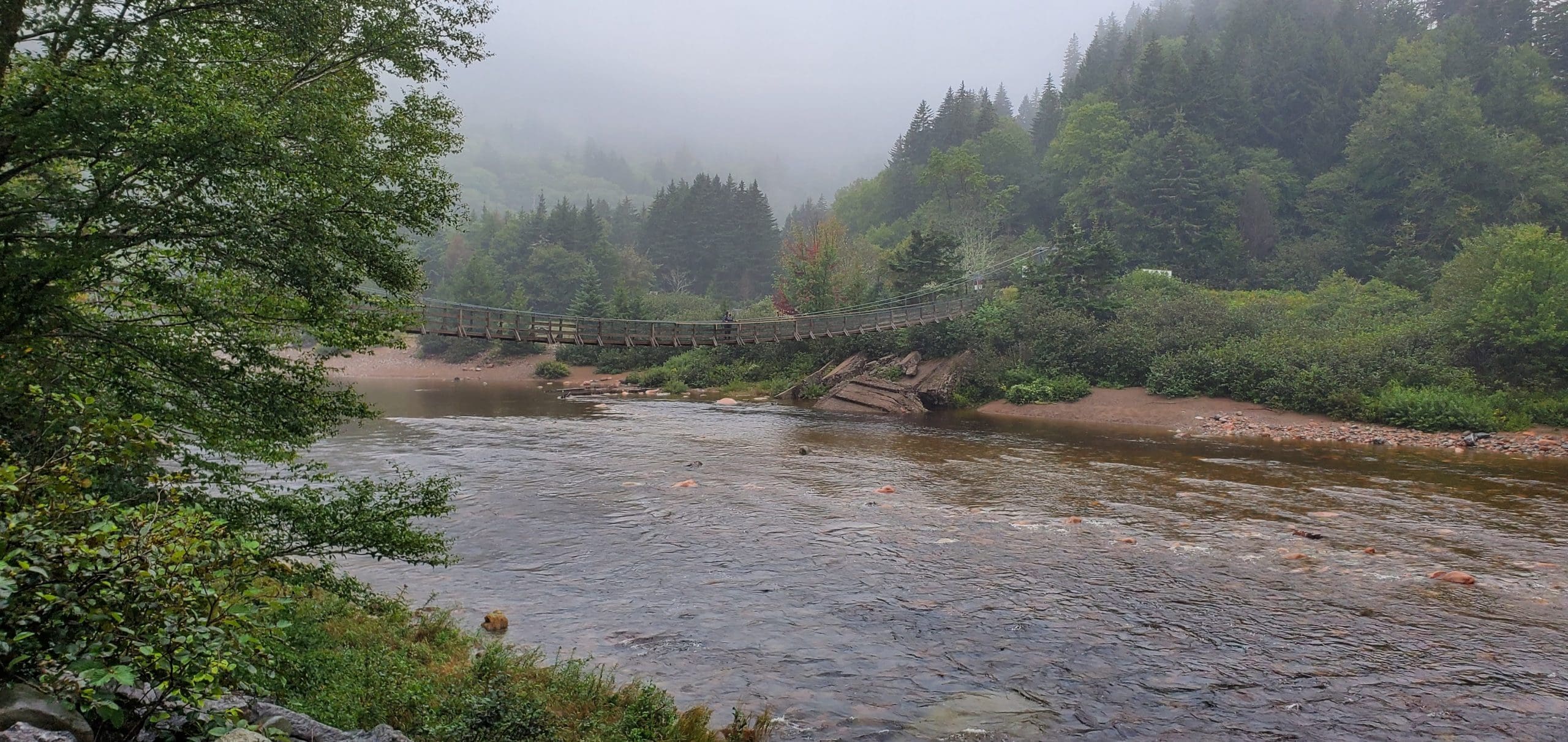 7. Visit Inside Out Nature Centre
55 Lake Dr S, Saint John
Inside Out Nature Centre is located in Rockwood Park, in Saint John.  The park itself offers 2,200 acres, 10 lakes and more than 50 trails and footpaths.  Take a guided hike with the Inside Out team, enjoy the outdoors and see some wildlife. They also offer bike, kayak & canoe rentals, group events and more.
Rockwood Park is also part of the Stonehammer UNESCO Global GeoPark. Stonehammer is located on the traditional unceded territory of Wolastoqiyik, Peskotomuhkatik and Mi'kmaq Peoples. These First Nations People have lived here for thousands of years and continue to live here.
We met Wanda, the owner of Inside Out Nature Centre, for a guided hike of the park.  We learned all about the park itself, and the offerings that Wanda and her team offer like day camps, birthday parties, rock climbing & team building.  My personal favourite stop was the look-off, overlooking the city of Saint John.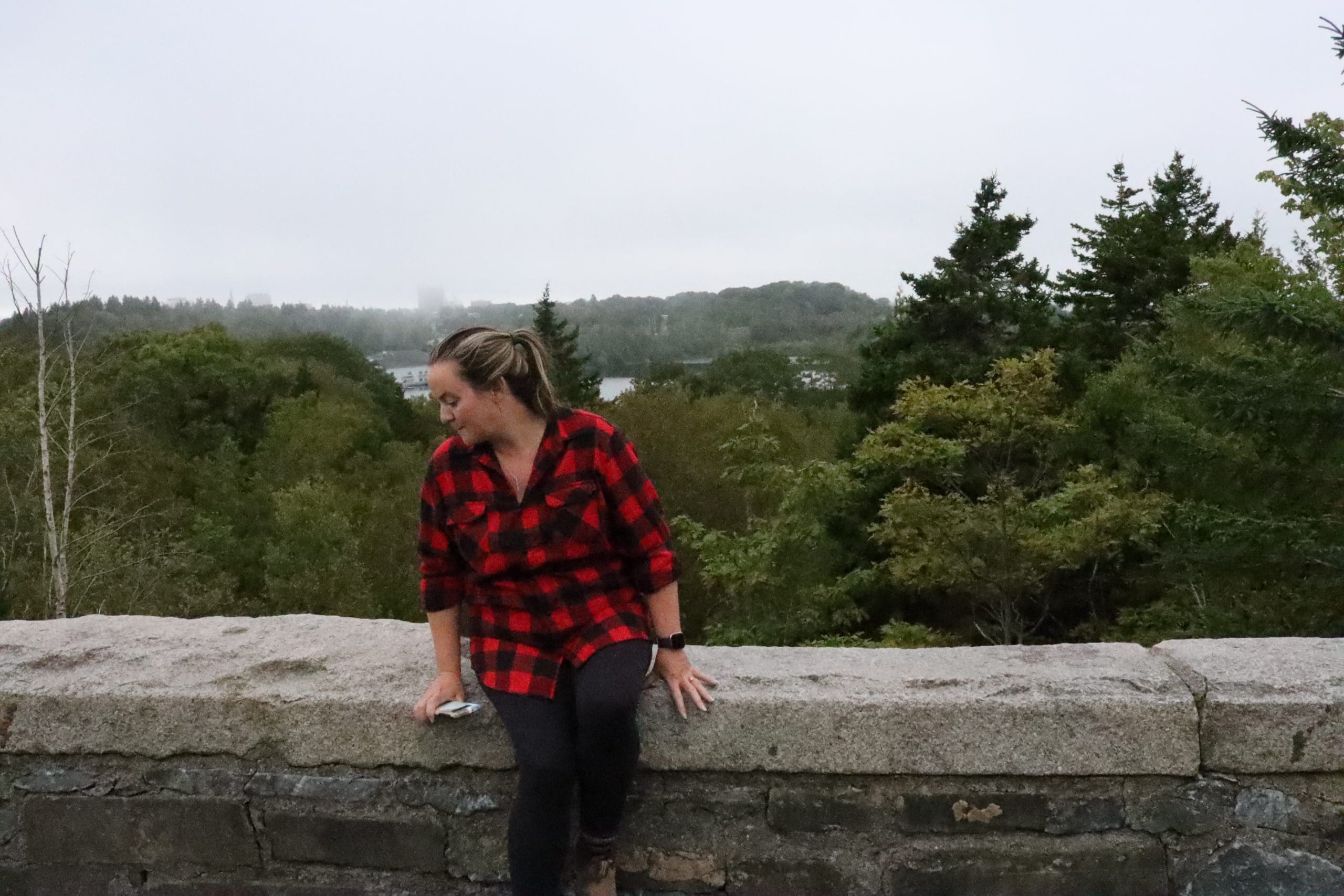 8. Self Guided Public Art Tour
Uptown Saint John
The Public Art in Saint John is a wonder!  Really!  You can't stroll the streets of uptown Saint John without noticing the public art but don't stop there. I'd highly recommend taking the self-guided public art tour.  We discovered some surprising treats along the way like these: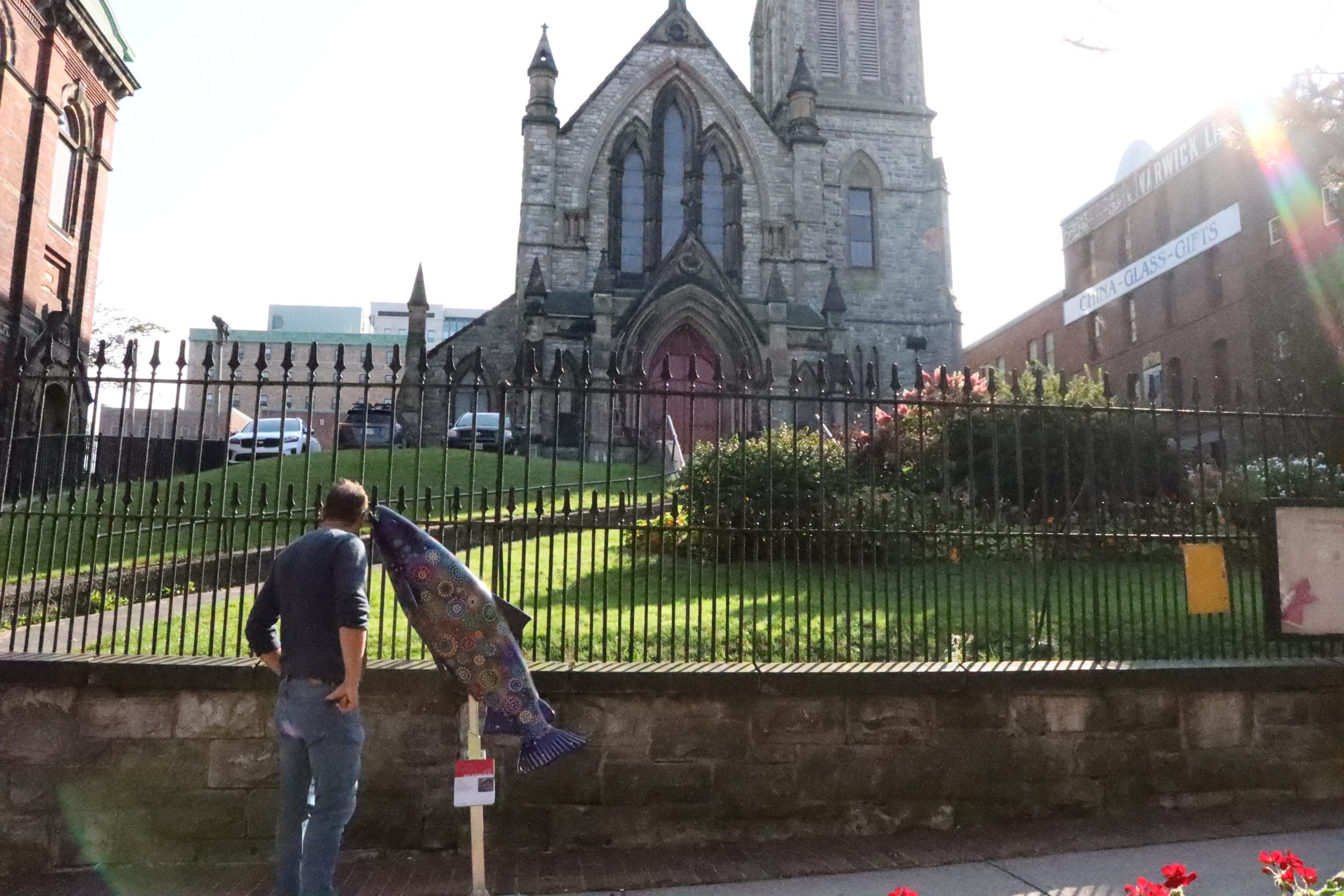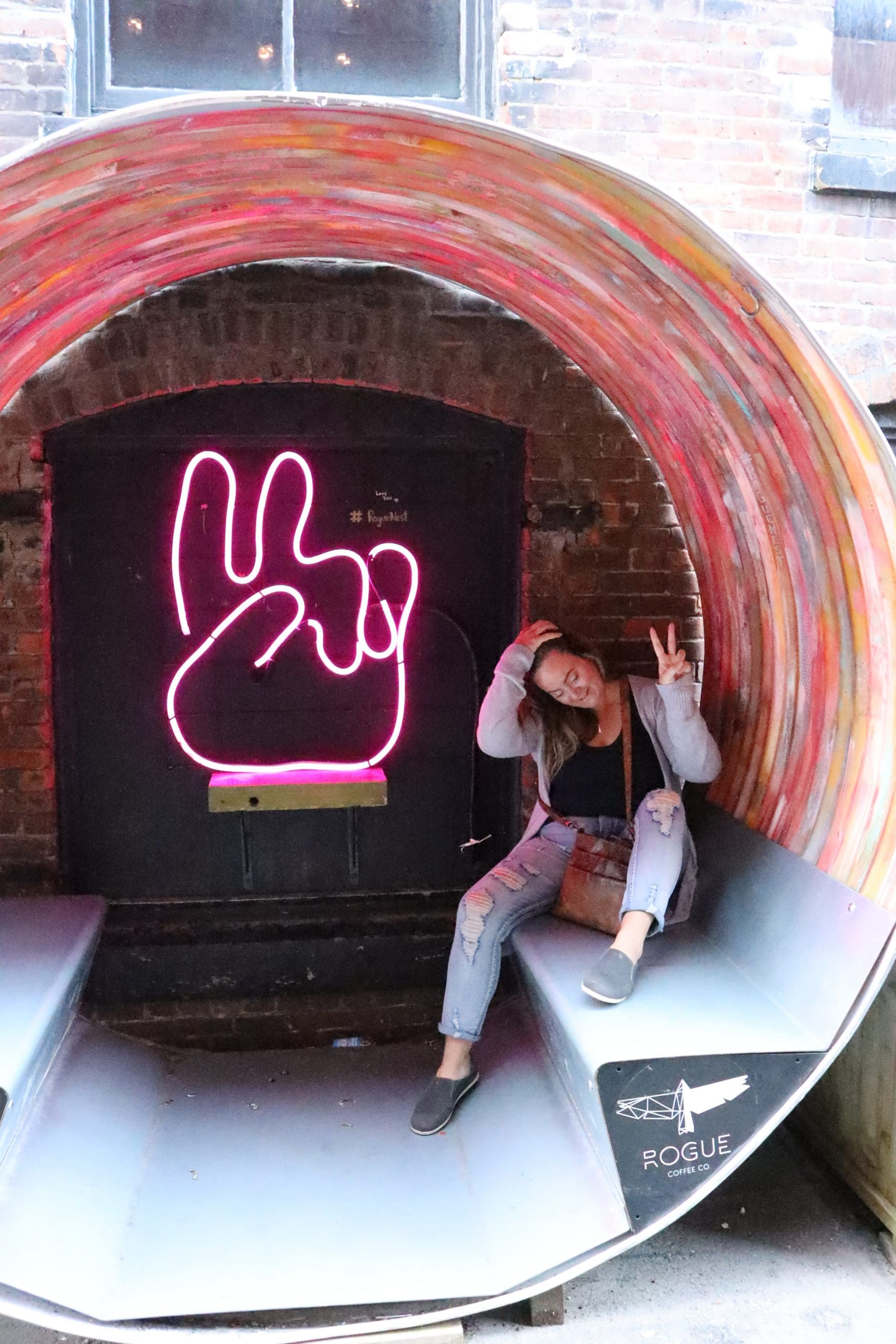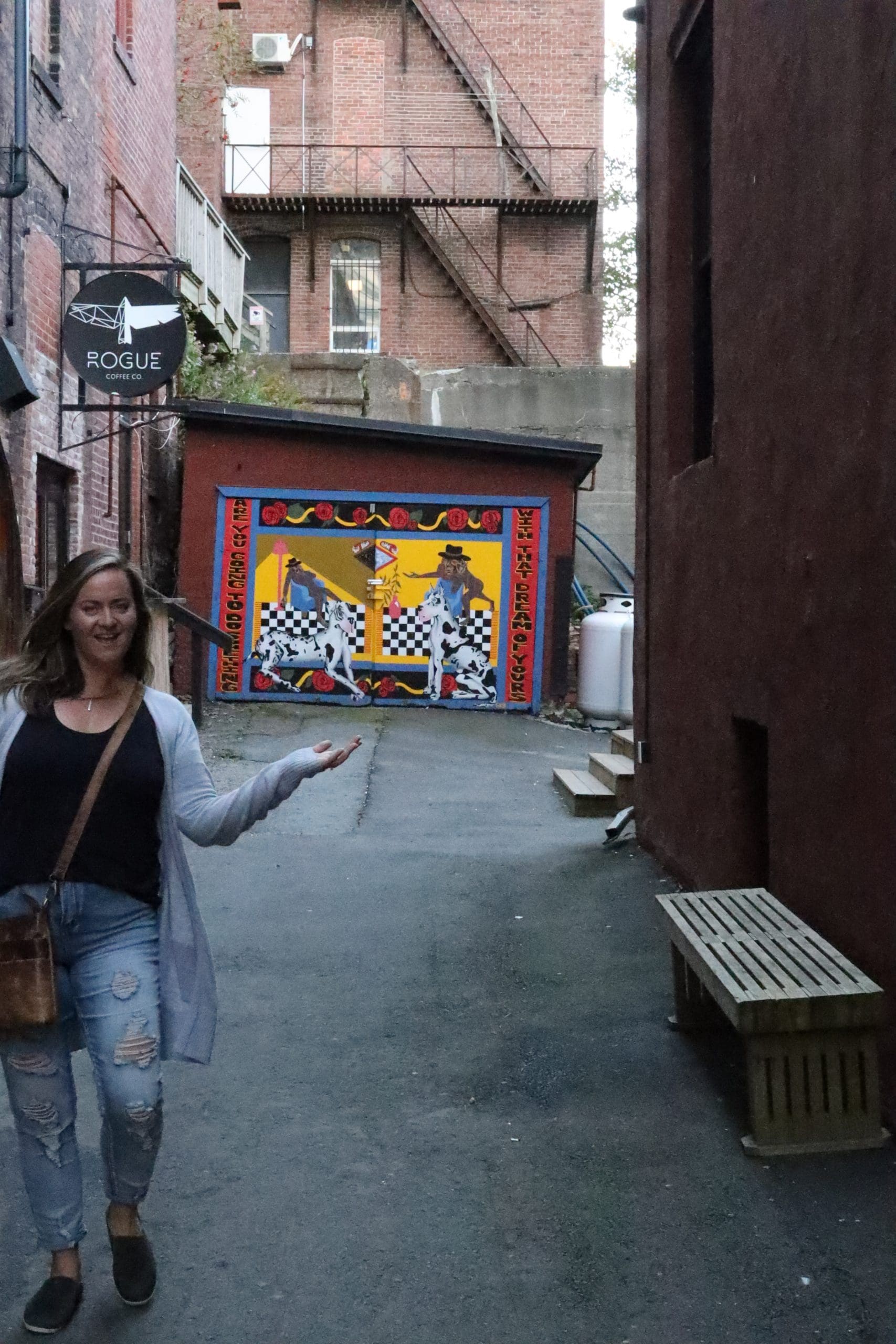 Where to Eat
Saint John, New Brunswick is a very food forward city!  Especially uptown!  We were impressed on more than one occasion with the quality of food, unique pubs and restaurants, and the whole uptown vibe.  Add to that, every restaurant on this list (with two exceptions) was walking distance from our suite.  So, we could enjoy a beer and a meal and get home safely on foot!
9. Cask & Kettle Irish Gastropub
112 Prince William St, Saint John
Cask & Kettle is an Irish style pub with a great little patio.  It's got a lively vibe and I'd certainly recommend reservations when you visit.  We met some friends for a meal and particularly enjoyed the sharing platter that was a feature that night.
A word to the wise, check the hours of operation when you visit.  They offer private functions and are sometimes closed to the public (we learned that the first day).
10.  Saint John Ale House
1 Market Square, Saint John
Oh Saint John Ale House… where do I begin?  This was our second visit SJAH and I can't say enough about it.  Like many of the restaurants on this list, it's located in uptown Saint John and offers a cozy patio and extensive indoor seating.  Before this trip, I didn't know who was in the kitchen.  So, I approached this pub like I would any other and stuck with "pub fare".
But, on my second visit the "Scallop Risotto" caught my eye.  The judgey pants side of me said "Sara, don't order risotto (or scallops) at a pub – you'll be disappointed" but the server (amen for her) changed my mind.  WOW.  This was, hands down, the best meal of the trip and the BEST DAMN RISOTTO I've ever had.  Then I learned that Chef Jesse Vergen runs the kitchen (he's the owner) and it all made sense.
Jesse is a master in the kitchen and, as such, this isn't your average pub!  Trust me…find the thing on the menu that makes you think "Ohhhh, seems risky" and order that!  Everything we ordered over 3 visits (yes, we were there 3 times) was fabulous.  10/10 recommend.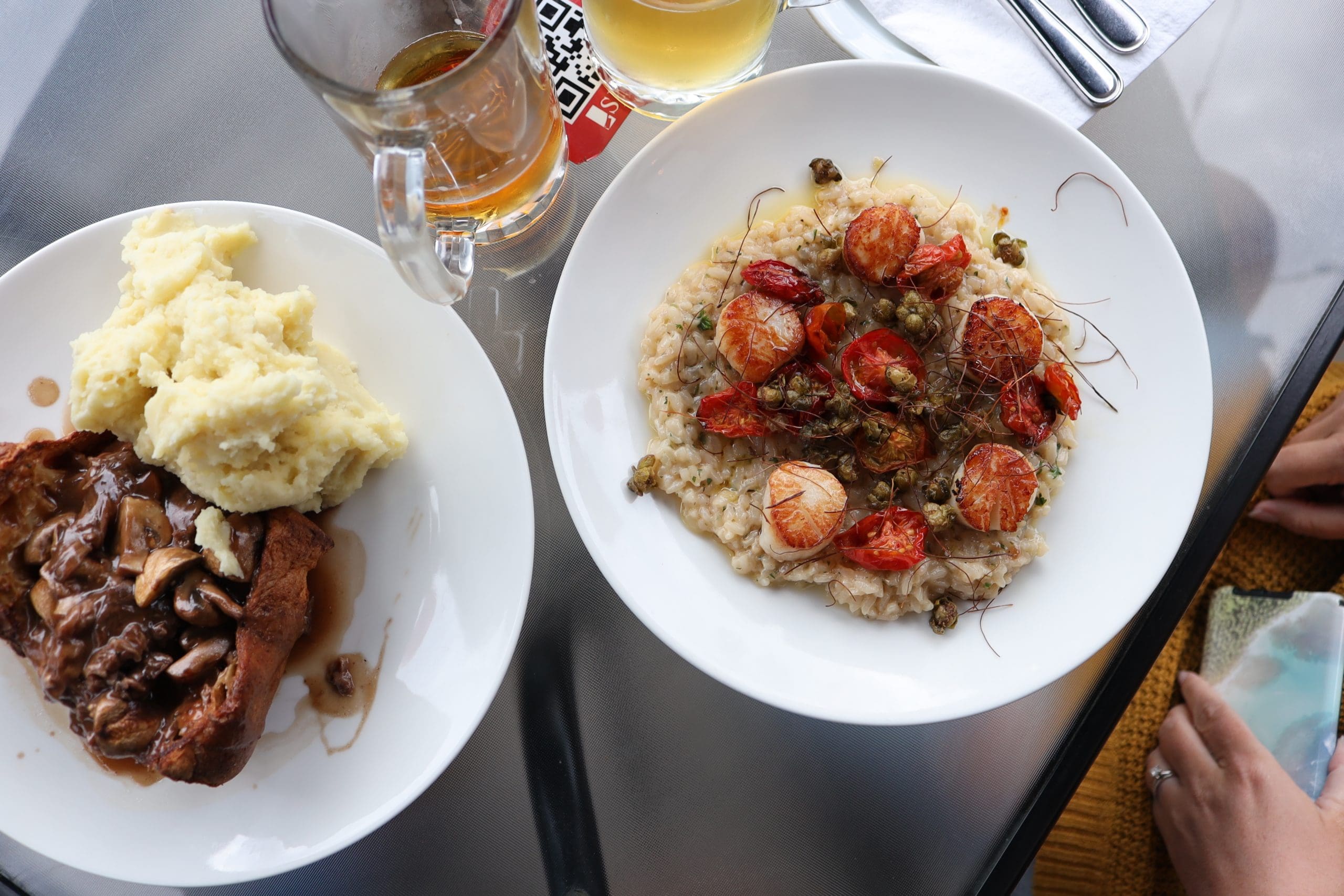 11. Gahan House Port City
87 Prince William St, Saint John
Every time we post about Gahan House, people chuckle.  It's not uncommon for us to get comments like "Wow, you eat there a lot".  And, we do!  We love Gahan.  The beer, the food…the brunch!  So it's no surprise that we visited the Port City location while we were in Saint John.  You can't go wrong with visiting the Gahan. We're on a mission to visit all 6 locations and as of this week, we're just missing one! Dine in or just visit for a quick flight of beer.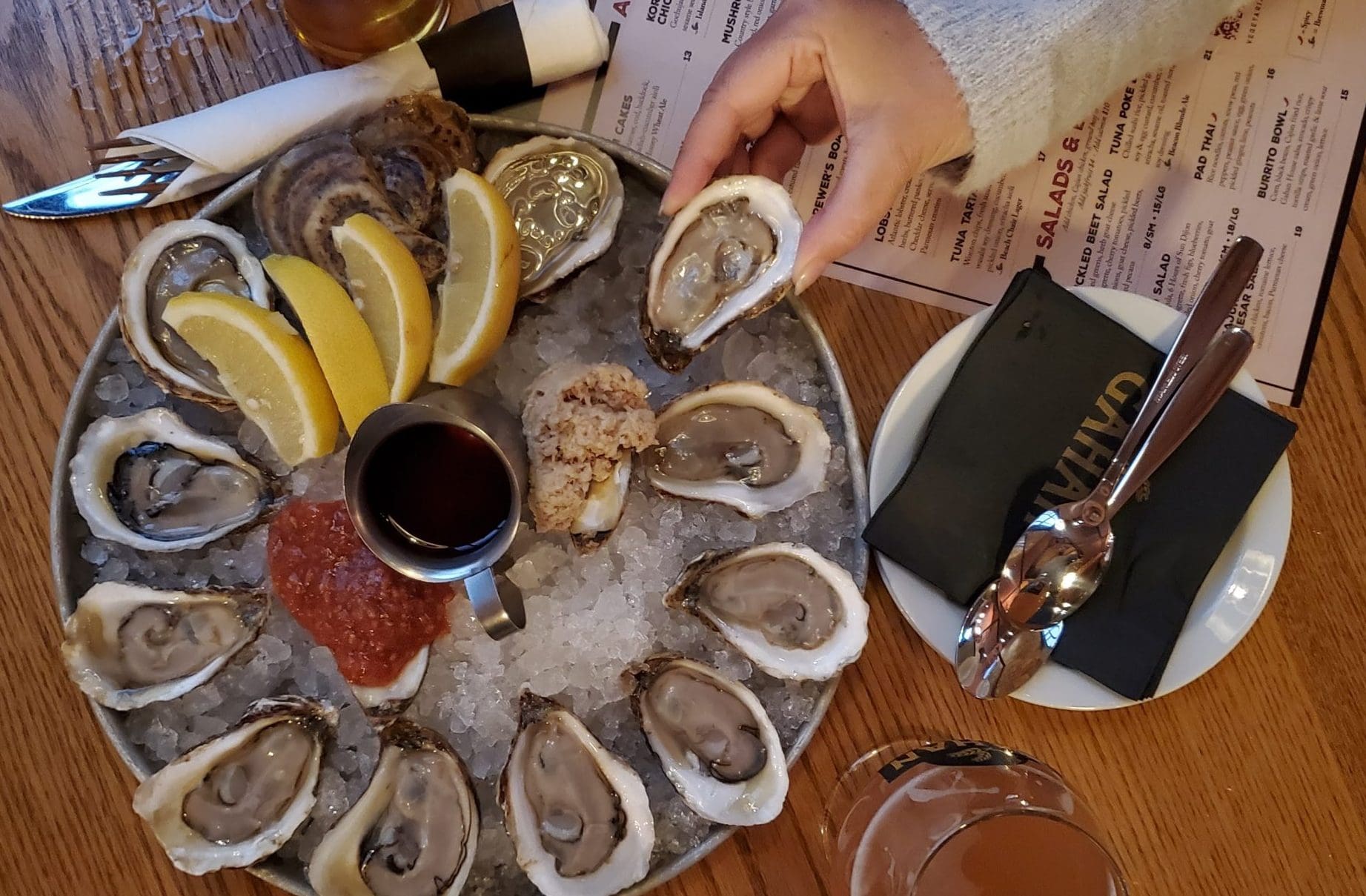 12. Octopus Ice Cream
404 Main St, St. Martins
Octopus Ice Cream is the cutest little ice cream shop I've ever seen.  It's nestled on the wharf at St. Martins across the road from the lighthouse and steps from a famous covered bridge.  Visiting this shop, in this area, is like stepping onto a movie set.  They make their own waffle cones and offer unique sweet treats like donut life rafts and tuxedo splits, alongside premium ice cream.
If that's not enough, Mary (owner and all around sweet lady) is a brilliant artist.  The ice cream parlour doubles as a gallery so plan to stay a while and spend some time!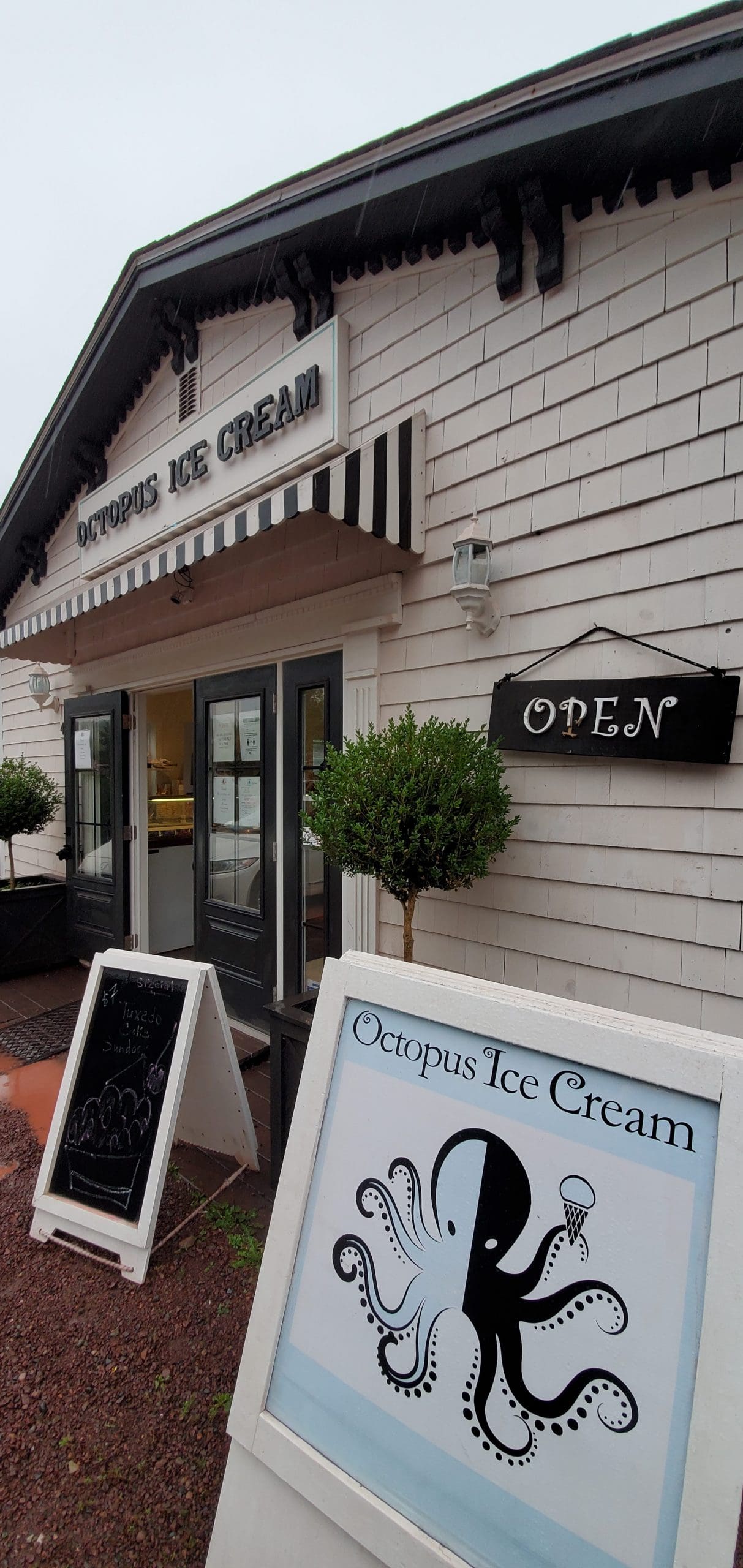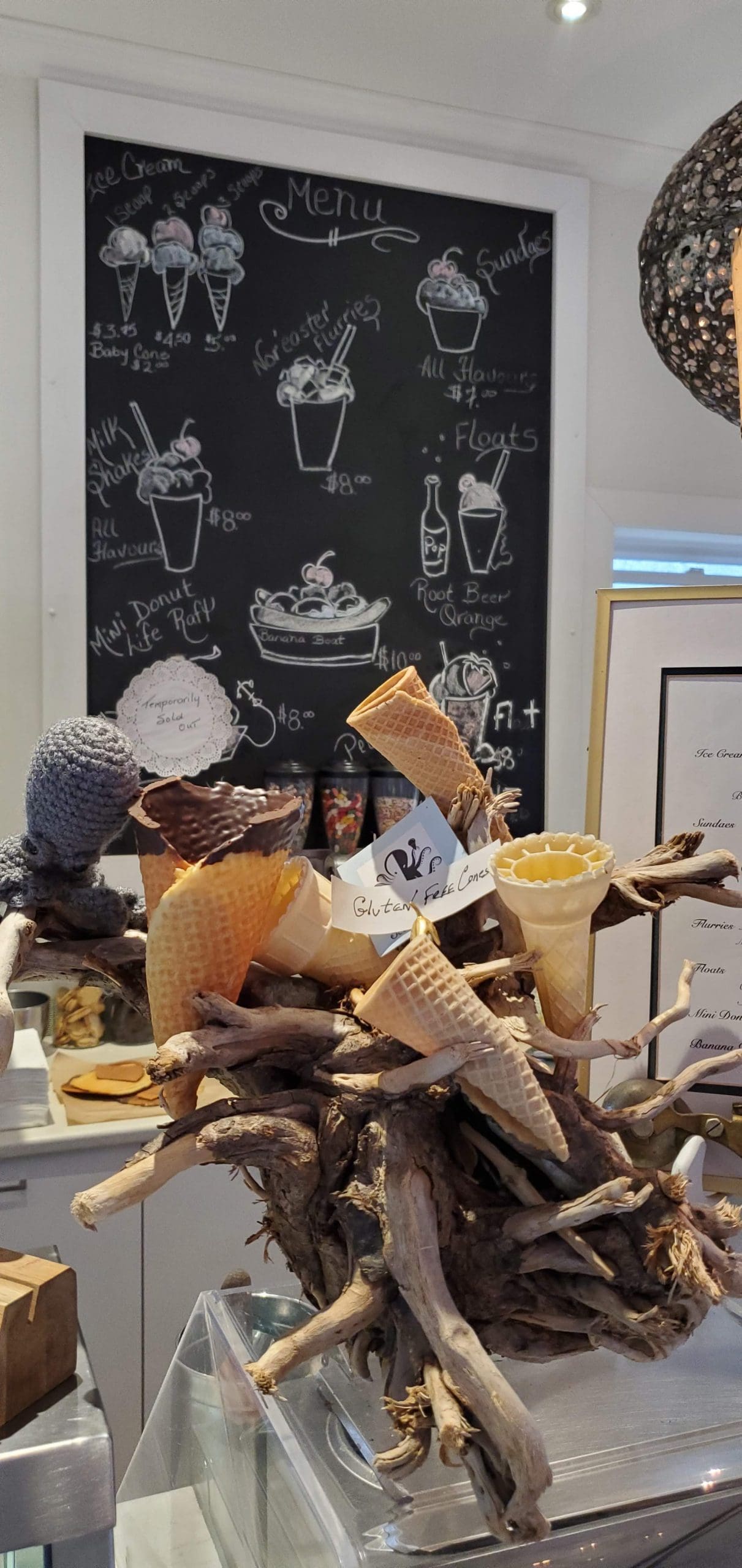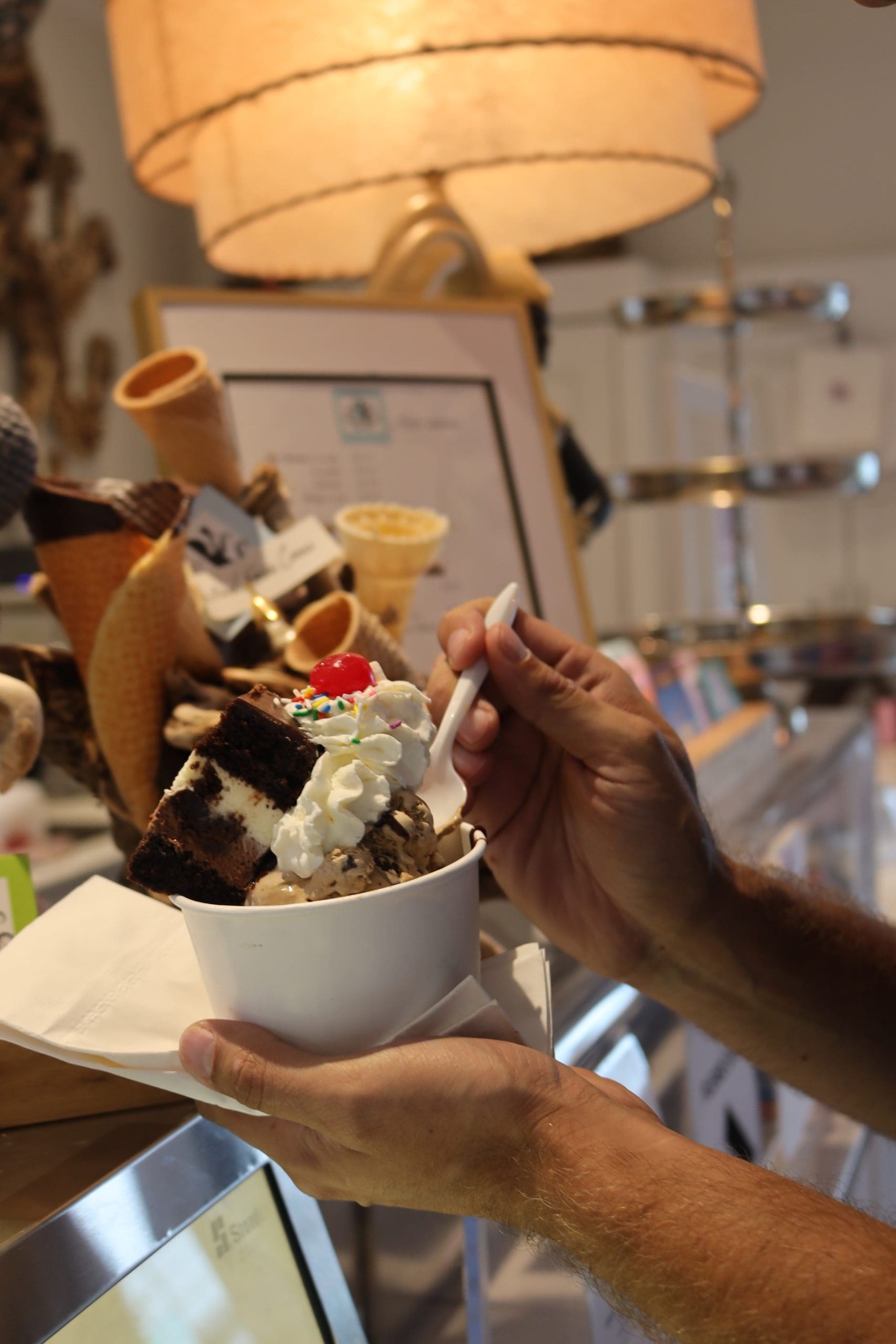 13. Lemongrass Thai Fare & Pepper's Pub
1 Market Square, Saint John
With a tagline like "Peppers Pub is Saint John's Little Pub with a Big Deck!", we couldn't resist!  Lemongrass and Pepper's Pub is the weirdest combo we've ever seen.  It's a pub/thai cuisine hybrid, and we loved it!  Whether you're in the mood for traditional Thai fare like curry and pad Thai (which is what we did) or prefer a burger and beer, they've got you covered.
And that patio they love to flaunt, it's as great as they say.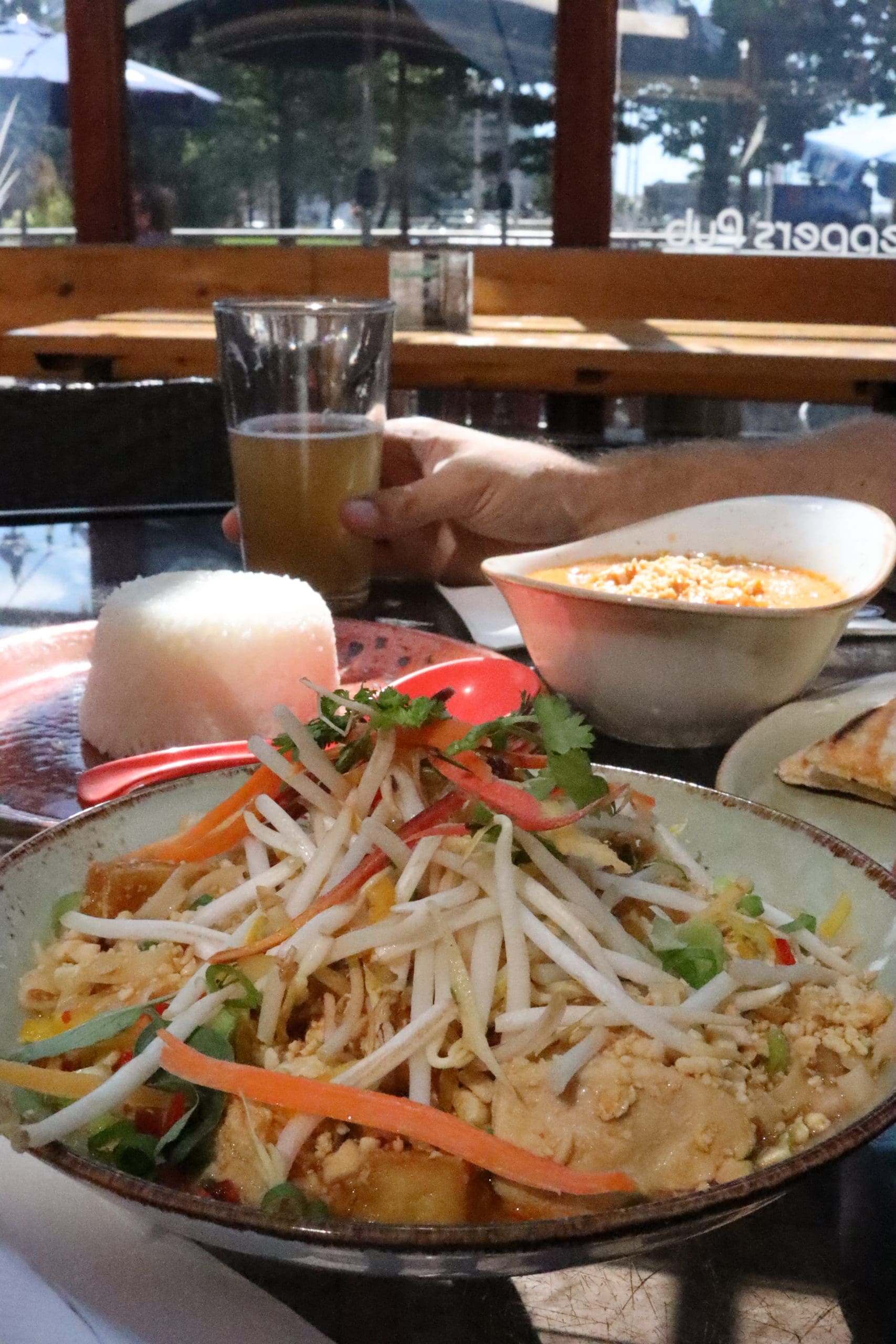 14. Pomodori Pizza
34 Canterbury St, Saint John
Pomodori Pizza is right next to Picaroons General Store where you can order a stone fired pizza and take it the pub to enjoy with your beer. If you'd rather stay in and enjoy your pizza they have dinning space in-house too. The pizza is a made to order Neapolitan – style, wood-fired pizza. This style of pizza is supposed to be made with simple and fresh ingredients. Basic dough, san marzano style tomatoes and fresh mozzarella cheese. They say "its a little more saucy and a little less cheesy to showcase the ingredients on our signature pizzas". We agree, the pizza was really good.  Check out the full menu here.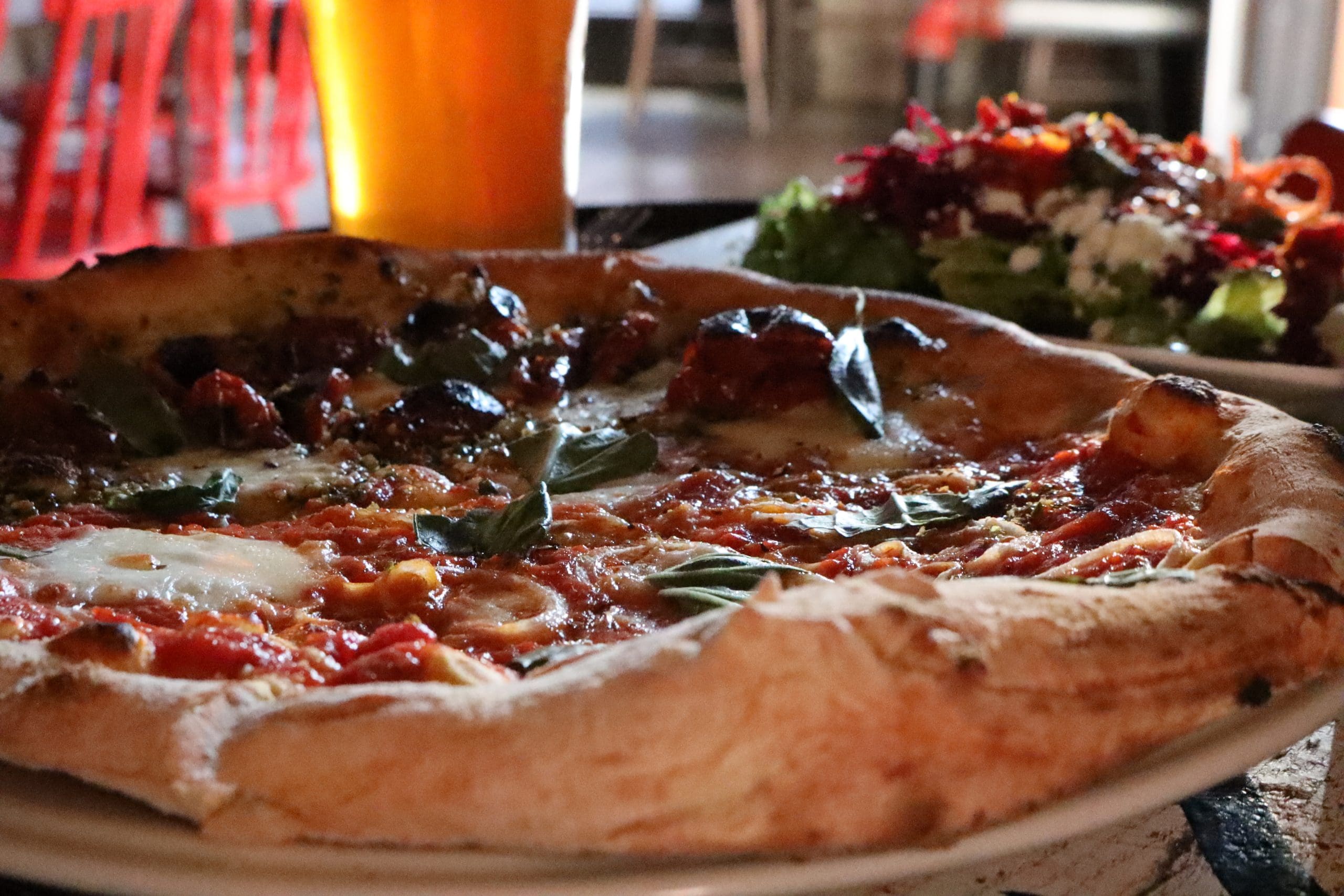 15. The Caves Restaurant
82 Big Salmon River Rd, St Martins
The Caves Restaurant is a diner style family restaurant that offers quick seafood options like chowder, fish & chips and burgers.  The food was just OK for us here (hey, we always promise to tell the truth) but the real prize was the view!  This restaurant overlooks the stunning St. Martins sea caves.
The best part of this experience was the view.  I'd recommend visiting the sea caves at low tide to explore and then return for a bite at the restaurant at high tide.  We took the 6 hours between low and high tide to explore the Fundy Parkway Trail before returning for lunch.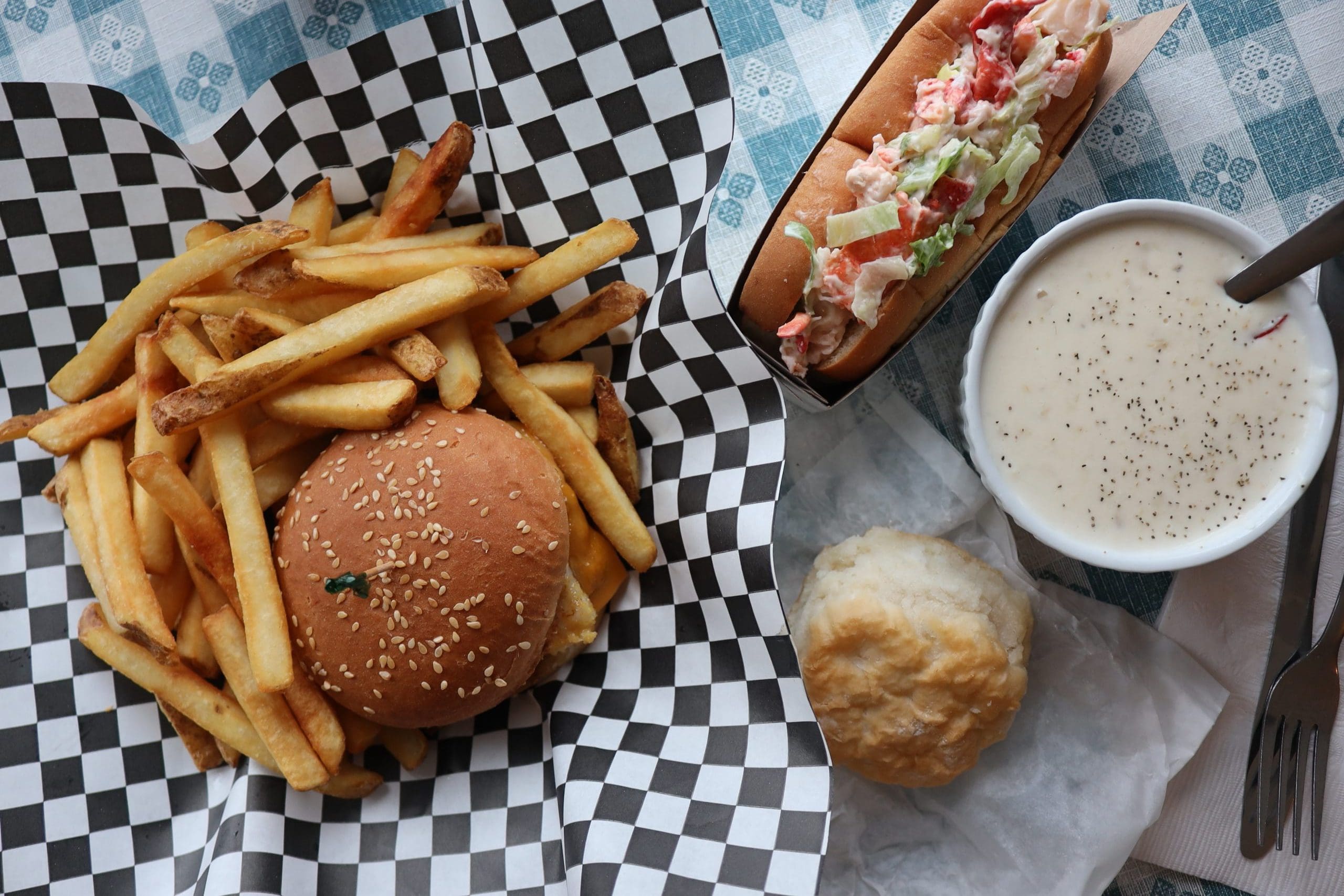 16. Brunch at Britt's pub + eatery
42 Princess St, Saint John
Isn't everyone's favourite meal of the day brunch? Well, if you are brunchin' (yep, I'm making that a word) you better be at Britt's. Britt's is an English-style tavern with an extensive beer list but they're known for brunch.  They've got the classics like eggs benny and waffles but also offer more unique items like bubbles + squeak and coconut French toast. I started my meal with a Mimosa because, why not?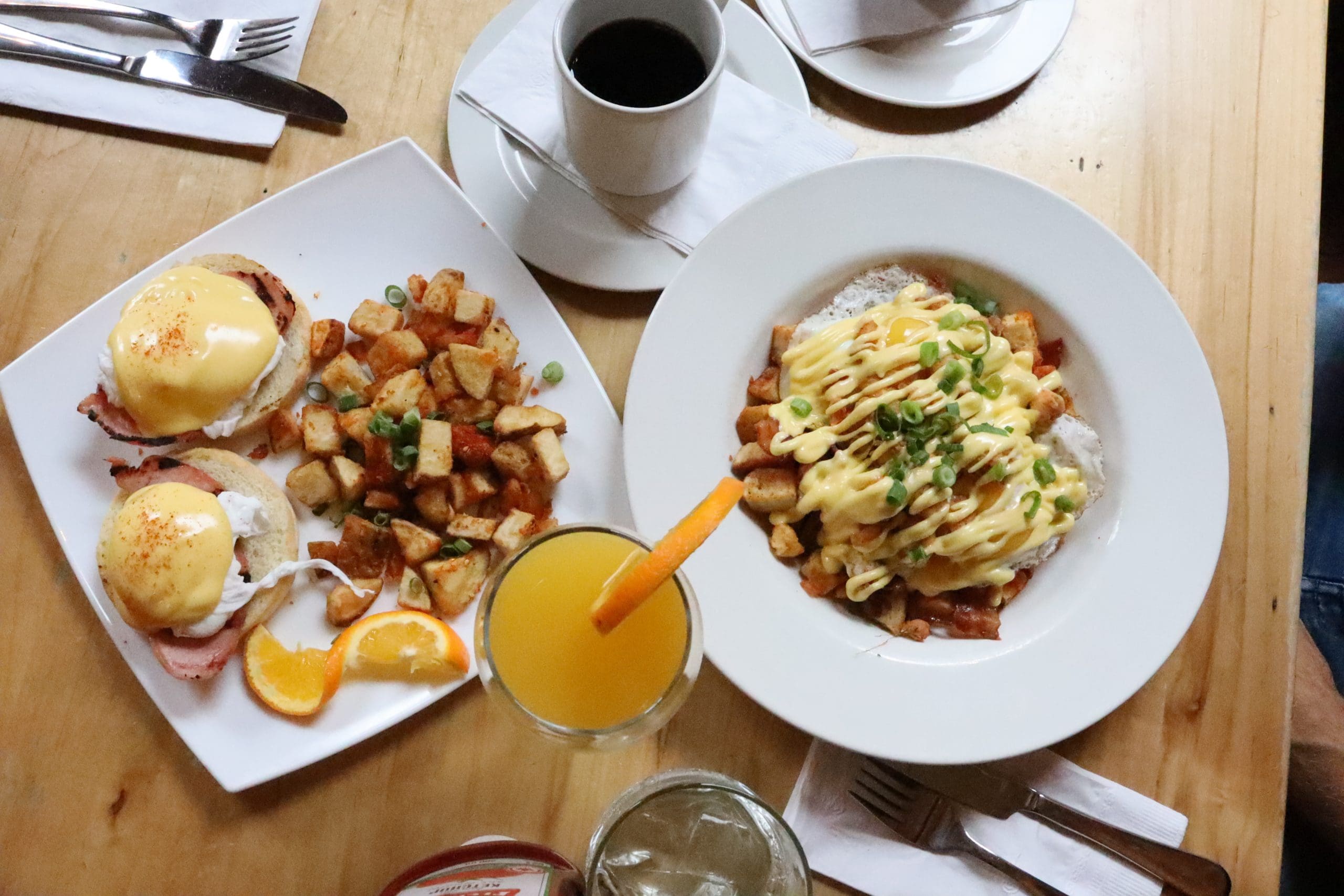 17.  Beer Daddy BBQ
1051 Main Street, Hampton
Beer Daddy BBQ is a unique hot spot, opened in the fall of 2021, offering open fire BBQ, food truck style.  Corey (super cool dude) is a backyard BBQer with a passion for low and slow BBQ who started entering (and winning) competitions a few years ago.  Now he's bellied up next to Gridiron Brewing in Hampton offering all kinds of goodies to pair with your beer.
We tried the pork belly and it was to-die-for!  I also loved chatting with Corey about how he got started and what motivated him to make the leap and open his very own food truck.
Where to Drink
They have an A-M-A-Z-I-N-G craft beer scene in Saint John. But first we have an important question! Brent and I approach breweries differently.  I love ordering flights of beer to try different things.  Brent is more of a pint guy (which I think is super weird).  There are certainly more breweries than I'm listing here, but these are the ones we visited during our trip!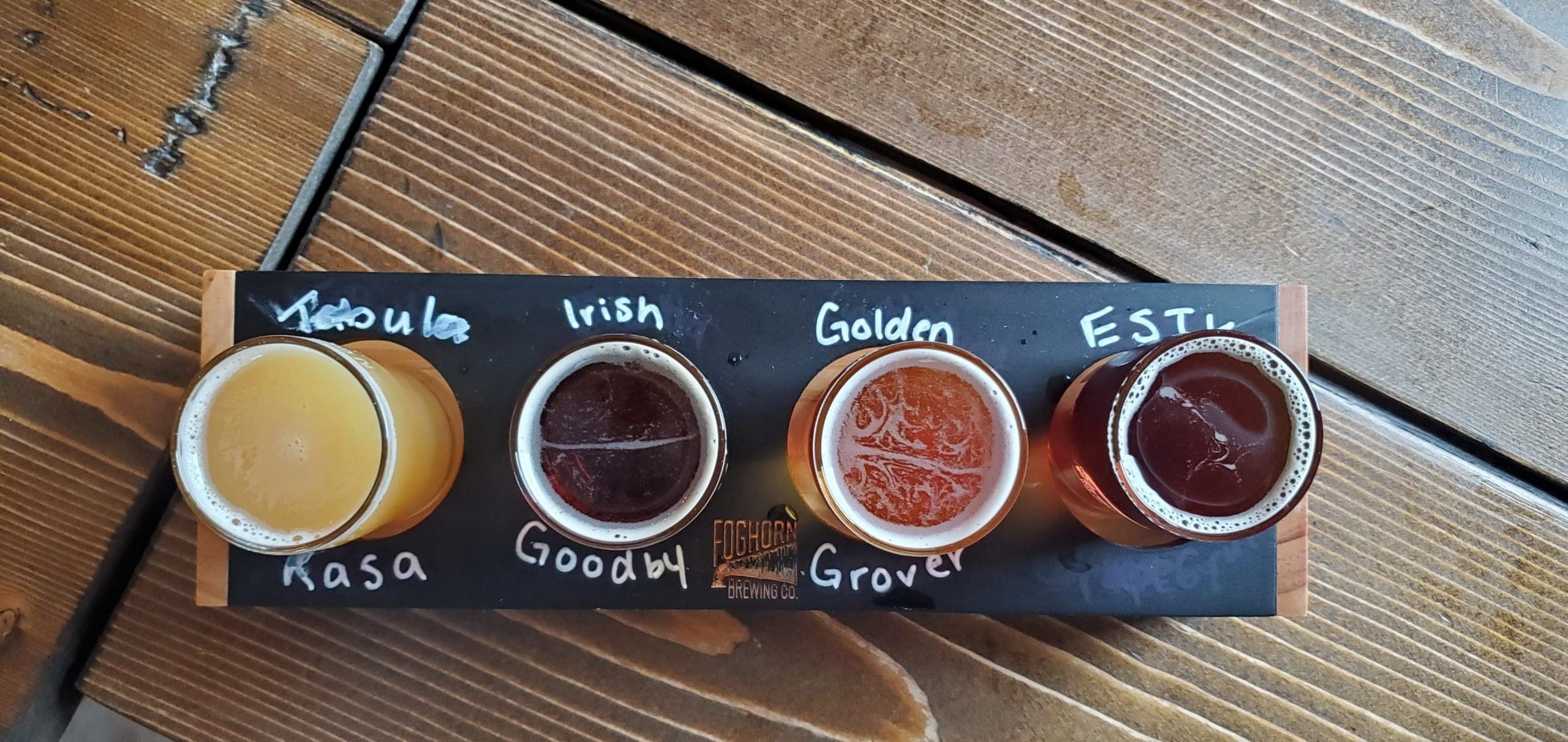 18.  Uptown Saint John Breweries
Saint John Ale House |

1 Market Square

Big Tide Brewing Company |

47 Princess St

Picaroons General Store |

32 Canterbury St
19.  Breweries Worth a Drive
Foghorn Brewing Co. |

47 Clark Rd, Rothesay

Long Bay Brewery |

82 Marr Rd, Rothesay

Hampton Brewing Co |

64 Robertson Rd, Hampton

Gridiron Brewing |

1051 Main St, Hampton
I have to give a special shout-out to Hampton Brewing and Gridiron Brewing here.  Both took the time to give us a tour and tell us all about their beer.  We LOVED the amazing patio (and location) at Hampton Brewing.  They offer live music and events, along with a great selection of beer and a sparkling clean brew house!

Gridiron felt like "home".  Luke was lovely and is a Nova Scotia farm boy, so that was awesome.  My personal favourite beer at Gridiron was the toasted kiwi pale ale that paired perfectly with the brisket style pork belly from Beer Daddy BBQ.  Another really unique feature of Gridiron is the barber shop attached.  You can grab a beer and get a hair cut at the same time!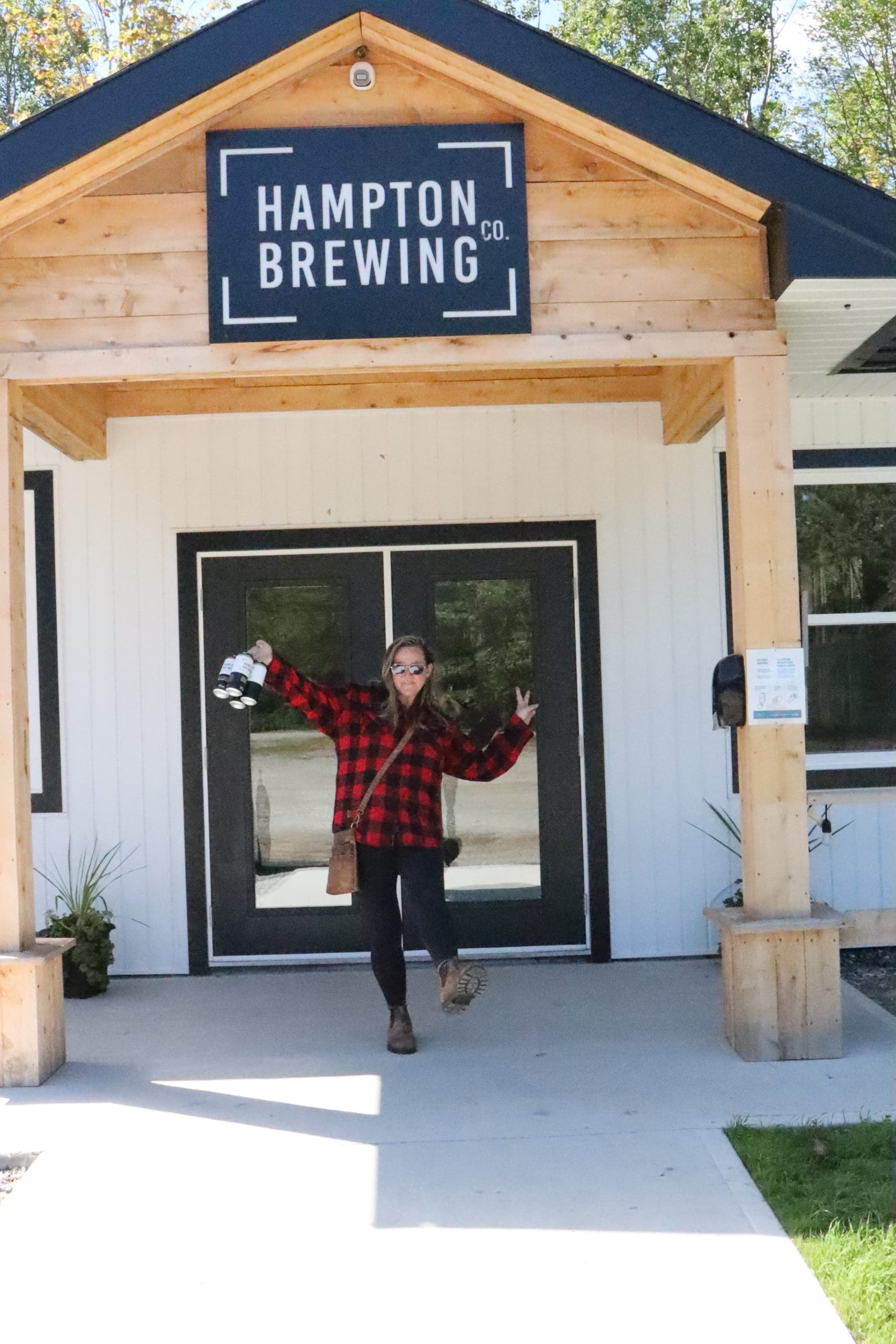 20.  Non-Beer Options
3015 Route 845, Long Reach
YIP Cider is a bit of a drive but it's a perfect addition to the Hampton beer tour and super scenic.  The cider house itself is located 2.5km away from Mackay's Family Orchard and is family run.  It offers spectacular views from the patio and all kinds of tasting options. I recommend skipping over after you've picked a few apples and sample the cider for yourself.
Pro Tip: Cell service goes out on your way to YIP so put the directions in your maps before you leave Hampton to avoid any mishaps.  We created a self-guided tour that included Hampton Brewing, Gridiron, Mackay's Apple Orchard & YIP Cider.  If you do this, make sure you have a designated driver!  Let's all be responsible!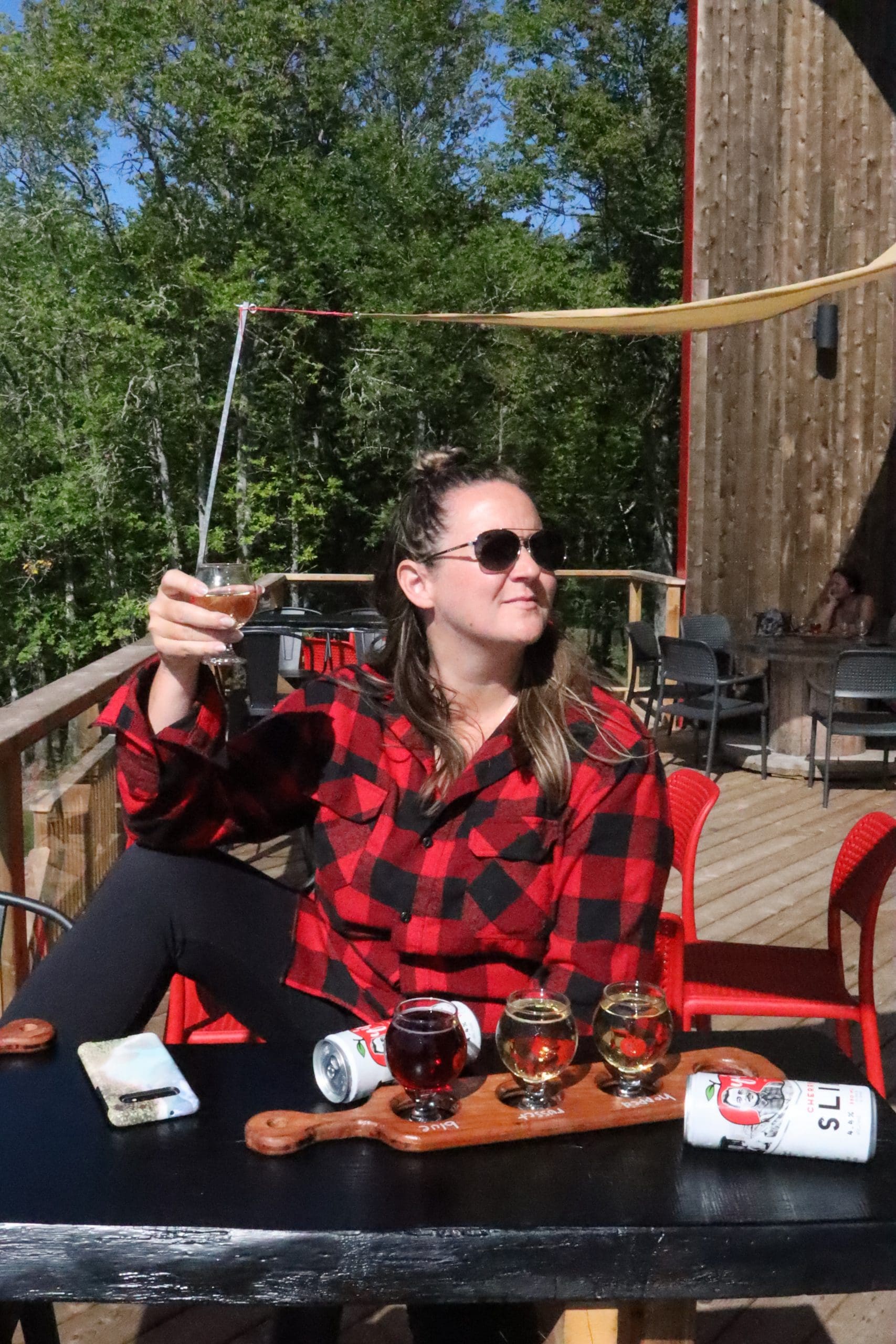 Here's the route we took from Saint John to complete this craft beer & cider tour.  Be sure to check the breweries hours of operations before you arrive.  And, if time allows – book yourself a trim at Gridiron to really complete the experience!
Where to Stay
There are lot's of accommodations in Saint John New Brunswick but this time, we stayed at Chipman Hill Suites in uptown.  The suite was great for an extended stay. We enjoyed 4 nights in the well-appointed room.  It had a full kitchen, dining area, king bed (because we can't possibly sleep in anything else now), and living area.
We loved being able to unpack and having a space that didn't feel like staying in a hotel room for this length of stay.  The location was also great and we were able to walk to most places.
The parking from Chipman Hill Suites is a little walk, taking about 5 minutes from where we stayed.  I'd recommend pulling up out front to drop off your bags and then parking your car.  We travel light, but if you're someone who brings full suit cases you may not want to pull your bags up and down the hill to the parkade.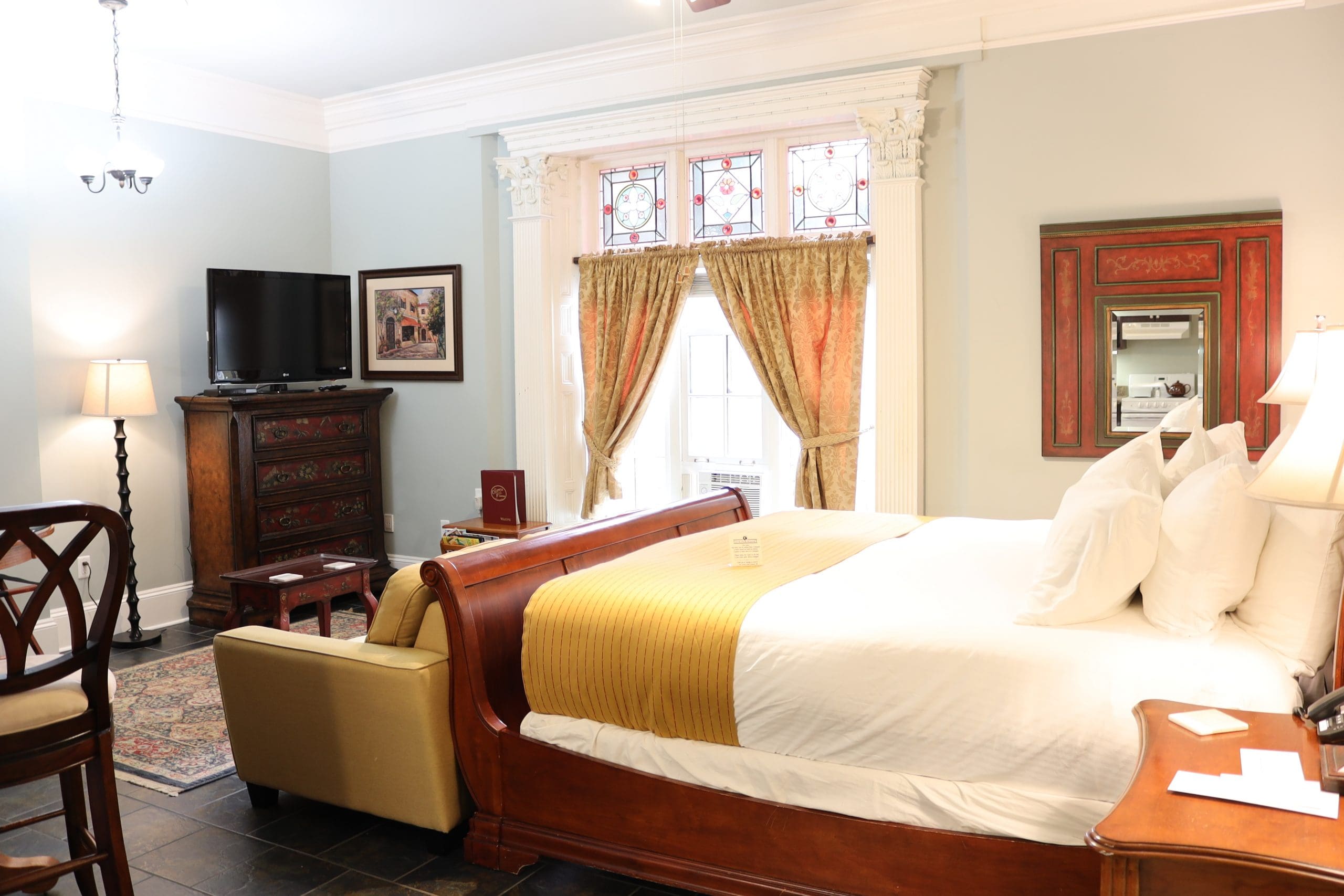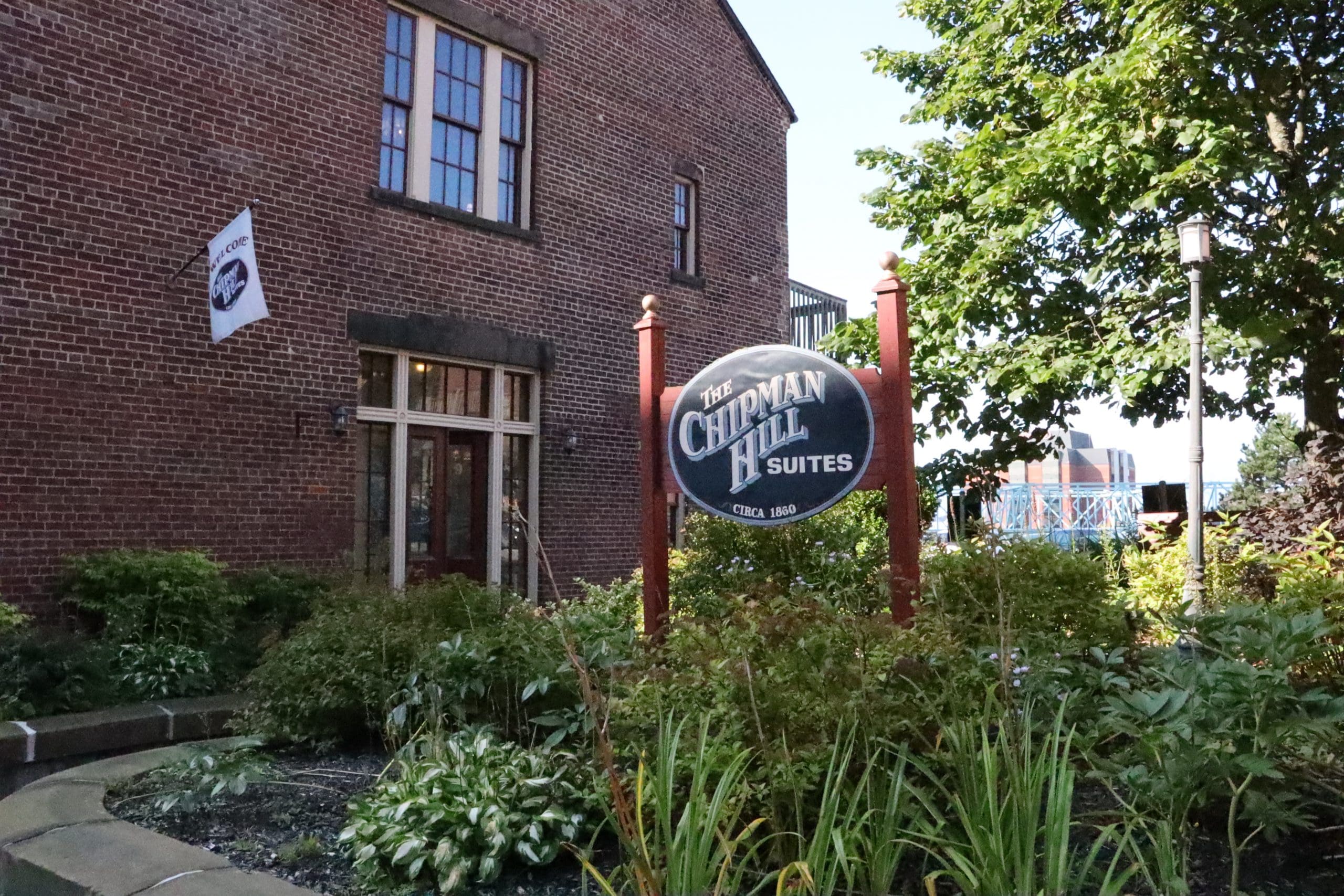 Have you been to Saint John, New Brunswick?  We'd love to hear in the comments below what your favourite stop was or if you're planning to visit!