Nova Scotia to New Brunswick Road Trip
Travelling from Nova Scotia to New Brunswick on the Fundy Rose ferry was a trip we've been dying to take.  So, when Bay Ferries Limited reached out to us about this project, it was an easy yes since exploring the most underrated areas of any province, state or country is a great love of ours.  And when it comes to underrated places in Nova Scotia and New Brunswick, Digby Nova Scotia and Saint John New Brunswick are at the top of those lists.  Each year, before the new year, we make a list of underrated places to visit in the coming year.  Last year, that list included:
Digby, Yarmouth & Annapolis Royal in Nova Scotia
Saint John, New Brunswick
West Coast of Newfoundland, specifically Rocky Harbour
West Coast, Prince Edward Island
I'm thrilled to report that we checked all of those off our list this year!  This blog post, dearest reader, is all about our road trip from Nova Scotia to New Brunswick via the Digby Ferry (as it's lovingly called by the locals).  We spent 2 nights & 3 days between Digby, Nova Scotia and Saint John, New Brunswick.  Here is our complete itinerary, including tips & tricks to make the most of your stay.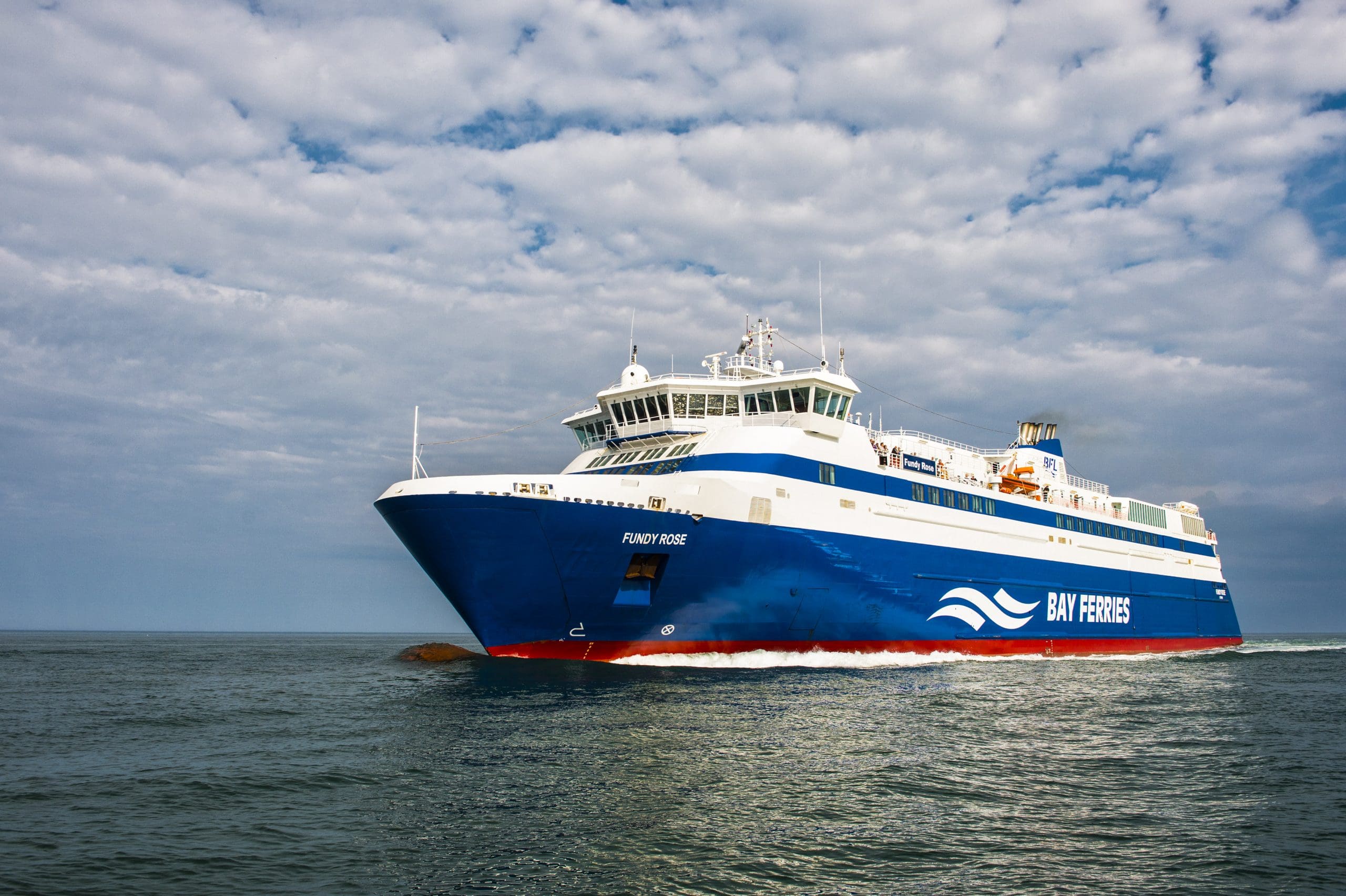 Nova Scotia to New Brunswick
In case you prefer to watch, here's our travel vlog of our Nova Scotia to New Brunswick road trip via the Fundy Rose ferry.  
3 Day Nova Scotia to New Brunswick Itinerary
We usually write travel guides in this style but wanted to switch it up today.  You'll find this blog written by timeline, rather than by category.  Let me know what you think!
DAY 1: Halifax to Digby
Depart Halifax and head for Annapolis Royal, Nova Scotia.  Annapolis Royal is located about 2 hours from Halifax in the western part of Nova Scotia, just outside Digby.  It's a charming waterfront community, known for the many (more than 100) heritage buildings and is also home to Canada's oldest national historic site, Fort Anne. 
I recommend leaving early to maximize your day, especially if you're only staying 2 nights.  We're not big breakfast eaters but highly recommend stopping in Wolfville for breakfast if time permits. 
Visit Annapolis Royal Historic Gardens
Annapolis Royal Historic Gardens
441 St George St, Annapolis Royal
This stop has been on my list for a long time.  I love gardens, don't you?  My Grandmother is a master gardener. My Mom is as well.  As a result, I've always been drawn to things that grow!  There are 5 different gardens, over 17 acres that represent 4 centuries.  Therefore, visiting Annapolis Royal without stopping in would be a miss!
Here's what you need to know:
Hours of operation: daily, 9-5 from mid-May until October 31

The Elm cafe closes Sept 5th

Adult admission is $10, people under 18 are free

Take a map, you don't want to miss the rose maze!

The gardens change throughout the year. Therefore, visiting more than once is a great idea

Bring your camera

Allow lots of time.
We loved the gardens so much we returned later in the day to pick up where we left off!  I recommend allowing yourself at least 2-3 hours.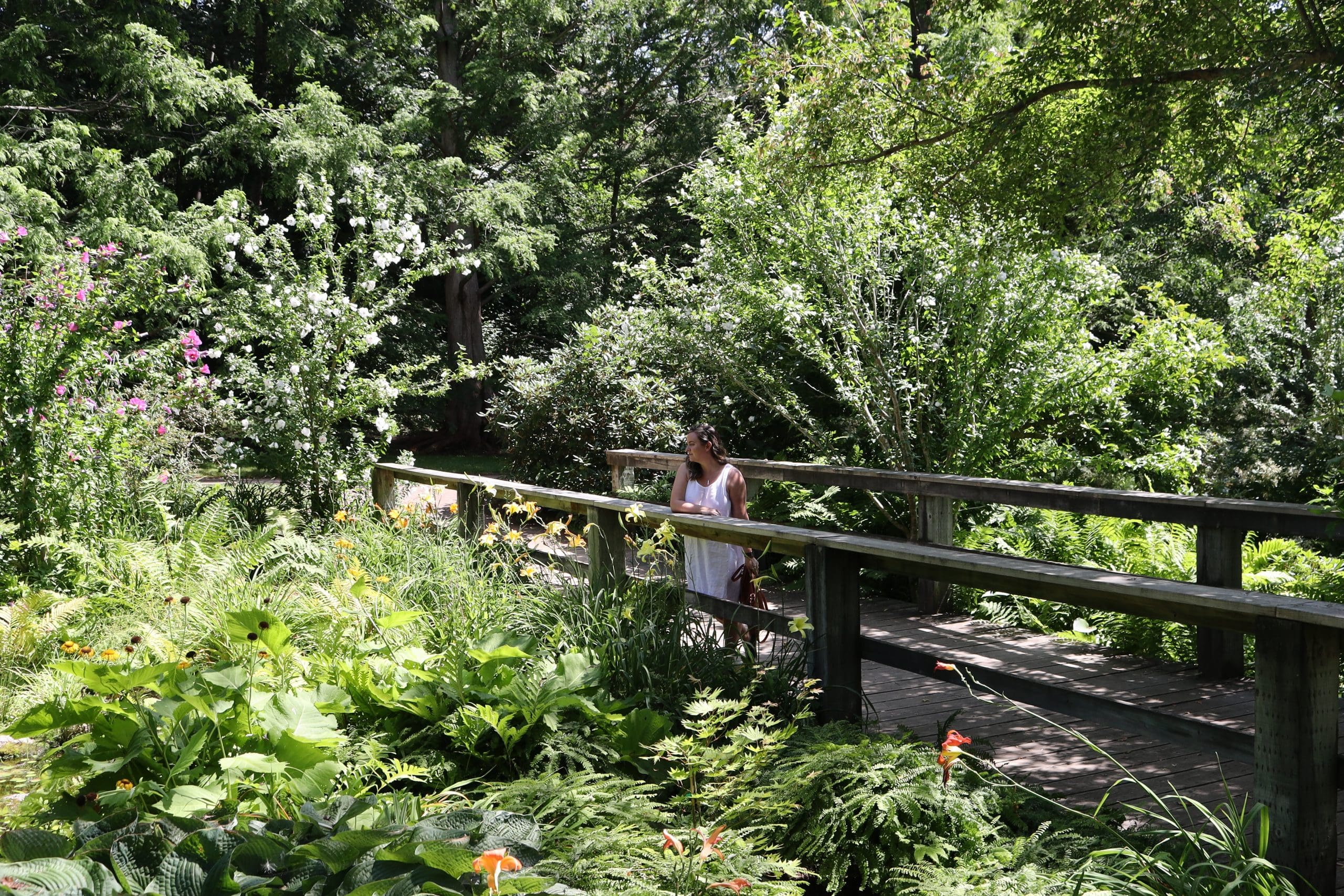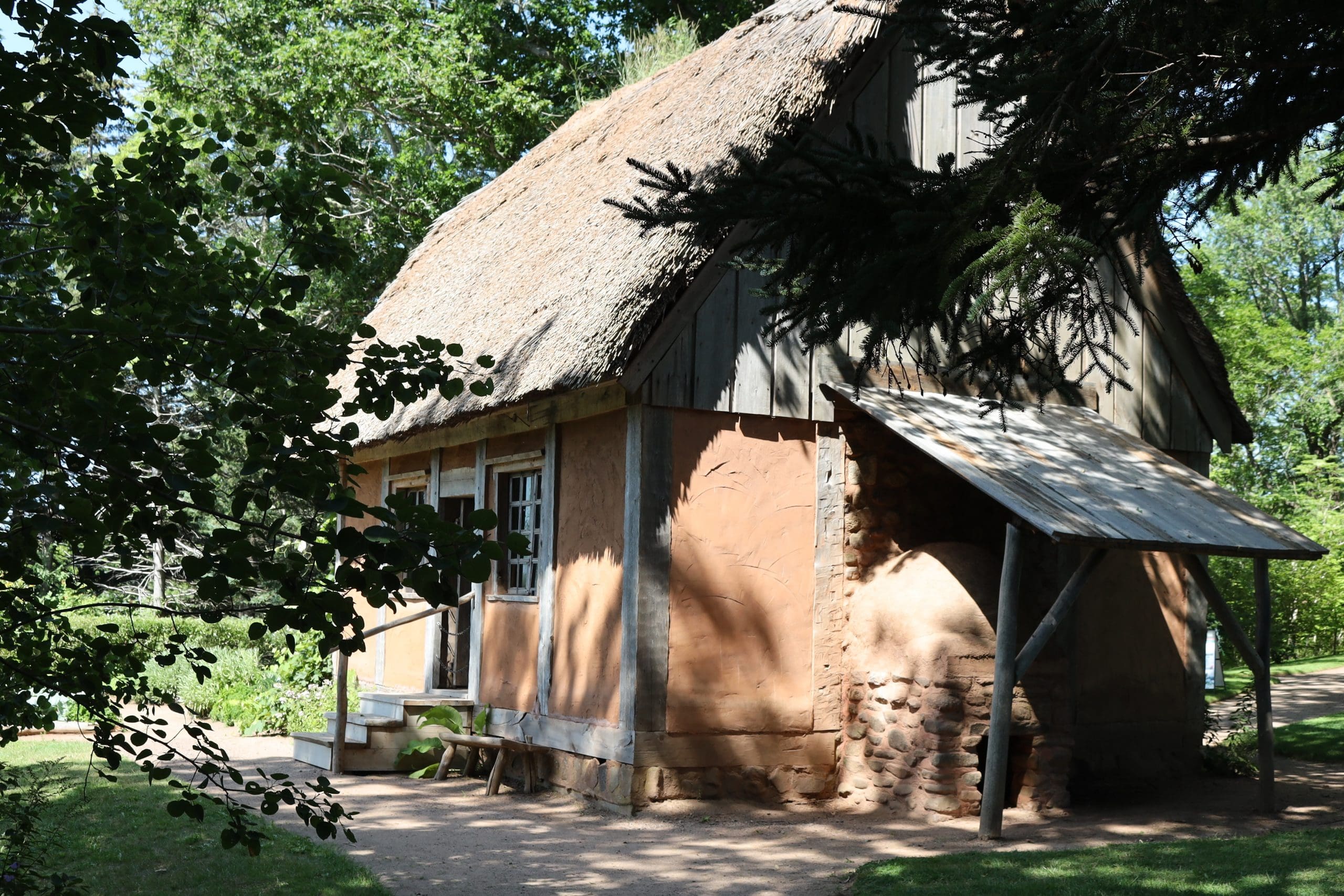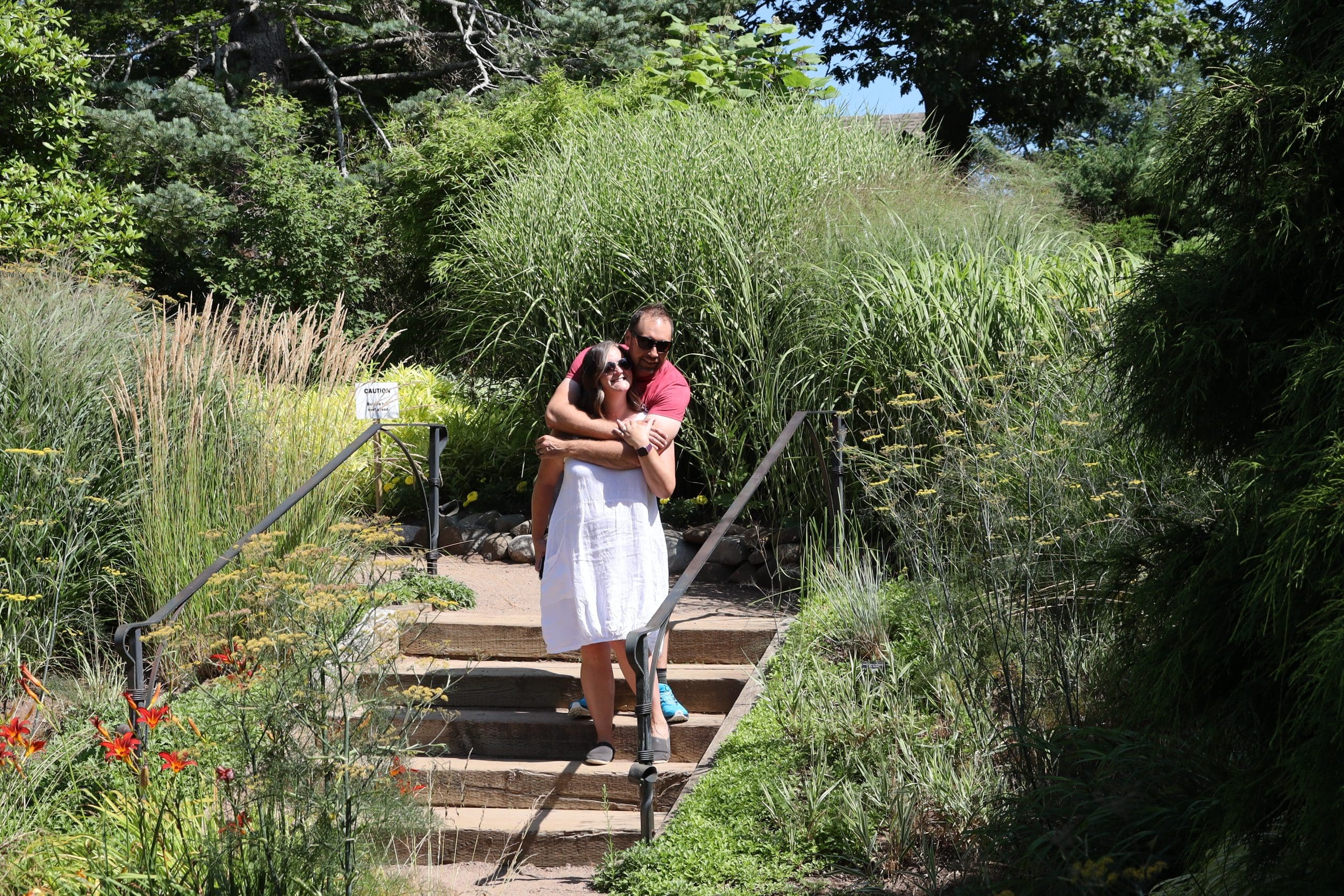 Have Lunch at Founder's House
Founder's House Dining & Drinks
3816 Nova Scotia Trunk 1, Annapolis Royal
Founders House was a wonderful surprise!  If you're a foodie, like me, make a reservation and go now.  They offer elevated dining in an historic building that overlooks the golf course.  Chef, Chris Pyne, designs some spectacular dishes.  I had the mushroom croque madame and Brent ordered the chicken and waffles.  Both were outstanding.  I should add, we've become desensitized to great food because we eat in Nova Scotia restaurants so often.  Consequently, when I tell you something is outstanding, you can believe it!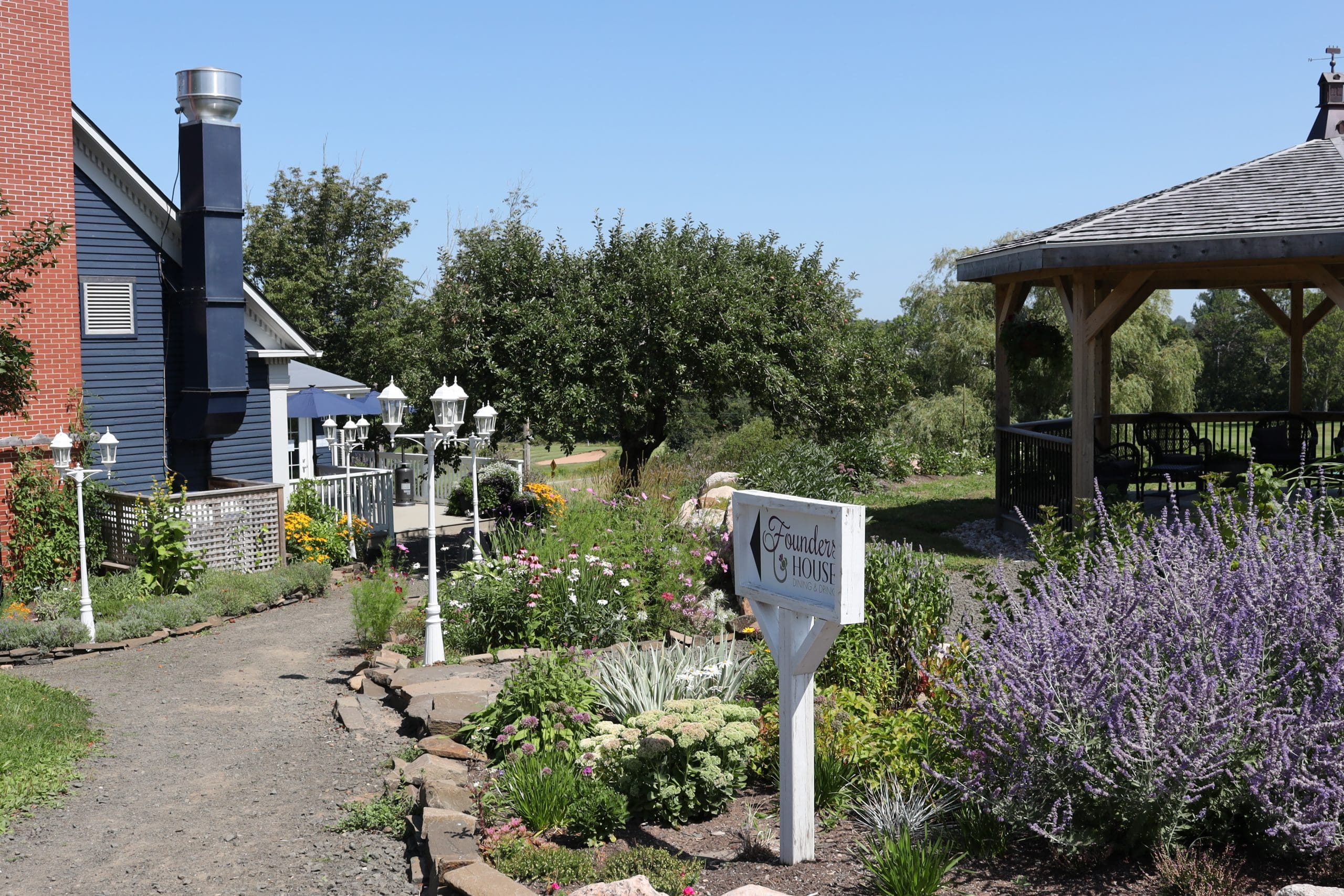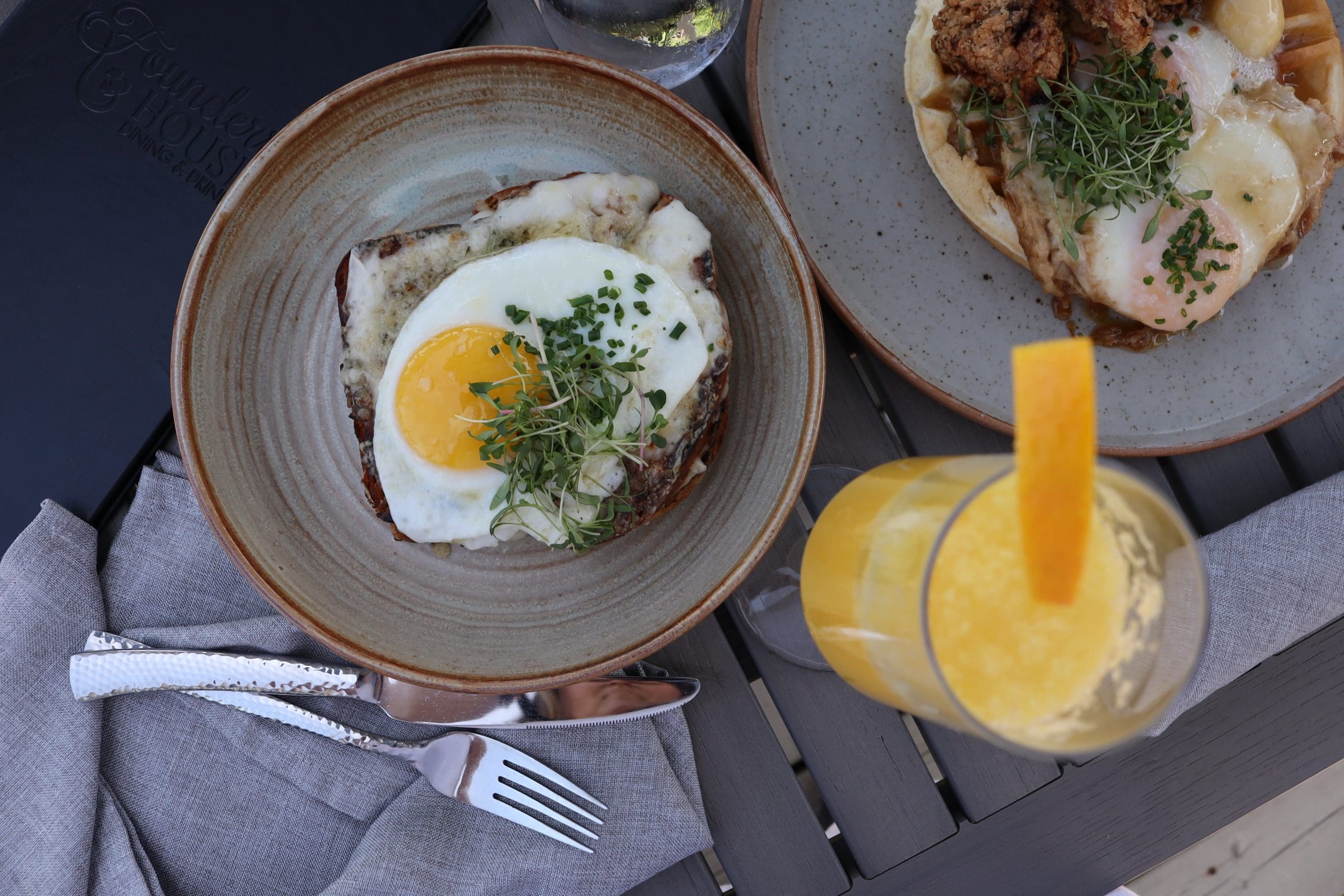 Explore Historic Downtown Annapolis Royal
Strolling through the designated historic district that is Annapolis Royal is a memorable experience.  The tree lined streets contain some of the highest concentrations of heritage buildings in Canada.  On the other hand, it also has all of the modern amenities we look for when travelling.  That includes a brewery, wine bar, great restaurants, and more.  Depending on how much you're willing to pack into your afternoon, there are options.  Here's what we did:
Visit Fort Anne National Historic Site
323 St George St, Annapolis Royal
Fort Anne is the first National Historic site in Canada.  It was established in 1917 and was the site of thirteen attacks, seven change of hands, and the ratification of the Treaty of Boston.  We love learning some of the history of a place by visiting the historic sites whenever we can.  There is a walking trail around the property and iconic Parks Canada red chairs that overlook a stunning vista of the Annapolis Basin.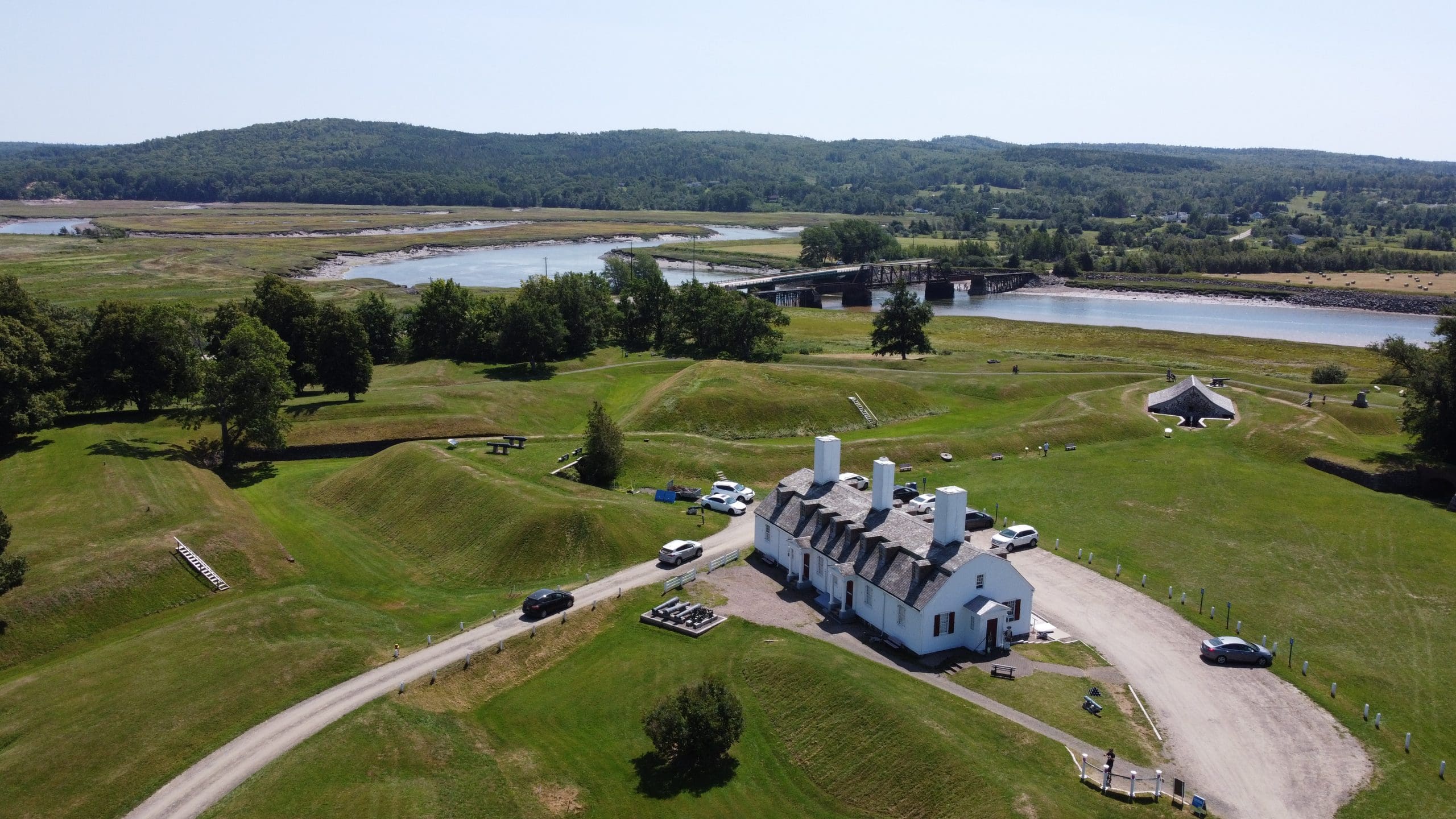 Grab a Local Beer at Annapolis Brewing
302 St George St, Annapolis Royal
If you peruse this blog, you'll see that we always sniff out the local breweries!  That made Annapolis Brewing Co was a perfect mid-afternoon stop.  We enjoyed the dog friendly patio and cooled off with some local craft beer.  I ordered the King George Porter and would highly recommend it.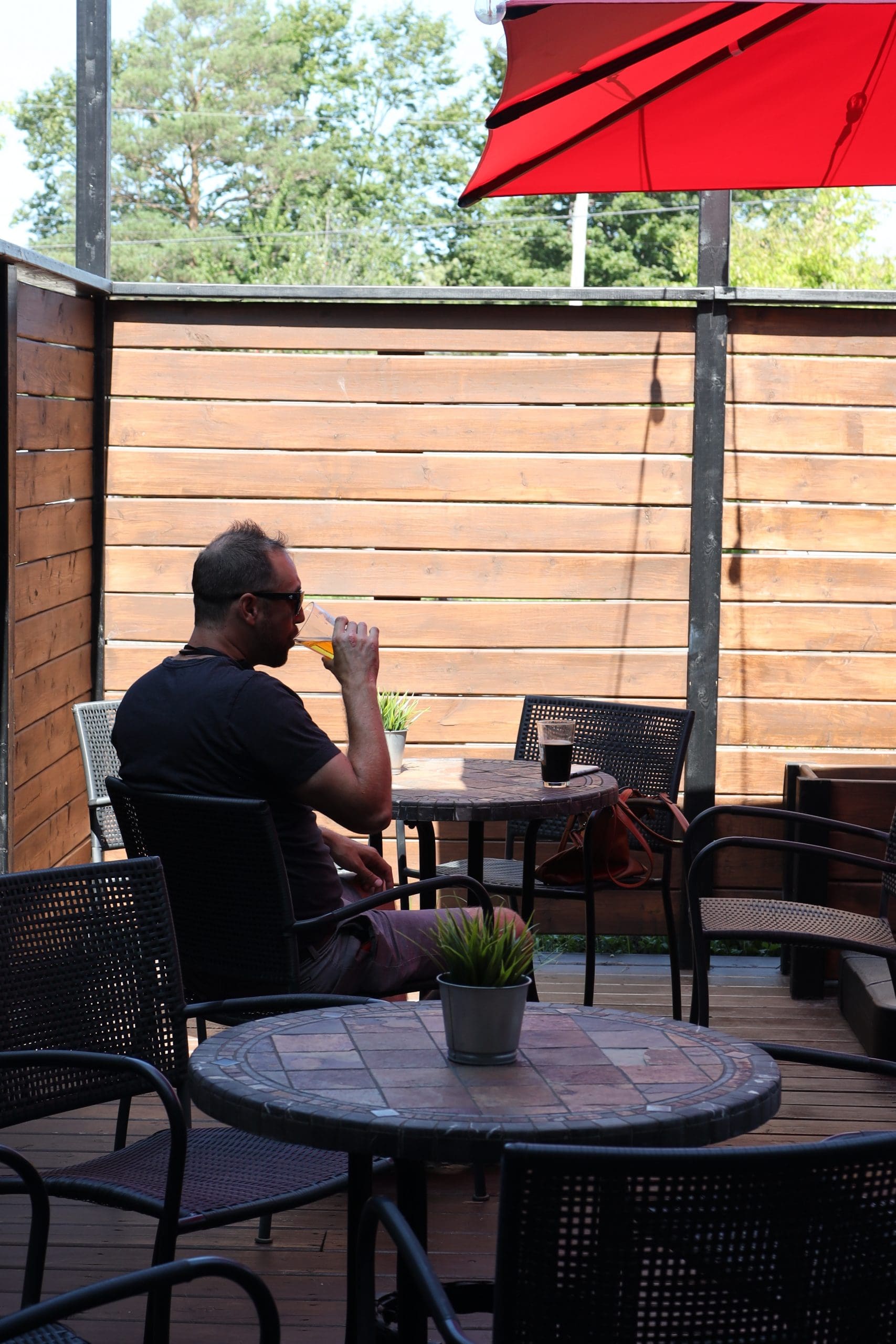 Enjoy a Pastry at German Bakery
German Bakery Sachsen Cafe & Restaurant
358 St George St, Annapolis Royal
The German Bakery Sachsen Cafe & Restaurant is located directly across from Fort Anne.  As a result, it's a perfect place to grab a snack and is open year round.
Sit on a Private Patio at the Mad Hatter Wine Bar
213 St George St, Annapolis Royal
The Mad Hatter wine bar, oh my.  I loved this secret garden!  Firstly, it's a cool little shop that combines wine & books.  So naturally, I was into it.  Secondly, they have the best patio in Annapolis Royal (and I'll defend that position vehemently).  They carry a selection of local and imported wines with cozy seating indoors and out.  Mark my words, we'll be back to Mad Hatter.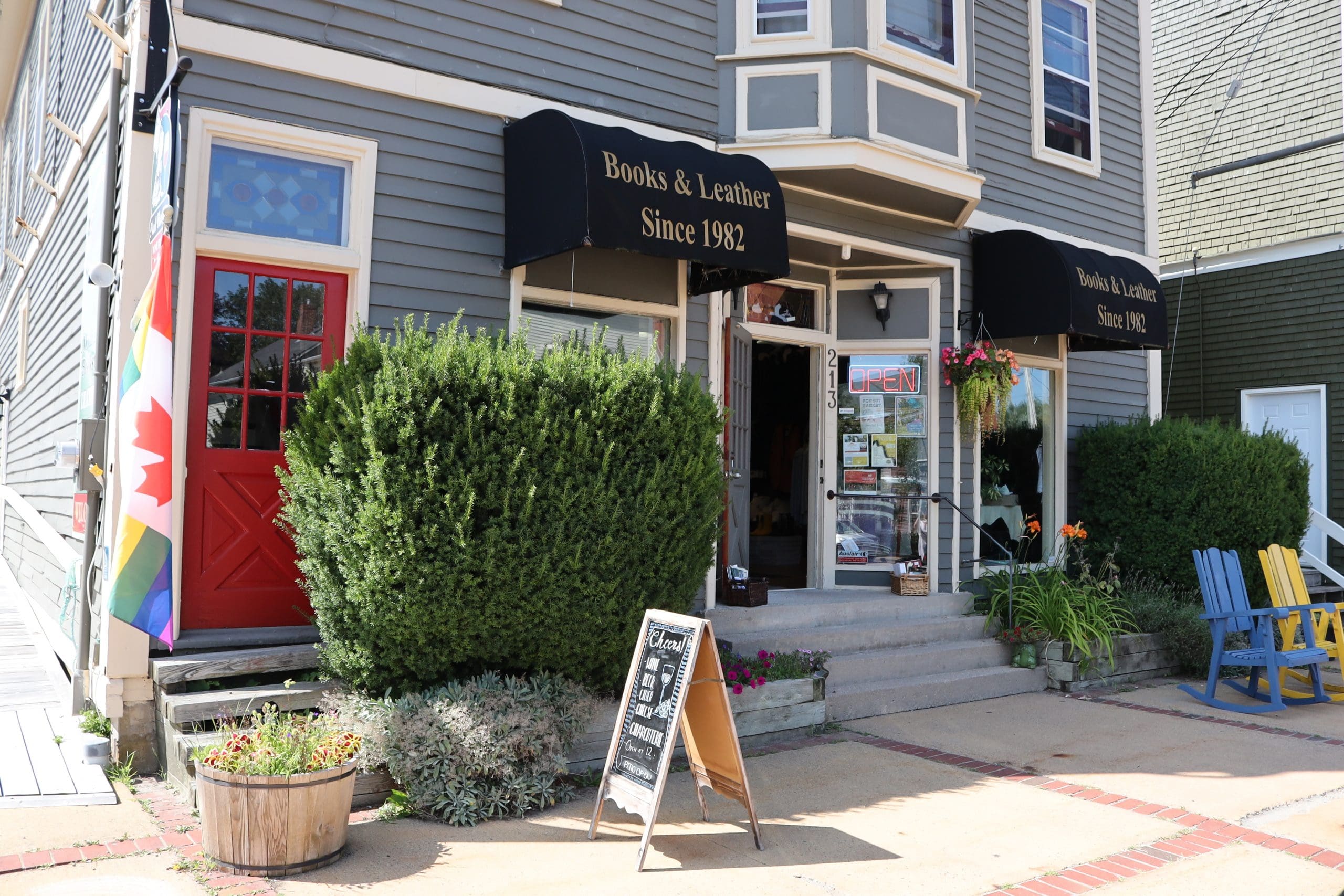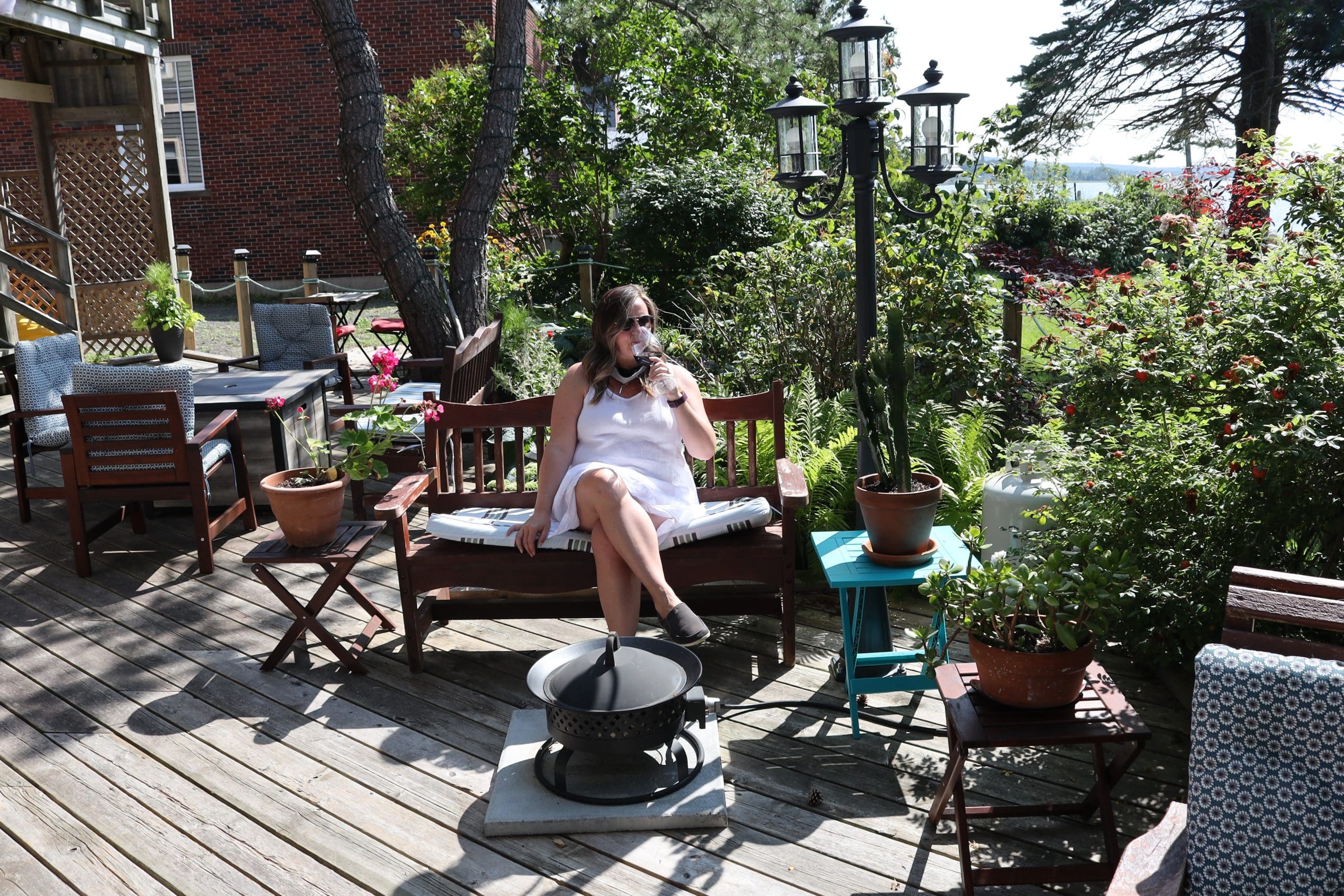 Take a Tour of Canada's Second Oldest Wooden Building
230 St George St, Annapolis Royal
The Sinclair Inn Museum is over 300 years old and is another National Historic site in Annapolis Royal.  Take a tour of the building and see the layers of history.  Additionally, there is a "Ghosts of the Sinclair Museum" exhibit in the basement.  I love that!  Furthermore, visit the painted room on the upper level and see some incredible findings.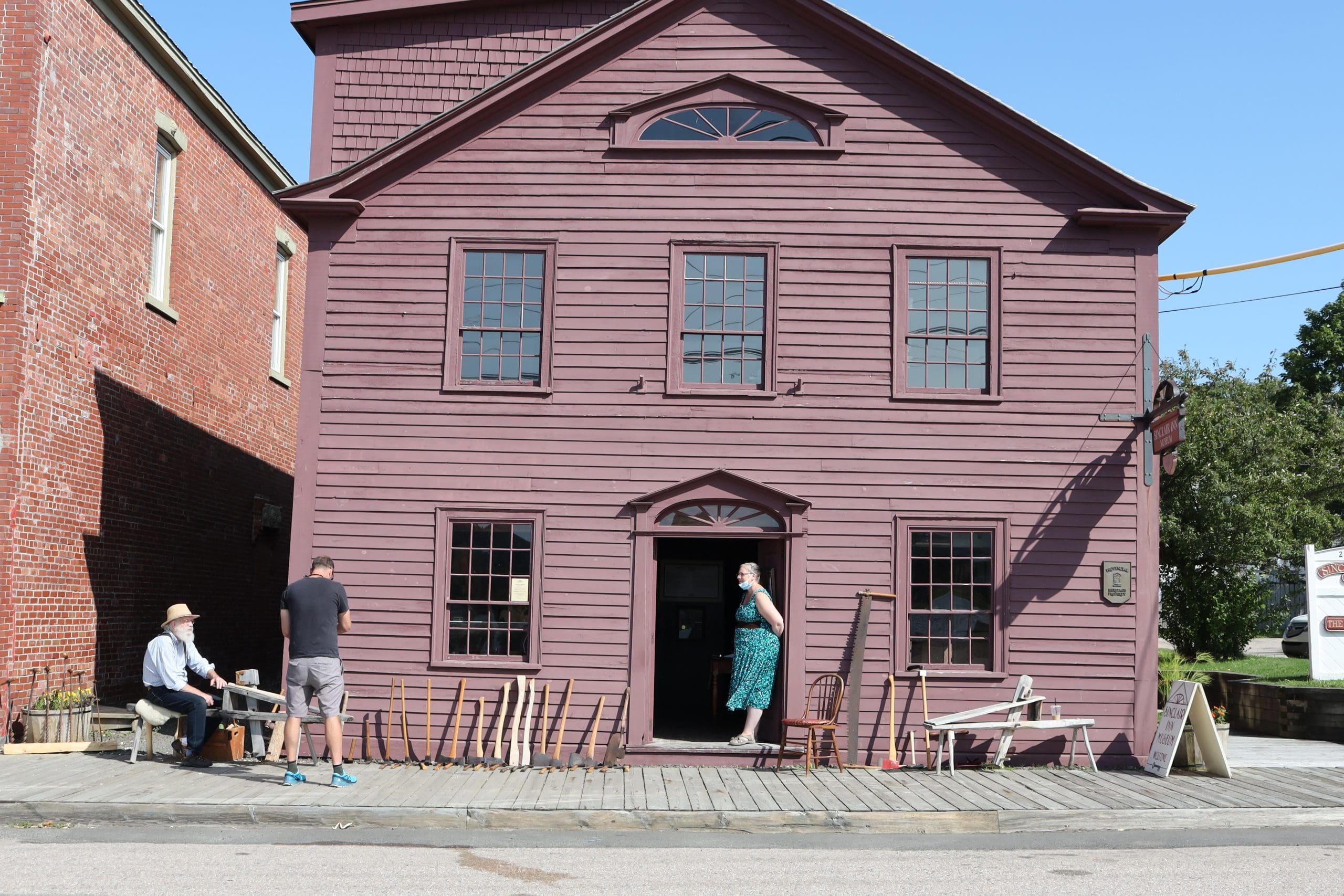 Stay at Digby Pines Golf Resort
103 Shore Rd, Digby
Digby Pines resort is an iconic destination in Nova Scotia.  There are certainly lots of other great accommodations in Digby but we couldn't pass up an opportunity to stay at Digby Pines.  Beyond golf, they offer a laundry list of amenities.  Here are some highlights:
Dining options (see below)

Outdoor Pool (heated)

Spa

Hiking & Biking Trails

Children's Playground

Rooms, suites & cottages

Shuffleboard

Observation deck & beach access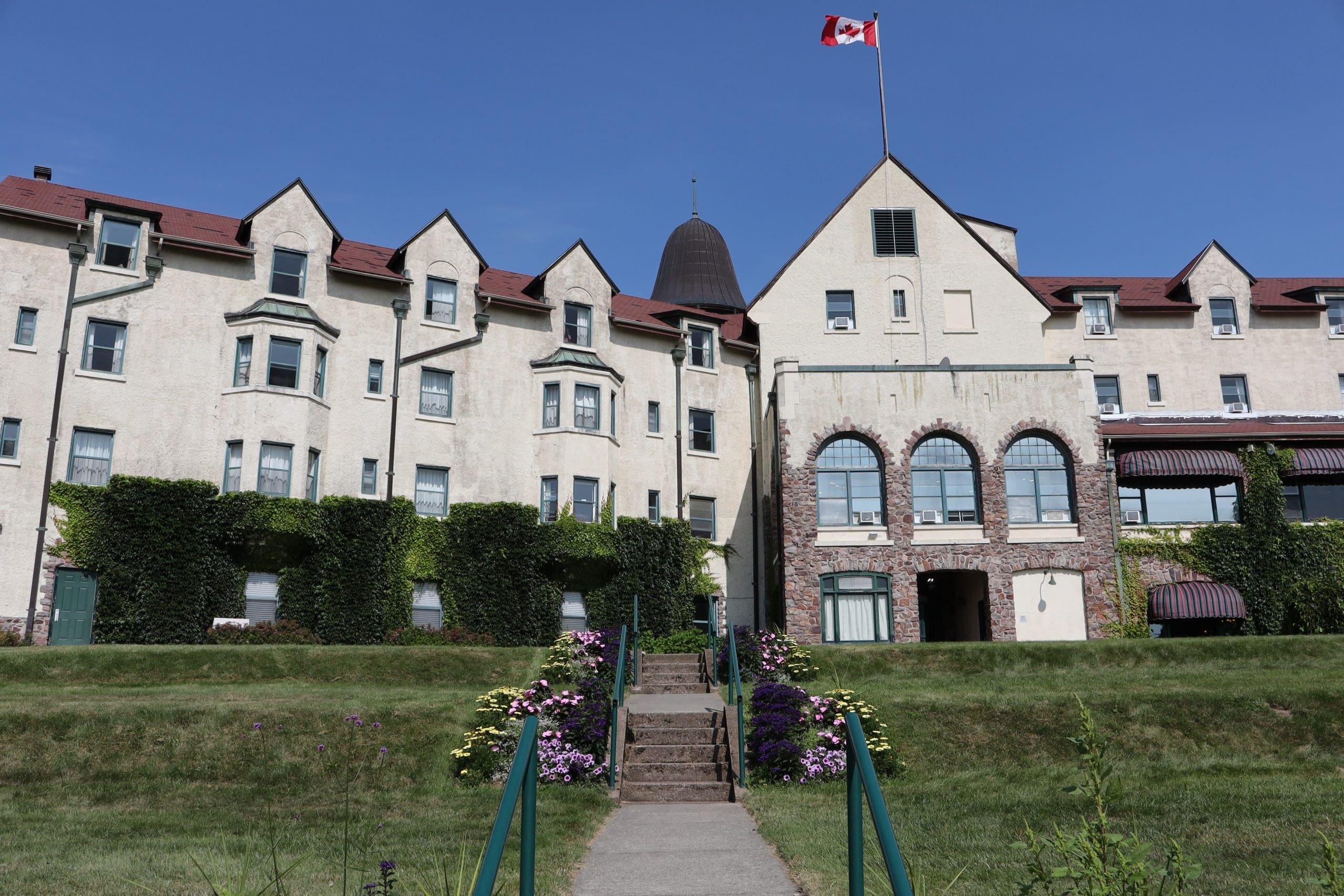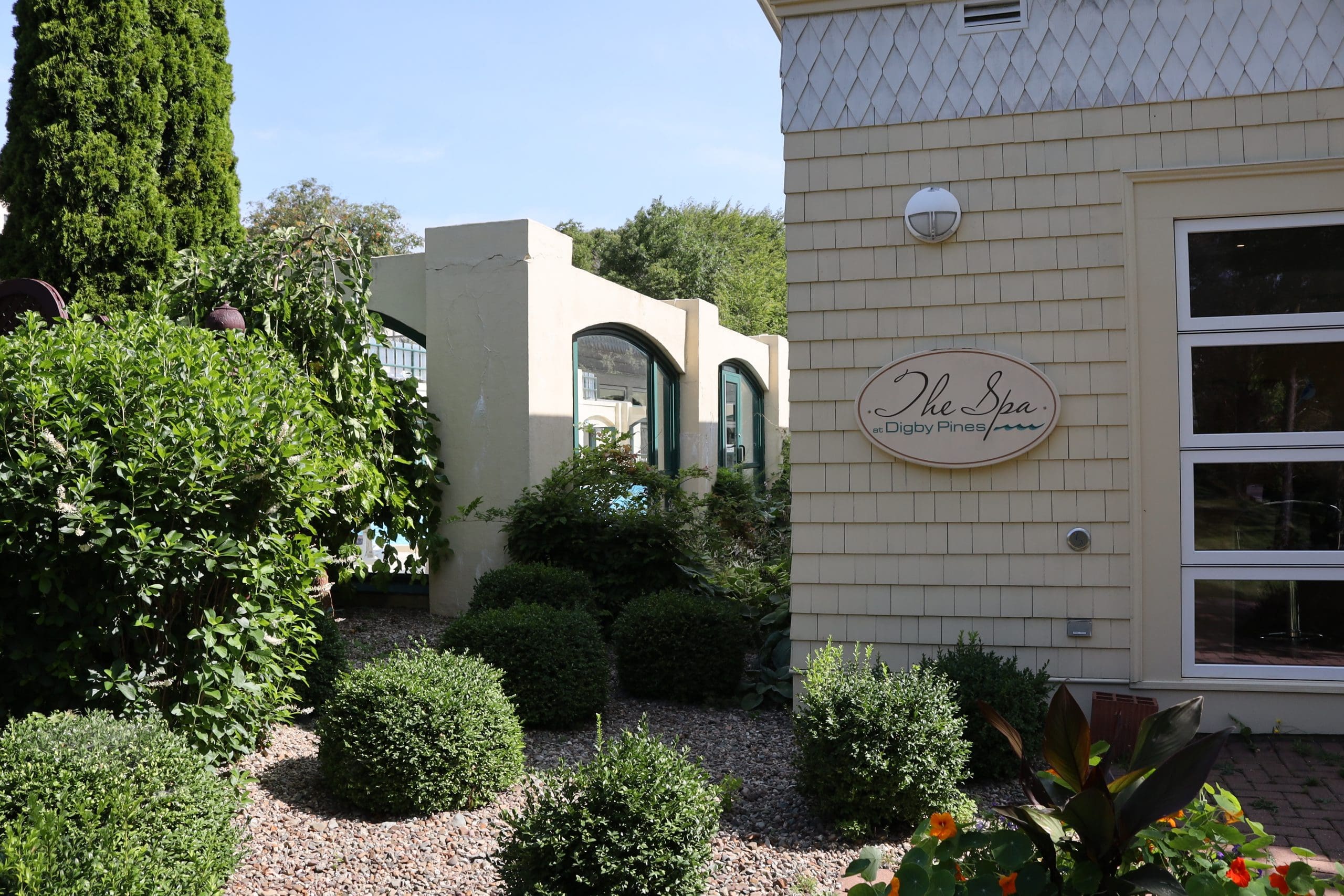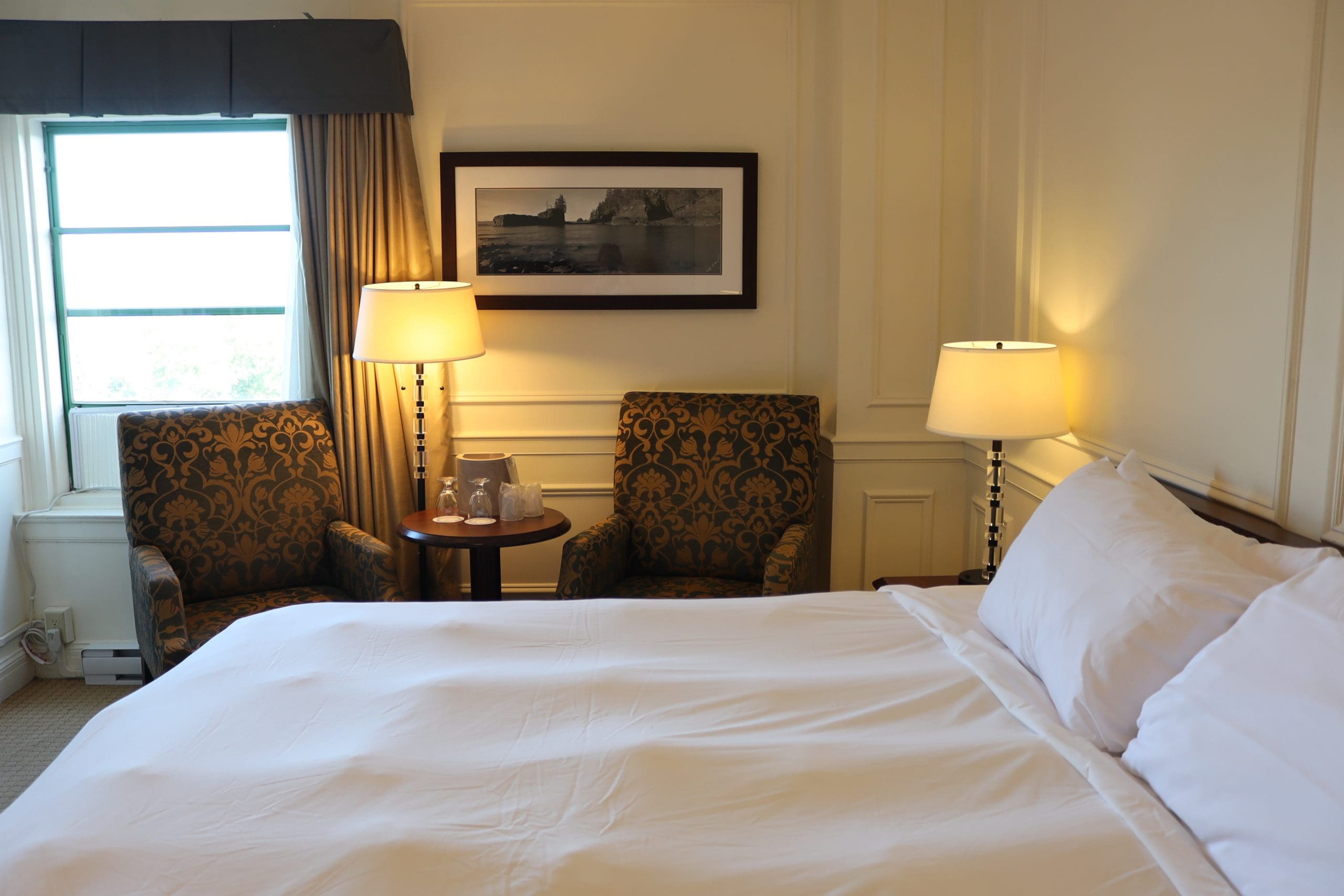 Have Dinner at Churchill's Restaurant
This was our first time dining at Churchill's restaurant.  As I already mentioned, it's getting increasingly more difficult to impress us with a meal.  To clarify, that has nothing to do with the Chef's & restaurants and everything to do with how often we dine out.  However, the first two courses of this meal were TO.DIE.FOR.  What I'm about to stay will sound silly.
Are you ready?
The Annapolis salad was the best salad I've ever had in a restaurant.  Ever.  There, I said it.  This salad had all of my favourite things; Arugula, poached pears, pecans, fried goat cheese, and a buttermilk dressing that will knock your socks off.  Furthermore, the presentation was everything.  I also ordered the feature dish of Coquille St. Jacques because to visit Digby and not order scallops would be a tragedy.  Honestly, I don't remember what Brent had.  Trust me, get the scallops.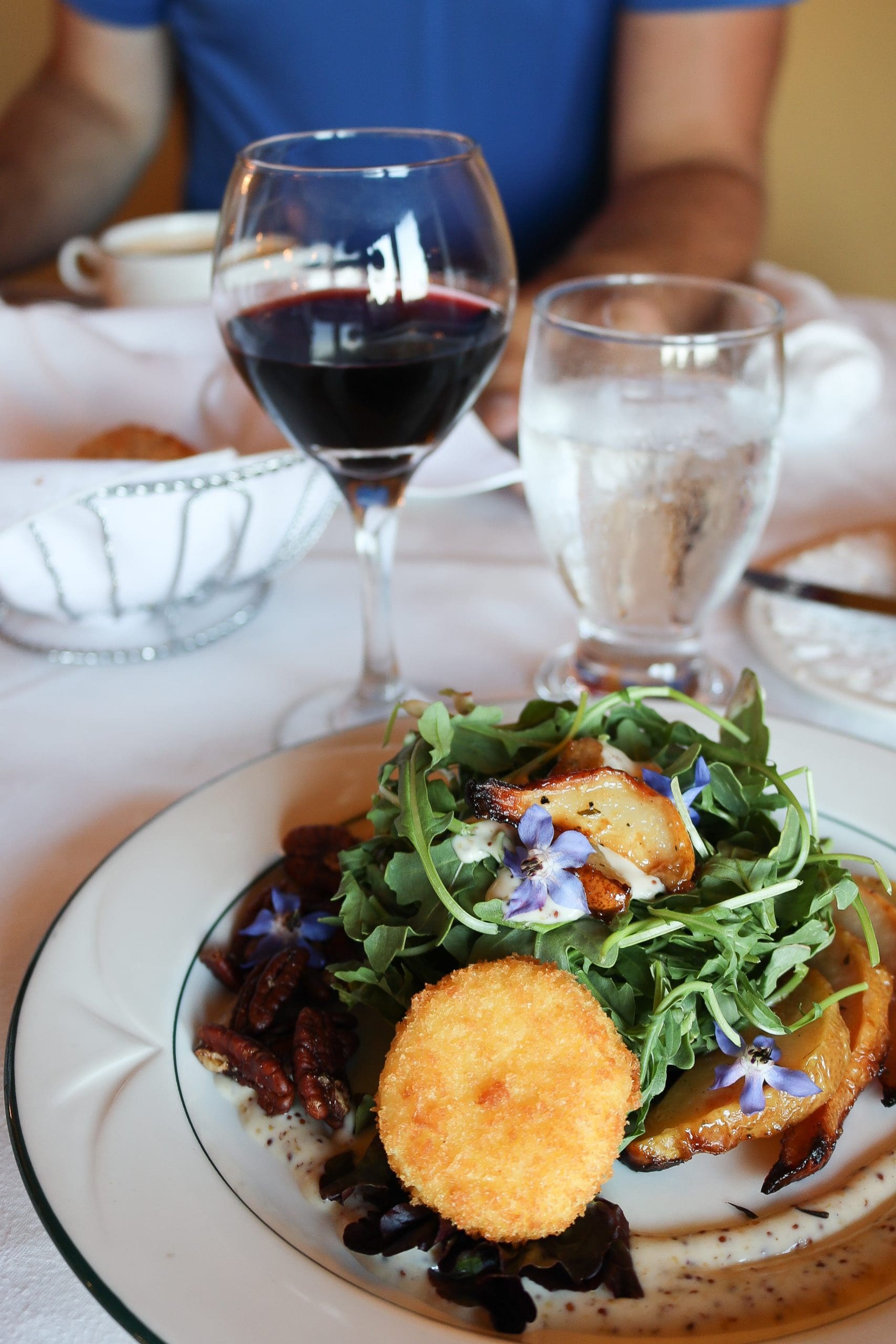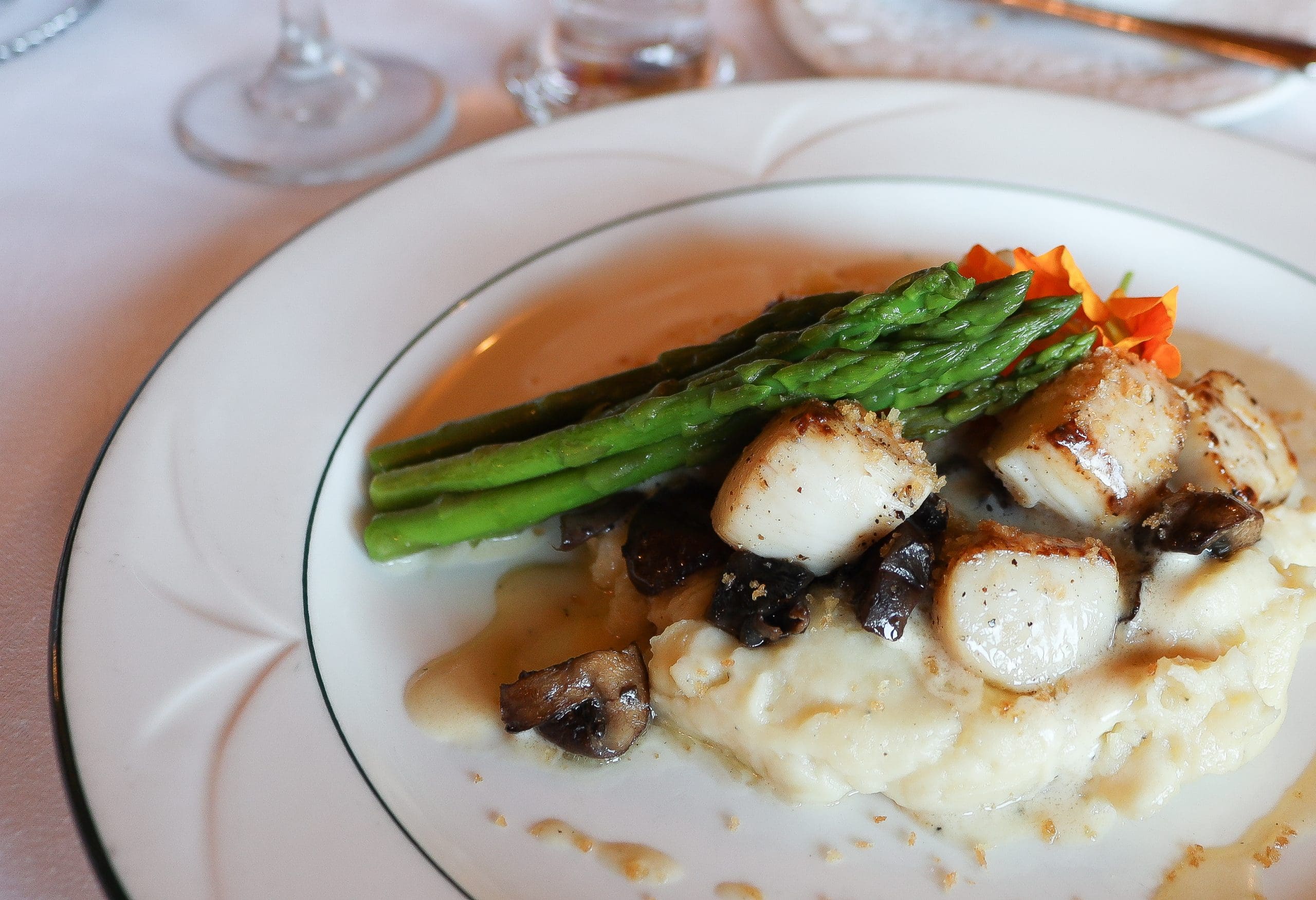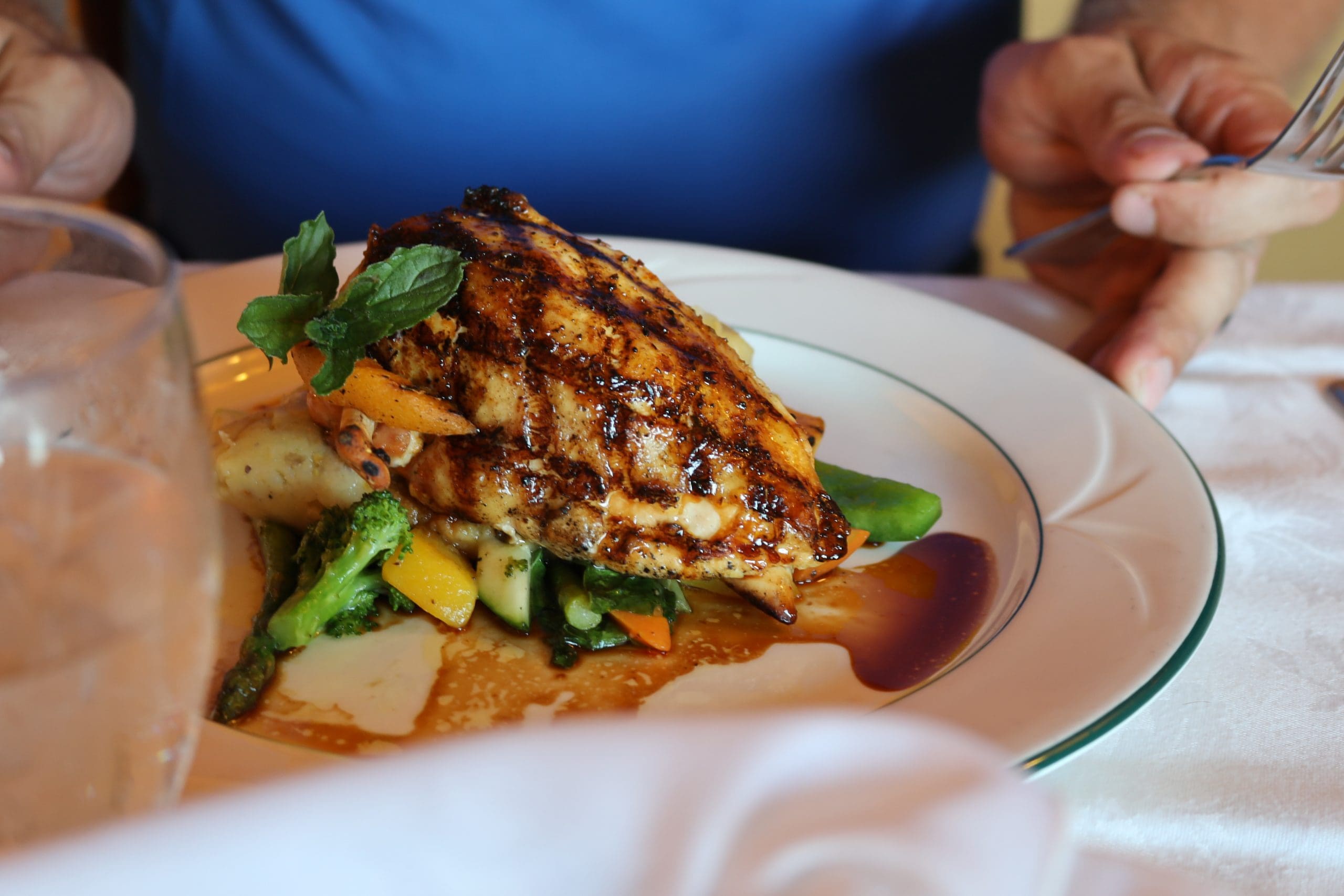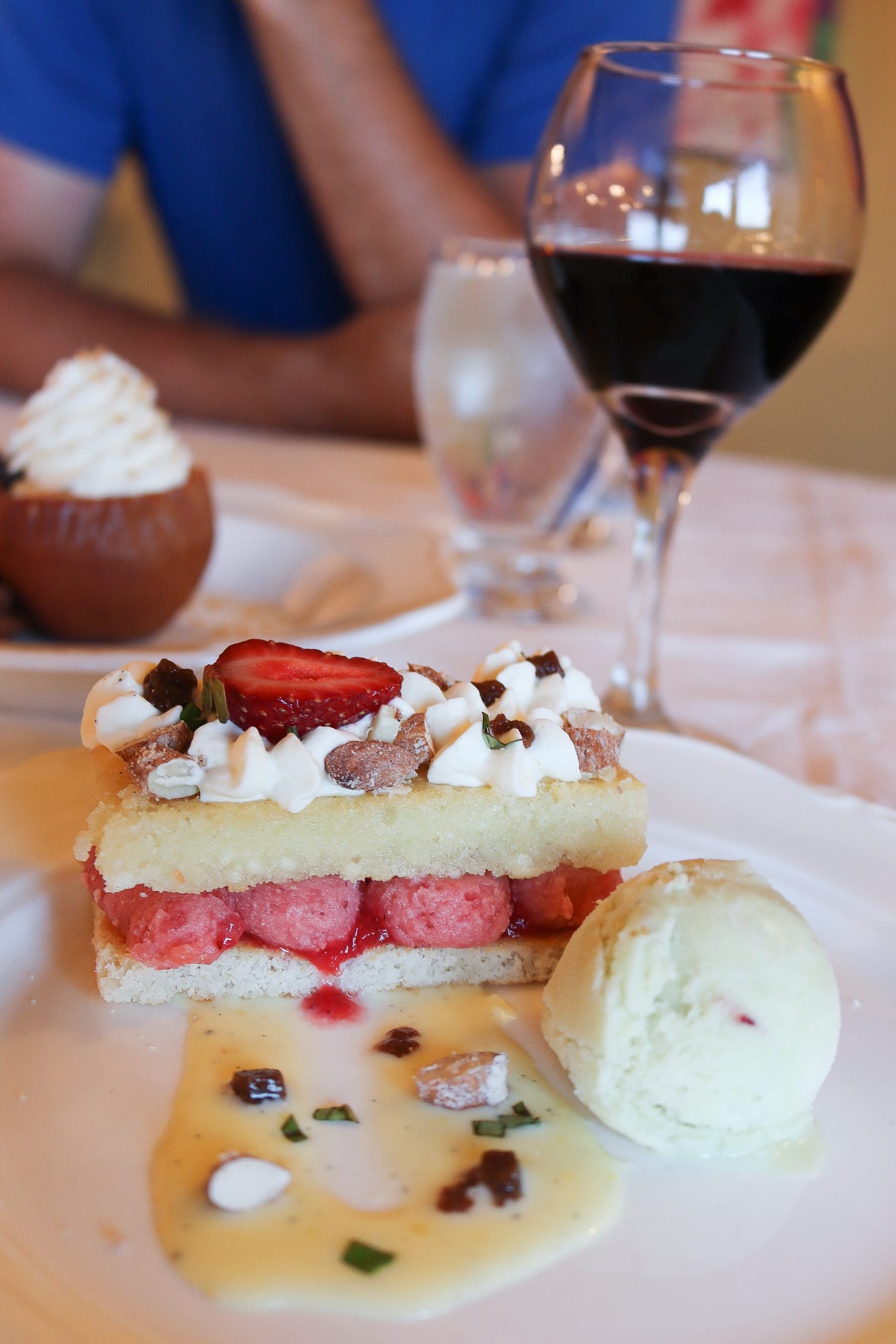 DAY 2
Morning Golf at The Pines
This has been the year of golf for Brent so naturally, he golfed!  The Pines is an 18-hole championship golf course that winds through trees and meanders along a river.  It's beautiful and located just a few minutes from the resort.  I've included a map here for you!
Pro Tip: The golf course isn't actually that well marked (in terms of how to get there) and it's difficult to find in Google maps but the resort does offer a shuttle service.  I suggest getting directions (it's easy, just not obvious) from the front desk or using the shuttle.  I assumed the course was on the ground of the resort!  Note: if you're Googling the golf course it's called "Pines Resort Hotel Golf Club" and it's at 111 Culloden Road.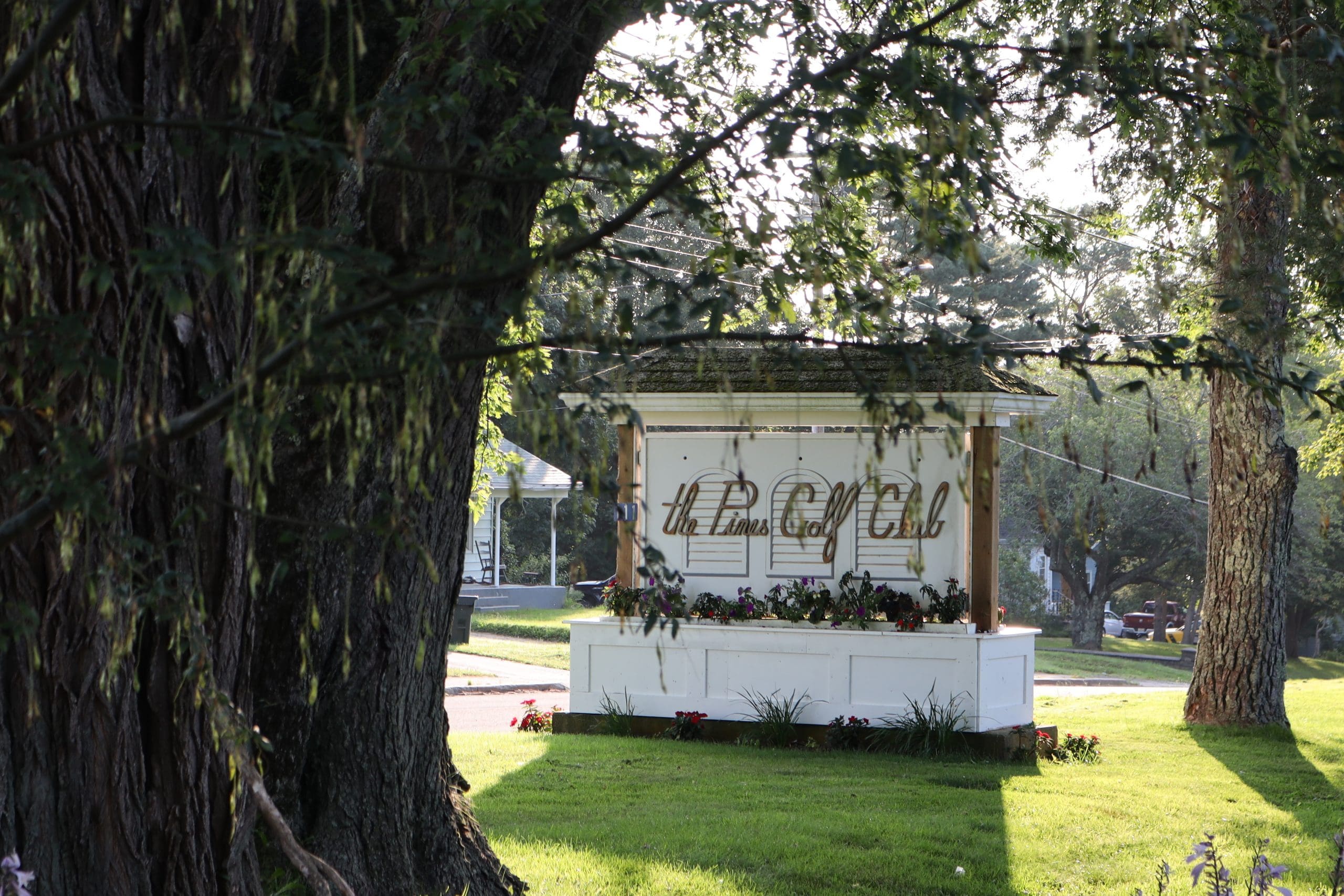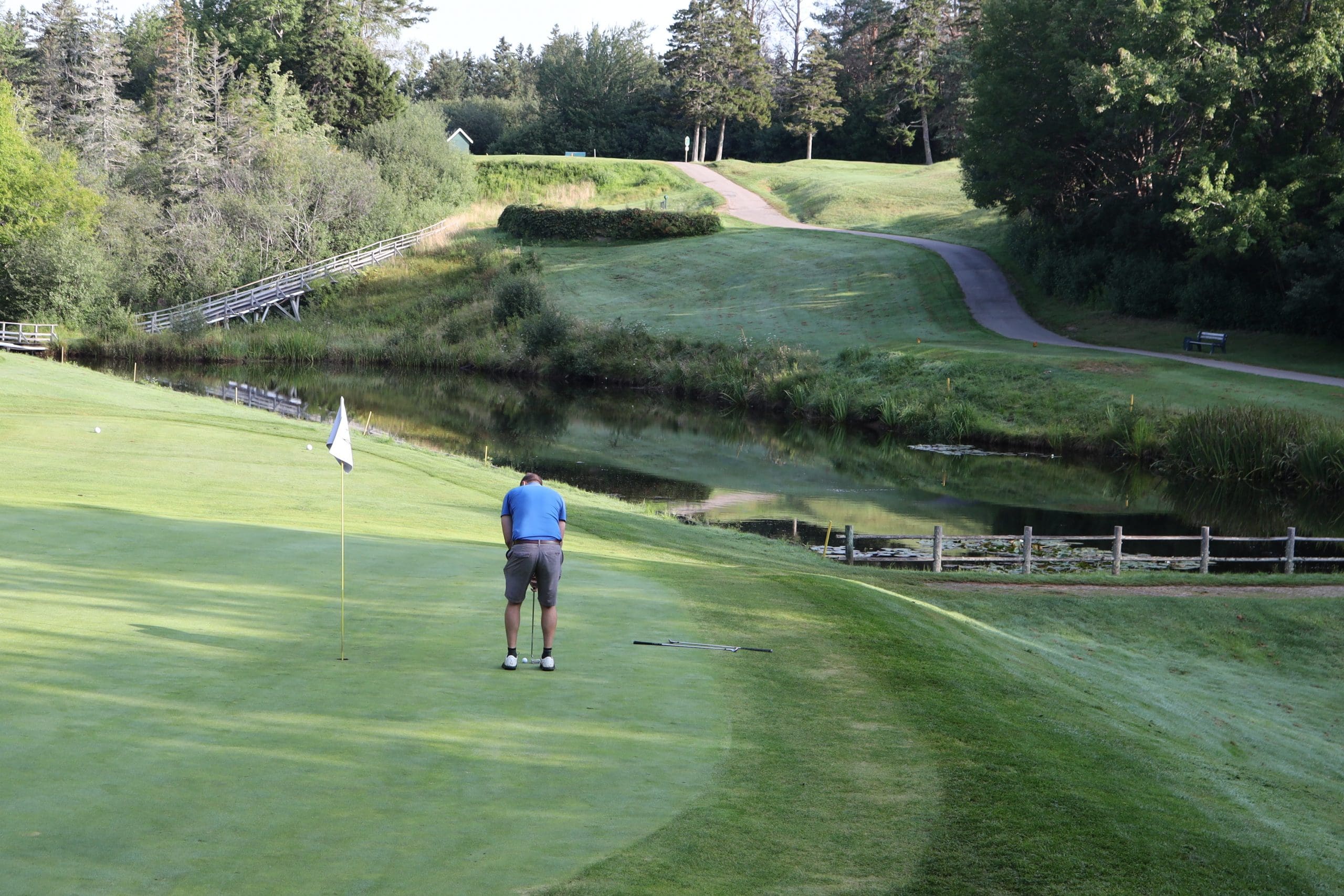 Explore Bear River
Bear River is a tiny village that sits between Annapolis Royal and Digby on a tidal river called…you guessed it…Bear River.  Although it's small (only a couple of hundred people call it home), it's worth a visit.  Here are a few reasons to spend time in Bear River:
Bear River Winery offers tours & tasting in this gravity fed wine production facility.  Additionally, the views of the valley are jaw dropping!

Casa Nova Fine Beverages produce Nova Scotia wine, ciders and cellos.  They offer tastings and patio to enjoy a glass along with a gift shop full of local products.

Art galleries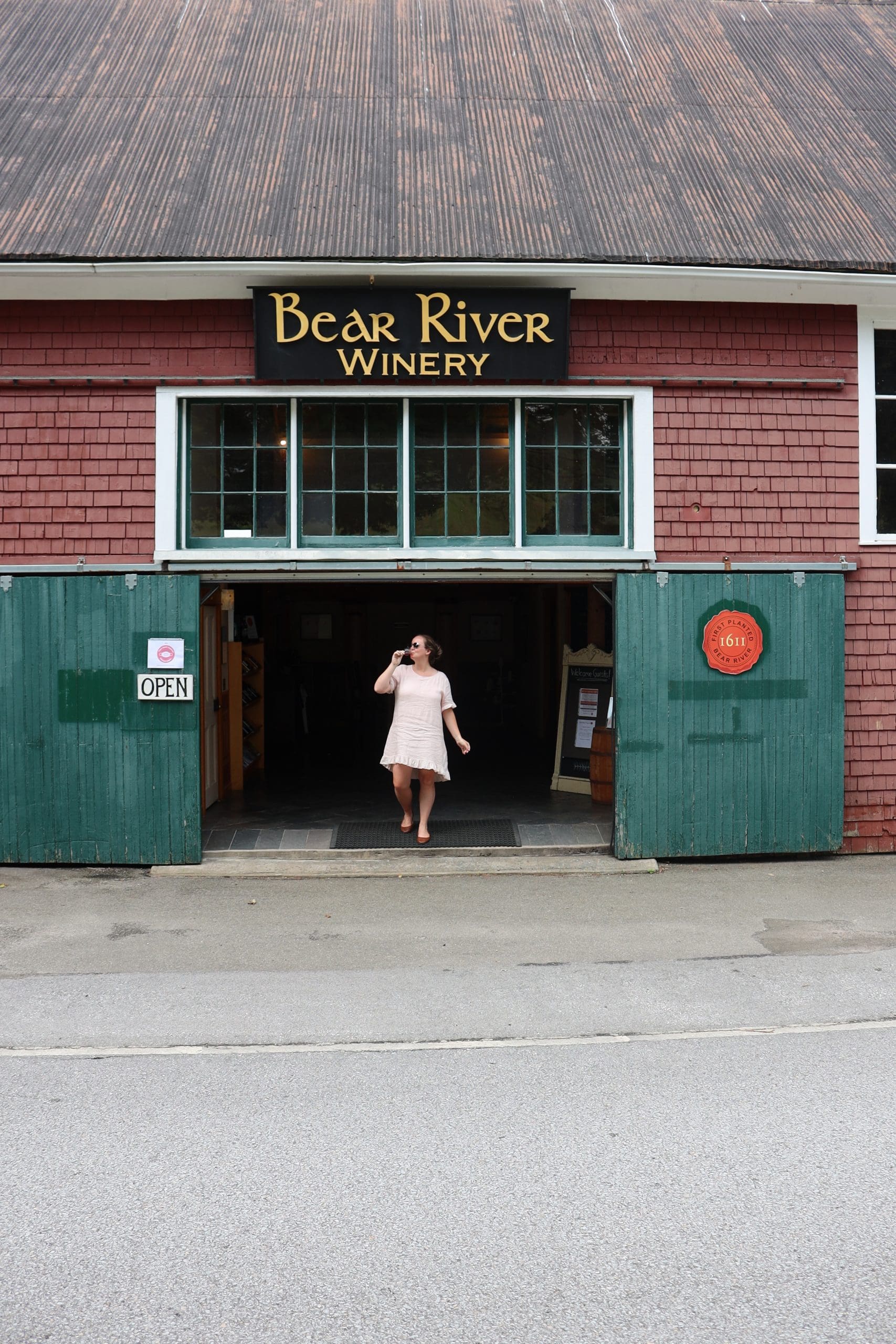 Take the Fundy Rose Ferry from Digby to Saint John
680 Shore Rd, Digby
This is the best part!  The ferry itself is great, with lots of amenities.  But, the best part is that the Digby Ferry (as it's referred to by the locals) connects rural Nova Scotia (Digby) to Saint John.  It's a quick trip across the Bay of Fundy with opportunities to take in the wonder that is the Bay of Fundy.
If you drove from Digby to Saint John, it would take 6 hours of drive time.  Alternatively, taking the Fundy Rose Ferry is a short 2.5 hour trip that provides a nice break from driving and the opportunity to enjoy the ride.  Here are our top 5 reasons to take the ferry from Digby to Saint John:
Park the car and visit the viewing decks to watch for whales, seals, and other marine life

Grab a dirty hippie (my favourite hot drink) in the Sip Cafe.  If you don't know (you're welcome), a dirty hippie is a chai latte with a shot of espresso!

Have a cold one at the Crow's Nest lounge while enjoying the sun deck

Plan your trip at the Visitor's Information centre where you can speak to someone who can help you decide what to do once you arrive at your destination.

Catch a flick in the movie lounge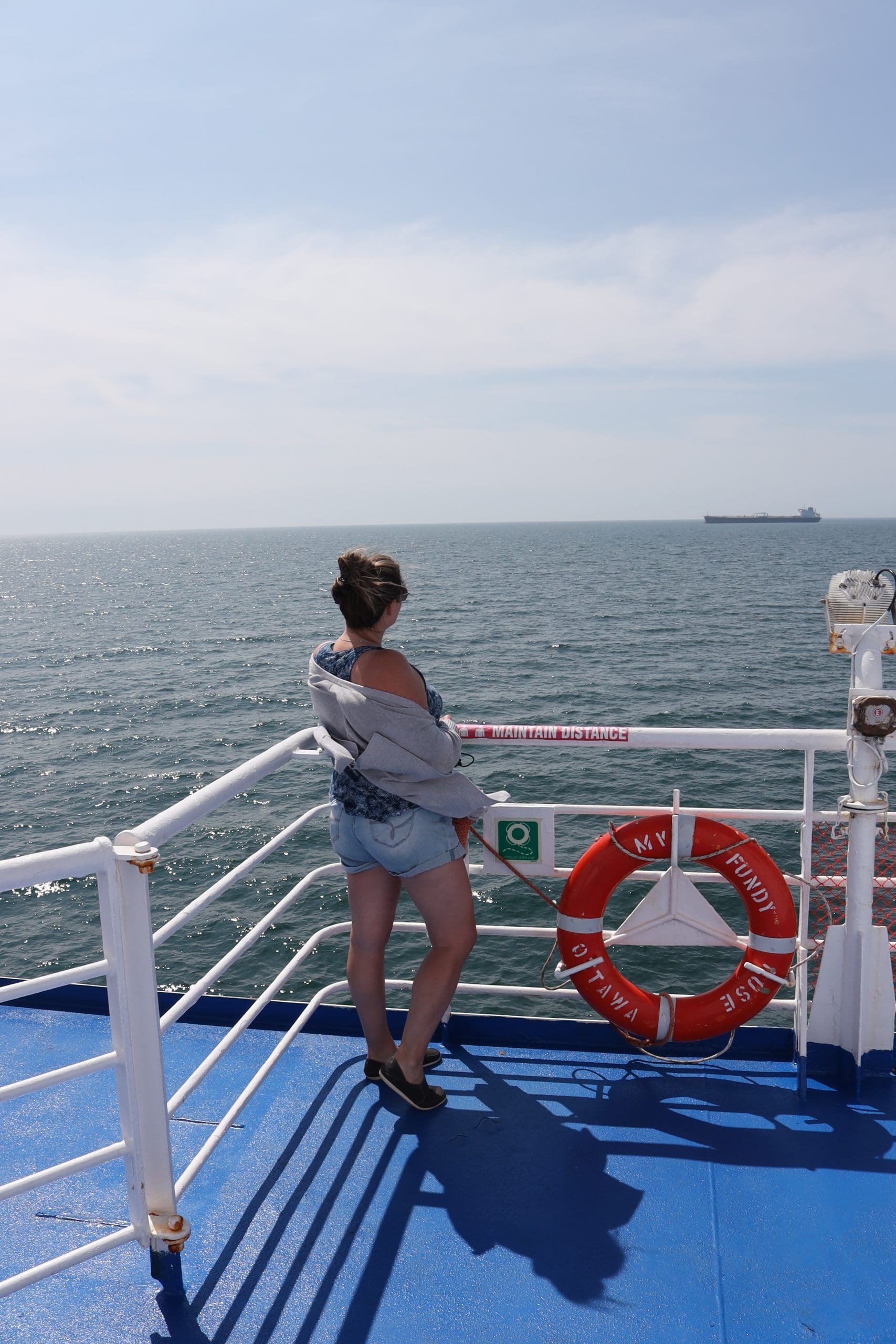 Pro Tips for a Trip on the Fundy Rose Ferry
It's only a short trip, so these tips will be short and sweet.  For longer trips these recommendations would be much different.  But, in case you're new to taking a ferry, here are a few ways to make the most out of your trip.
Arrive early (1.5 hours at least).  Gone are the days where you could just roll up immediately before boarding.  COVID-19 has changed a lot and you must arrive well in advance.  Bring a book or a podcast to listen to while you wait.

Have any/all paperwork or documents you need prior to arrival.  There is nothing worse than having to scramble at the gate (or being behind someone who's scrambling) to sort out your documents.  Double-check before you arrive that you have what you need.

Take anti-nausea medication (like Gravol) before you board the ship!  If you are certain you don't get motion sickness, that's great for you.  But, if your unsure (ie: have never taken a ferry before) or have experienced motion sickness before you don't want to skip this step.  I recommend taking something at least 30 mins before you get on the ship.

Wear something comfortable & bring a layers.  Even if it's sunny, the viewing decks can get windy!

Bring a hat or something to tie back long hair (see #2)

Don't forget your camera.  I've never taken a ferry ride without seeing marine life (dolphins & porpoises, whales, seals, sea birds, etc)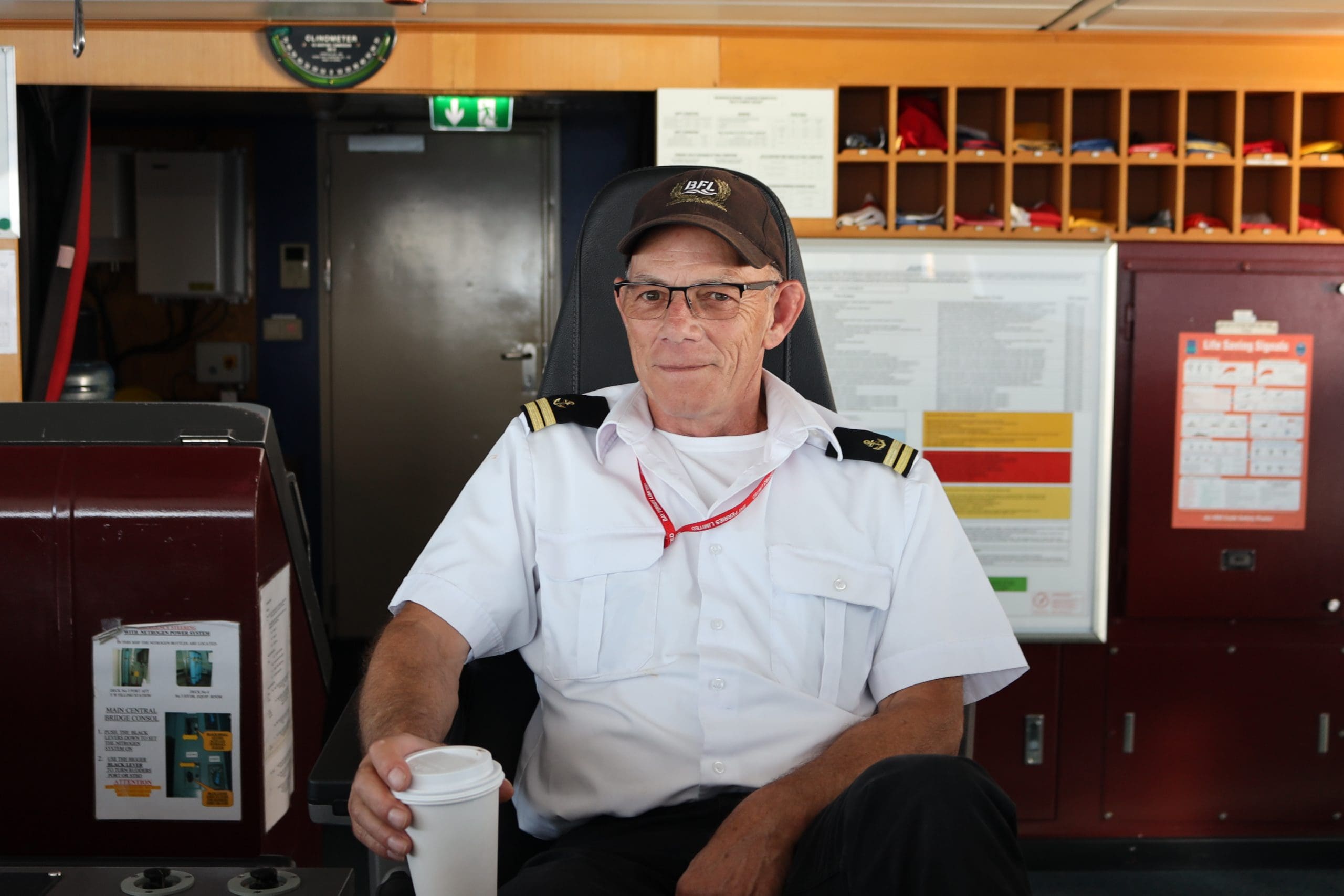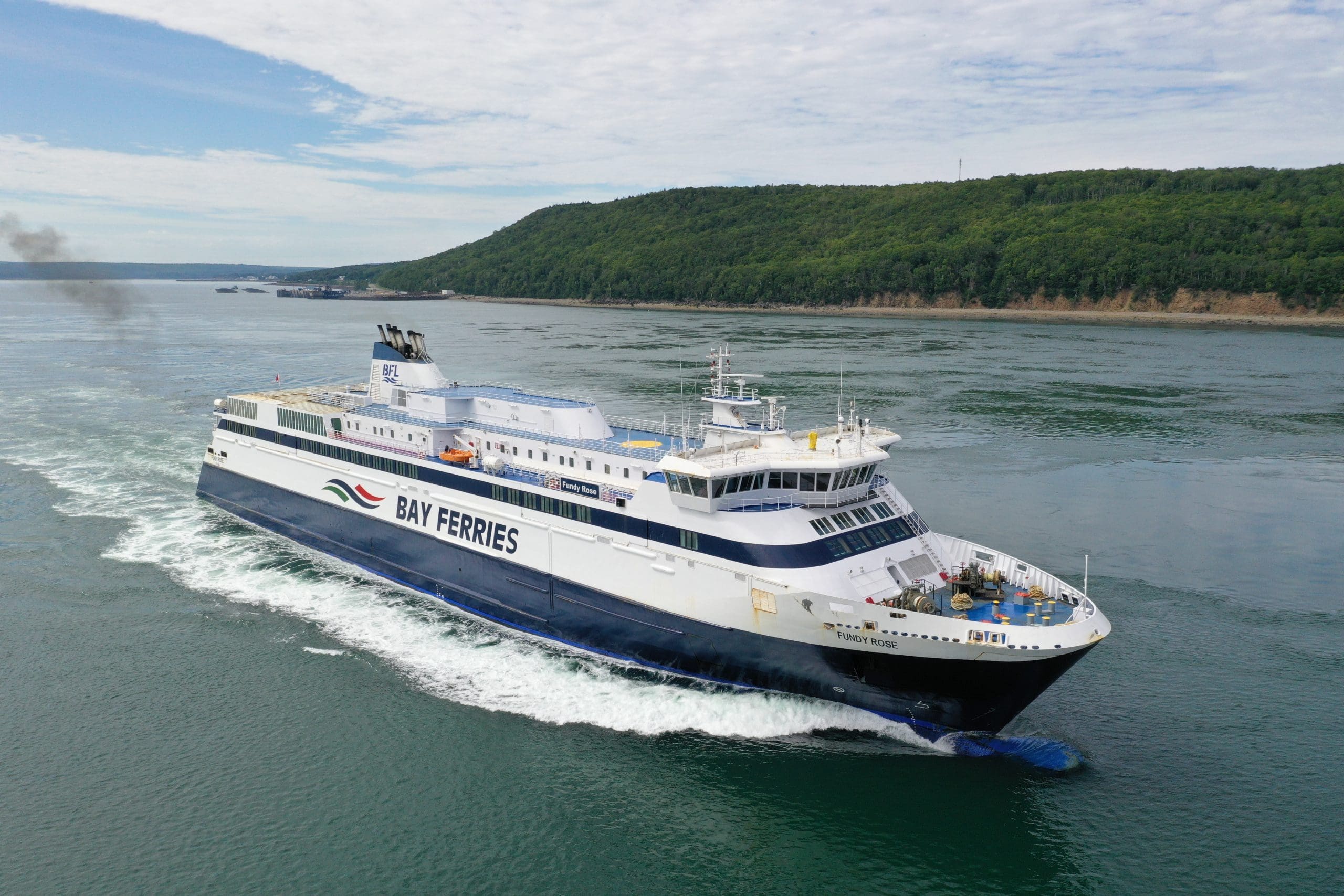 Ground Yourself in Saint John
OK, OK, I know this will get some raised eyebrows.  Every time I reach a new destination, I finding spend a few minutes grounding myself there.  Here's what I do (try it, you might like it):
Find an outdoor space (I look for grass, sand, etc – something nice to stand on)

Remove your shoes and socks

Put your feet on the earth and take a few deep breaths

Say a silent (or aloud) gratitude practice.  This is as simple as breathing and thinking about how fortunate you are to be in a new place or listing 3 things you're grateful for in this moment.
Obviously, if you're travelling in the winter this looks a little different.  You're not likely to put your feet in the snow but hey, if you're up for it – give it a go!  This is a practice I started a few years ago and it keeps me present to the moment rather than rushing from one thing to the next.  Take it or leave it, but this is what I do!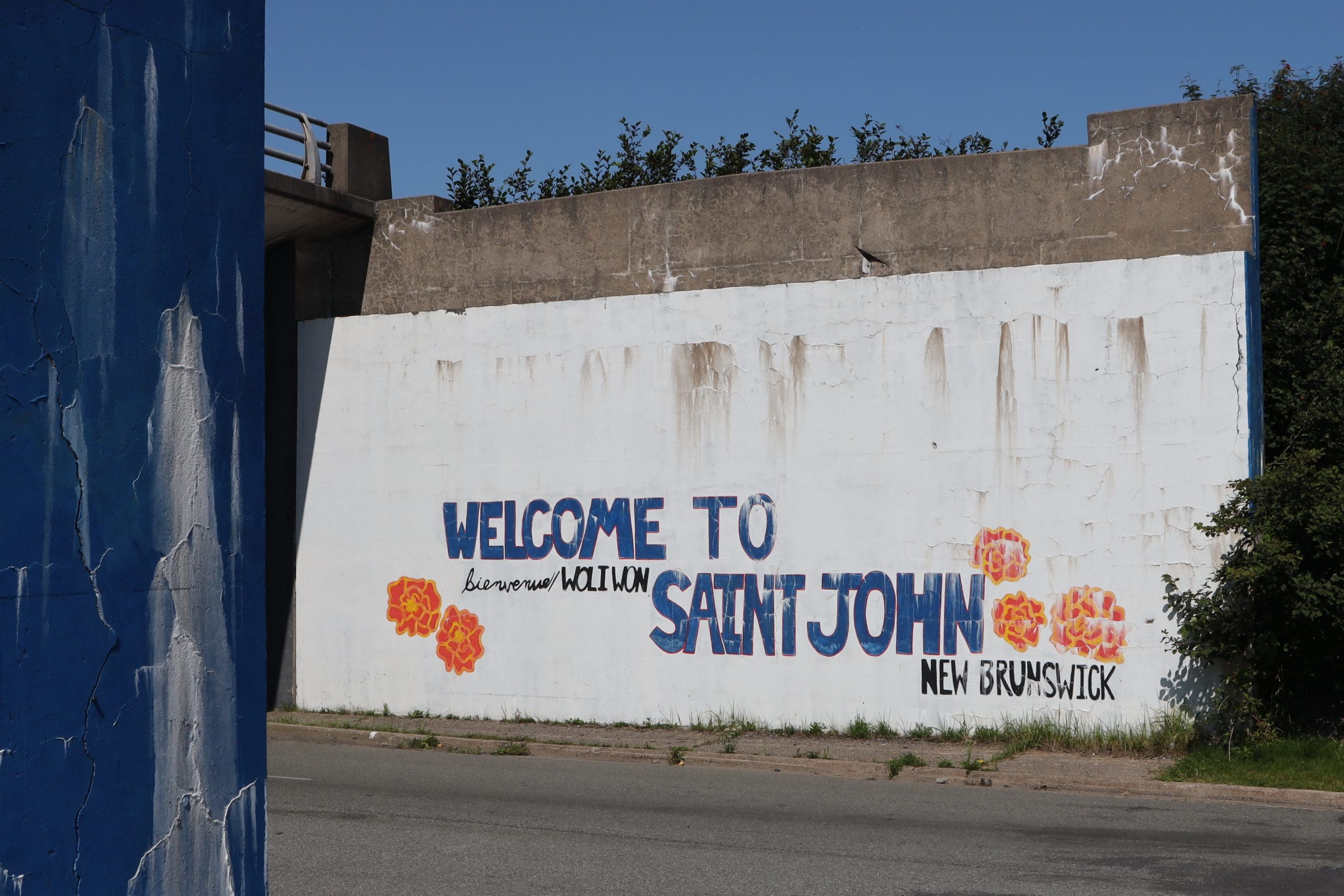 Order Oysters at the Saint John Alehouse
1 Market Square, Saint John
Take a stroll to Market Square, enjoy the live music (most nights) and immerse yourself in Uptown, Saint John.  The vibe on the Saint John Ale House patio was infectious with lantern lighting lining the streets, live music on the city stage and a full-house of folks enjoying an evening.  We ordered local craft beer, which is a must in a new place, oysters and a light dinner before checking into our hotel.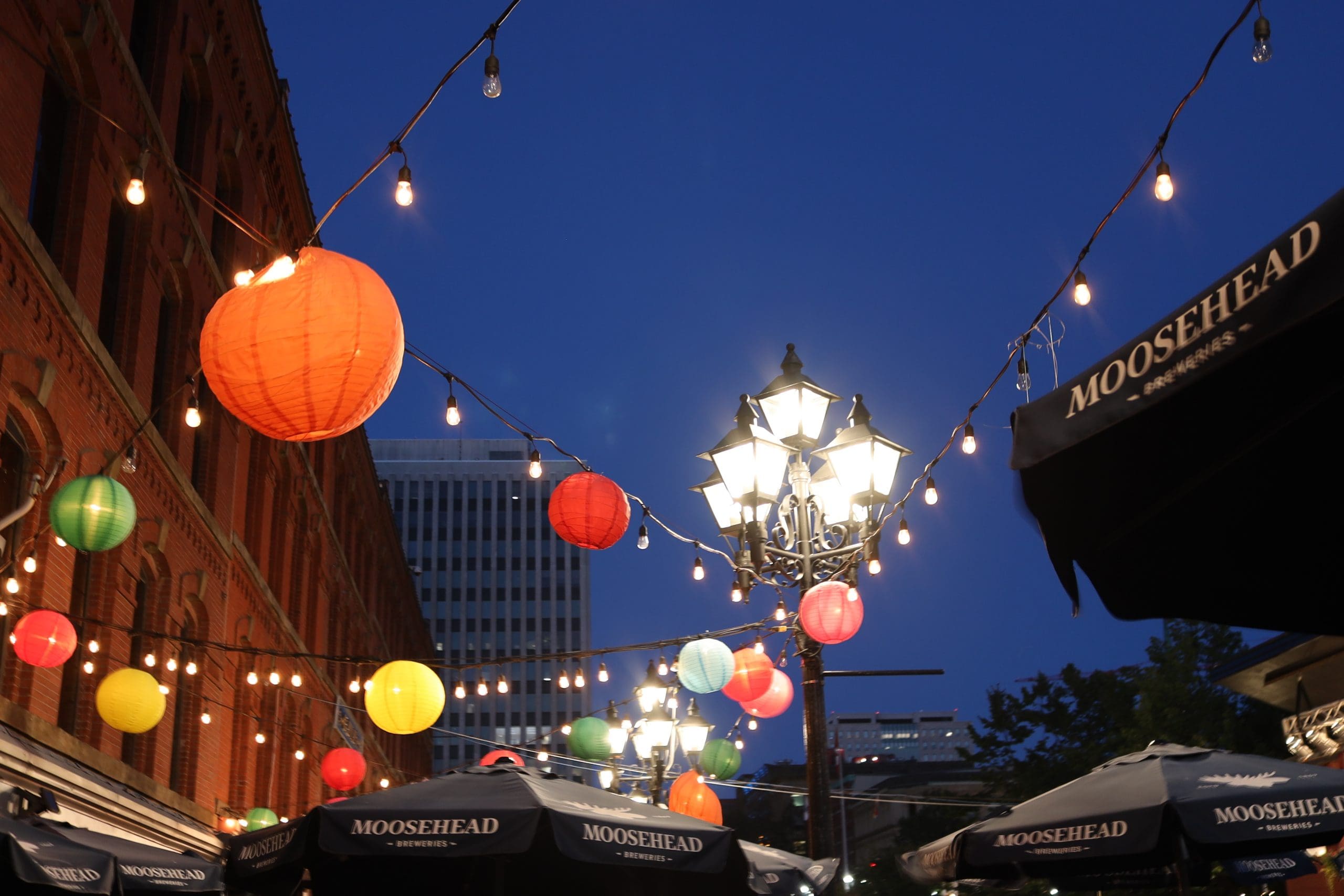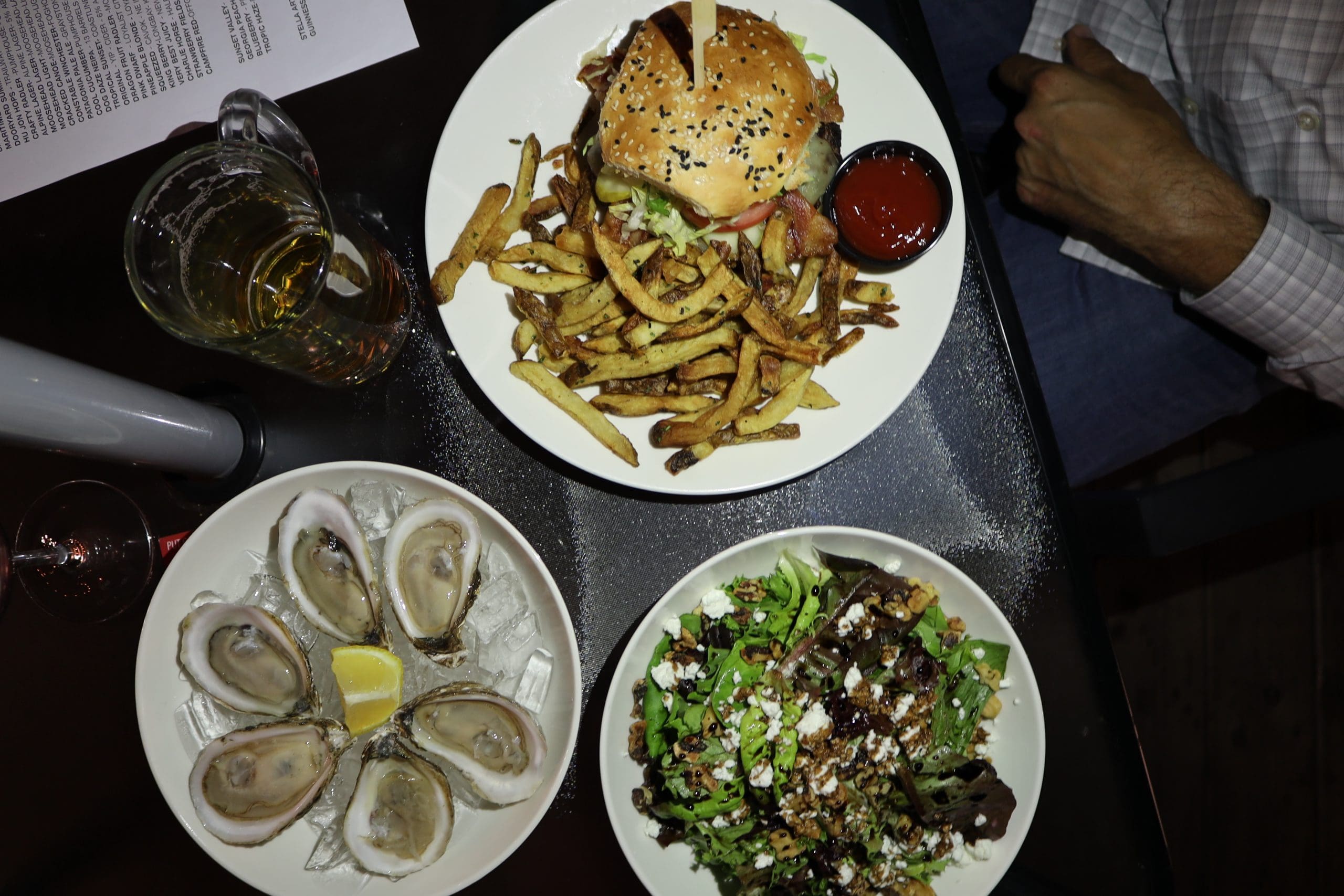 Stay at The Delta Saint John
39 King St, Saint John
And, if you really want a treat, book yourself a night in the King jacuzzi suite for your Saint John accommodations!  This suite was easily one of the top 3 hotel rooms we've ever stayed in.  There were a ton of features, but here's a list of our favourites:
Full living room

Separate office (perfect for us since we're always working while travelling) with device docks & plugins

Dual fireplace; one in the bedroom and one in the living room

King bed with lots of pillows.  I sleep with 4 pillows myself, so this was a perk!

Jacuzzi corner tub in the primary bedroom

Walk-in shower

On-site restaurant called "The Mix"

Indoor parking

Walkable to just about everything including Market Square, City Market, and loads of restaurants, breweries and pubs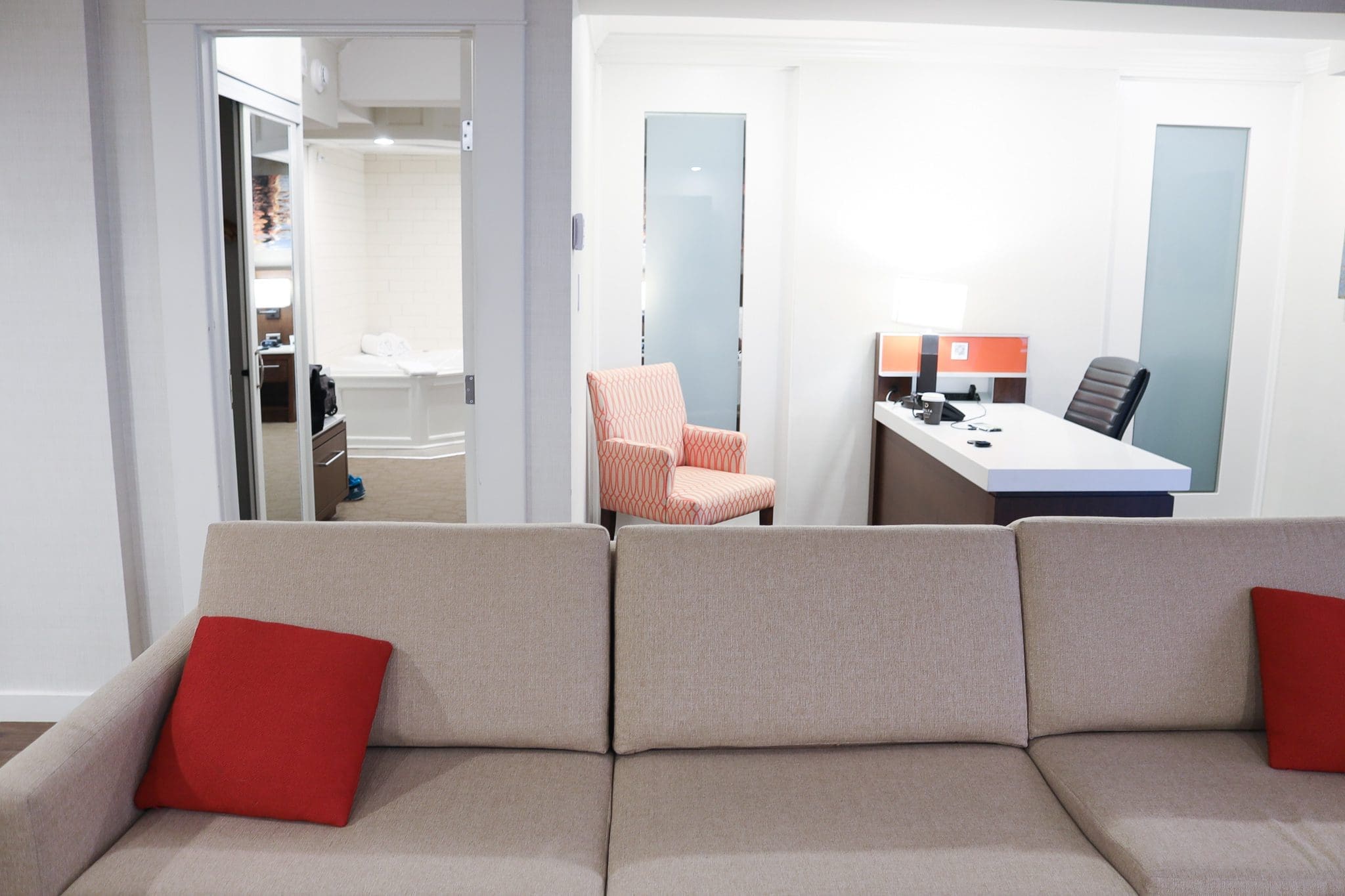 Explore Irving Nature Park
1790 Sand Cove Rd, Saint John
Irving Nature Park is a quick 10 minute drive from Uptown Saint John.  It's a 600 acre site created by J.D. Irving, Limited to protect an environmentally significant area that includes six different eco-systems. The park sees many migratory and marine birds that travel between the Arctic and South America and is a breeding ground for many waterfowl of the Atlantic coastline.  When you arrive, it only takes a minute to start spotting a variety of beautiful birds (most of which I've never seen before) and realize how special this place is!
There are walking trails & boardwalks, beaches, observation decks, picnic areas and BBQ huts all available to the public to enjoy.  Additionally, it's completely accessible to those who prefer to drive the park.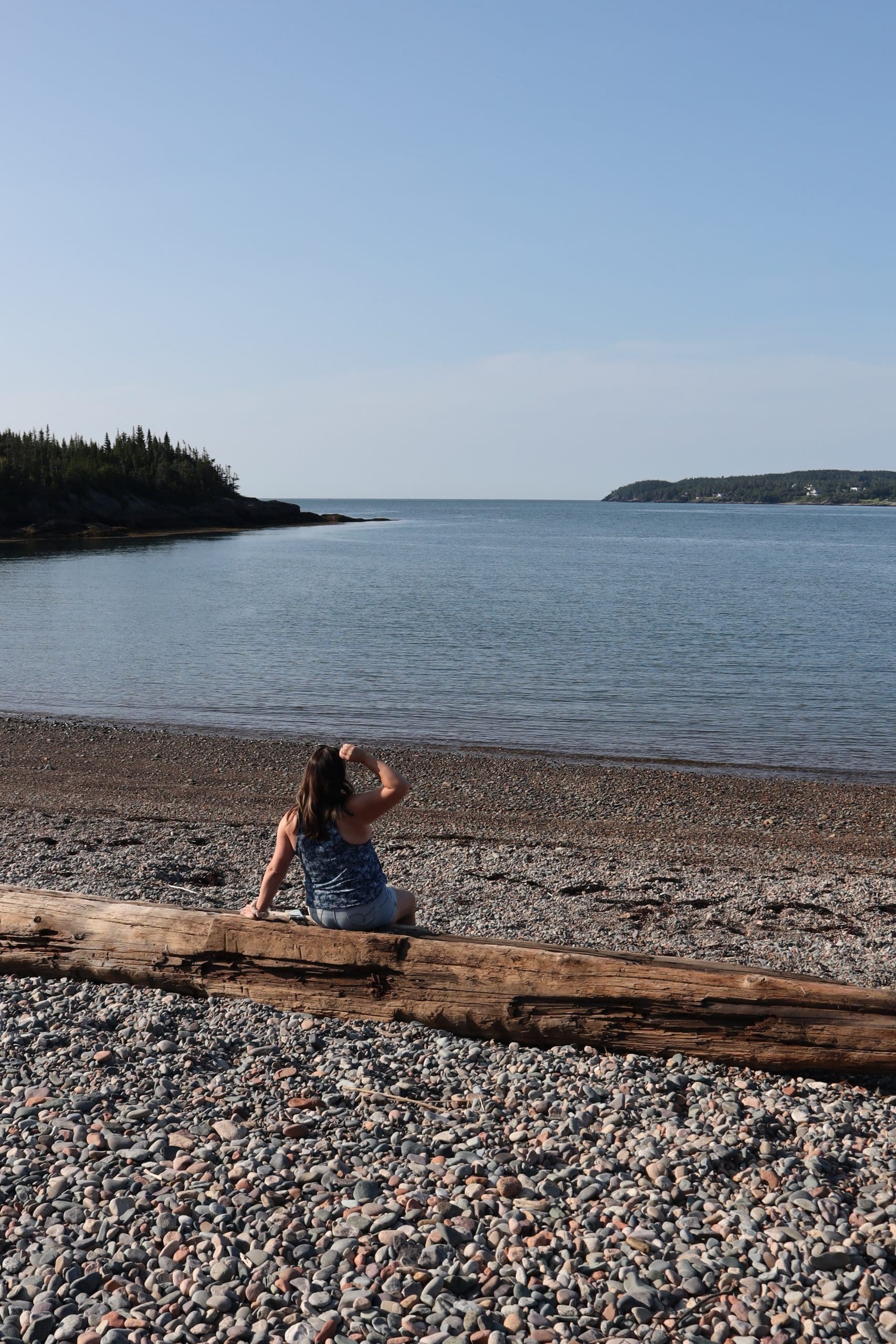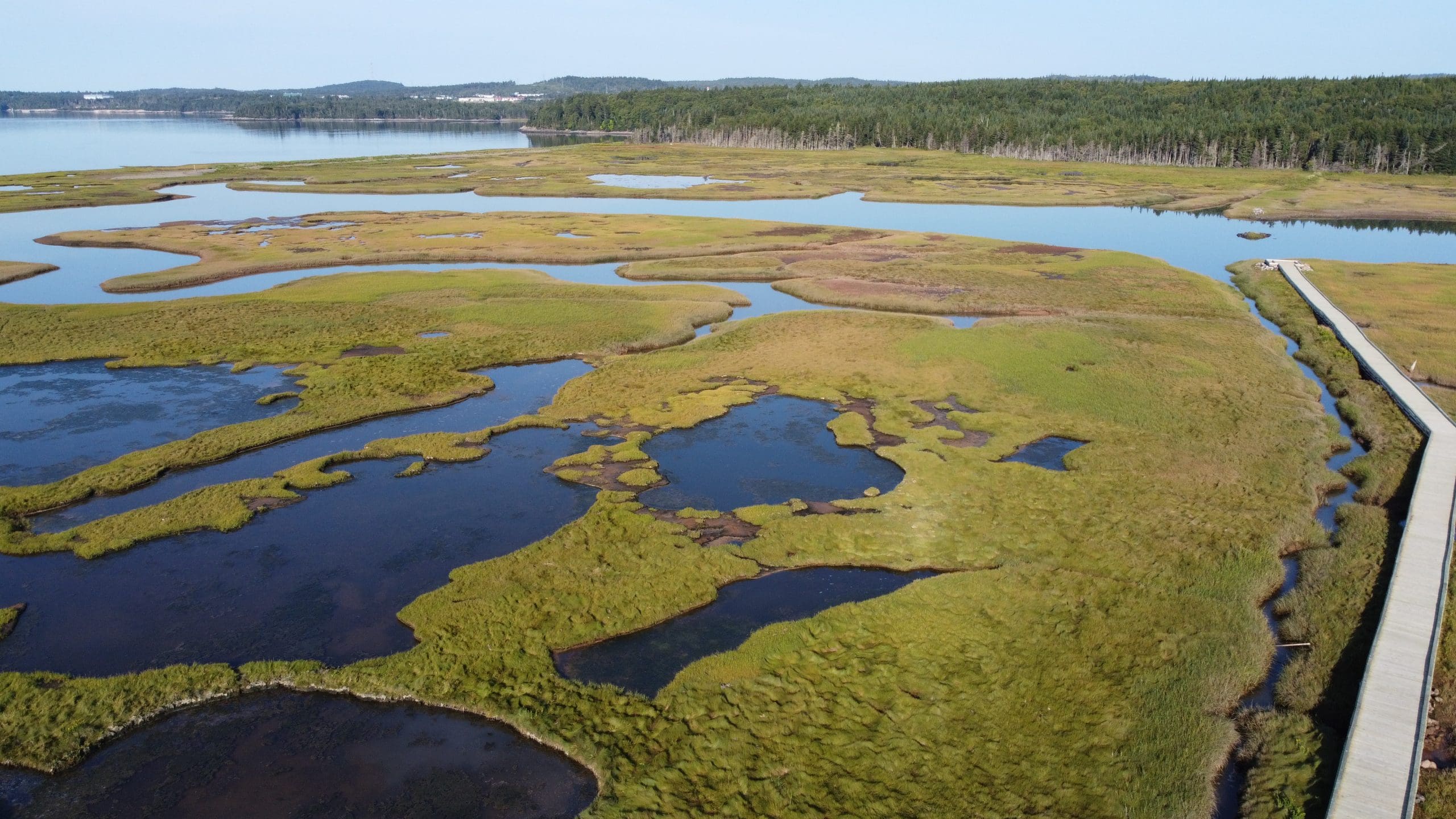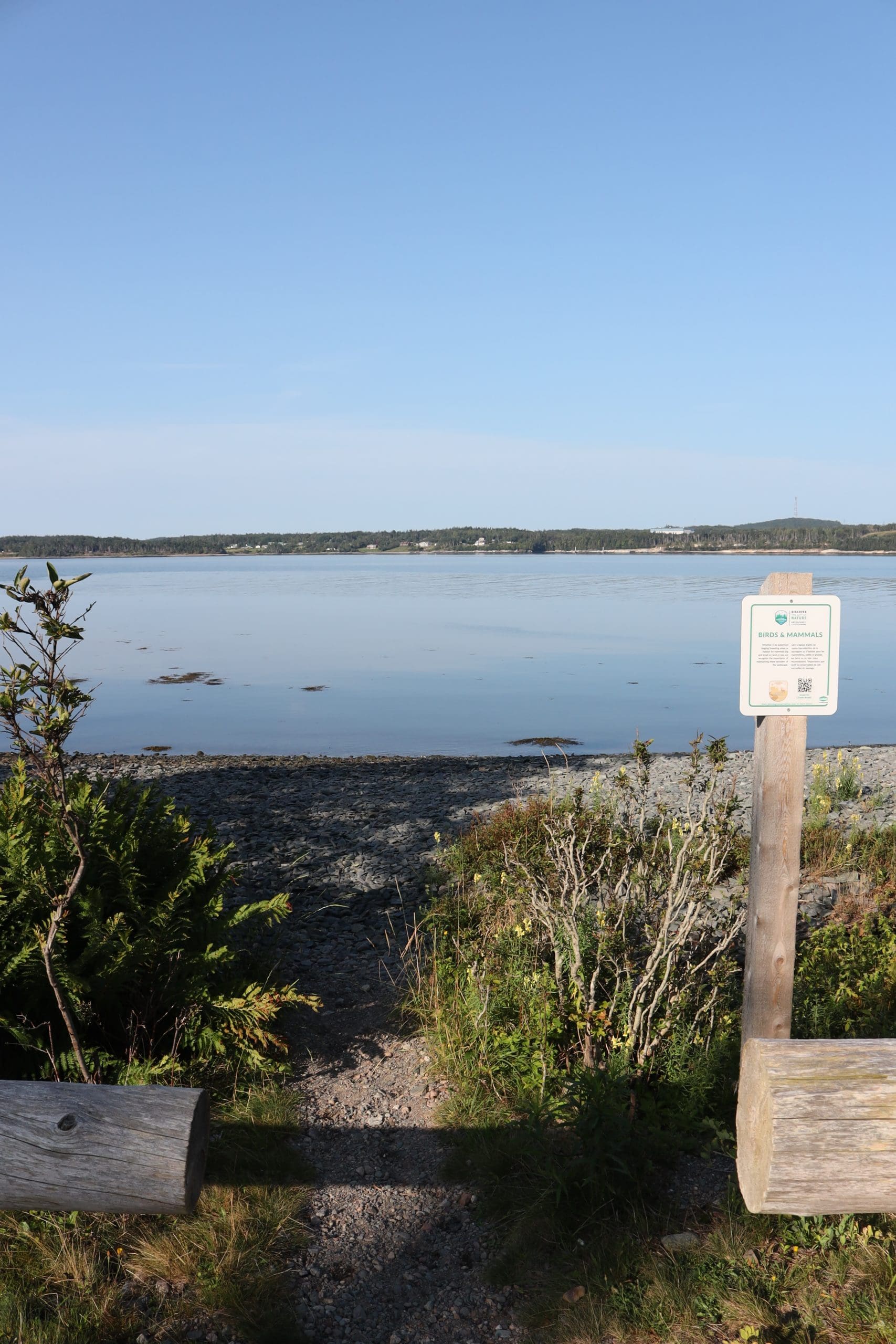 Grab Lunch at City Market
47 Charlotte St, Saint John
City Market is a year-round market that houses a variety of merchants and vendors.  We stopped in for lunch and visited Jeremiah's Deli for a sandwich to enjoy by the fountain as a last stop on our visit.  Brent ordered the smoked meat sandwich (a favourite of his) and I had the turkey sandwich.   We people watched in the park and enjoyed our last meal before we headed back for the ferry to Nova Scotia.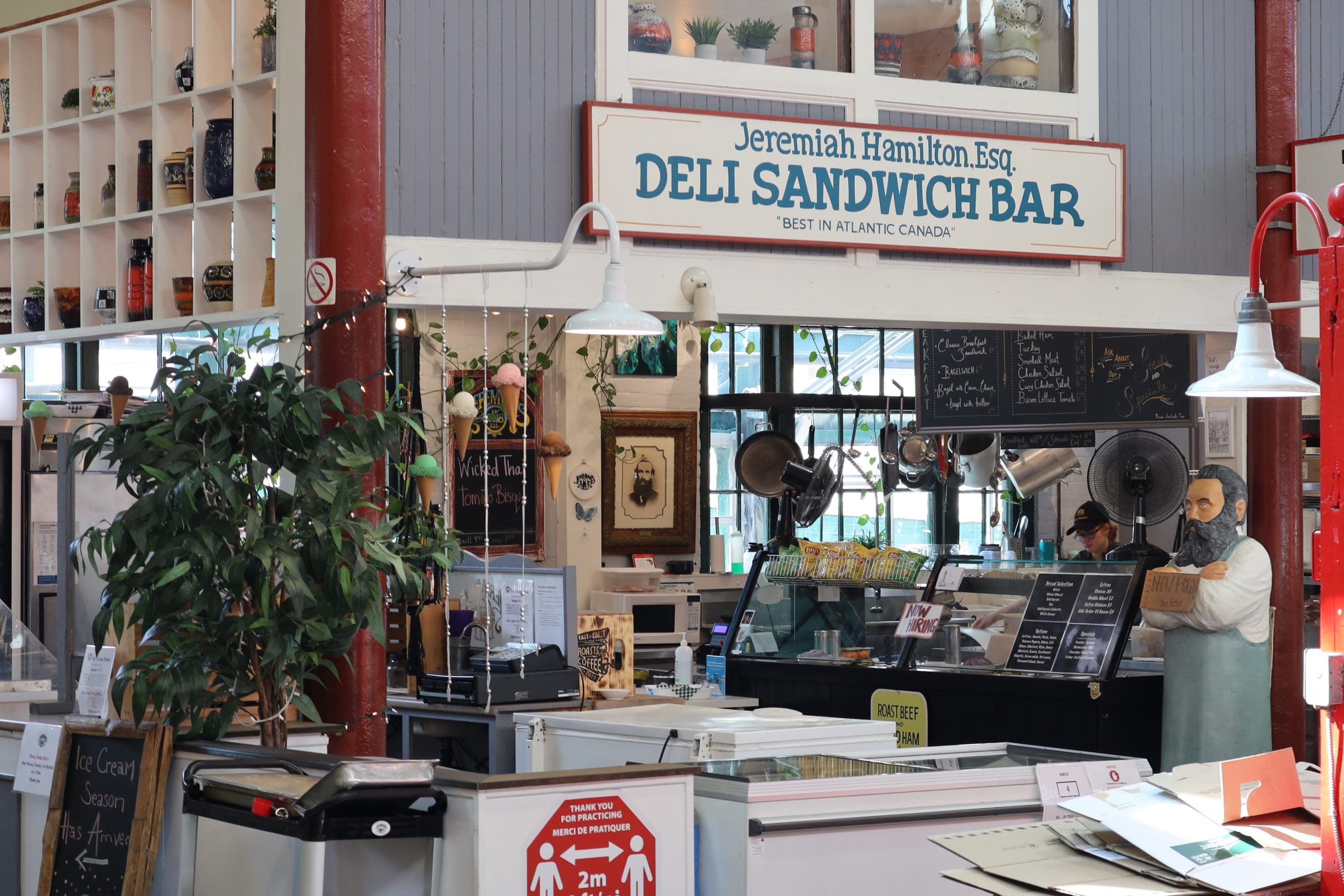 Our Nova Scotia to New Brunswick Road Trip Final Thoughts
We loved this Nova Scotia to New Brunswick road trip!  Although it was short, in just 2 nights, we were able to see a lot.  This trip really proved to us something very valuable.  That is, even if you only have a weekend you can still build an itinerary and create a memorable trip.  It was a joy to visit Saint John for the first time and we loved that we were able to do it this way.
If you have any questions at all about our road trip, please don't hesitate to ask!  We love hearing from you so leave a comment below and let's chat!
*a heartfelt thank you to Bay Ferries who sponsored this Nova Scotia to New Brunswick road trip!  As always, all opinions are always our own and whether or not a project is sponsored doesn't change the fact that we will always give you honest reviews and opinions about the things we experience.