7 Cozy Downtown Halifax Patios for Fall
Fall is here but we're not done enjoying the cozy downtown Halifax patios just yet.  While some are rolling up the sidewalks, others have embraced the cooler temps.  Fire pits, outdoor heaters, cozy blankets and fall inpsired menu and cocktail features have us welcoming fall with arms wide open.  
We've been busy bees exploring the downtown Halifax patios this year and we've covered A LOT:
7 Cozy Downtown Halifax Patios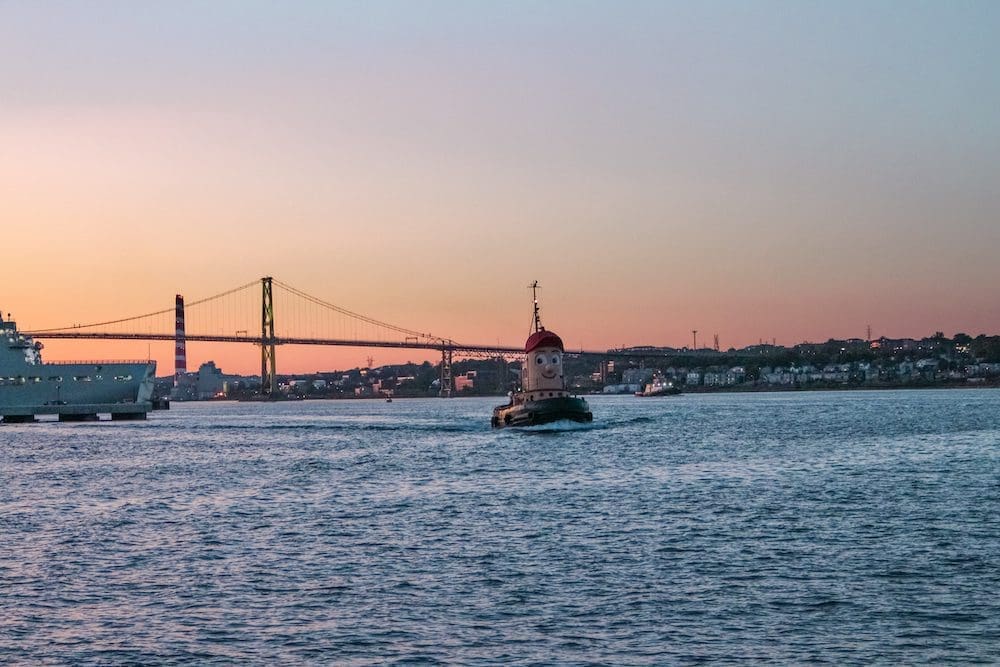 As usual, we've only scratched the surface here on patios that are open and oh-so-cozy for fall.  We tried to grab a nice cross-section of different types of downtown Halifax patios as well.  So, whether you're looking for a hot drink, classic pub fare, or a more elevated experience, we've got you boo!
While this round-up isn't specifically a "walkable" route – it totally is.  The total time (as you can see) is only about 20mins.  And, if you're starting at one end like we did – the walk home is much faster along the Halifax waterfront.  It's also just lovely at night!
Rousseau Chocolatier
5151 South Street, Halifax
Hours: 8:00am – 6:00pm Mon-Sat, 10:ooam – 6:00pm Sun
Rousseau Chocolatier is a boutique & cafe that specializes in handmade chocolates, french macaroons and so much more.  This wasn't our first time enjoying the decadence that oozes (literally) from this shop and it won't be our last.  They've got tons to offer but on this particular visit, we took the recommendation of our social media family and went for their famous house-made hot chocolate.
It was devine!  As you'd expect, it's not your average pre-mixed too-sugary drink.  This gorgeous creature was traditional hot-cocoa (and you can totally taste the richness of it).  Even better, with any drink you can add 3 chocolates for $3.  Obvioulsy, we did that!
Bicycle Thief 
1475 Lower Water Street at Bishops Landing, Halifax
Hours: 11:30am – late Mon-Sun (whatever that means)
The Bicycle Thief is a popular staple on the Halifax waterfront and it's business shows it.  If you're planning to sit on the patio in the fall, you probably don't need a reservation.  But, we'd recommend it.  When you think of cozy downtown Halifax patios, the red blankets of the BT come to mind instantly.
They've proclaimed themselves as serving "North American food with an Italian Soul" and I'd have to agree – it's pretty darn good.  You'll find elevated fare and unique twists on some classics.  We enjoyed the lobster and corn chowder (different but quite good) which was perfect for a chilly fall day on the water.
Sea Smoke Halifax
1477 Lower Water St, Halifax
Hours: 11:30am-9:00pm Mon-Thurs, 11:30am – 10:00pm Fri – Sat
Fresh atlantic seafood meets the flavors of Asia.  I mean, do I need to go on?  They've got an Oyster bar, Sushi Bar, killer shareable menu and Asian inspired entrees plus the BEST blankets on the waterfront.  If we're honest, this has me wanting to go back and try every damn thing on the menu.
To make it even better, you can make reservations (or get lucky by walking in) to sit around the patio fire pits.  We're also told that Sea Smoke does some pretty epic seasonal cocktails – just another reason to go back!
The Mercentile Social
1579 Hollis Street, Halifax
Hours: 4pm – 11pm Mon, 11:30am – 11pm Tues & Wed, 11:30am – 12am Thurs, 11:30am – 1am Fri, 11am – 1am Sat, 11am – 10pm Sun
Even though the hours are different daily, it's worth memorizing them!  We've been to Mercentile Social a few times now are impressed everytime with great service, great cocktails and amazing food.  The interior is breath-taking but that's not what we're talking about today.
They've got a massive patio complete with sofas, fire tables and heaters to keep you cozy into the fall.   We enjoyed bourbon by the fire and shared a plate of beef sliders that were SO good.  We also happen to know (from personal experience) that the Beignets are to-die-for.  Go try them, thank us later.
Gahan House, Nova Centre
5239 Sackville Street, Halifax
Hours: 11am-midnight Mon-Wed, 11am – 1am Thurs & Fri, 10am – 1am Sat, 10am – midnight Sun
Confession: this was our first visit to Gahan House – shame on us!  We adored it.  It ticked all the boxes for us starting with a really great patio that's completely covered.  Which means, even if the weather isn't on point you can enjoy a good dose of people watching next to the fire pits.  Then, down our list… 
Service – check (they were fabulous)
Atmosphere – check (we took a tour – there are SO many different areas to enjoy time with friends from private rooms to cozy corners or bellied up to the giant bar)
Food – check (they're famous for their pub fare).
They've also got a massive selection of craft beer on tap and a variety of different flights to choose from.  Which is waht we did ;). We can't wait to spend a LOT more time Gahan House when we move to the city (which is happening soooooooon).
Old Triangle Alehouse
5136 Prince Street, Halifax
Hours: 11:00am – 11:30pm Sun – Thurs, 11am – 1am Fri & Sat
The Old Triangle feels exactly like you'd expect – like a traditional Irish pub.  It's warm atmosphere fits perfectly into our cozy downtown Halifax patios theme and the wrap around patio is nicely private!  We actually really love their daily specials which are often very traditional.  Things like Shephard's pie, mac 'n cheese and meatloaf aren't on the main menu but will often be on the special (so look for those).
We opted to share their Marguerite pizza which was deliscious.  To Brent's horror, I went with red wine (he says you should always order beer at a pub – I say, "whatever") and he went with Kilkenny on the recommedation of the GM.  Fun fact: they have a malt stamp – look at our beer!
Murphy's on the Water
1751 Lower Water St, Halifax
Hours: 11:30am – 8pm Sun-Wed, 11:30 – 9pm Thur – Sat
Murphy's is another Halifax landmark, featuring casual dining with spectacular views.  They've done a great job maintaining that traditional maritime feel while also serving up fantastic seafood.  We loved this huge covered patio overlooking the water.
Since Murphy's was our last stop, we decided to go with special coffees and a decadent dessert.  She had me at bread pudding!  This is my all time favorite dessert and I was stoked to learn that it was on the menu at Murphy's.  We enjoyed the sunset and got a front-row view of the Harvest moon!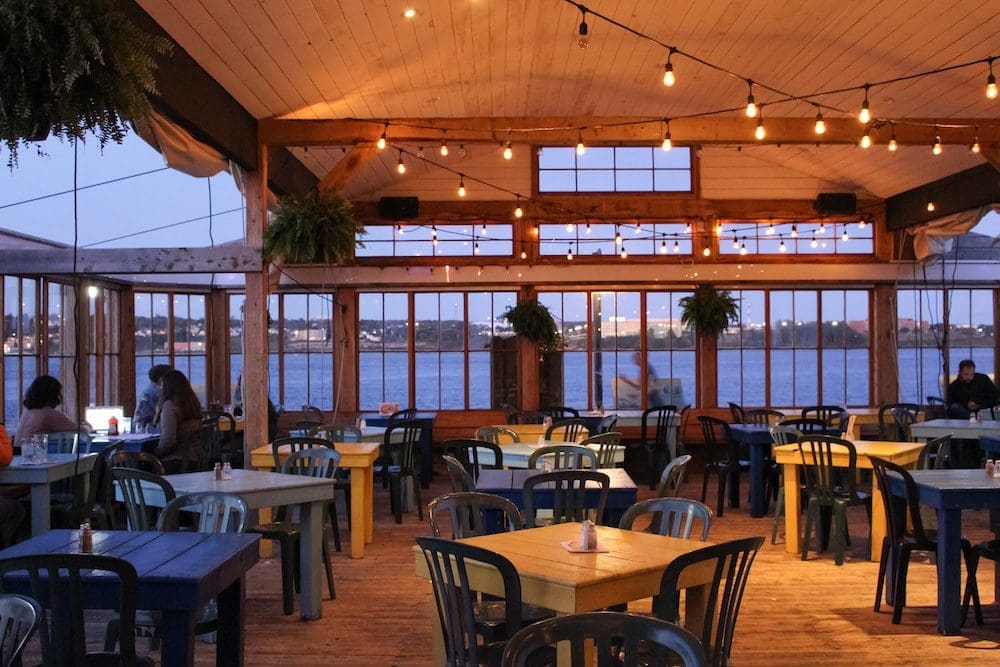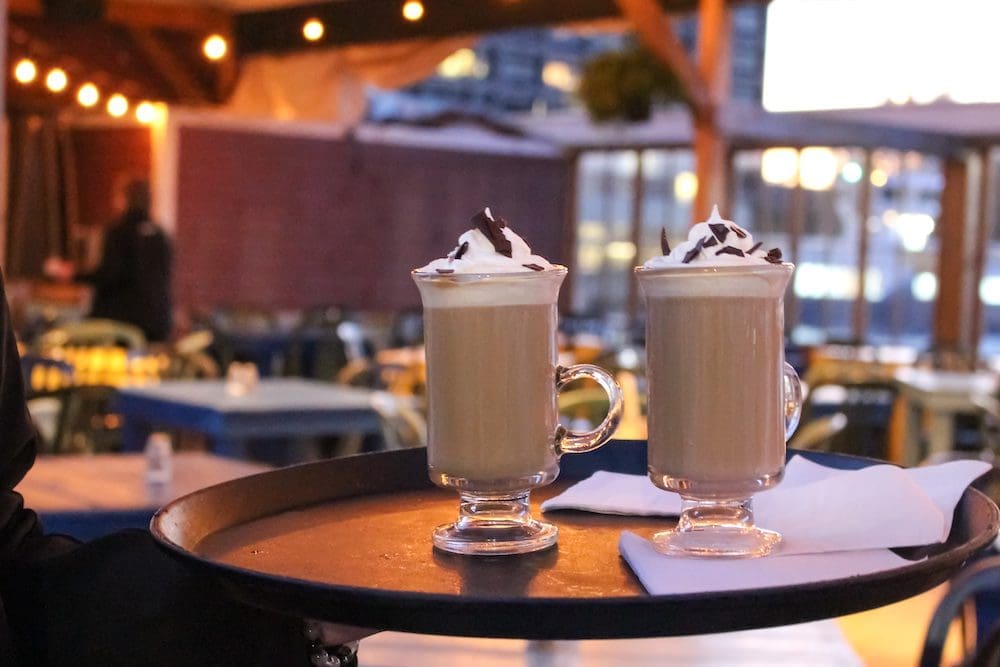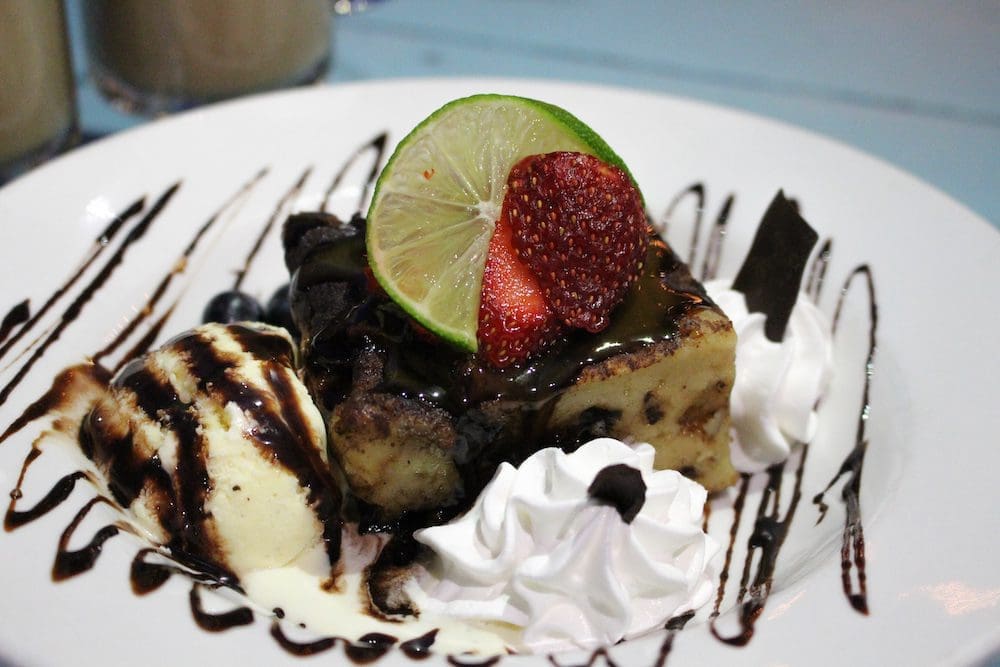 There are certainly more cozy downtown Halifax patios that should be on this list.  We'll keep working on it!  In the meantime, we'd love to hear from you.  Where are your favorite spots to eat in the downtown Halfiax?
Leave us a comment and let us know!
*This post is part of a Downtown Halifax patio series, sponsored by Downtown Halifax.  As always, we only share things that we've personally experienced and we think you'll like – all opinions are always our own!