10 Walkable Patios in Downtown Halifax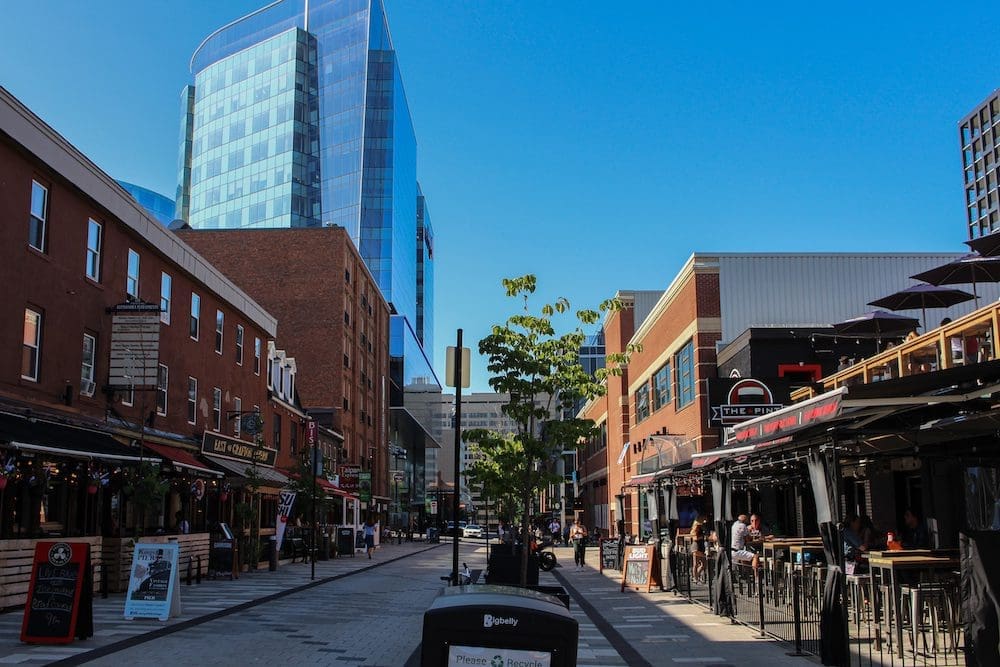 There are no shortage of patios in Downtown Halifax to visit with more popping up every week.  We've been exploring this mecca of unique eateries, cafes and bars over the last few years and we're not slowing down anytime soon.  Whether you're looking for perfect patio dates or hidden patio treasure there's something for everyone.  But, if a downtown Halifax patio crawl is what you're after, we've rounded up 10 walkable patios in downtown Halifax you need to visit.  Leave your car at home, grab a cab and get dropped off on Argyle street.  This is one of the most vibrant foodie streets in Halifax and here's why.
Argyle Street Patio Crawl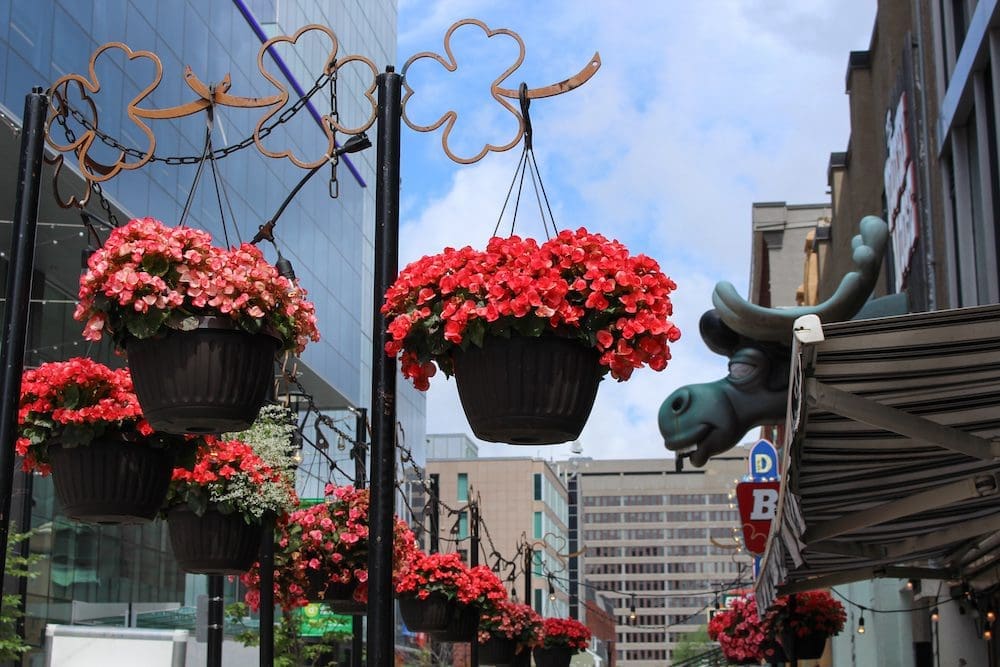 Argyle street is adorable!  If you haven't been to Halifax recently, it's time to make a trip.  Over the last few years, Argyle has undergone a dramatic rejuvination and it's now a pedestrian-centric, restaurant heavy hot spot in Halifax.  It's super wide sidwalks are lined with pubs, restaurants and cafes and it's loaded with benches, flowers, and trees making it just STUNNING!
If your'e like us and love patio hopping in the warmer Nova Scotia months, Argyle makes a perfect home base.  You can park your car or (better yet) take a cab and hit more than 10 patios in less than 300 meters!  This, friends, is one of the many reasons we're packing our bags and moving to this vibrant city.
[feature_box style="15″ only_advanced="There%20are%20no%20title%20options%20for%20the%20choosen%20style" content_font_size="14″ content_font_font="Arial" alignment="center"]
Side Note: We're currently obsessed with the new parking meter app available in Downtown Halifax.  You just download the app, add money to your virtual wallet and punch in the meter number.  This awesome app not only allows you to add money to your meter from your phone (no more parking tickets) but it also refunds you any cash you don't use up.  For example, if you put in 2 hours and only stay for 90 mins, they refund you that extra 30 mins!
[/feature_box]
Antojo Tacos + Tequila
1667 Argyle Street, Halifax
Hours: 11:30am – 10pm Tues – Thurs, 11:30am-12am Fri & Sat, 4pm-12am Sun & Mon
Antojo Tacos is an eclectic Mexican restaurant that specializes in two of my favorite things – Tacos & Tequila!  The small intimiate patio is perfect for enjoying some new flavors and the service was outstanding.  We were impresed by the extensive menu of different tacos and tequila available and loved they offered some really unique dishes.  
What made this particular patio stand out for us was the incredible service.  Our server was very knowledgable and took the time to walk us through her recommendations which included the caulitflower taco and the tequila tasting.  She also took the time to explain how to properly tackle a tequila flight (something that's now on my top 10 things to do in Halifax list).  I've always loved tequila, but now that I know there's a resto that offers flights – I'm all in.

Bistro Le Coq
1584 Argyle Street, Halifax
Hours: 11:30am – 10pm Sun – Thurs, 11:30am – 10pm Fri & Sat
Bistro Le Coq offers fine French dining in what's probably the most romantic patio setting we've seen.  We really love this restaurant and are frequent visitors.  They offer elevated fare and an extensive wine selection in a cozy, warm atmosphere.  The patio is dripping with flowers and just screams romance!
We've enjoyed many meals at Bistro le Coq over the years but their brunch selection is hard to beat.  You'll find classic french fare like tartars and escargot on the menu along with eggs benecit on duck fat rostis.  If you're looking for a fine dining experience on Argyle, this is it.  And, don't forget to order one of their exquisit cocktails.
Bitter End Martini Bar & Restaurant
1572 Aryle Street, Halifax
Hours: 4pm – 2am Mon-Sun
You don't get voted "best Martini & cocktail" 10 years in a row for nothing.  The Bitter End does something we absolutely LOVE – they specialize in one thing and they do it really well!  I'm a firm believer that a giant menu usually means sub-par quality – so when we arrived at the Bitter End to a succint menu of hand crafted cocktails and desserts, I was excited.
We were conveniently here on a Monday so got to take full advantage of Martini Monday's ($6.25 Martinis) and paired that with deep fried ice cream and a coffee (just to round things out).  I ordered the Espresso Martini and it was TO – DIE – FOR.
Dharma Sushi
1576 Argyle Street, Halifax
Hours: 11:45am – 2:15 & 5pm – 9pm Mon – Fri, 5pm – 9pm Sat
Dharma Sushi is the most unassuming little patio on all of Argyle.  If you blink, you'll miss it!  But don't let that fool you, their sushi was incredible.  Their tiny patio is adorable and almost entirely shaded which was great because we were visiting on a very hot summer day. Since we were patio hopping all day, we kept our order to a minimum and went with a Dragon Roll (one of my favs).
This was also Brent's first time trying sushi with me (after years of pesetering) and also really enjoyed it!  We'll definately be back to explore more of the menu.
Durty Nelly's Irish Pub
1660 Argyle Street, Halifax
Hours: 11:30am – 2am Mon – Fri, 10:30am – 2am Sat & Sun
Durty Nelly's is a traditional Irish Pub and a long-standing staple in Downtown Halifax.  While all of the patios on Argyle (and downtown Halifax for that matter) are great for people watching, Durty Nelly's is prime parking.  It's right on the corner of Argyle and Sackville street so you can enjoy a cocktail and a bite while watching all the comings and goings.
We took the advice of our server and went with the Crown Float and a Mojito.  Beer floats are growing in popularity and, in this case, it's a light cider topped with a dark beer.  It's yummy, but pretty heavy so don't attempt this on a full stomach.  The mojito was the biggest surprise because niether of us are huge fans but we both agreed this was the best Mojito we've had to date.
East of Grafton
1580 Argyle Street, Halifax
Hours: 11:30am – 10pm Mon- Sun
This was another first for us, but it won't be our last visit.  East of Grafton offers an assortment of cuisine styles from Asian to Carribean and Mexican to classic British fare.  And, they offer it in a well-crafted, thoughful menu that offers just enough selection but isn't overwhelming.  You know how I feel about a big menu right?
While we didn't get his name, our server was a GEM!  I always say, service is the top priority for me at any eatery.  Bad service = a bad experience and we don't often serve up do-overs.  East of Grafton's got a serious asset on their hands and we hope he stays put!  Aside from the great service and super cool atmosphere, we also loved that they offer 1/2 sizes of their entrees.  YES!  Finally!  I love pasta but full portions always leave me feeling horrible.  So, I was delighted to find that I could order a rich pasta dish in a 1/2 size and enjoy every bite – which I did.
Economy Shoe Shop
1663 Argyle Street, Halifax
Hours: 11am – 2am Mon – Sun
The "shoe" has been around for more than 20 years!  When I was a kid, it was the place to eat in Halifax.  This is one exception to my "big menu" rule because although they do have a multi page menu, they've mastered their art in the last 2 decades and still have some of the best nachos you can find in Halifax.
Lot Six Bar & Restaurant
1685 Argyle Street, Halifax
Hours: 11am – 2am Mon – Sun
Of all the patios in Halifax, Lot Six is top notch when it comes to charcuterie and cheese boards.  Now, full disclosure – we haven't tried alllllll the boards in Halifax (maybe that's a fun challenge we should tackle) but we do order them a lot and Lot Six still has our fav to date.  They're also situated in a great location on Arygle, shielded from the afternoon sun.
At the risk of sounding like a broken record, I'm a sucker for unique hand-crafted cocktails so when we were served these beauties I was sold.  
The Auction House
1772 Argyle Street, Halifax
Hours: 11:30am – 12am Mon – Thur, 11:30am – 1am Fri, 10am – 1am Sat, 10am – 11pm Sun
Home of my favorite Halifax burger, the Oats McGoat's Burger and a menu full of fun sharables like down & dirty bites and truffle fries we're also no strangers to the Auction House.  They've got a cute little patio, right across from parade square and have some cool offerings like burger and beer specials and $3 brunch caesars and mimosas.
The Pint Public House
1575 Argyle Street, Halifax
Hours: 11am – 2am Mon – Sun
The Pint Public House is a mammtoh.  This double deck patio has huge capacity and offers all kinds of interesting food & drink options.  We stopped by for a cocktail and learned all about some of their unique offerings like their Taco Tuesday & Wing Wednesday program.  Bascially, you get a card, show up on those days, order a drink (any drink) and eat for free.  Some restrictions apply (obviously).
They also have live music and rooftap patio that would be perfect for larger group bookings.  We really liked that, from the rooftop, you had a fantastic view of downtown Halifax and tons of space to stretch out and enjoy a drink.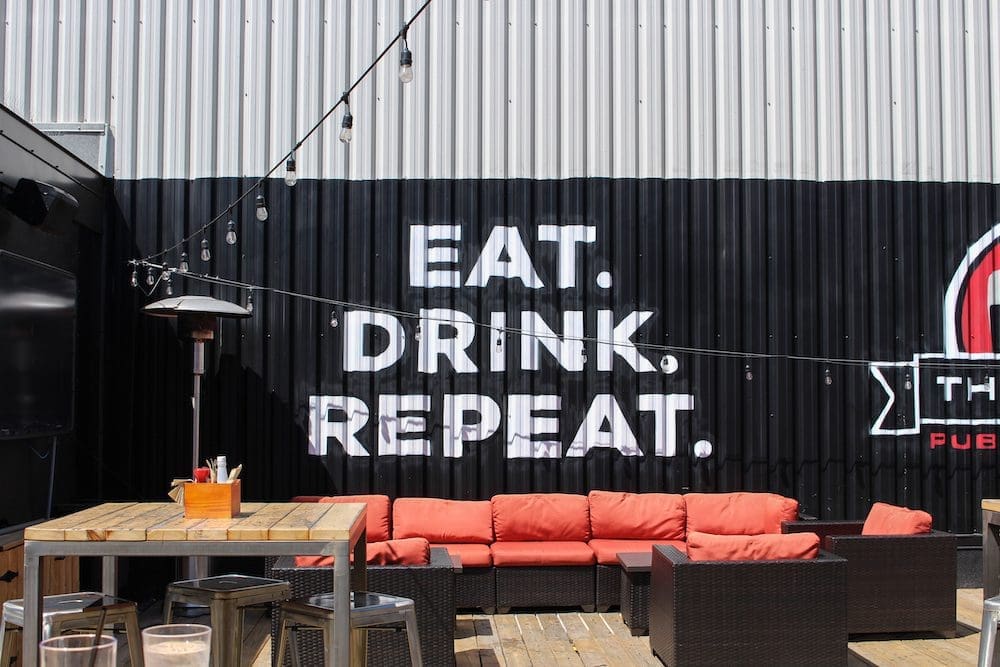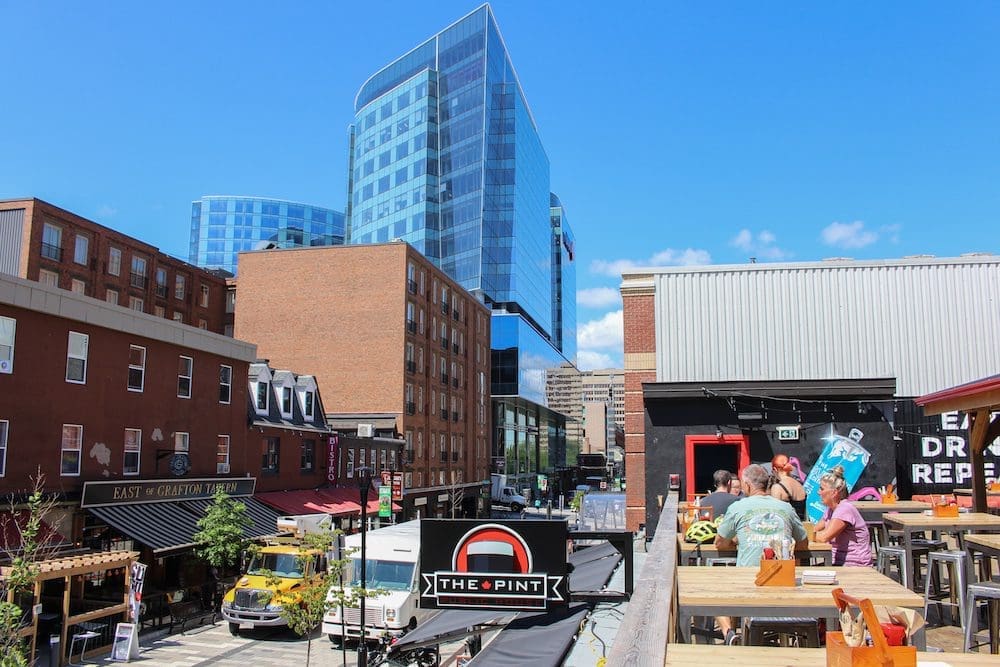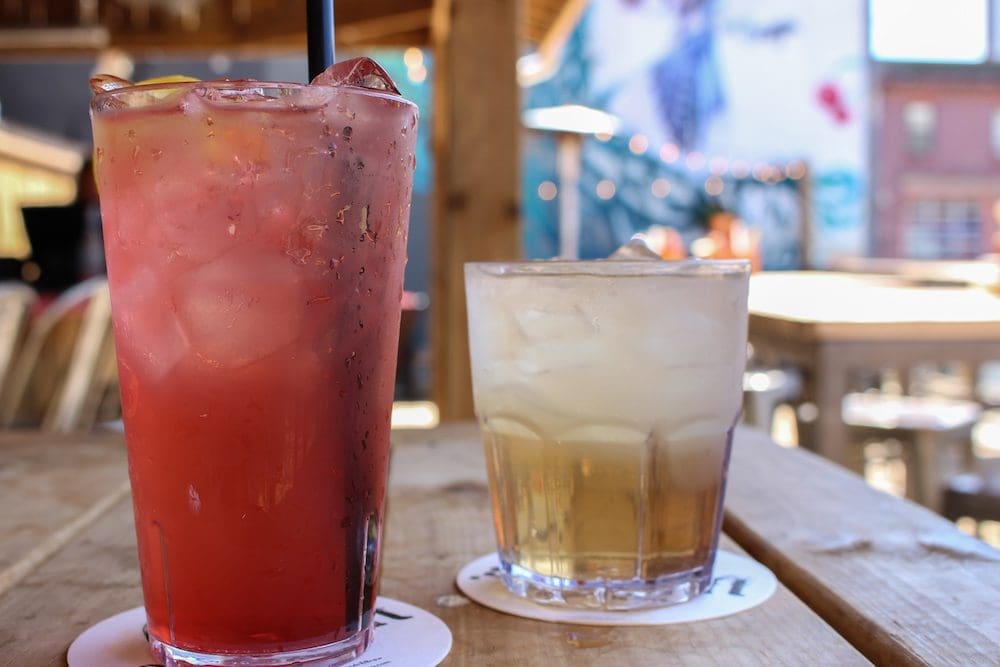 We've been writing about the Patios in downtown Halifax for 4 years now and still haven't darkened all of their doors.  The city is full of options for our fellow foodies and we love exploring them!  
We also love hearing from you!  What kinds of restaurants would you like to see us cover?  What did we miss?  Do you have a favorite or have you seen something here you're going to try?  Let us know in the comments!
*This post is part of a Downtown Halifax patio series, sponsored by Downtown Halifax.  As always, we only share things that we've personally experienced and we think you'll like – all opinions are always our own!