People are serious about their food – especially their favourites.  To say the Rhubarb's reputation precedes it would be an understatement.  When we announced our "Nova Scotia Viewers Choice Restaurant" series earlier this year, long time patrons of the Rhubarb restaurant all but dragged us through the doors to show off their precious Rhubarb!
Located just adjacent to the Oceanstone Seaside Resort where we were staying (how convenient is that), the restaurant boasts "fresh, locally source food, served in a casual atmosphere among friends" and that's exactly what they serve up.  As you enter the enter the restaurant, the first thing you notice is the smell…oh the smell!  That's because the salted caramels, chocolate truffles and other sweet treats displayed at the front counter are all house-made.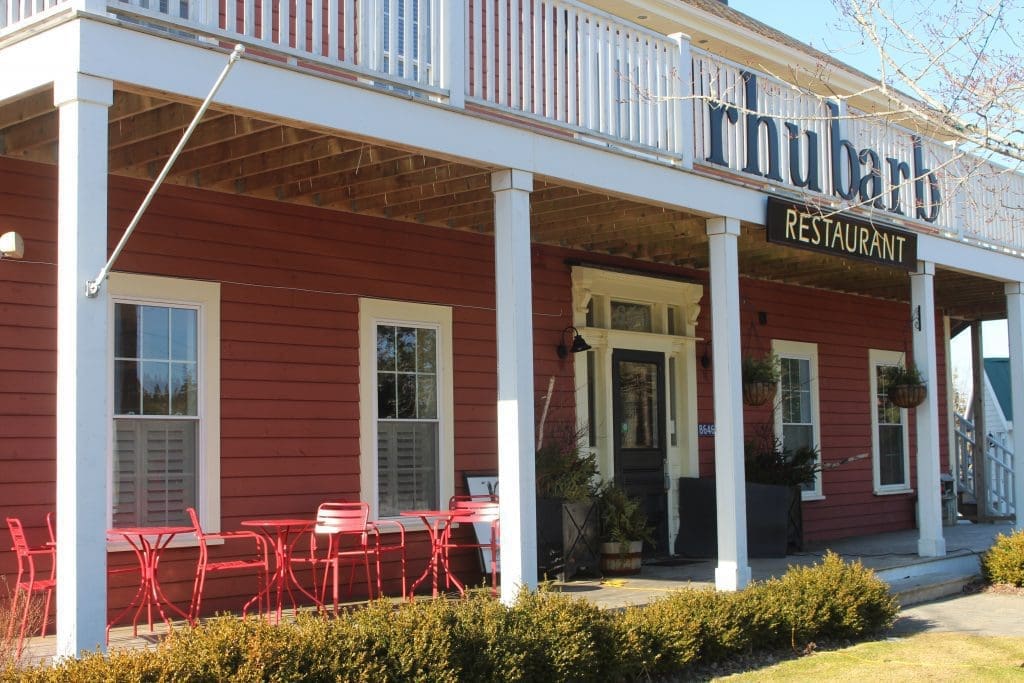 COCKTAILS & WINE LIST: A tequila change of pace!
Usually wine, scotch or beer drinkers we decided to change things up tonight.  We just couldn't resist starting the evening by enjoying a specialty tequila cocktail before moving on to the wine list!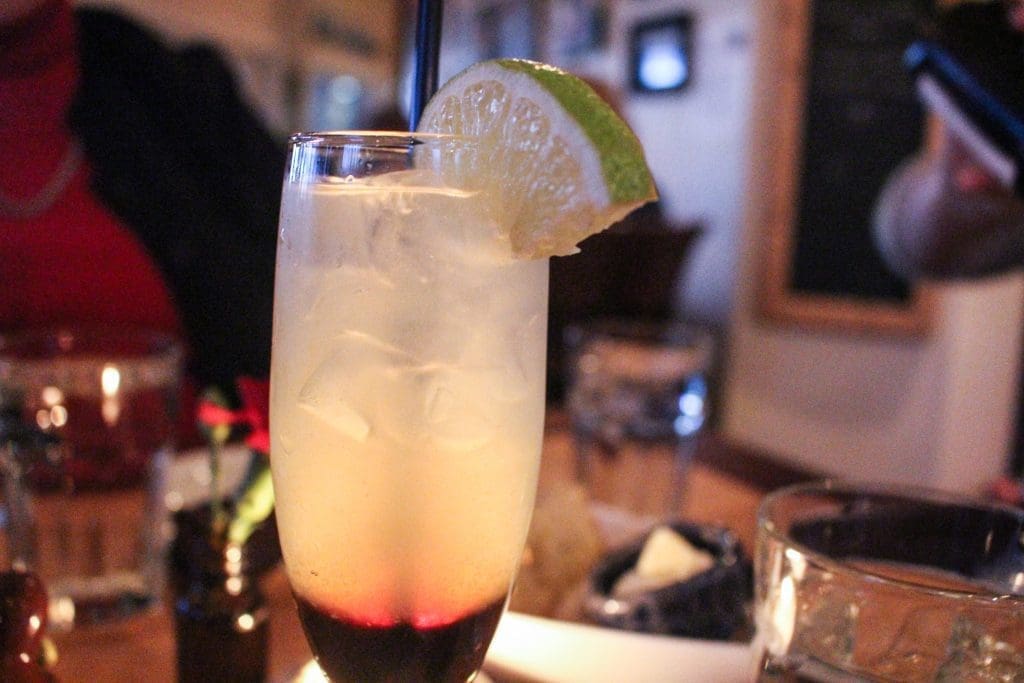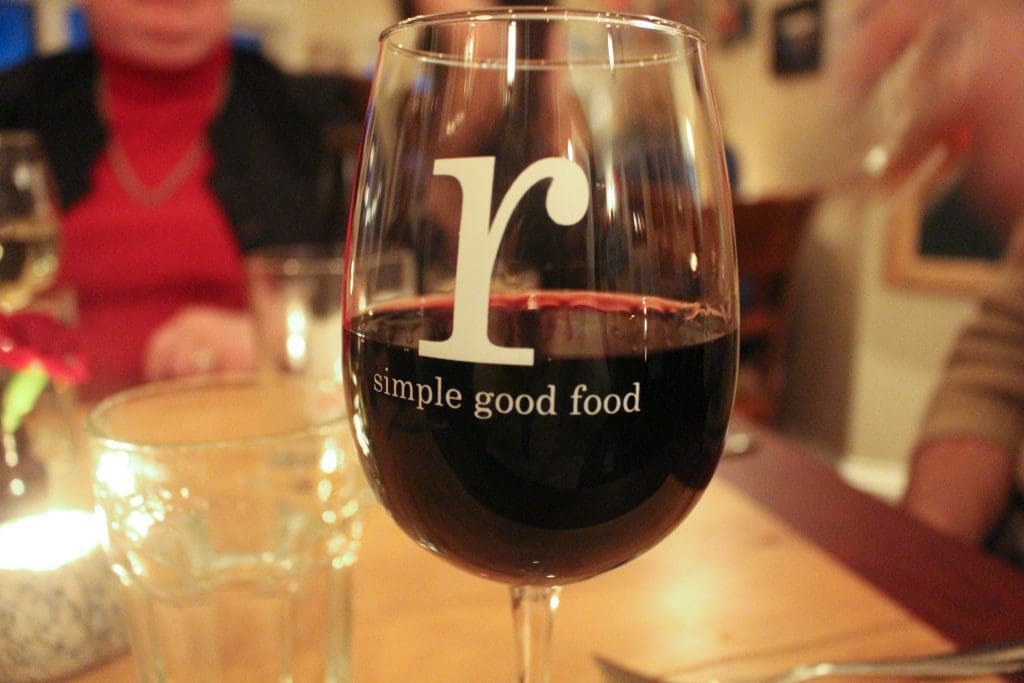 CHEF'S TASTING: Local Favorites & Unique Twists on Traditional Eats
We know by now that talking about the food we eat doesn't even come close to the effect that just showing you does!  So, rather than describe in delicious details each course one by one we will give you a quick rundown and then let the pictures do the rest.
Course 1: Hand tossed specialty pizza with hot pepper and sausage
Course 2: Haddock Stew & Fried Bread.  Lighter than traditional chowder, we're told this is a fan favorite and were also warned that the fried bread is addictive – truth!  We really appreciated the fresh, light feel of this traditionally hearty dish.
Course 3: Kale Caesar Salad.  Another twist, we loved that the kale was crispy!  We have had kale salads before and often find them bitter and difficult to eat but Rhubarb nailed this one by rubbing the kale and then cooking it to a crisp and delicious finish.
Course 4: Risotto Ball with a side mixed green salad and light tangy dressing.
Course 5: Crispy Haddock.  A common dish in Nova Scotia, but this one was served on a chickpea and fresh veg salad and topped with a honey mustard sauce.  Winner!
Course 6: Braised Lamb Shank.  Need we say more?  Perhaps not so common in the maritimes but a welcome surprise!  It was perfectly prepared and served with Gnocchi.
Coures 7:  An assortement of the house made salted caramels and chocolates.  We ate them all!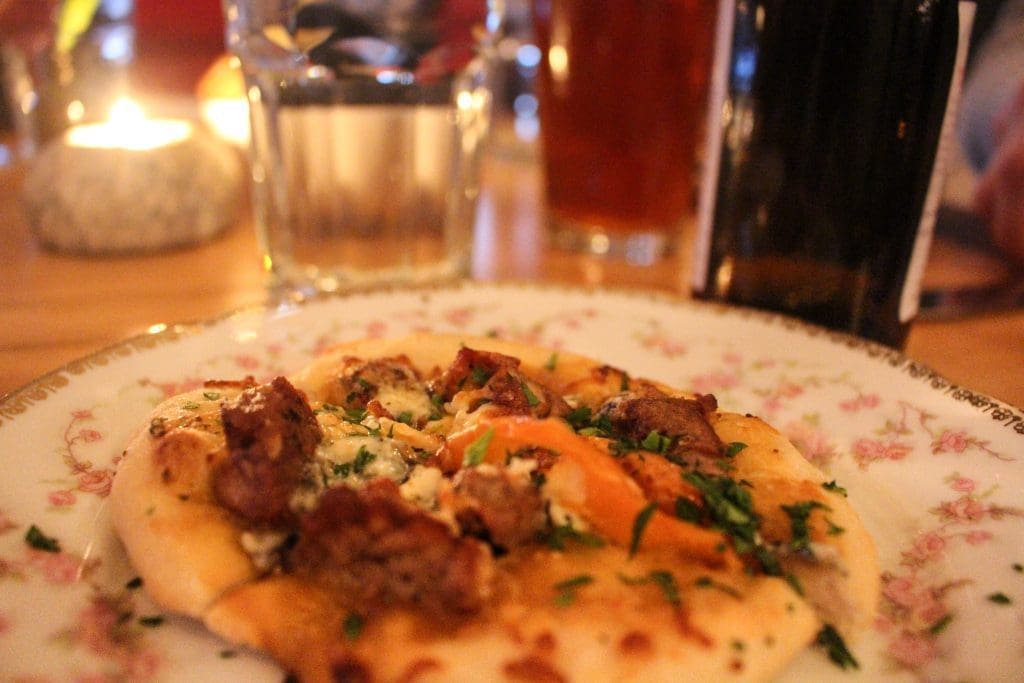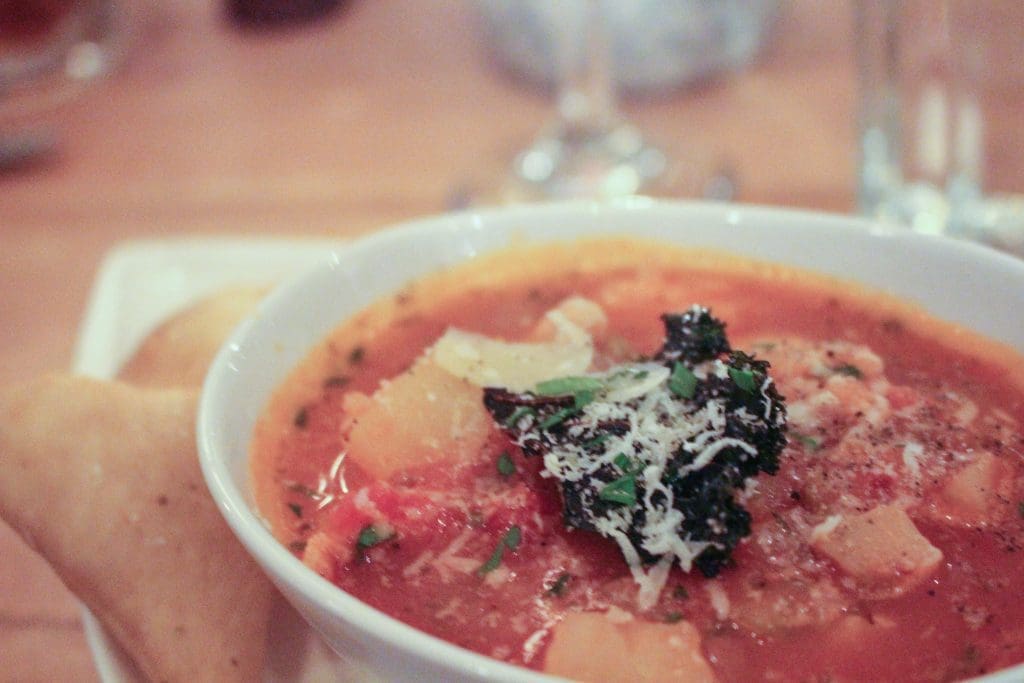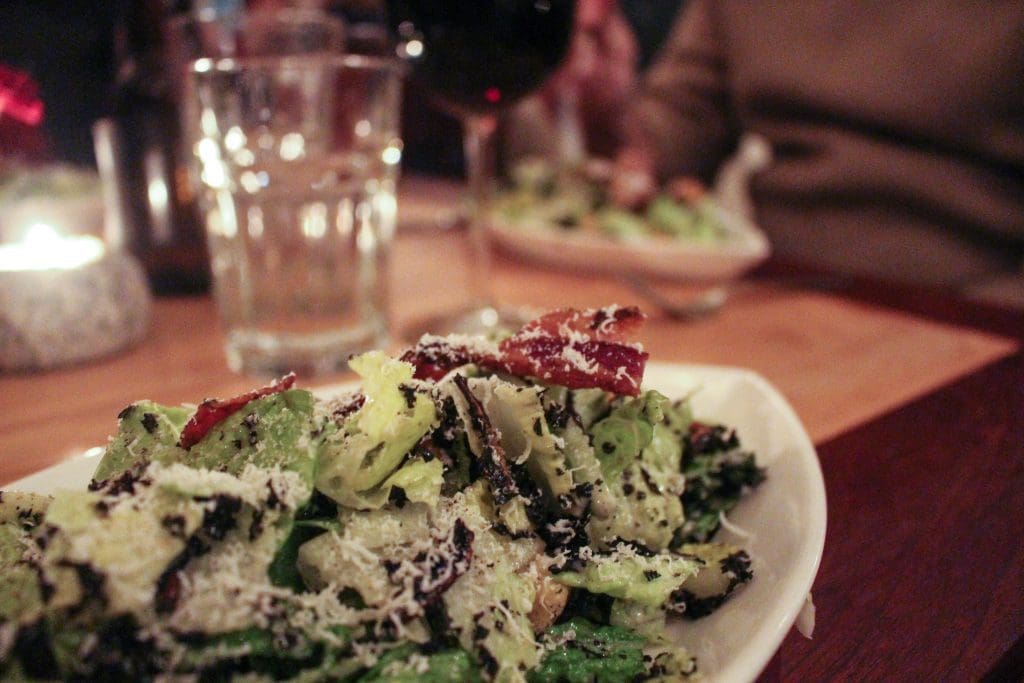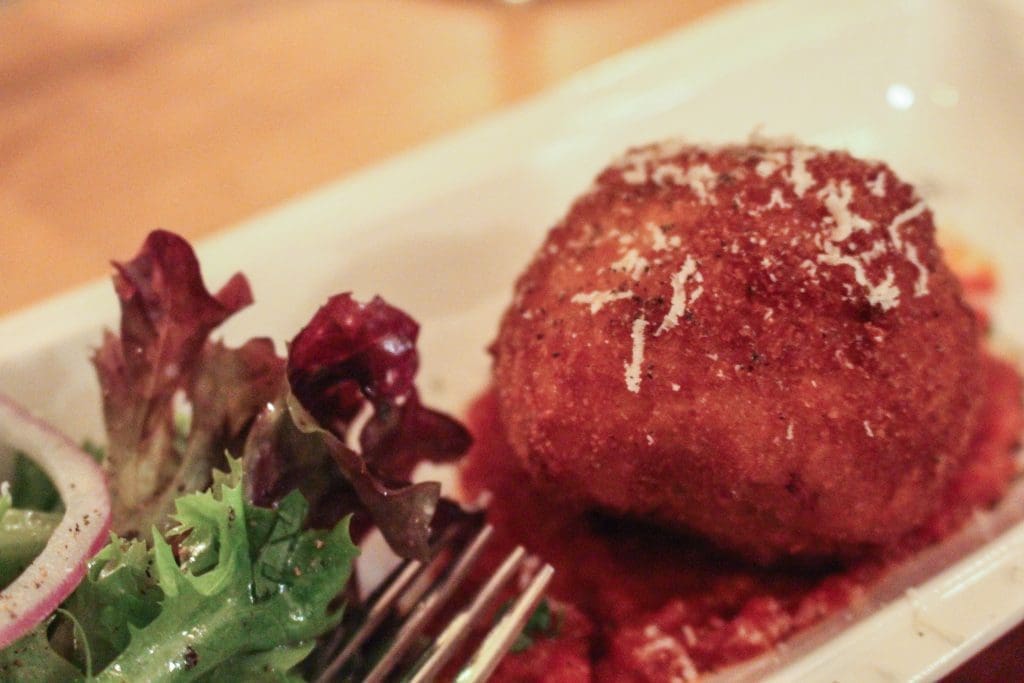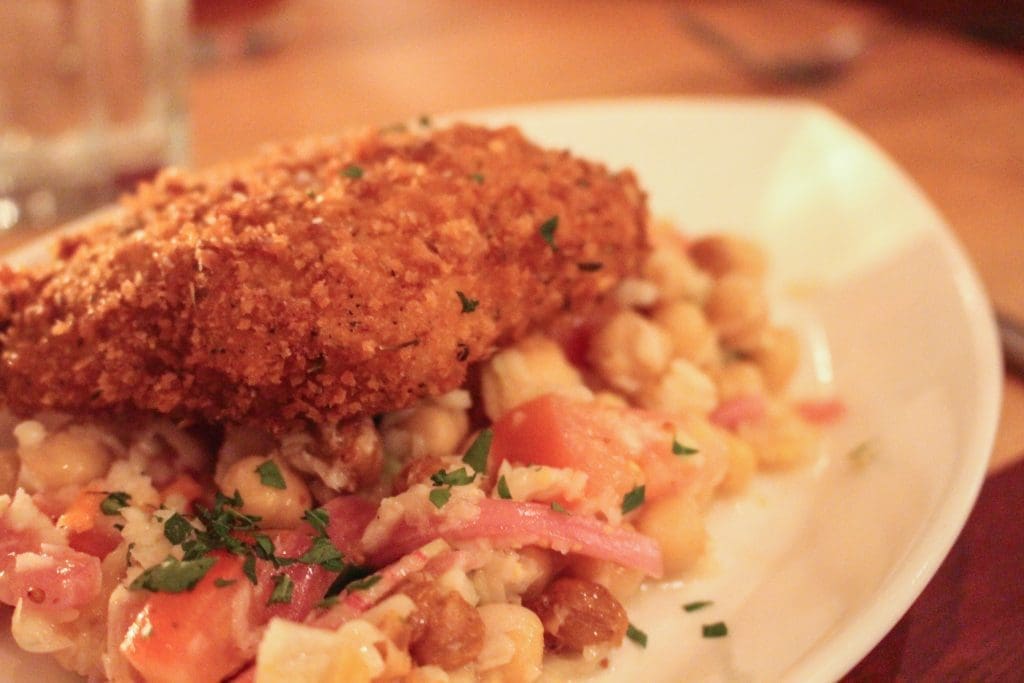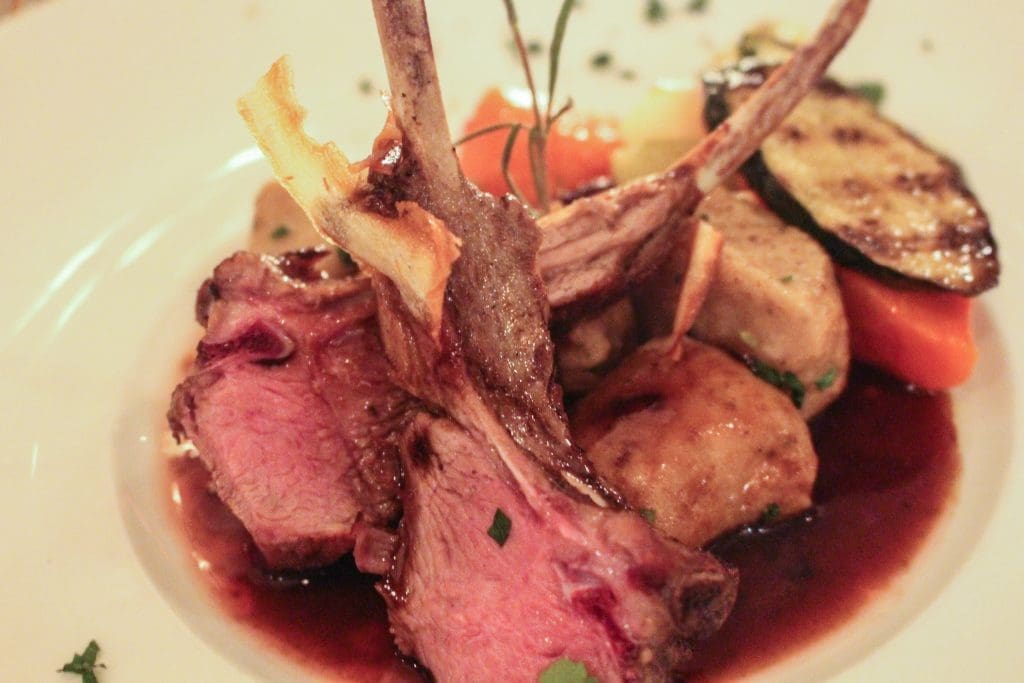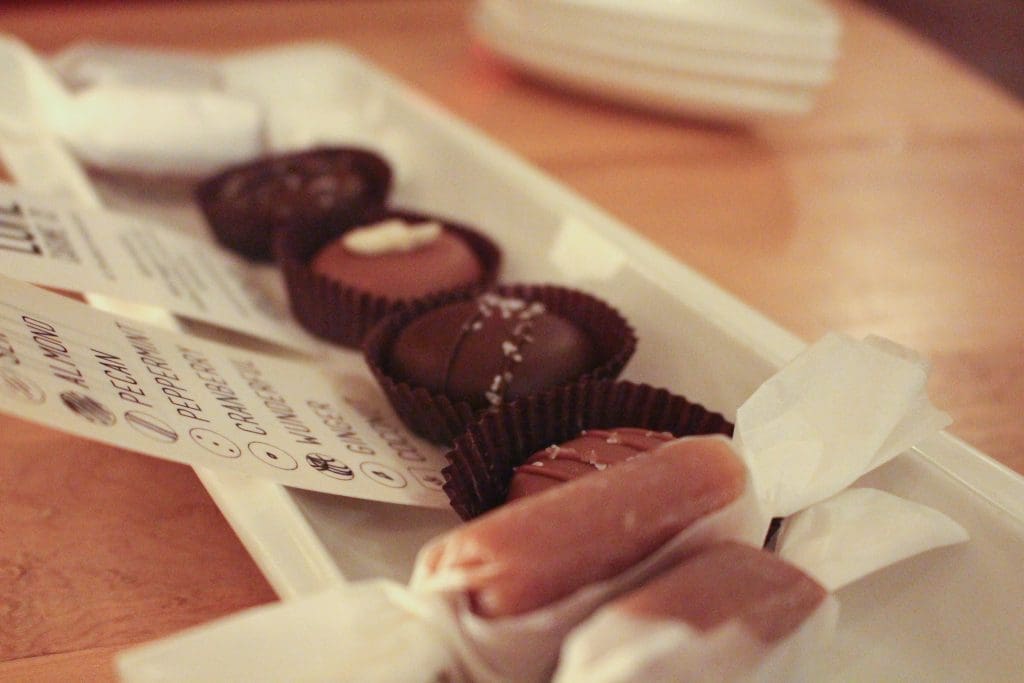 We realize it doesn't dictate the quality of service or food of a restaurant but there's always something special about the owners being directly involved and present with their guests.  Owner Diane was front and centre, making a point to speak to each guest and serving up their food herself.  To us, this just added another layer of personal touch that makes a place extra special!
We were welcomed as guests of the Rhubarb restaurant and treated to this amazing Chef's tasting.  We aren't obligated to share this we you – we do it because we loved it.  As always, all opinions and photos are our own.