Ultimate Bay of Fundy Travel Guide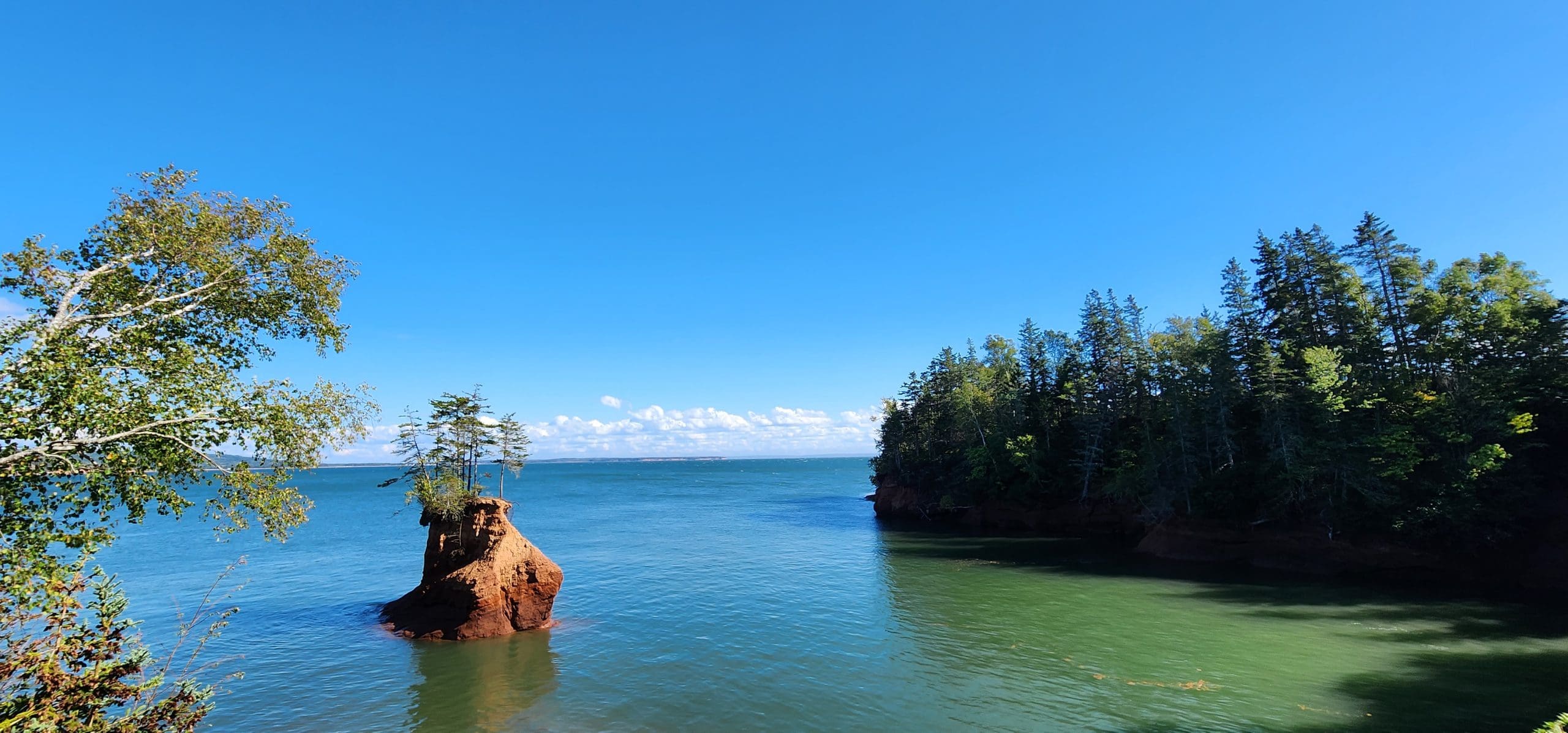 The Bay of Fundy lies between Nova Scotia and New Brunswick, and also touches the U.S. state of Maine.  It's most famous for having the world's highest tides and offering world-class adventures like Tidal Bore rafting and whale watching but the wonders of the Bay of Fundy go much farther than that.
When you Google "Bay of Fundy", the first thing you'll find is Hopewell Rocks (the "flowerpot" formations) in New Brunswick, followed by a string of recommendations that include Fundy National Park, Digby whale watching, Annapolis Royal and Tidal Bore rafting.  Don't get me wrong, those places are all amazing but they only scratch the surface.  So, dearest blog reader, today I'm taking you deep down the Bay of Fundy rabbit hole to explore one of the most underrepresented regions in Nova Scotia.
Are you ready?
Welcome to the Cliffs of Fundy UNESCO Global Geopark.  Situated along the north shore of the Minas Basin, the shoreline cliffs and beaches here hold the world's most complete fossil record from 300 million years ago.  The Geopark spans from Lower Truro (my hometown) in the east to Apple River in the west, covering a distance of 165km.  If scenic routes are your thing, buckle up!  Because this breathtaking coastline is unrivalled.
I've spent the last 2 decades exploring the Bay of Fundy and this guide is the result of that.  If you're looking for a stunning destination in Canada, we're confident that the Bay of Fundy will win you over.  With a bit of planning and some insider tips about these rural communities and the quirks that come with them, you'll fall in love with this place just like we did.  That's why we've put together this comprehensive guide, packed with all the information you need to plan the perfect trip to the Bay of Fundy.
Know what you're looking for?  Jump to that section here!
Getting There  | The Communities  |  Where To Stay  |  Things To Do  |  When To Visit | Where To Eat  |  Packing Guide  | Practical Tips
Disclaimer: Just so we're all on the same page… I grew up in Truro and started visiting this part of the Bay of Fundy in my early teens.  Since then, we've made dozens of trips independently.  Although we were hosted on this trip, all views, opinions and way too many photos in this article are our own!
 Bay of Fundy Regions
As you're planning your Nova Scotia vacation, the options are endless.  The Bay of Fundy touches Nova Scotia, New Brunswick and Maine but this guide is focused specifically on four rural regions that are near and dear to us.  We've plotted this entire trip out on an interactive map as well.  You'll find restaurants, points of interest (POIs), hiking trails, and more here:
Economy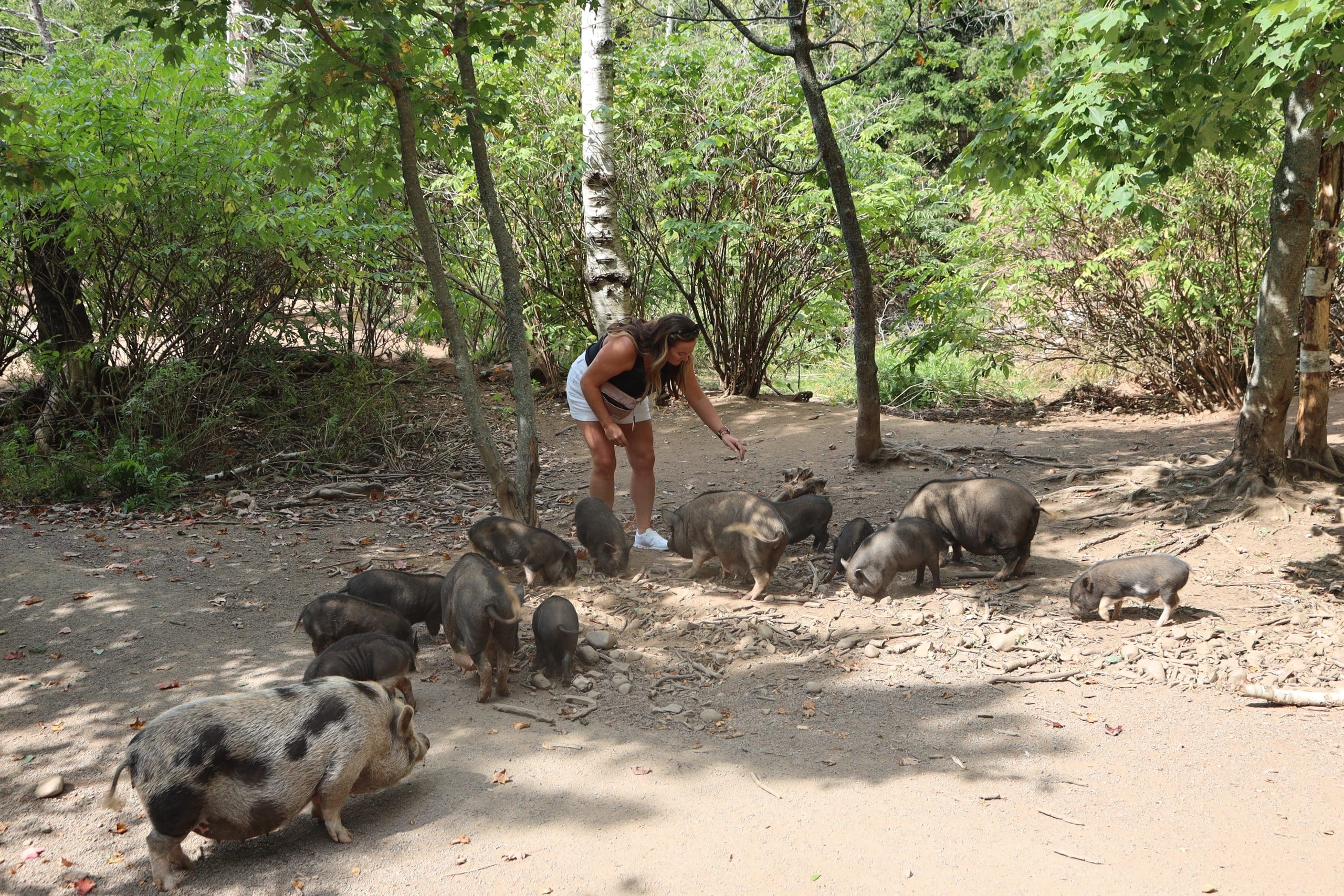 Economy is located just outside Portapique Nova Scotia, along the Minas Basin.  It's about a 1.5 hour drive from Halifax and is home Economy Falls and the Kenomee Canyon trail system.  Although the falls fell a number of years ago, it's still a spectacular view and the perfect area for hiking and picnicking (or diving after your drone, if you're me).  Additionally, the Economy River and this area of the Minas Basin is known for its excellent fishing opportunities, which draws anglers from all over the world to the area.
Top Things to do in Economy
Visit That Dutchman's Cheese Farm
Noted as Nova Scotia's original artisanal cheese maker, The Dutchman's Cheese Farm is a special place.  Pick up their famous Dragon's Breath blue cheese and take a stroll through the nature park to visit the animals.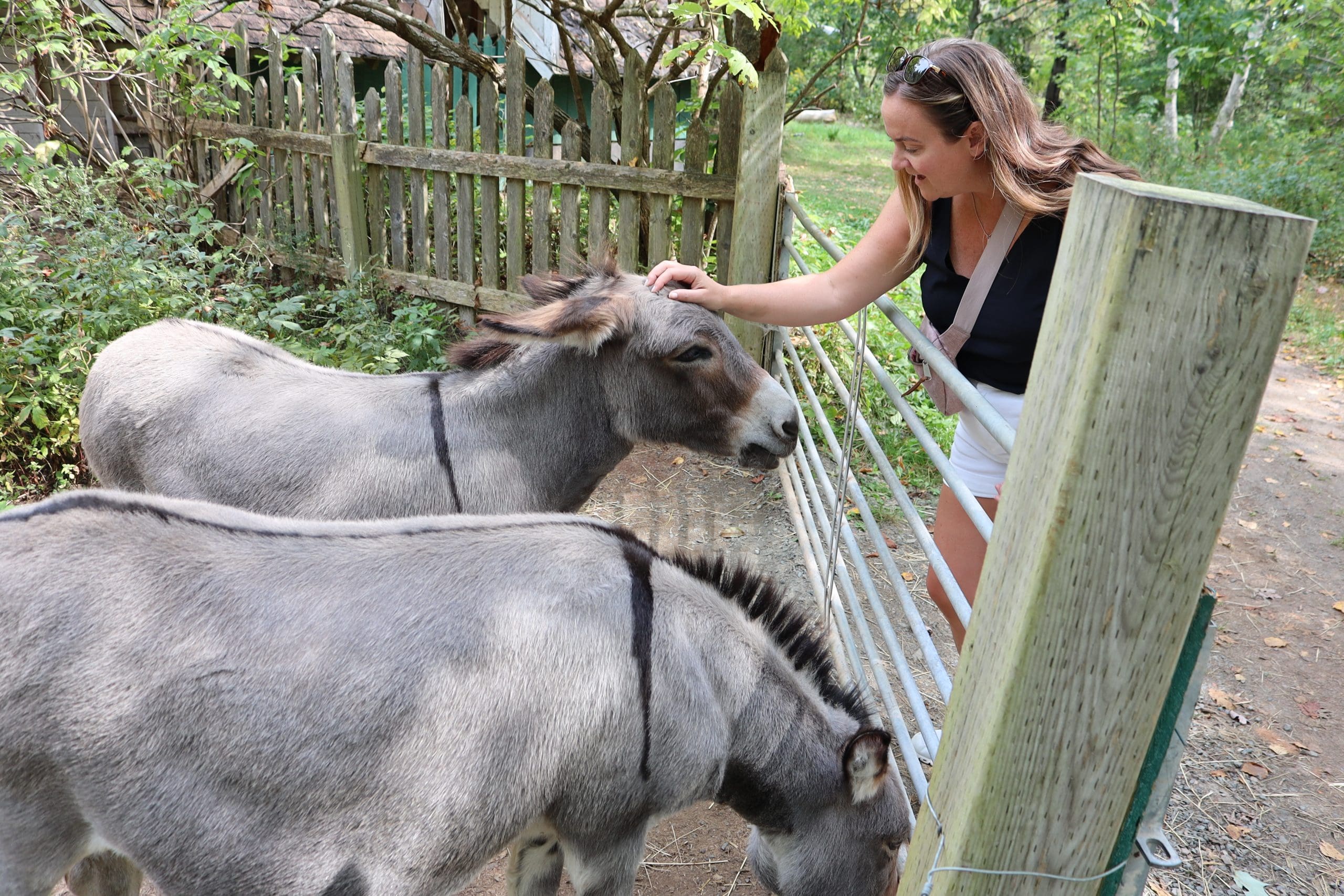 Explore Economy Falls
Economy Falls is, hands down, one of my favourite waterfalls in Nova Scotia.  To access the falls, it's just a quick 1.6km out and back trail.  It does require a steep ascent down a set of stairs that are certainly "use at your own risk" and in need of repair BUT it's well worth the effort.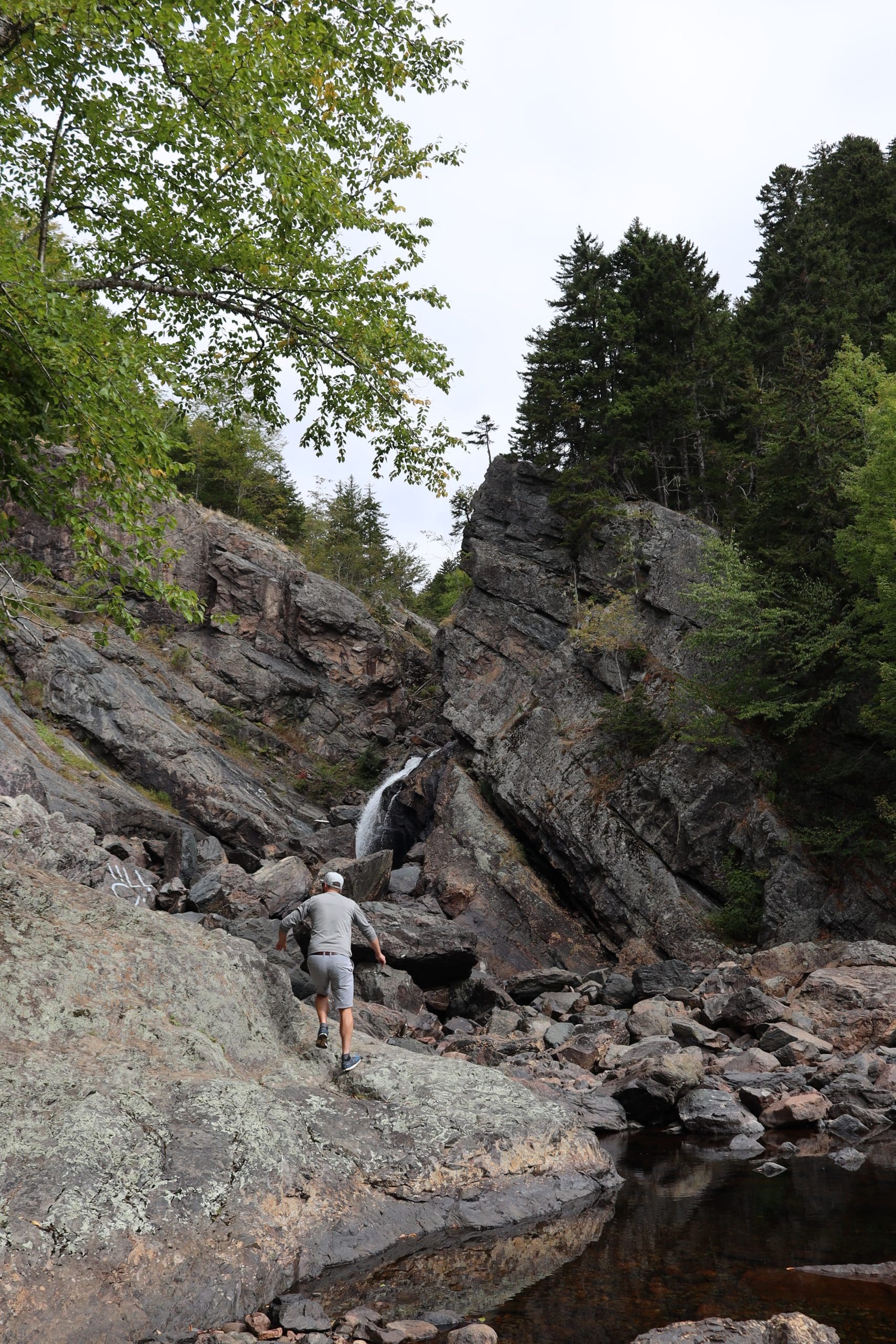 Hike the Devil's Bend Trail
If you're a hiker, there's a much better way to see Economy Falls and this is it!  Start in the lower parking lot and tackle this stunning trail.  It's a challenging 13km out-and-back hike with amazing views of the Economy River and "Devil's Bend" along the way.  The turnaround point is Economy Falls which makes the perfect backdrop for a mid-hike lunch break.

Note: There are steep and eroding cliffs along the trail so keep your dogs close and exercise caution when taking in the views.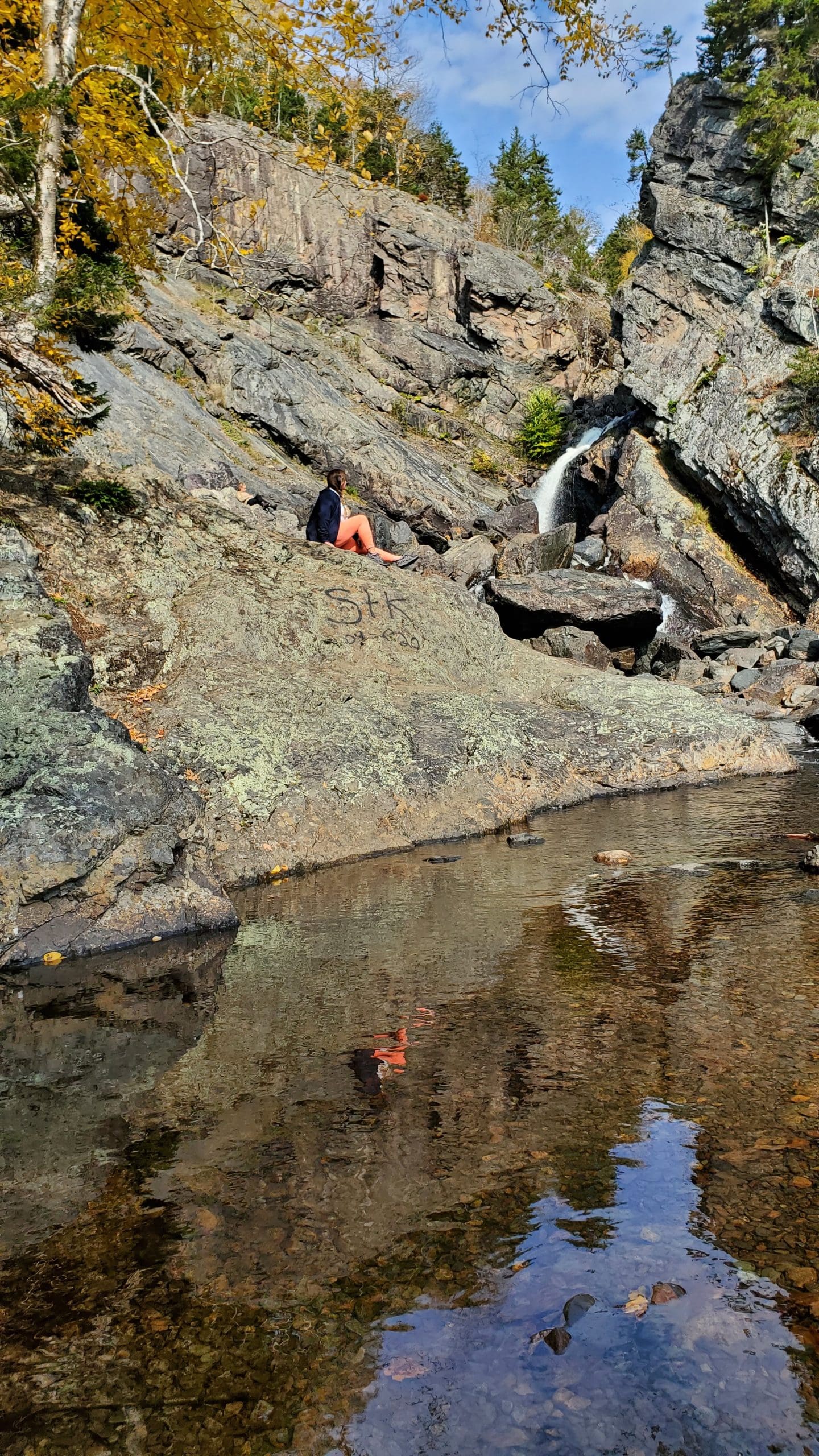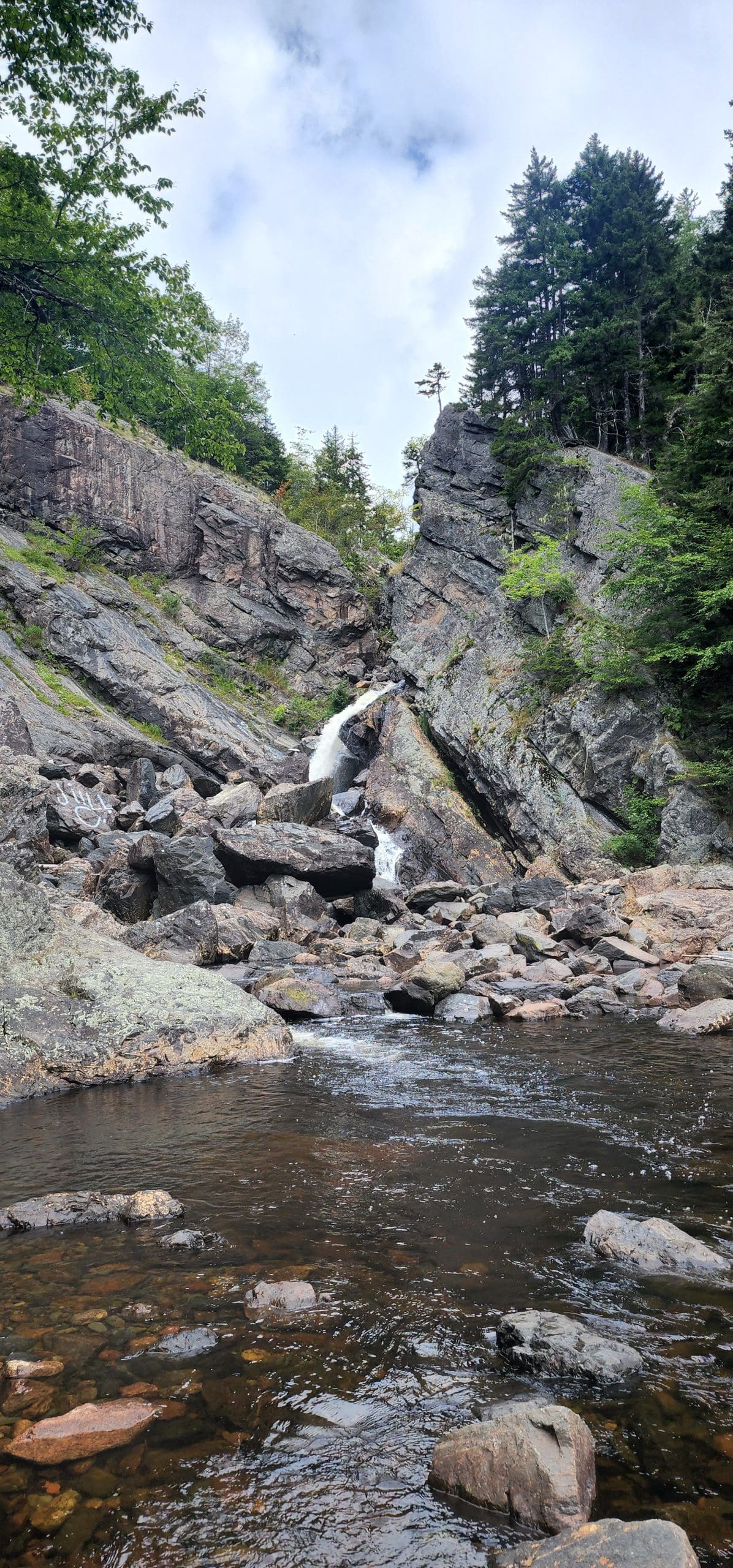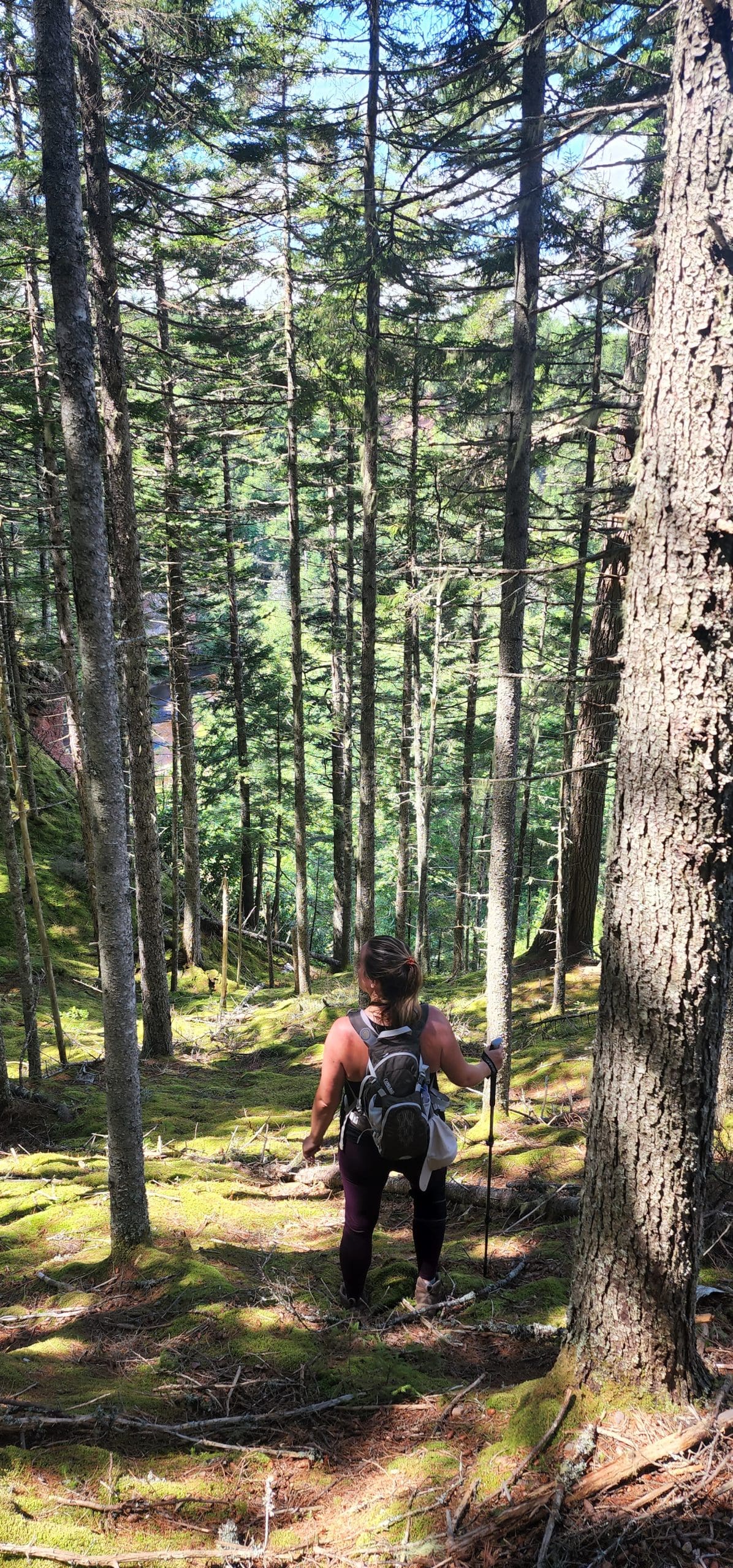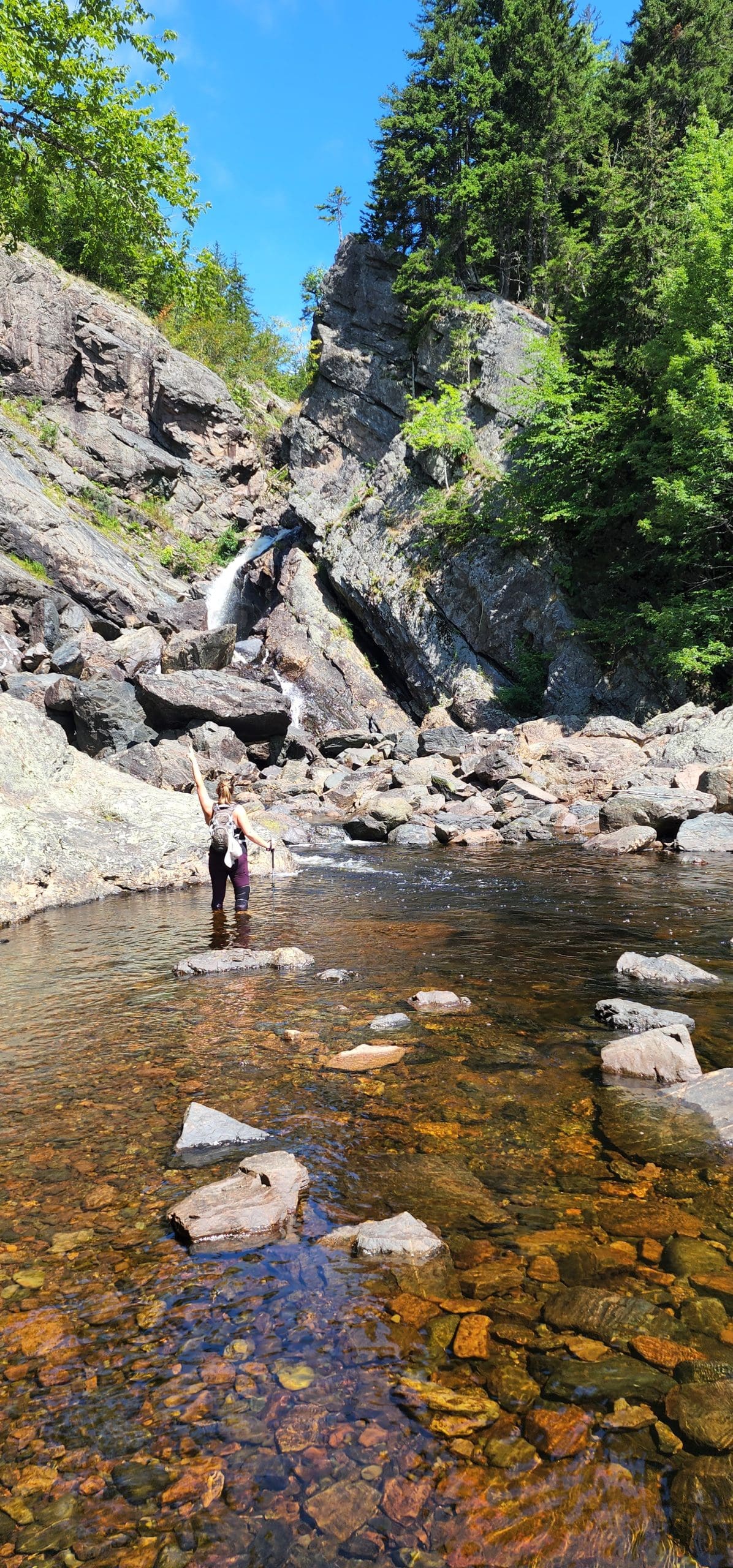 Go Back-Country Camping in Kenomee Canyon
Kenomee Canyon is a challenging 18km loop for experienced hikers.  The trail follows the Economy River gorge and offers multiple waterfalls, river crossings, and back-country campsites as well as a suspension bridge above Economy Falls that offers spectacular views of the river.
NOTE: Due to hurricane damage, Kenomee Canyon is currently closed.  Please check the Fundy Connect website for updates before you head out on this trail.
Visit the Thomas Cove Coastal Reserve
Thomas Cove is an easy 2.6km bunny-ear loop that takes you through marshland and offers lovely water views.  This route is great for a wide variety of people with little to no challenge and is known for birding.  You'll often find blue herons and other species fishing along the edge of the water.
NOTE: Depending on tide times, there is a point that may require you to cross shallow water so prepare to get your feet wet!
Five Islands
Five Islands, named for its stunning panoramic views of the five towering islands along the rugged coastline, is also situated on the north shore of the Minas Basin in Nova Scotia.  The park is home to a variety of hiking trails, picnic areas and camping facilities making it perfect for outdoor enthusiasts.
Visitors also witness the unique tidal phenomenon of the Bay of Fundy – which is something everyone visiting Nova Scotia should see!  The extreme tidal changes in the bay are the highest in the world, and they've shaped the landscape of Five Islands, leaving behind a wealth of geological features like sea caves, tidal flats, and incredible rock formations.
Top Things to do in Five Islands
Explore Five Islands, Provincial Park
Operating Season: June – October
The park provides a wide range of activities from hiking to beachcombing and offers serviced and unserviced camping with amenities like showers and fire pits.  There are three different hiking trails, all under 4km long as well as swimming, paddling and several look-offs.  The rocky beaches are a perfect place to witness the dramatic tide changes so be sure to download the tide app and plan your visit accordingly.
Picnic at Five Islands Lighthouse Park
140 Broderick Lane, Lower Five Islands, NS
The historic pepper-pot style lighthouse was built in 1913 and moved to its current location in 2008.  The park offers a unique ship playground for kids, a covered picnic area, walking paths and washroom facilities.  But, like most stops along this Bay of Fundy tour, the showstopper is the view.  The park overlooks the five islands.
NOTE: The tides rise rapidly here (and everywhere listed in this itinerary) so be aware if you're exploring the beaches.  If you're not familiar with the Bay of Fundy, the quickly filling channels can surprise you.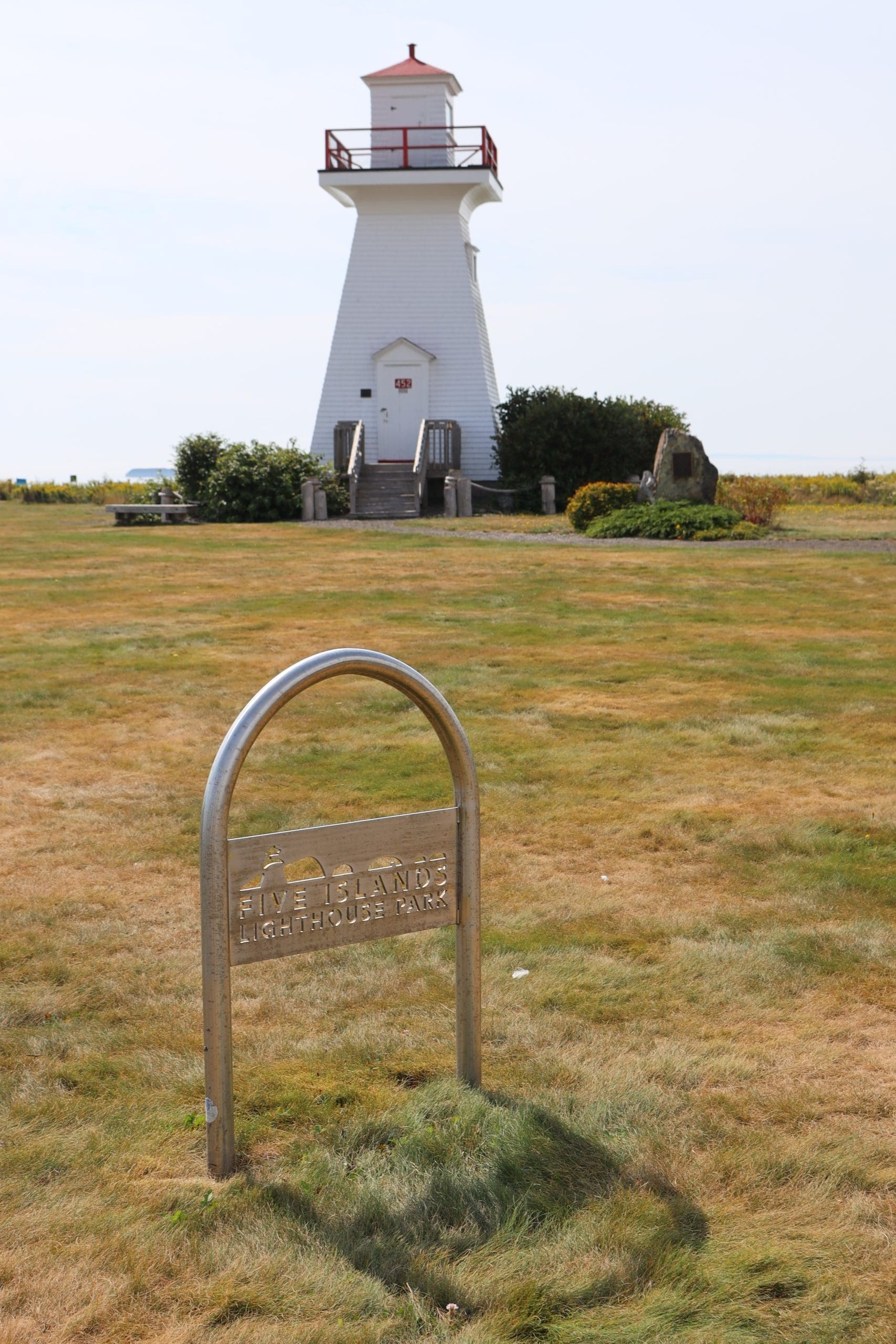 Participate in the Not Since Moses Run
If you're visiting Nova Scotia in August and you're looking for a true Bay of Fundy experience, stop scrolling – you've found it.  The Not Since Moses event offers runners and walkers a truly unique experience of "outrunning the tides" in this mucky, messy, and oh-so-fun event.
For a few hours, during only a few days each year, the tides are low enough here for this race against the clock.  Runners and walkers can choose 5km or 10km options where they'll hit the ocean floor and race through mud flats, over rippling dunes, and through the muddy channels of the Bay of Fundy.
See the Soley Cove 'Flowerpot' and Sea Caves
Take solely cove road about 1.6km to the Soley Cove flowerpot.  There is only roadside parking, so be considerate of landowners and local traffic.  You can descend down to the ocean floor at low tide and explore the flowerpot, sea caves and sometimes a surprise waterfall.
I sound like a broken record at this point but, be aware of the rapidly rising tides.  This is a true "explore at your own risk" area and NOT the place you want to get stuck.  If you're not out well before high tide, you could find yourself in a very dangerous situation.  A good rule of thumb is to start exploring at the lowest point and make sure you're out within 2-3 hours.
PRO TIP: If you're staying in the area as we did, visit Soley Cove at low tide and then again at high tide to really see the transformation.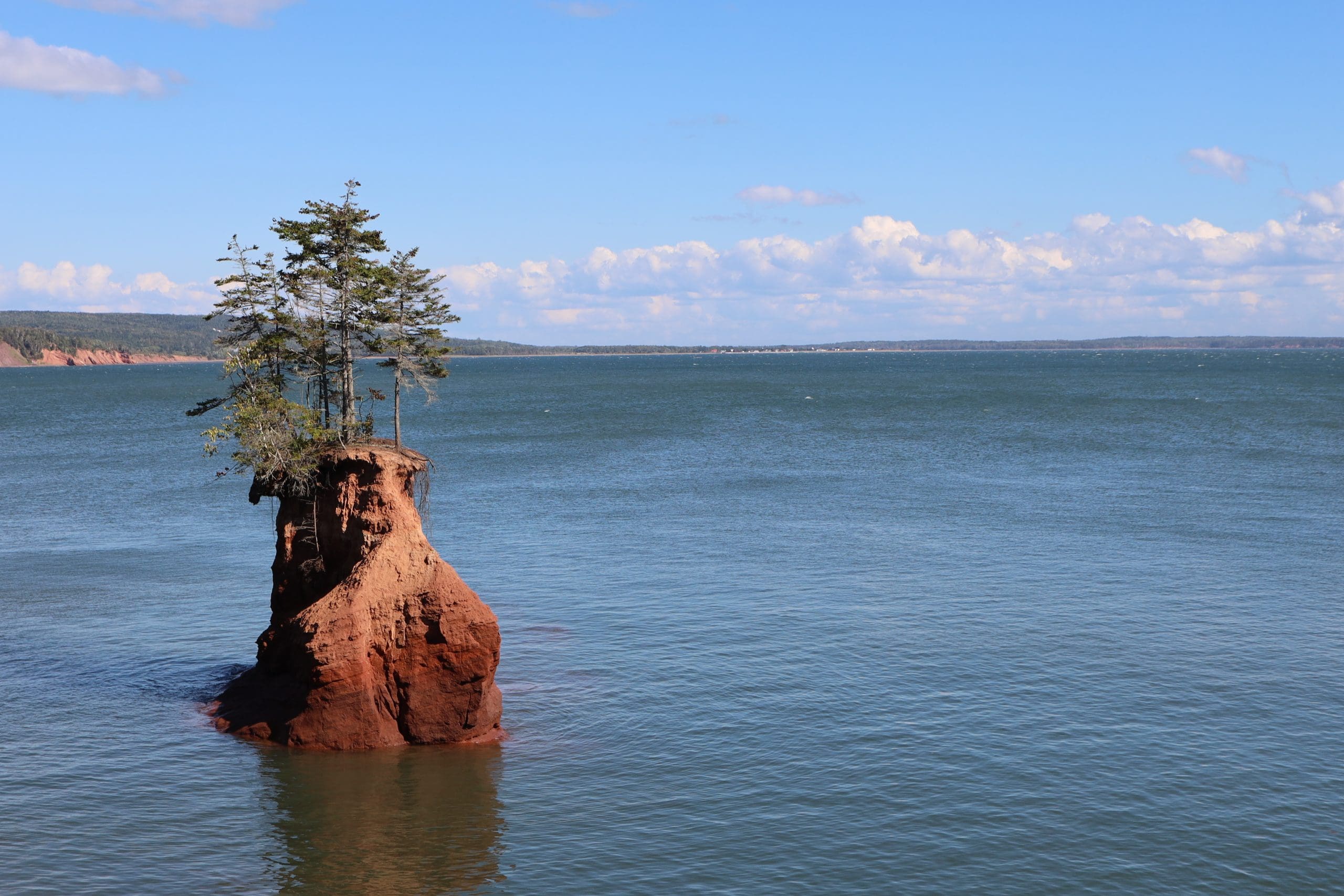 Stop in at Davis General Store
Heck yes, I put a general store on the list.  There are two general stores in this itinerary because they're more than meets the eye.  One of the things we love about very rural communities is that there is almost always a general store like this.
Need some snacks or groceries, no problem.  Want a striploin from a local butcher for the grill? That's fine.  Need a coffee?  They'll make you one.  Forgot your flip-flops?  They have those too.  
These catch-all stores are so stinkin' charming and they're generally open for very long hours (even off-season) because they serve the community in so many ways.

Parsborro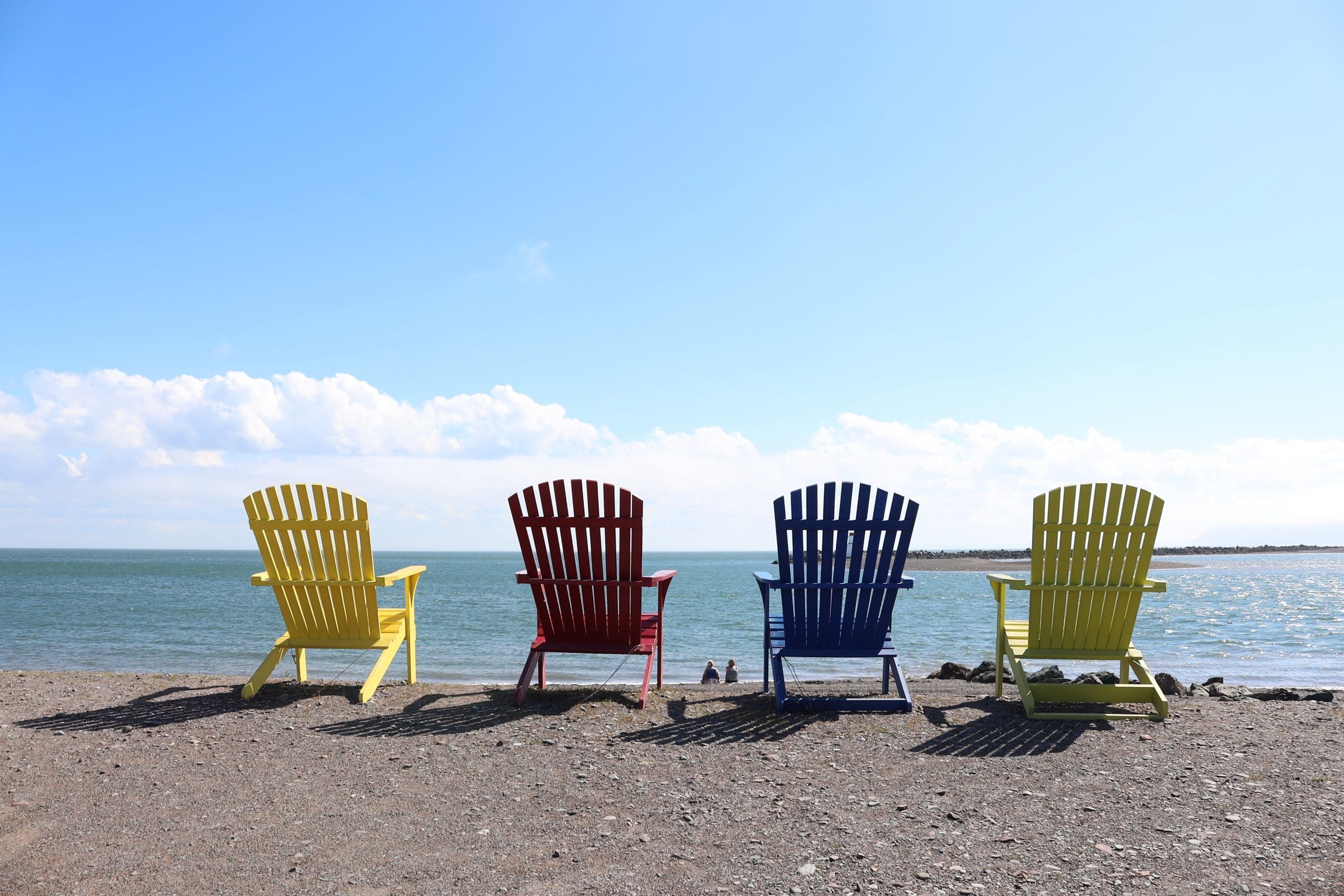 Parrsboro is known for being one of the world's top fossil hunting destinations where the tides recede to reveal rich deposits of rocks and minerals that are home to an incredible range of fossils from the Carboniferous period, over 300 million years ago.
It's also home to the world-famous Nova Scotia gem and mineral show, currently in its 56th year, which draws Rock hounds from around the world every year.
Parrsboro is also home to Partridge Island, a significant site in the Kluskap legends.  When air trapped in the basalt rock under the ocean surface is forced out, the water bubbles and "boils" (it's not) just like a cooking pot.  Learn more about the legend of Kluscap's Grandmothers cooking pot here.
Top Things to do in Parsborro
Have Local Craft Beer at Two Islands Brewing
We are thrilled there's a brewery in this region!  The Nova Scotia craft beer scene is robust but, until recently, there were no craft breweries along this route.  Two Islands is a small batch brewery in downtown Parrsboro that offers a range of variety, snacks and a fabulous outdoor patio.  And, the beer is really good!  

We've visited several times now and particularly enjoy the By The Bay Blonde and the Parrsboro Porter.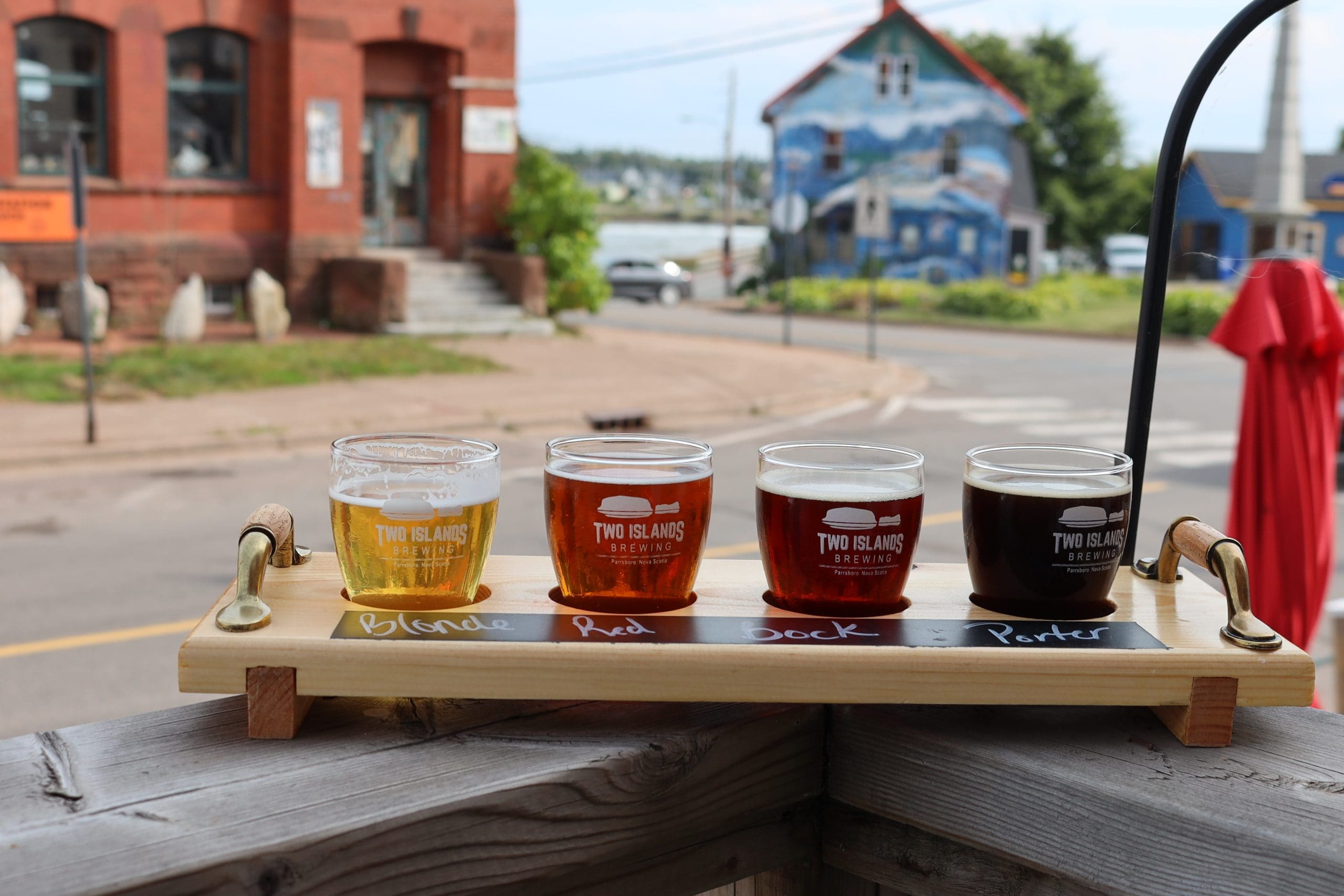 Learn the Landscape at the Fundy Geological Museum
This museum happens to be my favourite in our Bay of Fundy itinerary.  It showcases the geological history and natural wonders of the region and features a range of displays from rocks and minerals of the area to fossils.  The museum is also home to a complete Plesiosaur skeleton and offers guided tours, educational workshops, and special events throughout the year.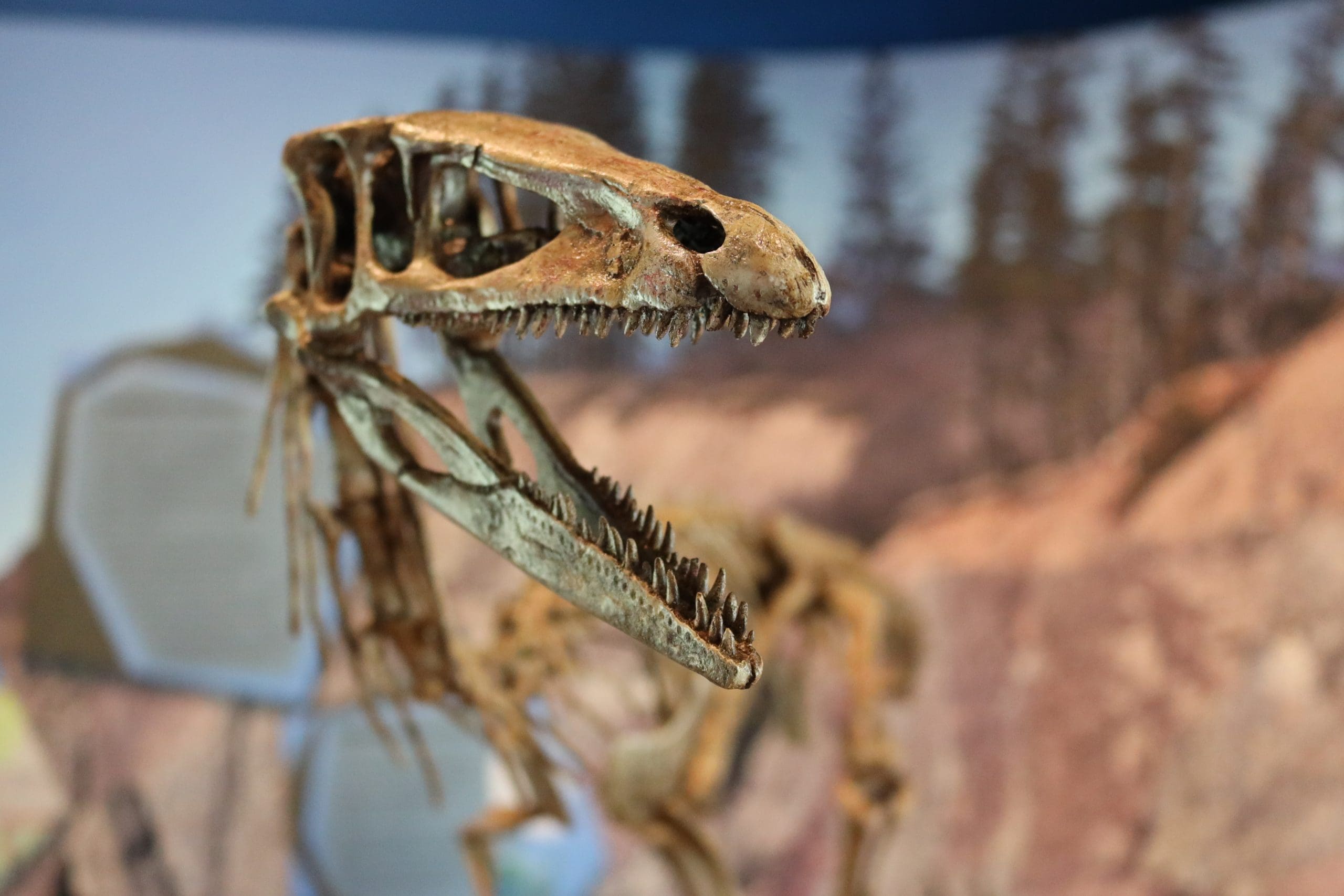 See the Boiling Tide and Hike Partridge Island
Partridge Island was the most surprising discovery of our tour.  If I'm honest, this place took my breath away.  We knew very little about it before we visited and happened upon the 'boiling tide' which is a phenomenon caused by air being pushed through volcanic rock as the tide rises.  
There is also a 1.5km hiking trail around the island with a lookoff tower where you can see Blomidon and Cape Split in the Annapolis Valley as well as Spencer's Island.
Partridge Island immediately felt special to me.  There was something about it that captivated me.  I later found out, it is a special place.  Partridge Island is a significant site in the Kluscap legends and was said to be the traditional campsite of Kluscap's Grandmother.  The story tells of Kluscap's Grandmother's magic cooking pot that was never empty and is always bubbling.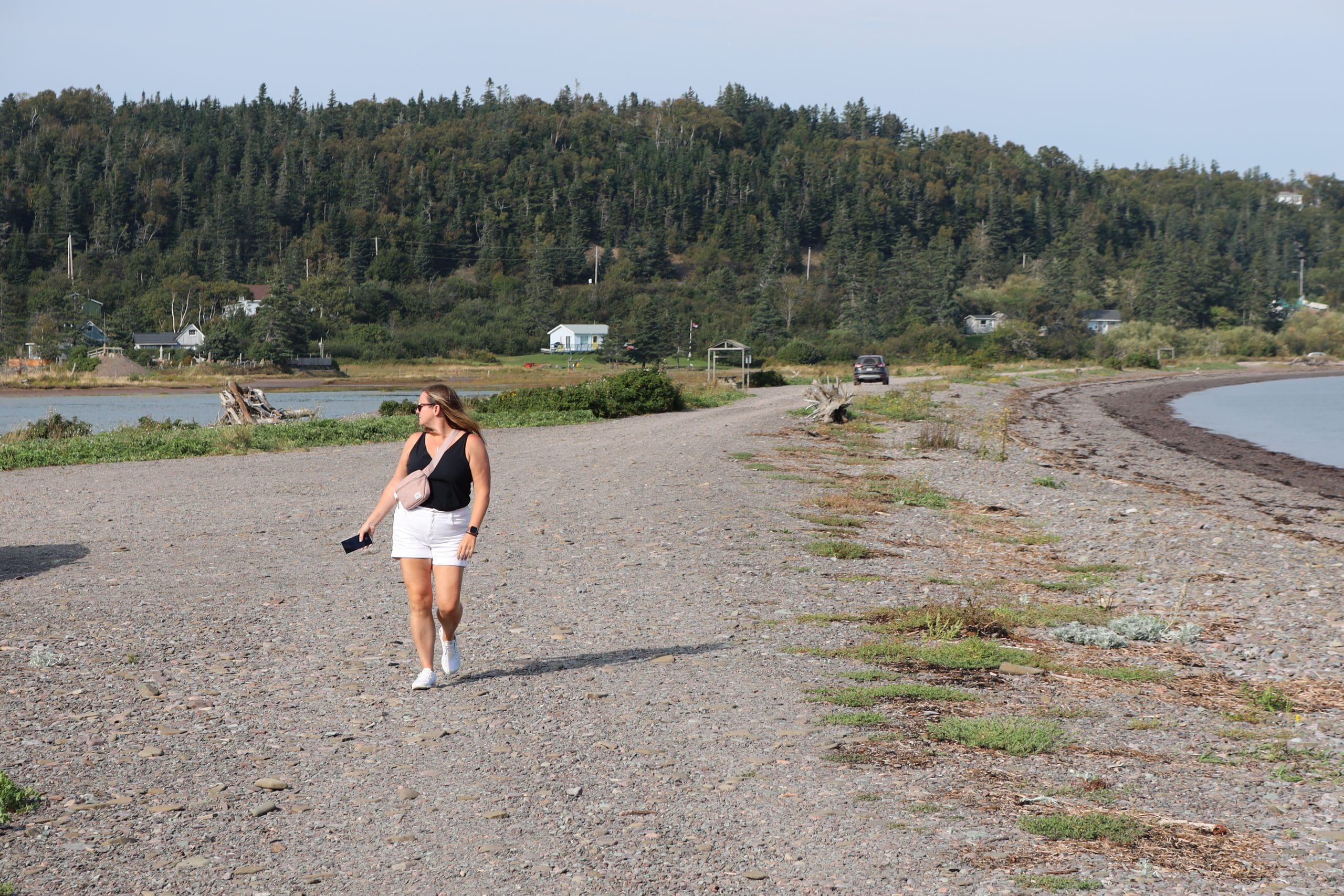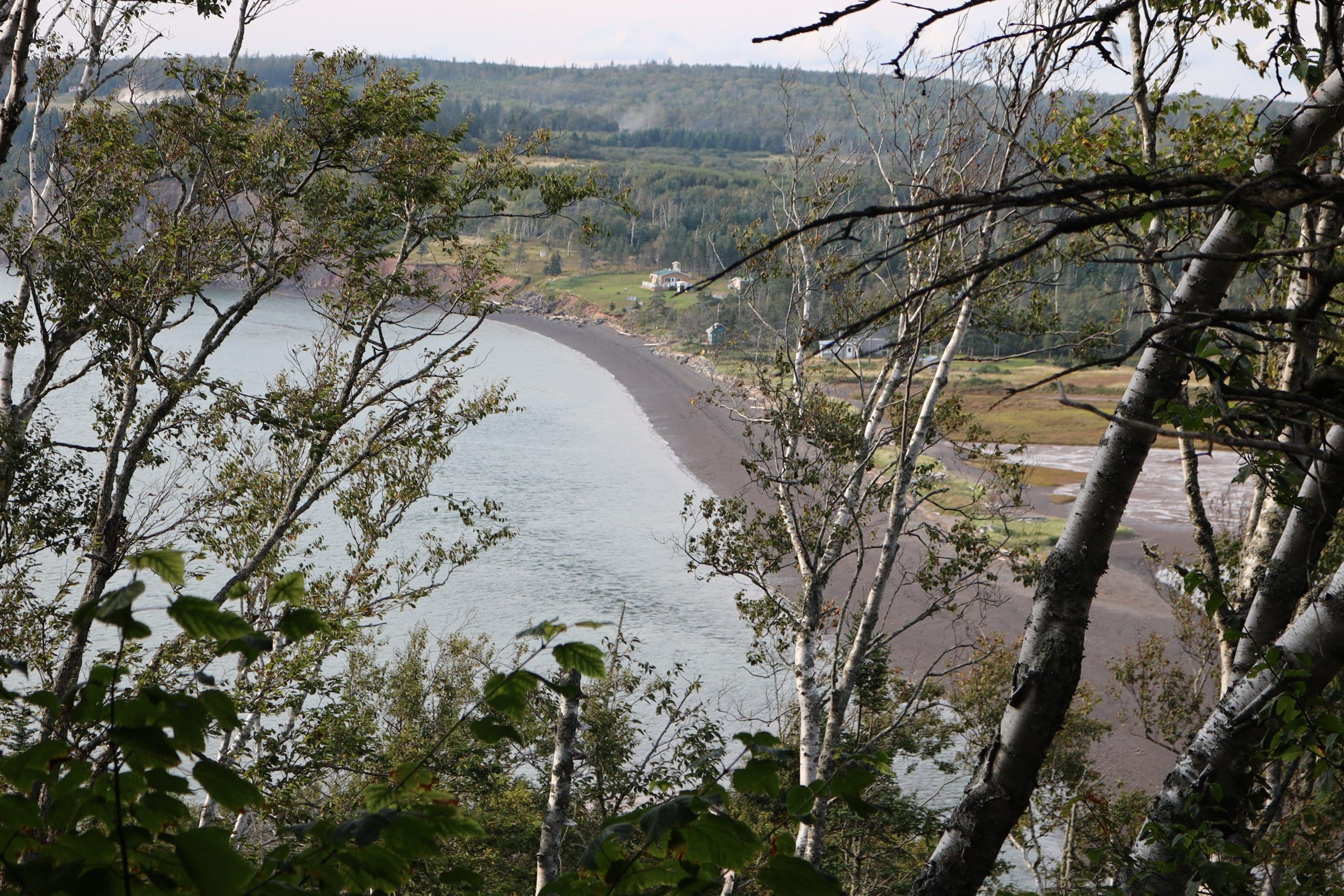 Get an Ice Cream at Ottawa House 
Nestled on the picturesque Parrsboro shore and overlooking Patridge Island, the Ottawa House By-The-Sea Museum is a must-visit for history buffs wanting to explore Cumberland Country's rich past. 
Constructed in the mid-eighteenth century, the house isn't just an iconic symbol of the area's economic and cultural development during the time of confederations, but it's also believed to be the oldest building on the Parrsboro Shore and one of the oldest in the province.  You really do feel like you're stepping back in time when you visit Ottawa House and learn about this unique and storied location.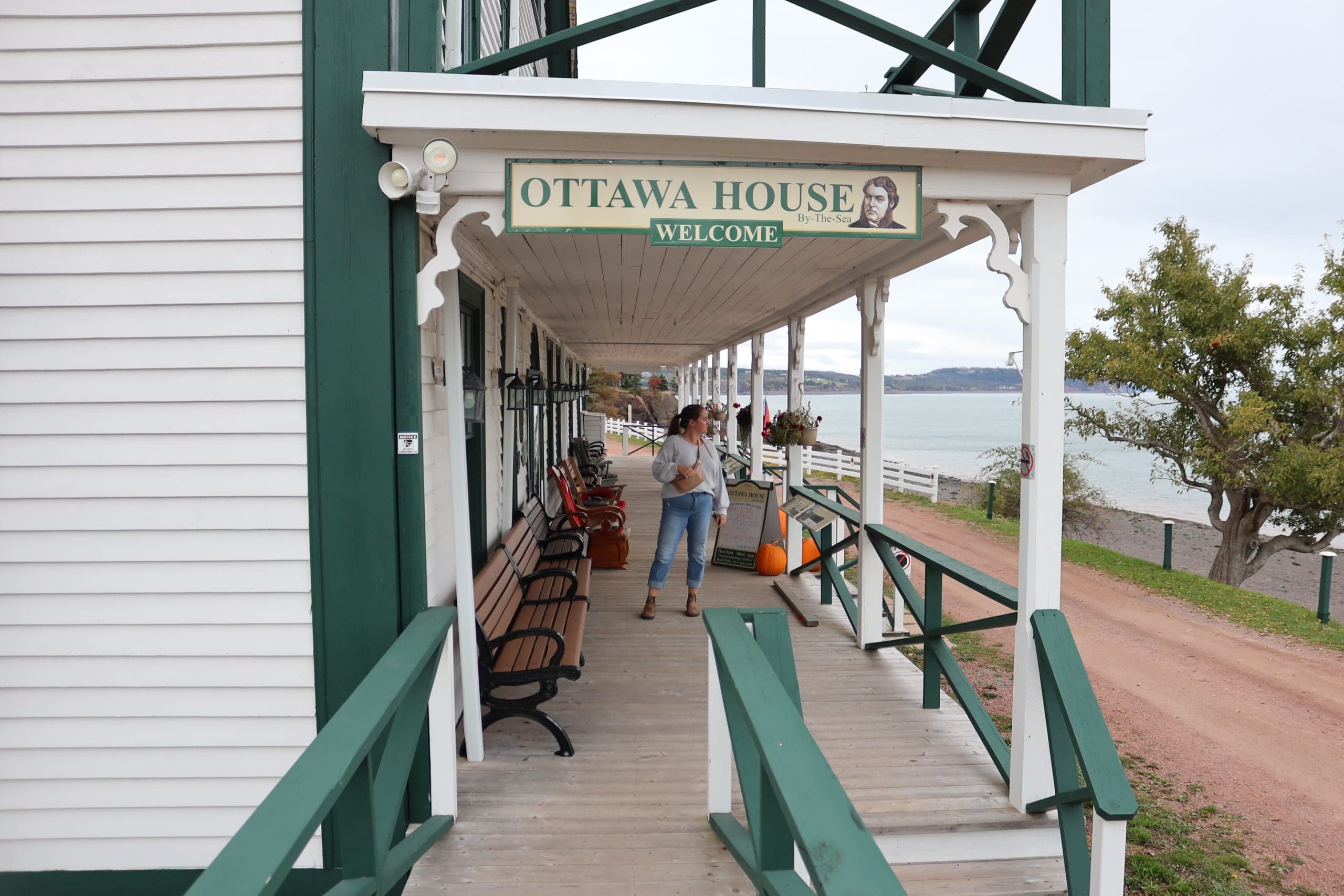 Catch the Sunset at Wasson Bluff
Wasson Bluff, one of 30 Geosites, is world-famous for its extensive collection of fossils, including some of the earliest known dinosaur specimens in North America.  It's also renowned for its stunning natural beauty, with towering cliffs, rocky beaches, sweeping views of the Bay of Fundy and spectacular sunsets.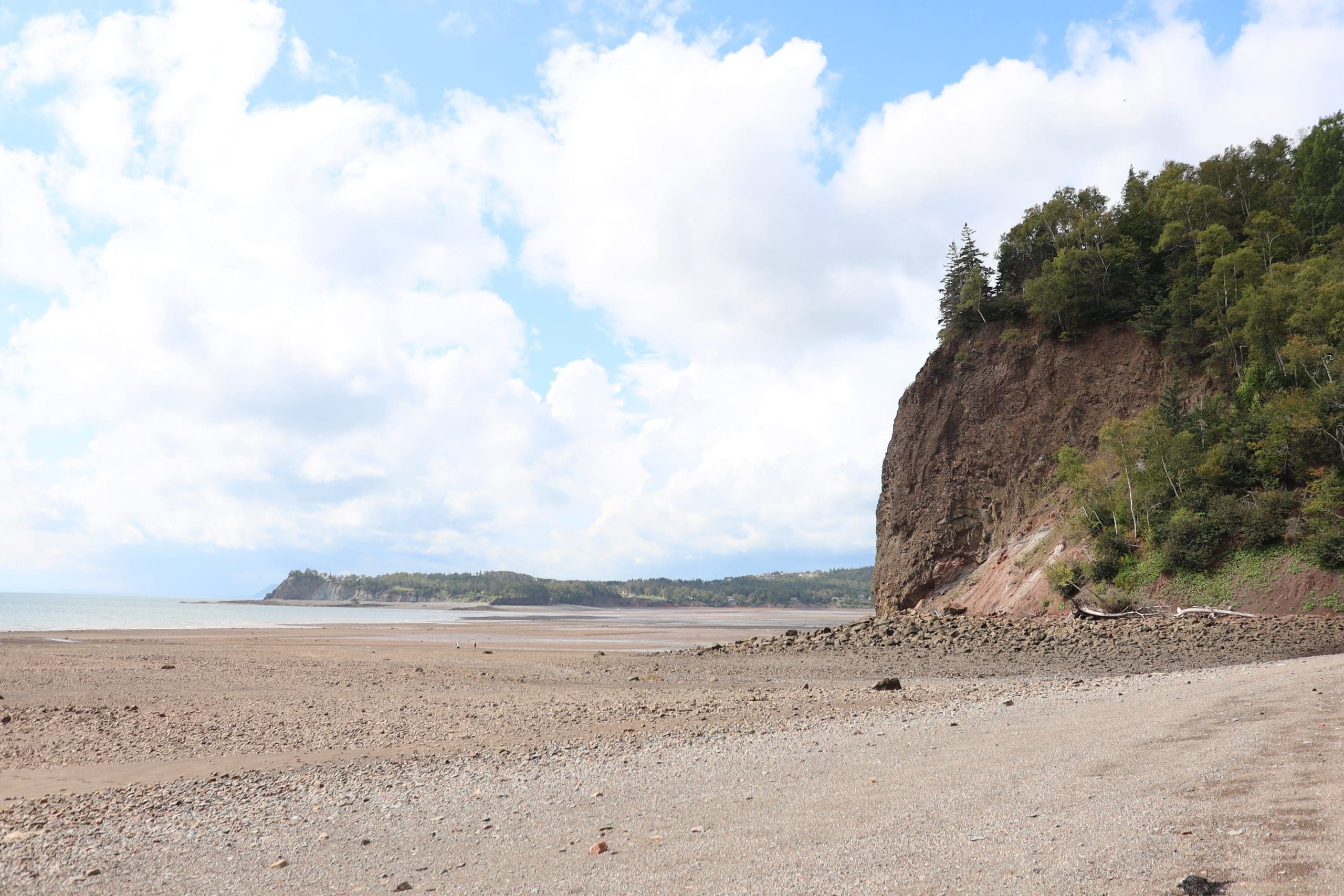 Educate Yourself at FORCE
FORCE is a research facility for tidal stream technology.  The focus is on figuring out how this technology can help Canada use clean energy and deal with climate change issues, like rising sea levels and coastal erosion.  Visitors are welcome to participate in a self-guided tour of the facility and view the off-shore test site.
NOTE: Be prepared to DIY your visit.  While there is a staff, they don't appear to be available to answer any questions or chat.  During our visit, we were fascinated by the interpretive panels and interactive screens but wished we'd been able to ask a few questions while we were there.

Advocate Harbour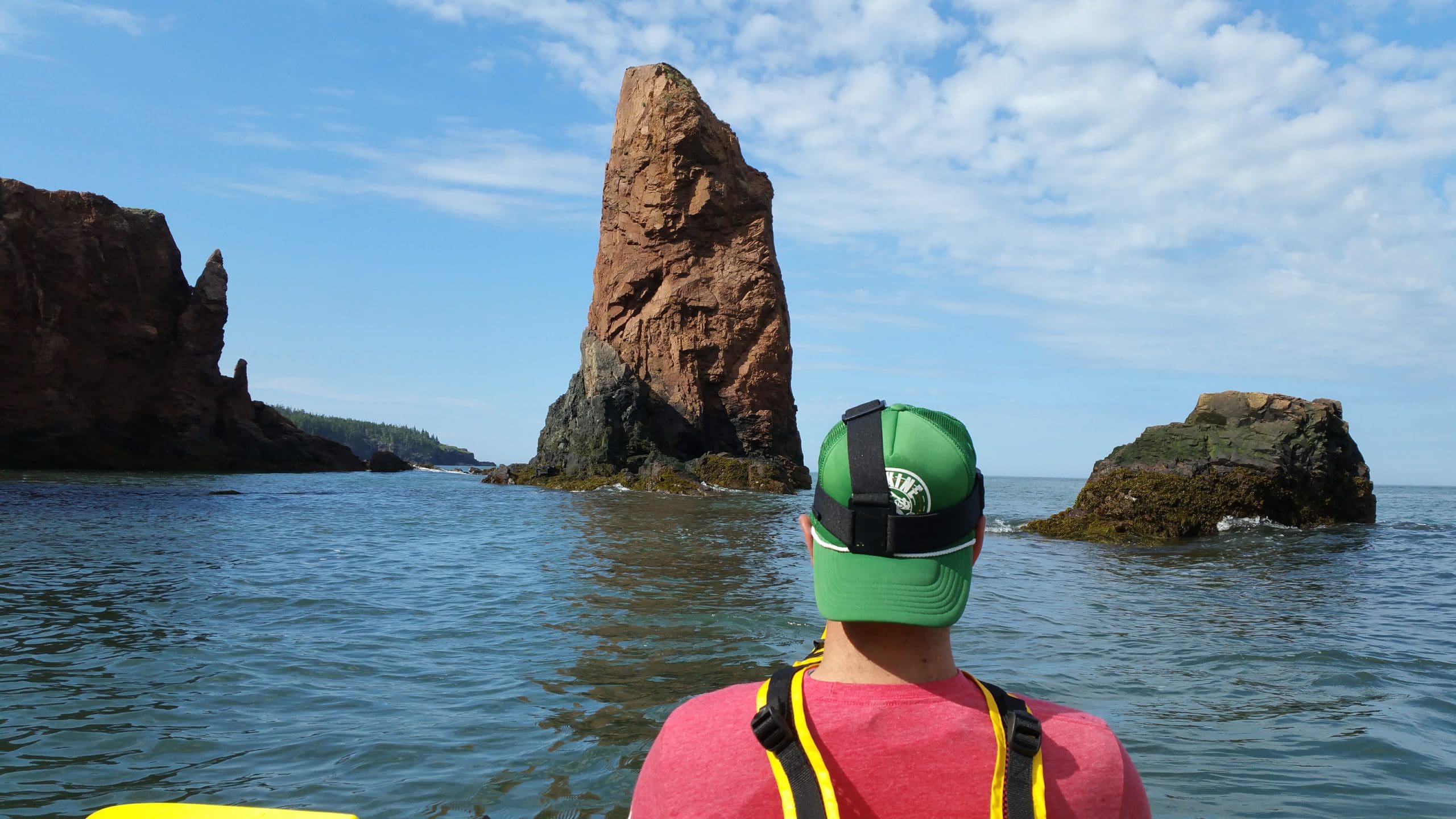 Advocate Harbour is best known for its rich Mi'kmaq history and its shipbuilding significance in the 19th century.  Many of the landmarks and historic buildings from that era can still be seen today and visitors can visit the Age of Sails museum to learn all about it.
The area is also famous for its incredible hiking trails at Cape Chignecto Provincial Park.  With 53km of rugged coastal hiking trails, hikers who tackle the trails are rewarded with breathtaking views of the Bay of Fundy and the surrounding wilderness.   Advocate Harbour is wildly underrated, so let me introduce you!
Top Things to do in Advocate Harbour
Hike at Cape Chignecto Park
Cape Chignecto…where do I start.  I adore this park.  If you're a hiker, this is a must-do to add to your bucket list.  The trail system spans over 52km of rugged coastline, cliffs and coves and offers backcountry camping and some of the most spectacular views available in Nova Scotia.  

The primary hiking trails are challenging with steep inclines but are well-maintained with multiple out-and-back options if the full loop isn't on your agenda.  Our non-hiking friends can visit Red Rocks, immediately off the visitor centre and take a short climb down the stairs to the beach.
If you enjoy tough but rewarding hiking, I suggest the Milbrook Canyon Trail (approx. 15km return) or Refugee Cove (26km return).  Both can be completed in a day by experienced, well-equipped, fast hikers but most people choose to camp.  There are several steep, extended climbs (and descents) so being in good shape is a must for this trail system.
For those less inclined for strenuous hiking, Eatonville day-use park is a beautiful alternative.  Located at the far end of Cape Chignecto (near Apple River), the visitor centre is closed but the short, accessible trails remain open.  This series of hikes offer short (less than 5km) hikes to viewpoints of the Three Sisters and the Squally Point raised beach.
Enjoy a Tasting Menu at the Wild Caraway Restaurant
If you're here, reading this blog, it's likely you're a Foodie – like us.  So naturally, we've created an entire culinary guide to the area.  You can check that out here.  The Wild Caraway, however, is an experience, so it has landed a spot in the "things to do" section of this Bay of Fundy travel guide too.
The Wild Caraway has become a popular seasonal destination for locals and visitors alike over the years.  It's got its quirks like odd hours and mid-season closures (because they operate with a very small team in a very rural community) but the food and dining experience is spectacular.
They offer Sunday lunch (perfect after a day of hiking at Cape Chignecto) and set menu dinners during select days of the week.  With a focus on local products, and foraged ingredients and unique flavour combinations that highlight the region the menus are truly one of a kind.
I've eaten at Wild Caraway more times than I can count and have never been disappointed.  For dinner service, you will need reservations but if you're passing through on a Sunday you can generally stop in without notice.  They have a cozy eat-in dining room and a large patio that offers lots of outdoor seating.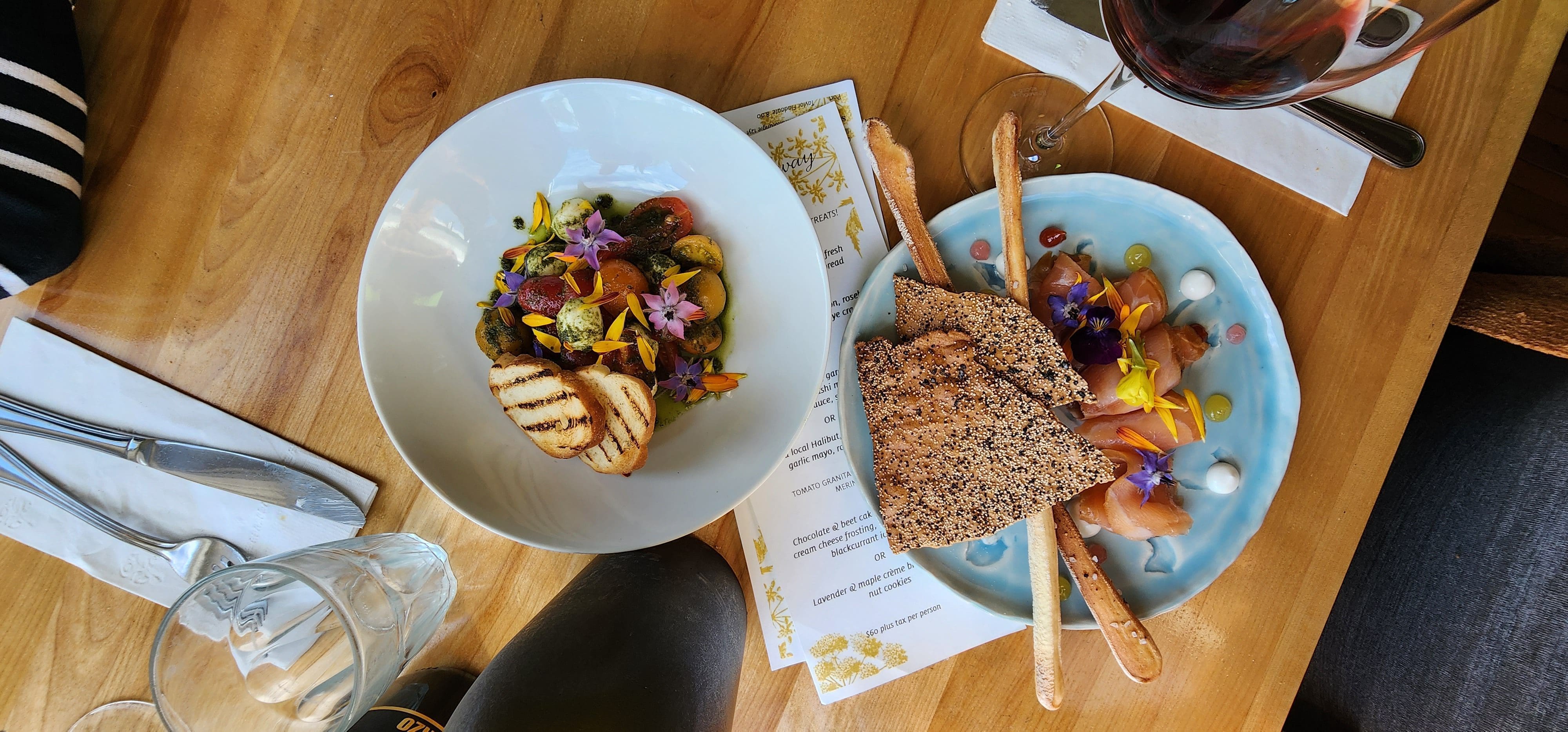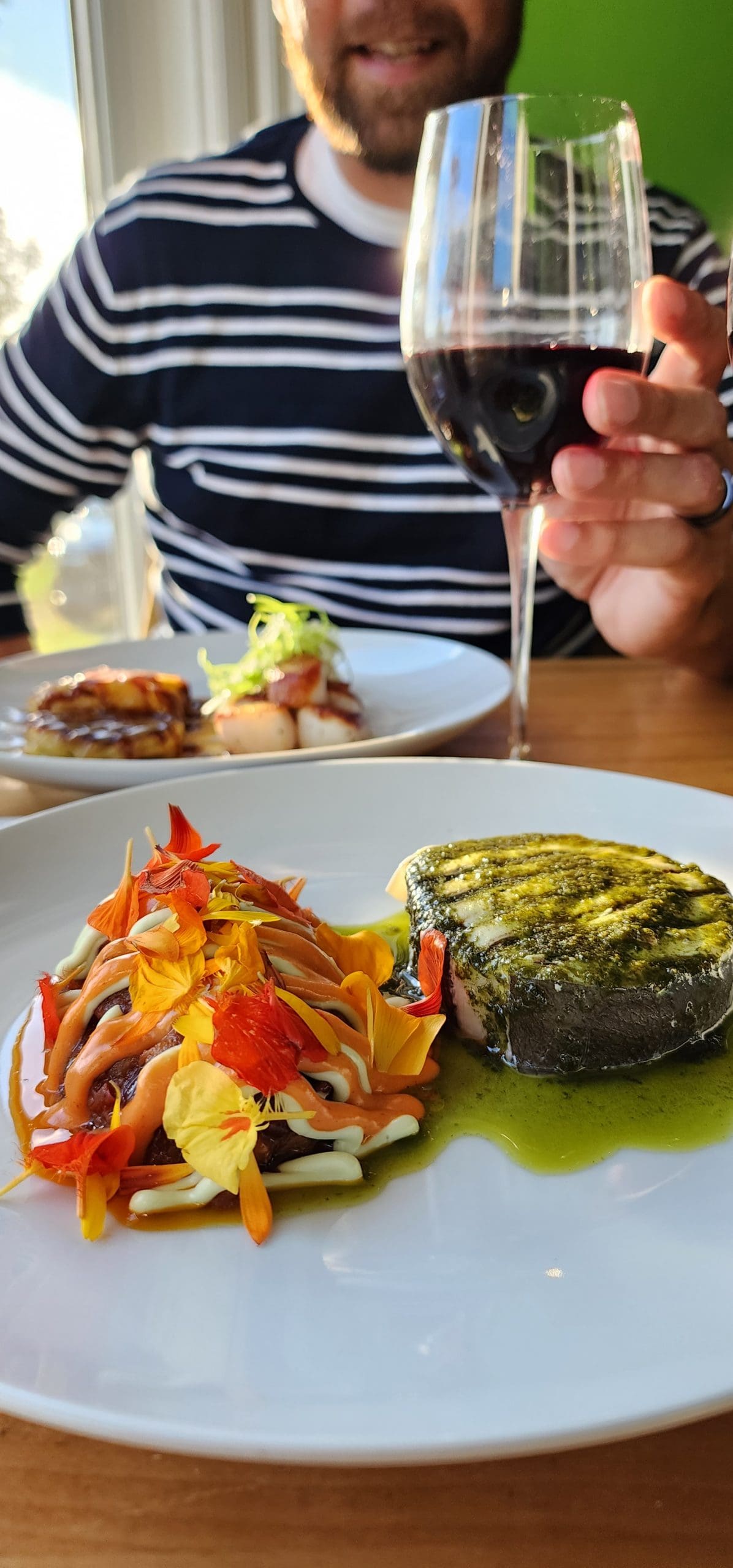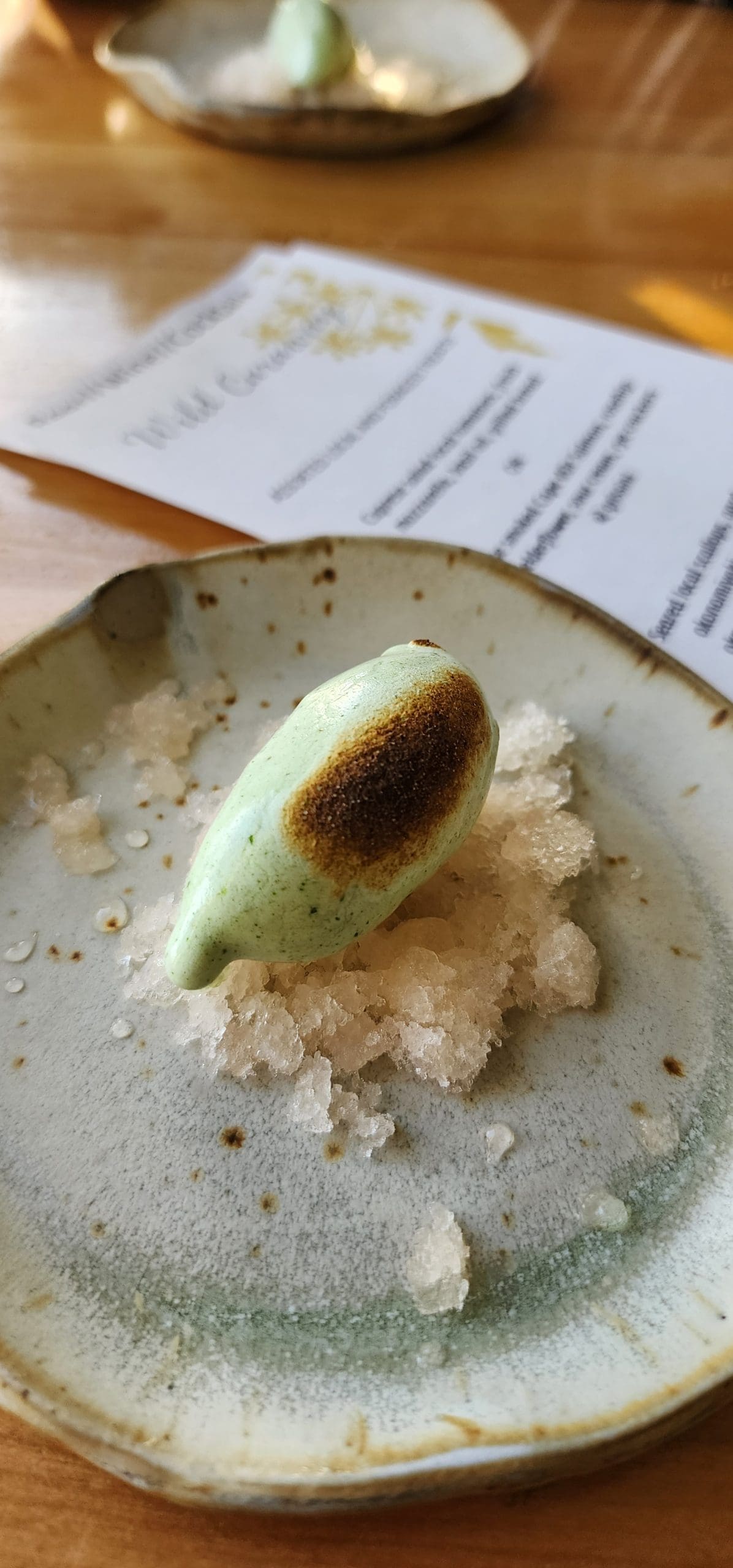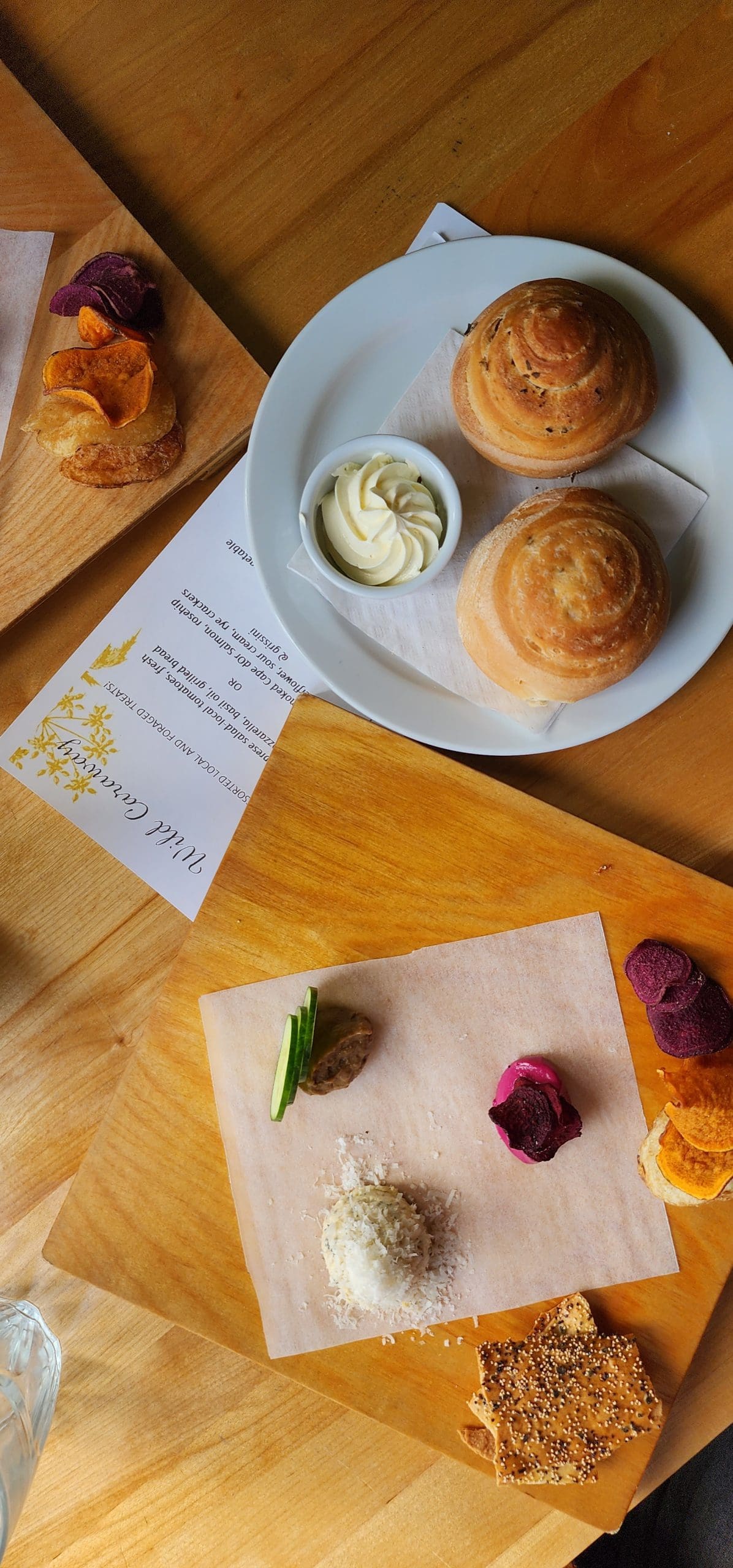 Visit the Age of Sail Museum
Located in the village of Port Greville, between Parrsboro and Advocate, the Age of Sail museum is dedicated to preserving and sharing the rich maritime history of the region.   You'll find exhibits that showcase artifacts and information that tell the stories of the seafaring way of life from the 16th to the 19th century when ships dominated the world's oceans.  
The museum houses an extensive collection of model ships, nautical instruments, historic photographs, logs, and other artifacts related to the important role that ships played in the local economy.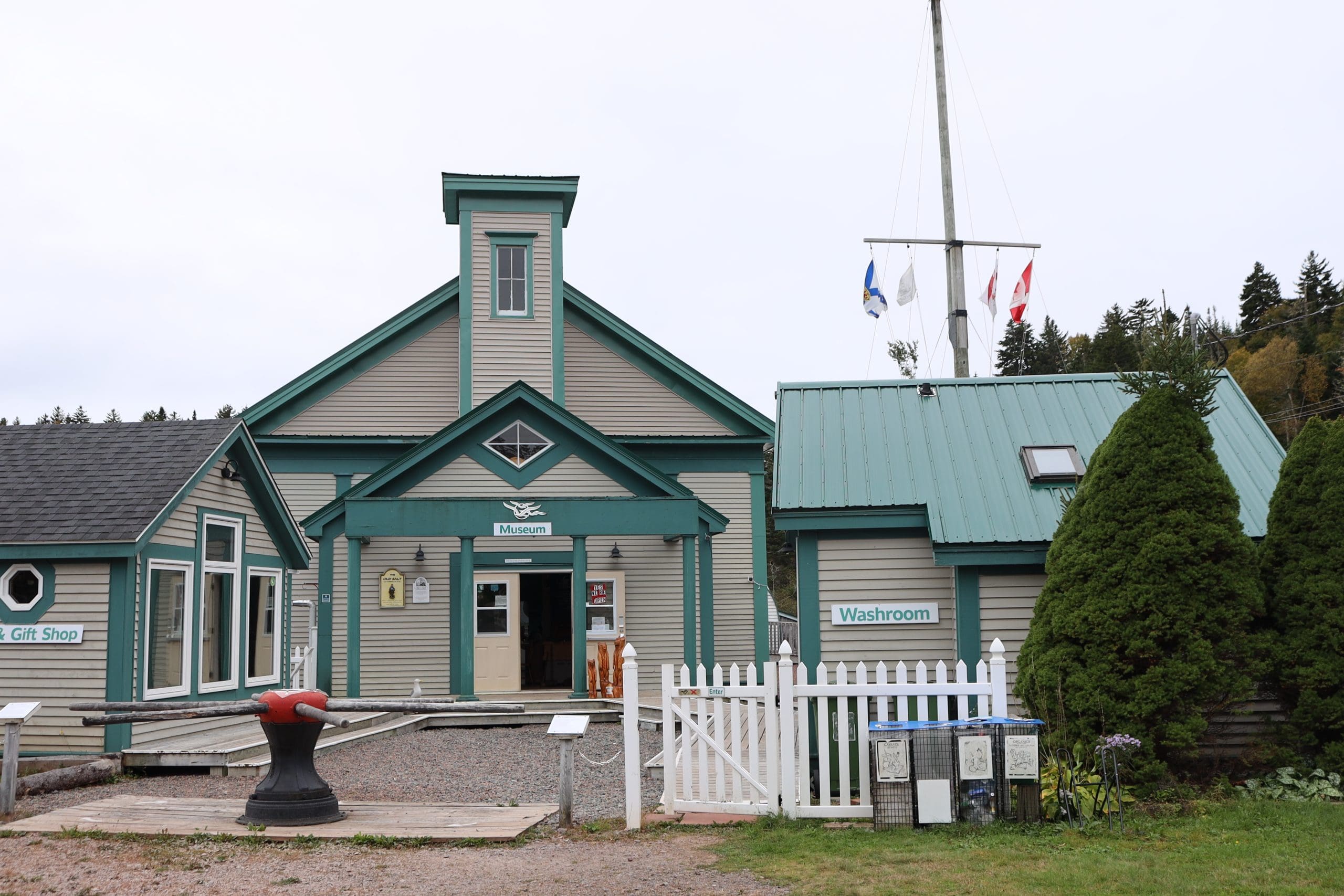 Explore Cape D'Or
Visit the Cape D'Or lighthouse overlooking the Minas Channel and get a birds-eye view of the spectacular cliffs that the region is famous for.  During high season, dine at the restaurants or stay in the guest house which is a converted lighthouse keeper's residence.
NOTE: Hours of the restaurant vary.  I've visited Cape D'Or many times over the years and have never found the restaurant open.  So, plan your visit and call ahead if you'd like to eat on-site!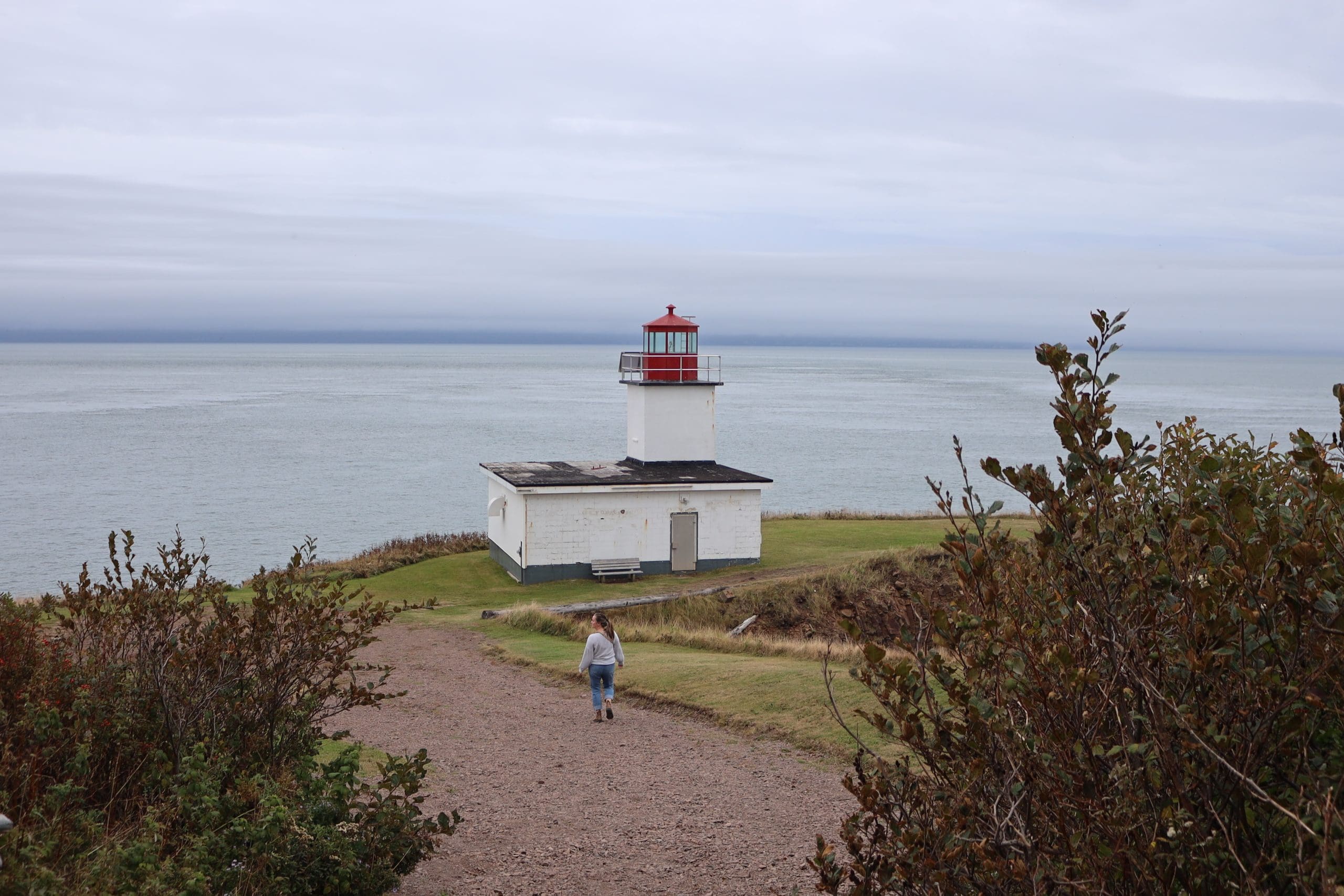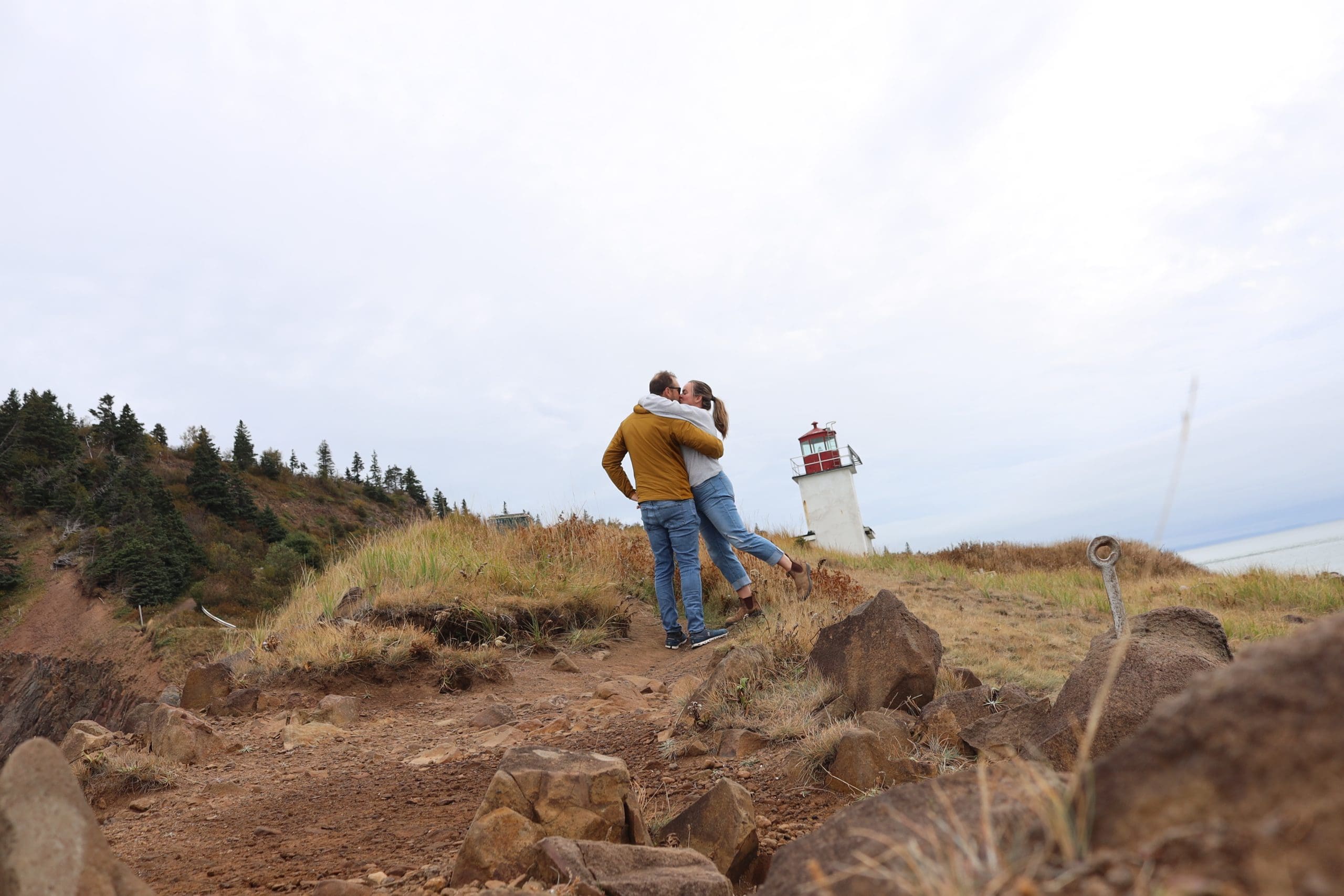 Go on a  Slot Canyon Adventure
If you asked me what my favourite stop was during this trip, you found it.  Local Guy Adventures offers Nova Scotia's first slot canyon adventure and it was incredible.  Laurie (owner & operator) offers guided tours into the George Fraser Slot Canyon where you'll rappel into the canyon and visit the 200ft slot.
Explore a Jurrasic-looking world at the bottom of the canyon and christen yourself by getting in the falls before you head back out.  I would 10/10 recommend this tour to anyone.  Laurie is a fabulous guide whose unique perspective and respect for the forest are infectious.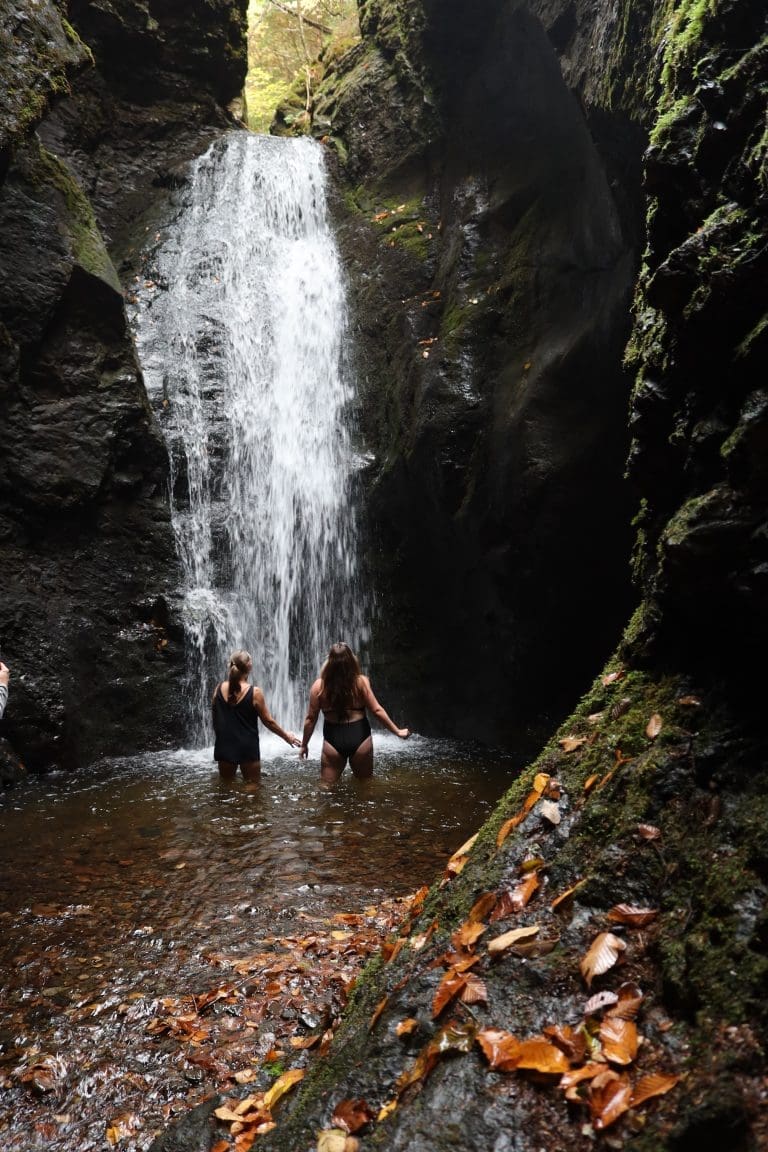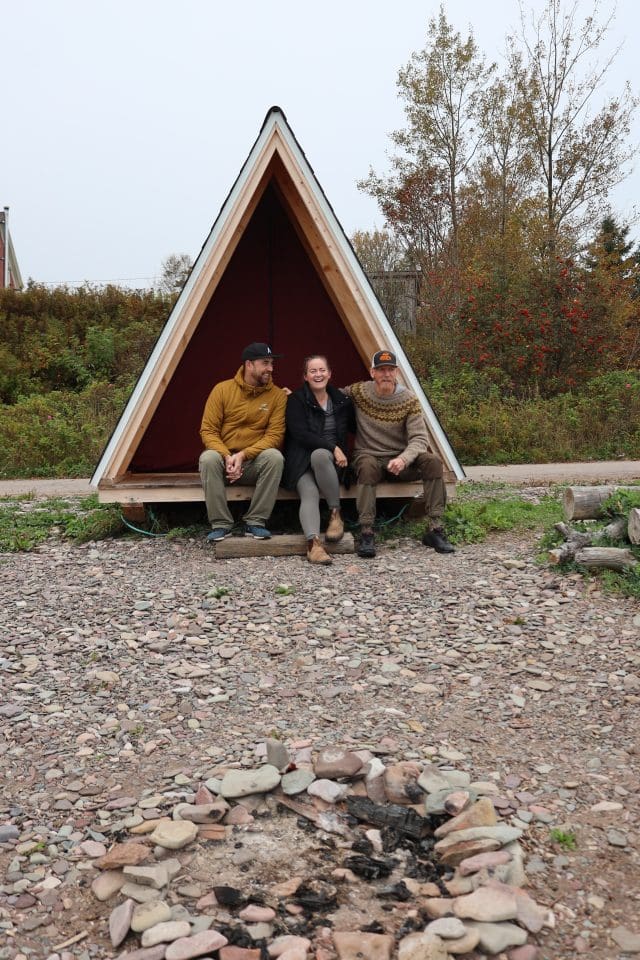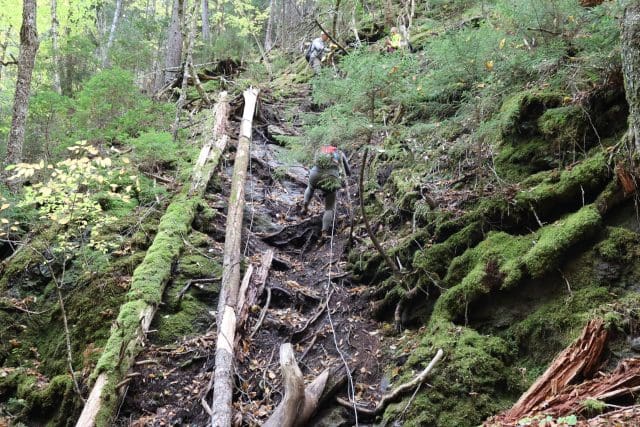 Kayak to Three Sisters Sea Stacks
You simply cannot visit this region of Nova Scotia and skip experiencing the world's highest tides by water.  Novashores adventures offer a variety of kayaking adventures that range from day trips to multi-day experiences.
My personal favourite is the Three Sisters day trip.  This half-day tour will take you in sea caves and up close and personal with stunning rock formations called the Three Sisters.  During your tour, you'll witness the massive tides of the Bay of Fundy paddling through an arch at high tide and enjoying a delicious gourmet picnic on a secluded beach.
We've done this tour three times now and it never gets old!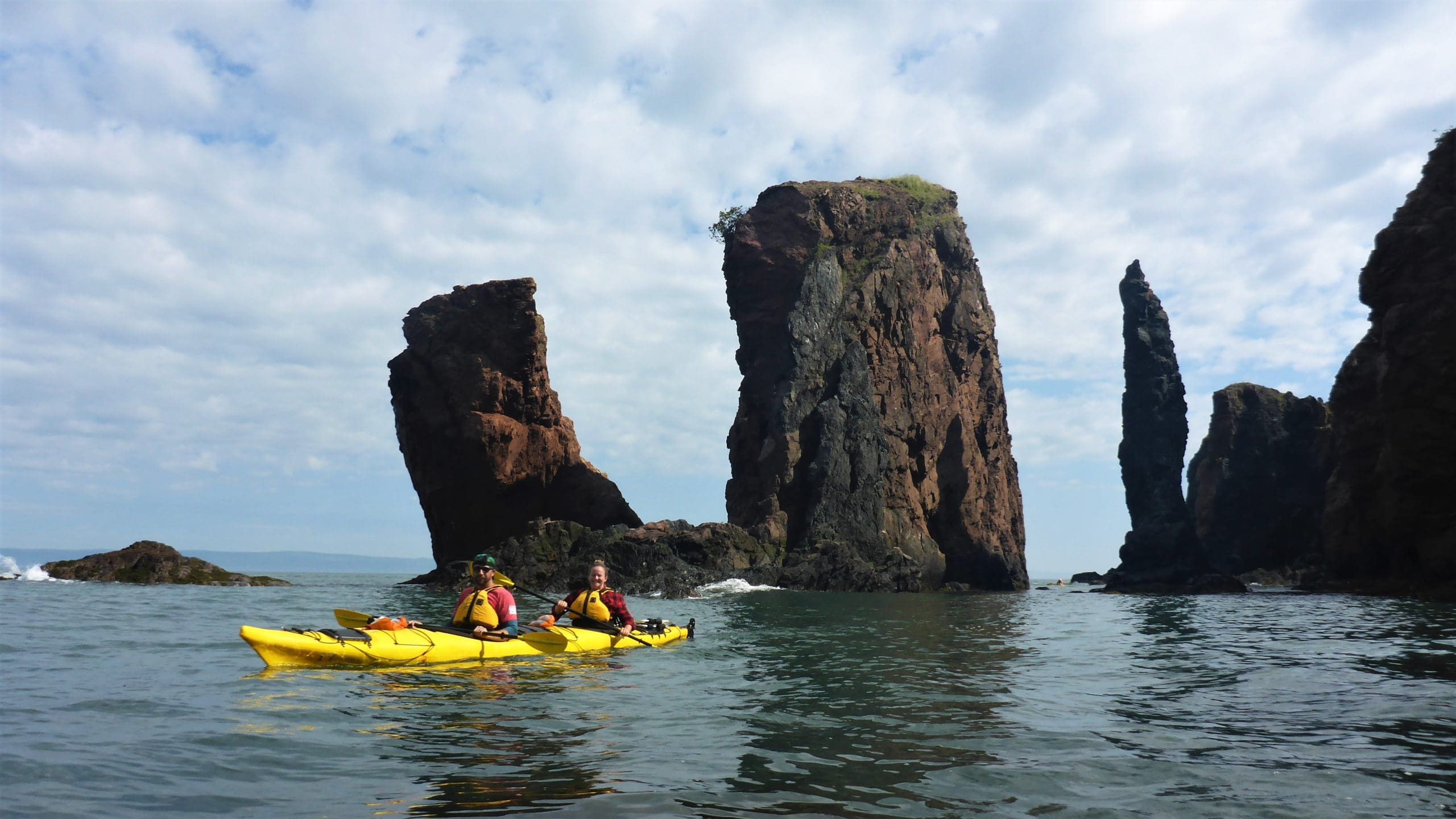 Stop at the Advocate Country Store Ritestop
I told you we love a quirky little general store but this Ritestop is anything but general.  It's a grocery store, gas station, coffee shop, restaurant and market all rolled into one.  You'll find everything from local seafood and fresh flowers to chicken wings and clothing.
It's the local hangout with no shortage of interesting people to chat with during your trip along the Minas Basin.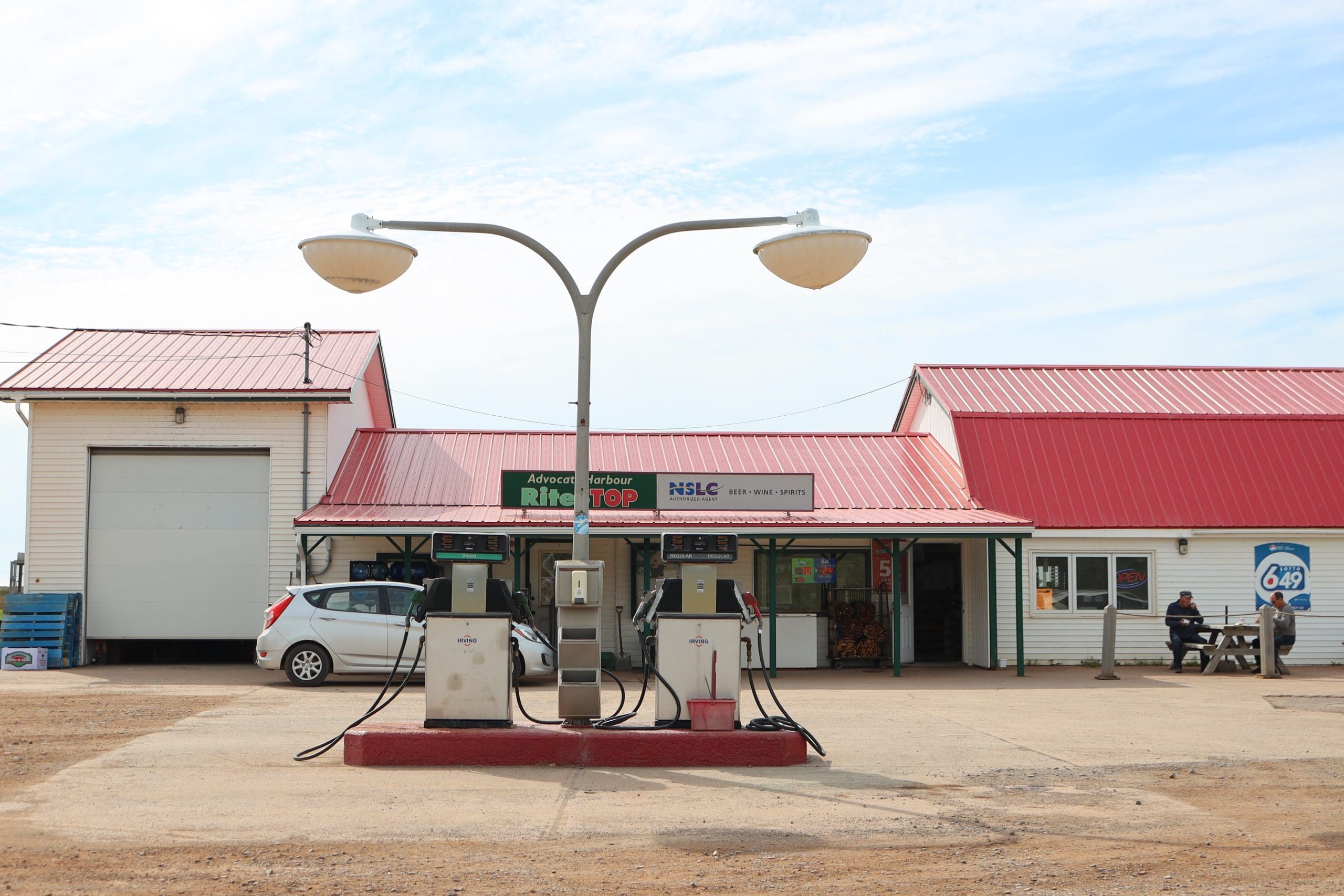 Swim at Fox Point Beach
If you Google "Fox Point Beach" you'll find a sandy beach in Hubbards, Nova Scotia.  But there's another Fox Point Beach…and this one is extra special because very few know about it.  Here's how you get there (it's not in the map):
Drive to the end of Fox Point Road.  I recommend you park at the point where the road turns to dirt (you'll see it) and walk in.  
Travel a few minutes on foot until you hit a fork in the road.  You'll see a look off to your right.  If you travel straight, you'll come to a clearing with great views of Fox River but if you go left at the fork you'll walk down an old road that curves to the right and descends to the beach.  It's not far – perhaps a 10-minute walk total.
During my visit, I did see a vehicle down there so technically you could drive but I wouldn't – the road it quite rough.  The beach is secluded, and beautiful and offers stunning views of Cape Split.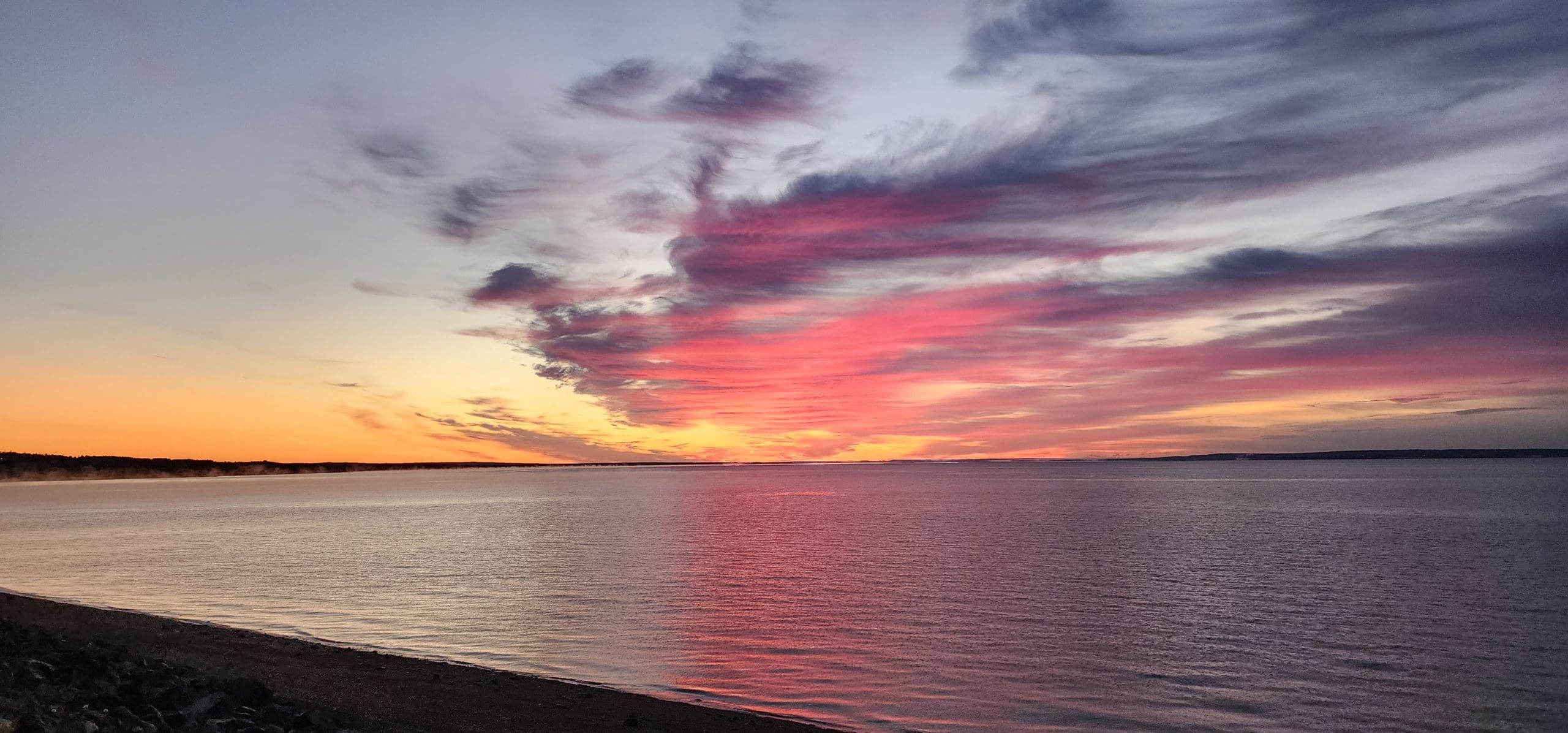 Where to Eat
When it comes to the Nova Scotia tourism industry, we're food forward!  Even when you get into the very rural communities during your Nova Scotia tours you'll continue to find a robust culinary scene.  That's why we've created a complete Bay of Fundy food guide for the region.
We did, however, have our favourites.  Here are 4 things you have to try during your Bay of Fundy tour.
Deep Fried Ice Cream at Granny's
During your visit, you'll find no shortage of deep-fried foods.  Even the ice cream is deep fried – and it's the first stop on your must-try foodie stops list.  If you haven't experienced deep-fried ice cream yet, brace yourself.  It's rich, gooey, and even more delicious than it sounds.
Fried Clams at Diane's
Diane's restaurant, in Five Islands, is a mainstay in the region.  They are currently (as of Sept 2023) only open for take-out but that doesn't change the need to stop in.  While the menu is extensive, I'd be remiss if I didn't strongly encourage you to order Diane's fried clams.

Beer Flights at Two Islands Brewery
We were really impressed with Two Islands Brewery.  As self-proclaimed craft beer snobs, we always go into a new brewery hesitant but these brews were great.  I recommend ordering a flight of 4 so you can experience a good variety of what they offer and then picking your favourite pint from there.  Two Islands has its flagship beers, but they also offer a range of seasonals worth trying.

Seafood Chowder at Wild Caraway
What makes the best seafood chowder?  It's a hill I live and die on!  We've toured the whole province in search of the best seafood chowder and Wild Caraway always comes in the top three for me. Their creamy broth, high volume and perfectly cooked seafood and fresh herbs make it super flavorful and well-balanced.  10/10 recommend.  If you're someone who likes a thick, floury, "goopy" broth (some do…I don't get it), this isn't for you.
NOTE: you can only order off the menu (currently) during Sunday lunch so plan accordingly.
Where To Stay
You won't find any chain hotels in this region of Nova Scotia.  Although these are rural communities, there are a wide variety of accommodations available that range from budget-friendly cabins to off-grid camping to boutique inns.  
Accommodations
Accommodations along the Bay of Fundy are very affordable, even in high season.  You'll find standard cottages and campgrounds that offer the baseline amenities to boutique inns with all the bells and whistles.
Budget Accommodations: as little as $25 CAD per night
Middle range: $99 – $125 CAD per night (most accommodations fall in this range)
High end: $199+ (you won't find many accommodations in this region that will cost more than $200/night)
Pro Tip: Since most accommodations in the area are boutique Inn with only a few rooms, we recommend booking early to secure a high-season spot.
Inns and Bed & Breakfasts
Choosing Inns and B&Bs is a wonderful way to support the local community and typically offers a uniquely personal experience.  It's one of our favourite ways to learn about a new place and often includes breakfast and other amenities like social hours, personalized recommendations, and more.
Prices range from $95 CAD per night to $250 CAD per night.  This typically includes breakfast and additional amenities. 
Chalets & Cottages
If rustic, completely self-contained accommodations are your preference, there are quite a few chalet's & cottages to choose from along this Bay of Fundy route.  The beauty of this region is that, no matter where you stay, the views and your surroundings will be the star of the show!
Prices range from $100 – $170 CAD per night.  
Campgrounds
Camping is the most economical choice for accommodations along the Bay of Fundy and, like most other accommodations in this Nova Scotia travel guide, most feature stunning views of the bay.
Camping (serviced and unserviced sites) range from $25 CAD per night to $ 60 CAD per night for an upgraded stay in a waterfront wooden tent!
AirBnB's
There are also a number of AirBnBs available along this shore.  Most options maintain the rustic charm of the area and offer a variety of accommodation types from waterfront campervans to guest suites in homes to multi-room stays great for small groups.
AirBnBs here range from $115 CAD per night to more than $600 CAD per night
In my opinion, the AirBnBs in this area are overpriced.  Yes, you can find a few in the less-than-$150 range but as the prices climb up over $200 per night you would typically find some luxury accommodations available.  In this case, the higher-priced stays are prices out of the market and there are none I'd consider "luxury".  
Where We Stayed
You know by now that we always share the nitty-gritty details.  We pride ourselves on giving you every bit of information we can.  So, here's a detailed account of where we stayed during our visit along with our opinions on each.
Of course, everyone is entitled to their own opinions.  Just because we loved something and weren't overly impressed with another doesn't mean you'll feel the same way.  Even so, we hope these details will help you make the most informed decision possible when booking your stay.
Four Seasons Retreat
The Four Seasons Retreat is located in Economy and offers 12 fully-equipped cottages, most of which have been renovated and updated.  You'll find gas grills, fire pits with seating and oceanfront lots surrounded by trees.
COST: $230/night 
WHAT TO EXPECT:  A warm welcome with great local recommendations.  During high season, there is also an onsite pool and hot tub available for guests.  
RECOMMENDATION:  We enjoyed our stay and can confidently recommend it to others.  There is no onsite restaurant but each cottage comes fully equipped so you can cook meals easily.
Fox Point Inn
Fox Point was our favourite stay of the trip.  They had an advantage because we happen to love the charm that an Inn offers, particularly when there is on-site dining.  This boutique accommodation has 4 different suites.  We stayed in the Upper East wing with a 4-piece bath, access to a shared viewing deck and a living room with a pull-out sofa.
COST: From $199/night
WHAT TO EXPECT:  A very warm welcome and lots of opportunities for chatting with the innkeepers and learning about the area (which we love).  Dinners and made-to-order breakfasts are available with reservations and we were really impressed with the food.  
RECOMMENDATION:  Absolutely, we'll certainly be back.

Sunshine Inn & Cottages
These cottages are what you'd expect from a motel-style accommodation with a couple of pleasant surprises.  The inclusion of breakfast in a small dining room was a welcome surprise but the best amenity was the walking trail with lake access at the back of the property.
COST: $139/night (cottage)
WHAT TO EXPECT:  We found the cottage a little musty and damp but it had everything you need for a short-term stay.  What we really enjoyed was the made-to-order breakfast and the beautiful walking path through the woods to the lake.
RECOMMENDATION:  This wasn't our favourite stay of the trip but it's a good budget-friendly option with some added amenities like breakfast and lake access that was nice.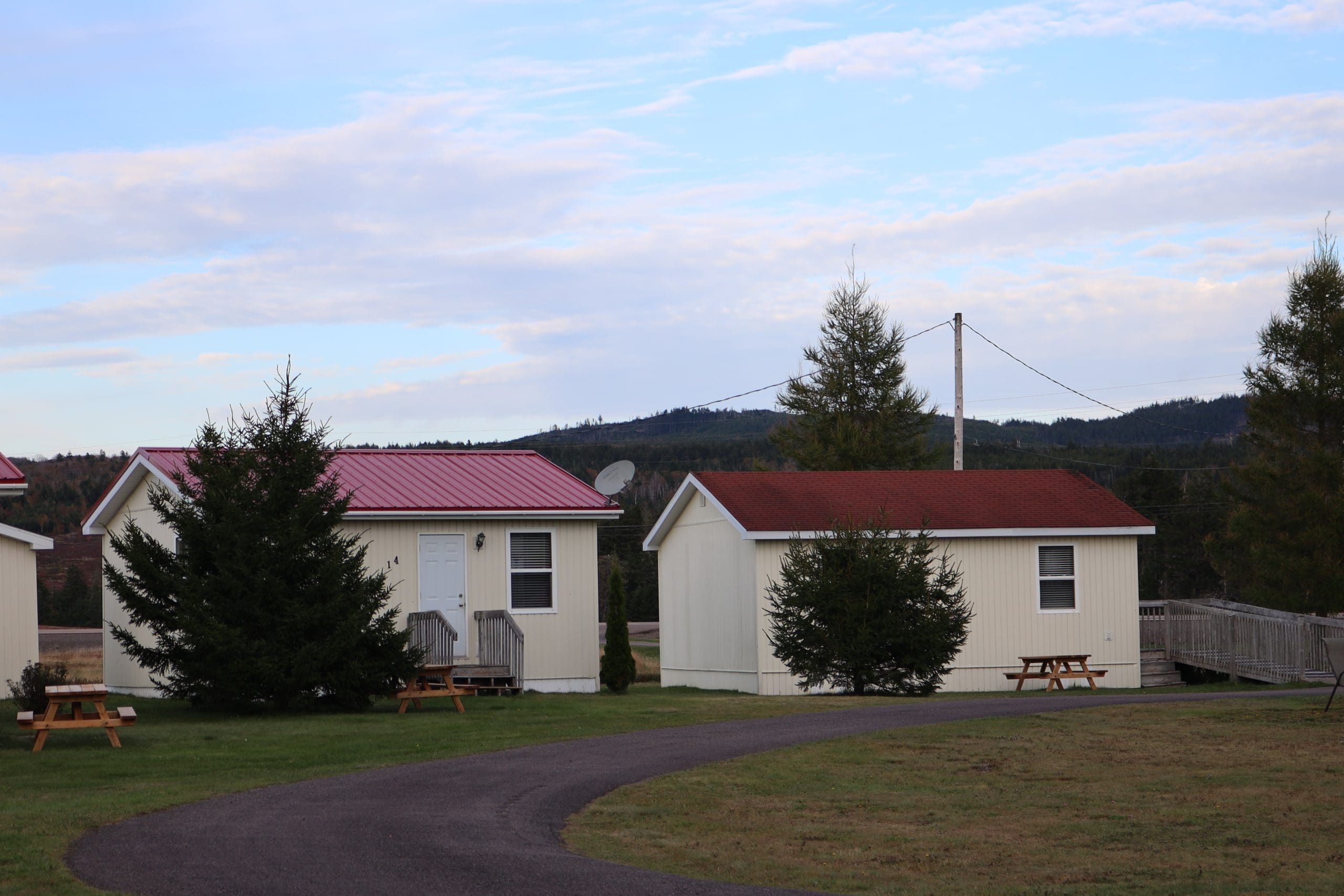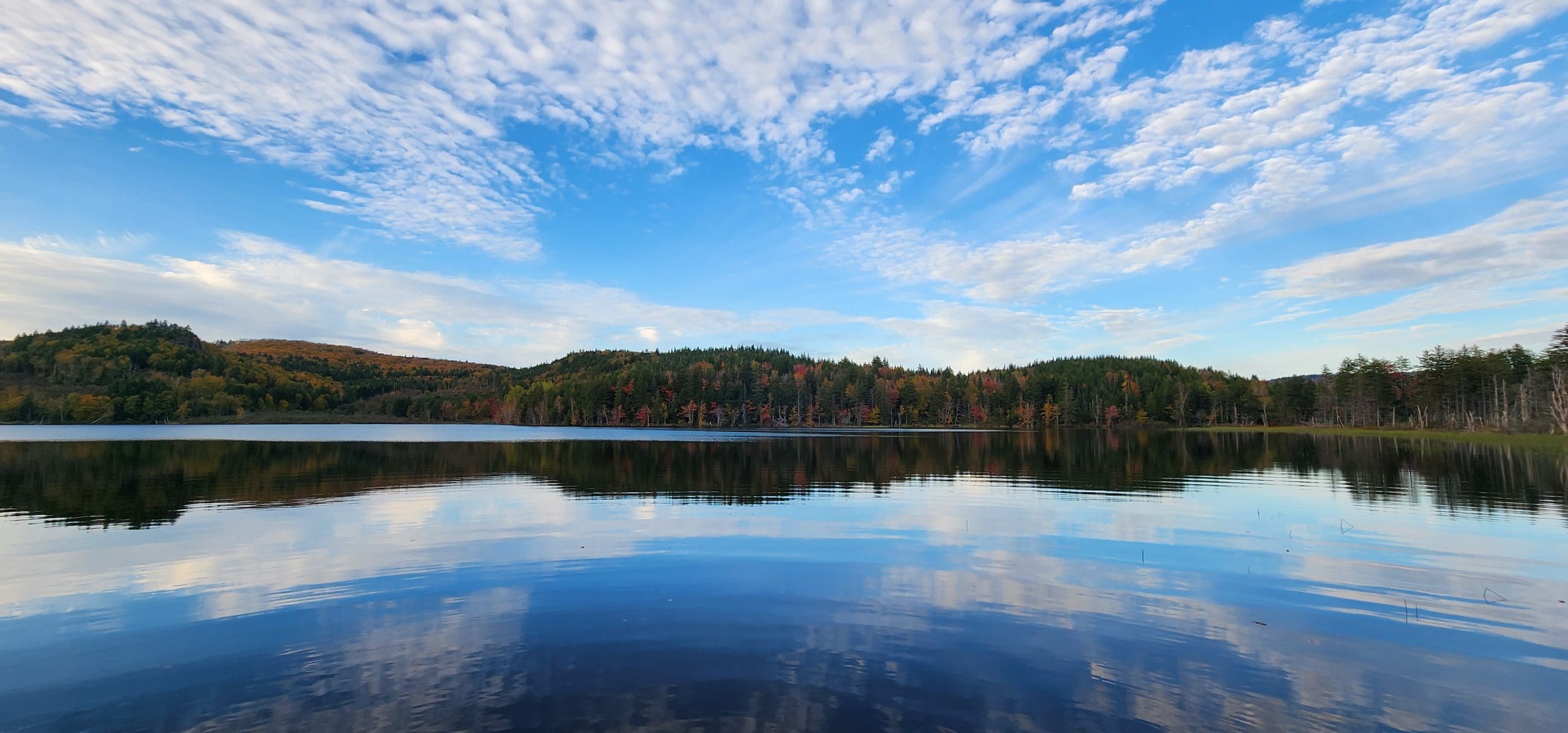 Best time to visit Nova Scotia's Bay of Fundy
When planning your travel to Nova Scotia, timing is everything.  The best time to visit this region of Nova Scotia is between mid-June and early September.  While we don't normally recommend high-season travel, in this case – it's a must.  These rural communities are seasonal and many of the shops, eateries and attractions are only open during the summer months.
 Getting to The Bay of Fundy Geopark
From the Halifax Stanfield International Airport, it's an easy 90-minute drive to Economy (our first stop in this Bay of Fundy travel guide).  In rural Nova Scotia, traffic isn't an issue – ever – but it's entirely likely you'll find yourself behind a slow-moving tractor or waiting for cattle to cross the road.  It's all part of the charm so sit back and enjoy the process.
You will, however, need a vehicle because there is no public transportation to or in these regions.  
Bay of Fundy Packing Guide
Rain/Wind Jacket: We're huge advocates of investing in high-quality essentials and a rain/wind jacket that folds into a tiny pack is one of them.
Nuun Brand Electrolytes: stay hydrated during your outdoor excursions like kayaking and hiking, we think Nuun brand tastes the best
Chacos: The hiking is moderate so no need for hiking boots but you'll love these Chacos for transitioning from road to sand to water.  They're actually perfect!
Portable Battery Pack: If you're planning on doing any camping, bring your own battery to charge your camera and phone.
Motion Sickness Solutions: Relief for any seasickness on boat tours.  See our full "drug bag" list here. We've learned our lesson and now bring this with us on every trip we take.
Kindle Paperwhite: much lighter than carrying books
Waterproof playing cards & Dice
Camera & Extra Batteries
Fitbit: We love tracking our steps on trips like this!
Daypack: We love Osprey because it's got an incredible warranty, they're light, packable and have all kinds of pouches and pockets.
Hat: A quick-dry hat for keeping the sun off your face (while on water excursions) is something we never leave home without anymore (lesson learned)
Sunglasses: Maybe a no-brainer, but worth mentioning because if you forget them your eyes will pay the price!
Insider Tips
Start with a Full Tank of Gas.  Anytime you head for rural Nova Scotia, it's wise to fill up before you go.  Of course, there are gas stations along the way but they're not on every corner and it's not uncommon to find them closed.
Pack Snacks.  For the same reason, we recommend packing a cooler with some quick and easy snacks or light meals as a "just in case".  This isn't as necessary if you're travelling during peak season but if you enjoy exploring in the shoulder season, not everything will be open.
Download Your Maps.  The Internet isn't always reliable in the country nor are you guaranteed to have solid connections at your accommodations.
Indigenous Heritage
This is Mi'kma'ki. We acknowledge that we are on the unceded territory of the Mi'kmaw people who are the ancestral stewards of this place. The Mi'kmaw peoples have inhabited these shores for more than 11, 000 years and we honor and respect their ethical space. We are the home of the legendary Kluskap and are steeped in his legends. The origin of the Five Islands, the Three Sisters, and the special significance of Partridge Island are but a few of these stories and places. The Cliffs of Fundy Geopark honours the ethical space of the Mi'kmaw people and their oral traditions of cultural geoheritage.
Pin it for Later