Adult Animal Kingdom Itinerary
Animal Kingdom is arguably the most misunderstood of the Disney Parks but our Animal Kingdom itinerary for adults will (hopefully) change that.  I've heard one too many people say it's nothing more than a glorified zoo and if that's you, you'd be wrong.  #sorrynotsorry.  Many folks also consider Animal Kingdom a half-day park and, again, I have to disagree.  
My goal with this full-day itinerary is to help you plan and execute a near-perfect day at Animal Kingdom by minimizing your wait times and maximizing your experience.  
In the interest of respecting your time I'm going to skip over park hours, closed attractions, and a complete list of rides and restaurants and get right how to maximize your Animal Kingdom itinerary.  
Honestly, I don't know why so many Disney blogs spend paragraphs on the above-mentioned details.  For park hours, attraction details and lists of restaurants just go directly to the source (I've linked it here for you).
1-Day Adult Animal Kingdom Itinerary
What We Did, What We Missed & What We Would Do Differently
We stayed at a Disney resort which means that we had early access to the parks.  We didn't, however, use it.  In hindsight, I think going early would have been a great way to fit in some additional attractions (like the stage shows) that we missed.
AFRICA
We started our Animal Kingdom itinerary in Africa.  The only thing we planned was to do the safari early.  One of the things we love about Animal Kingdom is that it's the easiest Disney park to navigate.  The signage is everywhere and you don't waste any time wandering and trying to figure out where you are.
Kilimanjaro Safaris | 8:00am 
Like any attraction that involves animals, the best time to go is early or late when the temperature is still reasonable.  We walked on at 8:00 am with no Genie+ and every animal was out.  The Safari is an absolute must-do attraction!  Favorites of mine were the Rhinos & Hippos.
Pro-Tip: If you can, get on the left side of the truck.  The most impressive animals (like the hippos & lions) will be to the left of the truck. 
Gorilla Falls Expedition Trail | 9:00 am
We saw a lot of people bypass this short walk – don't be "that person"!  The trail is very short and gives you a much better view of the Gorillas and Hippos along with other exhibits.  It's worth the 5 minutes it takes to complete.  During our visit, we were fortunate enough to catch the young-ones bopping around!
Kusafiri Coffee Shop & Bakery | 9:45 am
Grab a sausage, egg and cheese biscuit from Kusafiri in Africa.  We paired ours with Corona (yep, before 10 am) and finished our beer in line for the next attraction.  
Magic Kingdom is the only "dry" Disney park which means you can wander with drinks in Animal Kingdom, EPCOT and Disney Springs.  

ASIA
Asia is right next door to Africa so it's a quick (and beautiful) walk.  Besides Expedition Everest, the only other attraction on our list in Asia was the Kali River Rapids.  We decided to save that for the end to avoid being wet all day.  Since Animal Kingdom is also the most shaded of the Disney Parks, we didn't mind the extra walking back and forth!
Expedition Everest | 9:45 am
Expedition Everest is one of the more popular thrill rides at Animal Kingdom but, in our case, we walked on.  I'm not a Disney expert (yet) but I'm guessing this isn't a ride people head for first thing in the morning!  We returned later in the afternoon with our VIP guide and there was a significant wait for the standby queue.
Let me go on record and say that Expedition Everest is my favourite roller coaster (with the exception of Guardians of the Galaxy: Cosmic Rewind) in all of the Disney parks.  
Pro-Tip: Bring an extra hairband to add to the collection and become part of a long-standing tradition.  Trust me, you'll know what I mean when you see it.

Maharajah Jungle Trek
Another short, often overlooked, but worthwhile jungle trek!  Like Gorilla Falls, it only takes a few minutes and it's worth every second.  The aviary houses over 5o species of birds, including a giant bat (flying fox).
Pro-Tip: We enjoyed adding in these slower-paced attractions between "big rides" at Animal Kingdom.  Although this day was just as packed as the others, it felt more relaxed because of the injection of walks along with rides like the Na'vi river journey.

PANDORA
Pandora is the most popular section of Animal Kingdom – and for good reason.  The Disney Imagineers did a spectacular job with Pandora.  It does feel like you're stepping into another world.
Na'vi River Journey | 10:30 am
Na'vi River Journey is one of the attractions you'll likely wait in line for, but it's worth it.  The foundation of the ride is comparable to It's a Small World in Magic Kingdom, but the Avatar version.  It's a stunningly beautiful trip into the world of Avatar.  I would do it again and again.
Full Disclosure:  To this point, we hadn't used Genie+ or Lightning Lanes but once we arrived at Pandora we had a VIP guide for the rest of the day so we walked on the remaining rides without waiting in the queues.
Flight of Passage | 11:15 am
Known as the "best ride in Disney", there's always a line for Flight of Passage.  I recommend purchasing a Lightning Lane for this one or going at the end of the day.  This ride lived up to its reputation.  The virtual element was spectacular, especially when combined with the physical ride itself.
Flight of Passage is a simulation where you are matched with a Banshee and soar across the landscape of Pandora.  The Banshee (which looks a bit like a motorcycle before you sit down) even "breathes" which is pretty phenomenal.
DINOLAND
Honestly, I probably would have skipped Dinoland altogether if not for the recommendation of our guide.  It's a great place for kids, sure, but I didn't expect it to have an adult enticing ride.  Wrong again.
Dinosaur | 12:00 pm
This ride was a lot of fun!  Although, it's pretty jerky so if you have back/neck issues it might not be the ride for you.  You load into a "jeep" and head out into the jungle looking for a rare dinosaur.  
ASIA (again)
Kali River Rapids | 12:45 pm
We popped back over to Asia to ride the Kali River Rapids because you get wet – very wet!  The temperature passed 100 degrees during our Animal Kingdom visit so getting soaked on a ride was A-OK with us.  I did see lots of folks opting for a poncho though, so that's an option.
I love a water ride, so this was super fun for me.  My only complaint is how short it is, with just one main "rapid".  Hilariously, kids (and adults) can shoot water at you while you're strapped in your raft waiting in the exit queue.

Yak & Yeti
We grabbed a bite at Yak & Yeti (which was delicious) and enjoyed it in their covered patio area.  I had a honey sesame chicken bowl and brent had the Korean fried chicken sandwich.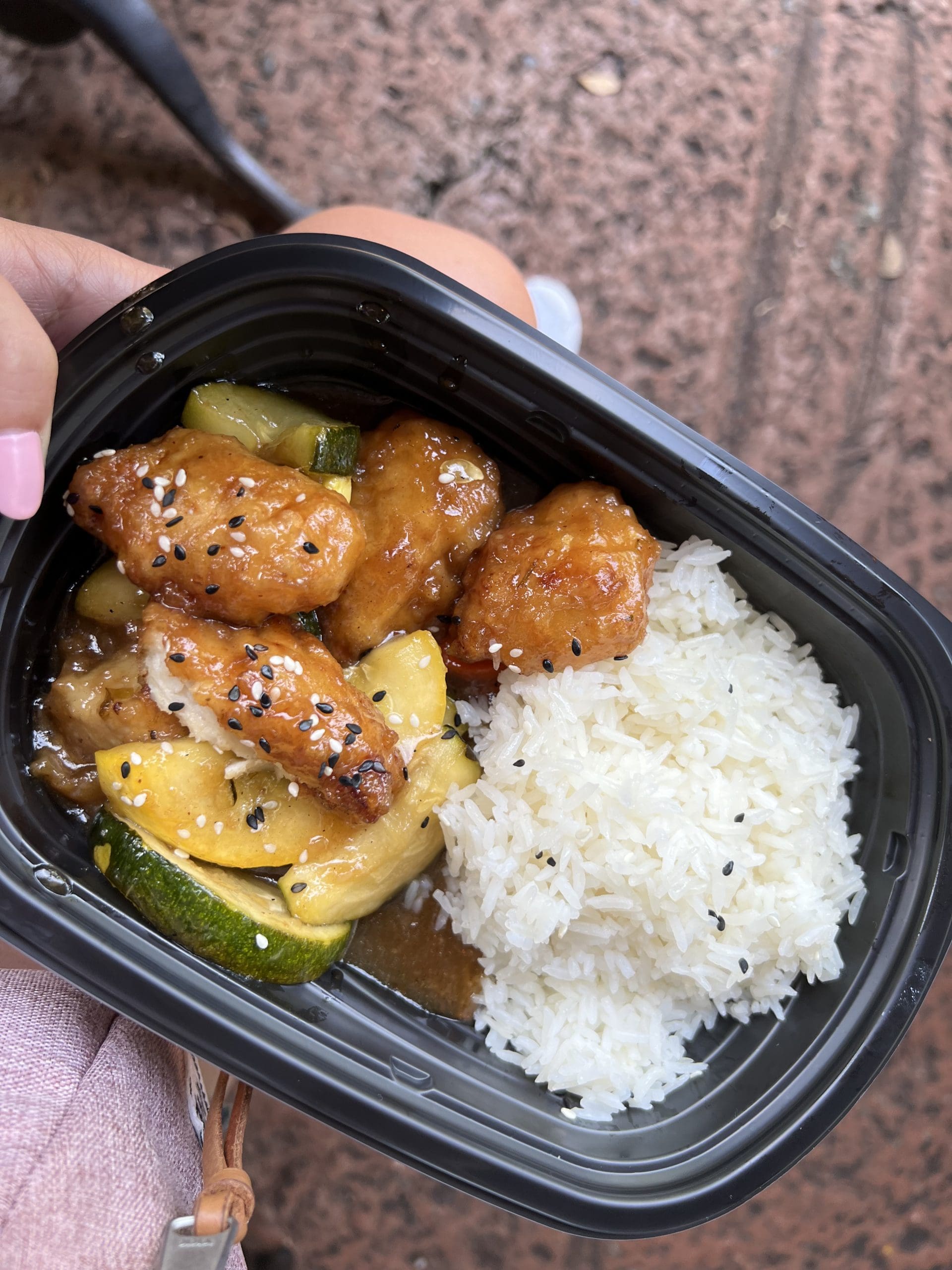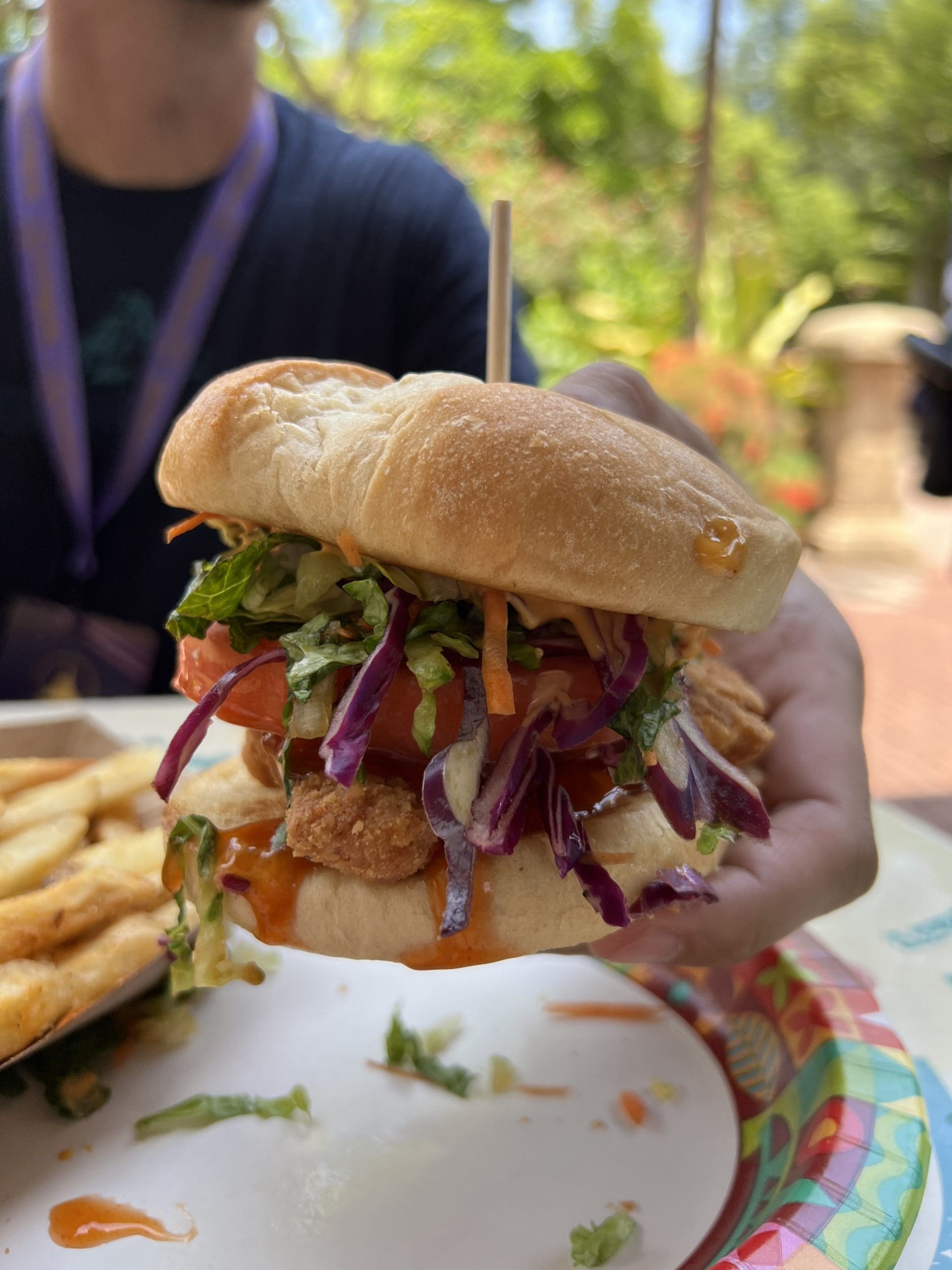 DISCOVERY ISLAND
Our last stop of the day was Discovery Island.  It's in the middle of the park and mainly features walking trails and food options alongside the iconic Tree of Life.
It's tough to be a Bug | 2:00 pm
This is the only part of Animal Kingdom I remember from my childhood visit, so I insisted we do it again.  It's an old but great 4D experience when things jump out and interact with you.  My only complaint about this attraction is that there are almost always little ones crying – it can be scary for them!  
Pro-Tip: Avoid the front row!  We made this mistake and actually missed some of the interactions (spray, smells, etc) because we were too close.  I recommend choosing a seat in the middle, a few rows up.
Animal Kingdom Regrets
None and lots!  My only regret is that we didn't have more time because there are things I would have liked to experience that we didn't.  I do, however, think you can fit everything in a single day.  We had to leave the park by 2:30 pm to get to another event but if we hadn't, I would have added a few things.
Stage Shows & Animal Encounters
Celebration of Festival of the Lion King

Feathered Encounters

Rafiki's Watch
Night Time Attractions
I've heard that nighttime in Animal Kingdom is magical.  That experience is at the top of our list for our next visit and will include: 
Expedition Everest

Kilimanjaro Safari

Pandora 

Beacons of Magic

Tree of Life Awakening
Final Thoughts
I can't pick a "favourite park" at this point, but Animal Kingdom is certainly in my top two.  It's a wonderful way to spend a day.  I hope this full-day Animal Kingdom itinerary is helpful to you.  As mentioned, we did have a guide for the second half of the day but paid close attention to the queue wait times.
The only three attractions that ever had a long line during our visit were Flight of Passage & Expedition Everest (later in the day) – in the morning, we walked on.  Na'vi river journey had a 30ish minute wait for most of the day.  
The My Disney App is also really helpful in planning your day because you can watch the queue times in real-time (which we did).  
What Do You Think?
Is Animal Kingdom on your list?  Did you find this itinerary helpful?  Is there anything we didn't cover that you'd like to see?  Let us know!