Understanding Genie+ and Lightning Lanes at Disney
Understanding Genie+ and Lightning Lanes at Disney is a valuable skill if you want to make the most of your next Disney Vacation.  If you're confused by the differences between the Genie, Genie +, Lightning Lane features and individual attraction selections at Disney World – you're not alone!  This article breaks down what each are, how to use them and the differences between them.
When I started looking at Genie + vs. Lightning Lanes to plan our Disney trip, I was confused too!  There are a lot of articles out there that try to explain it, but unless you have a degree in Disney (and how the tickets, passes & queues work) I couldn't find anything that cleared up the confusion for a Disney newbie.
So, dearest blog reader, the goal of this article is to help you gain a complete understanding of Genie, Genie + and Lightning Lanes at Disney.
Let's get started, shall we?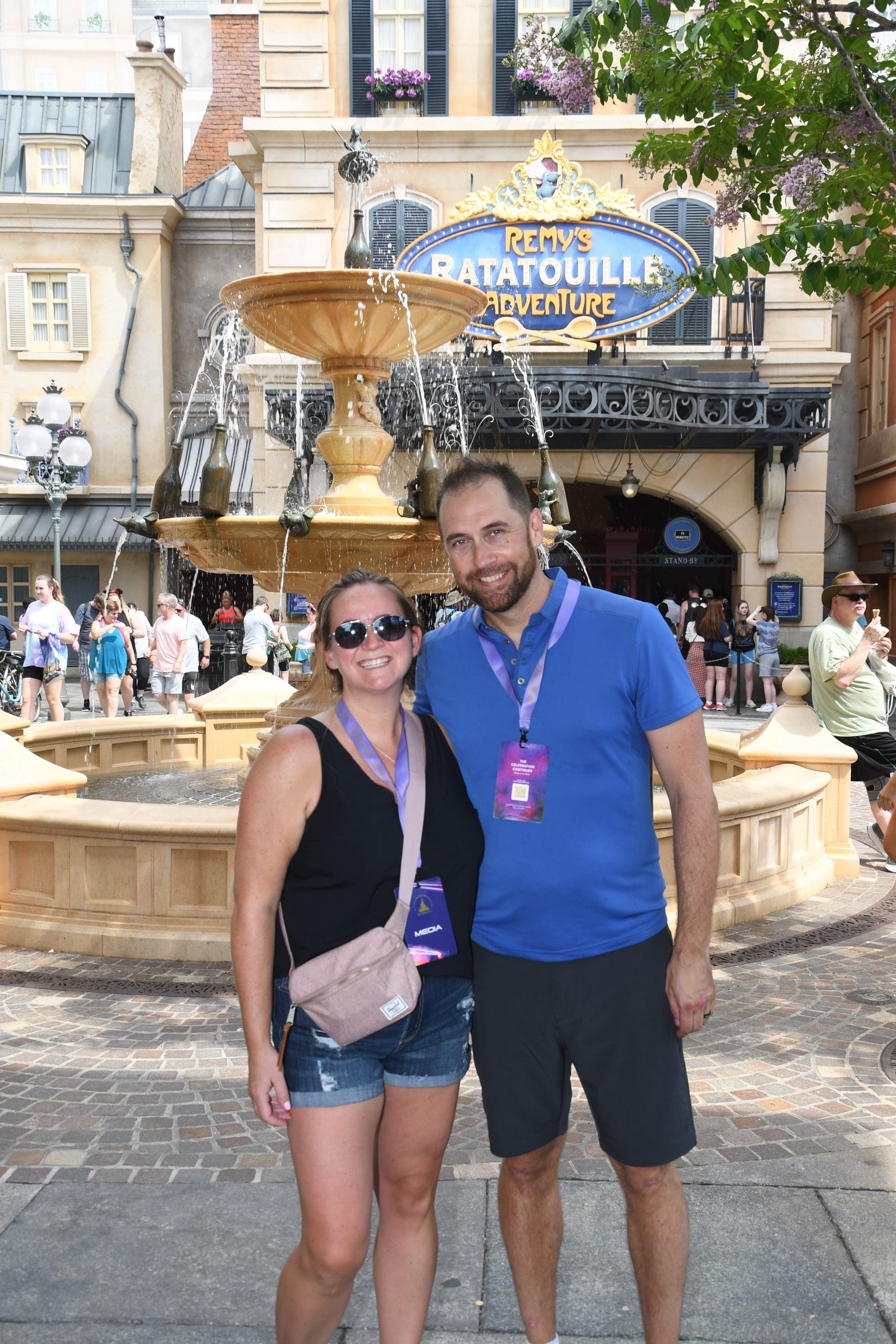 What are Lighting Lanes

Lightning Lanes themselves are just separate entrances to attractions (formerly FastPass+).  These are the physical queues or lines that guests who purchase Genie+ or individual Lightning Lanes will use to skip the lines and access the rides.  Everyone else will use the standby lines (which are just the regular attraction queues).  Lightning Lanes are well-marked and easy to find.
Now that you understand what an actual Lightning Lane is, let's talk about the skip-the-line services offered at Disney.
The Disney Genie Service
The Disney Genie is a FREE service that lives inside the My Disney Experience app.  It's designed to "maximize your day".  The Disney Genie is primarily made up of 2 main features:
The Tip Board
The "My Day" Feature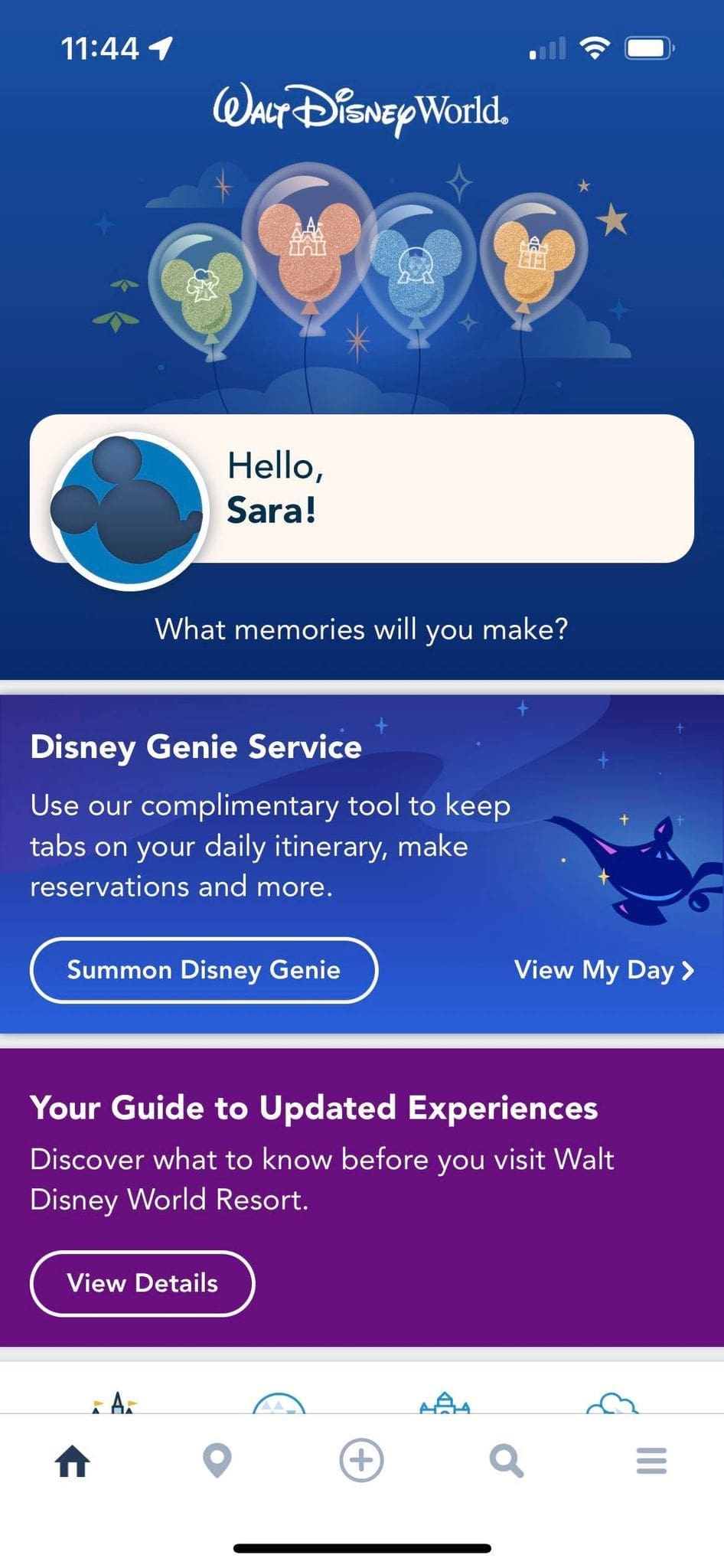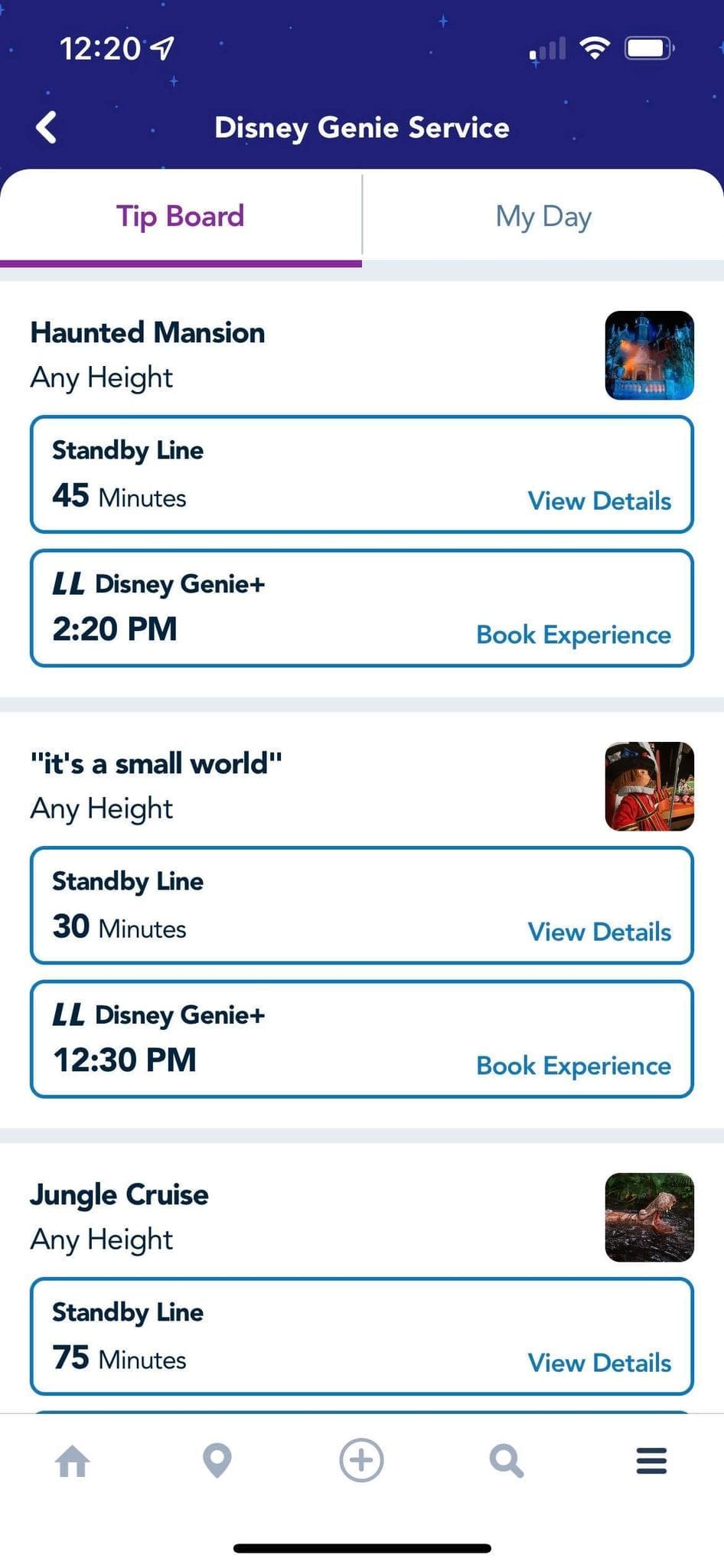 The tip board is easily the most useful feature of the Genie service.  It shows all attractions and dining and gives you standby line wait times along with quick navigation to purchase Genie+ and/or lightning lane access to attractions. 
Tip board features include:
Attraction

Height Requirements

Standby Line Wait Times (very accurate)

Lightning Lane (LL) Genie+ Upgrade Options
You can also click into the attraction (left image, below) for more details and to access the map or get directions from where you are.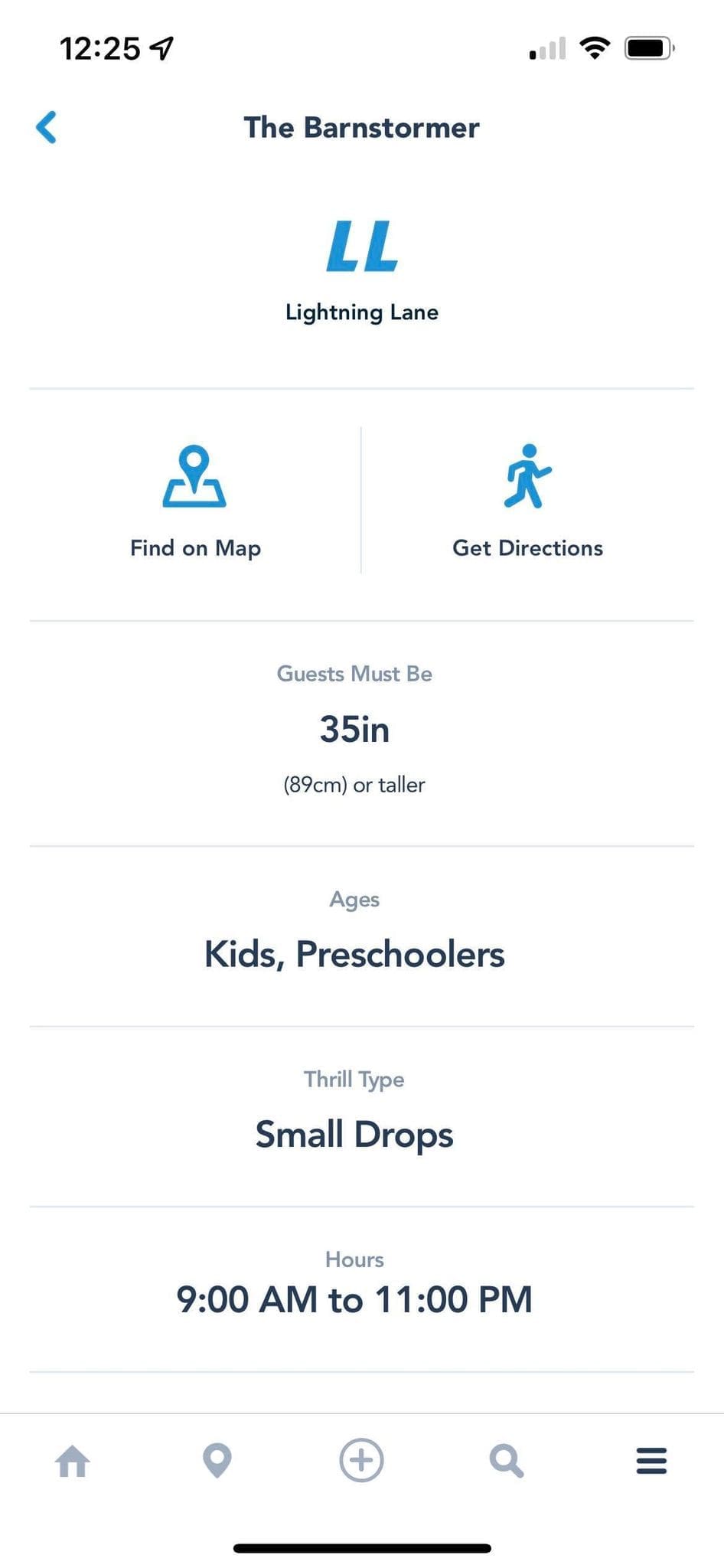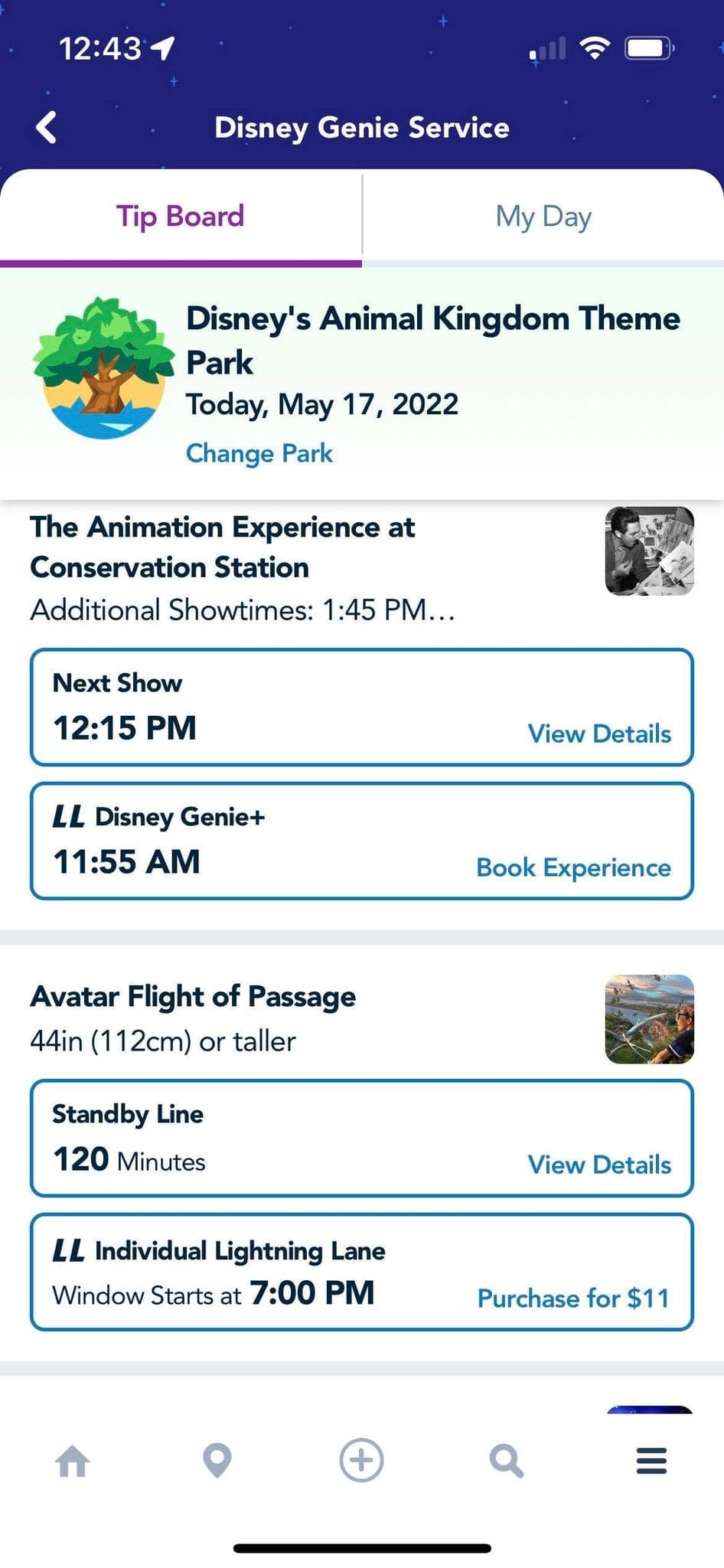 The scrollable list (right image, above) is useful and allows you to compare wait times for standby so that you can plan your day.  You can also use the list to compare wait times for standby versus return times for Lightning Lane access which helps you make informed decisions about whether to purchase Genie+, Lightning Lane (LL) or both.  
That said, this article is meant to explain Genie, Genie+ and Lightning Lanes.  We'll save the trip planning, strategy and Disney hacking for another day!
The "My Day" feature is meant to help you plan your day based on which attractions interest you most.  Personally, I don't find those recommendations particularly helpful but it's there if you want it.  I did try this feature but didn't find the timeline suggestions made a ton of sense from a "maximizing your time" perspective.
Which actually makes a LOT of sense from a Disney perspective.  They are, of course, trying to manage the flow of traffic in the parks.  So, if they can persuade folks to visit less busy rides, that's ideal for everyone in the park.
Remember, Disney's goal is to improve the overall guest experience for EVERYONE.  Which doesn't always mean making the best recommendations for an individual.
What is the Genie+ Service?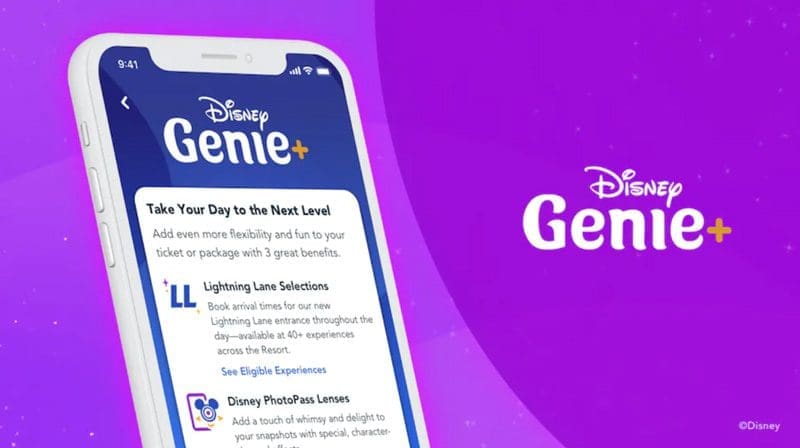 Genie+ is an upgrade to your park ticket that you purchase in the My Disney Experience app for $15 USD per day.  Genie+ gives you priority access via the Lightning Lane (LL) at most (but not all) Disney attractions.  This is one of the skip-the-line upgrade options available at Disney.
If you're familiar with FastPass+ (which has been retired), this is Disney's latest answer to that.  Genie+ gives guests the ability to book rides for specific return times throughout the day.  A return time simply means, the window of time you can come and use the Lightning Lane for that attraction.
For example: Disney resort guests can start booking Genie+ Lightning Lanes at 7:00am on the day of (everyone else can book when the parks open).  If you book Peter Pan's flight for 4pm, you'll get a confirmation with your redeemable time (see below) –  that's when you have to show up for that ride.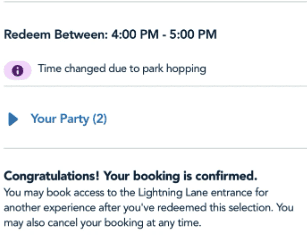 Individual Attraction Selections
(aka Individual Lightning Lanes)
Individual Attraction Selections are also known as Individual Lightning Lanes.  This is Disney's pay per ride service.  Individual Lighting Lanes (LL) are completely separate from the Genie+ service and are reserved for Disney's most popular attractions that are in high demand.  Guests can purchase up to 2 Individual Lightning Lanes per day.
Here's what you need to know about Individual Lightning Lanes:
The cost varies by attraction, time of day, season, etc and is currently not listed on the Disney website.  When we visited, individual Lightning Lanes ranged from $7 – $15
You do not need Genie+ to purchase Individual Lightning Lanes (any park guest can purchase these)
Purchase can be made in the My Disney Experience app on the same day as your park visit (not in advance)
PRO TIP: It's important to note that individual Lightning Lane attractions are NOT included in Genie+.  That means that if you have purchased Genie+ and want to skip the line at Space Mountain (for example) you'll need to also purchase an individual Lighting Lane.
I know this is repetitive, but I found this confusing so I want to be crystal clear for you!  Seriously, if you're reading this and don't understand – please reach out!  I'll be updating this blog routinely to make it better and better for you!  I've included an image that shows the difference, in-app, between Genie+ and Individual Lightning Lane attractions.
Individual Lighting Lane Attractions
This list is obviously subject to change but, at the time of this blog post, reflects the current Individual Lightning Lane attractions.  If you're looking for a complete list of Genie+ attractions versus Lightning Lanes, visit Disney's official website.
Magic Kingdom
Seven Dwarfs Mine Train
Space Mountain
EPCOT
Frozen Ever After
Guardians of the Galaxy: Cosmic Rewind (opening May 27)*
Remy's Ratatouille Adventure
Animal Kingdom
Avatar Flight of Passage
Disney's Hollywood Studios
Mickey & Minnie's Runaway Railway
Star Wars: Rise of the Resistance 
For a complete list of Genie+ Lightning Lane AND Individual Lightning Lane entrances, click here.  Scroll down to the park you're interested in and click "read more".
Why is Genie+ and Individual Lightning Lane so Confusing?
Honestly, I think it's because there's no clear language distinction between "Lightning Lanes" (the physical queues) and the "Individual Lightning Lane Attraction Selection" (the paid, skip-the-line service).  I wouldn't be surprised if Disney starts calling the latter something else, just to ease confusion but for now, here's a quick and dirty recap.
My Disney Experience: The app (it's free) that ALL of your Disney park ticket info, reservations, etc is stored in.  
Recommendation: Download the app well before your trip and familiarize yourself with all the features – there are many!  The app is actually quite amazing and really helped us during our visit.
Disney Genie: Inside the My Disney App, it's a FREE service that includes a tip board & planning tool.  
Recommendation: The tip board is helpful for comparing wait times (which were all very accurate during our visit) for each attraction and for navigating the park via the map feature.
Genie+:  A PAID upgrade ($15 USD) that gives you Lightning Lane access to 40+ Disney attractions.  Genie+ does not include select, in-demand rides (listed above and also here).
Individual Lightning Lane: The pay-per-ride upgrade that gives you the ability to skip the line on those high-demand attractions at a maximum of 2 per day.  Completely separate from Genie+
Is Genie+ and Individual Lightning Lane Worth It?
In my opinion, yes.  Some folks aren't happy about the various upgrade options but here's my personal opinion (which may be unpopular): Almost every service in the world offers paid upgrades.  This is no different.  
When you book an airline ticket, you can choose economy (basic seating and service), preferred seating (more room, better seats) or business class (better service, better food, more amenities, priority boarding).  Once you're in-flight, you have even more options to purchase wifi, food & drink, etc.  You get my point, yes?
Disney still offers standby lanes at no additional cost.  This is what I did the first time I visited the park.  Did we wait in a couple of long lines? Yes.  What I love about Genie+ and Individual Lighting Lanes is the option to upgrade your experience, should you choose that.
Who Should Consider Genie+ and Individual Lightning Lanes?
If you're trying to ride as many rides as possible during a day, there's no question – Genie+ AND Individual Lightning Lanes are the way to go.  
If, however, you're a regular park guest and aren't trying to cram in as much as you can it might not be necessary for you.  During our trip, there were a few select attractions with longer queues (you know which ones they are, right?) but overall we didn't find the wait time too bad.
Additionally, using the free Genie service is really helpful and incredibly accurate.  I tested it as often as I could and every single wait time reported in the app was overestimated by 5-10 minutes.  Which means, our wait times were all shorter than what Genie said they would be.
Final Thoughts
I hope this helps make sense of the Genie+ and Lightning Lanes at Disney for you!  Tell us what you think in the comments below.  Does this make sense?  What do you think of the Lightning Lane systems?  Is there anything here that needs further clarification?
* We were invited, by Disney, to join them at the parks as part of the 50th anniversary celebrations and the launch of Guardians of the Galaxy: Cosmic Rewind.  We were not required to produce specific content or write about certain topics!  All of the information we're sharing here is our own opinions and written to help you make the most of your next Disney vacation!