I've always been passionate about food and for over 12 years of my life I made very careful choices but somewhere along the way, I lost touch with what was on my plate.  Not entirely, of course.  I still support local and I still know what the best choices are but I don't always make them.  I think it was a case of "out of sight, out of mind".  But after we sat down with Lil MacPherson from the Wooden Monkey, it all came rushing back!  The food/climate change connection is something we should all care about and this interview really brought that home.
Now, we're not saying we're going to completely abandon our current way of eating and living but the reality is, supporting local is something that benefits us all. In a world of convenience, food is one place we're going to make an effort to slow down, be more mindful and make more deliberate choices.
Interview style isn't what we normally do here, but in this case, it seemed fitting.  Grab yourself a cup of java or a glass of wine and settle in for some insight, "ah-ha moments" and, just maybe, a change of heart when it comes to the food choices we make.
[video_player type="youtube" style="1″ dimensions="853×480″ width="853″ height="480″ align="center" margin_top="0″ margin_bottom="20″ ipad_color="black"]aHR0cHM6Ly95b3V0dS5iZS80S2p6RV9kOEU3cw==[/video_player]
The Wooden Monkey
So much more than just a great restaurant, the Wooden Monkey, really operates from a place of vision.  We love getting into the "WHY" behind our local businesses and this one speaks volumes:
"The Wooden Monkey believes that sustainable agriculture protects our environment, public health, human communities, and animal welfare — it also produces foods that are better for you than the highly processed industrial alternatives and you sure can taste the difference! Take action to safeguard the environment and improve your health by purchasing foods from local, sustainable farms, and of course Restaurants! Come on this journey with us to learn all the things we can do to improve our future!"
Lil's Story: A Hurricane For Change
Lil's passion for food really began after a backpacking trip through Central America at 20 years old.  She got extremely sick during her travels and arrived home weighing in at a whopping 87lbs.  That experience started her down the path of learning more about food quality and it's impact on our health but it wasn't until hurricane Juan hit Nova Scotia in 2003 that the direction of her life changed forever.
Having been in the food industry her whole life, Lil started wondering not only about food quality but also about food security and the position that Nova Scotia would be in, should we be cut off from the rest of the world.
Would we have food for everyone if we couldn't rely on outside suppliers?
Are we resourceful enough to survive should something drastic happen?
What's happening to our climate and how is that connected to the food we're producing (and eating)?
Long story shot, she didn't like the answers to these questions and set out to make a change.  You can read all about Lil's story here (and we highly recommend you do).
The Wooden Monkey: Food
Ok, OK…we've been talking about the "vision" and you might be thinking; "yeah, but tell us about the food".  As you can well imagine, it's outstanding!  They use only the highest quality ingredients available including organic, non-GMO, free-range and local.
We've been to the Halifax location several times but this was our first visit to the Dartmouth restaurant.  That view though!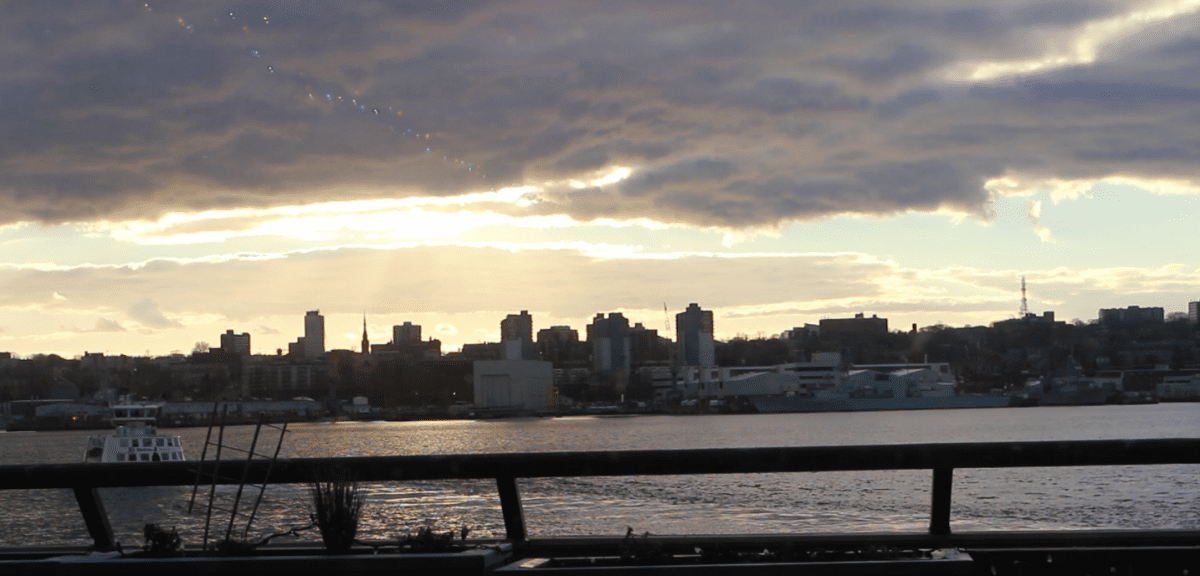 On Lil's recommendation, Brent ordered the Lentil Burger which apparently is a staff favourite and a very popular menu choice.  Interesting because we probably wouldn't have ordered that otherwise.  Honestly, during this whole process we've tried a few lentil burgers and they've all bee awful (tell us how you really feel right? haha) but this one was TO DIE FOR!  And, can we talk about those fries?!?!!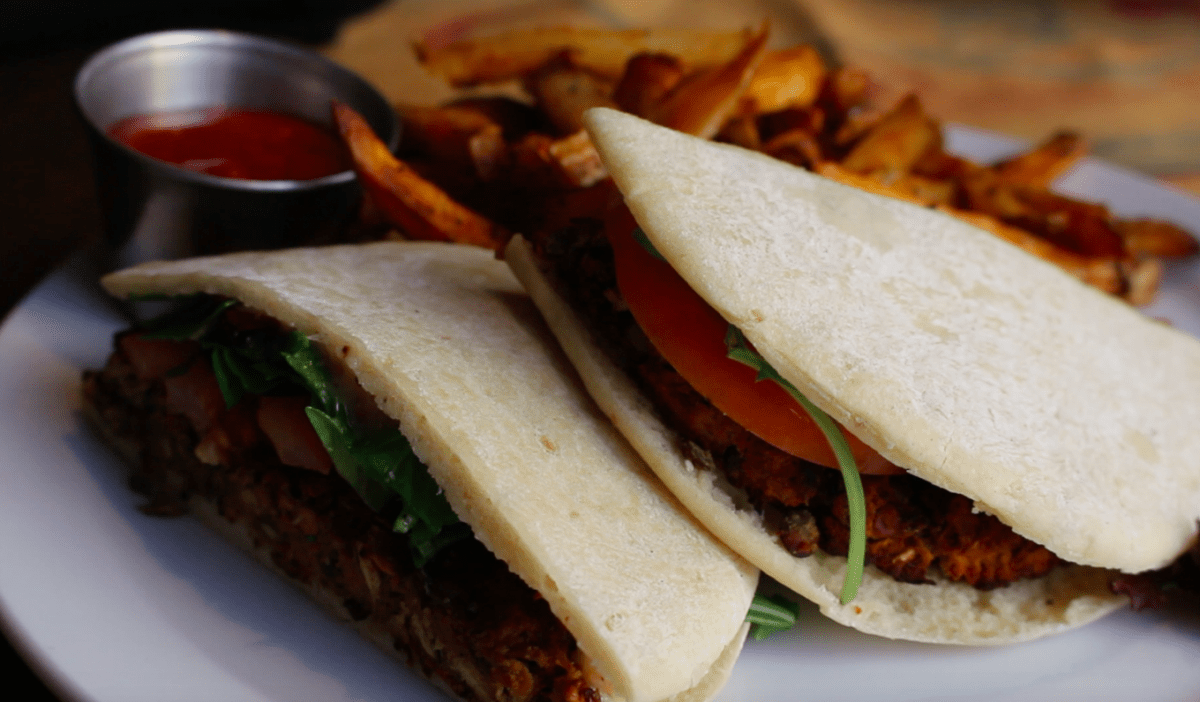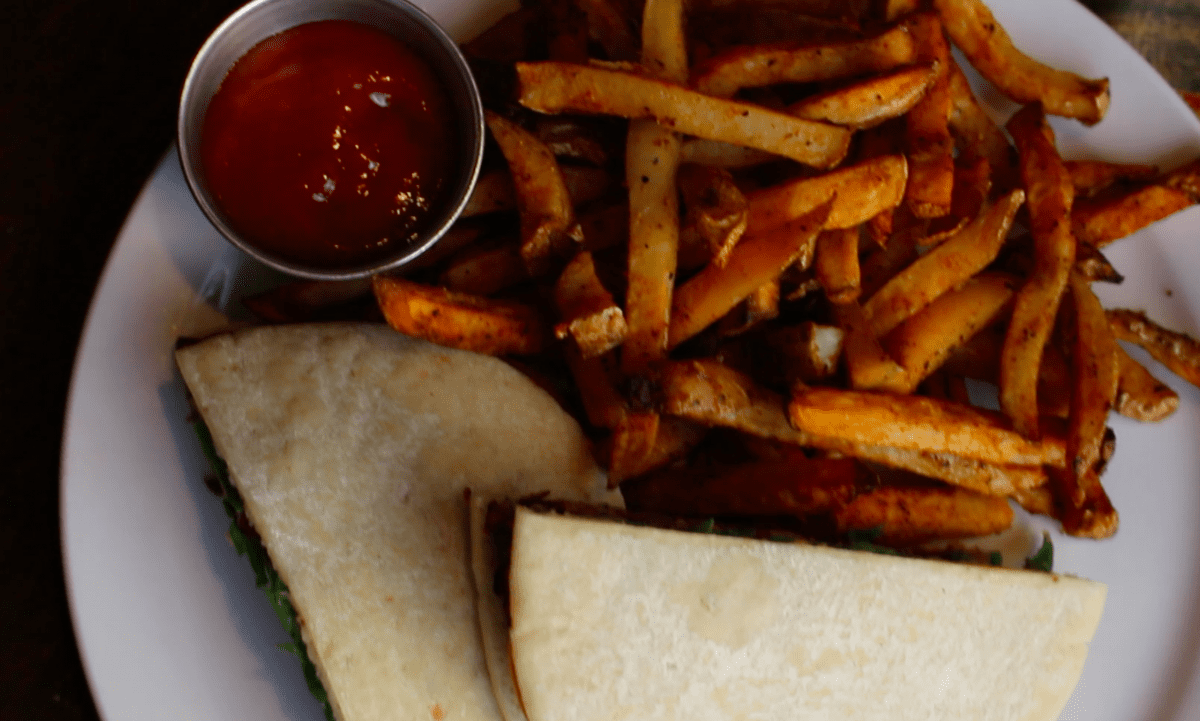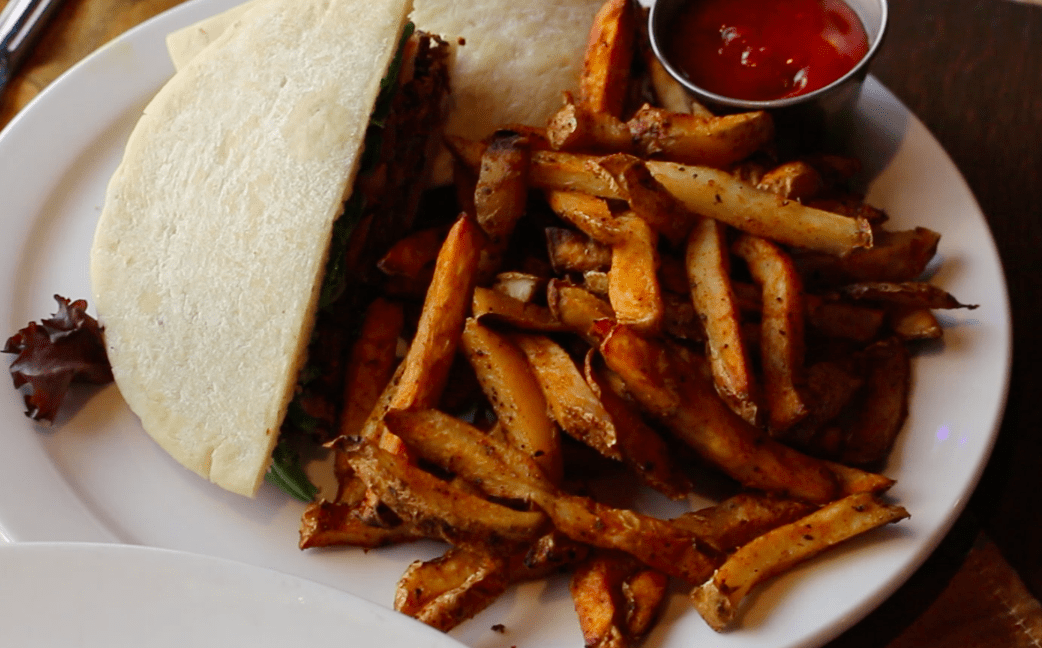 I went with our waitresses recommendation (I can't remember her name but she was awesome) and ordered the rice bowl.  She told me that the grilled tofu was delicious and I was thinking, "year right…tofu…delicious…I think not" but it really was!
In fact, I've recreated this recipe at home several times (including the tofu) and I love it.  I have to admit though, their's is better.  I must be missing an ingredient or two.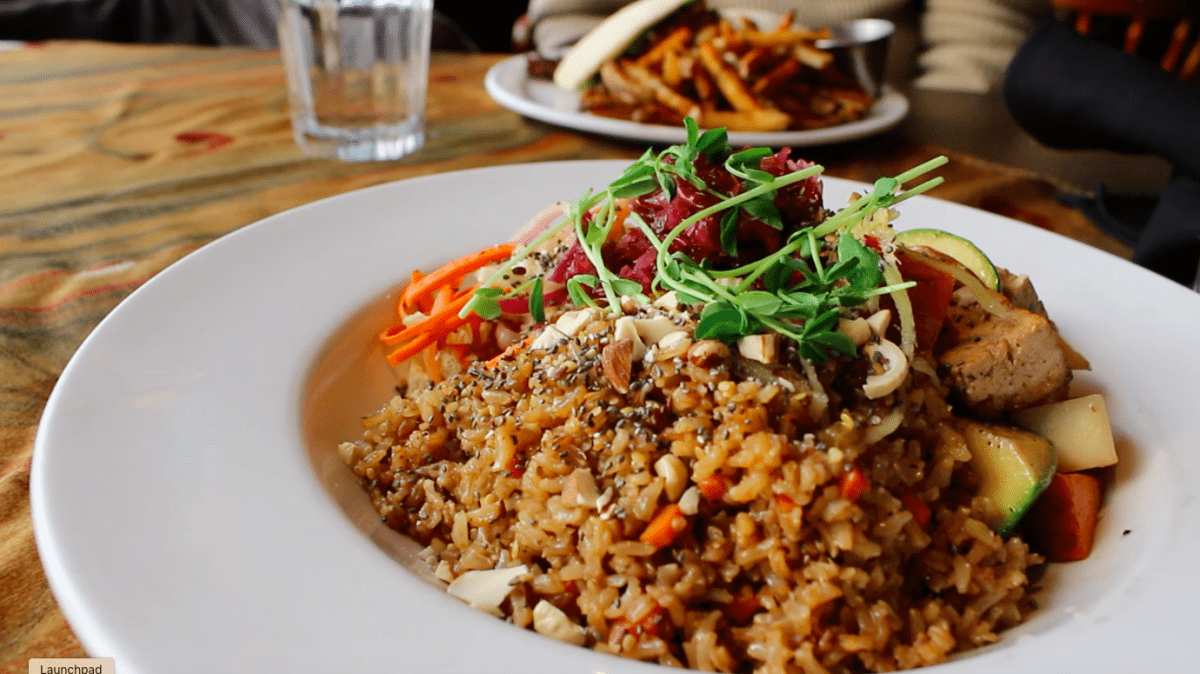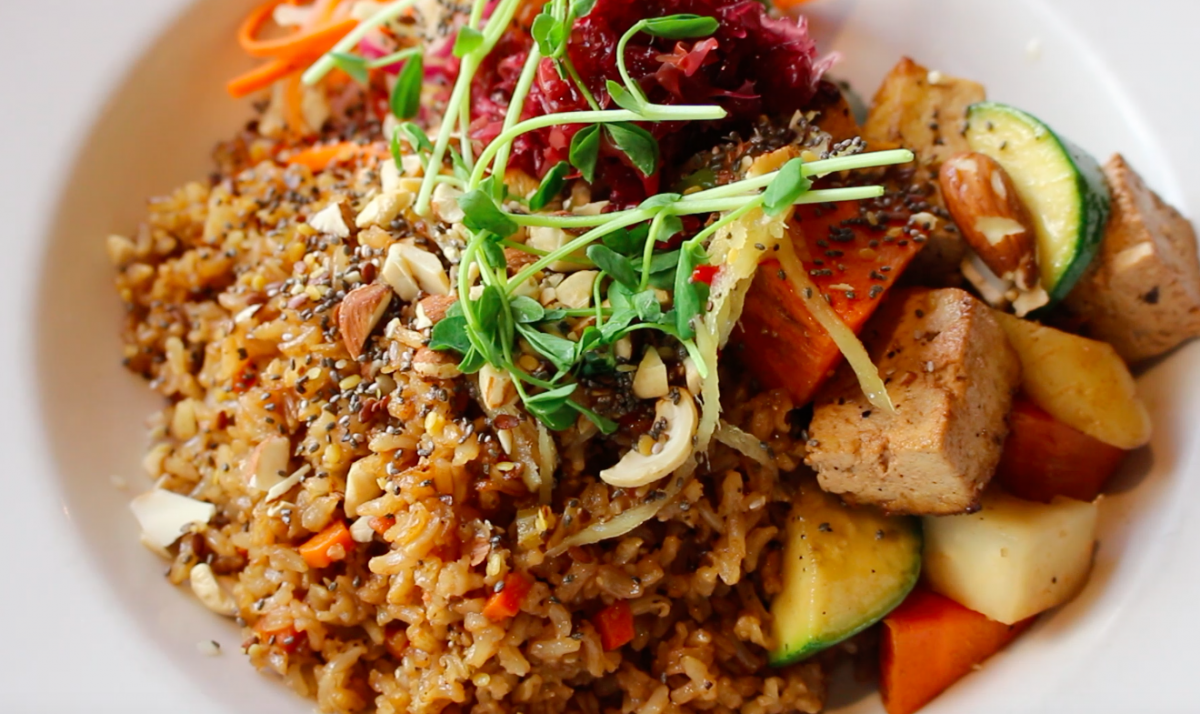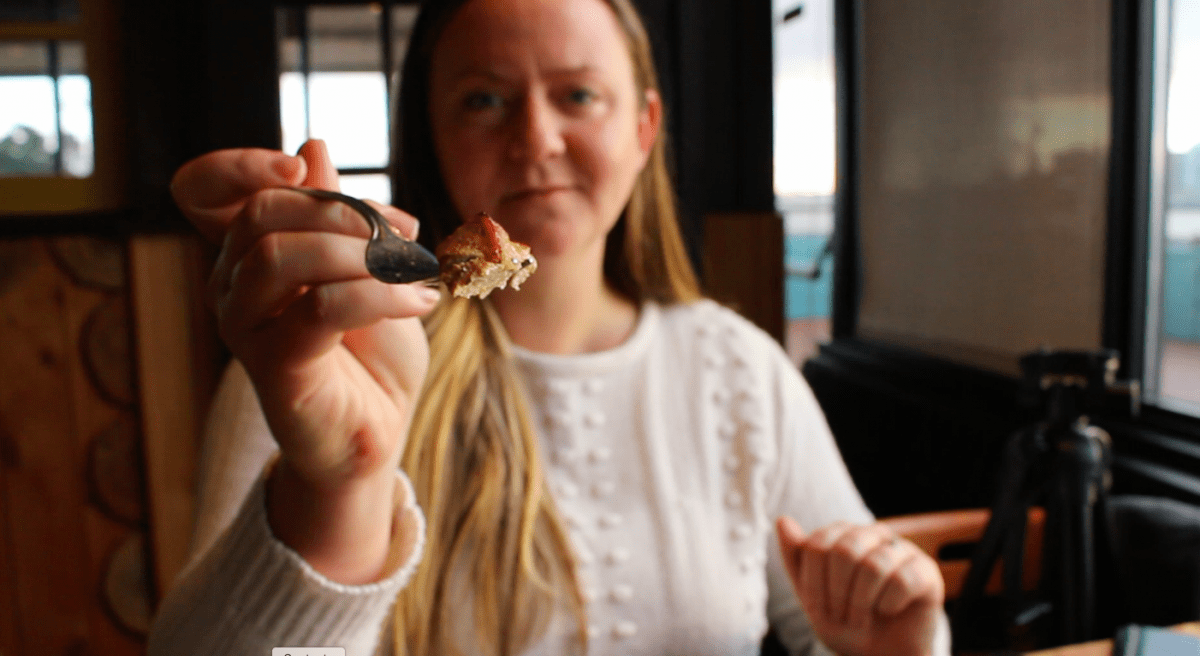 Keeping The Family Together
There are a lot of things to love about the Wooden Monkey.  The food is, obviously, amazing but they also have the philosophy and vision to back it up.  
There's literally something on the menu for everyone whether you love burgers and beer or you're vegetarian or maybe you're gluten free or even…dare I say it…Vegan (dun dun dunnnn).  
This post was sponsored by the Wooden Monkey but we're not required to leave a good review.  Our opinions are always, always, always our own.  We love what the Wooden Monkey stands for, we love their food and we highly recommend a visit the next time you get a chance.  A huge, extra-special thanks to Lil for sitting down with us and really reminding us that when you know better, you do better!