If you're looking for a "meaty" vegetarian dish to steal the show as a main course and impress even your meat loving friends then this one's for you.  This mushroom wellington is perfectly flakey and buttery on the outside and full of flavour on the inside.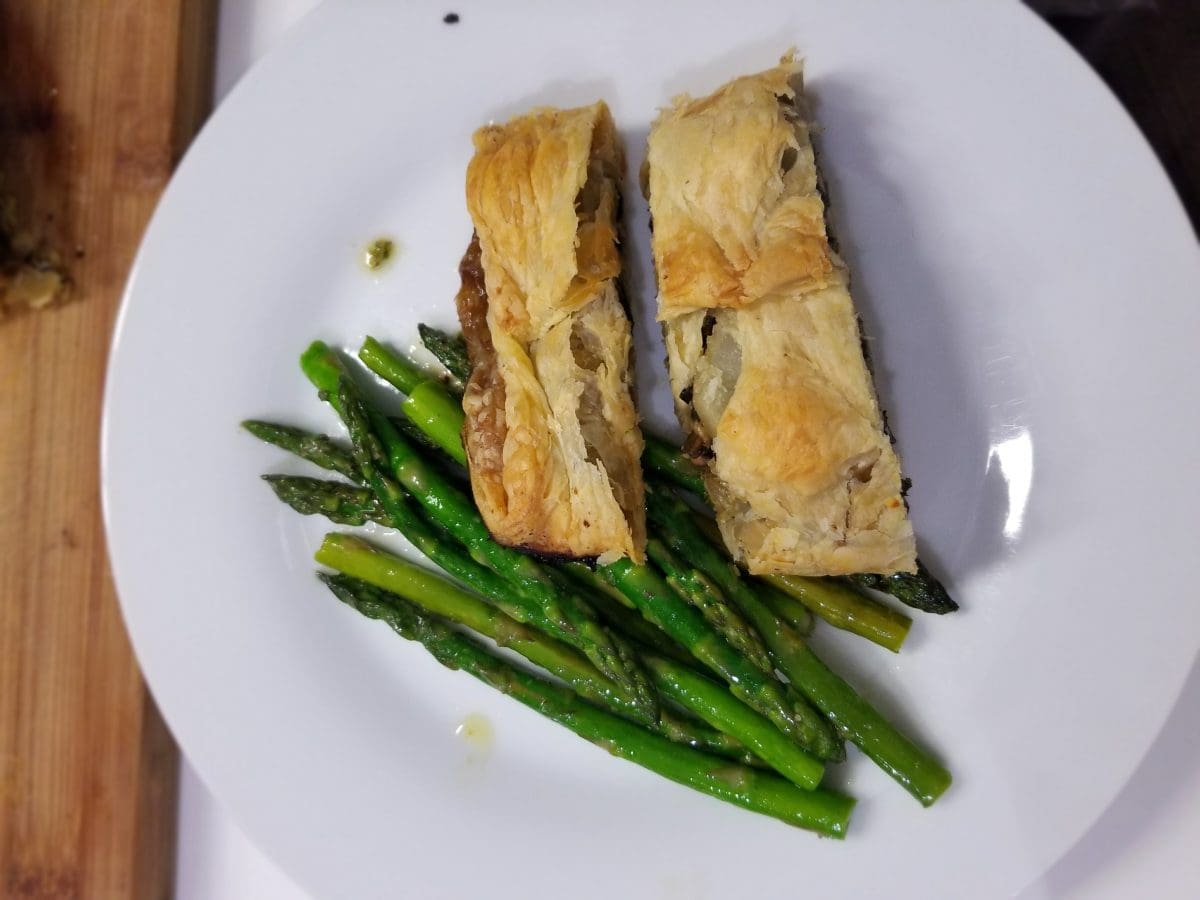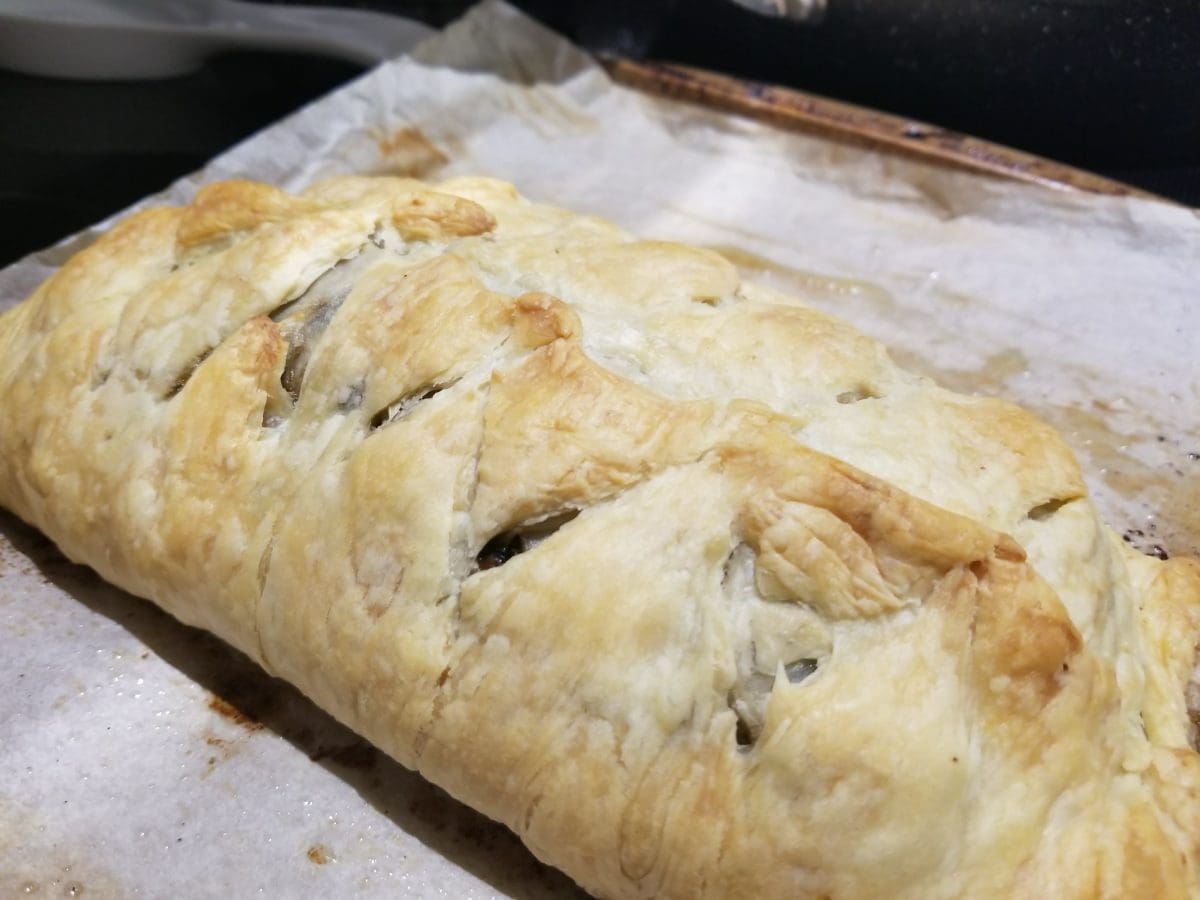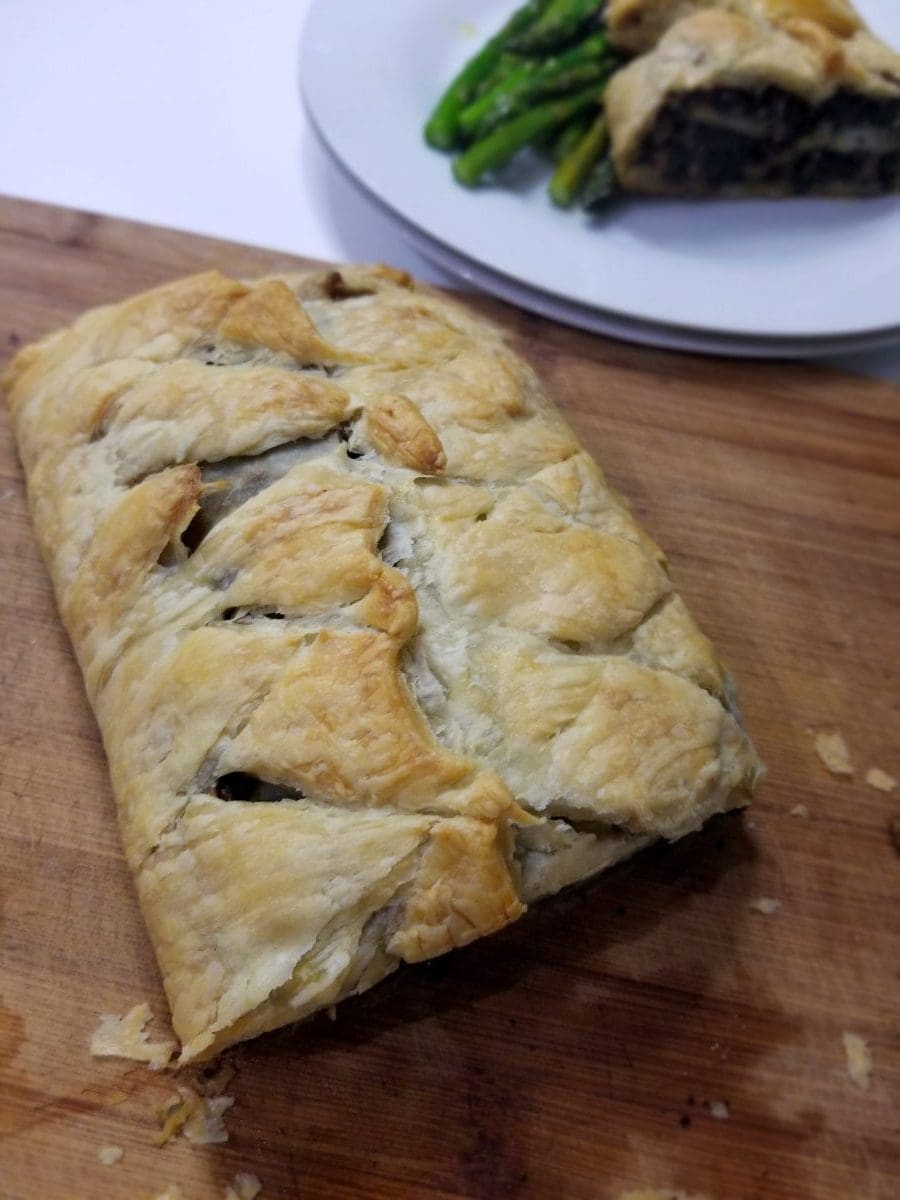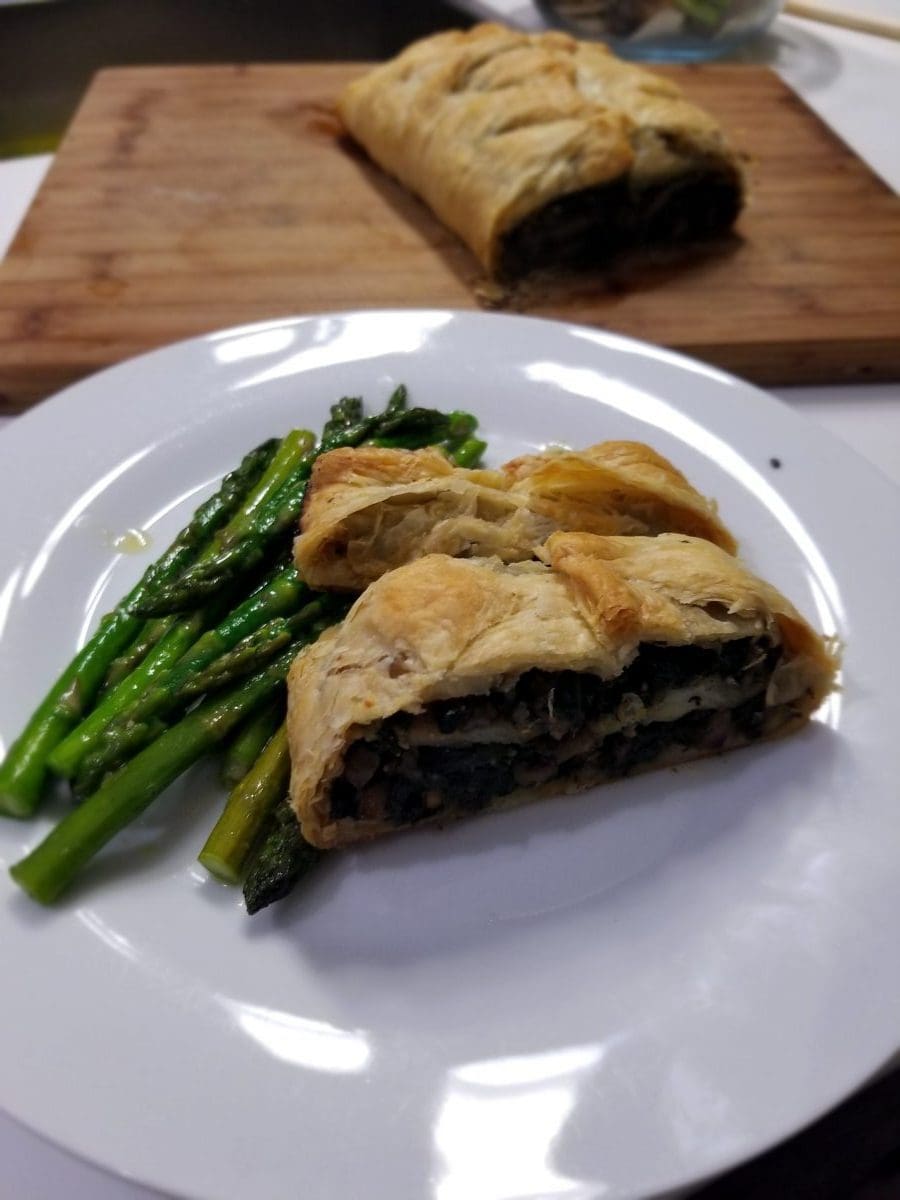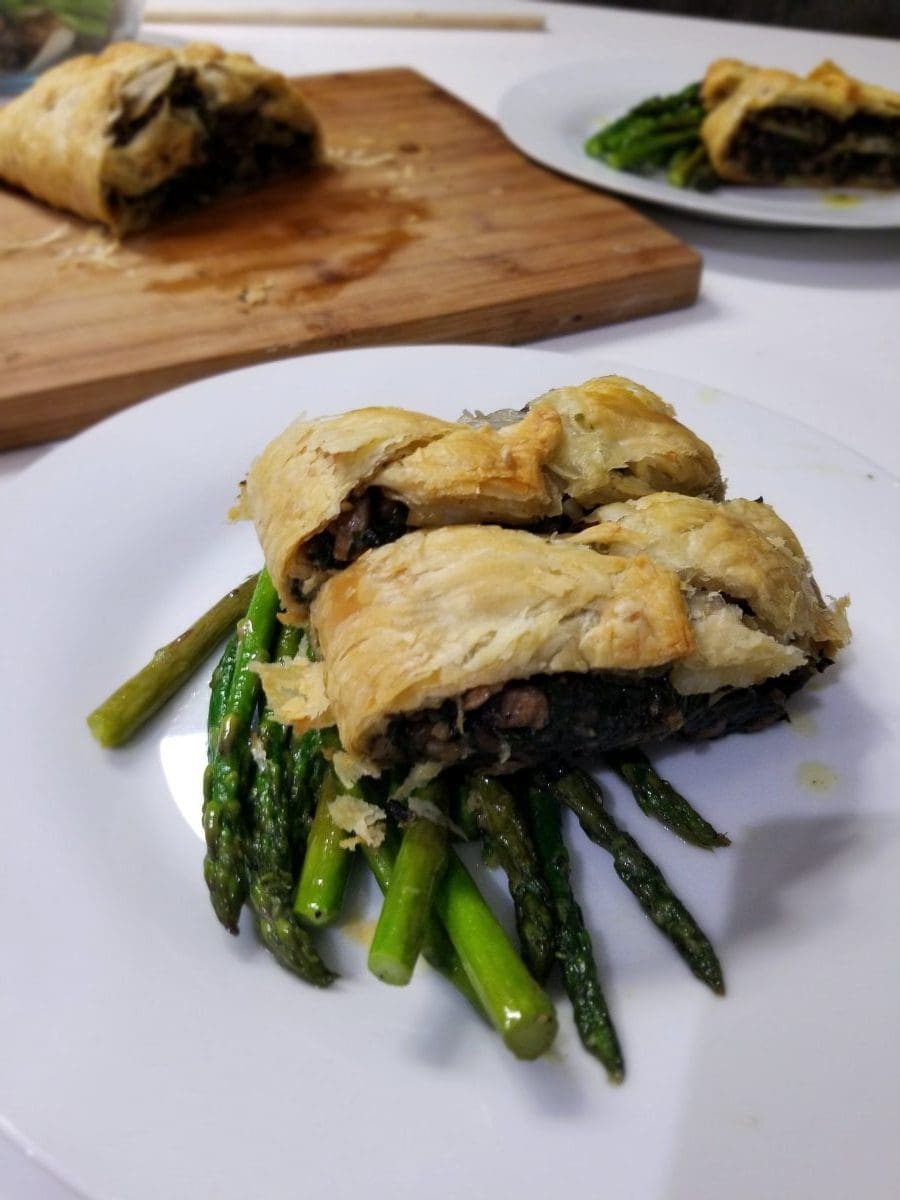 INGREDIENTS
3 tablespoons olive oil, divided

4 Portobello mushroom caps

1 onion, finely diced

¼ cup vegetable broth

3 cloves garlic, minced

2 tablespoons tamari or soy sauce

1 tablespoon Italian seasoning

1 teaspoon steak spice

1/2 tsp red pepper flakes

black pepper, to taste

4 oz spinach

1 sheet puff pastry

2 medium potatoes, thinly sliced

1 Tbsp non dairy milk OR 1 Tbsp butter
DIRECTIONS
Thaw your puff pastry at room temp for about an hour (you should be able to unroll easily and the pastry should be cool to the touch).

Preheat oven to 375°F (190°C).

Finely chop mushrooms (I like to do this by hand but you can also use a food processor.  Just be careful not to over process!)

Add 2 tablespoons olive oil to medium-sized sauté pan. Add onion and sauté for 3-5 minutes. Then add vegetable broth and sauté until translucent and most of the broth has evaporated.

Add minced garlic to pan and sauté for 3 more minutes, or until fragrant.

Add mushrooms to pans along with soy sauce, and sauté until most water had evaporated, approximately 10-12 minutes.

Add the spices and stir until fragrant.

Add in spinach and sauté until wilted.  NOTE: You can use as much spinach as you like – I typically use 1/2 of a large container for this recipe.

In center of puff pastry rectangle, layer potato slices in rows of two or three. Make sure to use only the middle third of the pastry because you'll fold over the sides in a moment.  Don't forget to leave about an inch on either end so you can close it up!

Layer mushroom mixture on top of potato slices about ¾-inch thick.

Repeat layering the potato and mushroom once more, then finish with a layer of potatoes on top.

Fold one side of puff pastry over layers of filling, then repeat with opposite side of pastry. Fold in two small ends on top and bottom of Wellington and make sure all pastry is sealed and no inside filling is exposed.

Decorate Wellington to your liking. Then in ramekin or small bowl, combine one tablespoon non-dairy milk with one tablespoon olive oil. Using small brush, brush wellington with mixture until completely coated. **NOTE: if you're not vegan, melt butter and use that to brush the pastry instead of the milk & oil mixture**

Make air vents. Bake Wellington for 35-40 minutes until golden brown and puffy.

Let rest 10 minutes before cutting into thick slices.
I served this with sautéed asparagus (sautéed in butter and garlic) and then drizzled the leftover garlic butter on the wellington.  It was amazing.  We also ate the leftovers for breakfast.
Leave us a comment below and tell us what you think!