During the first few weeks of this vegan experiment of ours we focused on learning the basics.  We changed the way we were shopping and cooking while also leaning into the learning curve that is inevitably attached to two meat eaters going vegan overnight.  We quit animal products cold turkey (pun intended) and to be honest, it wasn't that hard.  Now we're at the phase of our project where we've got a good handle on how to cook at home and we're busing exploring all the restaurant options which brings us back to EnVie – A Vegan Kitchen.
[video_player type="youtube" style="1″ dimensions="560×315″ width="560″ height="315″ align="center" margin_top="0″ margin_bottom="20″ ipad_color="black"]aHR0cHM6Ly95b3V0dS5iZS9uWFI1MzJzOEJvZw==[/video_player]
This was our second visit this fully Vegan restaurant and I have to include a disclaimer here – in the video I inquire that EnVie might be the only fully vegan restaurant in Halifax but I was quickly corrected.  There are others… I knew that those mentioned had vegan options but didn't realize that they were fully vegan so my apologies.  In our defence, we did reach out to them for this project but didn't hear back so couldn't fact check.  Another case of "that's what you get for not answering your emails"…but, I digress!
Back to EnVie.  There are a lot of things I love about this restaurant.  First, owner Cory is a pretty rad guy.  He's easy to talk to and makes the whole idea of plant based living more appealing.  He's also a giant supporter of his community and other entrepreneurs (which of course we love).  As an athlete himself, he's part of a growing conversation that's squashing the myth that "athletes can't be vegan" and he's working his tail off to provide something really special to his community in EnVie.
Let's start with their mission statement:
"Our mission is to inspire people to choose a healthier, sustainable and more compassionate lifestyle through plant-based eating by making information and education accessible, so that we can create a healthier community and planet."
Right?!?  I mean, c'mon…that's pretty awesome.
Obviously I could go on and on but instead, let's just do a quick round up of the other things we love about EnVie:
They cater to carnivores!  Mac 'n Cheese, Buffalo Wings, & Double Bacon Cheeseburgers are on the menu (and we've tried them all) so if you're thinking "ewww, Tofu…", think again!

They do custom VIP 5-course dinners (check them out here)

They use organic, locally sources, non-GMO food (so they practice what they preach)

They offer done-for-you juice cleanses (which I'm DYING to try – here's the link for that)
They also have juices, soups, snack & treats available for those days when you just don't have time to sit down for a meal AND they cater.  Phew!  So basically what I'm saying is, they're awesome and you, dearest blog reader, should most certainly check them out.
Oh, and they're instagram and facebook accounts are drool worthy all day errday!  OK, you want to see our meal right?  Let's get to it then…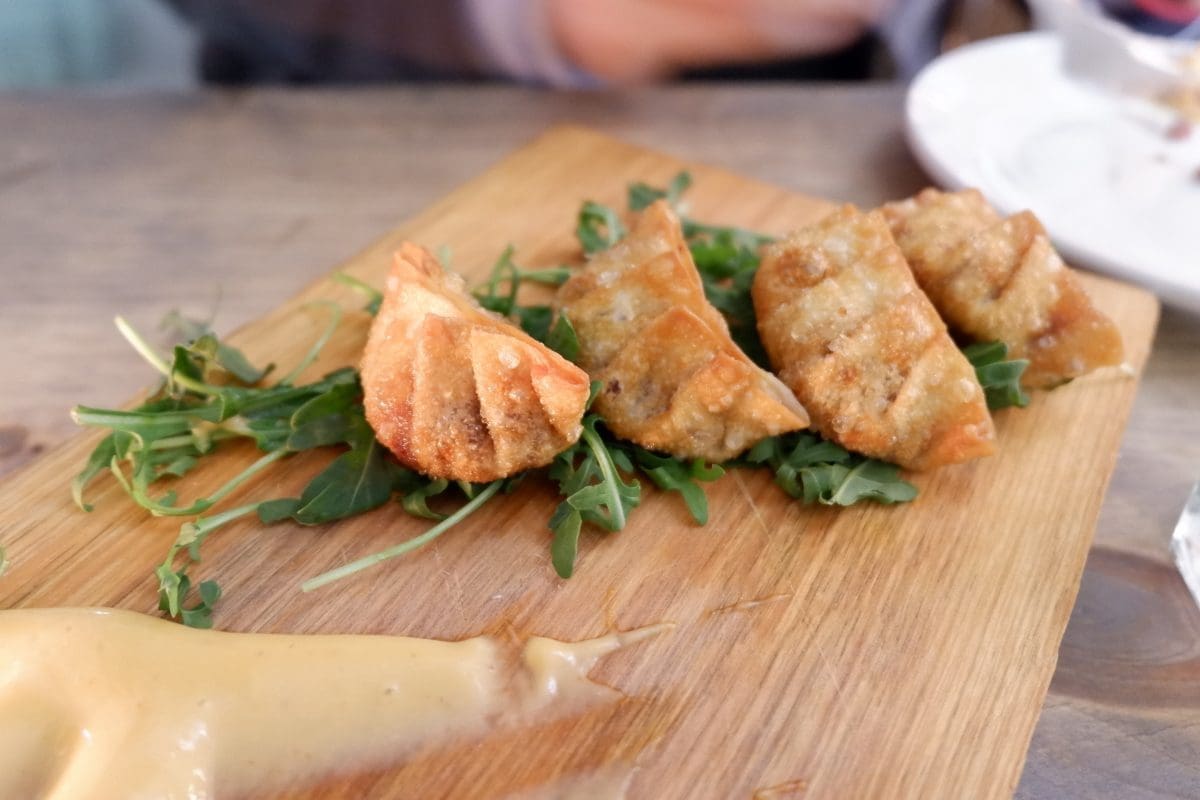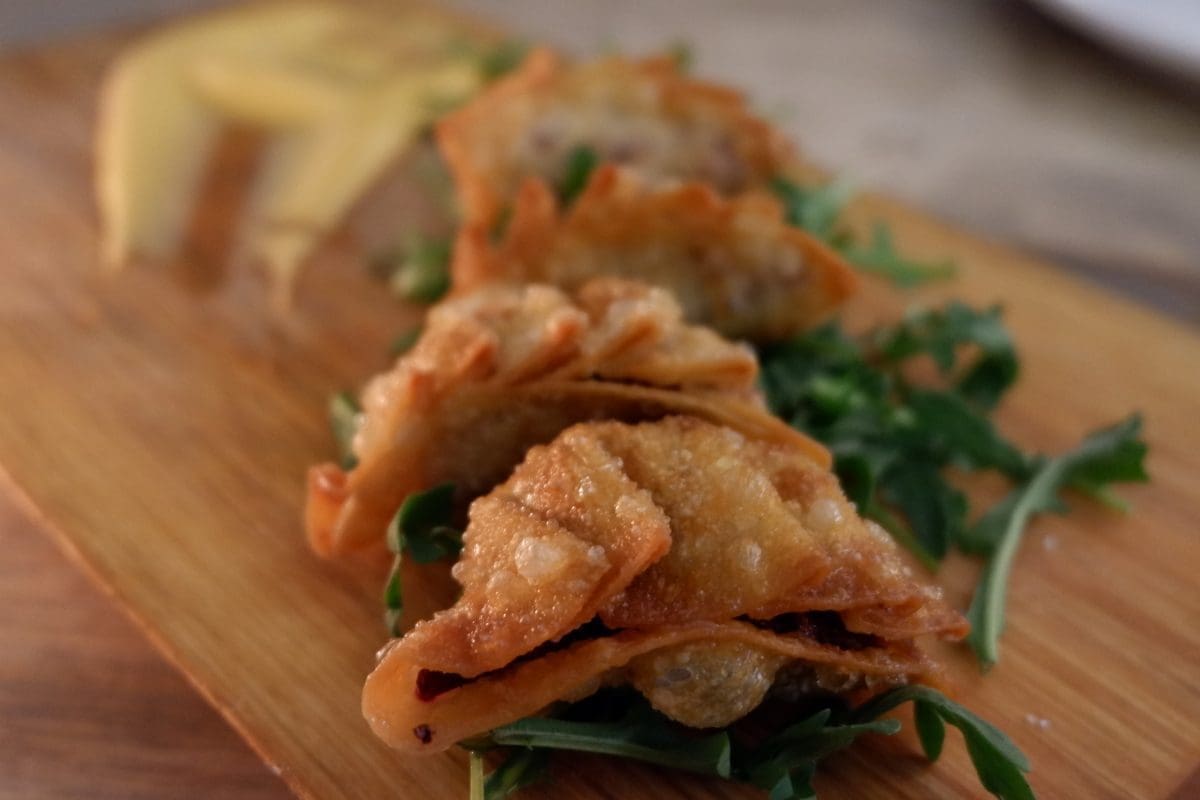 APPEY:  DUMPLINGS
Stuffed with tempeh, sui choy, shiitake mushrooms, carrot, served with spicy mayo
You had me at "Spicy Mayo"!  I always think perhaps I should live in France because my love of mayo is, as far as I can tell, rivalled only by my mothers'.  I love the stuff…and obviously, it's not a vegan choice so I'd been going without until this meal.  It was everything I'd hoped it would be!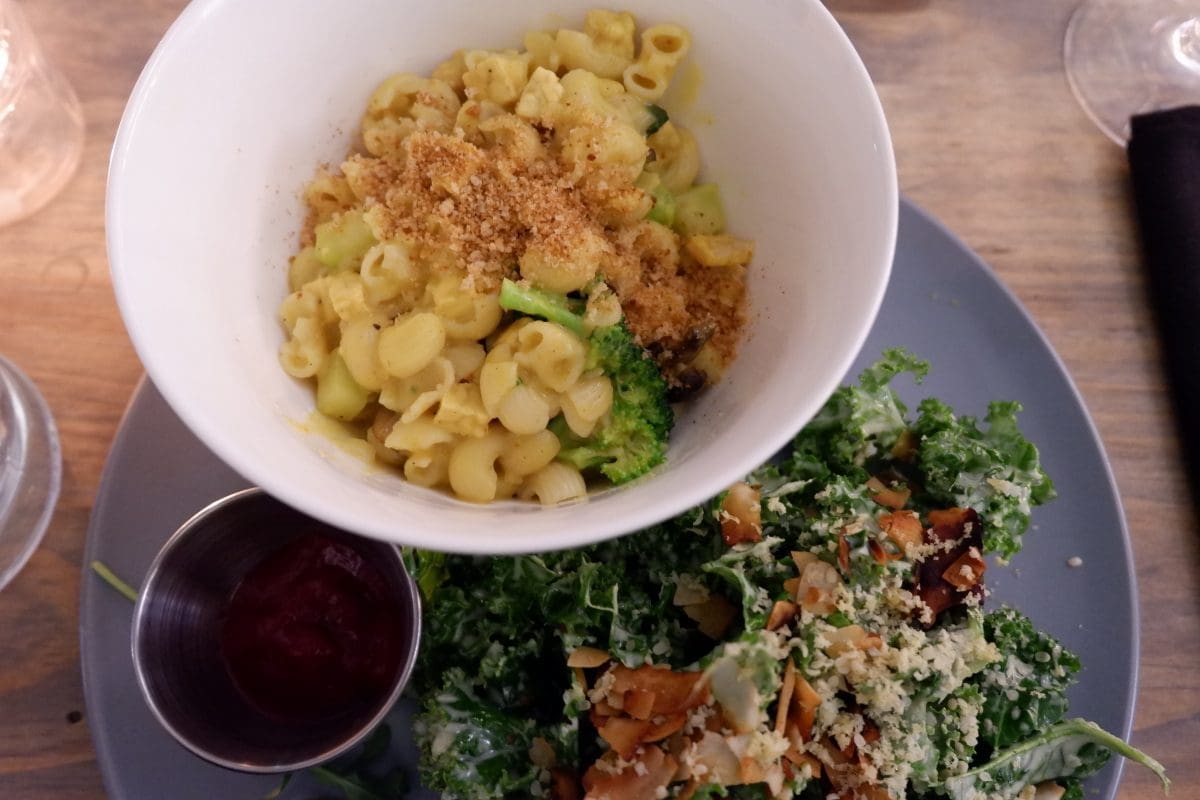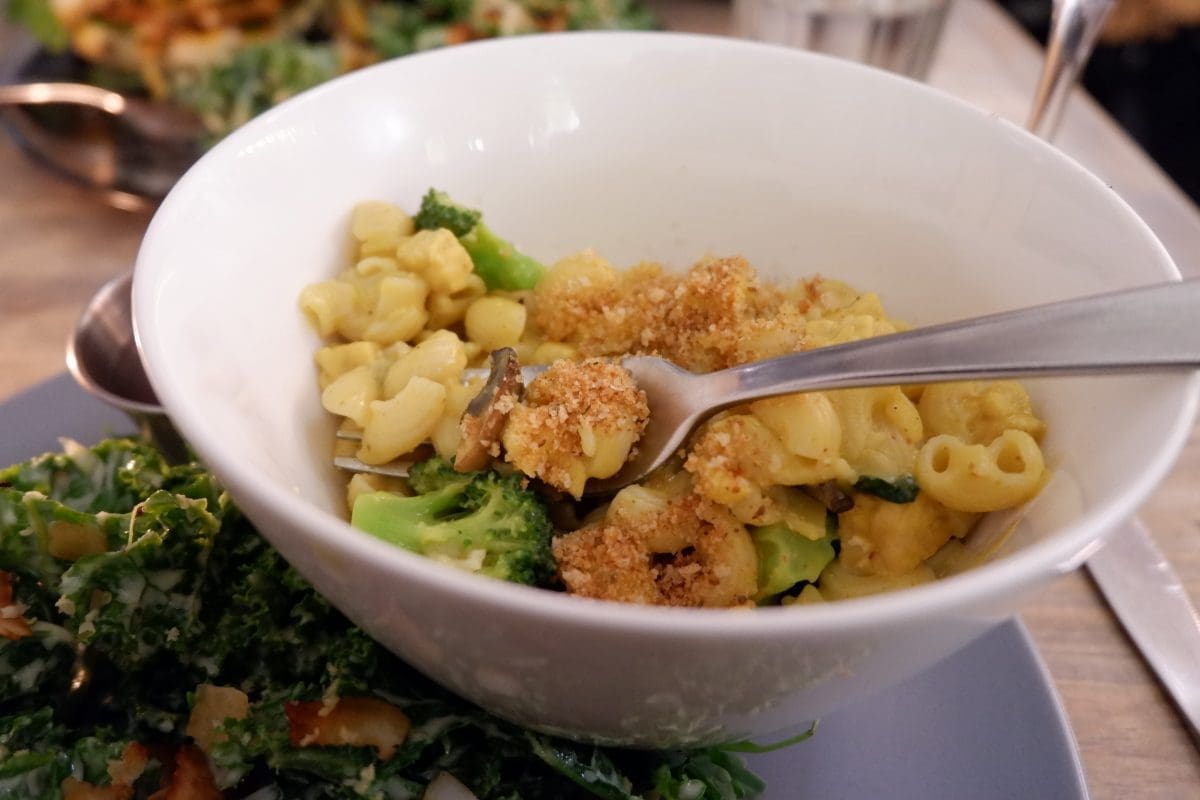 MAIN: Mac 'N Cheese + Kale Caesar Salad
broccoli, tempeh bacon, cheddar sauce, marinated mushrooms, topped with toasted breadcrumbs, served with beet ketchup and mixed greens salad
I've had this on my mind since the last time we visited EnVie (nearly a year ago).  It was delicious and I loved the addition of broccoli into the mac 'n cheese.  I also swapped out the salad for their famous kale Caesar (duh) which, if you haven't tried yet, you really should.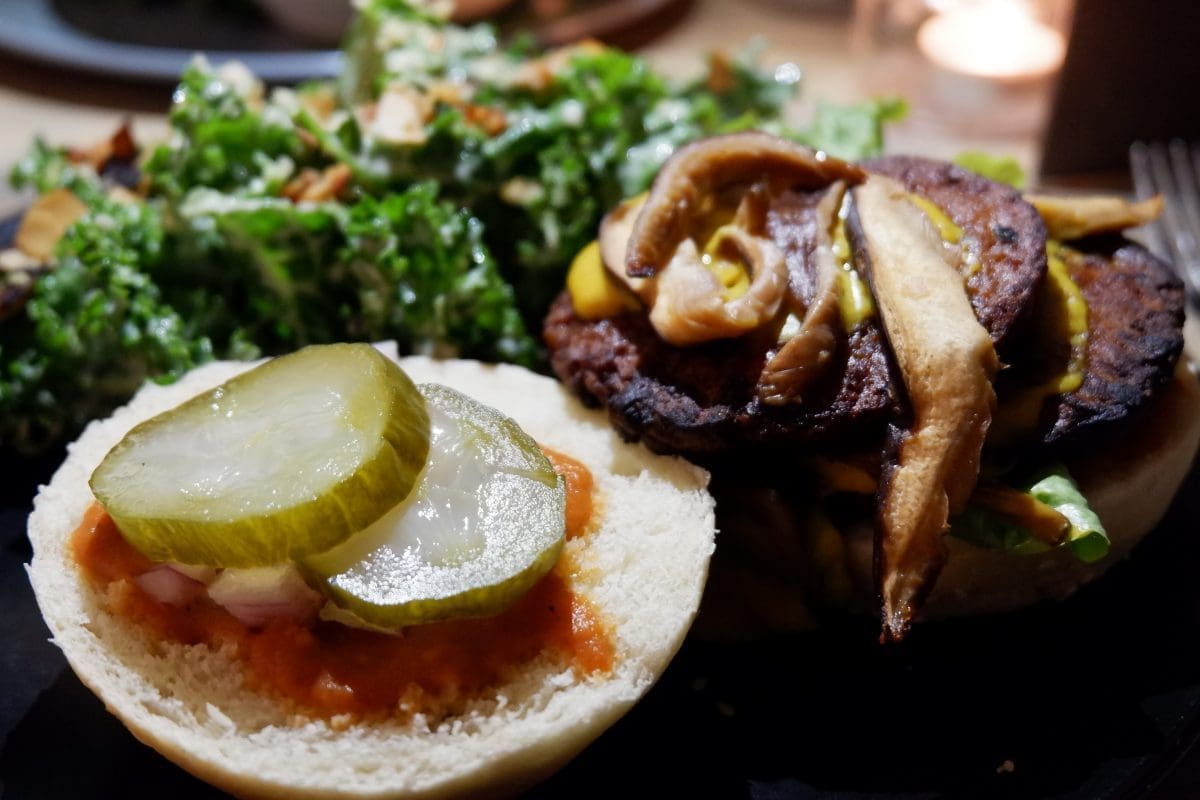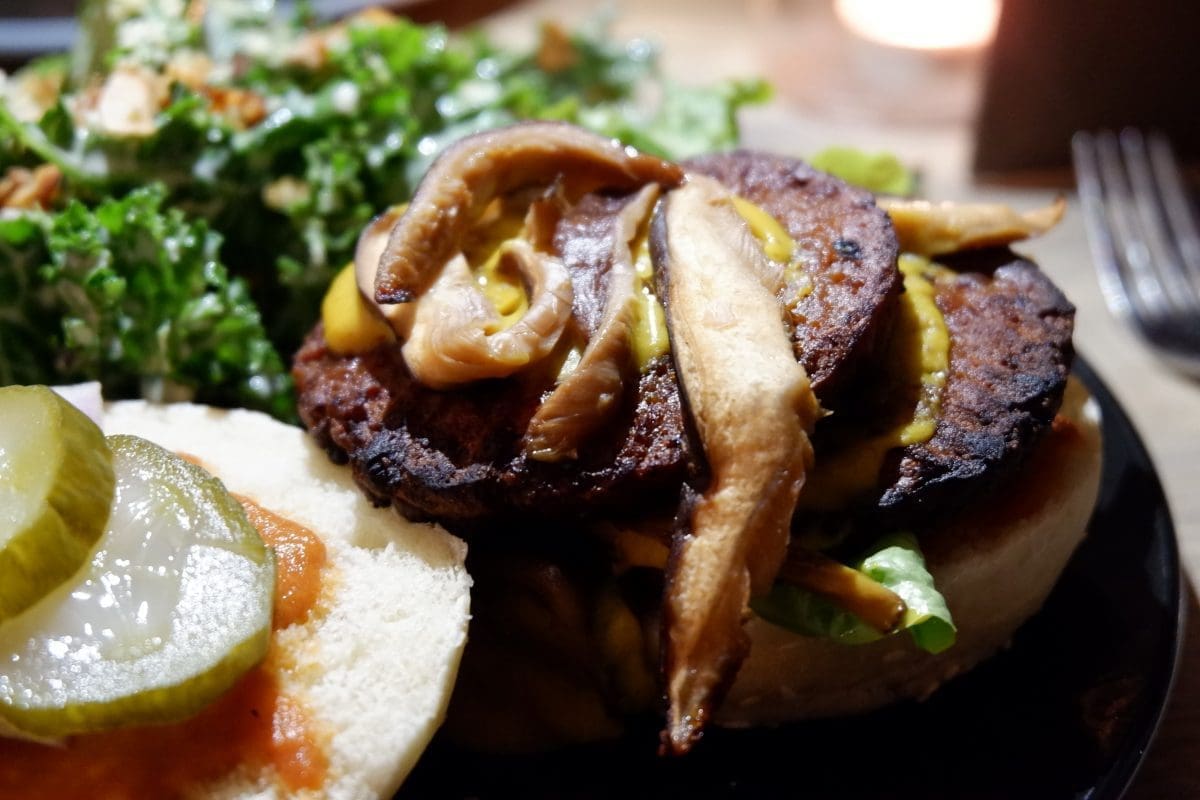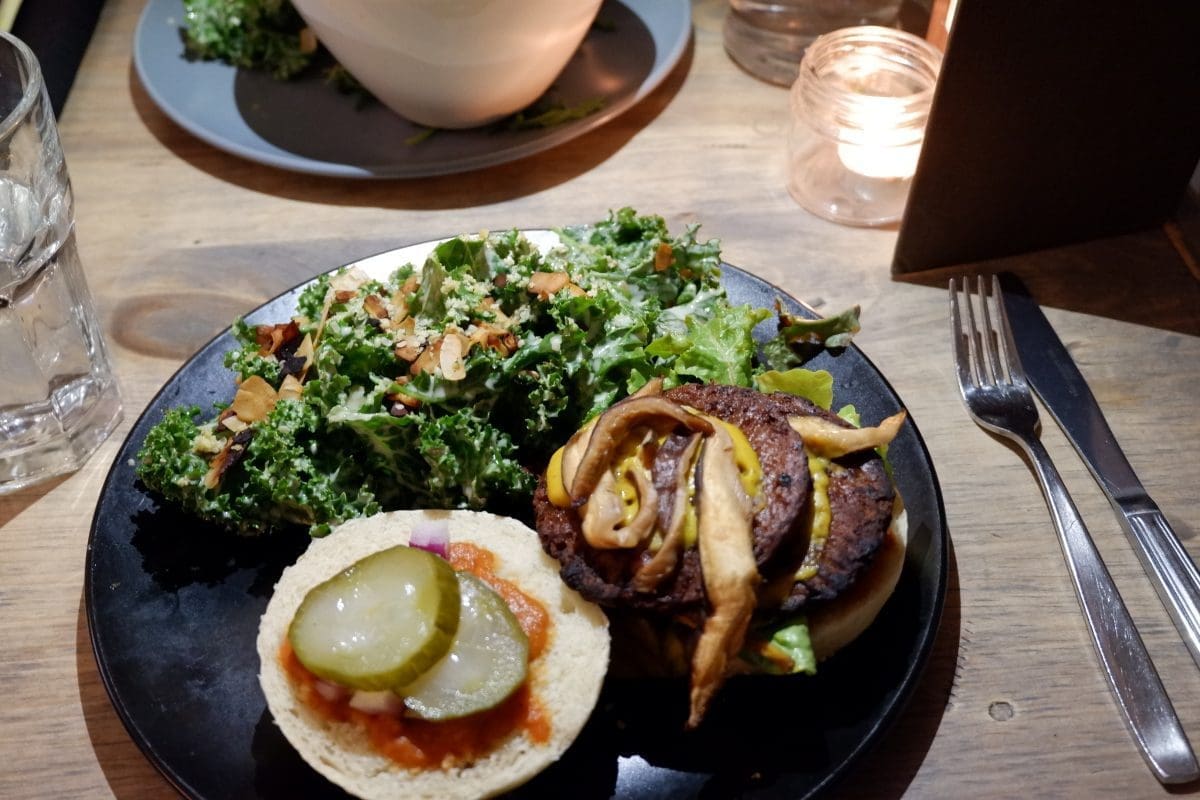 MAIN: Double Bacon Cheeseburger + Kale Caesar Salad
two seitan patties, shiitake bacon, cheddar, pickles, red onion and ketchup on a kaiser bun
This was a first for both of us and we weren't sure what to expect from a seitan burger but, if we're being honest, this was probably my favorite dish of the night!  The consistency was very "meaty" and I would wager that if you didn't know if was vegan, you'd think it was beef.  Our only criticism…more pickles please (because we're obsessed).
And that was it – no dessert for us tonight! 
One of the many side effects of a plant based diet is that we haven't been hungry AT ALL which is a nice change.  We find ourselves super satisfied after a meal with no room (or desire) to tackle a sweet treat at the end of a meal.
However, we want to give you the full spectrum of what EnVie has to offer in the food department so we're including a little recap of our last meal with them.  Here it is…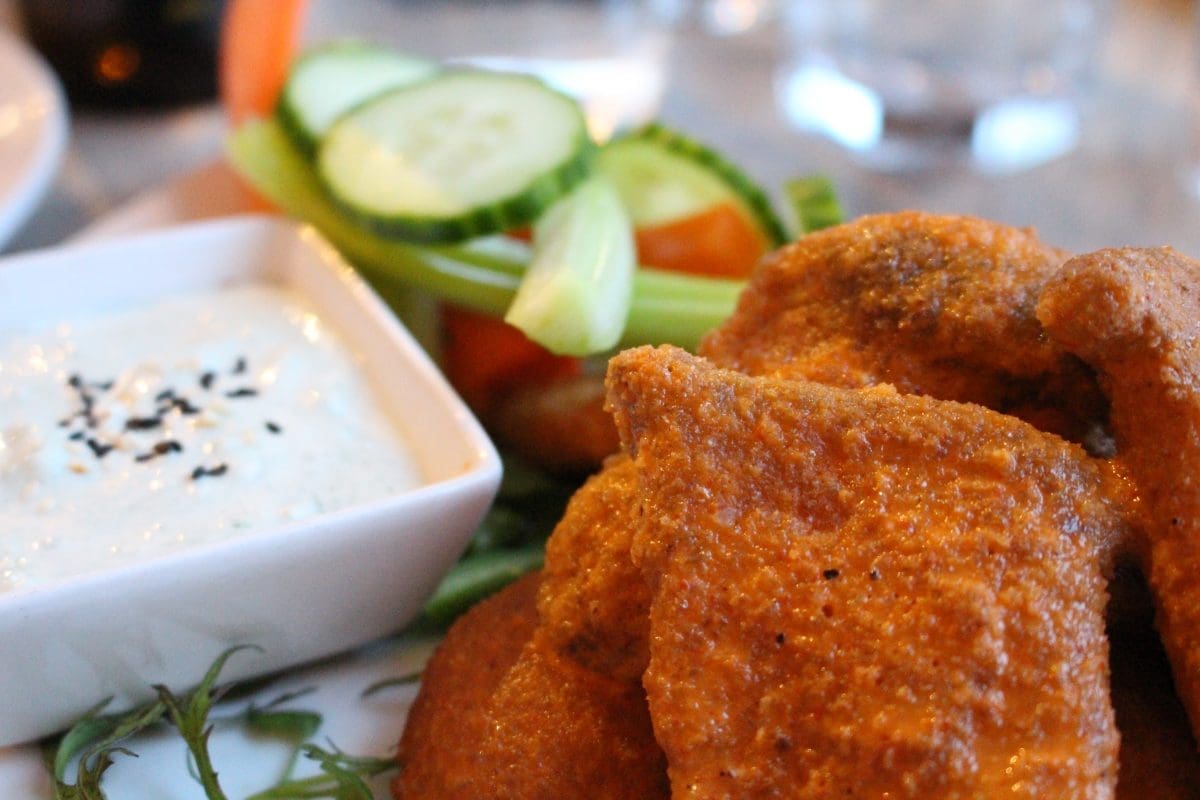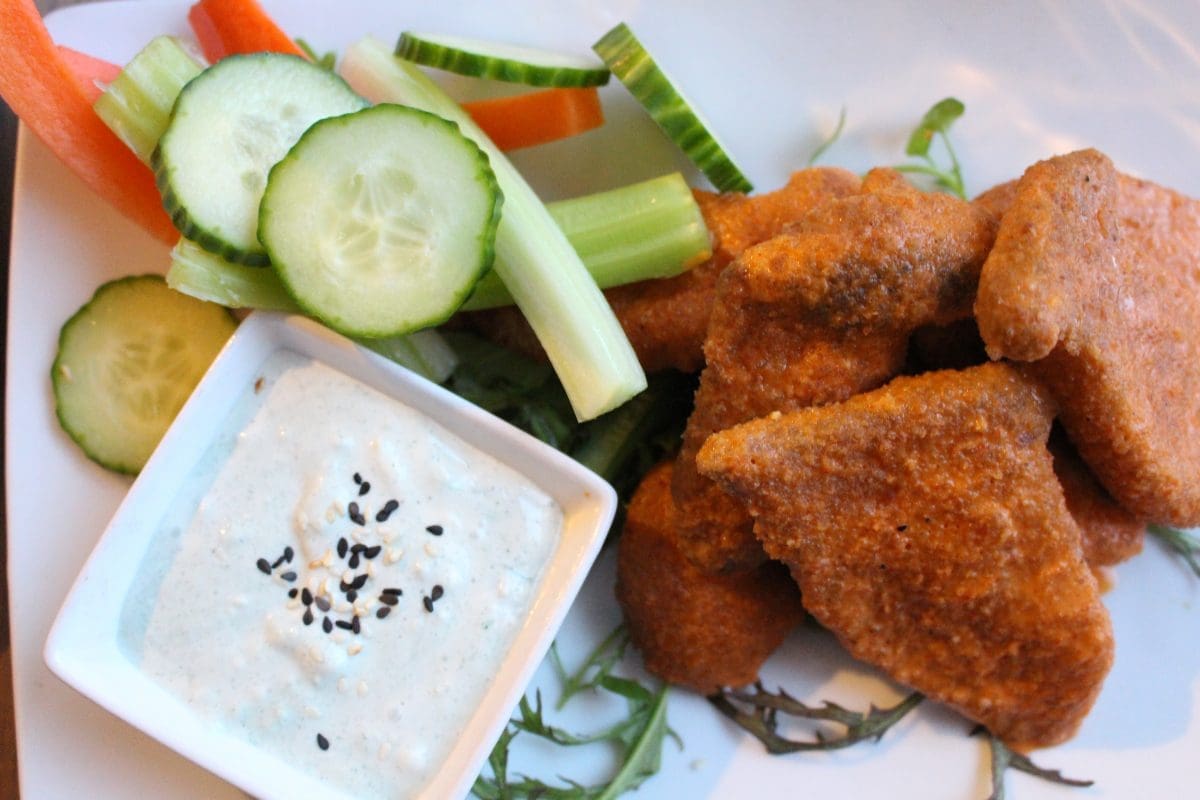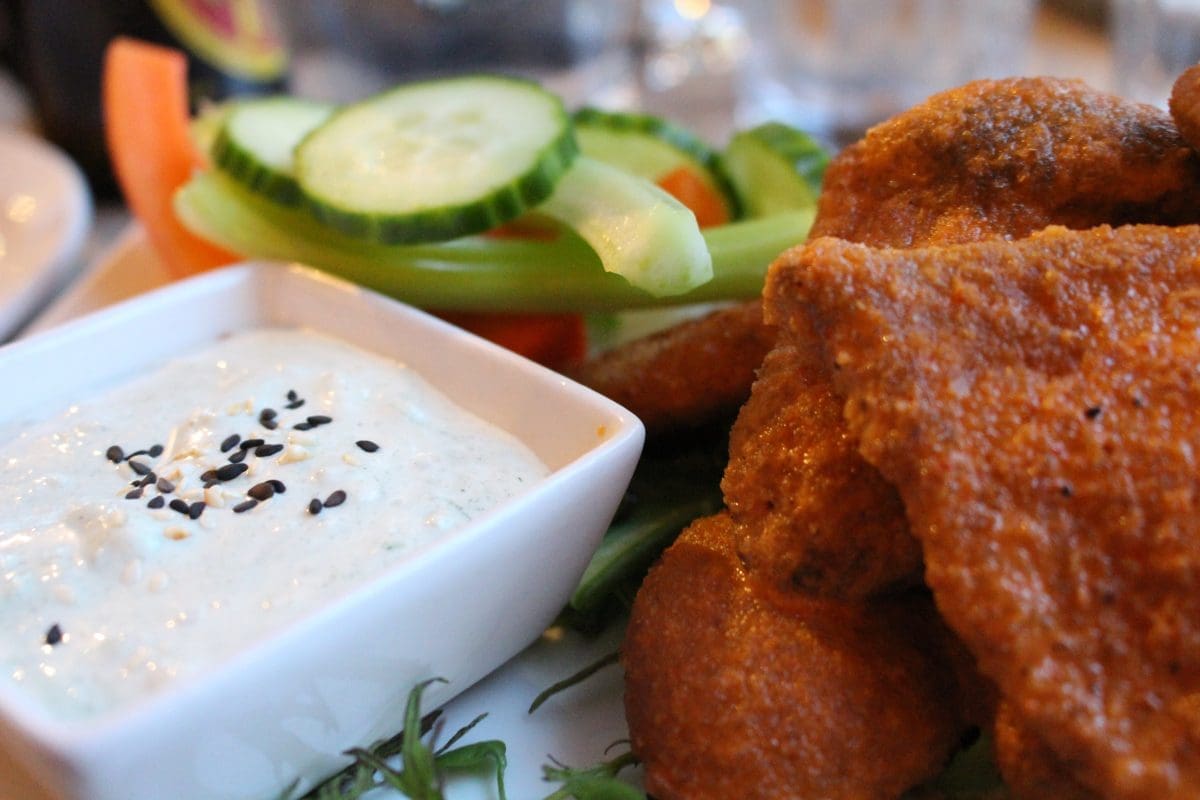 BUFFALO WINGS
panko crusted king oyster mushroom cutlets, tossed in your choice of house-made buffalo or BBQ sauce, served with blue cheese dip, crudités
These were AMAZING.  Obviously they don't have the texture of a buffalo wing (mainly because there's no bone – that's gross anyway) but the taste was spot on and that dip…well, let's just say that the man who nearly divorced me because I tricked him into eating Tofu once said it was great.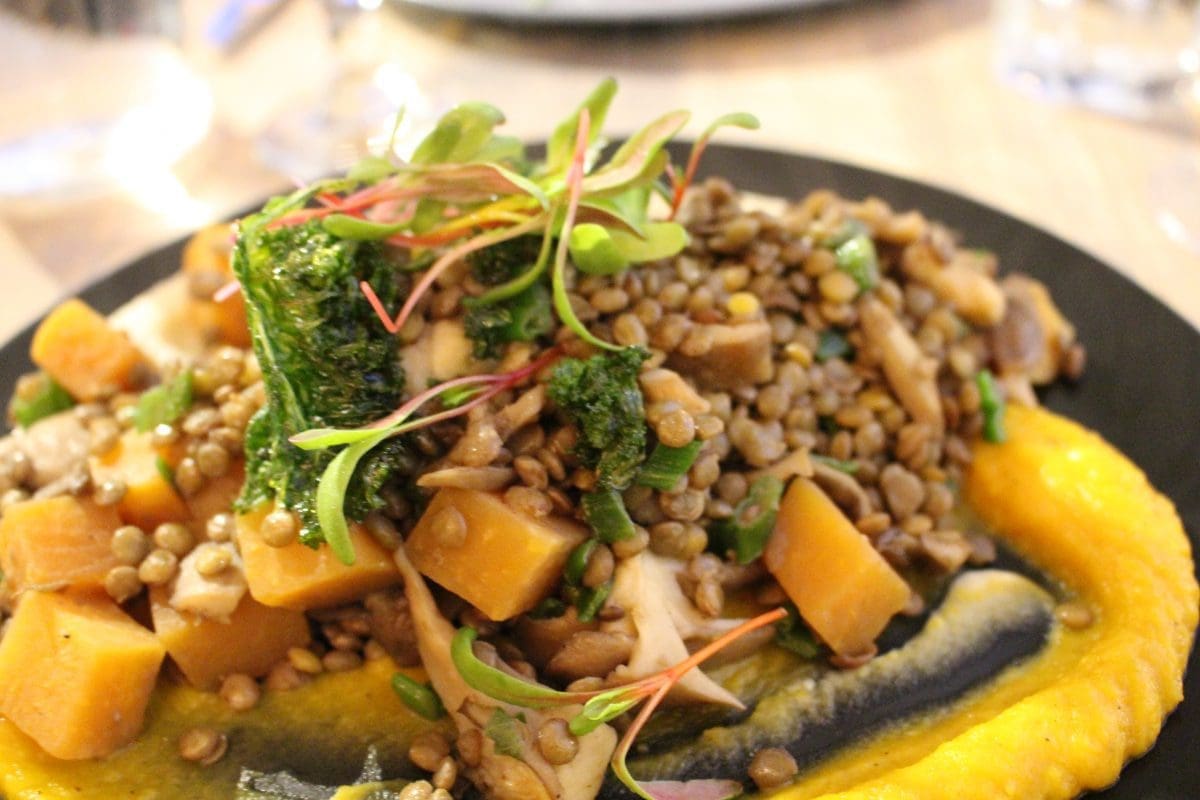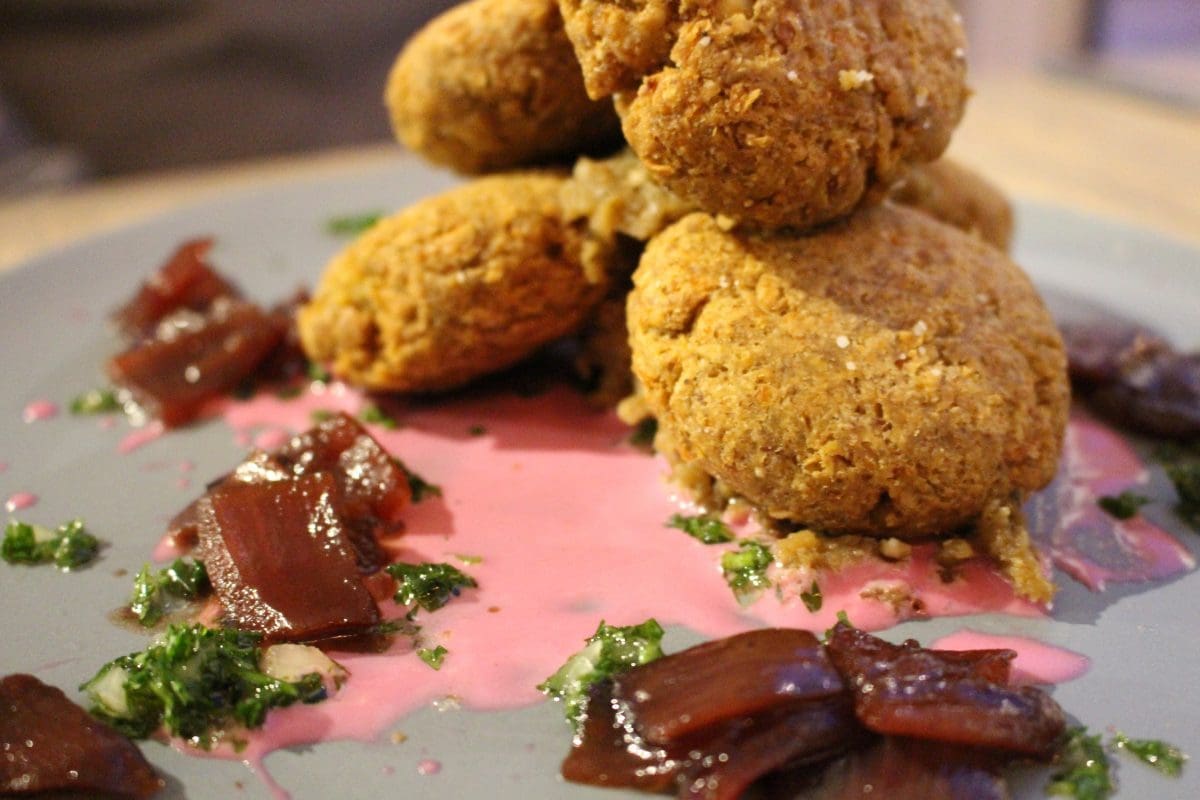 MACRO & FALLAFEL
ancient grain medley, coconut sauce, steamed seasonal vegetables, teriyaki tofu, sprouts, grated beets, carrots
This was our very first taste of vegan (a year ago, as I said) and when these arrived on our table we weren't sure what to expect (Cory had picked the menu for us) but we were pleasantly surprised.  My macro bowl was fantastic – I loved every bit.  In fact, this dish was the beginning of my torrid love affair with pea shoots…I put those little babies on everything now!
Brent enjoyed but didn't love his meal which makes sense because we see now that it's no longer on the menu.  You gotta love a restaurant that adapts to its customers tastes.  He does, however, love beets and was pumped to see them on his plate.  I personally think beets taste like some combination of dirt and what imagine earth worm would taste like but hey…to each his own.

DESSERT: Apple Crisp with Coconut Cream
And of course, dessert (because that's how we rolled back then).  Apple crisp with coconut cream…what else is there to say?

FINAL THOUGHTS
As you know by now, we're planning to maintain and "somewhat" plant based diet and we're excited that we have access to restaurants like EnVie.  I'm also very keen to try a juice cleanse…so maybe that'll be next 😉 
In all seriousness though, what matter most to us when it comes to the businesses we choose to support, are the values of the people behind the brand.  Honesty, integrity, ethical & sustainable business practices and passion for what they do and the community they live in…EnVie's got that in spades so we're all in.
A huge thank you to Cory and the team at EnVie for welcoming us once again to enjoy a meal.  This post was sponsored by EnVie – A Vegan Kitchen but, as always, our opinions, photos, and full bellies remain our own.
WHAT'S YOUR FAVORITE VEGAN DISH?  HAVE YOU EVER BEEN TO ENVIE?  LEAVE US A COMMENT BELOW!