"If people sat outside and looked at the stars each night, I'll bet they'd live a lot differently. Well, when you look into infinity, you realize that there are more important things than what people do all day."
~ Bill Watterson, Calvin and Hobbes
As we waited for the clouds to clear over Bon Echo lake, we were both tired from a full day of exploring Ontario's Highlands. To be honest, we were half hoping the clouds would give us reason to stay put for the night but the universe had another plan.  The clouds cleared just enough to force us into the car for the 40 minute drive to the Lennox & Addington Dark Sky viewing site.
We tentatively arrived at the viewing platform which was, as you'd expect, pitch black and it took our eyes a moment to adjust.  As they did, we both had an "Oh My God" moment as we looked up.  To be clear, we're both from the country where there's very little light pollution so we've seen our fair share of breathtaking night skies but when you visit a site dedicated to the task, it's another story.
If you're reading this and you happen to have lived in a city your whole life and you've never layed down on dew covered grass to watch the stars, go do that now!  Or at least make plans to get somewhere dark in the next 6 months and see for yourself.  Stargazing is something (I feel) that everyone should experience because it really does feed the mind and soul.

5 Ways Stargazing Feeds the Mind & Soul
1.  Accepting The Unknown
You can't look up into the Universe without wondering what's out there.  We're so focused on menial day-to-day tasks that it's easy to get wrapped up in controlling everything around us.  Gazing into the vast night sky quickly brings you to the realization that you don't know what's out there, you can't control everything and it's OK.
2.  Pure Human Connection
As I write this article, I find myself thinking back to my own experiences under the stars.  Some of my most meaningful conversations have happened under the bright, wide night sky.  I've cultivated friendships, romances, and had some of my biggest ideas lounged back under the stars just "being" with another person and talking about our hopes and dreams.  It's intimate to be in the open air, in the dark, under the twinkling stars with another human.
3.  Slowing Down
We live a fast paced, loud life.  Well, at least I do.  I find myself running around most days, talking at warp speed and sprinting from one activity to the next.  It's almost impossible maintain that pace under the stars.  If you can convince yourself to lie back and watch the sky, just for a moment, you'll find it just feels wrong to be loud.  The quiet pulls you in and it's so easy to get lost in the stars!  Bonus, if you can be still for a few moments – you're likely to catch a glimpse of a shooting star.
4.  Finding Wonder
This won't surprise you, if you know me.  I feel strongly connected to nature and I know I'm not alone in that.  It doesn't matter if it's the ocean, the forest, the creatures who call our planet home or the night sky – when I'm "in it", I feel better – more whole.  Anytime you can you stop and really take a look at the extraordinary miracles of nature, it's hard not to feel inspired.
5.  Changing Perspective
It doesn't take advanced education to appreciate the vastness of the universe.  All you have to do is look up at the blanket of stars across the night sky.  You're looking at stars, planets, galaxies, and nebulae and we're just one tiny part of that.  When you really step back and realize that we're just a tiny part of something that huge, our day to day troubles seem less.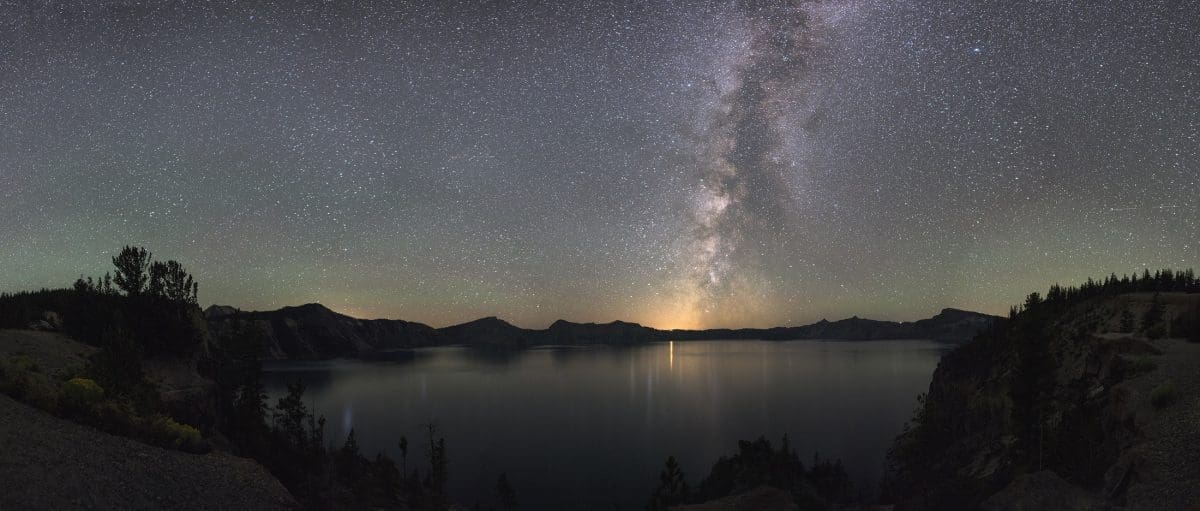 I sincerely hope this article inspires you to find some darkness and take a little time to sit quietly and gaze at the tiny bit of our Universe you can see.  If it does, I'd love to hear from you!  Tell me about your own star-gazing experiences in the comments below.
Happy Gazing,
Sara
*This post was sponsored by Ontario's Highlands Tourism Organization but as always, all opinions remain my own.  Also, a hugely gracious thank you to Tim who graciously offered his time to us at the Dark Sky Viewing area and gave us our very first lesson in night photography.