9 Simple Cocktails to Make at Home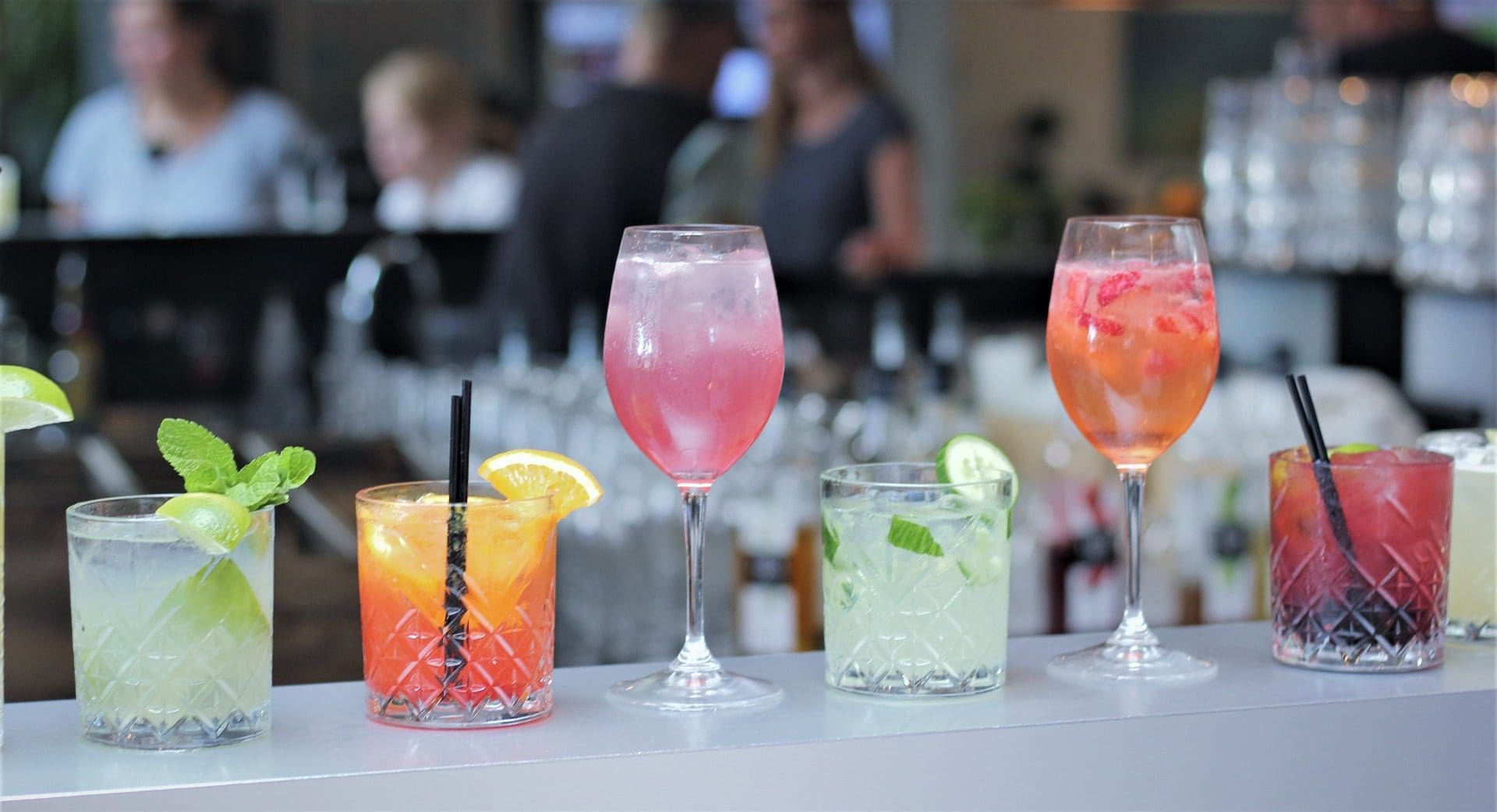 A night at home doesn't have to mean forgoing your favorite cocktail or breaking the bank on bar essentials, either.  There are plenty of simple cocktails you can make at home.  So if you find yourself cooped up, you can still enjoy a happy hour with friends using these simple cocktail recipes.  
Here are 9 classic cocktails you can easily make at home with a few simple ingredients.  If you're just starting to dip your toe into the world of cocktail making, be sure you get your hands on these home-bar essentials as well!  
Caesar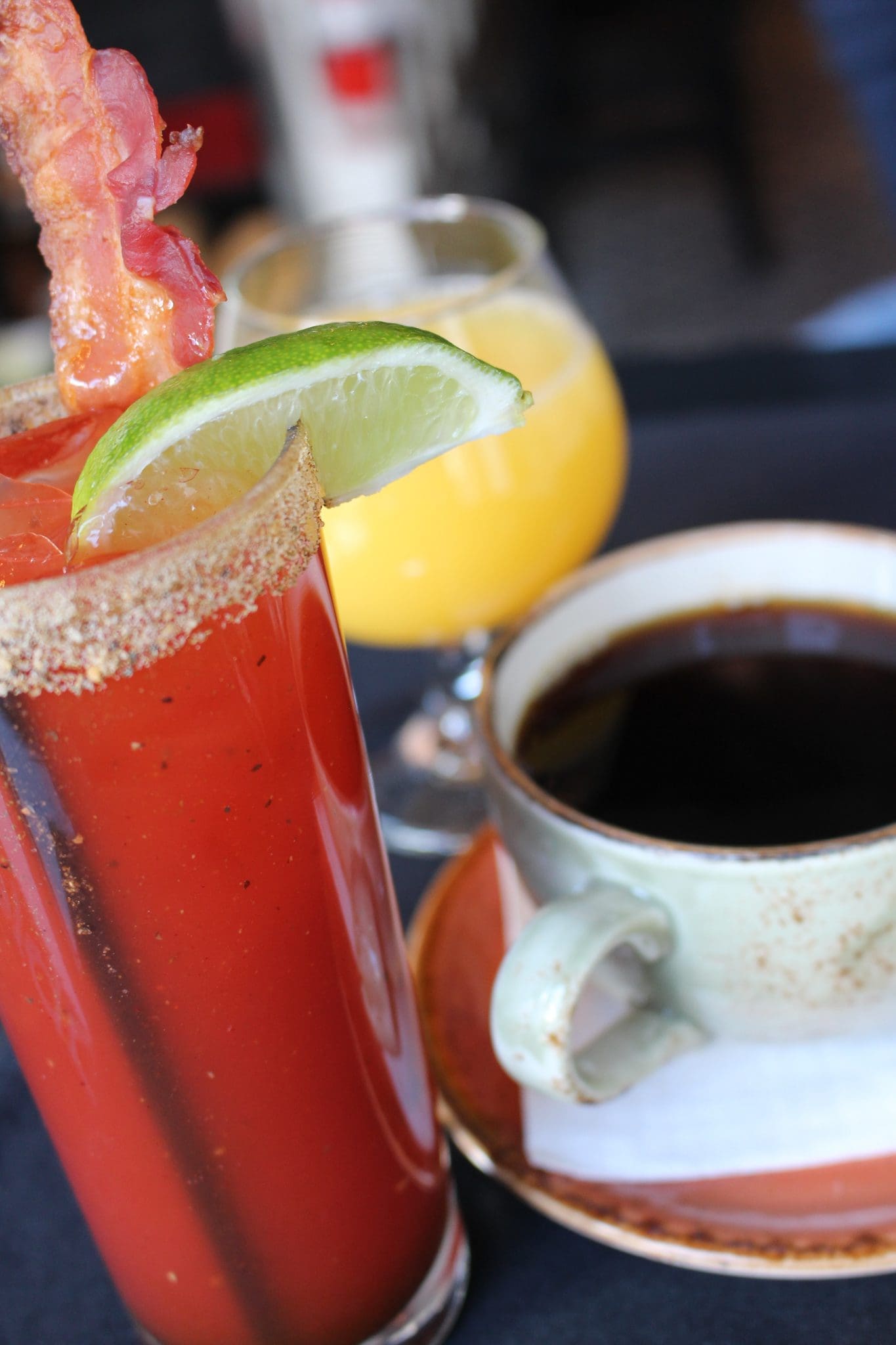 Ingredients: Vodka, Clamato Juice, Worcestershire Sauce, Hot Sauce, Celery Salt
Backstory: It's a Canadian classic, created by Walter Chell as an homage to his favorite pasta dish, spaghetti vongole.  He wanted to create a cocktail that would capture the dishes hearty clam and tomato flavors and, apparently, it took him months to perfect the recipe.
RECIPE
ice

3 dashes Worcestershire sauce

3 oz Clamato juice

1 – 3 dashes hot sauce

1 oz vodka

celery salt

salt & pepper

Lime wedge

celery, pickles, olives, bacon or a slider (optional garnishes)
In a rimmed glass filled with ice, add the Worcestershire sauce, followed by Clamato juice, hot sauce, vodka, and then season with salt and pepper. Squeeze in one wedge of lime and stir.  Garnish with a celery stalk, olive skewer or bacon slice.  We've even seen garnish's that consist of lamb sliders, lobster claws and miniature bowls of stew!
---
Moscow Mule
Ingredients: Vodka, ginger beer, lime
Backstory: The mule was (by most accounts) born in Los Angelas in the early 1940s and made popular by a Smirnoff vodka representative during a time when vodka wasn't all that popular in the states.  Its trademark is being served up in a copper mug that keeps the cocktail icy cold and oh-so refreshing.
RECIPE
2 oz Vodka

3 to 4 oz Ginger beer

2 Lime wedges
Add the vodka and ginger beer to a copper Moscow Mule mug or highball glass filled with ice and stir briefly. Squeeze the lime wedges into the drink before adding them to the glass. Stir & serve!
---
Mojito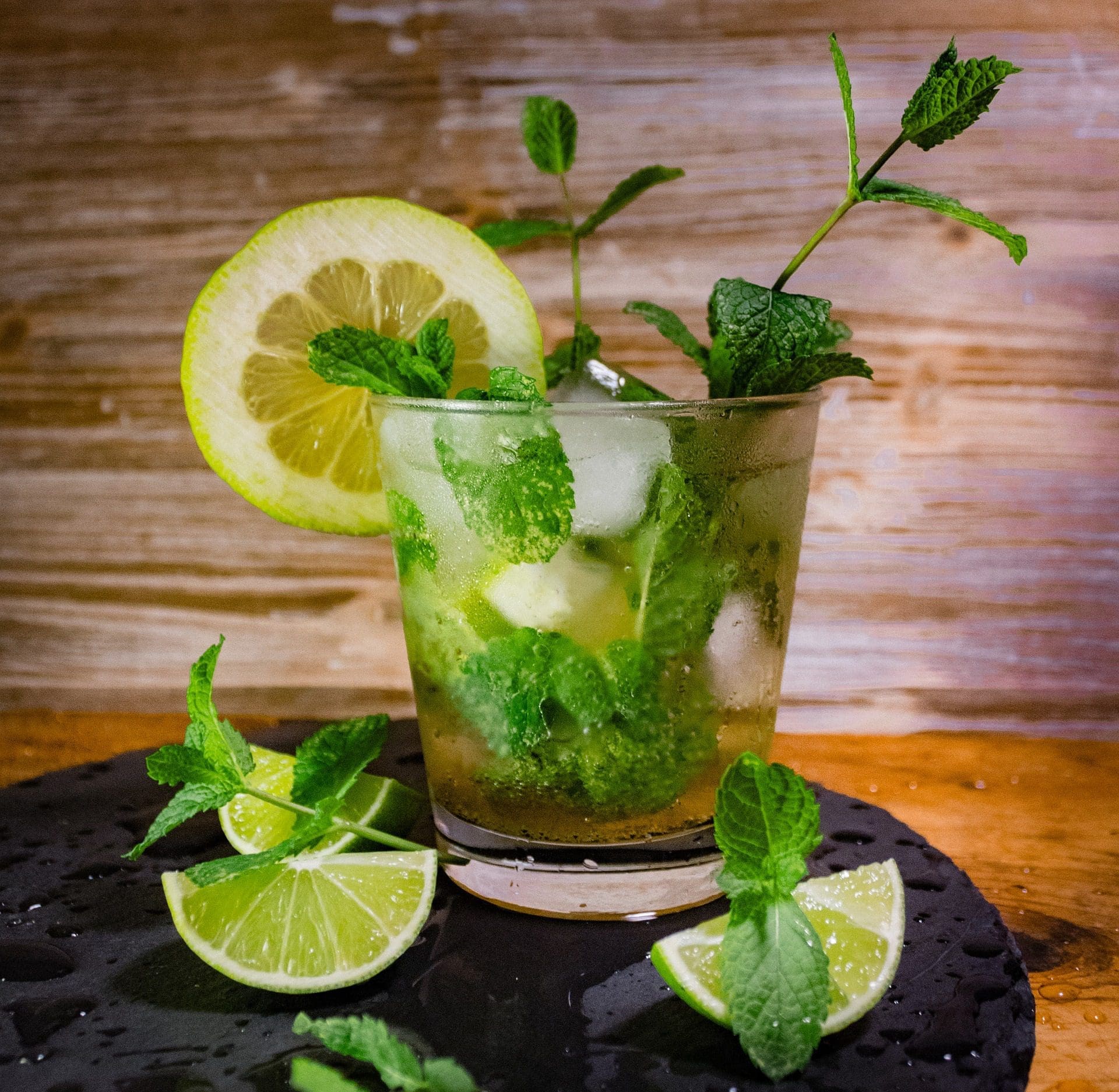 Ingredients: Rum, mint, club soda, simple syrup, lime
Backstory: What use to be a moonshine & mint cocktail was quickly turned into a rum drink when pirates invaded Cuba to create what we know as a Mojito!  Arrrrg.  Actually, the original cocktail was used to ward off illness!
RECIPE
Muddle mint leaves and 1 lime wedge in a mixing glass to release the mint oil.  Add 2 more lime wedges and sugar, and muddle again.  Do not strain.  Fill the glass with ice, add the rum and fill with carbonated water.  Stir and garnish with remaining lime.
---
Dry Negroni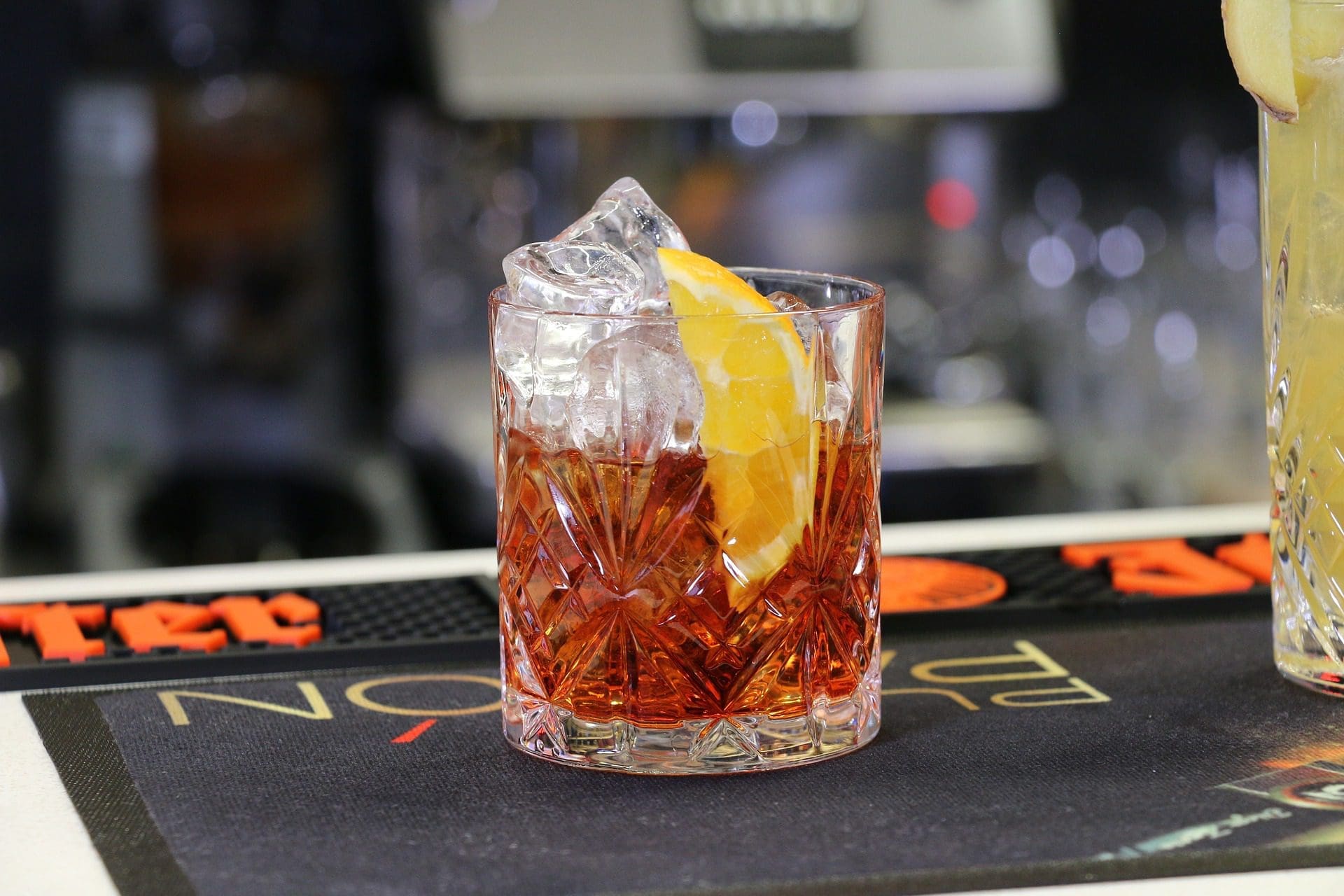 Ingredients: Campari, dry vermouth, gin, lemon
Backstory: Its origins are murky but the most popular story of the Negroni goes like this. Count Camillo Negroni asked a Café bartender to improve his Americano (made with Campari, sweet vermouth, and club soda) by using gin instead of soda water. We like his style!
RECIPE:
1 oz Gin

1 oz dry Vermouth

1 oz Campari bitters

Lemon to garnish
Stir with ice for 20-30 seconds. Strain into a coupe glass. Garnish with lemon peel.
---
Dark 'n Stormy
Ingredients: Dark rum, ginger beer, lime 
Backstory: The only drink (that I know of) that's actually trademarked by Gosling's rum.  The story is that navy officers started mixing the rum with the ginger beer they were brewing on the ship to combat seasickness.  It works for me!
RECIPE:
1 part Gosling's Black Seal rum (or any dark rum)

2 parts ginger beer (we love fever tree)
Fill a collins glass with ice, add, rum, then top with ginger beer. Squeeze in, then garnish with a lime wedge.
---
Dirty Martini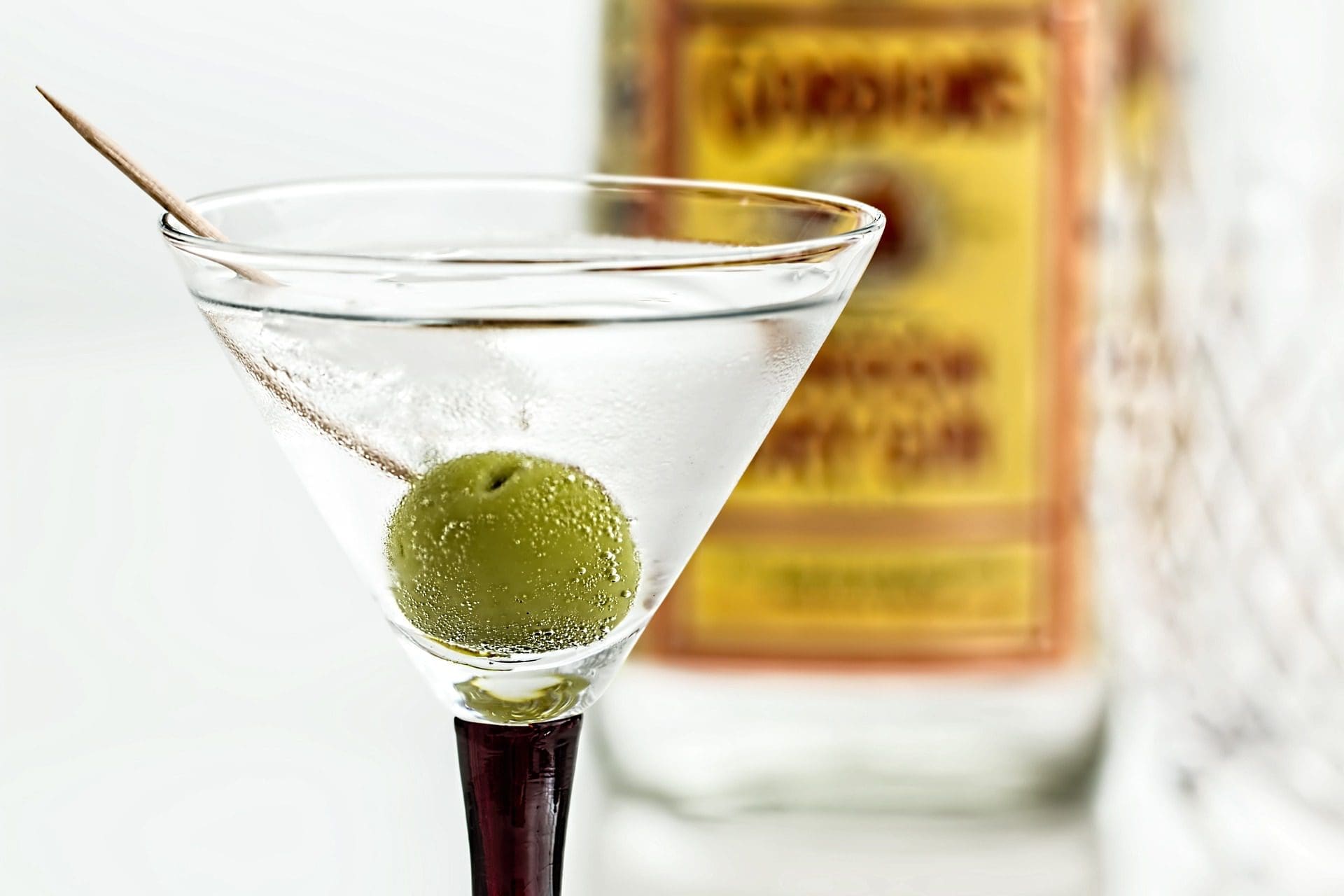 Ingredients: Gin or vodka, dry vermouth, bitters, olives (and juice)
Backstory: Well it was made super popular by James Bond but this classic has been around a lot longer than that! In the 1860s, San Francisco had something called the Martinez that had become a popular local cocktail. The Martinez had gin and vermouth, as well as bitters and Maraschino. The classic Martini emerged once the cherry and bitters were stripped away.  A Martini today, is a very personal drink with variations to suit every taste!  We love 'em dirty.
RECIPE:
2 oz gin

1 oz dry vermouth

2 olives

1 bar spoon olive juice
Add gin (or vodka) and vermouth to an ice-filled mixing glass or metal shaker. Stir, don't shake, for about 10 seconds. Strain into a coupe or cocktail glass and garnish with olives and juice.
---
Screw Driver
Ingredients: Orange juice, vodka, ice
Backstory: Like many of our favorite cocktails there are varying stories about it's origin but I'll tell you my personal favorite.  In the mid 20th century, American oil workers dosed their OJ with vodka but didn't have a spoon to stir with so they used, you guessed it, a screwdriver.  The name stuck.  
RECIPE:
1 1/2 oz vodka

4-6 oz orange juice

ice cubes
Add ingredients to glass and stir.  Simple and classic!
---
Margarita
Ingredients: lime juice, tequila, simple syrup, kosher salt
Backstory: The origins of the Marg are murky as well, but the best we can guess (by the tales) is that it originated in Tijuana. It's name is supposed to be a salute to unrequited love. They say a Tijuana nightclub owner crafted the drink to impress a performer named Margarita Cansino—who would eventually become famous under her stage name Rita Hayworth.  These days, the drink can often be found as a sugary (read: gross) slushy drink but when made simply at home it's a beautifully elegant (and delicious) cocktail.
RECIPE:
1 oz fresh-squeezed lime juice

2 oz Tequila

1 oz simple syrup
Rim a glass with kosher salt.  Add ingredients to a shaker and shake with ice for 30 seconds.  Strain over fresh ice and serve.
---
Old Fashioned
Ingredients: Whiskey or Bourbon, simple syrup, Angostura bitters, orange peel
Backstory: There's a lot of debate (of course) but as far as we can tell the "Old Fashioned" cocktail as we know it was created in 1880 in Chicago although a bartender of a gentlemen's club in Kentucky (in 1881) claims it was his creation.  We call bullshit on that because it was printed in Chicago a year earlier.  It gets its name from the fact the original cocktails were simply made of spirits, bitters, sugar and little else.  When people started asking for a cocktail "the old fashioned way" that's what they meant.
RECIPE
2 oz whiskey or bourbon

2 tsp simple syrup

1 tsp water

1 maraschino cherry

orange peel
Add simple syrup, bitters, and water to a whiskey glass and stir to combine.  Add a large ice cube and pour whiskey over the ice.  Garnish with orange peel and cherry.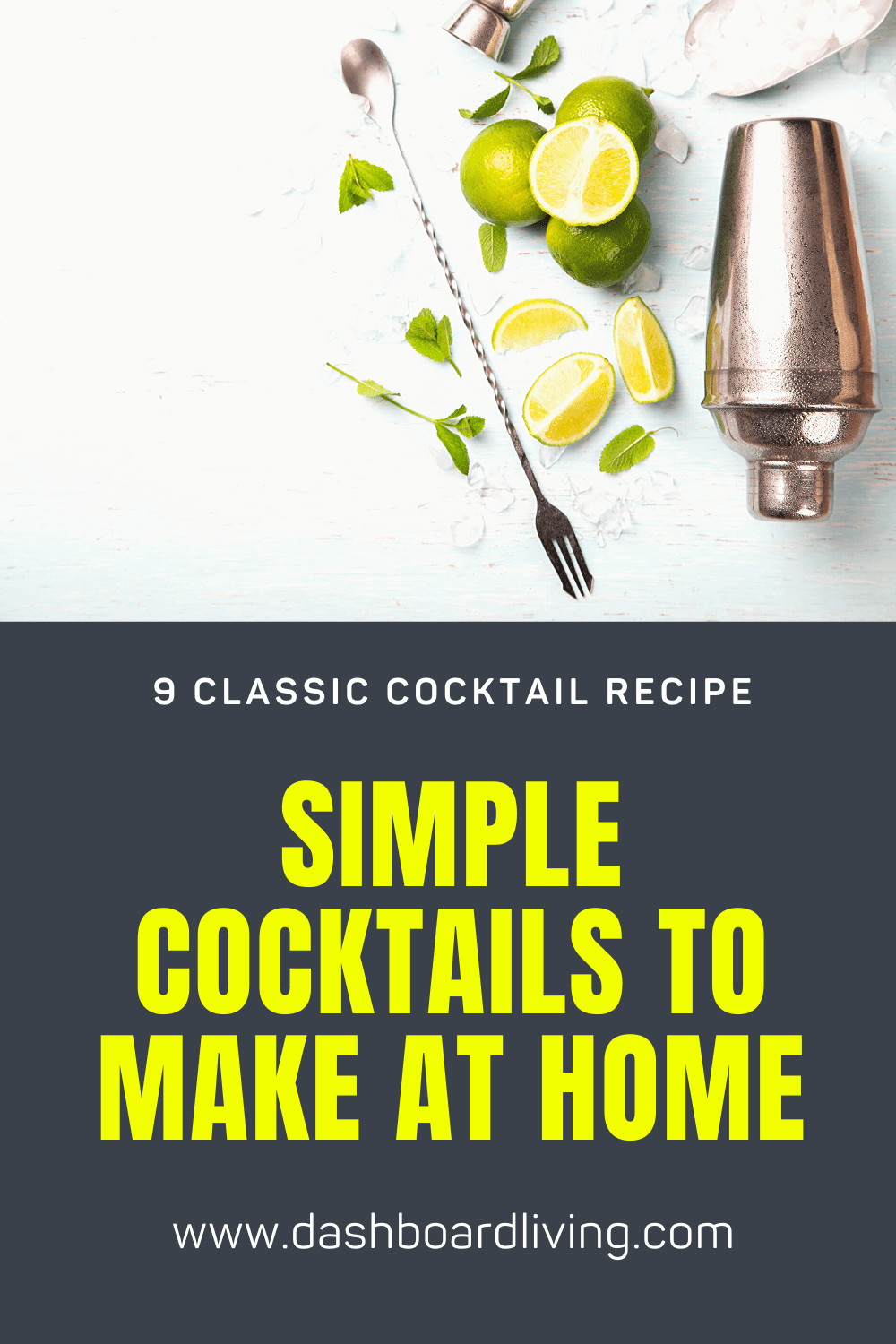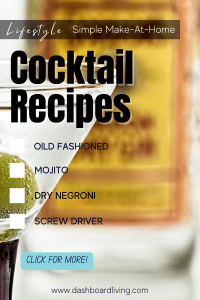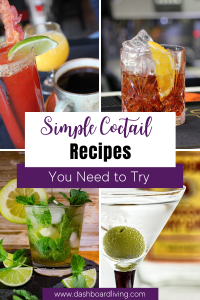 Did we miss your favorite simple cocktails?  Tell us in the comments if you make any of these at home or if we missed your fav!