STAYING AT THE SUGAR HILL INN, New Hampshire
The moment those majestic white mountains rose up in front of us we knew we were in for an amazing couple of days in New Hampshire.  This was the second leg of our week long trip through New England in search of snow (there was none in Nova Scotia when we left) and we found it here.  As we arrived at the Sugar Hill Inn, the snowflakes had started to fall and we were so excited to finally have some winter!
CHECKING IN: Country Charm & Warm Welcomes
Sugar Hill Inn was built in the 1700's and maintains the old world charm, even with it's modern updates.  The inn is conveniently located at the base of Sugar Hill making it a great hub for the outdoor enthusiast.  Ski hills, national parks, restaurants and more are just a stone's throw away.
THE AMENITIES at Sugar Hill Inn
The amenities at the inn are typical of what you'd find at most upscale and boutique inns or B&B's.  The cozy entryway with propane fireplace leads to a library which was perfectly suited to the style of inn.  
We were focused on taking advantage of the outdoor activities (check out our perfect day here) but, had our stay been longer, we would have loved to spend a little time in that library!
The inn also offers daily coffee, tea and snacks in the parlour which, in my opinion, was a really unique feature of the Sugar Hill.  With a wide assortment of scotches and bourbons this would be a spectacular place to cozy up next to the fire (there was a fireplace is nearly every room) and chat with your fellow inn guests.
There is also an in ground pool with waterfall onsite and available to guests during the summer months.
OUR ROOM: The Brickford Suite
We checked into the Brickford suite which featured sweeping views of the mountains from the built in window seat, a propane fireplace, king size bed and a two person jacuzzi tub.
Our room also had an espresso machine which was unique and supplied bath salts and other essentials for use in the bath which we thought was a nice addition.
It's worth noting that because the Inn was built in the 1700's, the upstairs inn rooms have relatively low ceilings.  Not an issue if you're of average height but Brent, at 6'3″ found them slightly challenging.  We would recommend, if you're very tall, booking one of the other suites away from the main lodge (there are plenty to choose from).
DINING at the Sugar Hill Inn
The classic multi-course breakfast you'd expect from Inn's of this kind was a welcome treat each morning.  Each morning started with a pastry or fresh baked treat from the kitchen alongside local jam's and jelly's and followed by a beautiful fresh fruit salad.
The breakfast entree selection was unique each day what really stood out to us was the daily, dated menu.  It's those little touches that set a place apart.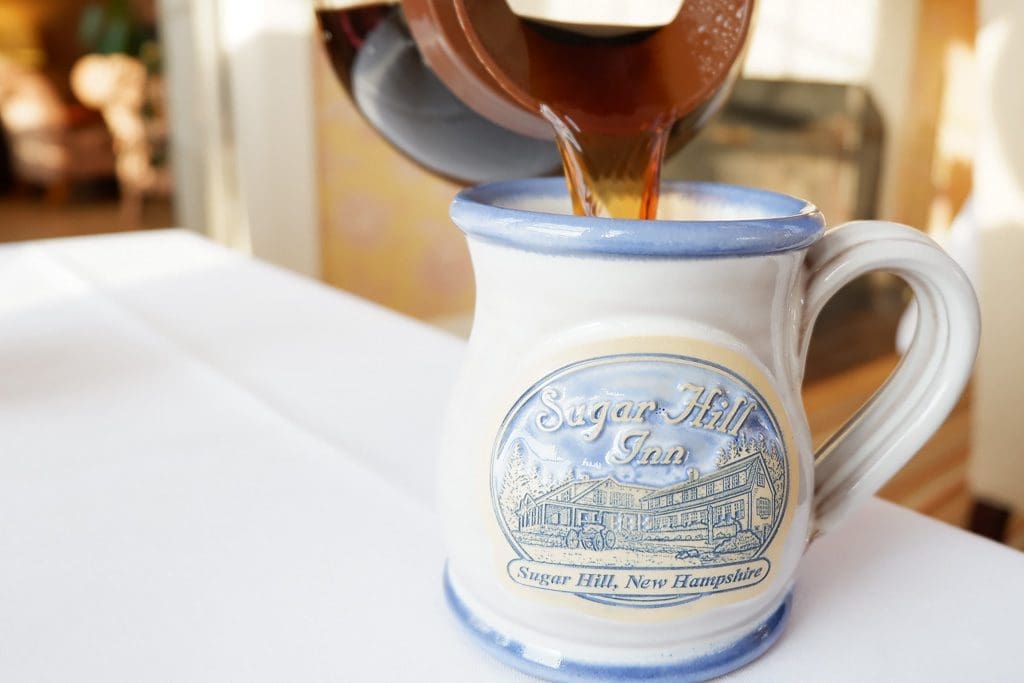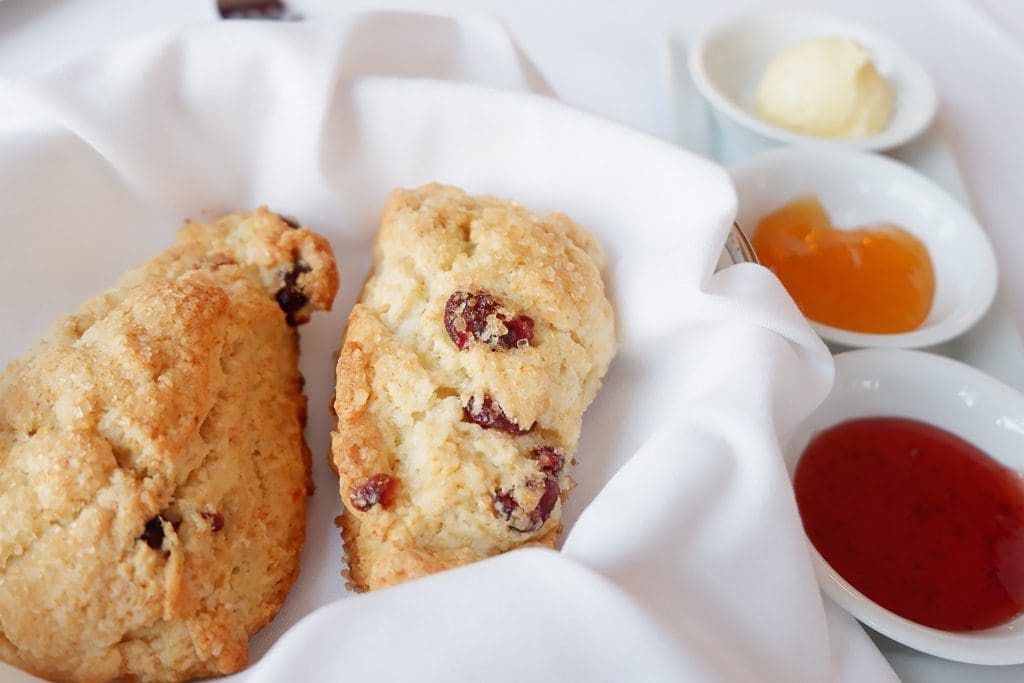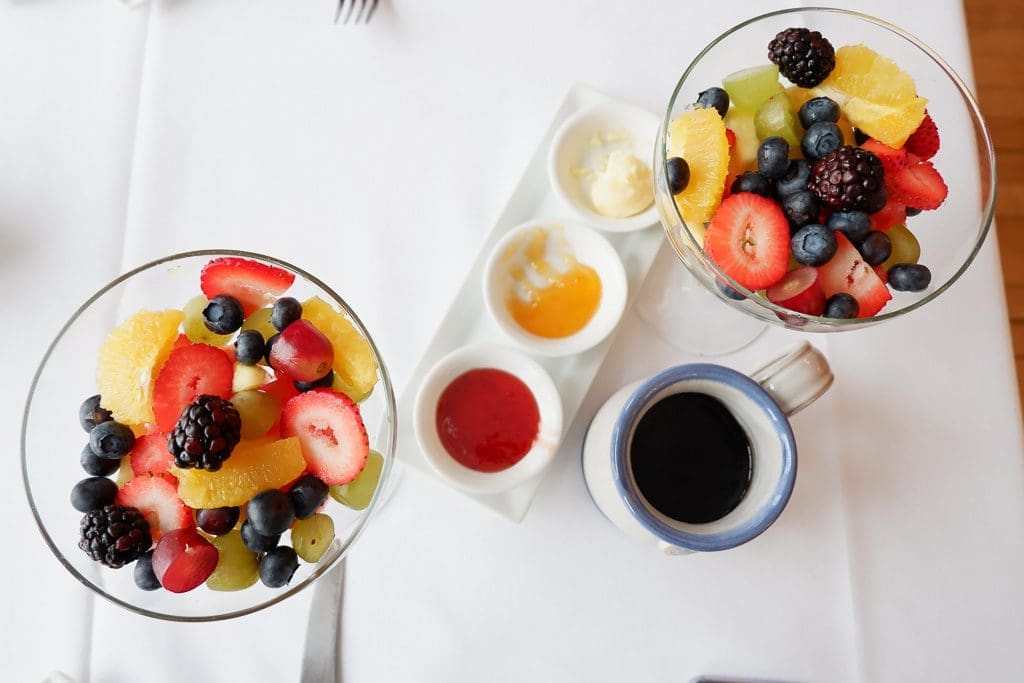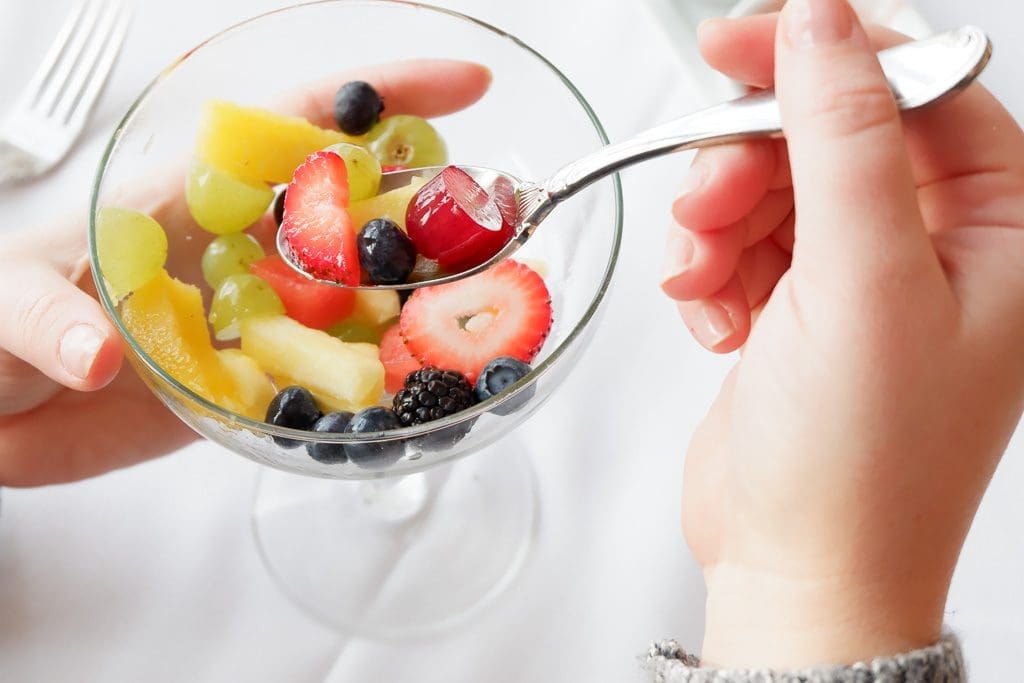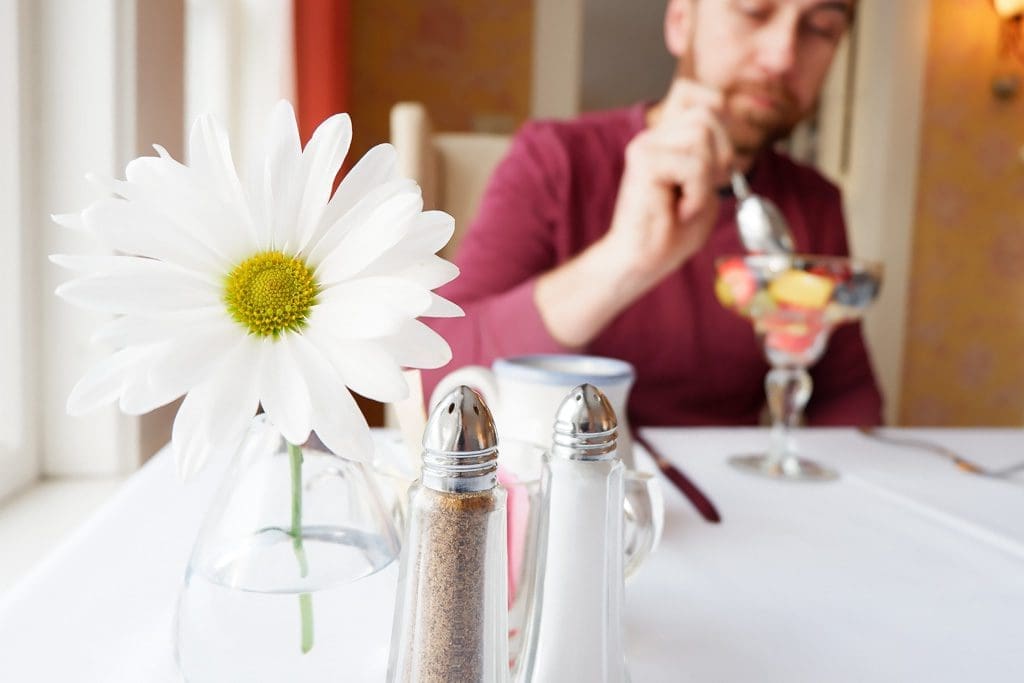 If you're staying at the Sugar Hill Inn, dinner reservations in their dining room are a must.  Dining is european style which means you're free to enjoy a leisurely meal, enjoy the fire, and chat the night away because the table is yours for the evening.  There are no separate seatings which we also loved.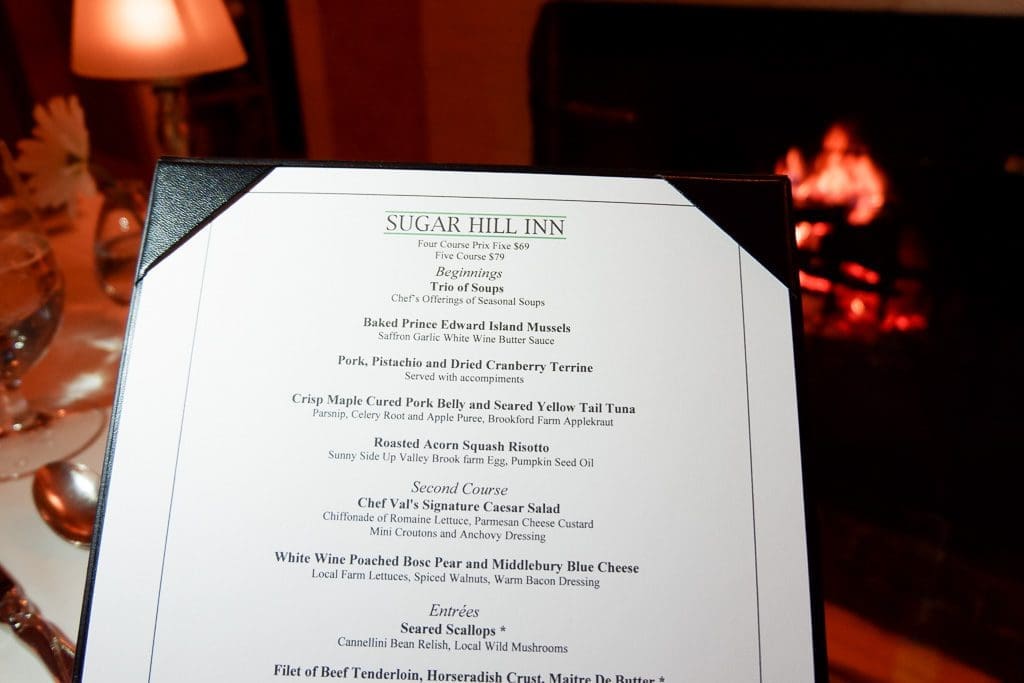 Our 5 course meal consisted of a smoked salmon amuse bouche on an edible spoon paired with warm olives and garlic.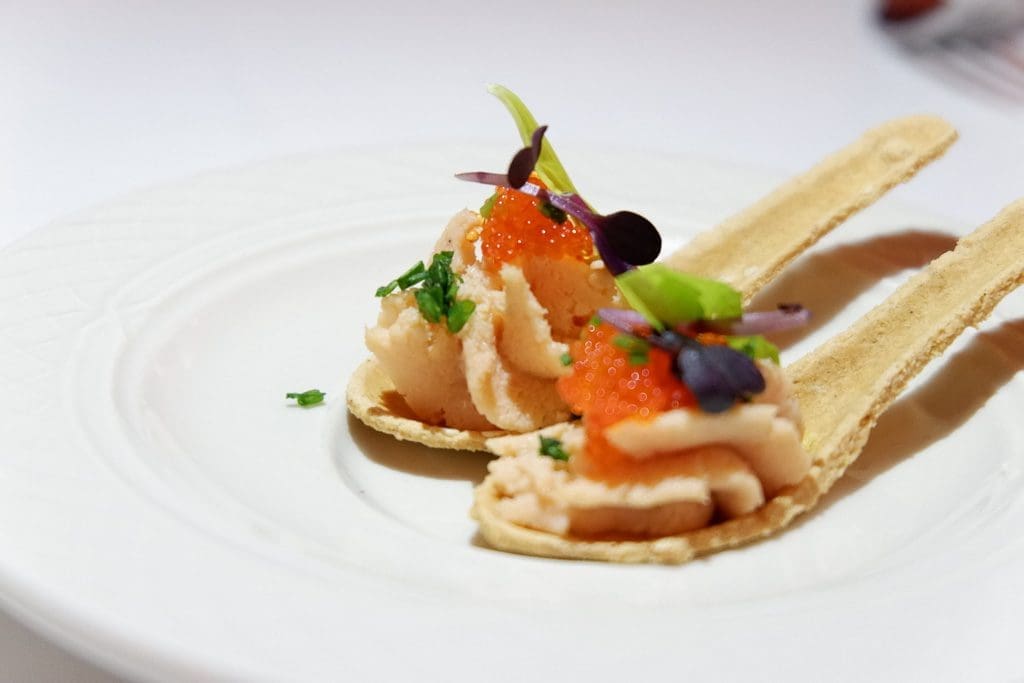 Next we enjoyed the trio of soups and baked mussels.  I would highly recommend the trio of soups as they were delicious.  This particular selection was french onion, wild mushroom and seafood chowder.  Each one was distinct and while completely different, each soup complimented the others.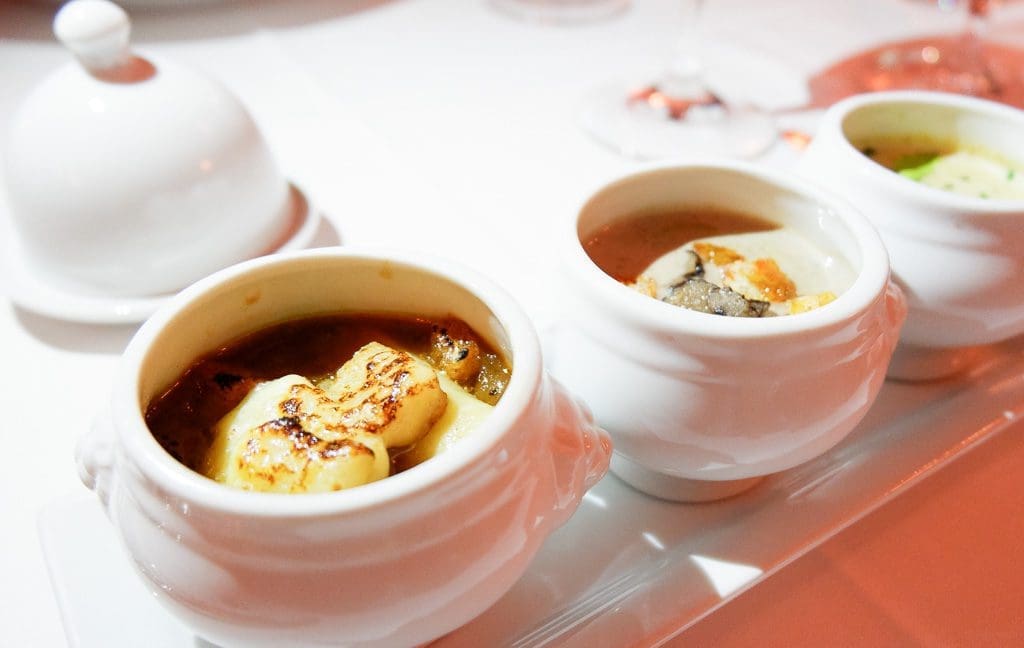 The salad course was equally impressive and Chef Val's caesar salad is a must try.  Tossed with house-made dressing, topped with crispy pancetta and served in a parmesan bowl atop parmesan mousse this is a caesar lover's dream!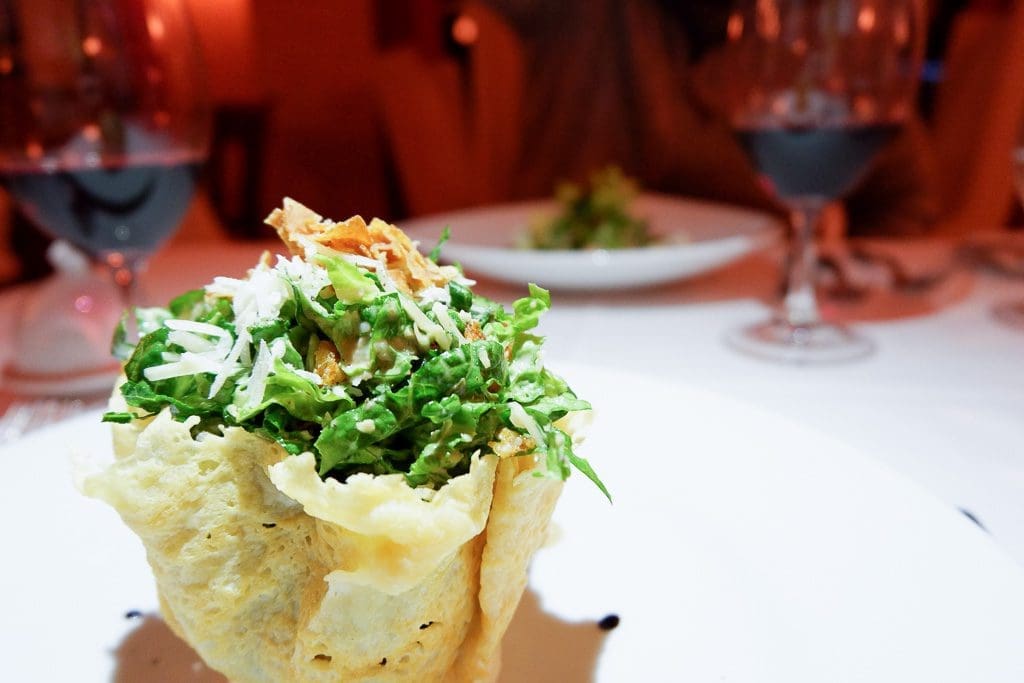 Our main course selections were gourmet mac 'n cheese (I couldn't resist) and the lamb.  Both were good, but I have to go on record and say the mac 'n cheese (as elementary as it may sounds) was outstanding and I was very pleased with my meal.  
Finally, for dessert we enjoyed a deconstructed brownie sunday and a pumpkin whoopee pie (the deconstruction is a theme here and we loved it).
As an added treat, the chef sent out two house made salted chocolate truffles to cap off the meal.
Final Thoughts
Overall we enjoyed the inn and the amenities it had to offer.  I would love to visit again during the busier summer months because I think part of what makes any inn wonderful is the ability to chat with your fellow travellers and while there was another couple on site, they didn't appear from their room often.
– Did we feel genuinely welcomed?
Yes, Steve (owner) and the staff were all very friendly.  Our servers in the dining room were particularly attentive and we appreciated that Chef Val came out to greet us and ask about our experience.
– How was the wifi?
It was great!  This is always a concern for us (since we work online) and I was even able to stream my yoga class from our spacious room!
– Location
Located in SugarHill (in the White Mountain region).  We loved the close proximity to parks, ski hills, and surrounding towns.
– Cost
Rooms vary based on season and suite, but the Brickford suite is $280/night (USD) which includes a course breakfast and onsite amenities. 
– Would I recommend it?
Yes.  As mentioned, this was our first stay in New Hampshire so we have little to compare to.  It's worth noting that this is not a family friendly resort (children must be 14) but for an adult looking for a quiet stay in a great location, yes.
– Would I stay again?
I would, preferably in the dream cottage.  We were spoiled during this particular trip and found ourselves staying in luxurious suits across New England and while the Brickford suite was nice, we would have loved to experience the cottage.
Have you visited this Inn?  What were your thoughts?
As always, happy travels and here's to living luxuriously!
xoxo
Mrs. Dashboard 
Disclosure: We were guests of the Sugar Hill Inn but, as you know, our opinions are always our own and completely honest.  To book your stay at the Sugar Hill Inn, visit their website at www.sugarhillinn.com