Saint Andrews by-the-sea and the Algonquin Resort
It was nearly 10 years ago that I visited Saint Andrews, New Brunswick with my Mother and Grandmother on one of our annual "Three Generations Girls Trips" and I remember vividly, driving the trough the famous Algonquin Resort arch and saying, "Wow, I need to stay there".  It looks just like a castle and it's reputation precedes it.  For more than a century, this luxury hotel has prided itself in it's charm, it's history, and it's customer experiences so we couldn't wait to see for ourselves what all the fuss was about.
The Resort: Luxury & Charm
There's nothing better than a resort that truly embraces it's own history and the Algonquin Resort most certainly does.  The iconic property was originally built in 1889, destroyed by fire in 1914, rebuilt in the same year and is still one of the most photographed buildings in New Brunswick.  In 2012 the property became part of Marriott's Autograph Collection and underwent massive renovation and meticulous restoration.  The result is magnificent.

Checking In: A Grand Entrance
We arrived ahead of schedule after worries a snowstorm that stayed conveniently behind us during our trip.  As you turn the corner into Saint Andrews, your first sight is the grand facade and the famous archway that The Algonquin has become famous for.  The elegant, romanic lobby set the tone perfectly for what would be a wonderful 2-night stay.  The front desk staff were lovely and ensured a quick and smooth check in process and we found ourselves directed to our Junior Suite.

Our Room: The Junior Suite
The Algonquin offers 9 different room types, each catering to a specific kind of guest or stay.  Ours, the Junior Suite, was an expansive corner suite overlooking the picturesque Passamaquoddy Bay with it's wrap around windows.  The suite was elegantly decorated and had all the modern amenities we expect today but what really stood out was the bed.  The pillow top mattress, padded headboard and high thread count linens and pillows made for a magical nights' sleep – something I typically struggle with.  
The Food: Braxton's Restaurant & Lounge
We had the privilege of enjoying a full spectrum of meals at Braxton's during our stay and each experience was exceptional from the service to the atmosphere to the carefully crafted meals & cocktails.  The menu was well balanced and contained items that would appeal to guests looking for a simple and classic burger to those with more refined and even adventurous tastes.  
What also struck us, was the care and attention to detail that went into the menu and service.  We noticed right away the vegetarian and vegan options as well as the Chef's ability to create any menu item gluten free for those with dietary restrictions or preferences.  That is something that puts Braxton's head and shoulders above most.
What To Do: Exploring Saint Andrews
While the Algonquin has a long list of amenities from the impressive indoor (and outdoor) pools to an onsite spa & fitness facility, there are also some really interesting reasons to leave the grounds and explore Saint Andrews.  During the winter months, attractions are limited to seasonal hours of course but we still ventured out to visit the Saint Andrews Block House as well as Minister's Island.
Ministers Island was once the summer estate of Sir William Van Horne and is now a historical site, open to visitors.  This part time island is only accessible by car during low tide, when up to 14ft of water recedes to expose passageway.  Of course, we made the drive across and although tours are seasonal, we still snagged a few pictures and will return in the summer months to explore the grounds more fully.
The Bottom Line: The Usual Questions
Did we feel genuinely welcomed?
Absolutely.  In fact, one of the things we really loved was that the staff maintained an upscale, high-end level of service while also coming across extremely approachable and accessible.  This is something we loved about the resort in general – it's a luxury resort, obviously, but it never felt too buttoned up and maintained a cozy, relaxed feel while still ticking all the boxes you would expect from a luxury property.
How was the wifi?
Fantastic.  No complaints.
Would we recommend this resort to our best friends?
We already have!  There's not even an ounce of hesitation on this one and even though we go looking for things to be improved upon, we honestly couldn't find any at this resort.  Our only regret is that we didn't book a ghost tour – which apparently is available!
Would we return?
Absolutely.  We loved our winter stay but would also love to return to the resort during the peak or even shoulder season when the seasonal amenities of the resort and the community are available.  The blanket of snow was lovely but we're confident that the grounds and gardens would be truly magical when in bloom!
Good To Know: Some Unique Bits You Should Know
Bring Your Pets!  The entire resort is pet friendly which also contributes to the cozy yet elegant feel.  They even have (during the time of our visit) a dog on staff who quietly sits behind the counter until you acknowledge her and invite her to come a say hello (which obviously I did).  
Amenities for days.  We only experienced a couple of these while on site but it's worth mentioning that the resort also has a spa, world renowned golf course, bikes available for self-guided tours, ghost tours (as mentioned), and more.  They also host special events on a regular basis.  While we were there, we enjoyed a hilarious YukYuk's show in one of the ballrooms!
The Bottom Line
We had high expectations for the Algonquin and we're so pleased to say that it did not disappoint.  The level of care that goes into everything from the atmosphere to the food to the service is very clearly demonstrated throughout any guests stay.  This luxury hotel was top-notch right down to the very last detail.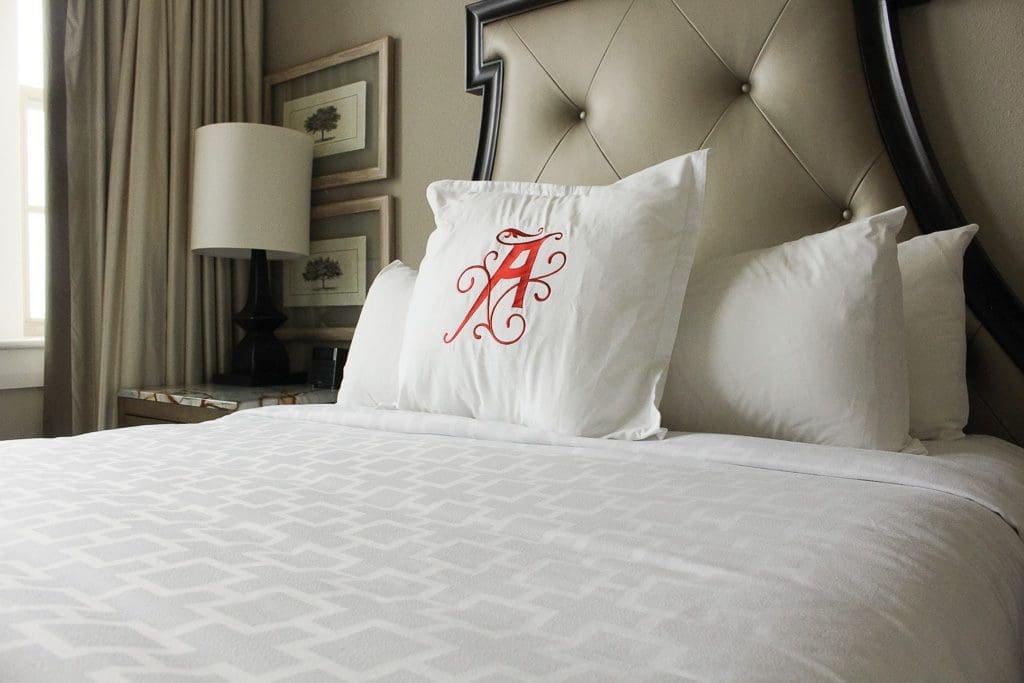 Disclosure: We were guests of the Algonquin Resort but, as you well know, we're not required to write positive reviews and all opinion, oodles of photos and recommendations remain our own.  A warm thank you to the staff and management of the Algonquin Resort for making our stay, truly wonderful.