10 Ways to Explore the Bay of Fundy
The Bay of Fundy is the part of the Atlantic Ocean between Nova Scotia and New Brunswick.  It's home to the world's highest tides and, as such, offers a whole host of incredible experiences that you can only get here!  Twice a day, the tides rise and fall to the tune of 56 feet at its peak.  That's the height of a 5 story building.
PAUSE right here.  Go outside.  Find a building and count 5 stories up… yeah.  Crazy right?  Just consider that for a moment.  The highest tides in the WORLD!
You'll find everything from the world's rarest whales to semi-precious minerals and dinosaur fossils along the Bay of Fundy which is why, in 2014, a panel of experts designated The Bay of Fundy as one of the natural wonders of the world. If you live in Nova Scotia or New Brunswick, chances are you've experienced the awesomeness of the Bay.  I've lived in Nova Scotia my entire life and I can tell you, I'm still finding new ways to explore the Bay of Fundy and each year I'm blown away by its magnitude.
So, to spark your curiosity and inspiration to keep explore, here are 10 ways to explore the Bay of Fundy.  Let me know which ones you've already checked off your list!
Disclaimer: this post was sponsored by Nova Scotia Tourism but, as always, all opinions are our own.  All of the experiences listed and recommended here are those that we've enjoyed first hand.  We only share content we think you'll love and are never required to give positive reviews.
Exploring the Bay of Fundy: Top 10
1. Tidal Bore Rafting
[visit the Tidal Bore Rafting Resort here!]
Since I, myself, have been tidal bore rafting more than 10 times I couldn't start this list any other way!  Here's the simplest version of what happens:  You head out on a zodiac in the Shubenacadie River and wait for the tidal bore to work its magic.  After some time exploring, mud-sliding, and enjoying the scenery, you hit the waves for a watery rollercoaster experience like no other.  The incoming bore (wave) hits the outgoing river and creates a series of waves and swells that range in size up to 10 feet!  Once the rapids settle, your guide will often let you jump out of the boat and "float" with the tides.  Trust me, if you've never done it – you must.
Pro Tip: while it seems counter-intuitive to go when it's cold, the best "rides" I've ever taken on the tidal bore were in October during extreme tides.  Just a suggestion!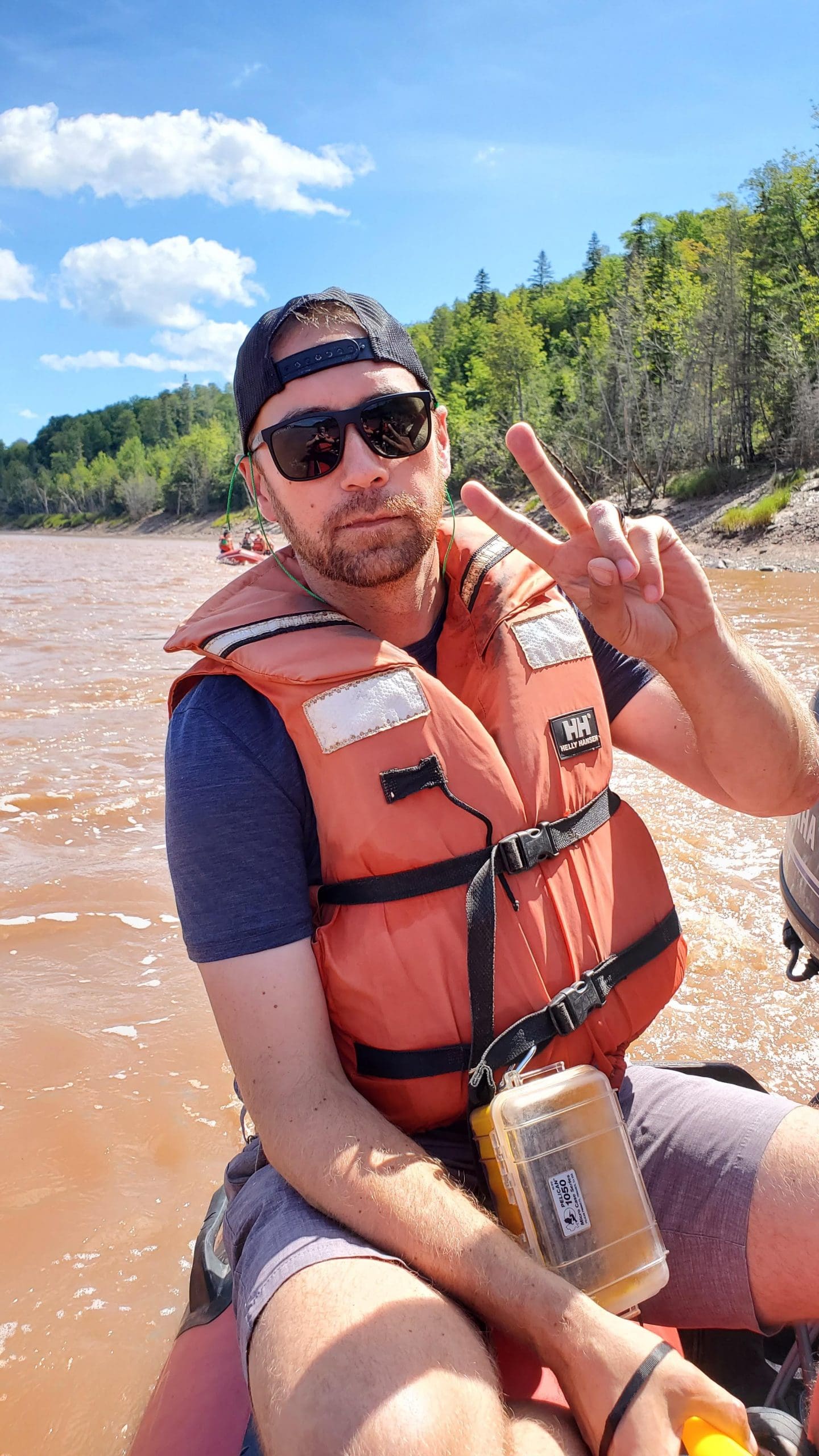 2.  Whale Watching
[Check out Mariner Cruises on Brier Island here]
The Bay of Fundy is synonymous with whale watching.  There are more than 12 species of whales that call the Bay home including my favorite, the spectacular Humpback.  When you go whale watching in the Bay of Fundy you don't just see one whale, you're likely to see pods!  You can also see hundreds of species of seabirds, dolphins, porpoises and a wide array of other marine life.
I've been whale watching in the Bay of Fundy on both fishing boats and zodiacs so can tell you from personal experience the benefits (and drawbacks) of each.
Fishing Boat Whale Watching Tours
Slower paces but very comfortable.  A fishing boat is the most common way to go whale watching, likely because they can accommodate more people and offer a more comfortable experience than their zodiac counterparts.  Many boat tours also offer snacks & drinks on board as well as the opportunity to move around the boat to get a different vantage point.  I would recommend this to most people.
Zodiac Whale Watching Tours
A zodiac whale watching tour is a different experience altogether.  It's more fast paced and, as such, a bumpier ride than a fishing charter.  One major perk of a Zodiac tour is that you have the potential to get MUCH closer to the marine life but, in my opinion, that's where the perks end.  You can't generally move around because everyone has already claimed their seat so if the whales happen to appear on the right side of the boat and you're on the left, too bad.  Additionally, it's more difficult to take photos because it's a rougher ride.  All that said, during our zodiac tour we got up close and personal with a pod of dolphins which was AMAZING!

3.  Hike Cape Chignecto
My love affair with Cape Chignecto provincial park started when I was 16 years old and when my mother forced me into hiking.  20 years later (yeah, there you have it), hiking is still one of my greatest joys and on mainland Nova Scotia, Cape Chignecto is as good as it gets.
For experienced hikers, Cape Chignecto is a challenging trail system covering 50+ km that most do in a couple of days.  Some of us have tackled the entire loop in a single day (twice) and while it was awesome, I wouldn't recommend attempting that to most people.  Aside from the challenging hiking, the real jewel of Cape Chignecto is that half the trail system runs along the cliffs of the Bay of Fundy, offering spectacular views at every look-off.
If you're looking for day hikes, here are my recommendations:
Refugee Cove (24km return trip)
This is a challenging coasting hike but an experienced hiker with a relatively good level of fitness can complete this section in a single day.  Allow for 5 – 7 hours.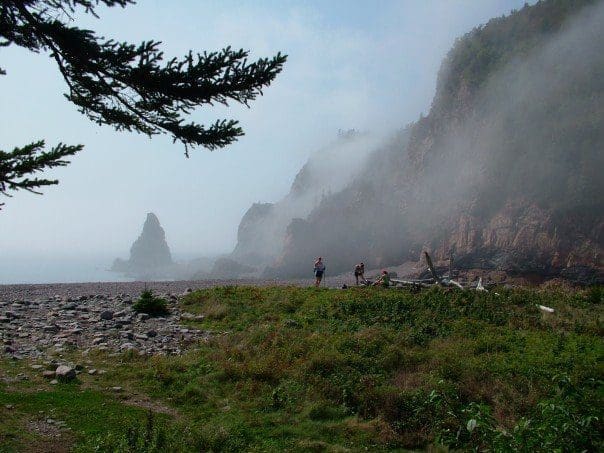 Eatonville Day Use Park (2-5km)
If you're looking for much easier trails, the day-use park is a great place to visit.  Eatonville offers several well-groomed, short trails that take you look-off views of the Three Sisters (famous sea stacks), Eatonville beach and more.  This is doable for most people.
4.  Kayak the Three Sisters
[Find NovaShores Adventures here]
Another iconic way to explore the Bay of Fundy is on the water.  Kayaking is offered in several different spots along the Bay but we've big fans of seeing things from above and below.  So, heading out to see Three Sisters by kayak is something we've now done twice.  This particular tour, with NovaShores Adventures, is an amazing way to truly see the rise and fall of the tides.  We paddled in one direction at low tide, stopped on Eatonville beach for lunch, then paddled back during high tide.  The difference is breath-taking and while this can be a challenging paddle (depending on weather and tides), it's worth the effort!

5.  Explore Burntcoat Head Park at Low Tide
Burntcoat Head Park is one of the most accessible ways for people who don't tend towards adventure to explore the Bay of Fundy.  When the tide is out, you can venture down the stone staircase and explore sea caves, stacks and tidal pools that are home to periwinkles and piddocks.  It's unbelievable to think that where we were walking will be flooded with 160 billion tonnes of water in just a few hours.   During the season, the park staff will keep you informed on how much time you have before you need to be back at the stairs for a safe return.

6.  Visit Cape D'Or
Cape D'Or is a must-visit stop when you're planning your adventure.  It's situated just outside of Advocate (also where Cape Chignecto is) and is the junction where the Bay of Fundy meets the Minas channel.  There are incredible views of the cliffs, lighthouse, onside restaurant and even a guesthouse.
7.  Fundy Cliff's Geo Park
The Fundy Cliff's cover more than 165 km of shoreline from Portapique to Apple River.  If you've been ticking things off this list, you've already visited much of the Fundy Cliff's but there's more!  There are more than 40 geo-sites along the cliffs including Red Rocks (at Cape Chignecto), Soley Cove, Economy Falls the Five Islands Fault and more.
8.  Joggins Fossil Cliffs
[To find more information, check out Joggins Fossil Cliffs' website]
The Joggins Fossil Cliffs are a UNESCO world heritage site and home to the most complete record of the "coal age".  Wondering what that means?  Well, it means these fossils date back 100 million years before the dinosaurs!  We've been to the cliff's more than once and each time it's different.  I would highly recommend taking the tour (at least once) to get the full scope of how amazing this place is.
9.   Witness the Incoming Tidal Bore
Full disclosure.  I grew up on the Shubenacadie river so the tidal bore has never been that exciting to me. However, during recent years I've gone down the rabbit hole.  I can now say, I'm just as amazed as the drones of tourists who flock to see the mighty tidal bore each year.  Why?  Because it's freakin' awesome!
What is the tidal bore?  It's been explained to me a million times but here's the simplest answer (again).  The tidal bore is the first wave of the incoming tide traveling up a river against the direction of the current.  In our case, here in Nova Scotia, the bore comes into the Shubenacadie River with enough force to change the direction of the current!  Pretty awesome right?
Of all the places to witness the tidal bore, my favorite it the Fundy Tidal Interpretive center.  There's an observation deck, high above the Shubie River that offers panoramic views.  My best advice is to check the tide times and plan to visit at low tide.  Then, return later the same day and watch the tidal bore come in.
10.  Take a Hot Air Balloon Ride
[Find East Coast Balloon Adventures here]
One of the most underrated ways to explore the Bay of Fundy is by air.  Did you know you can take hot air balloon rides in Nova Scotia?  Well, friends, you can!  And we did that!  While your trip in the balloon doesn't take you directly over the Bay of Fundy, you do get a look from the sky.
Fun fact: hot air balloons can't actually steer.  They go up and they go down.  That's it.  So going over a big body of water is not recommended!
Going for a fly in a balloon is a feat that takes patience, sure.  It's totally dependant on the wind (or lack thereof) so it might take you a couple of tries but it's worth it.  We got lucky and got up on our second attempt.  I was a little nervous but once we were airborne, it was the most peaceful sensation.  I felt free as a bird, literally!

Final Thoughts
Exploring our own backyard has always been a priority for us but now, more than ever, we appreciate Nova Scotia so much.  The Bay of Fundy is just one tiny sliver of what this province has to offer.  Actually, we've only covered the Nova Scotia side of ways to explore the Bay of Fundy.  There's also the New Brunswick side!  Gosh, there's just so much and the harder we look, the more we find.
What have you discovered in your own backyard this year?