STAYING AT HARTSTONE INN & HIDEAWAY: A Seaside Village Retreat
New England is famous for it's Inns and B&B's which was a major factor in our decision to road trip through the area.  If you've been reading our blog for a while, you know that we adore boutique style accommodations and make a point to visit them whenever possible.  We're so pleased to introduce you to the Hartstone Inn & Hideway, in lovely Camden Maine.
The Hartstone Inn & Hideaway was built in 1835 and is located in the heart of the seaside village of Camden, Maine.  The historic inn does a wonderful job of maintaining it's old world charm while offering the finer amenities that a luxury traveller is looking for.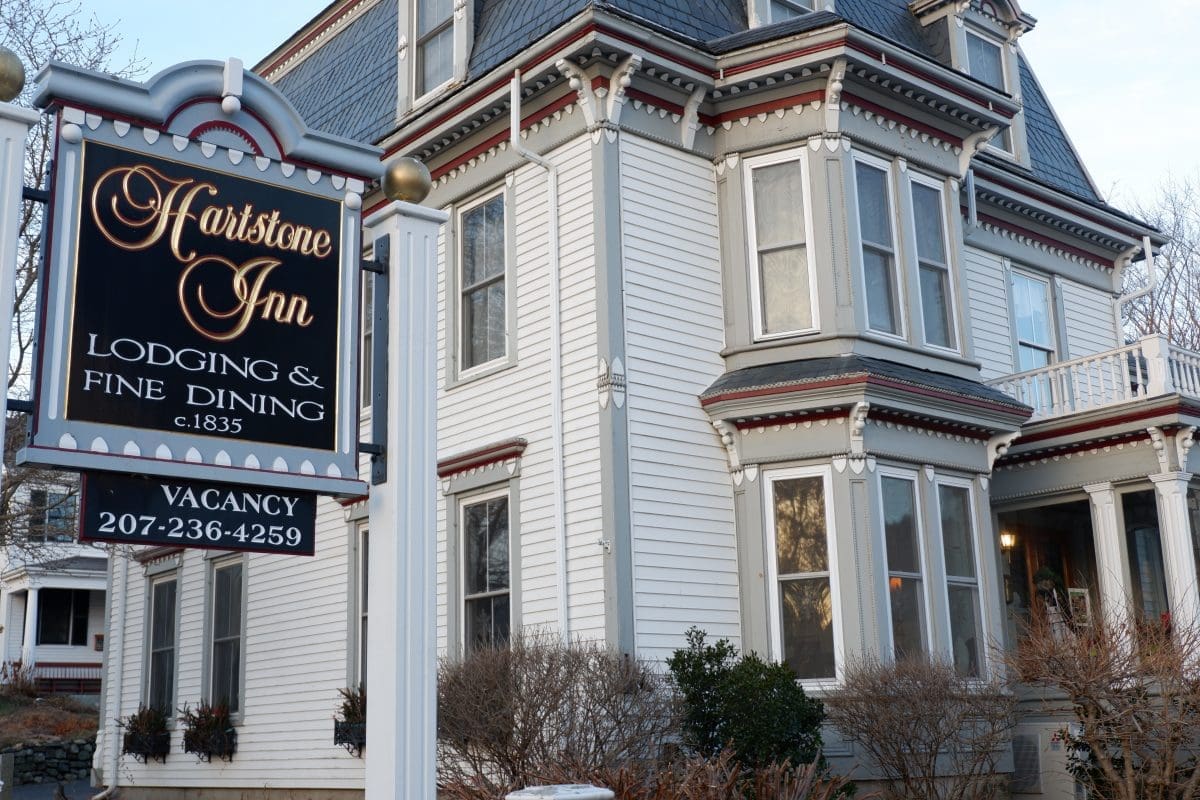 CHECKING IN: A Warm Welcome
As soon as you enter the doors you're greeted with the smell of fresh coffee and sweet treats.  The parlour to the left of the entry, complete with fresh flowers and home-made treats, is a place for travellers to gather and share stories beside the always ambient fireplace.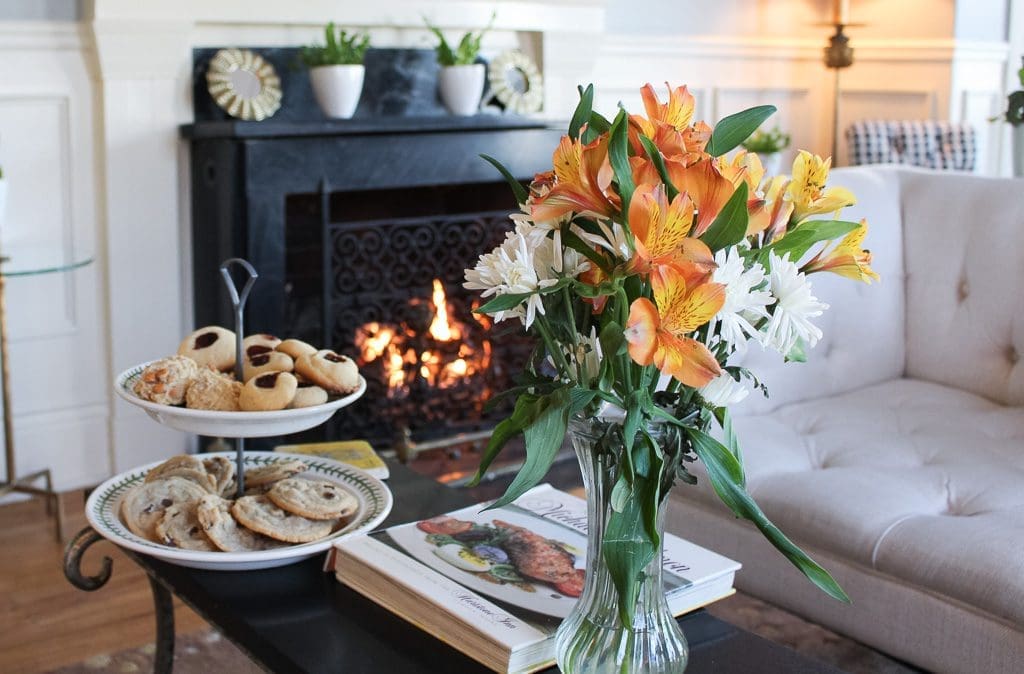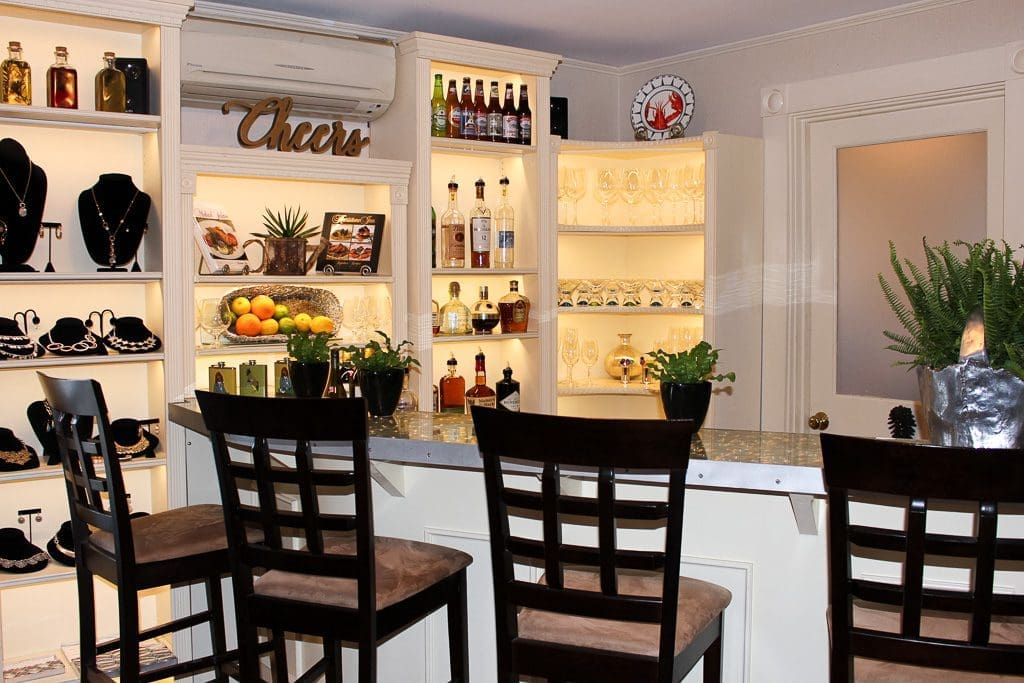 Straight through the entry you'll find the bar, where happy hour cocktails are accompanied by complimentary h'ors deurves as you await your dinner reservation and chat with your fellow guests.  Of course, we took full advantage and enjoyed a Moscow Mule with goat cheese and mushroom topped baguettes.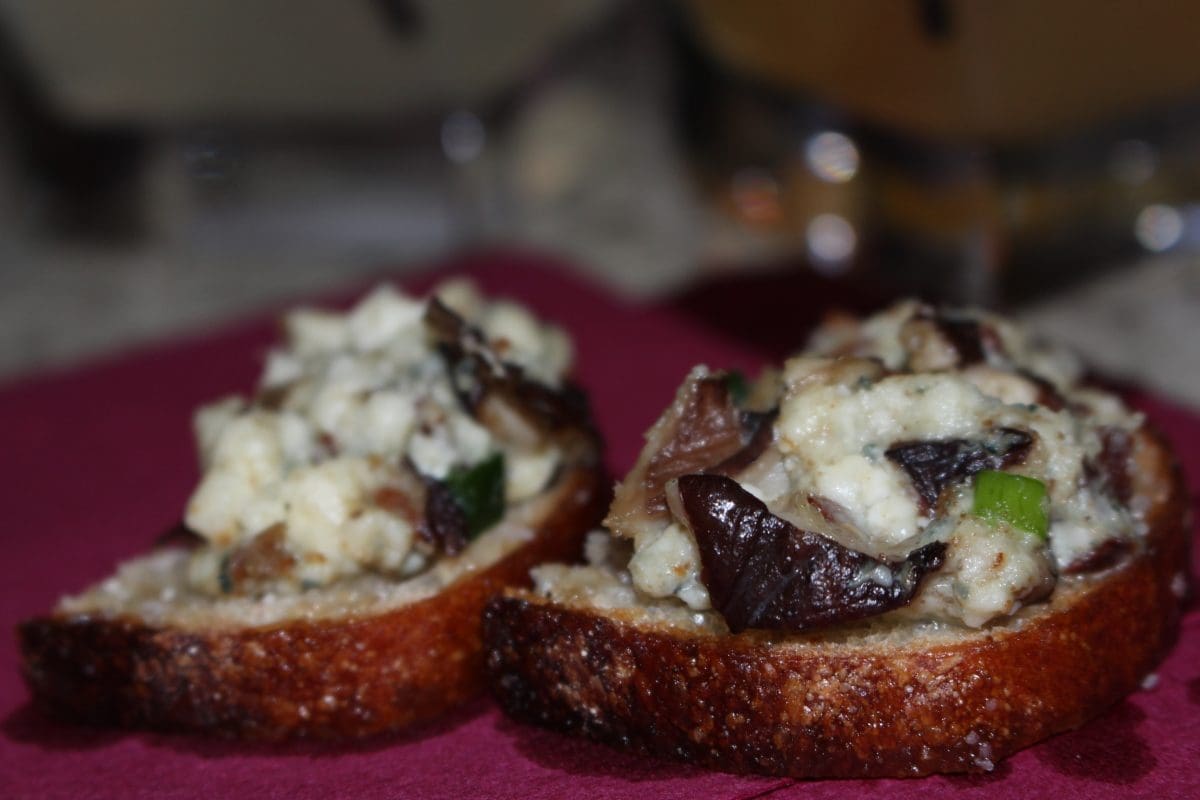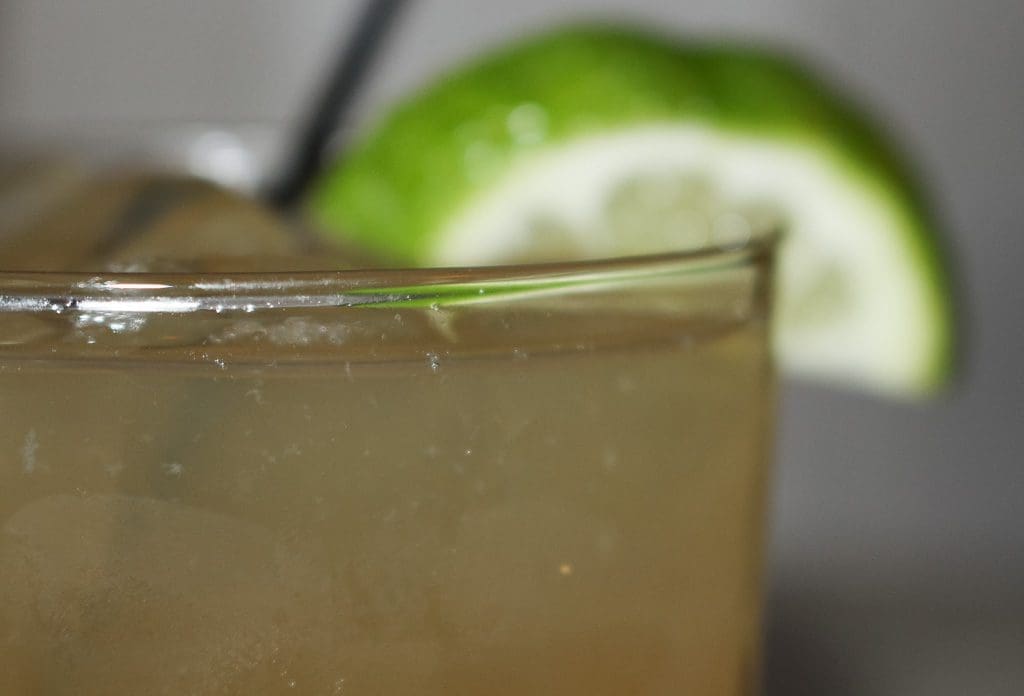 THE ROOM: The Champaign Suite
After a brief property tour, we were shown to our room – the champaign suite which is located in the building behind the main house.  The old farmhouse charm of the sunporch set the perfect tone for a cozy, charming getaway.
Our suite was really an apartment complete with a California King bed, Juliette balcony, Jacuzzi tub, and a full living room with a propane stove.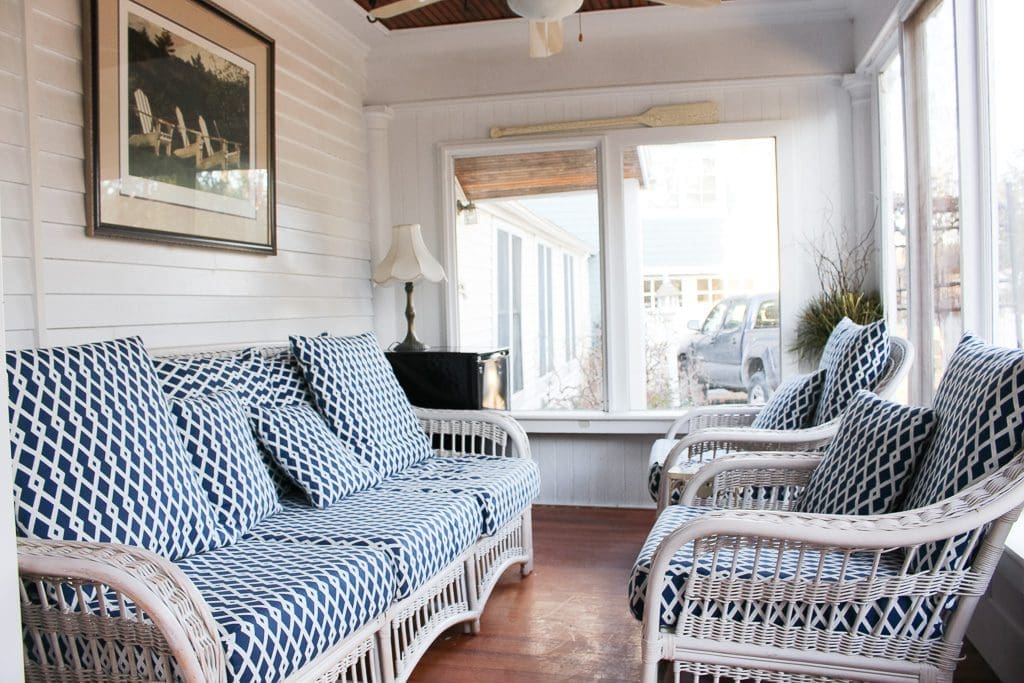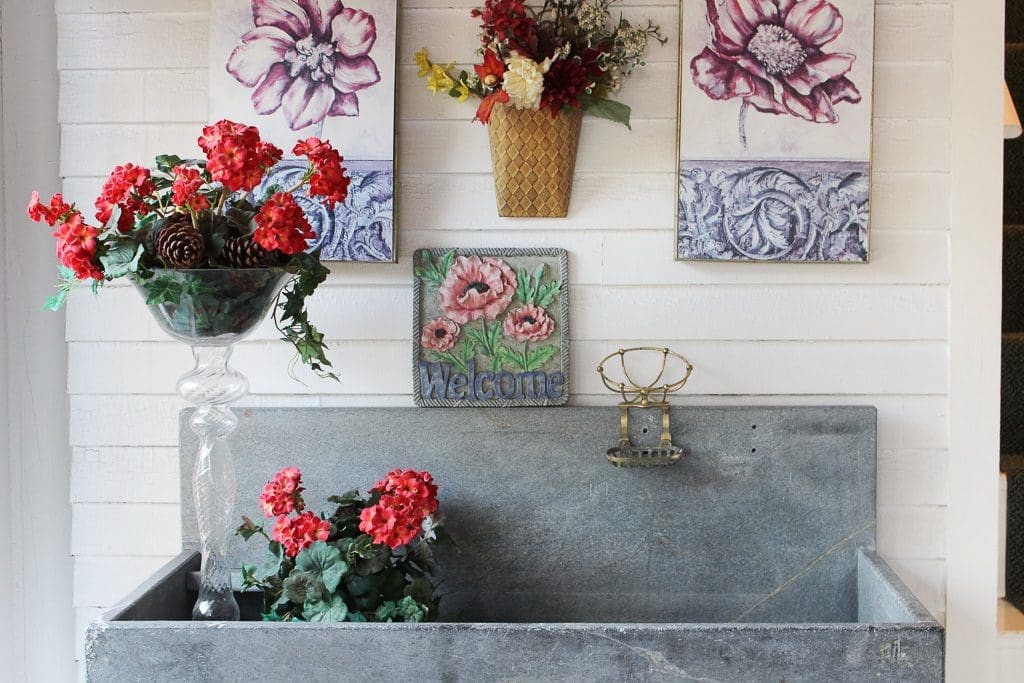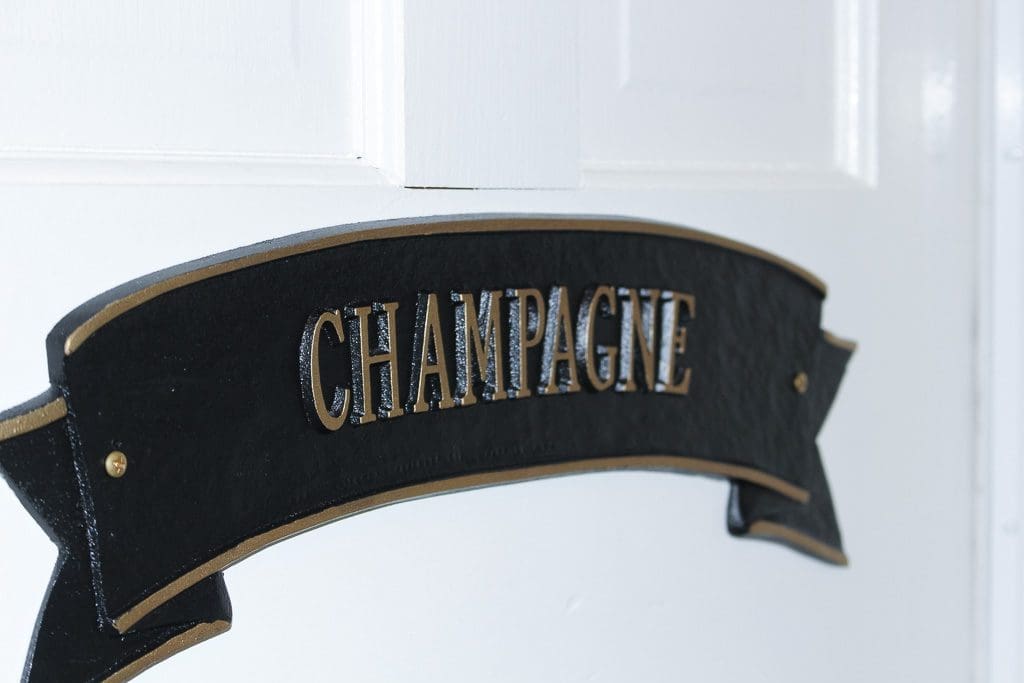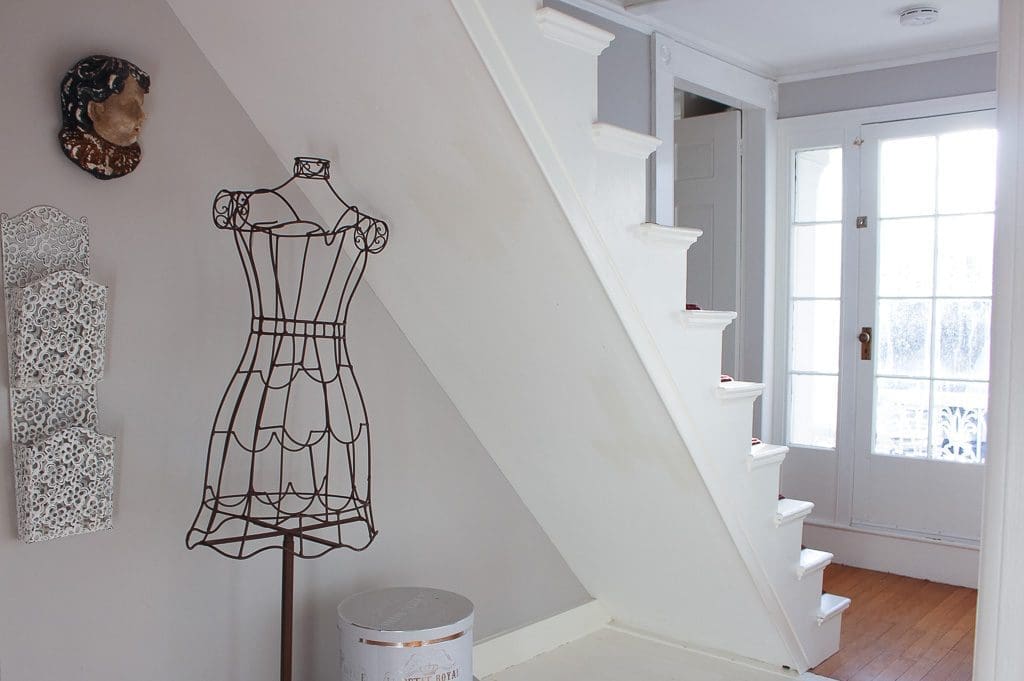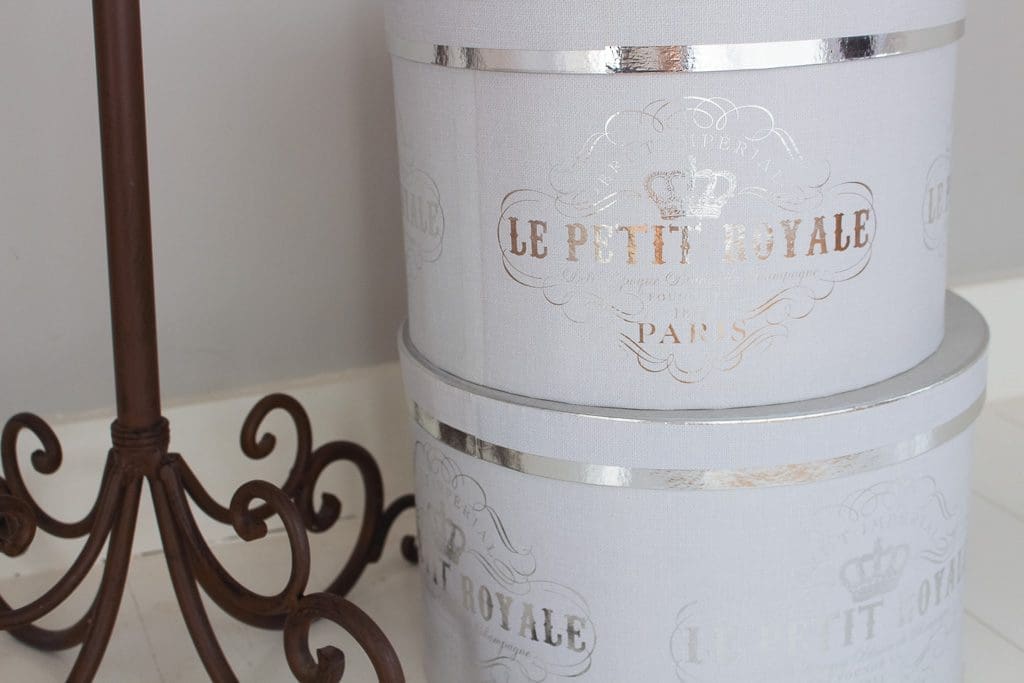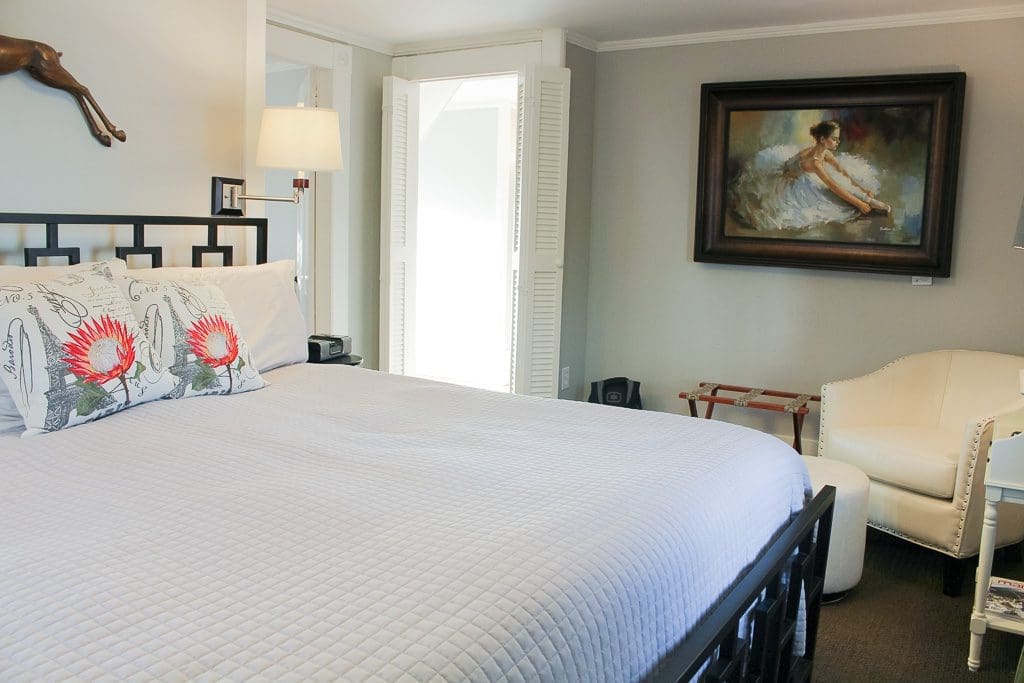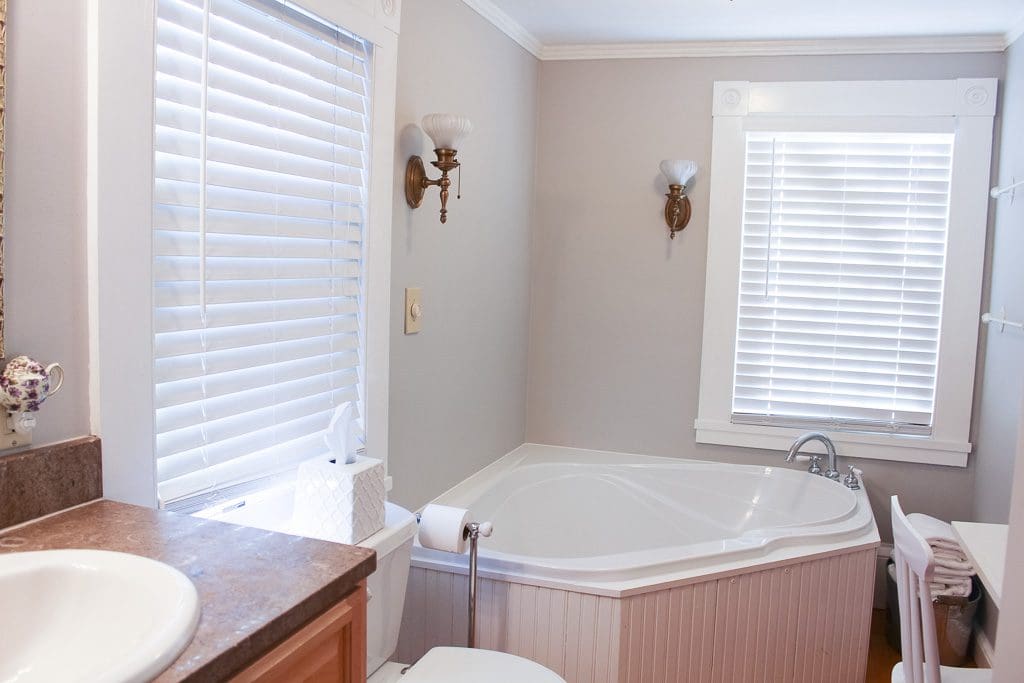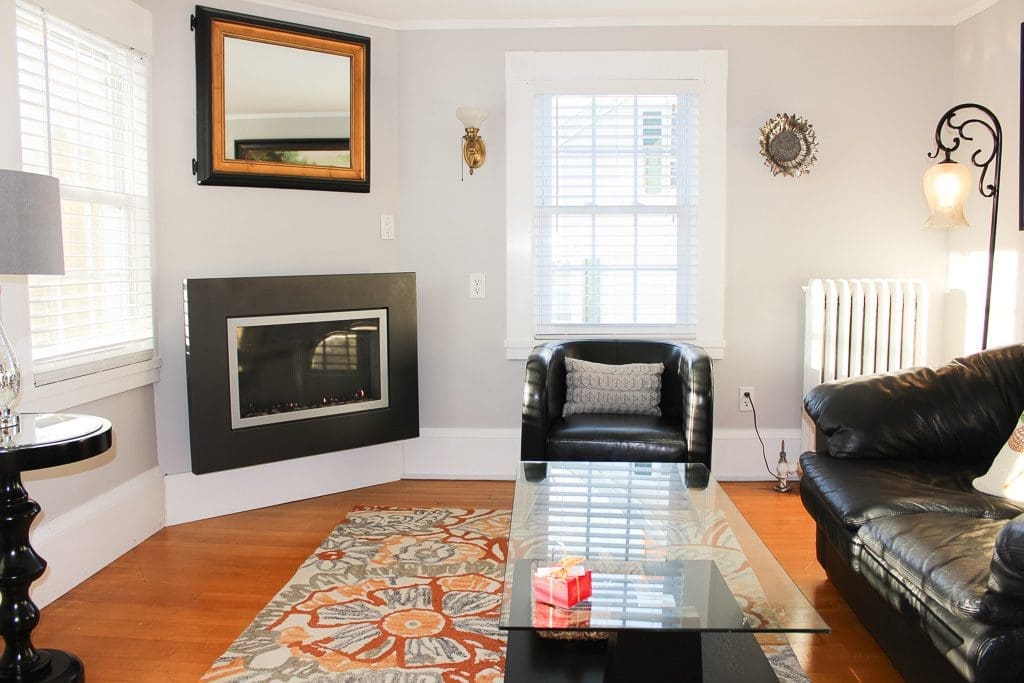 THE FOOD: Gourmet Cuisine
Award winning Chef/Owner, Michael Salmon, serves up spectacular culinary experiences at Hartstone.  Our multi-course breakfast, enjoyed in the sunny porch at the front of dining room, was wonderful.  The menu, which changes daily, consisted of a honey & oat cake topped with greek yogurt and fresh fruit alongside fresh juice and was followed by a omelette crepe (for me) and gourmet french toast (for Brent).
The tables at breakfast are all set with an iPad, running a loop of photos and footage of the Inn's European Foodie Adventure's.  This unique experience caught our eye right away!  They take fellow foodie's to Europe for a culinary and tasting experience like no other.  This is, most certainly, on our list!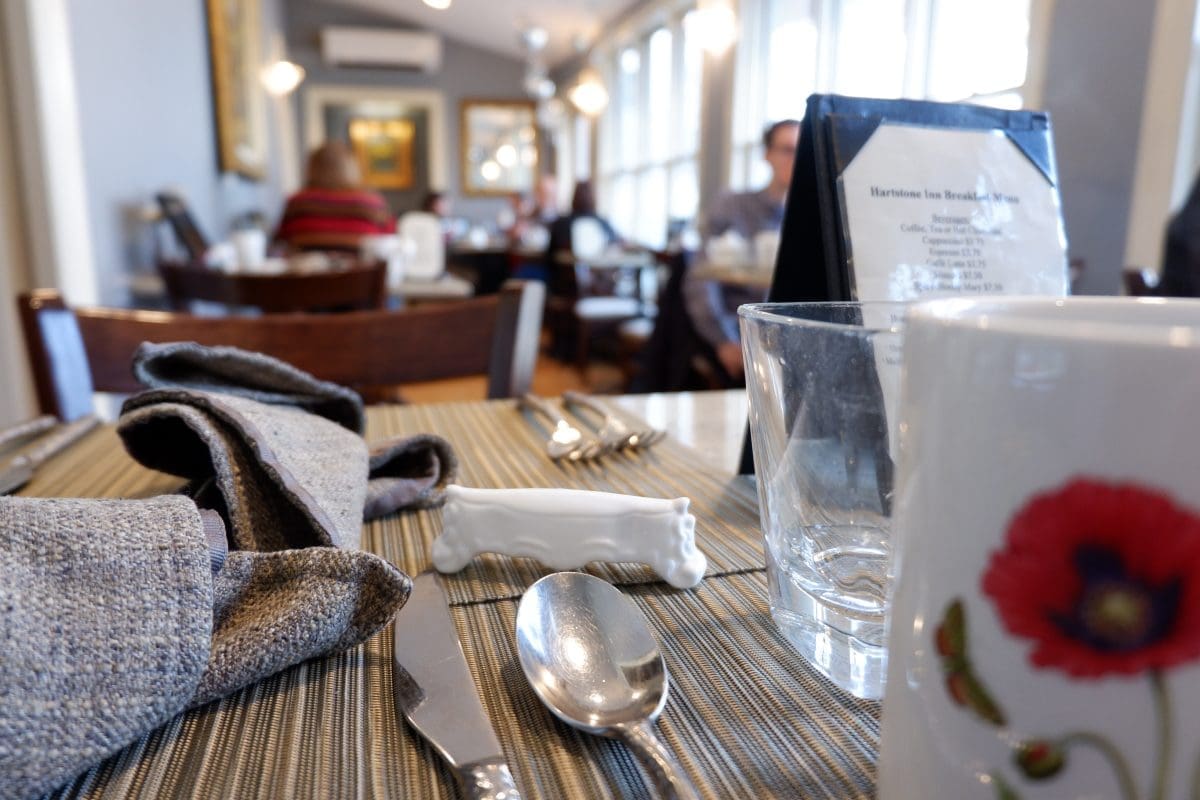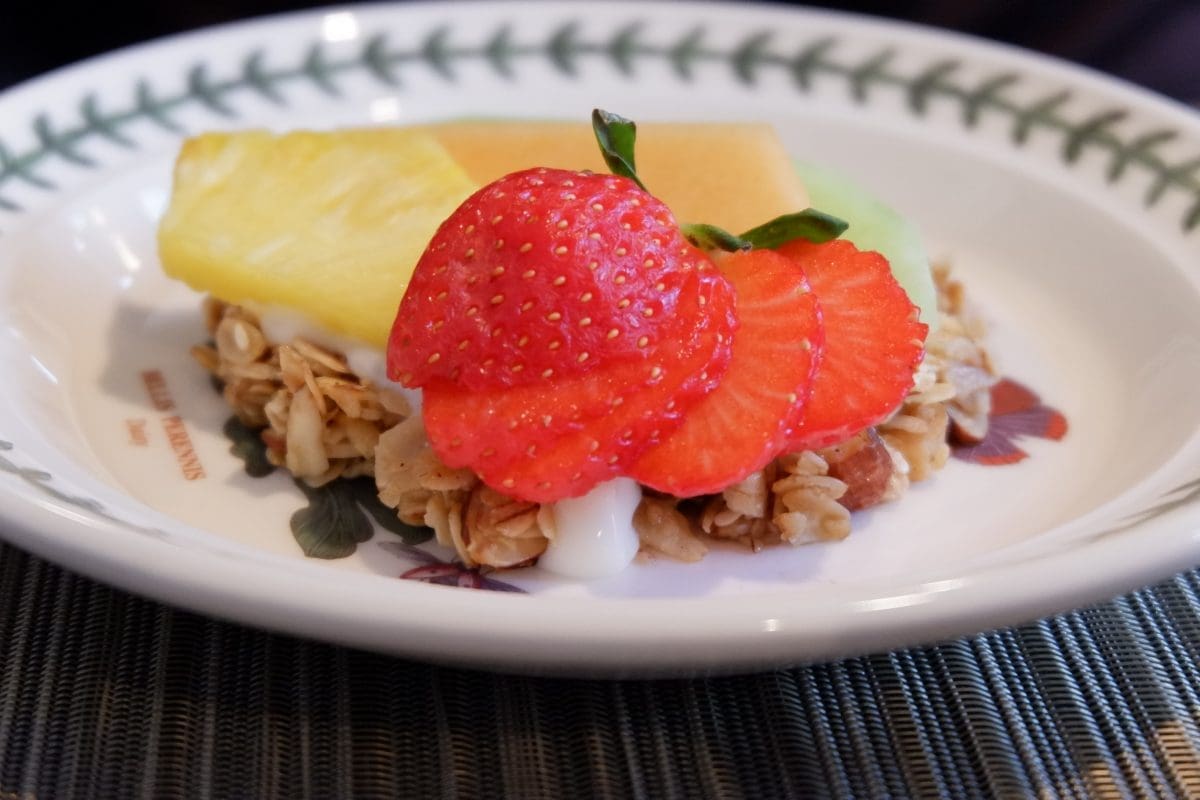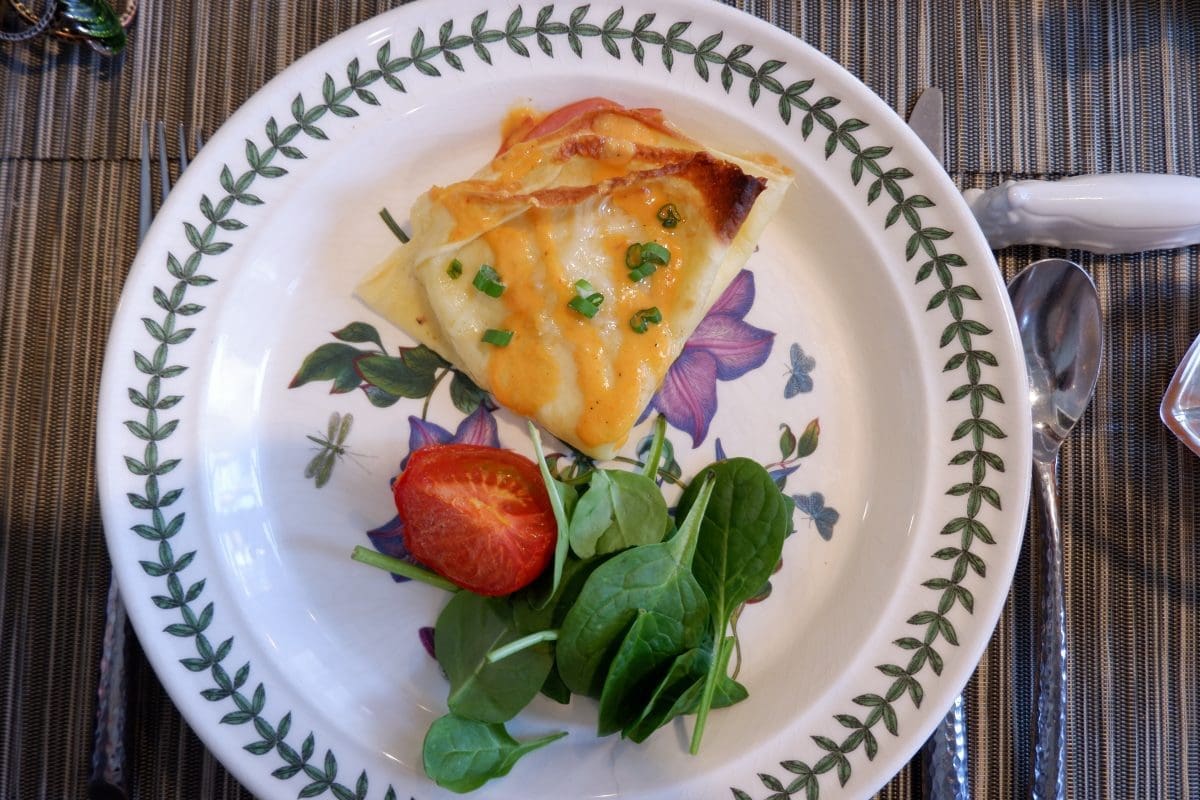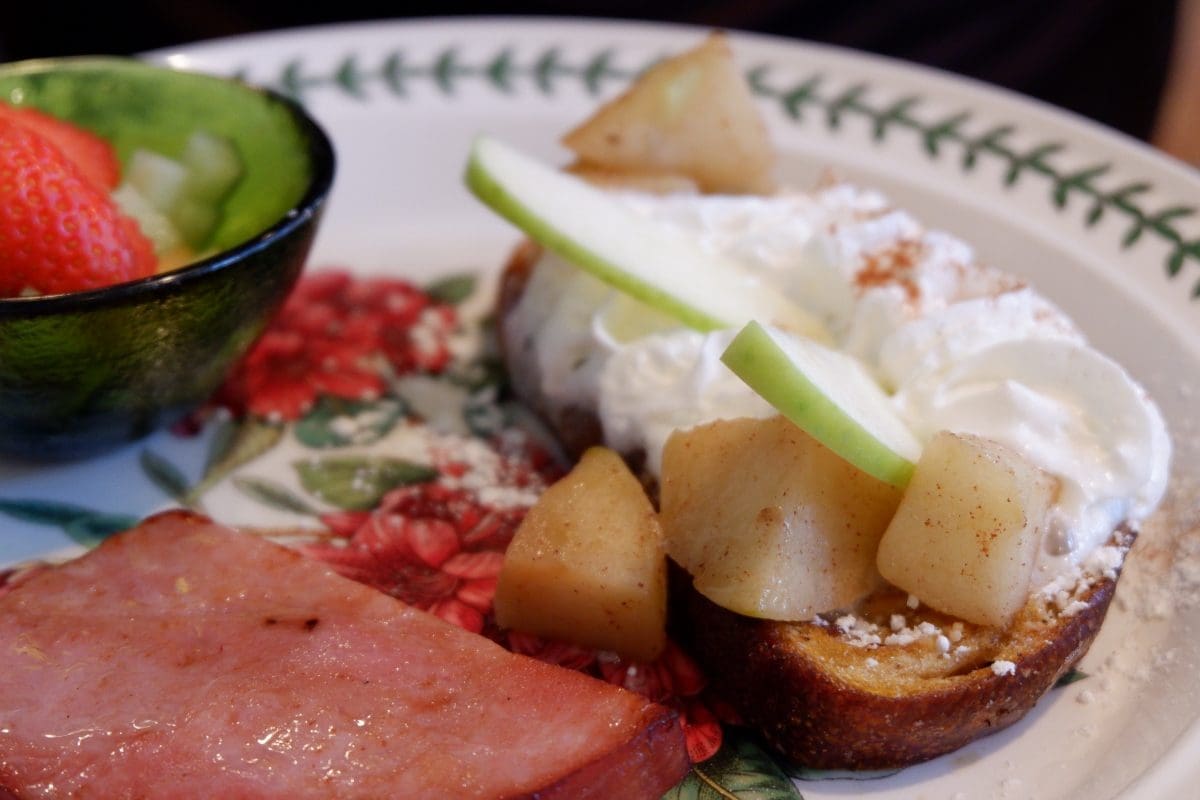 Dinner, is an entirely different experience.  The dining room is transformed into a romantic, candlelit oasis and is filled with the aroma of world class cooking.  We enjoyed two different 5-course meals.  I opted for the Chef's tasting (as I typically do when it's available) and Brent enjoyed a separate tasting, crafted by Chef Michael of selections from the menu.
We were blown away from the first taste of our amuse bouche to the last bite of soufflé.  
Amuse Bouche: Goat Cheese with Blueberry Reduction & Freshly Baked Artisan Bread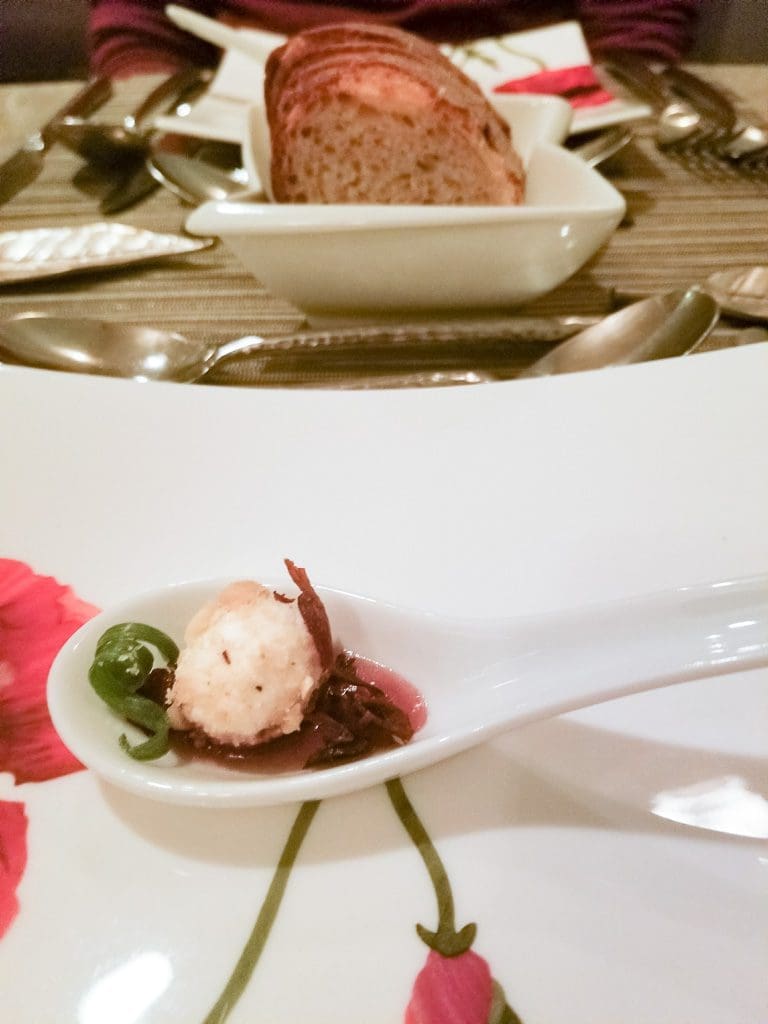 Appetizer: Seared Scallops & Mushroom Ravioli with Duck Confit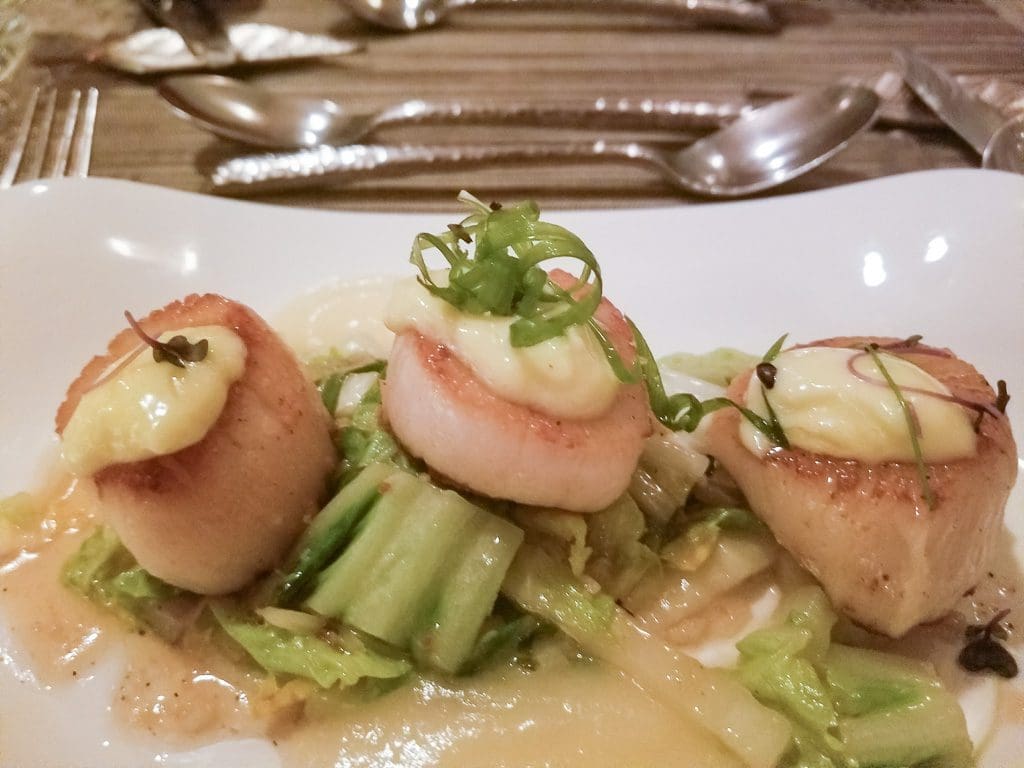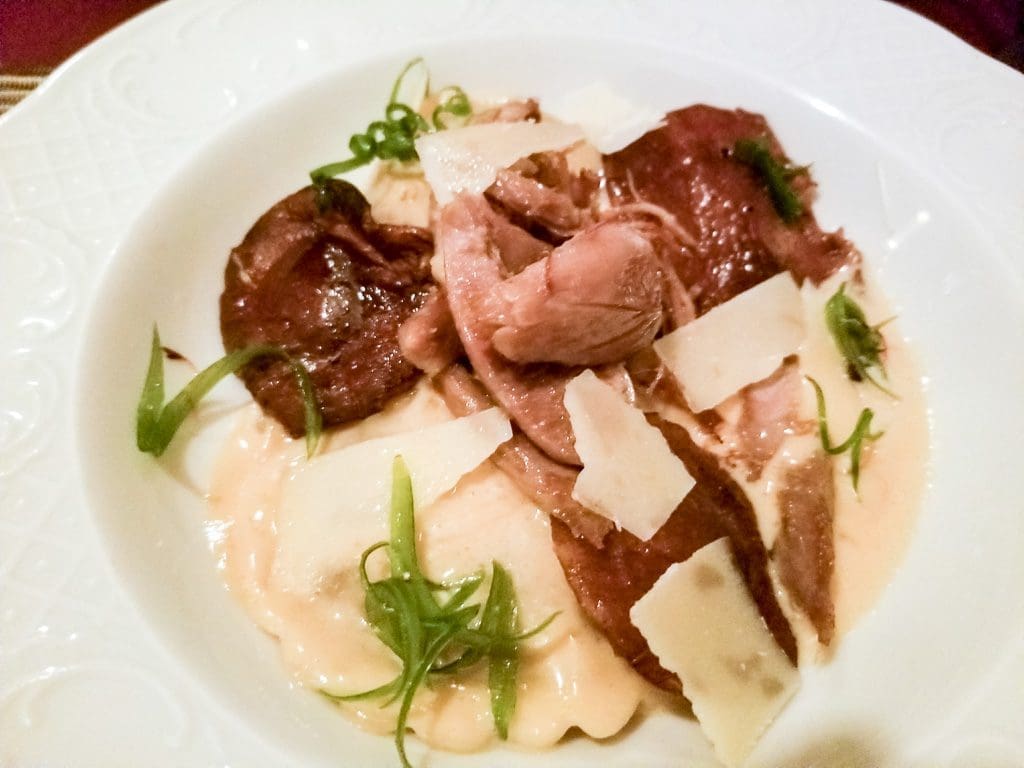 Soup Course: Lobster Bisque with Cognac Cream & Seafood Chowder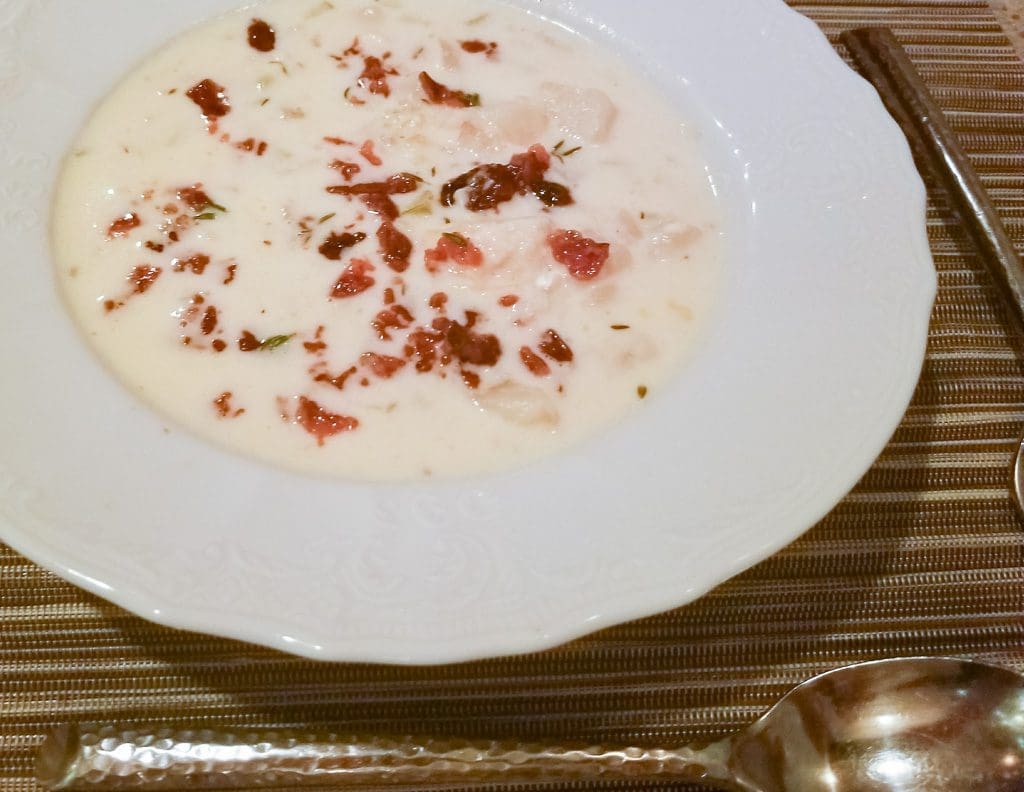 Sorbet: Maine Blueberry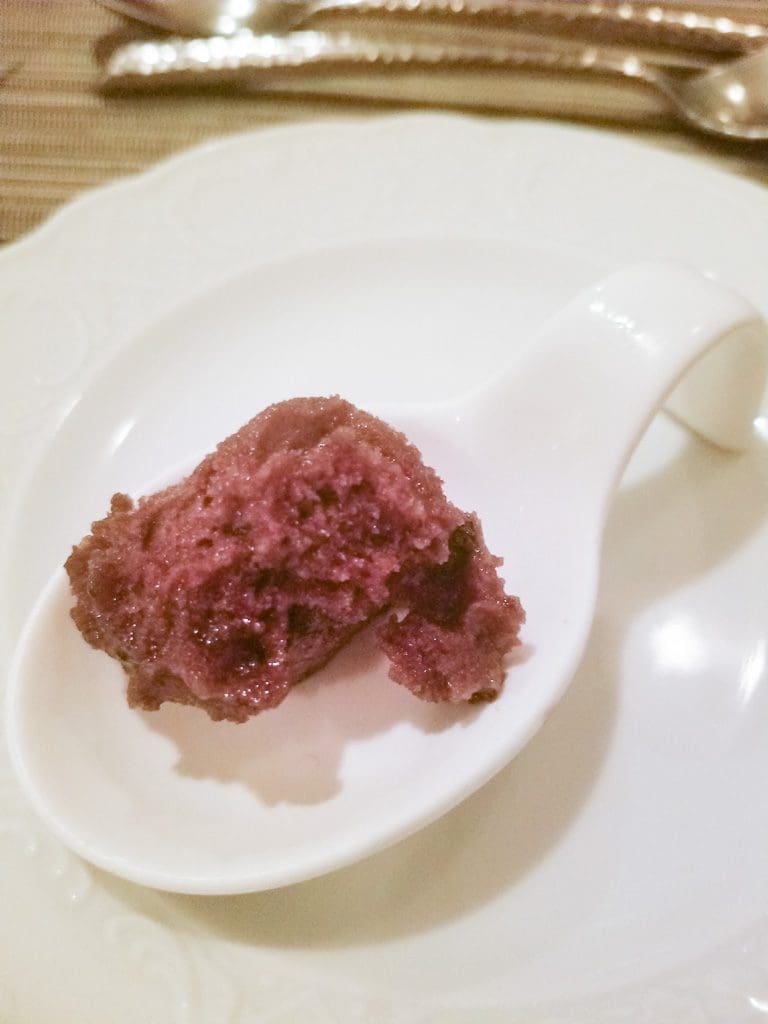 Entree: Winter Squash Carbonara & Steak Frites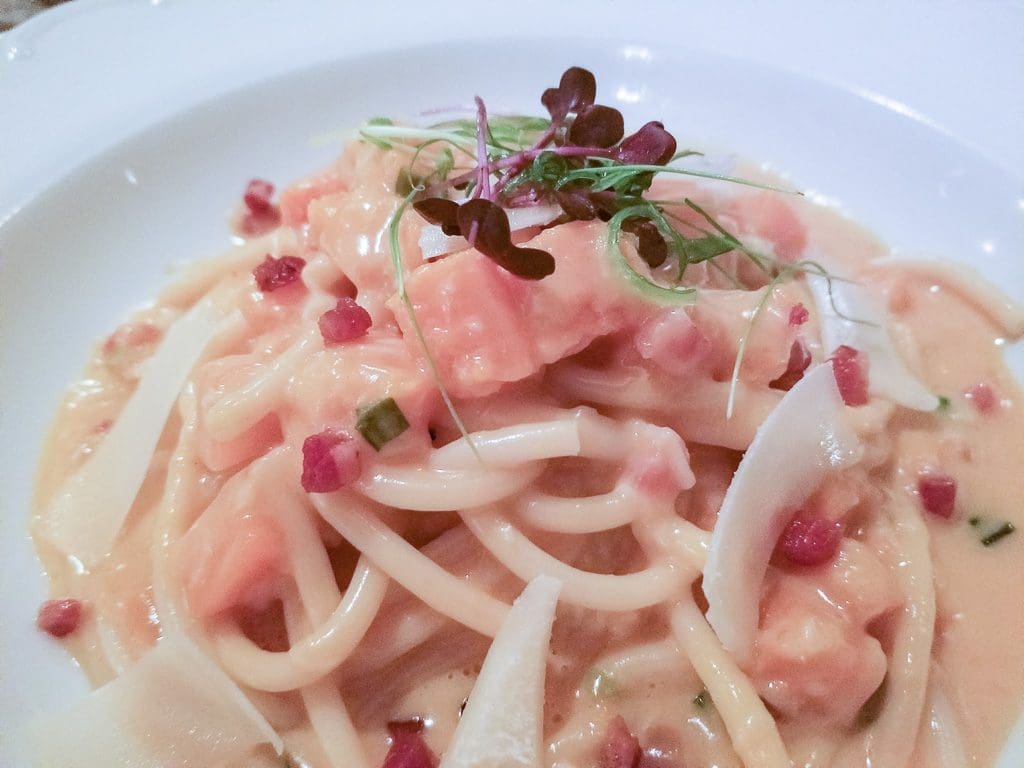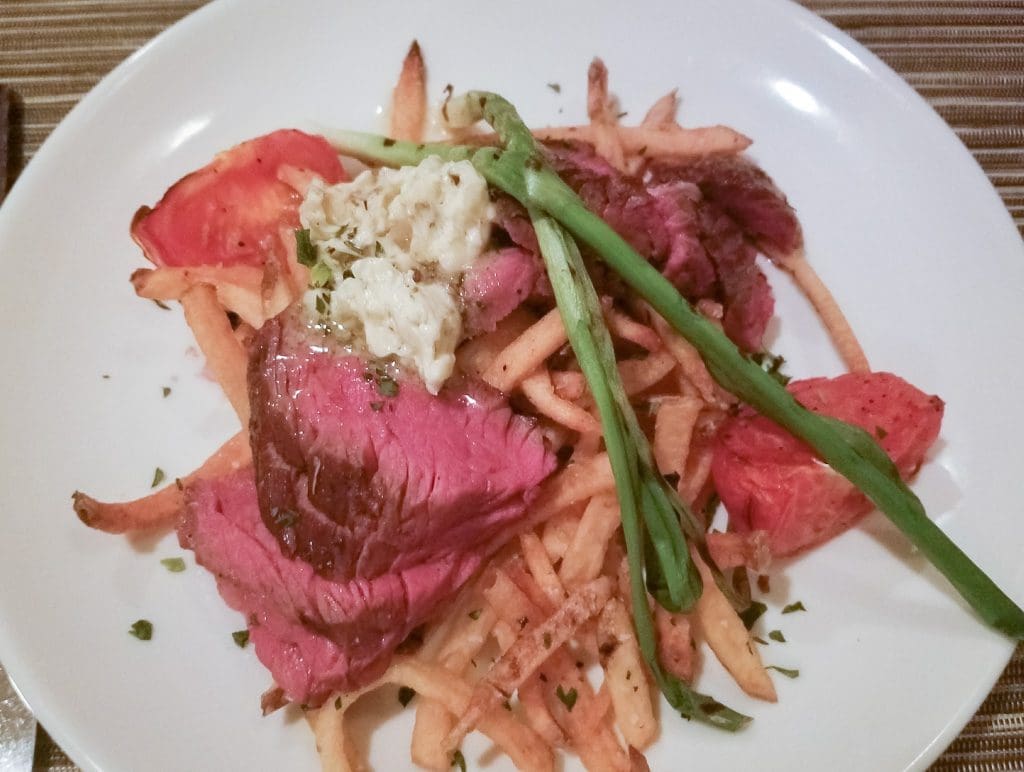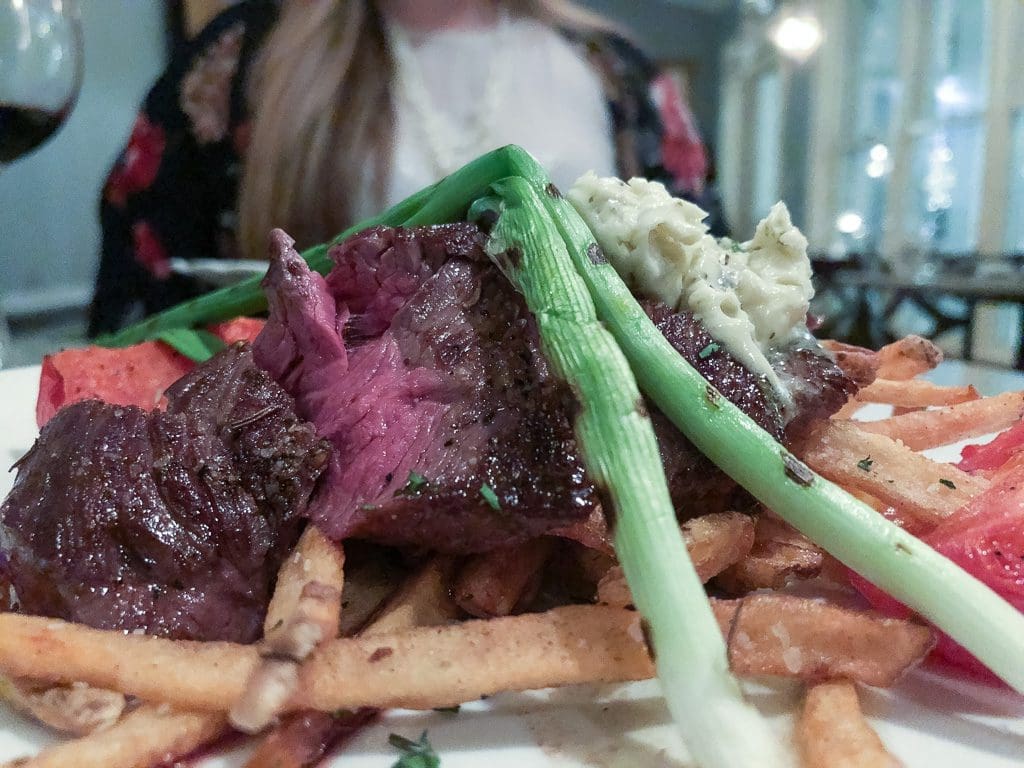 Dessert: Grand Marnier Soufflé & Chocolate Ganache Tarte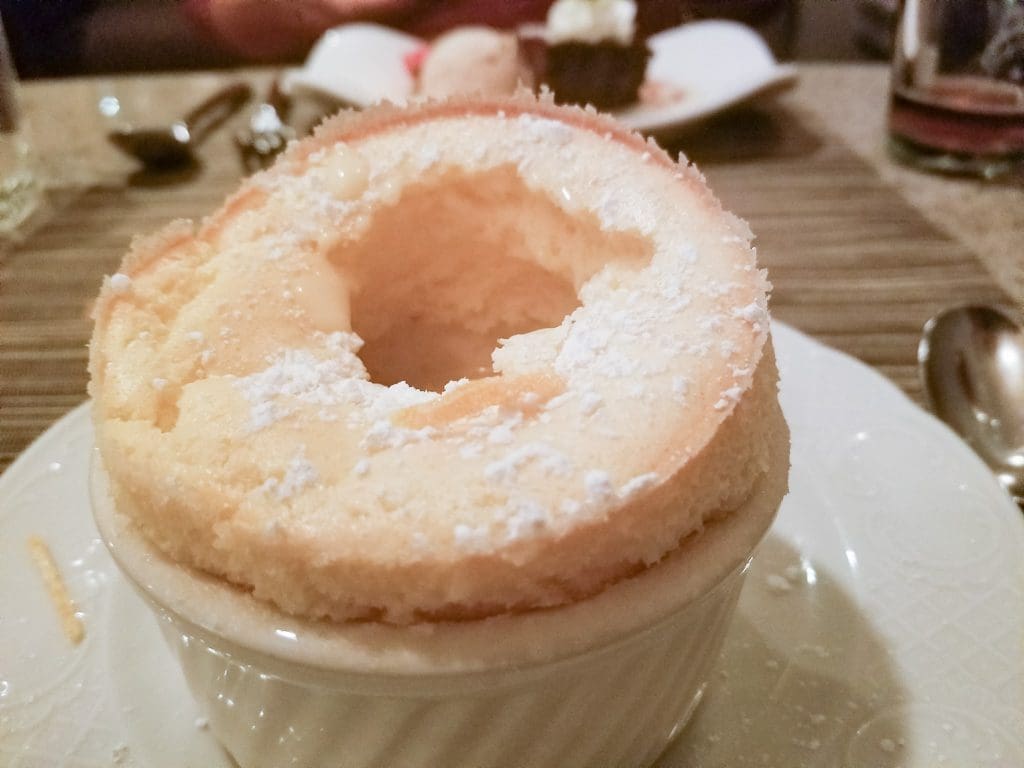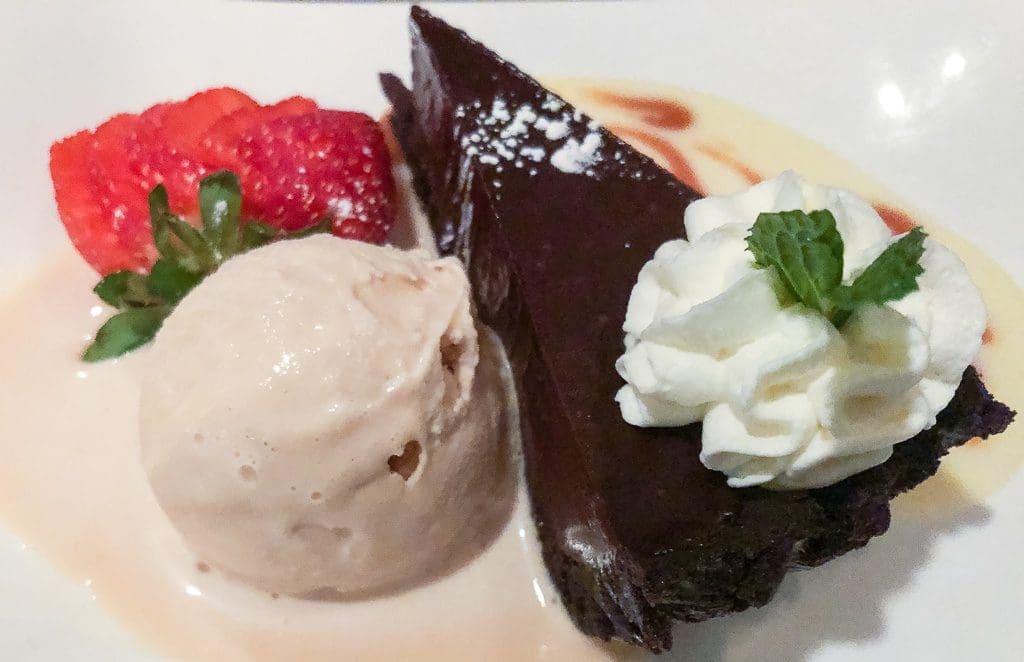 I considered describing each course in detail but, in truth, there's no need.  Each dish was expertly prepared to perfection and with every bite our tastebuds were delighted.  A quick glance around the full dining room (the restaurant is open in the evenings to the public) mirrored our sentiments.  Every bite resulted in an approving head nod or the classic head-roil back, eye's closed, "Mmmm".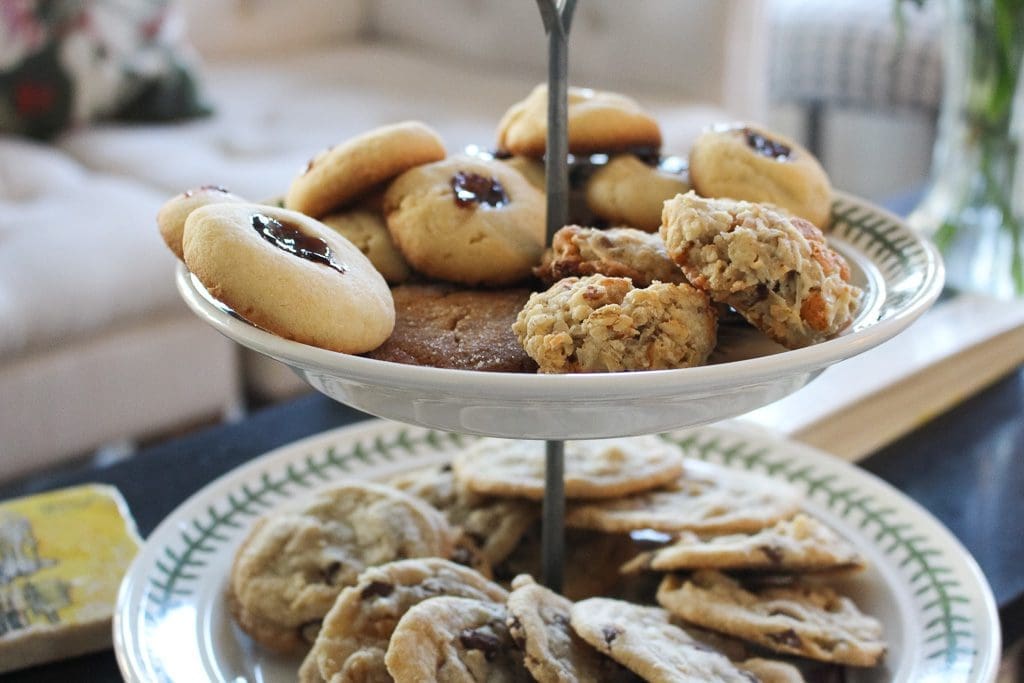 THE EXTRAS: Personal Touches & Room Amenities
After chatting with other guests it was no surprise to us when owner Mary-Jo offered to help plan out the details of our remaining time in Maine.  She asked about our travel style and interests, then suggested an afternoon of stops that would fit the bill.
We also loved the addition of strategically placed chocolates in our room, the luxe bathrobe hanging in the closet and the epsom bath salts (which I fully enjoyed).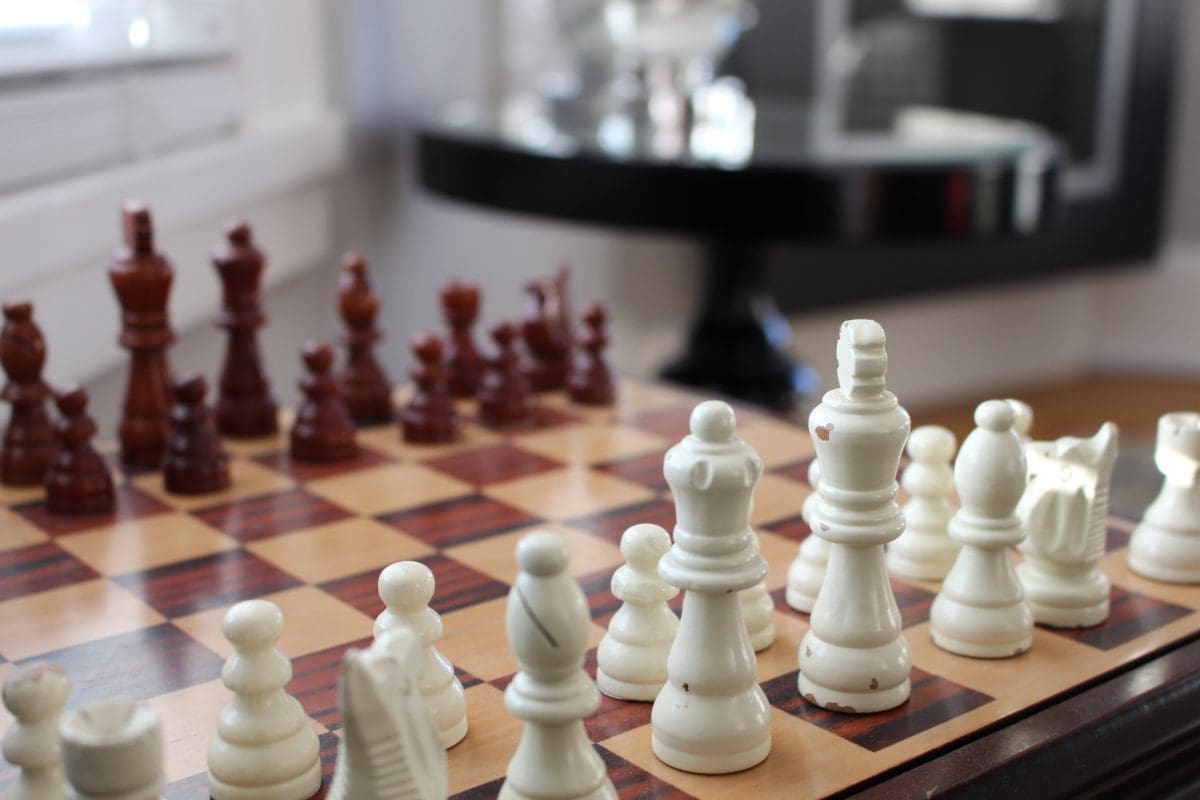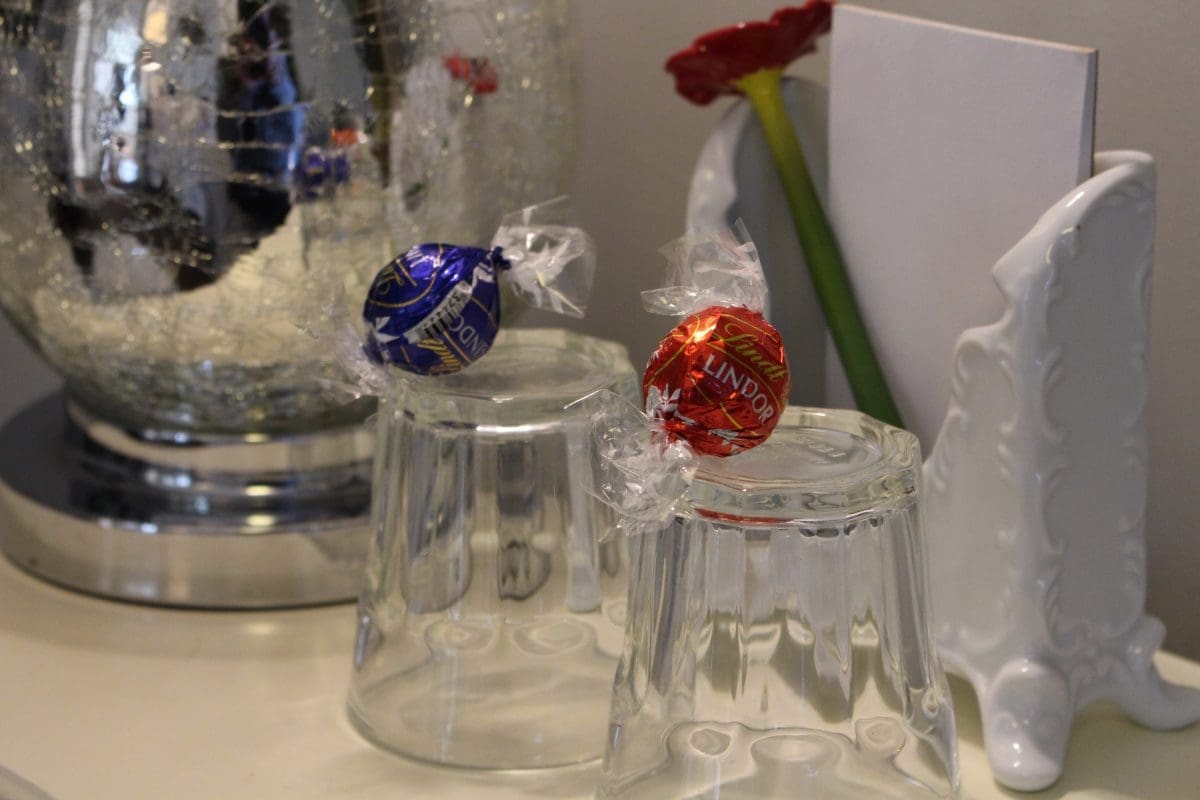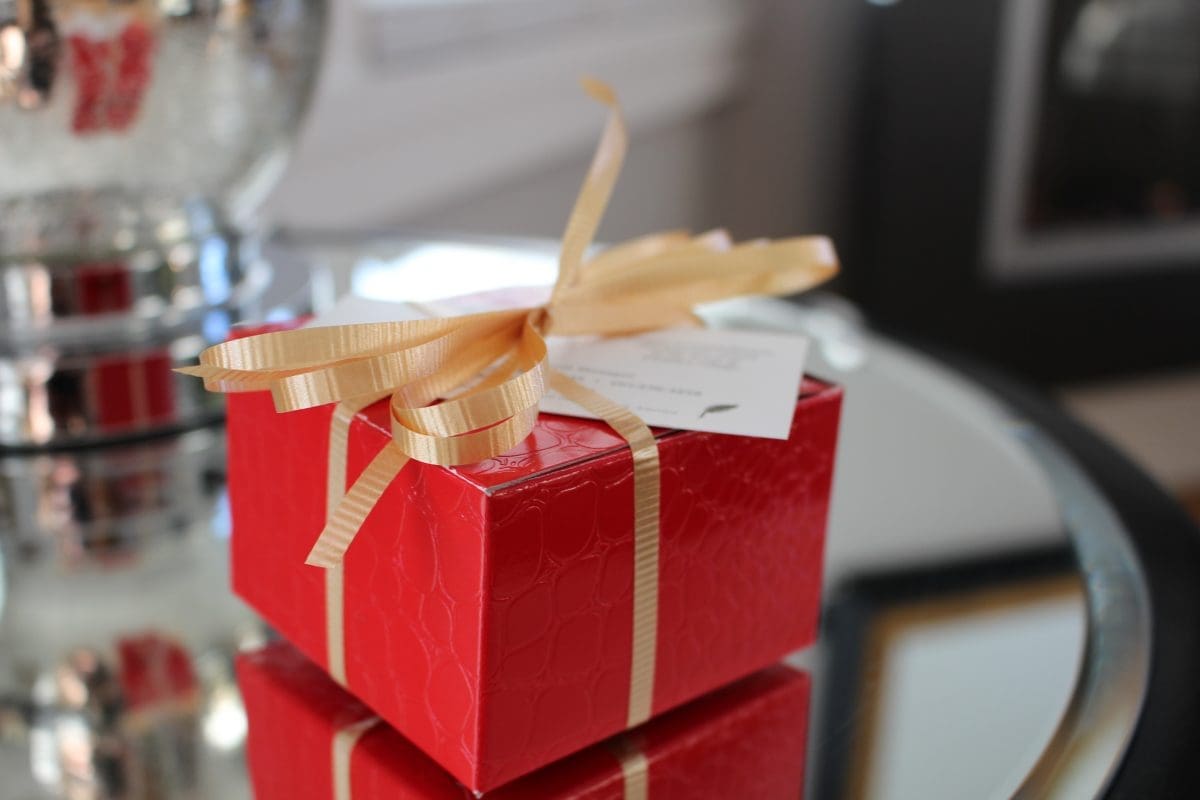 We really did enjoy a perfect day in Camden Maine thanks, in large part, to Mary-Jo, Michael and the wonderfully attentive staff at Hartstone.  You can see our full itinerary here that includes everything from beer tasting to Icelandic Horseback riding!
A gracious thank you Hartstone Inn & Hideway, Meghan, Mary-Jo, Chef Michael and the amazing team for welcoming and hosting us, y'all know the way to our hearts – with amazing food! As always, all opinions and too many photos are our own. Thank you!