We're all guilty of getting stuck in our ways when it comes to the types of foods we eat.  When's the last time you tried a new restaurant?  Have you ever let the server pick your entire meal?  The first time I saw someone do this was during a girls' night dinner.  We were at a French restaurant, Bistro Le Coq, in Halifax and my friend Josee said to the waiter…"You pick.  I want an appetizer, entree and dessert".  I thought that was brilliant and that was really the moment I became more adventurous in my own food choices!
So, a few months back we asked you what your favourite Nova Scotia restaurant was.  We asked, and you answered!  We took our cue from Josee and visited many of those restaurants, never choosing our own meal.  Here are the 16 restaurants we visited and why we think you should check them out!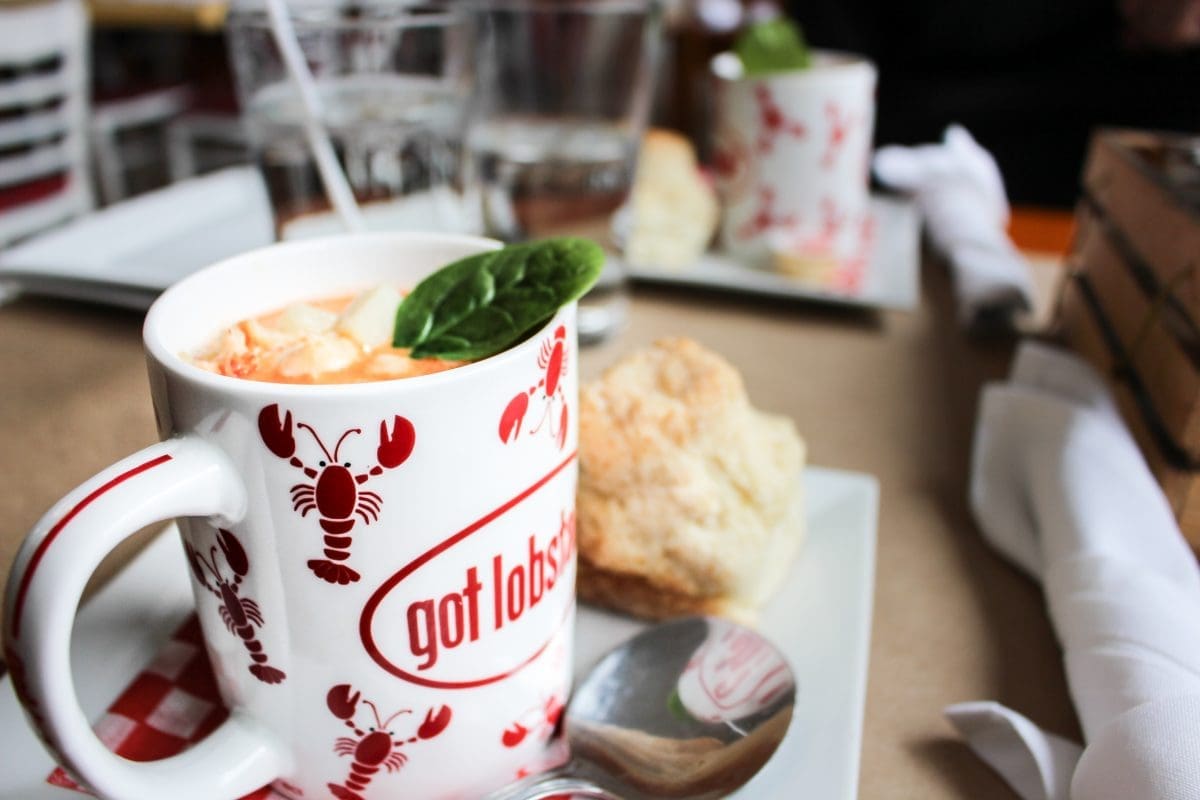 1. Capt. Kat's Lobster Shack, Barrington Nova Scotia
Barrington Nova Scotia isn't typically a place that people consider when planning a trip to Nova Scotia – but it should be!  If you love lobster, this is the lobster capital of Canada.  If the beautiful white sand beaches of the south shore of Nova Scotia aren't enough to lure you to this corner of the province, Capt. Kat's Lobster Shack will surely get your attention.  We consider ourselves chowder experts and if we're being completely honest, this one was one of the best chowders we've ever had.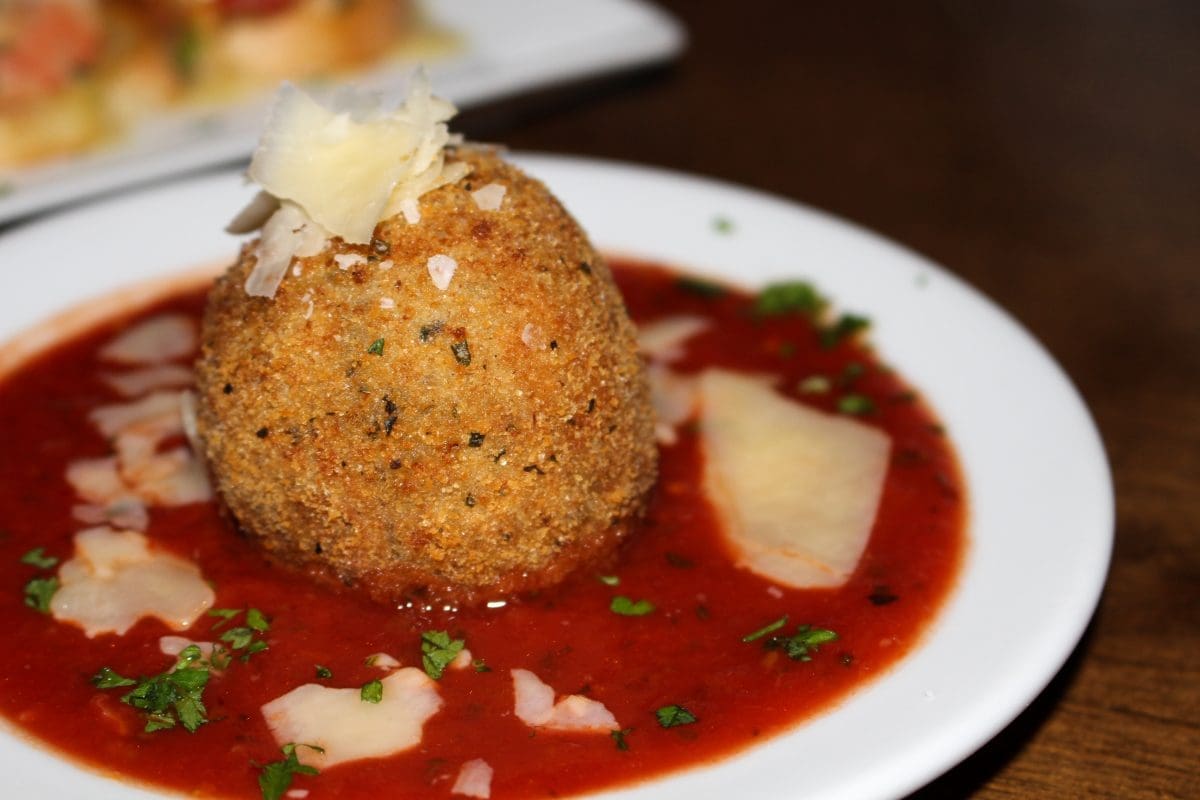 2. The Vines Pasta Grill, Dartmouth Nova Scotia
The vines pasta grill is a true Italian restaurant featuring everything you would expect to find on their extensive menu alongside some delightful surprises (like steak).  We tried a sampling of several appetizers, including their famous caesar salad, pasta (of course), steak and desserts but that's not all they have to offer.  The Vines is also known for their massive weekend brunches and their Wednesnday night pasta bar.  Both of which we'll be visiting a little later this year!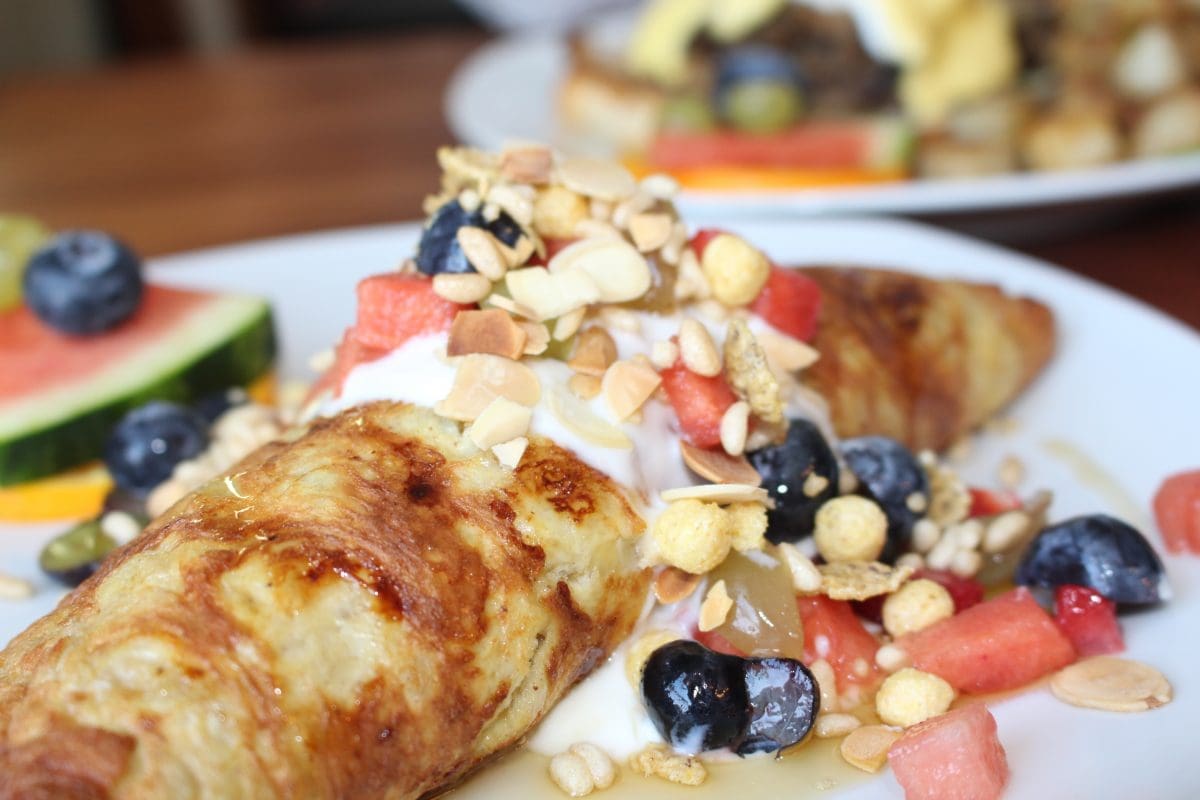 3.  The FOOD Muster, Truro Nova Scotia
OK let's just call it what it is.  Truro isn't traditionally known for it's stellar food but if you haven't visited in a while (or ever) you're in for a big shock.  The FOOD Muster is tucked away and barely visible unless you're looking for it but OH.EM.GEE. it's worth finding.  This isn't your standard breakfast stop – in fact, they now serve a full menu (breakfast through dinner) and the food speaks for itself.  Go there.  You Must.  Tell Wayne we sent you!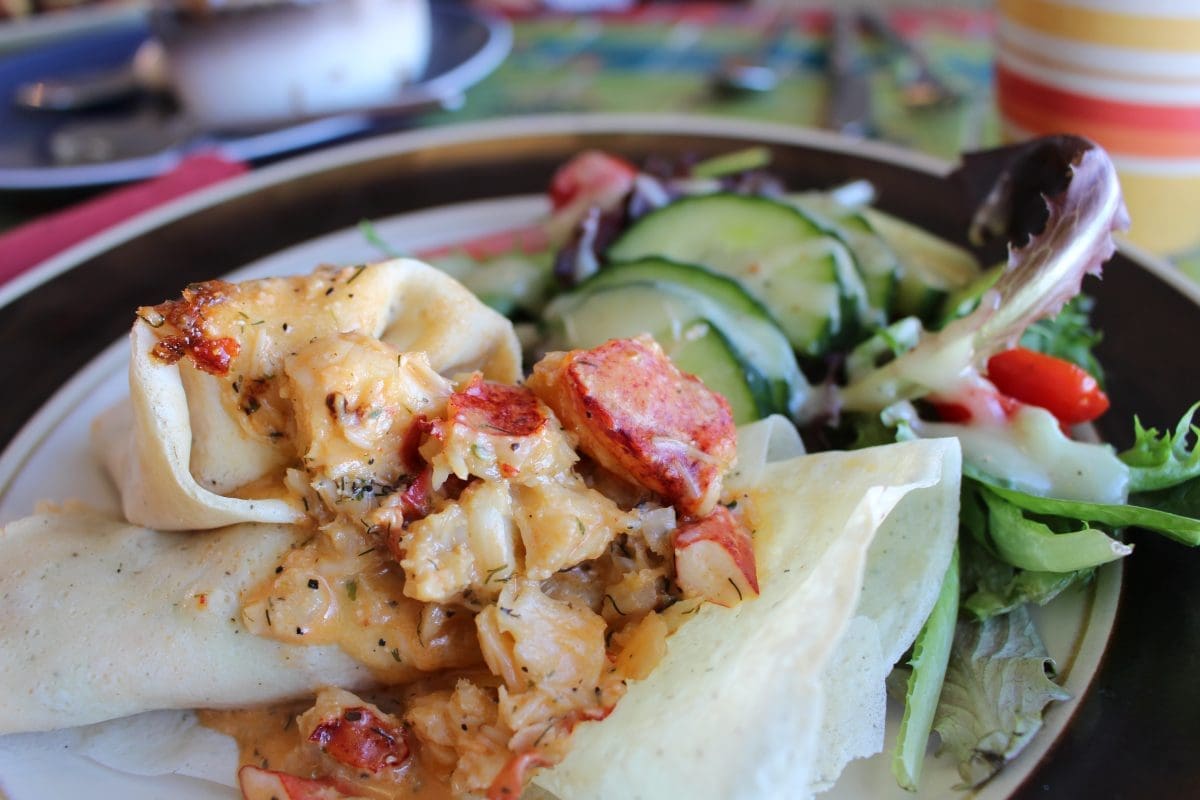 4.  Whirligigs Cafe, Wallace Nova Scotia
Since we've already got you drooling over breakfast foods, let's keep that ball rolling shall we?  We're in Atlantic Canada so naturally, lobster is a staple in our menu.  And rightly so!  Whirligigs cafe served up a lobster crepe to die for during our recent visit alongside eggs whirligigs (a maritime spin on eggs benny) and whisky french onion soup.
5.  Rhubarb Restaurant, Indian Harbour Nova Scotia
Imagine and seaside cottage, roaring fire, the crash of the waves and a 30 second walk from your door for an outstanding dining experience.  That's exactly what you get here!  Situated just steps away from Oceanstone Seaside Resort (where we were staying), the Rhubarb is a perfect addition to your weekend plans or as a stand along destination.  We enjoyed a special Chef's tasting menu including kale caesar salad, lamb chops, and house-made caramels (among other delectable dishes).
6.  The Flying Apron Inn & Cookery, Summerville Nova Scotia
Not your typical restaurant meal because this is one you cook yourself!  The Flying Apron Inn & Cookery offers a sit down restaurant (which is amazing) but what we think is even better?  Their cooking school!  We attended a Mediterranean style cooking class during our stay where we prepared a three course meal of Piadina & Hummus, Lamb Souvlaki with a couscous medley, and olive oil amaretto cake with an orange glaze.  The chef walks you through the process and in a couple of hours you've learned some new recipes and created an amazing meal you can enjoy as a group! Bonus: You get to take your leftovers (of which there are lots) home!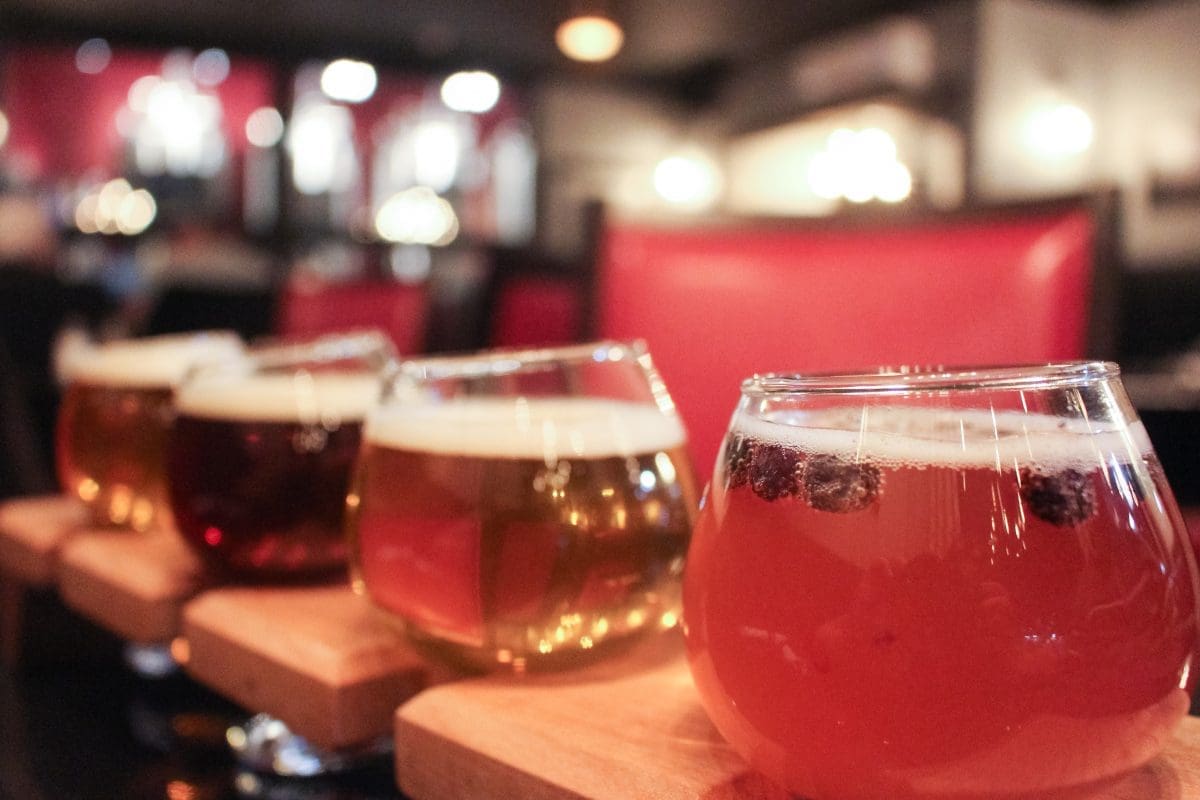 7.  The Nook and Cranny Brew Pub, Truro
Alright it's no secret to anyone who knows us that we spend a lot of time at the Nook and Cranny.  And why wouldn't we?  They treat us like family – it's our Cheers!  We've tried nearly everything on the menu and we have our favourites but during this visit (as with all of our restaurant stops in this series) we let them do the picking and we're glad we did!  First of all, you can't (well, shouldn't) visit without order a flight of their in-house brews.  We have developed a deep love of craft beer over the last few years so this was a perfect way to start the evening.  We enjoyed everything we had but would highly recommend the bacon and gouda dip served with soft pretzel bites!
8. Rob Bitar's Ristorante, Elmsdale Nova Scotia
Bitar's is super cool because it started out as a take-out only pizza shop and has evolved (2 expansions later) into a full service restaurant offering a more refined dining option for locals and visitors to Elmsdale.  This was our third visit to Bitar's and we've enjoyed many dishes (their mussels are excellent) but our current favourite is, without a doubt, their procuitto and brie flatbread.  Go there…get that…you're welcome.
9.  CUT Steakhouse, Halifax Nova Scotia
If luxury and a full fine dining experience is what you're looking for, look no further than CUT Steakhouse.  Every aspect of the evening is top notch from the table side meat tray so you can choose your cut to the on-site sommelier to help you pair the perfect wines.  The steak (obvsiously) is amazing but what stood out the most to us was the service.  They take care of you from the moment you walk in the door until you leave.  Simply divine.
10.  EnVie: A Vegan Kitchen, Halifax Nova Scotia
Before you skip this section because you're "not a vegan", hold your horses and hear us out!  Yes, EnVie is a completely Vegan restaurant but they actually cater to a carnivore audience.  75% of their customers are meat eaters.  What does that mean?  It means they create menu items to appeal to those of us who love meat…things like buffalo wings (pictured above) and the bacon double cheese burger.
11.  Hebel's, New Glasgow Nova Scotia
At first blush you might think Halifax is the mecca of culinary delights in Nova Scotia but don't discount the smaller communities.  When you start looking, you'll find there are some amazing eateries hidden away in the small towns of our quaint little province.  Hebel's is one of them!  We have too many menu favorites to list but we will tell you that they have the freshest (and coldest) oysters we've ever had along with the most amazing escargot.  It's completely unique and something I order every single time I'm there.
12.  Your Father's Moustache, Halifax Nova Scotia
With 17 beers on tap and a weekly Blue's Matinee this is a tried a and true pub in the heart of Halifax.  Your Father's Moustache has everything you would expect from a pub menu along with some unique twists on the standard pub fare.  The crowd size at a pub is always a great indicator of quality, service and all around experience and YFM is always packed – 'nuff said.  When you visit, we highly recommend the calamari (tossed in tomato sauce) and the mushroom and swiss burger (fully loaded with bacon & all the fixings).
13.  Surf Restaurant, Hantsport Nova Scotia
Fish and Chip places have a reputation for being greasy, quick, all deep fried food.  Don't get us wrong, we love those things (and we happily ate them here) but what we really loved about Surf is that they also offered some other options including a kick-ass seafood chowder, thai shrimp and bacon wrapped scallops.  Famous for their cakes and pies as well as their options of fish (breaded, battered, in a taco, etc), Surf is a must-vist stop next time you're passing through Hantsport.
14.  Waffle Love, Halifax Nova Scotia
Waffle love offers waffles.  You're shocked right?  Seriously though, these were amazing!  They feature two categories of waffle based breakfasts:  Sweet & Savoury, depending on what you're in the mood for.  The sweet waffles are piled high with fresh fruit, whipped cream, and whatever sweet deliciousness sauce you want while the savoury waffles are served with sausage, eggs and the yummiest perogies we've ever had.
15.  The Wooden Door Bistro, Elmsdale Nova Scotia
The Wooden Door Bistro is located in the Quality Inn at the Airport and is a perfect option for those passing through and looking for a quick option or (this is what we think is the coolest) for those who  work at the airport or in the vicinity.  You can call ahead, place your order, and then just head over and pick up!  So, being short on time doesn't mean you have to settle for fast food.  You can order a healthy (or not) meal and enjoy it on the fly.  Our favourite?  The roasted vegetable salad with balsamic reduction and shrimp!
16.  Mexico Lindo's, Halifax Nova Scotia
Last but certainly not least, we visited Nova Scotia's only authentic Mexican restaurant.  Fitting because as I write this blog, we're packing our bags to leave for Mexico in just a couple of days!  We loved the bright, vibrant atmosphere and authentic Mexican food but were especially impressed by the extensive gluten free menu options.  In fact, the enchilada we enjoyed (pictured above) was gluten free and we didn't even know it!  Mexico Lindo's is a must-visit…and don't forget to order the guac – it's amazing!
Do you have any favourites that didn't make the list?  Drop them in the comments below!