SEVEN LAYER SWEET POTATO SALAD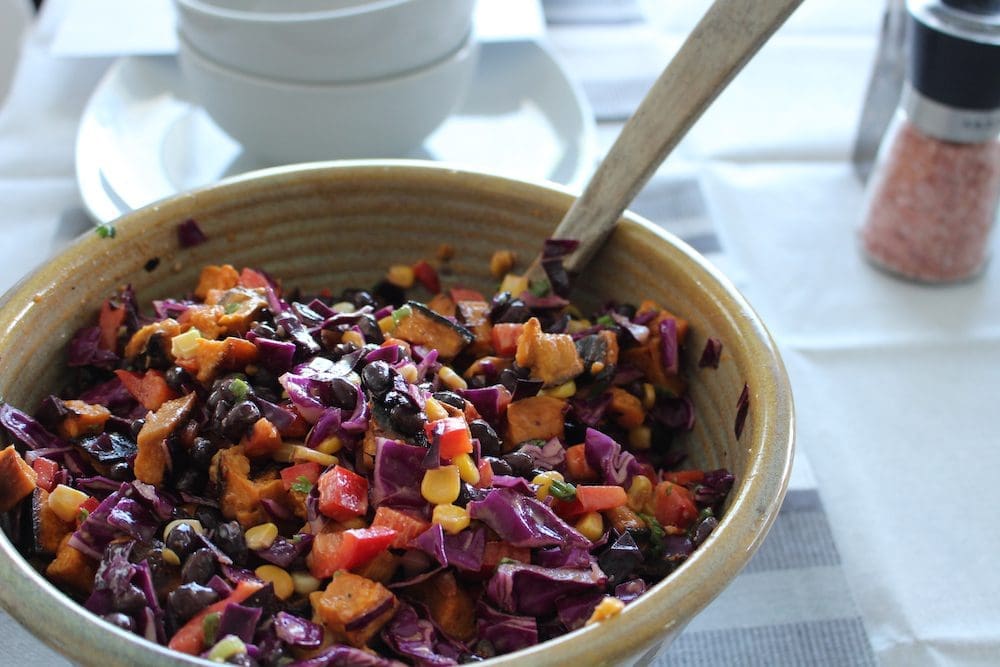 As I sit writing this blog post, we're on the Ferry leaving Iles de la Madeleine where we've enjoyed a week of amazing food, bursting with flavor and fresh produce.  One of the things we noticed is that every single meal has come with fresh fruit, in-season produce, and fresh garnish!  So, it's fitting that this seven-layer sweet potato salad is just that – fresh, full of color and a welcome alternative to the traditional burger side dish of French fries. 
This unique side pairs perfectly with a great burger.  In fact, a fresh salad is the perfect summer grilling accompaniment for any dish!  This is a Kitchen Door favorite and keeps for a week in the fridge.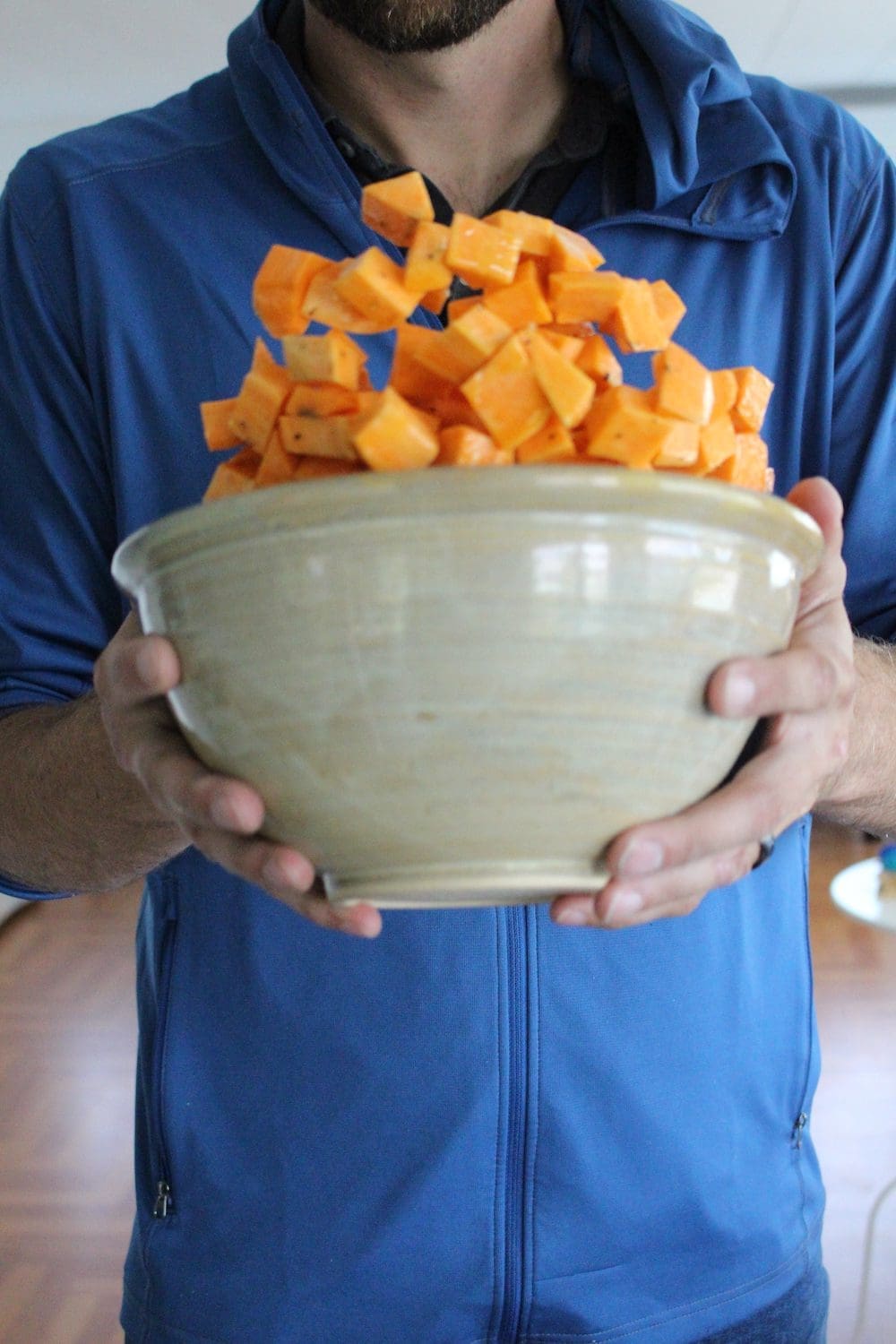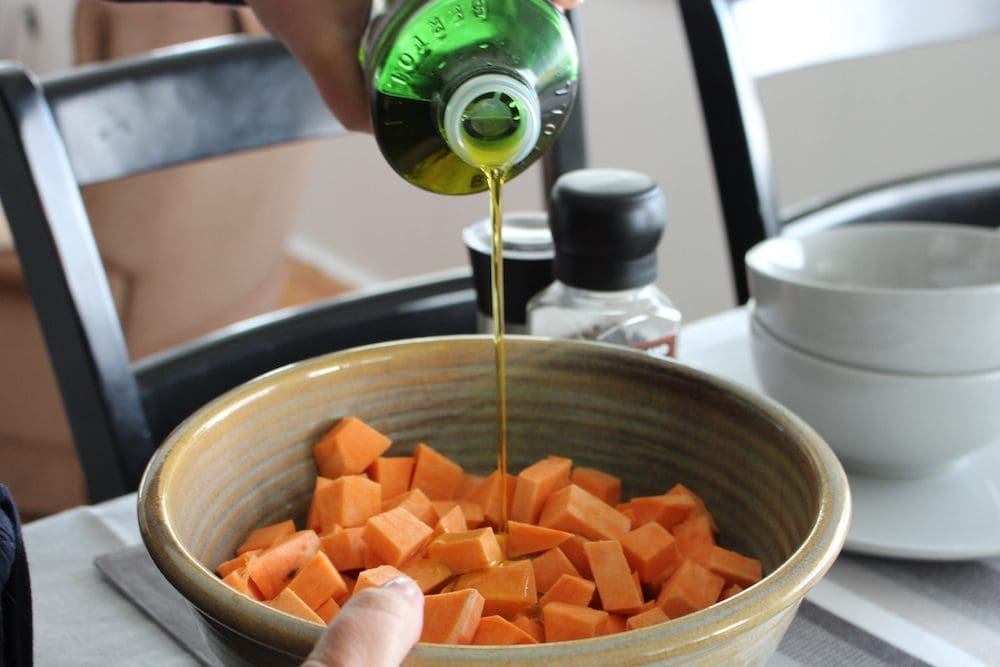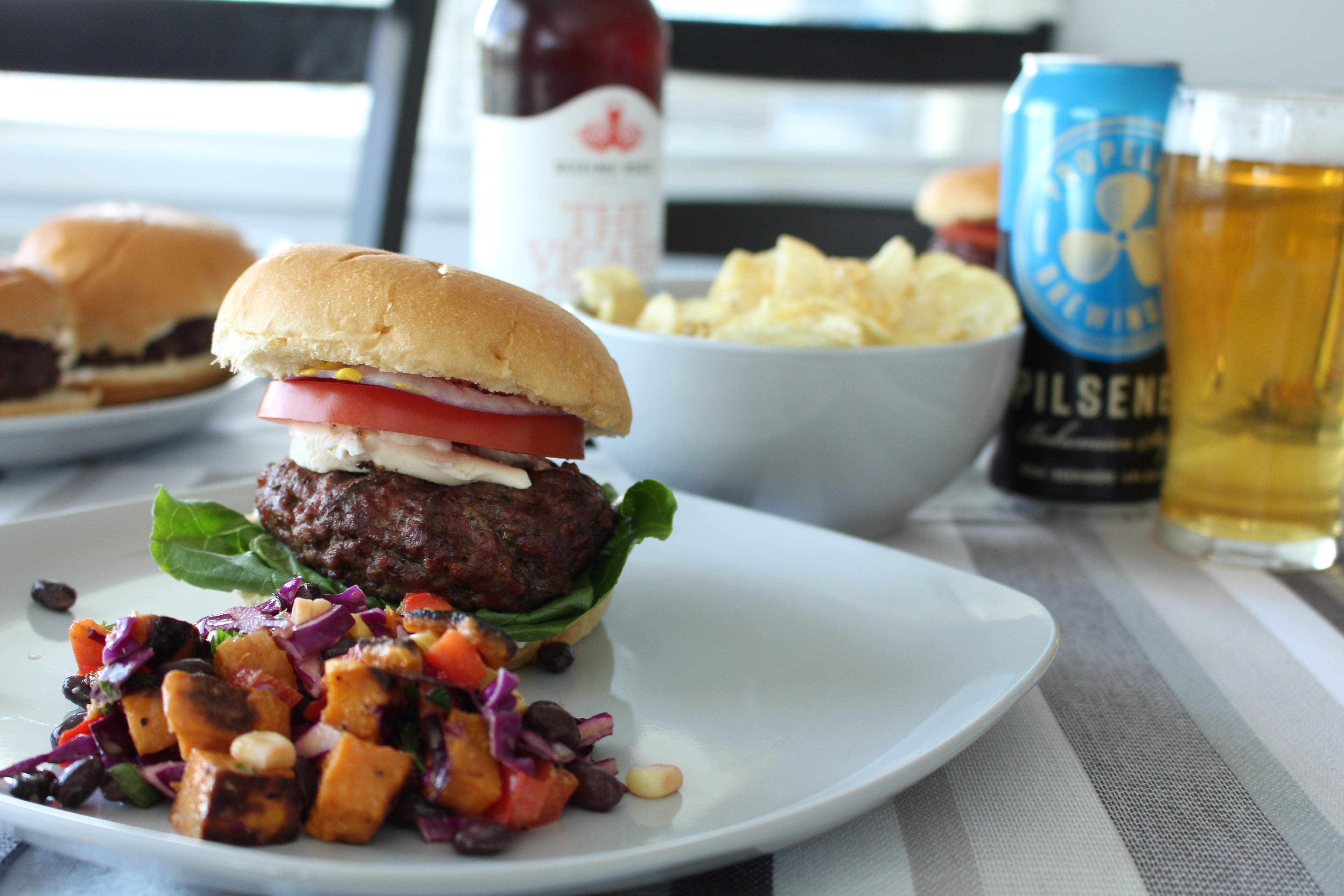 As with most of our kitchen experiments, we usually take them with us to an event and test them out on our unsuspecting friends and family.  This dish was a hit.  Not only is it a really pleasant alternative to "regular" potato salad, but it's also full of super healthy ingredients that you can feel great about.
Seven Layer Sweet Potato Salad
Seven Layer Sweet Potato Salad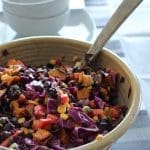 What pairs perfectly withy a great burger? A deliscious, fresh salad of course! This is one of our go-to salads and also happens to be vegan and gluten free.
3 large Sweet Potatos (peeled & cubed into 1" cubes)
2 Tbsp Olive Oil
1/2 tsp Salt
1/2 tsp Pepper
15 oz can Black Beans (drained and rinsed)
1 large Red Bell Pepper (seeded and diced)
1 large Purple Cabbage (chopped)
1 cup Corn (fresh or frozen)
3 stalks Green Onion (thinly sliced)
2 Tbsp Honey
2 Tbsp Dijon Mustard
2 Tbsp Olive Oil
2 Tbsp Lime Juice
2 Tbsp Apple Cider Vinegar
2 cloves Gralic (pureed)
3 Tbsp Chipotle Peppers in Adobo Sauce
1/4 bunch Flat Leaf Parsley (washed and chopped)
Toss diced sweet potatoes in olive oil and season with salt and pepper, place on baking sheet (parchment lined if you have).  In a preheated 400 degree oven, bake for 35-45 minutes until fork tender and slightly caramelized on the exterior.  

In a blender, combine Honey, Dijon, Olive Oil, Lime Juice, Apple Cider Vin, garlic and Chipotle Peppers in Adobo.  Blend until combined, taste and season with salt and pepper.

Once potatoes have been removed from the oven and cooled slightly (warm/hot temperature) add them with the corn, cabbage, black beans, red pepper to a large bowl.  Add in dressing from blender, remaining chopped parsley and green onion.  Toss well, taste and season, tweak as desired.  Preferably, let marinade for 2-3 hours prior to serving.
Next week, we're tackling Thai style grilled chicken thighs!  Don't forget to leave us a comment and let us know what you think of these recipes!
*The "Thrill of the Grill" BBQ series was sponsored by Warmth by Design and Barbecue Heaven in collaboration with Kitchen Door Catering.  We love partnering with awesome local brands, especially when it means sharing some great content with you!  As always, all photos and opinions remain our own.