The Thrill of the Grill: Episode 3
You're in for a treat this week guys!  I was away in Quebec and you know what they say… when the cat's away, the mice will play.  This week, our friends from Kitchen Door came to our neck of the woods to film a special grilling episode of Chit Chat Chop on location at Warmth by Design and BBQ Heaven with Brent.  Not only did they feature local smoked pork chops AND pork tenderloin from the Pork Shop, but they also did a full grilling lesson.  
Today's recipe's include lovely fresh sides, special rubs and sauces from BBQ Heaven, Pork Shop products and a drink pairing from Barrelling Tide Distillery.  That's a lot of local!
[video_player type="embed" style="1″ dimensions="560×315″ width="560″ height="315″ align="center" margin_top="0″ margin_bottom="20″ ipad_color="black"]
[/video_player]
Smoked Pork Chops 
These locally smoked pork chops from The Pork Shop are legendary in Nova Scotia and are easy and tasty to grill.  This simple recipe includes Blues Hog BBQ sauce, a favorite at BBQ Heaven, but you could easily substitute your favorite sauce or a home-made version.
Simple BBQ Smoked Pork Chops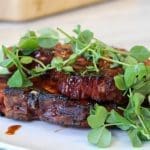 Smoked pork chops are a simple BBQ favourite! Like many of our recuipes, we're purists and prefer to keep the ingredients to a minimum to enjoy the full flavour of the chop.
4 Locally Smoked Pork Chops
1/2 cup Blues Hog Original Barbecue Sauce
Heat grill to high

Place chops on the grill and wait 2-3 minute before flipping

Once the chops are marked, turn down the grill to medium heat and glaze.

Continue glazing and flipping (I usually flip 2-3 times and glaze each time) until the chops reach an internal temperature of 155°.

Enjoy!
Grilled Pork Tenderloin
Being the leanest cut of pork, a tenderloin is easy to overcook but when executed properly it's a juicy and deliscious addition to any barbecue gathering.  We topped this one with a bright, fresh salsa verde and paired it with a simple arugla salad with white balsamic vinegarette.
Grilled Pork Tenderloin
It's easy to overcook a tenderloin becuase it's such a lean cut of meat, however, we've got the solution to a perfectly juicy tenderloin everytime.
1 Pork Tenderloin (Fresh)
1/4 cup Best in Texas Pork Rub
1/4 cup canola oil
Heat grill to high heat

Trim the tenderloin to remove the silver-skin and coat generously with the rub.

Sear 2-3 minutes on each side to mark the tenderloin then reduce heat to medium and cook to desired doneness (145-155° internal temperature)

Mix a few Tbsp of rub with canola oil and baste throughout to create an outer crust and maintain the juicyness of the tenderloin.

Let rest 5-8 minutes before slicing
Drink Pairing
5 Fathom Dark n' Stormy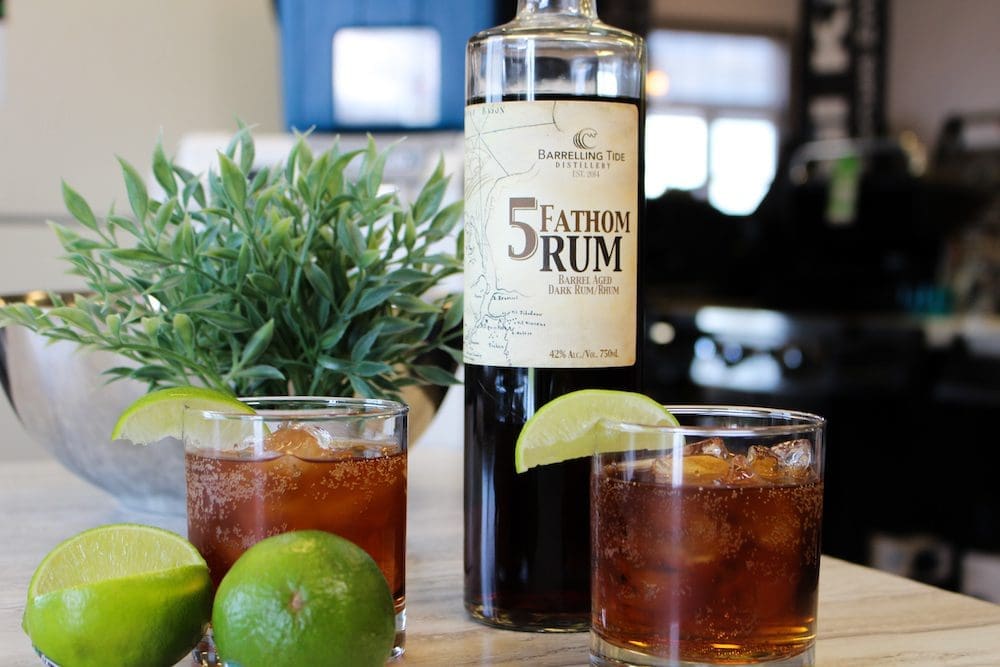 We've been waiting for an occasion to break out the 5 Fathom Rum from Barelling Tide Distillery and this seemed like a perfect fit.  We're big fans of classic cocktails and feel that there's no need to over complicate them.
3 oz ginger beer
2 oz dark rum (traditionally black seal but we're being rebels and using our fav, 5 Fathom rum)
garnish with lime
Fill a glass with ice, add 3 oz ginger beer, top with 2 oz 5 Fathom Rum and garnish with a lime wedge.  Easy Peasy.
Some people like to float the rum on top of the ginger beer for a more pleasing aesthetic but in the case of a BBQ pairing we wanted to keep it super simple.  You can also add a couple of dashes of bitters for more complexity but that all comes down to personal preference.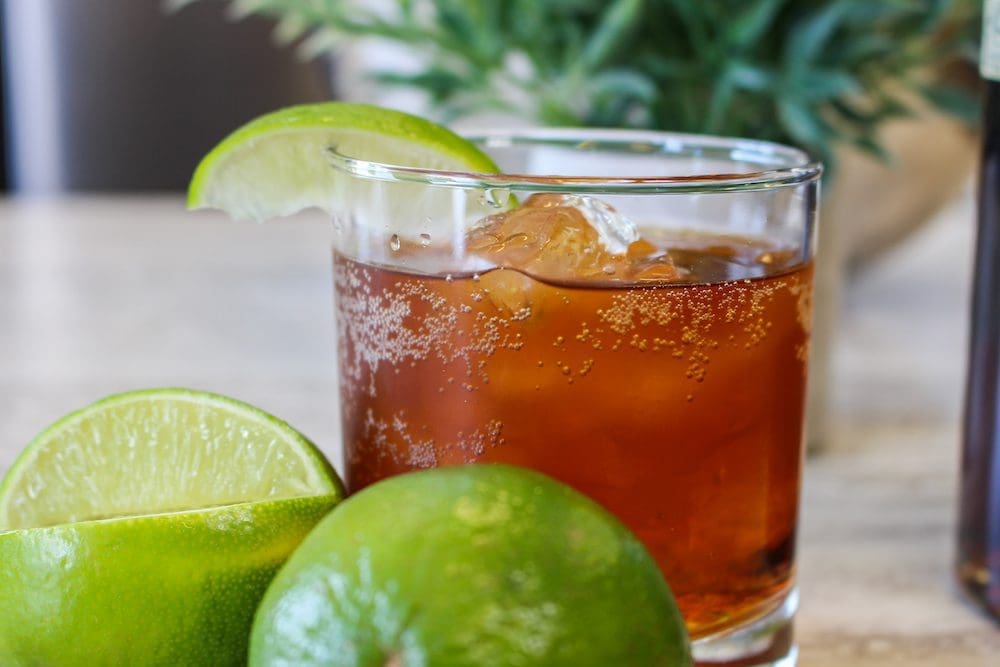 Featured Local Products
In each of our recipes, we do our best to include fresh, local ingredients and highlight some of the amazing producers in our area.  In today's recipes, we've got a bunch for you:
Pork Chops & Tenderloin from

The Pork Shop

(Denmark, Nova Scotia)

Blues Hog BBQ Sauce and Buckle Busters Best in Texas Rub from

BBQ Heaven

(Onslow, Nova Scotia)

5 Fathom Rum from

Barrelling Tide (Port Williams, Nova Scotia)
This post is sponsored by Warmth by Design and BBQ Heaven in collaboration with Kitchen Door Catering.  We love collaborating with awesome local businesses and sharing them with you but, as always, all opinions are always our own!