The Thrill of the Grill: Episode 1
What's a grilling series without a perfect burger recipe?  If you ask us, there's no better place to start a brand new series than with a quintessential grilling food.  So let's do that…
Summer is officially here and we figured there was no better way to get in the grilling mood than to dive headfirst into a BBQ series. Over the next eight weeks, we'll be delivering a cluster of amazing Nova Scotia barbecue recipes, grilling tips like using wood pellets on your gas grill (for a unique and delicious smoky flavour), and local drink pairings to help you step up your summer grill game. And, while we're not experts on the topic, we know the experts and we've enlisted the best of the best!
So before we kick things off, let's meet the team, shall we?
Warmth by Design & Barbecue Heaven
Trina and Leif are the duo behind Warmth by Design and Barbecue Heaven and they're also pretty awesome humans who love helping others find the thrill of the grill.  If you're into grilling – these are your people!  But wait…keep reading.
Aside from being a resource for grills, accessories and grilling spices and sauces, they also do something totally unique in the area by offering classes, workshops, and demonstrations.  So if you're thinking you'd like to get great at grilling but not sure where to start, they've got you covered.
Patty Howard & The Kitchen Door Team
Kitchen Door creates spectacular canapés, beautifully plated meals, innovative food stations, family style feats, and custom cocktails whether they're dropping off lunch, catering a gala dinner for 500, creating take-home meals or teaching cooking classes.
That's their official blurb… but unofficially, we also know them personally and can tell you they are some of the best damn people around.  If you haven't met them yet, you should!
Patty and her team have created the recipes for this series and we're honored to be tasked with executing them.
We're also so excited to be featuring many local producers, cheese makers and craft beverages alongside these recipes.
So settle in friends, and let's eat!
First things, first!  Get a kick-ass grill from the local grill experts.  Warmth by Design set us up with a Napoleon P500RSIB and all the accessories we'll need to test out these grill recipes and we're pretty stoked about it.

The Barbecue Specs
This bad boy is the total grilling package and it's got the capabilities of a full outdoor kitchen.  It's gas grill with infrared side and rear burners have the capacity for up to thirty burgers and up to 8 more on the side burners.  Yeah.  
For those of you who know a helluva lot more about grills than I do, here are a few more specs you might find awesome:
High-quality stainless steel
Dual-level sear plates
Four main burners + infrared rear & side burners that can cook using eight unique cooking styles
80,000 BTU's
17.75 x 28-inch cooking area
The Perfect Burger Recipe
Since Canada Day (and the fourth of July for our American friends) is just around the corner we asked Patty to hit us with her best burger recipe to ease us in.  And she delivered…
There are a lot of opinions about "what" ingredients belong in a burger.  Egg, breadcrumbs, garlic, teriyaki – the sky's the limit right?  If we're honest, we've done all of these things in our past burger attempts.
Well, Patty and her team consider themselves purists in the burger department.  Beef, salt, pepper and if you like, a little BBQ seasoning on the outside.  They believe that starting with great quality beef if the key.  
If you don't want to grind your own – they recommend getting to know your local butcher and asking them what cuts they use in their ground beef.  Better yet, ask them to mix a custom blend (most will happily indulge you).  The teams' preference is a mix of chuck, sirloin and sometimes a little short rib.
They call this, "The Purist"
The Purist Recipe
The Perfect Burger
We're purists and we believe that the perfect burger is made up of simple, fresh ingredients. High-quality beef, salt & pepper.
600 grams Ground Beef (High Quality)
Kosher Salt & Pepper
1 Tbsp Canola Oil
4 Hamburger Buns
Divide the meat into 4 equal parts (approx. 150 grams per burger).  Don't overwork the meat (it isn't play-doh) – use a light touch and form them into patties.  To avoid the burger bulge, make a shallow, 1/4" indentation in the center of the patty (this helps the burger shrink less).  Season liberally with salt and pepper (and BBQ seasoning if you wish).  Let rest 5 mins.  Brush lightly with canola oil.

Heat your gas grill to high.  Place burger on the grill until golden brown and slightly charred on the first side then turn down to medium-high.  Don't touch the patties or move them around!  Let them sear.  After 3-4 mins, flip the burger over and cook for 4-5 mins on the second side.  If you're adding cheese, add it now.  Cook until the desired degree of doneness (we like our medium rare).  If you are a "toasty bun" kind of person (like us) then gently brush your slices burger buns with canola oil and char slightly for 45 seconds or until golden.

Serve with seven layer sweet potato salad & kettle chips.
Drink Pairing
Propeller Brewing Co's Pilsner is a classic Bohemia-style lager that blends Canadian and European malts for continental hop aroma, light malt sweetness, and refreshing bitter finish perfect for summer afternoons on the patio. ABV: 4.8%
Boxing Rock's The Vicar's Cross Double IPA.  With all the bitterness and hop flavor a double IPA demands, it's still remarkably smooth and well balanced which makes it a perfect pair for grilled meats and rich foods (which is why we picked it).  ABV: 8.5%
The Perfect Burger: Variations
THE CLASSIC
Top each burger with a dollop of spreadable Gouda which will give this burger a step up from traditional cheddar.  Then add the standard lettuce, tomato & onion if you wish.
THE KICKER
If you like a little spice (who doesn't?), top your burgers with spiced jalapeño Havarti, spicy jelly, and black pepper bacon.
THE CRUNCH
Add your classic favorite burger toppings (red onion, tomato, lettuce, mayo, and mustard) along with some kettle chips and crunch away.
Recipe Notes: Local Nova Scotia Flavours
If you're ready to step up your perfect burger game, we'd recommend getting to know your local producers!  In our case, here in Nova Scotia, these are our picks:  
Fresh Ground Beef (custom) from Dexter's Butcher Block
Spreadable Gouda (Smeerkaas) from the That Dutchman's Cheese Farm
Fiery Fennel Jelly from Tangled Gardens
Black Pepper Bacon from The Pork Shop
House Made Kettle Chips from Kitchen Door Catering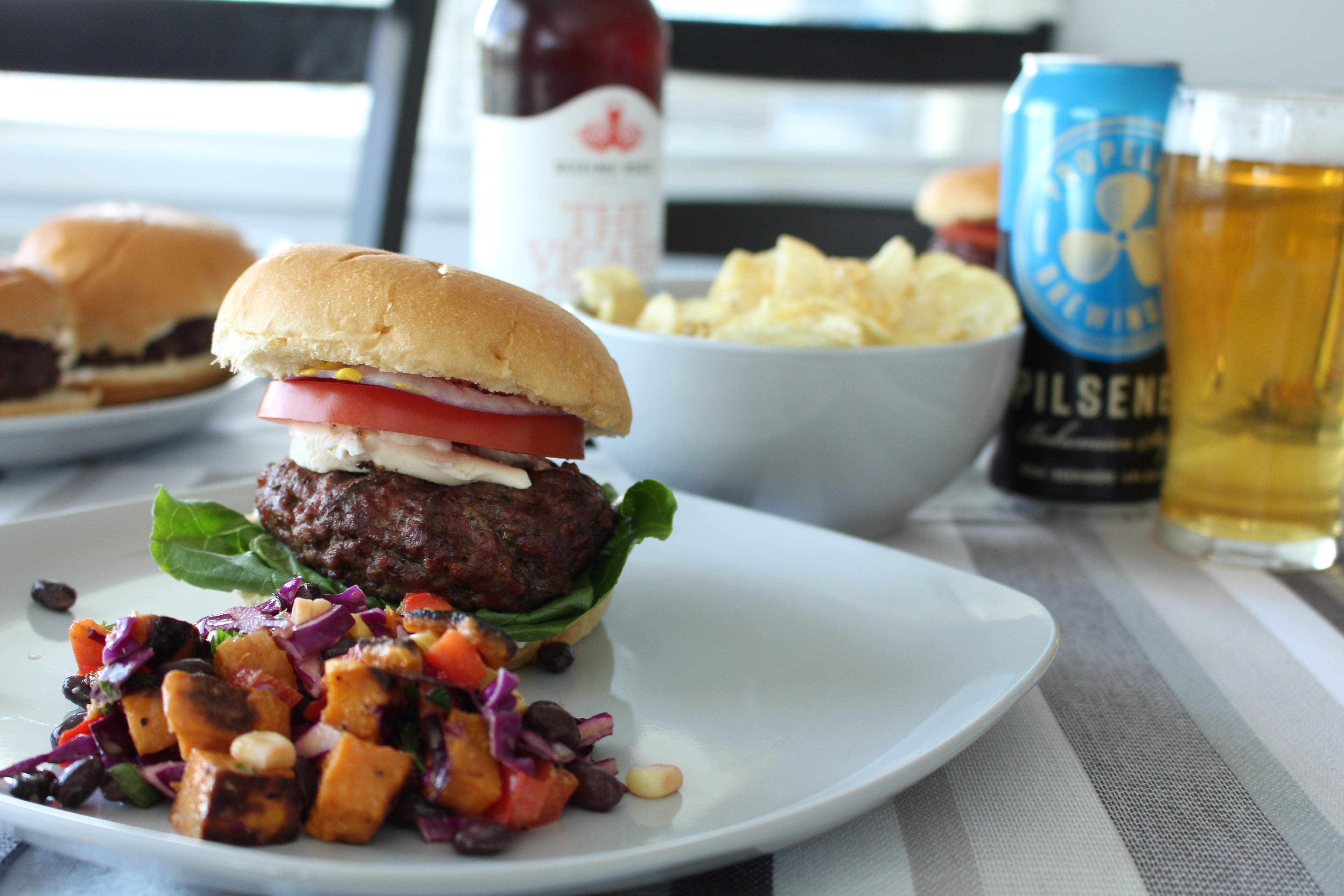 *This series is sponsored by Warmth by Design and Barbecue Heaven.  We love partnering with local brands and sharing the awesomeness with you.  The recipe was provided by Patty Howard from Kitchen Door Catering.