OUR LUXURY MASTER BEDROOM
The Final Reveal
Holy sweet lord I can't believe it's finally here!  Our Luxury master bedroom makeover is complete!  OK, full disclosure time.  In hindsight, I may have bitten off more than I could chew with this One Room Challenge.  There were many moments where I felt like I was in way over my head and that I might not get it done in time.  Lucky for me, I had some help and would never have been able to pull this off without our partners and I'm so excited to tell you a bit more about each of them.
But first, let's take a trip down memory lane to what the space looked like when we first started. If you recall, we had a bed with an amazing headboard (that was a wedding gift) and an antique mirror…and that was it.  There was also a lot of baseboard damage from what we assume must have been a time they had to be pulled off and put back on.
BEFORE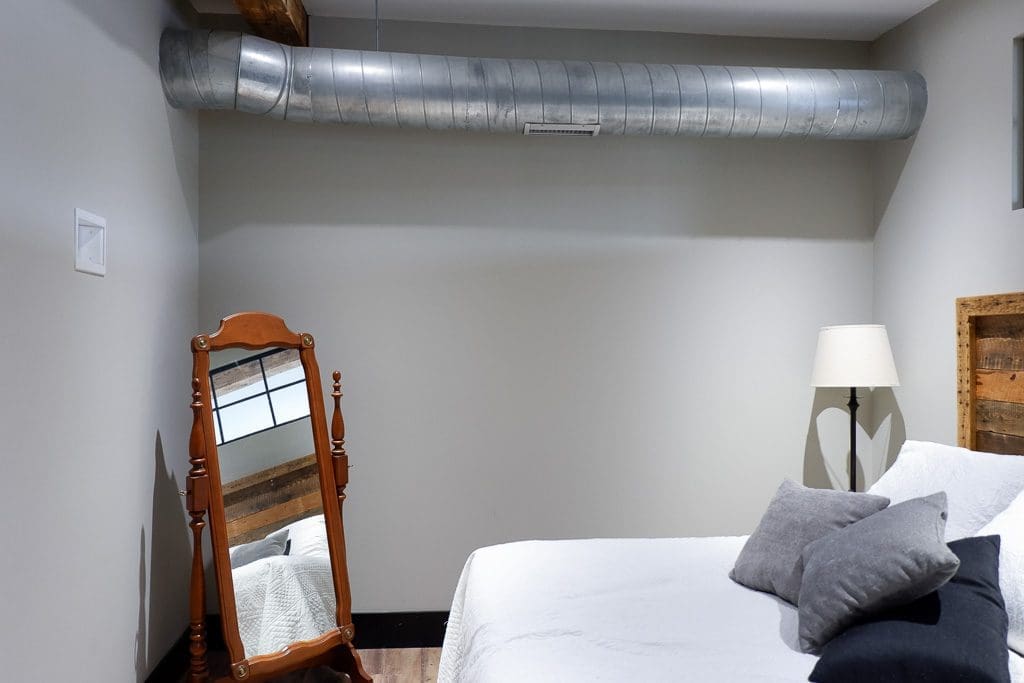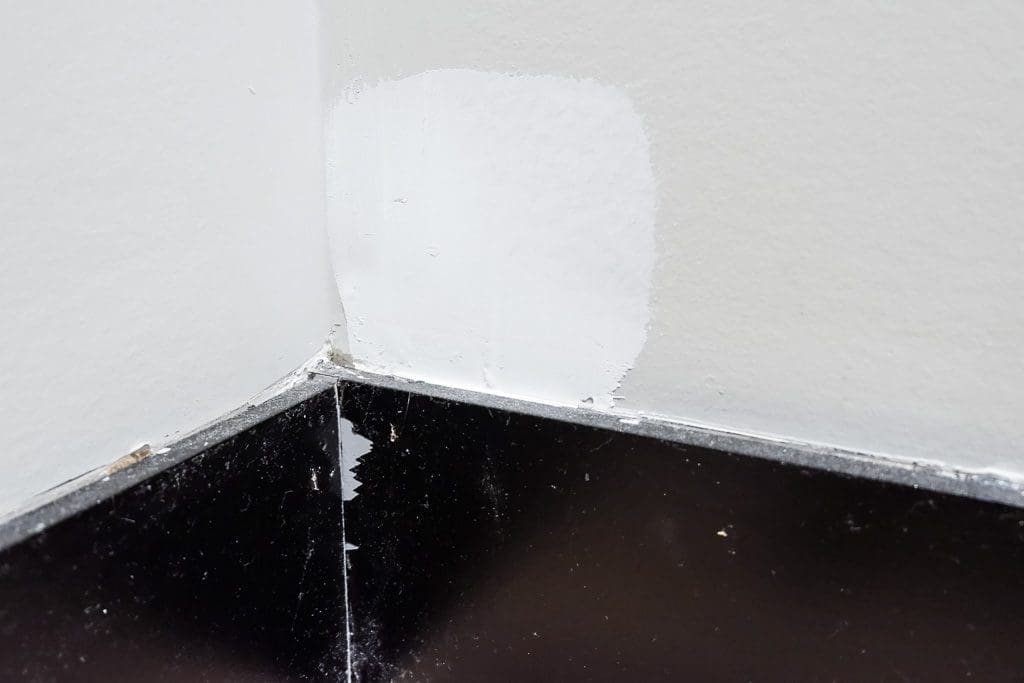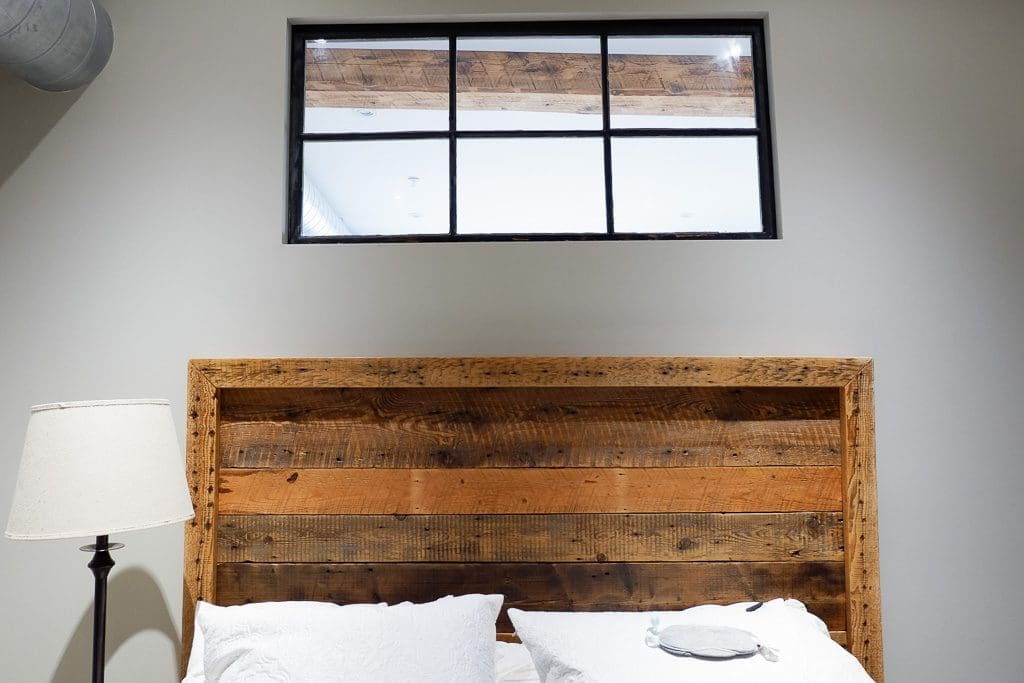 I'm not going to keep you in suspense any longer.  Our goal was to turn this boring, lack lustre room into a luxury oasis.  We also wanted to find a balance between rustic and modern.  Here's what the space looks like now.
AFTER
I'm actually not sure what to say about this.  Honestly, I've never actually decorated a space from top to bottom.  Aside from throwing some furniture into a space and maybe (just maybe) hanging some random art work, I've never really taken the time to plan out and execute a room make over.  I'm ecstatic!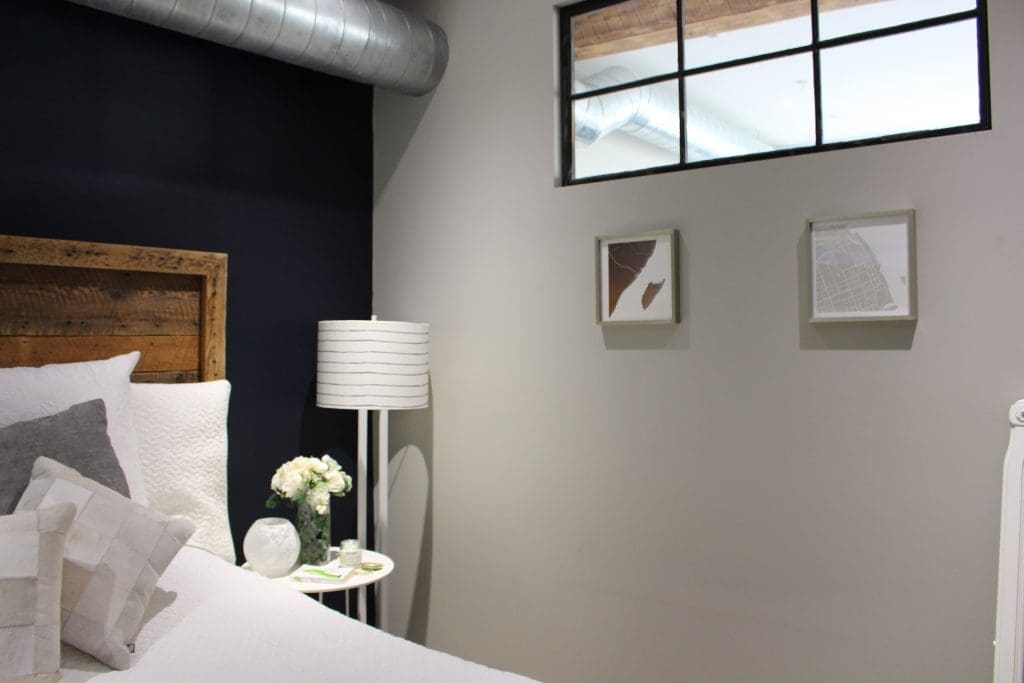 THE COLOR PALATE
As you can see, the midnight blue feature wall is a stunner.  We couldn't be more happy with the color choice.  We can't take credit for that one because without Lori we would have never picked such a beautiful color.  The paint on that was Fusion Mineral paint, in midnight blue, supplied by Phillips & Chestnut here in Truro.
The color scheme itself evolved over the course of the last 7 weeks (does that always happen?).  Initially we were going with all white (black and white art work, all white accessories, all white linens, etc) but as we started the process that changed.  We think those changes were for the better!
THE FURNITURE
You've heard me rave about the headboard more than once – obviously it's amazing.  I knew I wanted a simple, metal beside table for my side of the bed (easily found at Ikea) but we wanted something more substantial for Brent's corner – something that would tie in the headboard with a rest of the space.
Enter Dan Johnston from Rustic Roots Furniture.  I've known Dan since he was a kid (long story…I won't embarrass him here) and I didn't realize how talented he was until my mother announced the addition of beautiful custom built vanity's that she was having made for their new lakeside house.  I was instantly obsessed with Dan's work.  He specializes in one of kind, hand crafted pieces using reclaimed materials.
I told him I was looking for a blend of rustic and industrial/modern and then I let him run with it.  He created this beautiful piece of furniture and we love everything about it.  The greyed and distressed wood against the white metal legs.  The glass top and especially that he left it open!  I have never liked the look of drawers as bedside tables – I feel like they close in a space and look too formal and colonial.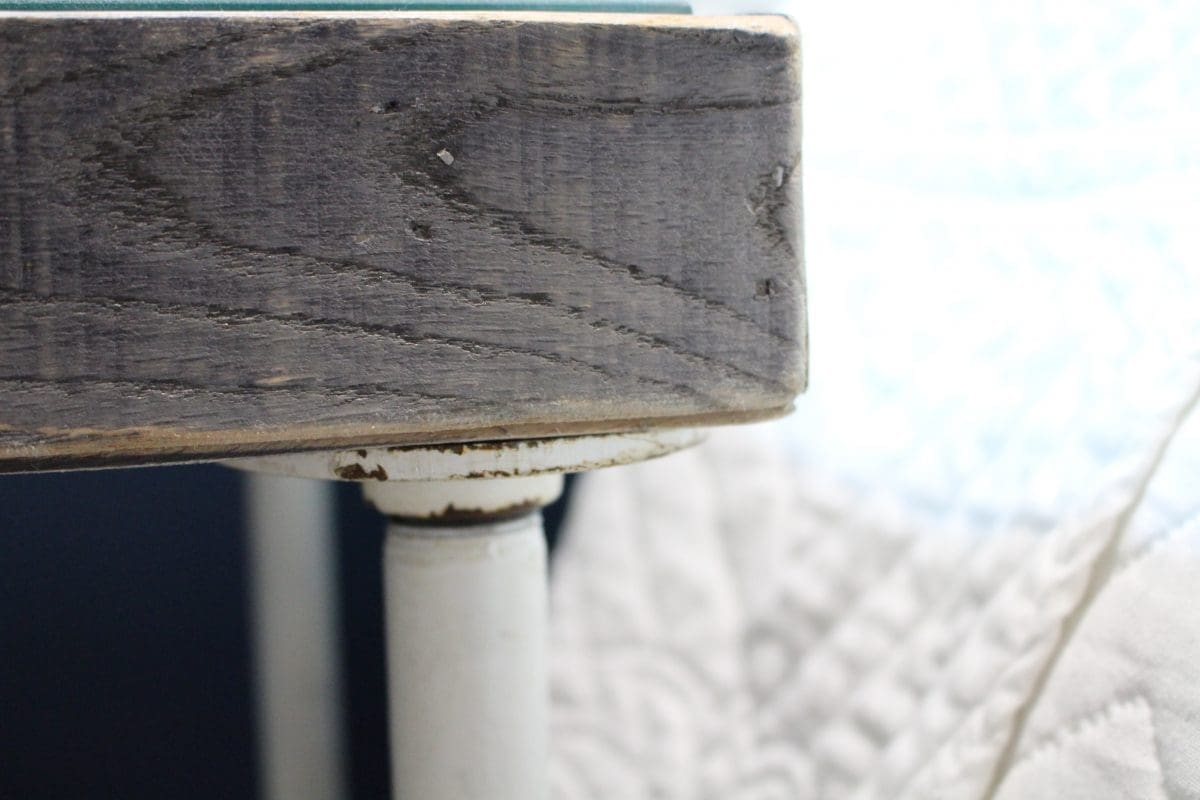 DIY ANTIQUES
I also put my newly found milk painting skills to work and tackled that antique mirror.  I was a little worried, not knowing the history of the piece at all or how the wood had been treated, but it came out better than I anticipated!  A huge thanks to Phillips & Chestnut for letting me tag along in a milk painting workshop – otherwise I would have never tackled that project!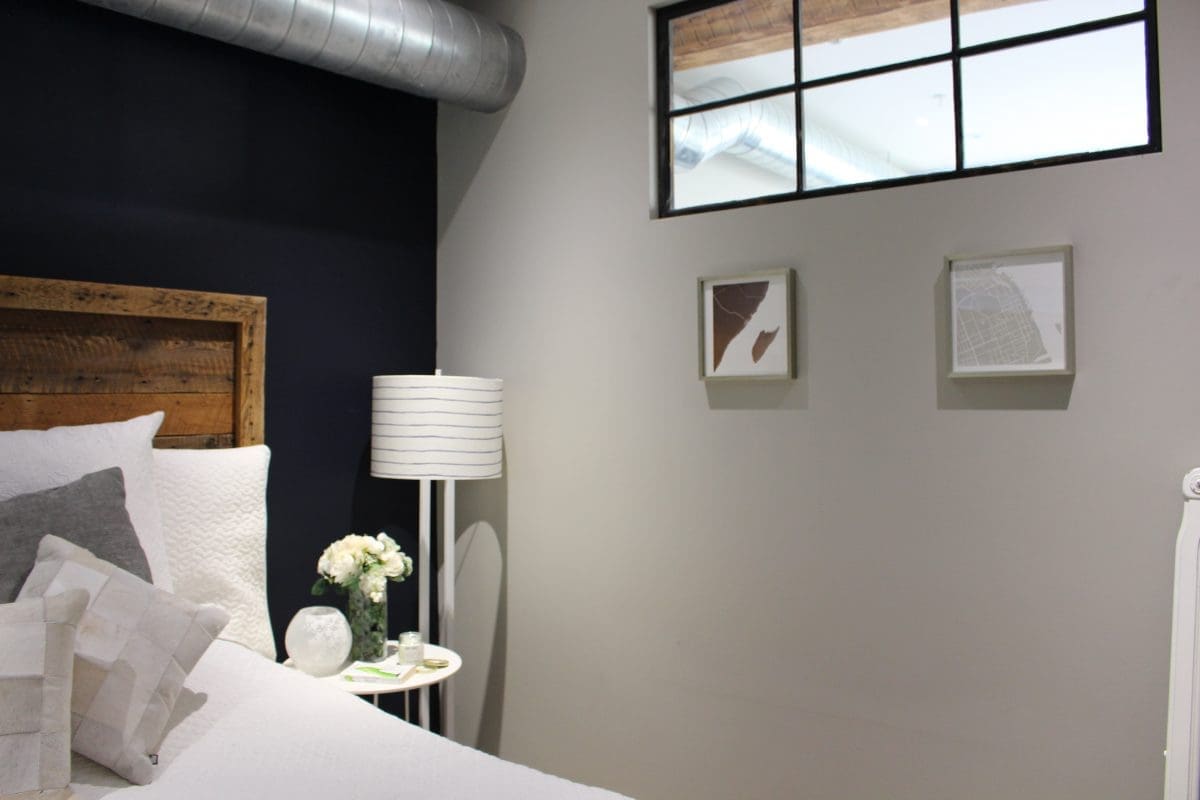 THE ART
Our gallery wall was something else that evolved as the project went on.  We started out wanting a black and white wall but after meeting with Colin and Sue at Carsand we left in their capable hands and we're glad we did.  They opted to retain some color but apply a sepia technique to the images, giving them a cohesive look but maintaining the dimension of each photo.
Opposite the gallery wall we have our two custom map art pieces from Minted.com.  We're feeling like that wall needs something else and we have a few ideas but for now, we're really loving the maps – they depict two very special places in the world for us and we're just waiting for the right piece to add to the mix.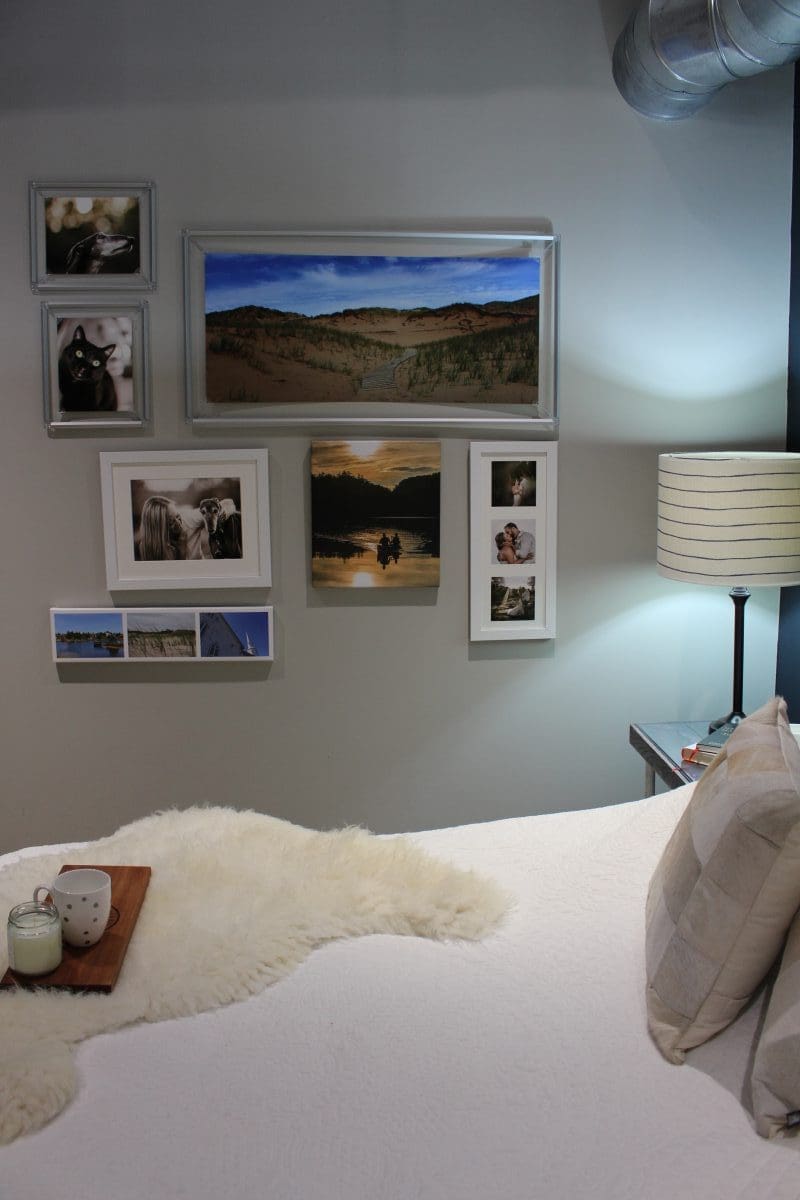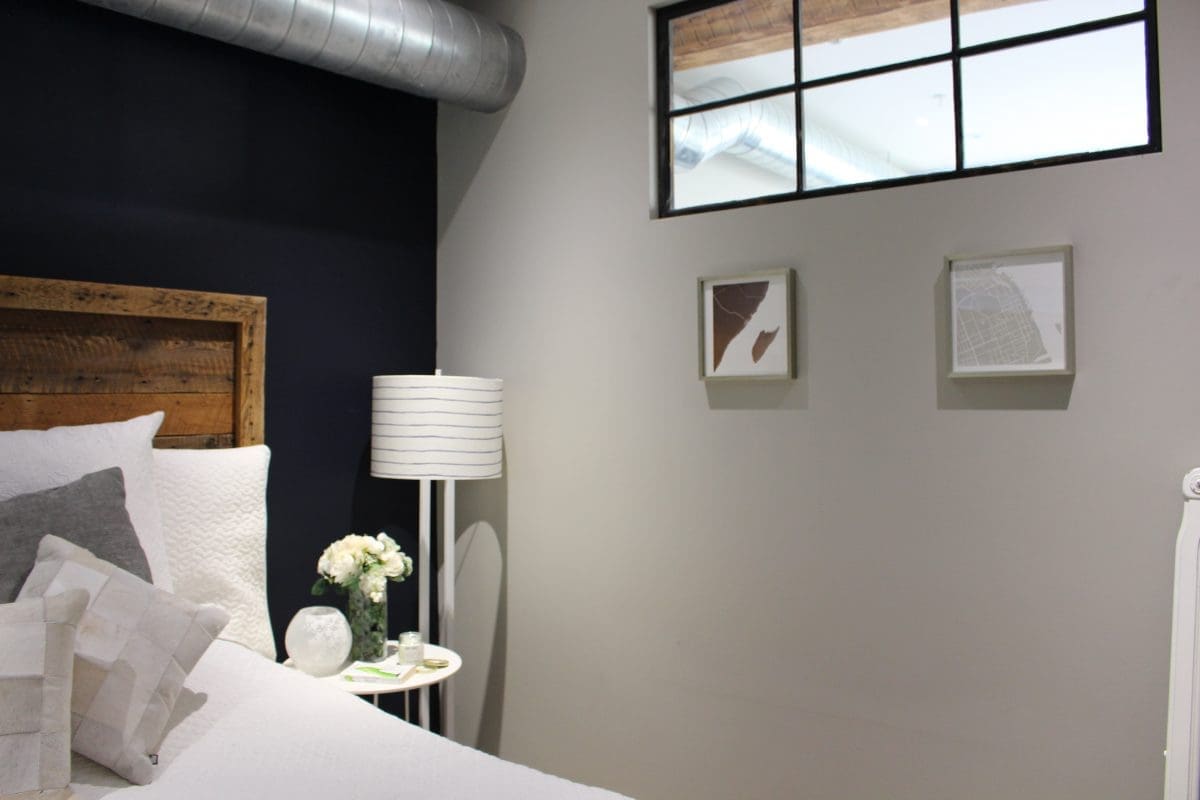 THE BEDDING
The addition of two hide throw pillows, a simple white bed skirt and a sheepskin throw was all we needed to make our bed exactly what we wanted.  We already had the bright white hand made quilt and accent pillows so the bed wasn't a big deal.  But, it's what you don't see that we're most excited about it.
As I write this post, I'm counting down the hours until I sleep on our new wool pillows for the first time.  Lismore farm hooked us up in a big way with two pillows and the beautiful sheepskin you see in almost every picture here!
THE ACCESSORIES
We have to tell you the truth here – two of our accessories haven't arrived yet!  There have been some mail hiccups along the way and we're still waiting on two pieces but the moment they arrive, you'll know about them!
I'd never given much though to accessorizing a space before but those little things really do pull the entire room together.  The lamp shades are also from Minted.com and I love how they set off the accent wall.  I also battled with the lamp situation, initially planning to put the floor lamp on Brent's side and have only the small globe lamp on my table.  But, after much trial and error I decided that my side looked too "flat" without the floor lamp and opted instead to add a third lamp on Brent table.
The matching shades pull the oddly matched lamps together and I'm really happy with the way it all looks!  We also have Kelsey over at Fox Hound Collection to thank for adding a couple hand blended candles that smell divine.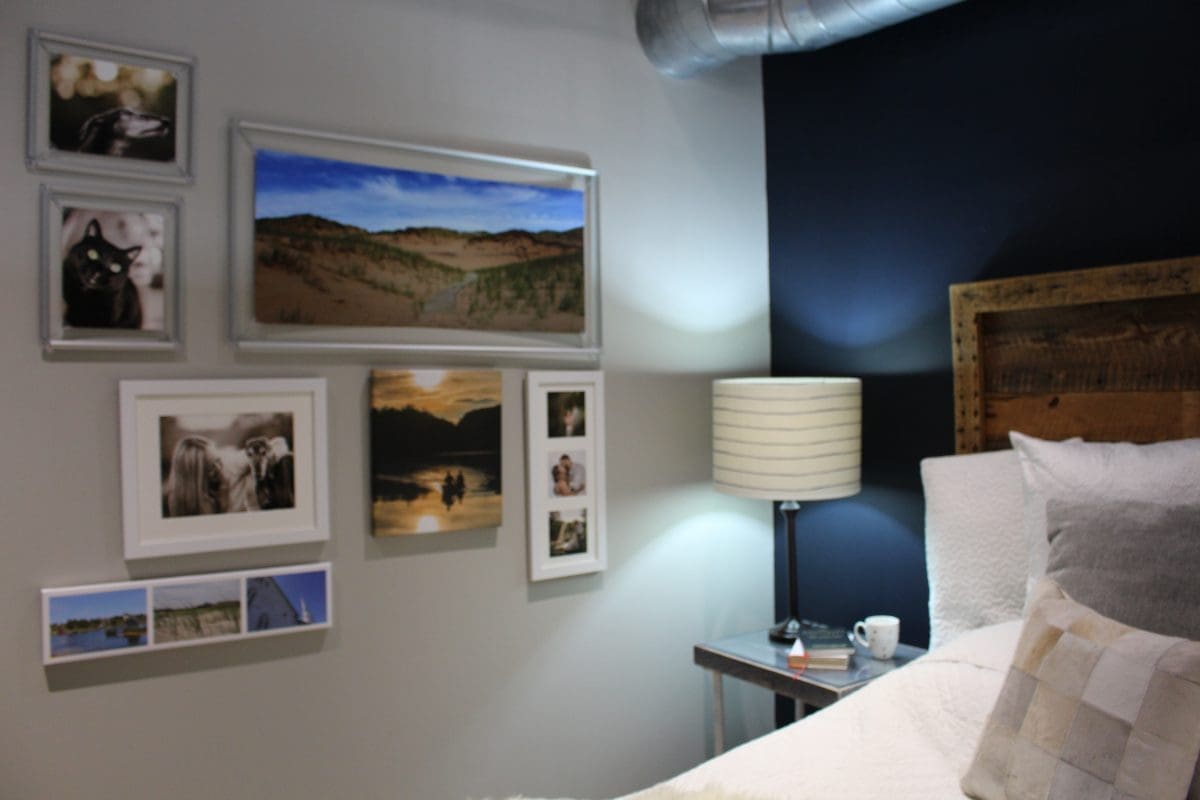 FINAL THOUGHTS
Honestly, as often as I find myself complaining about our bedroom, I probably would have never taken the time (or effort) to actually create a serene space for sleeping and relaxing.  I'm so thankful that the group of bloggers I've connected with over the last few months introduced me to the ORC.
I'm even more thankful to all of the parters that made this make-over possible.  We are thrilled with our space and feeling like it came at the perfect time as we delve into out new Inspired Life Society where making your space beautiful is an underlying theme.
So much love to all of our sponsors for this project.  We couldn't have done it without you!  A special thanks to Linda over at www.callingithome.com for pushing us to step outside of our comfort zones and for connecting bloggers from all over the world in the One Room Challenge.