The Deacon Escarpment Cabins
A Blast From Brent's Past!
If you're looking for a unique, off the grid experience and you love being in the woods then you'll love the Deacon Escarpment experience as much as we did.  The cabins offer all the charms of camping without actually having to sleep on the ground, in the cold.  Instead you'll find yourself snuggled up in a cozy bed with your fire place crackling at your feet as you drift off to the sounds of the woods and an uninterrupted view of the stars.
The Cabins
The cabins are strategically placed, each with it's own private entrance trail of about 1km and a stunning view of Golden lake below.  You can either trek in on foot or, if you don't want to carry your things, owners Zac & Steph will gladly let you hitch a ride on their snow machine which is what we did.
When we arrived, the first thing we noticed about our studio style cabin was the delicious privacy.  You can't even see the other cottages from where we were perched and the only thing in sight were the deer down below, grazing on some exposed grasses.
The Amenities
The whole point of the cabins allow a  rustic and off the grid experience (although if you felt the need to use a device you certainly could – cell reception was amazing) so you should bring everything you need in terms of cooking and eating.  The cabins themselves offered a double wide bunk bed (linens included), chairs, and a movable island workspace that could double as a table.  They also had the necessities including a kettle, a little basket of various coffees, teas and hot chocolate, flash lights with extra batteries, some basic utensils for the BBQ and some maps of the area.
The design was actually really clever and every inch of space was capitalized on but you never felt cramped (and we had four people and a dog in the cabin at times).  The cabins are all heated by a propane fire place and powered by solar only.  Each cabin comes complete with a good sized deck on the front (all with amazing views) and a BBQ (propane included).
The Food
Since Brent grew up with Zac, we spent most of our time catching up, telling stories and eating some amazing meals including smoked turkey (which Zac and Steph raised and smoked themselves), Pizza (if you've never had pizza on a BBQ you're really missing out) and Bear…yes, bear meat – a first for me and I loved it!  
Zac & Steph spoiled us rotten in terms of food so we really didn't have to worry (perks of being friends with the owners) but when you visit you'll need to bring a cooler with whatever food you want.  There are also some restaurants very handy if you prefer to eat out.
My First Attempt At Ice Fishing
As quiet and solitary as it is, there are also lot's of options in terms of things to do while on site.  If you're interested, Zac & Steph will take you ice fishing which I would highly recommend.  We jumped on the snow machine with Bee (their oh-so-adorable dog) leading the way and made our way further into the woods to a completely isolated lake with not a soul in sight.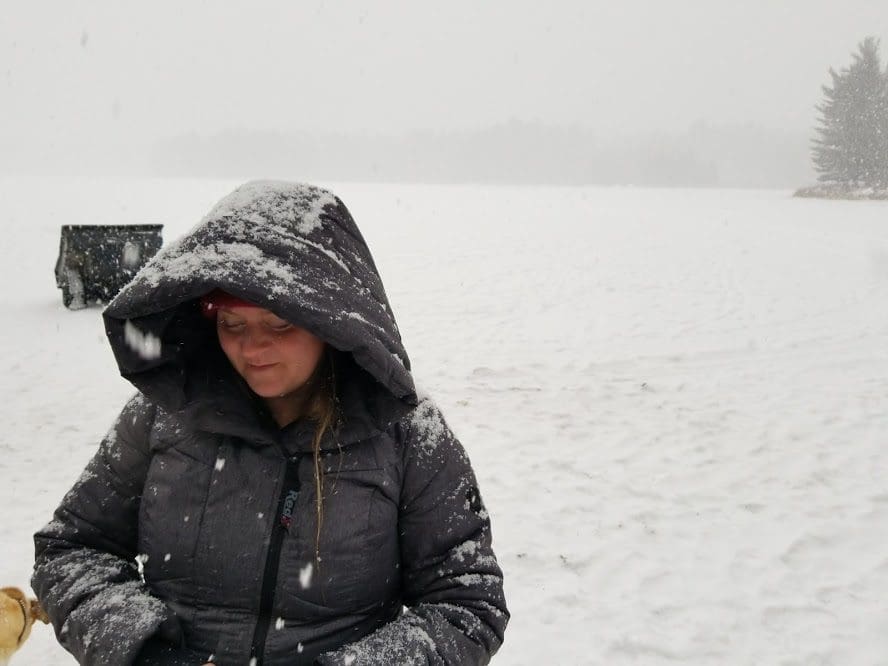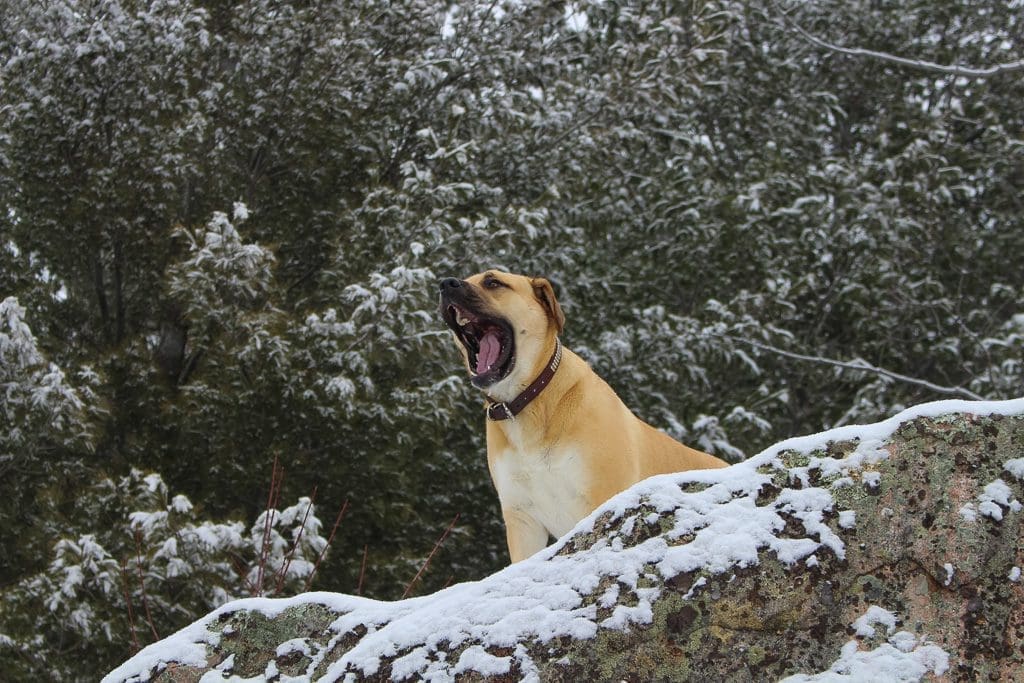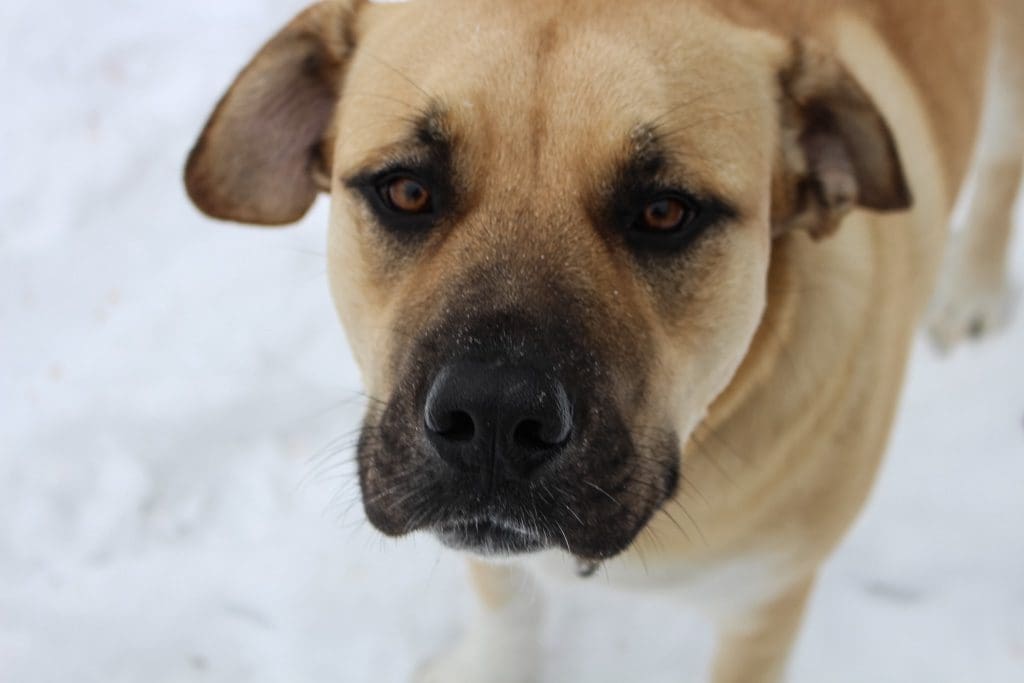 We found a spot, made a fire, and I got my first lesson in ice fishing including how to drill (Brent actually chiselled his hole but if you're not into manual labour, Zac has auger), how to bait and set my line, and how to pull a prank on your husband (my favourite part).
We made a fire to keep warm and enjoyed one of the best darn open fire lunch spreads I've ever seen including bear sausage, moose, venison and even fire baked bree (note to self – that was a stellar idea by Steph that I will most certainly be stealing at the first opportunity).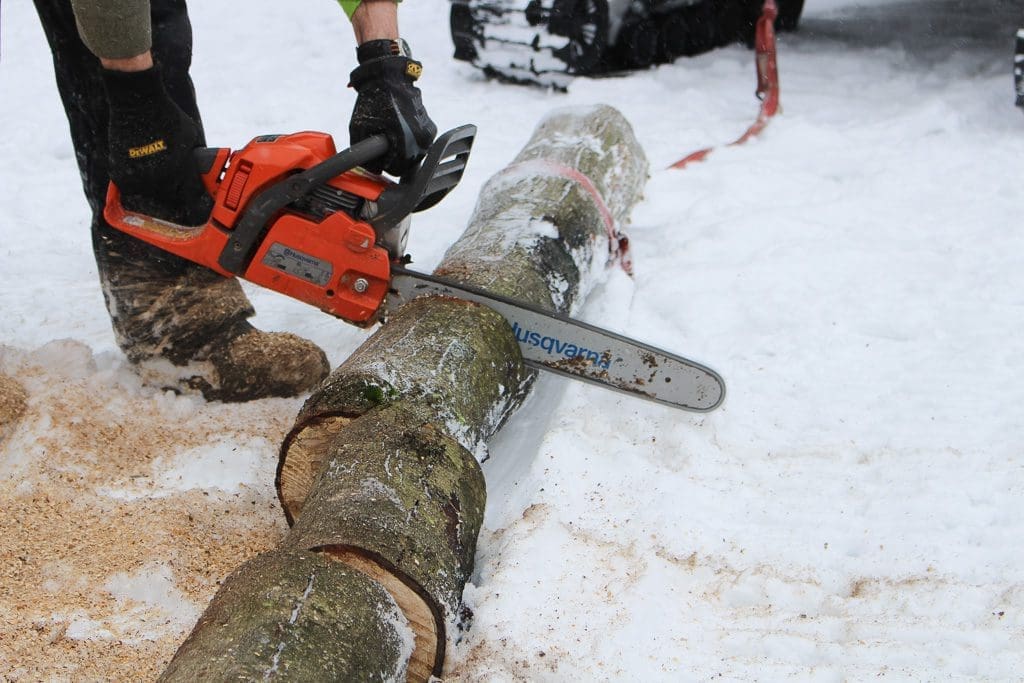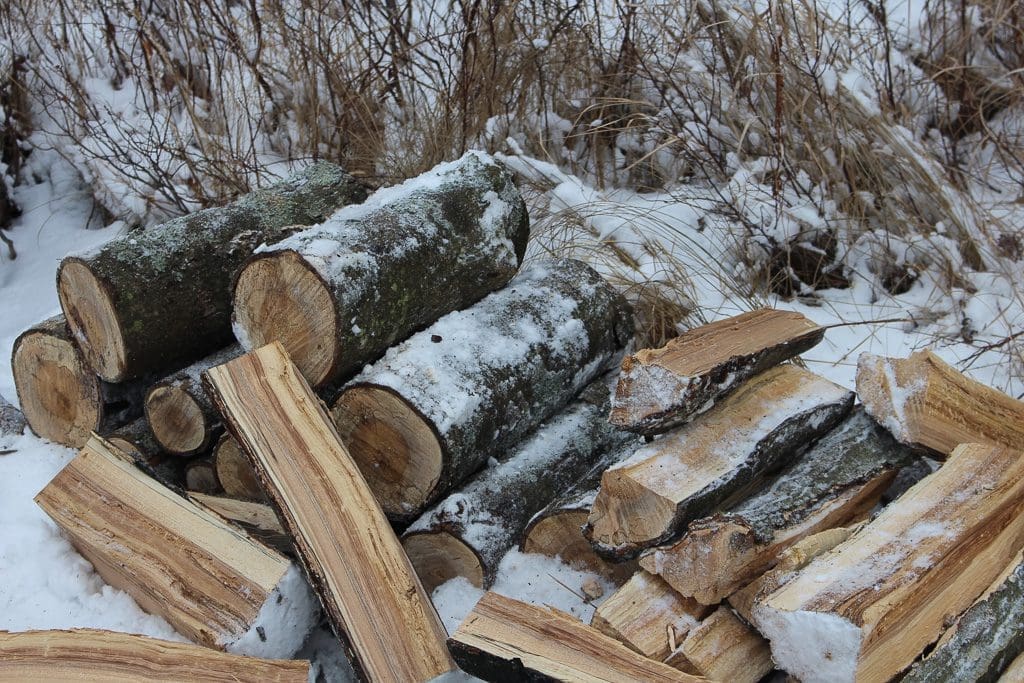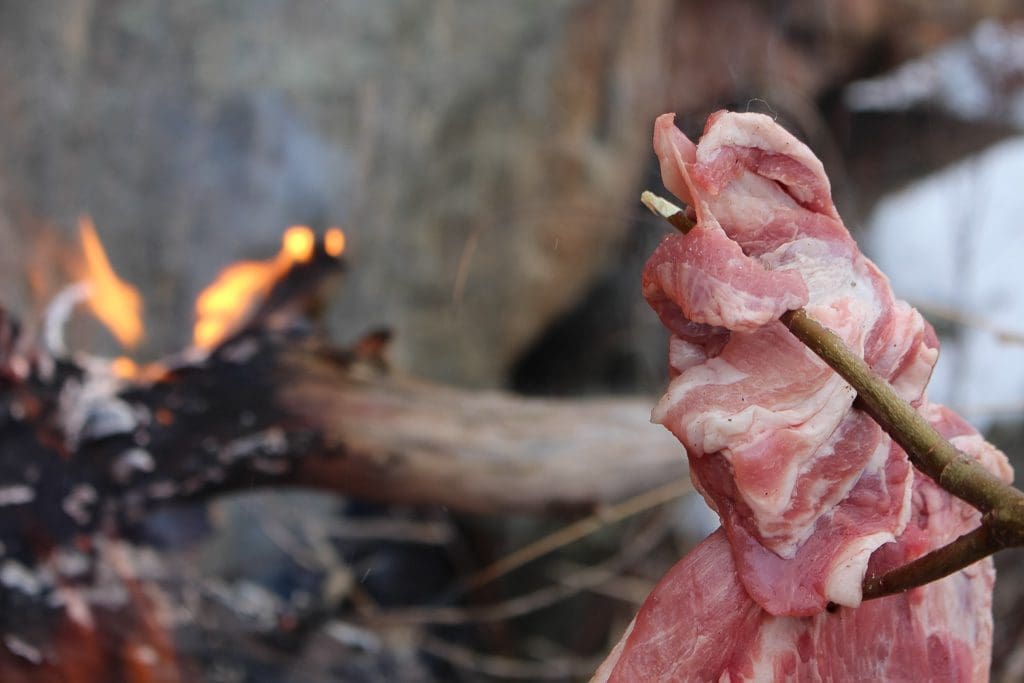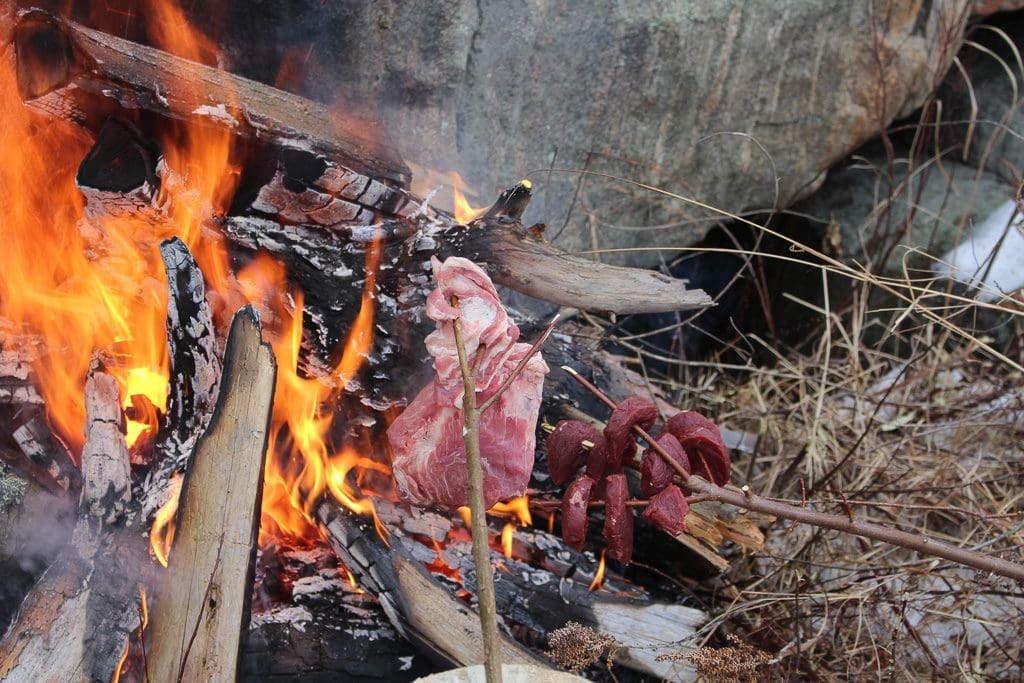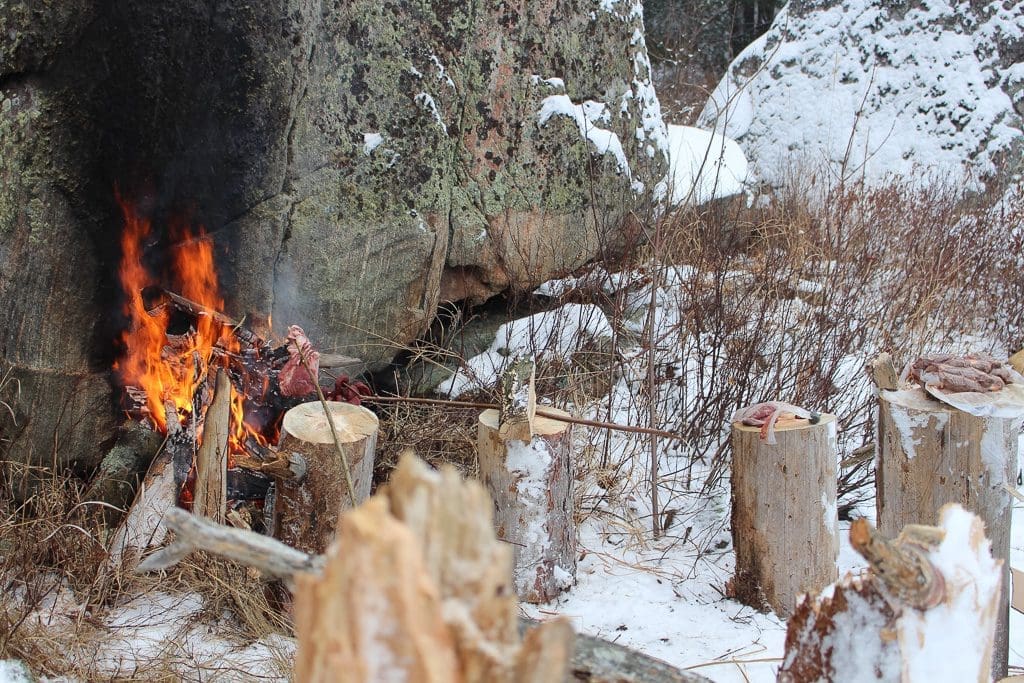 There were also miles of hiking trails on site and plenty to do in the local area but we opted to stay put, play cards, and enjoy our time with Zac & Steph (who are amazing humans by the way), and even take a tour of the original hunt camp where Brent spent many nights before we met!
Good To Know
Bring what you need.  Some basics are provided but you should bring everything you need to cook and eat, the same way you would if you were going to set up camp somewhere.  Obviously, there is a BBQ with a side burner which was made meal time a breeze.
There's no plumbing.  You'll be using a thunderbox (which is actually pretty fun) and toilet paper is provided for you so you don't have to worry about that.  If that doesn't appeal to you I would first say, don't knock it until you try it!  And, second, there's a third cabin under construction that will be opening in the spring of 2018 that is fully plumbed for those who prefer a little less "woodsy" experience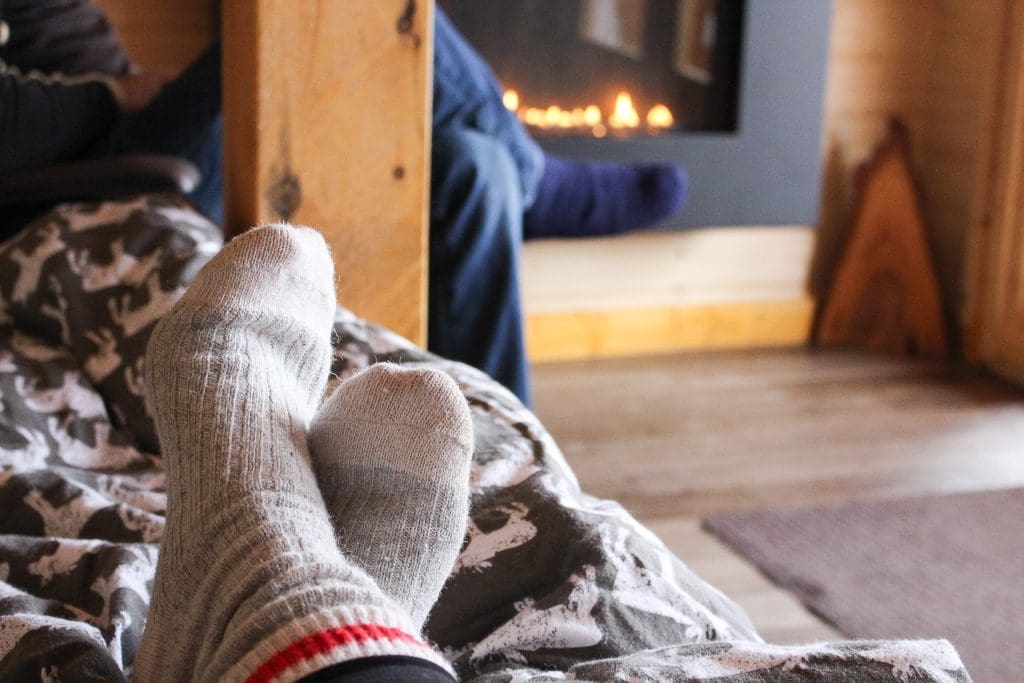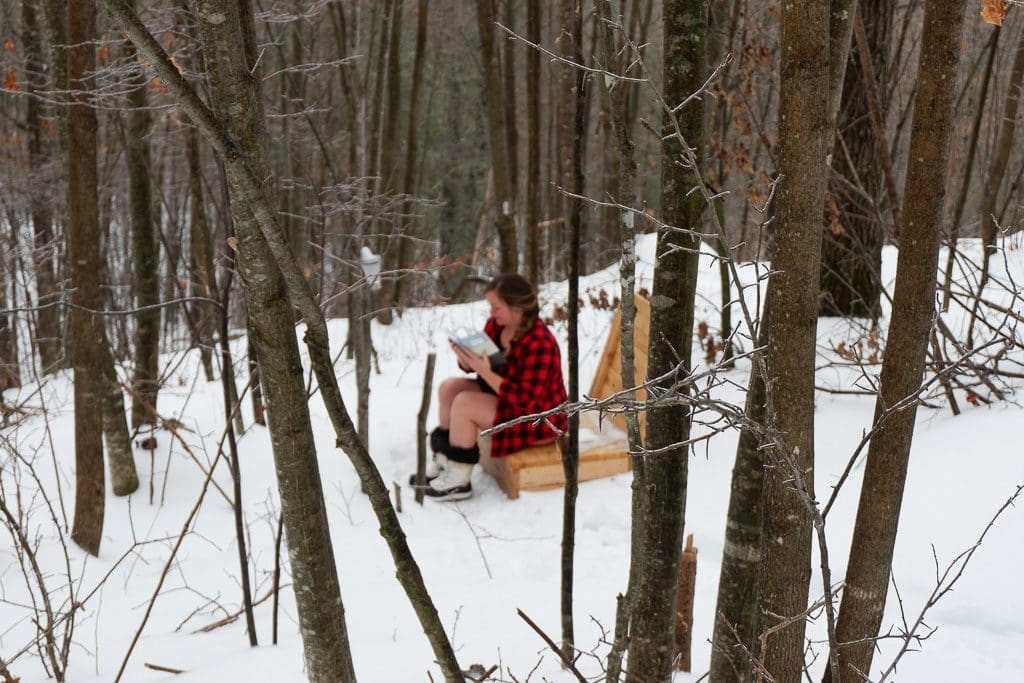 We honestly had the most wonderful time at the Deacon Escarpment Cabins and would, without a doubt, recommend it to anyone.  We already have plans to return again and can't wait to see the new addition, play some more Euchre (I've been practicing), and cuddle with sweet Bee again.  Obviously, I took about 1 million pictures of her…some of them are included here because I just couldn't pick which ones I loved the most.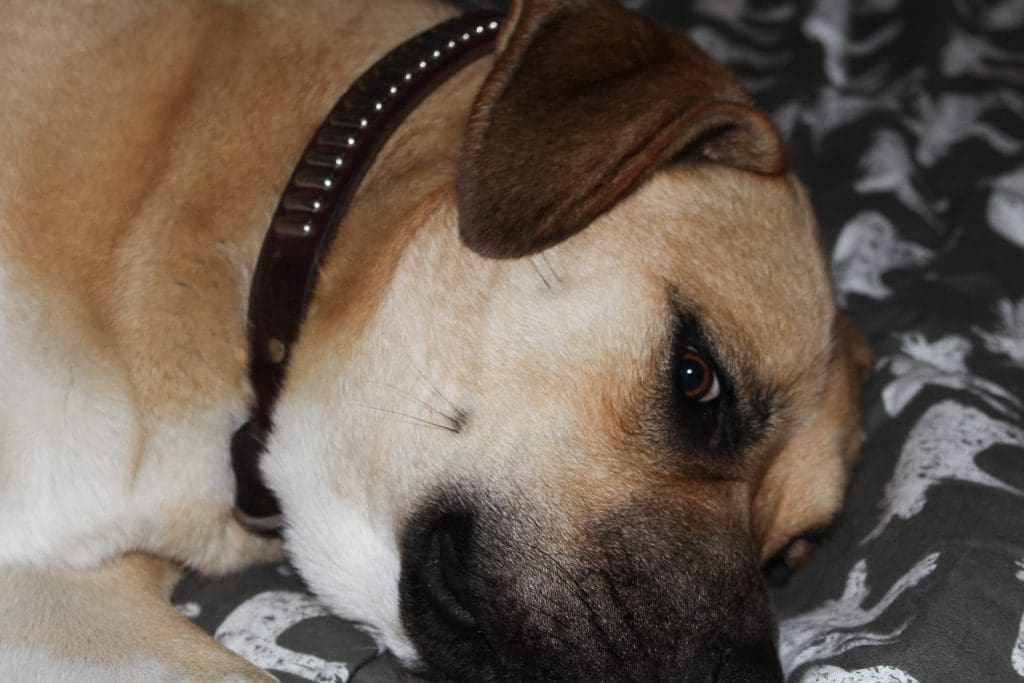 We can't thank Zac & Steph enough for inviting us to stay in one of their cabins for a couple of days, introducing us to Mead, teaching me to play Euchre and letting me maul the dog.  It was just the best!  As always, all opinions and way too many photos remain our own.
If you're planning a trip to Ontario and want to visit the Deacon Escarpment Cabins, you can check them out here!  You totally should!