If you thought blueberries were only for sweet dishes like pies, tarts, jams & jellies – you'd be wrong.  We love including wild blueberries into our diet all year and we always keep a box in the freezer.  I won't bore you with the long list of benefits like antioxidants, etc, etc (you know them right?).  In the warmer months, we usually opt for daily smoothies or smoothie bowls that feature our beloved berries.  But, as the temperature drops, we find ourselves less interested in cold drinks so we went to work creating this blueberry prosciutto goat cheese flatbread as a yummy alternative. 

Blueberry Prosciutto Goat Cheese Flatbread
It took a couple of attempts to find the right balance of sweet and savory but we did it — and it's delicious!  Truth, my first attempt was without the prosciutto but it needed salt – so cured meat was the answer.  Bacon would also be great if you don't have prosciutto on hand.
This blueberry prosciutto goat cheese flatbread is also full of sneaky, heart-healthy ingredients so you can go ahead an enjoy it, guilt-free.  Just for fun, I've broken down why I chose these ingredients for this power-house flatbread.
Avocado Oil
 I went with avocado oil, rather than olive because of its unusually high smoke point (480°F) which means the heat won't degrade the healthy fats when you cook it.  Olive oil has a smoke point of 410 which means it loses it's health benefits at that temp.  So, if you're cooking with healthy fat, make sure you're not burning it and losing the benefits.
Pea Shoots
Like any micro-green, pea shoots are loaded with nutrients like beta carotene, vitamin C, folate, and fiber.  They're also high in phytonutrients and antioxidants that support your body in many ways from maintaining heart-health to reducing inflammation.

Superfruit PUREe
When you think of antioxidants, what's the first food that comes to mind?  Blueberries, right?  Yeah – me too.  We did, of course, use actual whole berries on this flatbread but we also supplemented with Superfruit PUREe.  This stuff is packed with blueberry goodness!  Each serving contains the goodness of 140 wild blueberries (in just 1/4 cup) with no added sugar and a TON of antioxidants.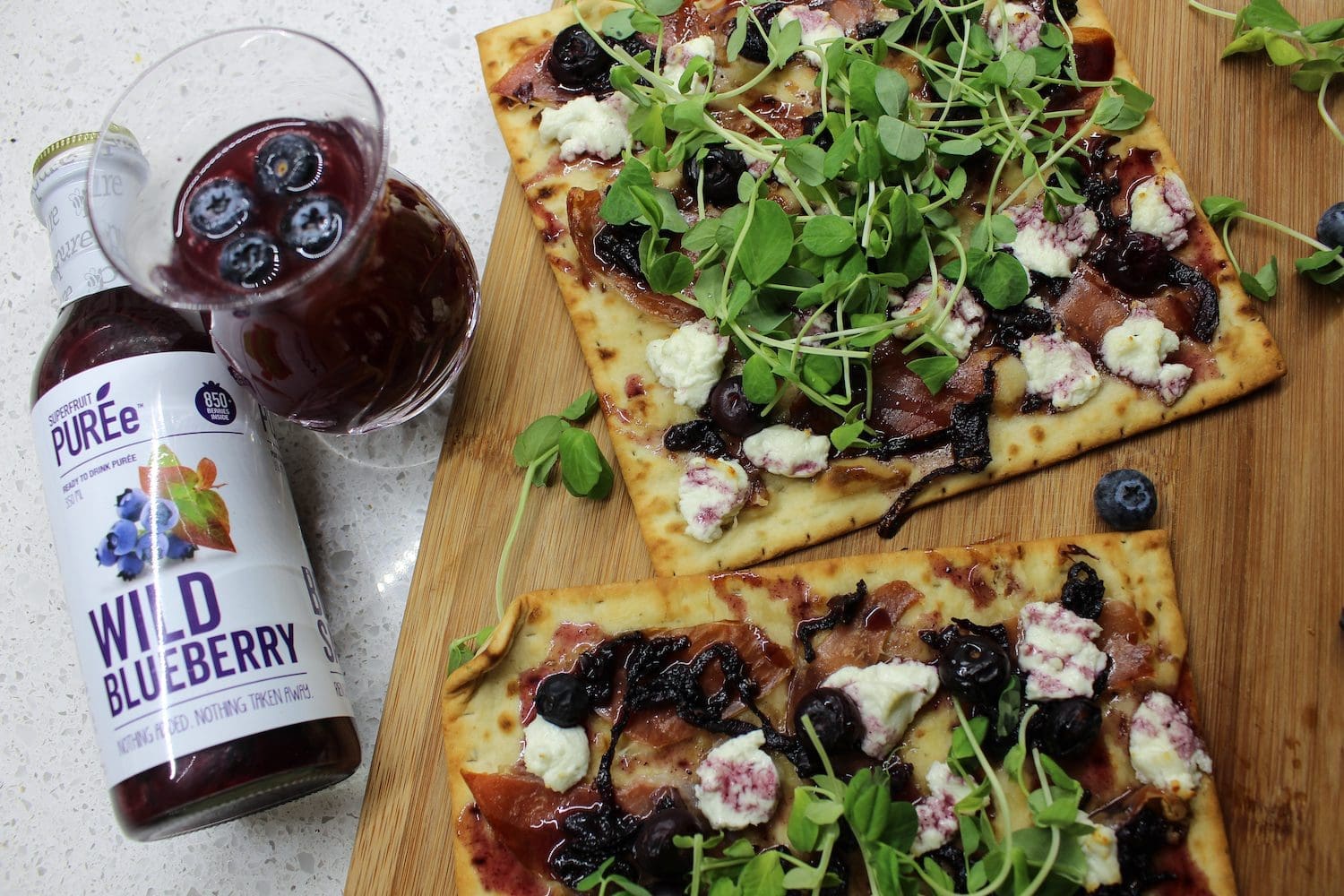 Blueberry Prosciutto Goat Cheese Flatbread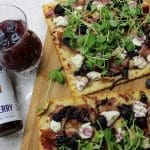 Blueberry Caramelized shallots, wild blueberries, goat cheese & prosciutto with a healthy dose of pea shoots are the star of this flatbread show. Serve this for brunch, as an appetizer or for dinner – it's super versatile, delicious and full of heart-healthy antioxidant-rich foods.
2 pre-made Flatbread
3 Tbsp Avocado Oil (Olive as a substitute)
2 Shallots (finely sliced)
1/2 tsp Red Pepper Flakes
3/4 cup Superfruit PUREe (Wild Blueberry) (divided)
1/2 cup Wild Blueberries (fresh)
1/4 cup Honey
40 grams Prosciutto (sliced)
1/3 cup Goat Cheese (crumbled)
2 Tbsp Butter (salted)
2 Tbsp Lemon Juice
1 cup Pea Shoots or Arugula
Position oven rack in the center and pre-heat oven to 425°F/163°C.

Heat a skillet to medium heat and add butter & shallots. Saute for 3 minutes, until the shallots have softened.

Add 1/2 cup of the Superfruit PUREe to the shallots and continue reducing until the shallots are fully caramelized and soft. Remove from heat.

Place flatbreads on a baking sheet or pizza stone

Top each with 1 Tbsp of avocado oil, red pepper flakes, caramelized shallots, prosciutto, goat cheese and blueberries

Bake for 12 minutes or until the blueberries are just about to burst

In the meantime, whisk together honey & remaining Superfruit PUREe in a dish then set aside.

Toss the pea shoots with remaining avocado oil and lemon juice

Drizzle each flatbread with blueberry honey mixture, top with pea shoot salad and serve immediately.
You can substitute olive oil, however, I love the flavor of avocado oil on this flatbread.  Additionally, the heat doesn't degrade avocado oil like it does olive oil so it maintains it's healthy properties.
Don't worry, dearest blog reader, we'd never leave you hanging without a drink pairing for our recipes.  Since today's flatbread was created for brunch, what better pairing than a blueberry Mimosa!

Wild Blueberry Mimosa
1oz superfruit PUREe
3 oz Champaign
1/4 oz Orange Juice
In your favorite cocktail glass, add blueberry puree then top with champaign and add a splash of orange juice.  Drop a few whole wild blueberries in and enjoy.
Will you be trying this recipe?  Let us know in the comments!
*this recipe post was sponsored by Superfruit PUREe but as always, all opinions, the recipe creation & way too many photos remain our own